Skip product carousel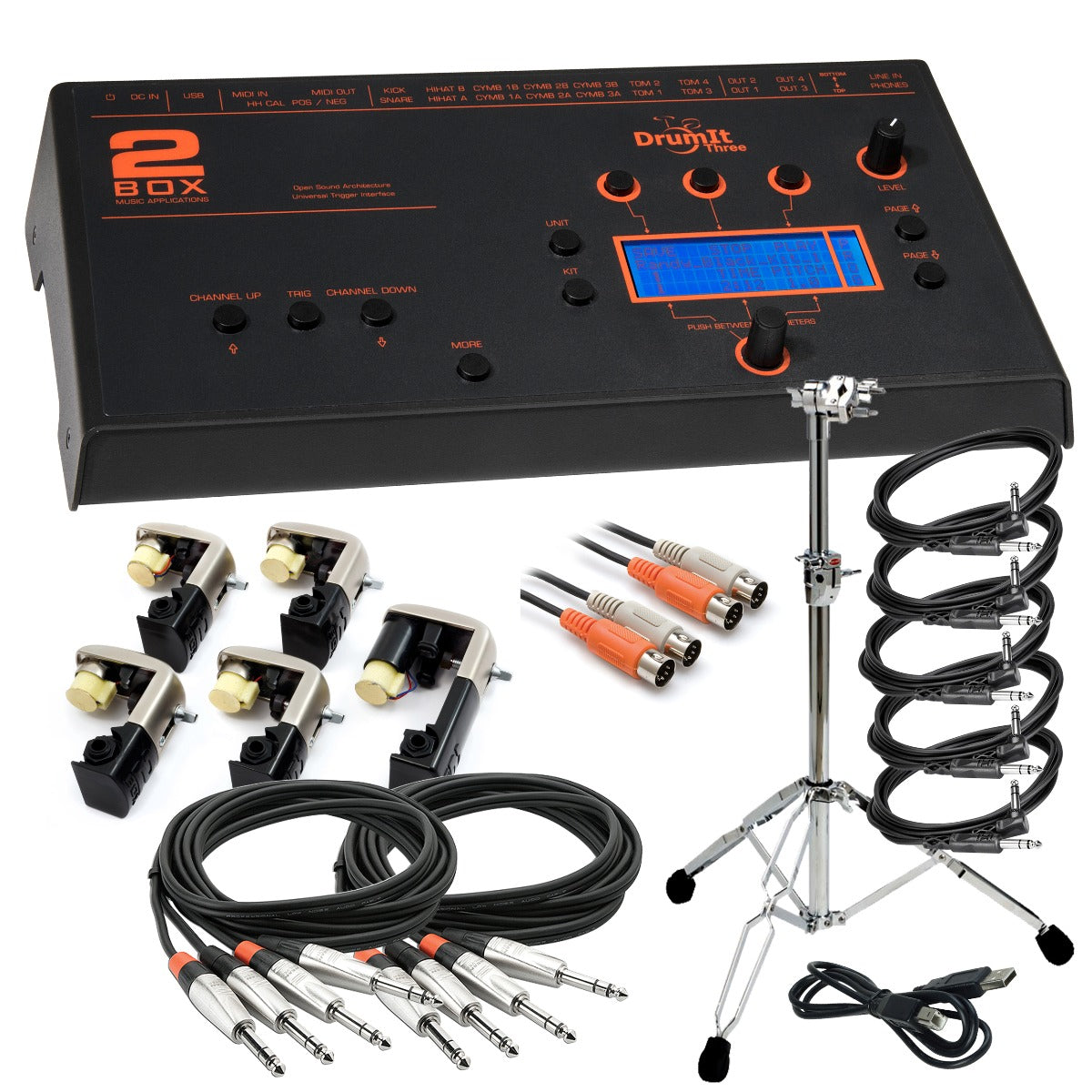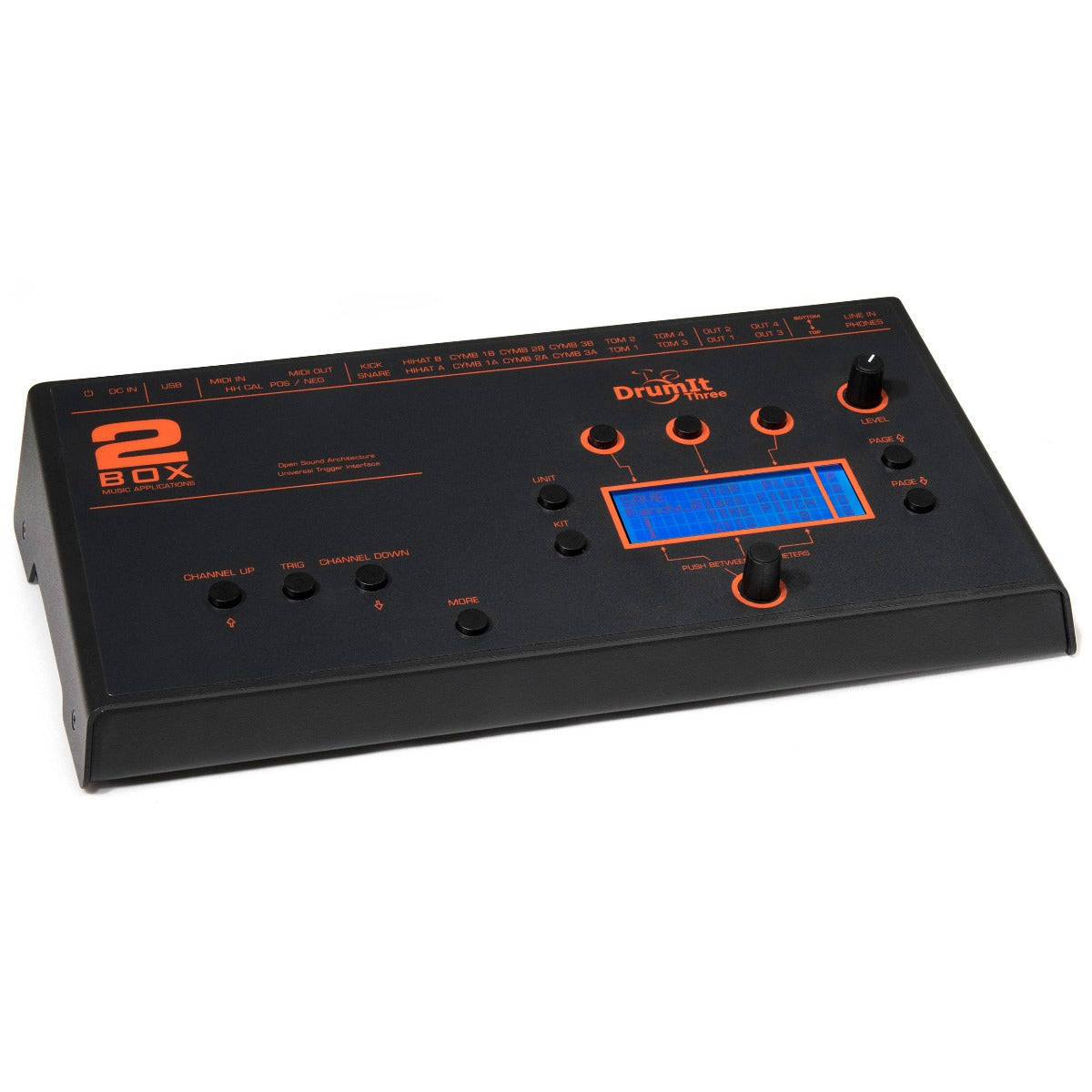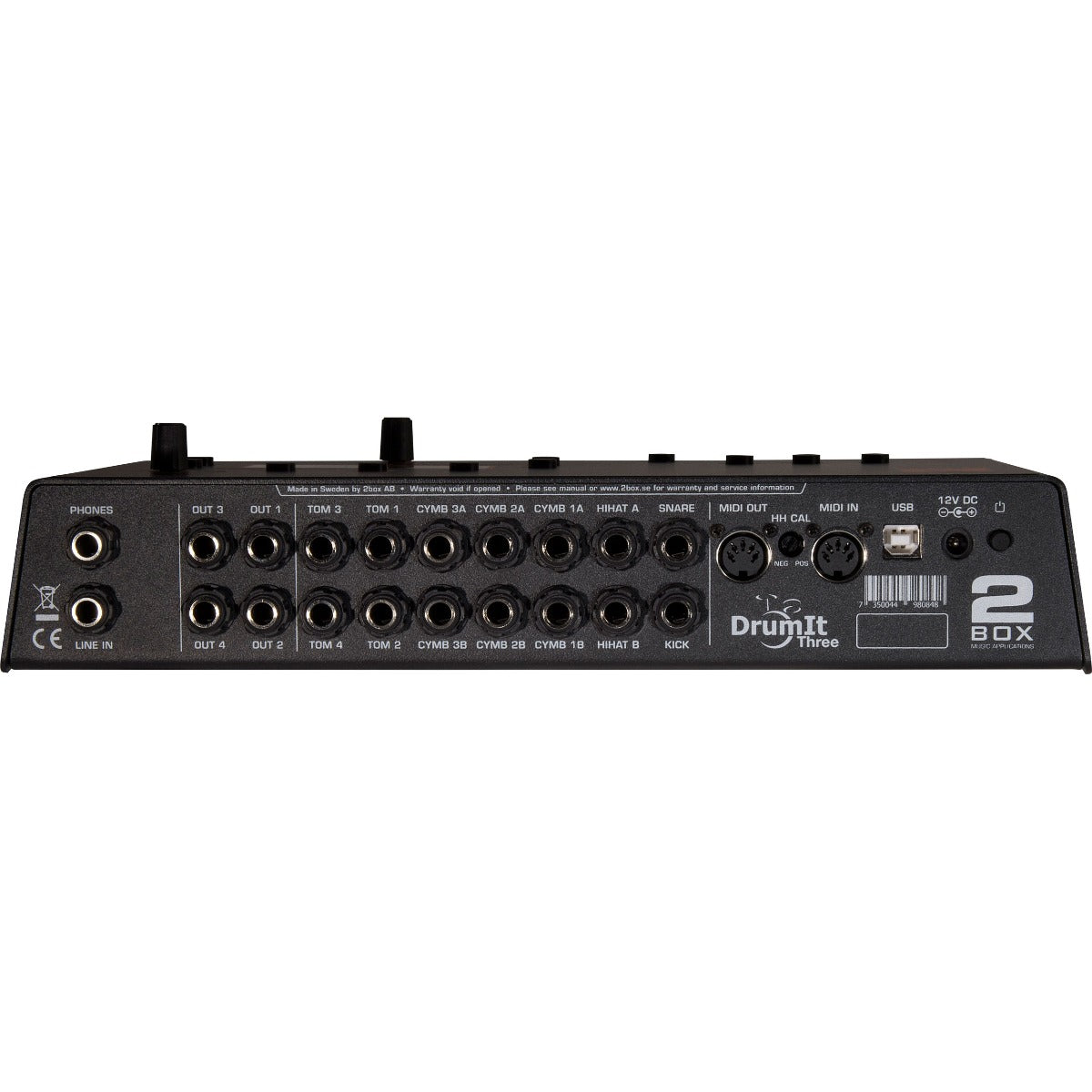 2BOX D3 DrumIt Three Electronic Drum Module TRIGGER KIT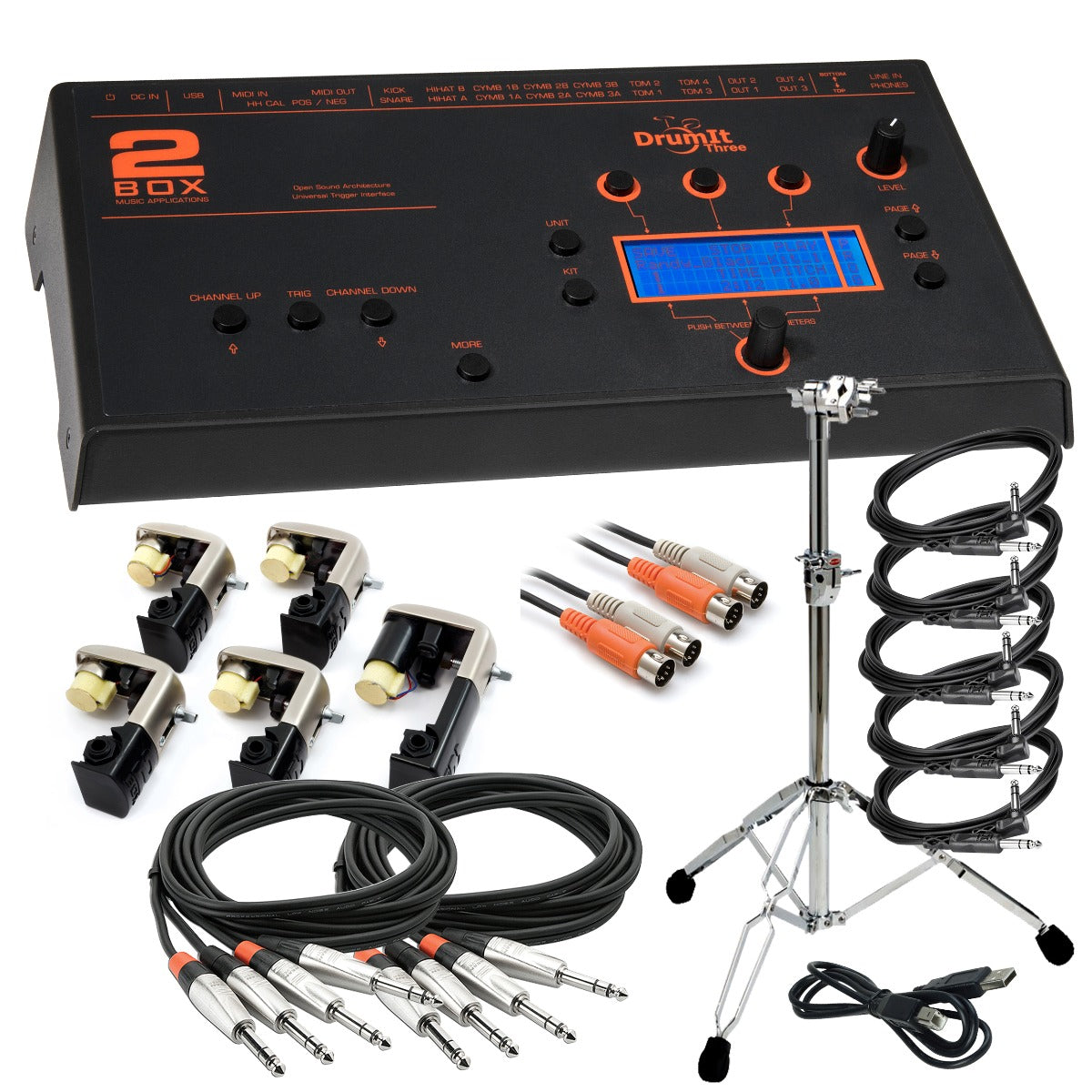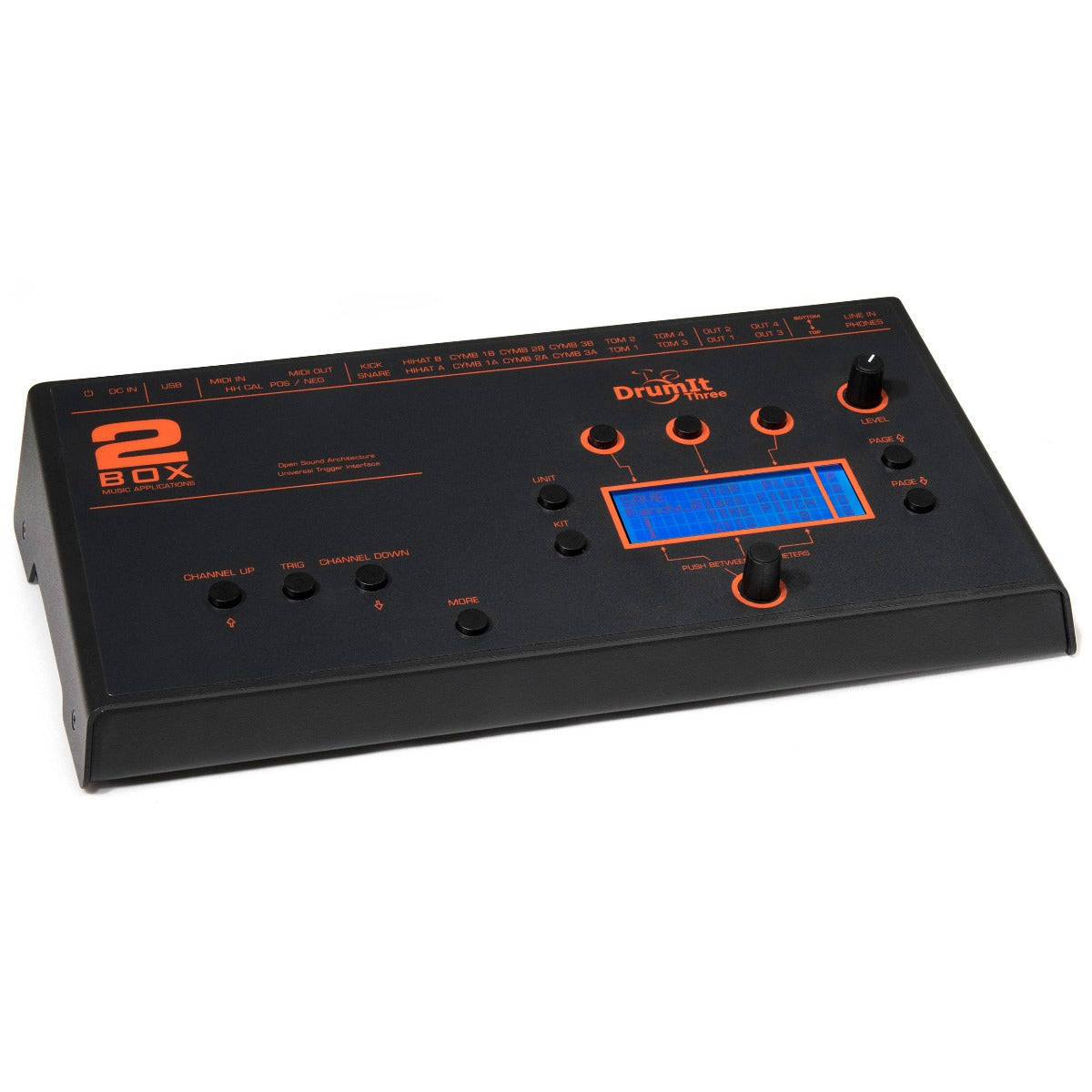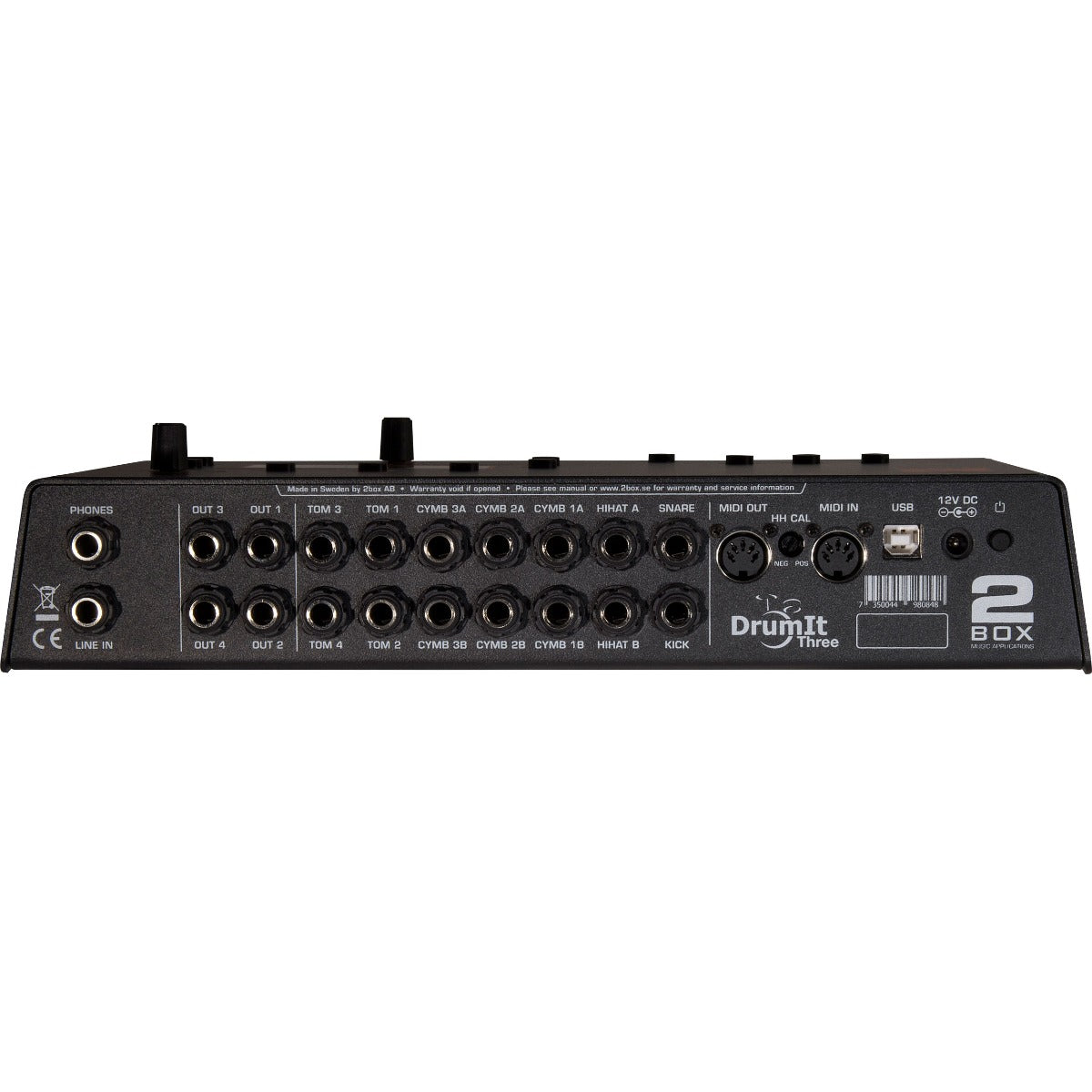 This Kraft Music Bundle Includes
Click on a product to view more details.
Features:
44,1 kHz Sample rate with 24 bit digital to analog converters
4 GB sound memory
15 universal trigger inputs configured as kick, snare with rim, 4 toms with rim, 1 Hi-hat and 3 cymbals.
3-zone snare and cymbals are supported.
4 Outputs
Line In
MIDI In/Out
USB for transferring data
Professional sounds made by famous drummers
Sounds are multilayered for unparalleled sound quality and playing feel
Trig and play along to loops – freely assignable to any trigger input
Play along to WAV song files or metronome or connect your media player to the Line In socket
Comes with our Kit- and Sound-Editor (Windows and Mac) to create own Kits and to download own sounds and loops
Trigger inputs accept the majority of triggers based on Piezo- and switch technology
Advanced control features enable triggering functions such as start/stop loops or metronome
Switching Kits up and down are freely assignable to any of the 15 trigger inputs
Multi plug AC power supply 100-240V
Play any pad of your choice
The original DrumIt concept was a truly ground breaking and new sensation in electronic drums when introduced. We are now taking this technology one step further and present the DrumIt Three module with Open Sound Architecture and Universal Trigger Interface. Based on the same technology as the DrumIt Five we have now added the Universal Trigger Interface allowing the user to connect any kind of pad/trigger to the module. The new DrumIt Three comply with all popular major drum pad manufacturers' pads, including cymbals and hi-hats.
Open Sound Architecture
Enter the world of DrumIt sounds to enjoy the real playing feel, the expressive dynamics and the superior sound quality. Update your old e-drum kit with modern sounds. Be amazed to suddenly being able to play buzz rolls and crescendo cymbals closer to the real thing than you could imagine possible. But it is!
Our sound library holds tons of multilayered sounds recorded in top studios and carefully edited. As the sounds consist of many velocity layers, the gradual change between faint and hard hits is faithfully reproduced. Our PC Editor for Windows and MAC off ers the possibility to create new sounds and loops from Wave fi les and convert them to our sound format and download them into the Module via USB
Save time and money
The DrumIt Three is a price-worthy and cost effective alternative to update your current e-drum kit. You can use the e-drum kit hardware you already have. Connect the module, tune in the trigger settings to your particular pad system and off you go, it's as simple as that. Boost your acoustic kit and enjoy the best of two worlds Use the DrumIt Three with the TrigIt triggers to turn your acoustic kit into a hybrid drum set. Mount the acoustic triggers to your existing acoustic drums and maximize your sound with a combination of acoustic and sampled sounds powered by the DrumIt sound module. For muted acoustic sound, use the triggers with silent heads. The Open Sound Architecture allows you to record your acoustic drums, sample them and trigger them from the module.
Play the sounds of famous drummers
The DrumIt Three comes with stock sounds of Randy Black, Marco Minneman and Simon Phillips. If that is not enough for you there are plenty more sounds to be downloaded from the 2box website. Use other sound sources – Your sound possibilities are endless Third party software allows you to convert sounds from famous drum sound libraries and play those sounds in your DrumIt Three sound module instead of triggering sounds via MIDI to a PC. By playing the sounds from the module you will not experience any latency and time consuming compatibility issues. As the sounds are moved into the module, the playing feel is superior with ultra low latency and a great dynamic range.
Be in control
The Universal Trigger Interface of the DrumIt Three allows the user to control functions for a trigger. For example, start and stop loops and/or Metronome by hitting a pad or change Kit up and down by hitting 2 pads.

SKU
TAM-2BOXD3TK
MPN
DrumIt Three
Vendor
2Box
Connectivity
USB and MIDI
Included From Manufacturer
Module mounting plate
Power supply
Mpn
D3
Cymbal Choke Capability
Yes
Number of Cymbal Zones
N/A
Hi-Hat Stand Included
N/A
Audio Inputs
1/4" Audio In
Audio Outputs
4 x 1/4" Outs
Internal Storage Capacity
4GB Sound Memory
Kick Pad Surface
N/A
Kick Pedal Included
N/A
Number of Pads
N/A
Snare Pad Zones/Surface
N/A
Snare Stand Included
N/A
Storage Type
Internal
Throne Included
N/A
Tom Pad Zones/Surface
N/A
Trigger Inputs
15
2BOX Original Purchaser Limited Warranty: 2BOX is warranted to be free from defects in materials and workmanship to the original owner, subject to all of the following terms and conditions:
Warranty Time Period: The Warranty provided herein is for the following periods, measured in each case from the date of the original retail purchase: one (1) year for the 2BOX kit including Drum and Cymbal pads, Module and Accessory Hardware.
Warranty Coverage: This Warranty is given by Hoshino (U.S.A.), Inc. 1726 Winchester Road, Bensalem, Pennsylvania 19020, by their 2BOX Service Divisions ("2BOX") only to the original purchaser of the 2BOX product. 2BOX will repair or replace the 2BOX kit and Module itself if it proves defective under normal use and service during the one (1) year warranty Time Period stated above which 2BOX's examination shall disclose to its satisfaction to be thus defective. 2BOX will repair or replace any part or parts of the 2BOX product which may prove defective under normal use and service during the one (1) year Warranty Time Period stated above which 2BOX's examination shall disclose to its satisfaction to be thus defective.
This Warranty Does Not Cover: (A) damage or defects due to alteration, misuse, abuse, normal wear and tear, or extremes of temperature or humidity: (B) accidental or intentional damage; (C) damage in shipping; (D) the repair or replacement of expendable maintenance items including but not limited to, rubber heads, cables; (E) plating on metal parts; (F) any damage from accessories (such as tension bolts, T-bolt etc); or (J) any 2BOX product purchased from other than an authorized 2BOX dealer.
To Obtain Warranty Services: the 2BOX product must be returned to Hoshino (USA), Inc at 1726 Winchester Road, Bensalem, Pennsylvania 19020 or through an authorized 2BOX Dealer. When returning a Product to Hoshino (USA), Inc. or an authorized 2BOX dealer, a return authorization number, to be obtained from the 2BOX Customer Service Department, must be written in a conspicuous place on the outside of the return shipping carton or the return will be refused. When returning the 2BOX product for service under this Warranty, a copy of the sales receipt establishing proof and time of purchase must be sent along with the 2BOX product. All freight and insurance must be prepaid by the original owner. Your Responsibility: You must maintain the 2BOX product, without alteration, negligent use, misuse or abuse. All service of this 2BOX product must be performed by Hoshino. If any service is performed by any company or person other than Hoshino, it will terminate this Warranty.
Warranty Limitations and Disclaimers: 2BOX's sole and exclusive responsibility shall be as provided under this Warranty and UNDER NO CIRCUMSTANCES, SHALL HOSHINO BE LIABLE FOR ANY INCIDENTAL OR CONSEQUENTIAL DAMAGES. THIS LIMITED WARRANTY IS YOUR EXCLUSIVE REMEDY AND IS MADE IN LIEU OF ALL OTHER WARRANTIES, EXPRESS OR IMPLIED; ALL IMPLIED WARRANTIES, INCLUDING, WITHOUT LIMITATION, ANY IMPLIED WARRANTY OF MERCHANTABILITY OR FITNESS FOR A PARTICULAR PURPOSE, ARE HEREBY EXPRESSLY LIMITED IN DURATION TO THE DURATION OF THIS WRITTEN WARRANTY.
Some states do not allow limitations on how long an implied warranty lasts or the exclusion or limitation of incidental or consequential damages, so the above limitations or exclusions may not apply to you. This Warranty gives you specific legal rights, and you may also have other rights which vary from state to state. No person, whether or not an agent of Hoshino is authorized to make or assume any obligations other than those stated in this Warranty.
SAVE YOUR RECEIPT! 2BOX cannot perform any Warranty Service without a copy of your original sales receipt.
Standard Shipping