Skip product carousel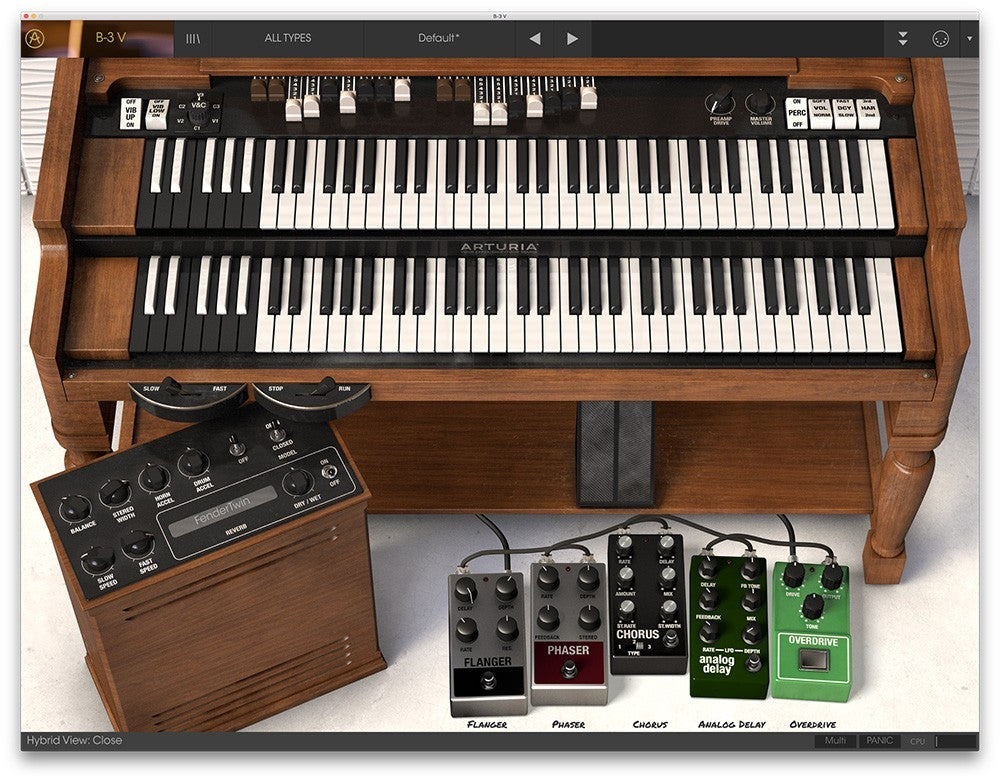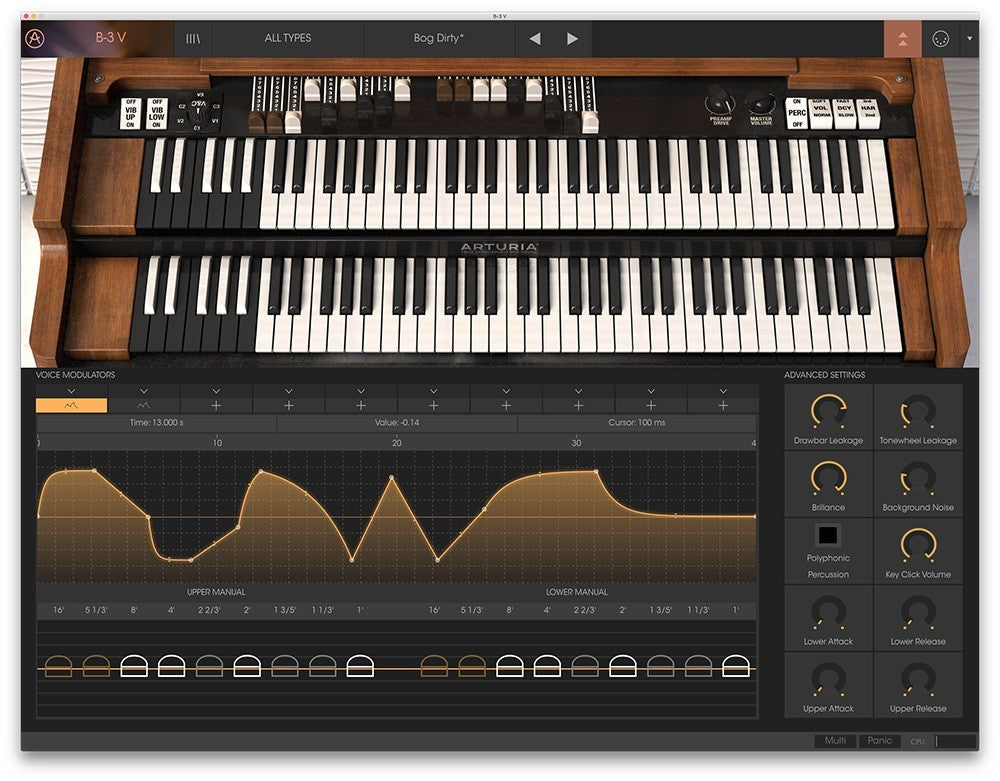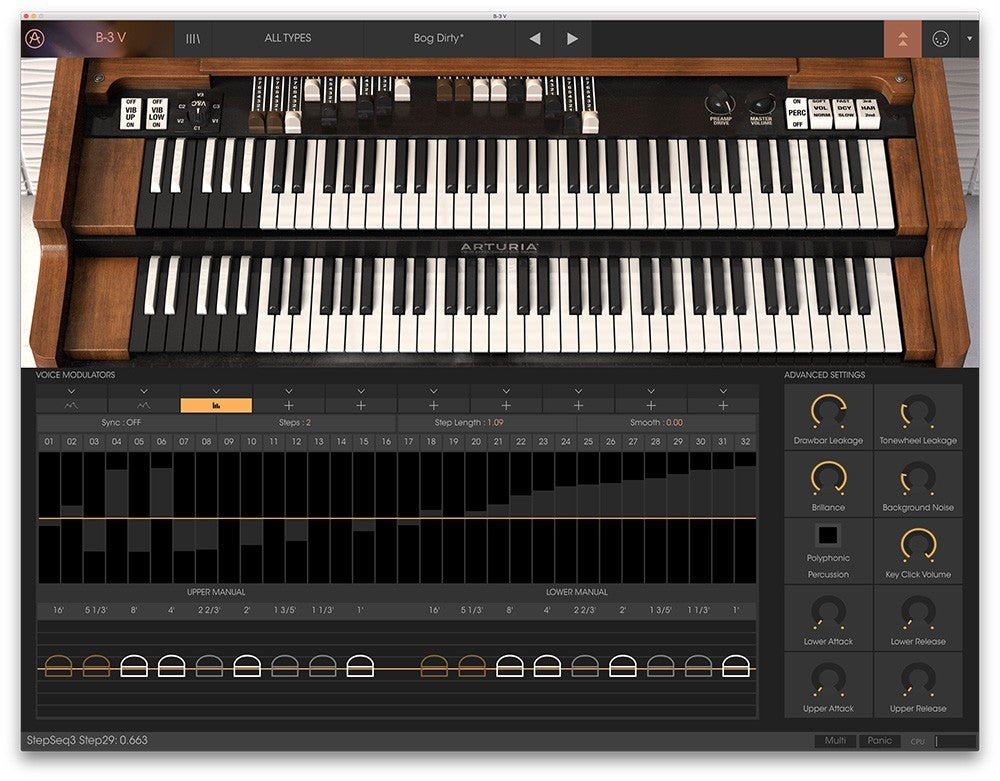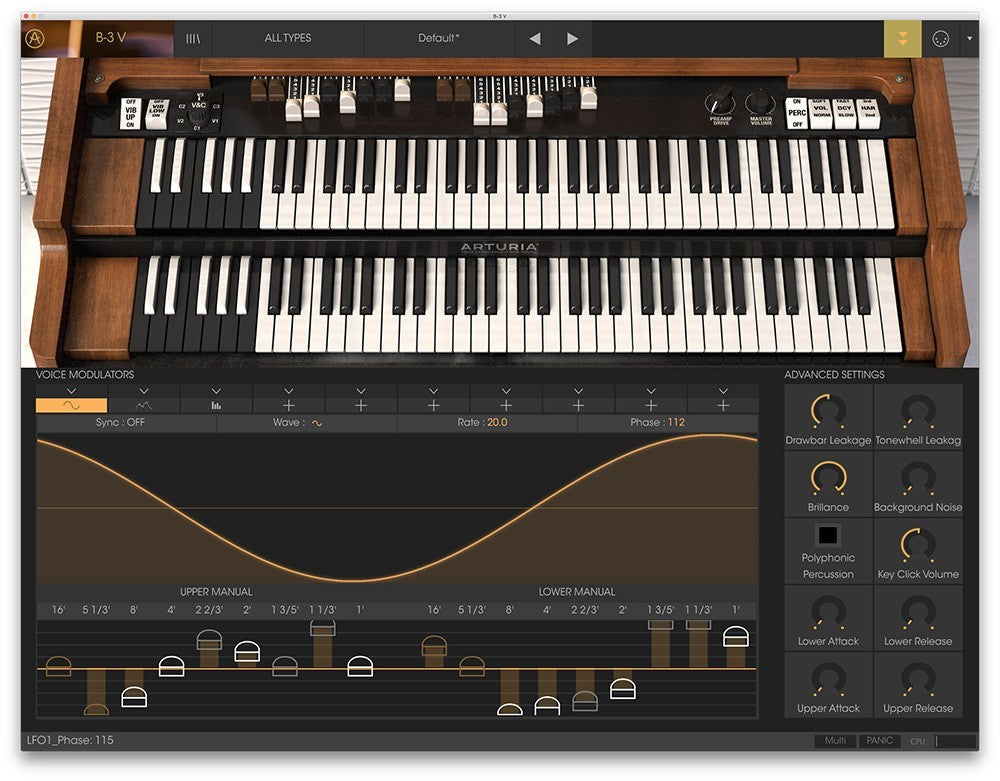 Arturia B-3 V Virtual Instrument Software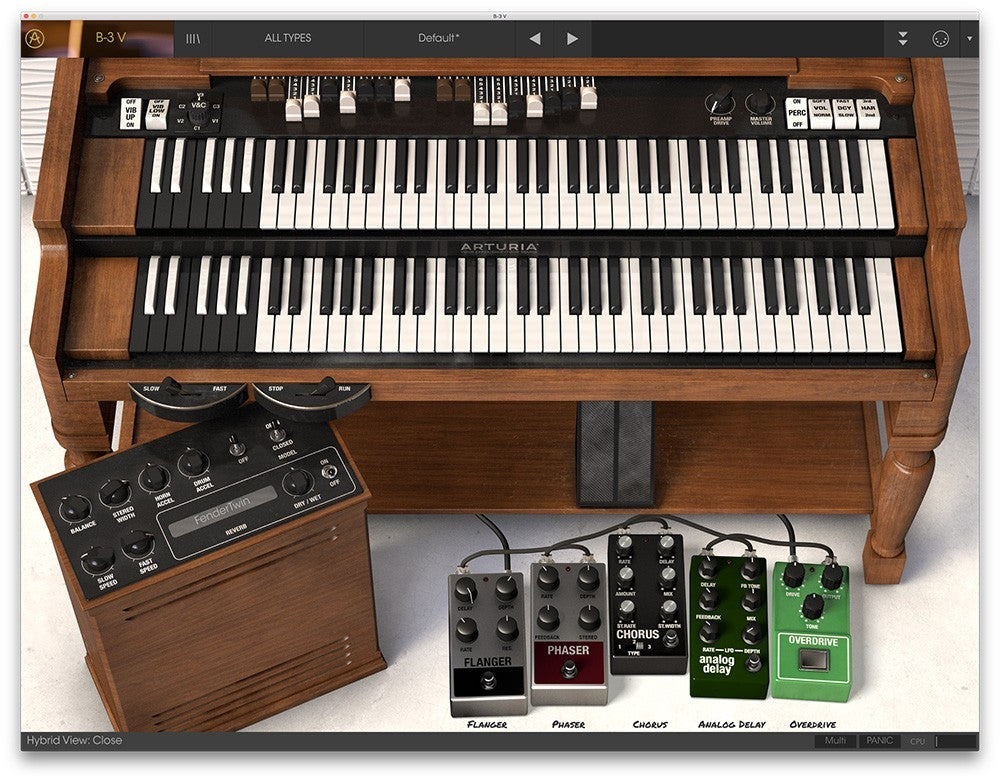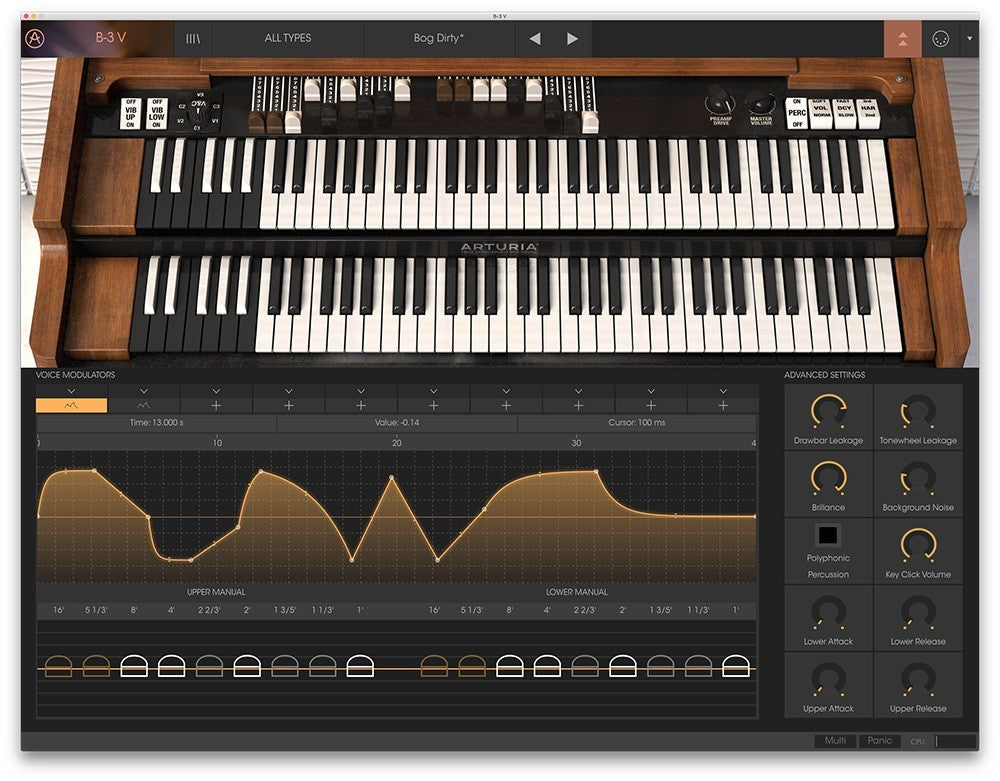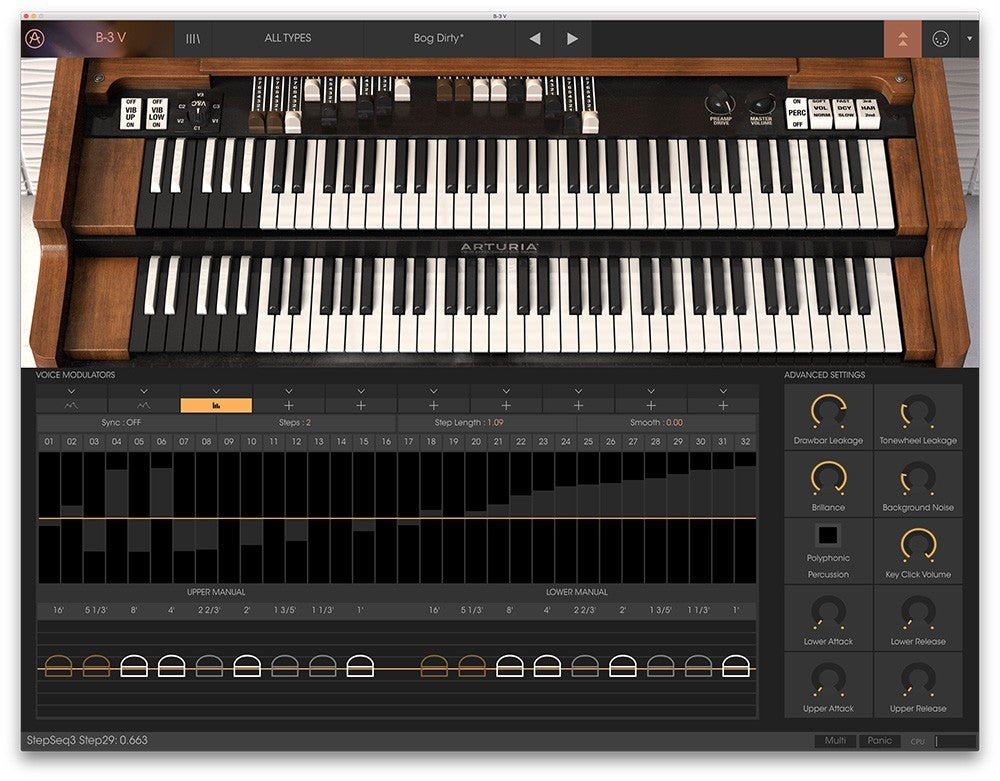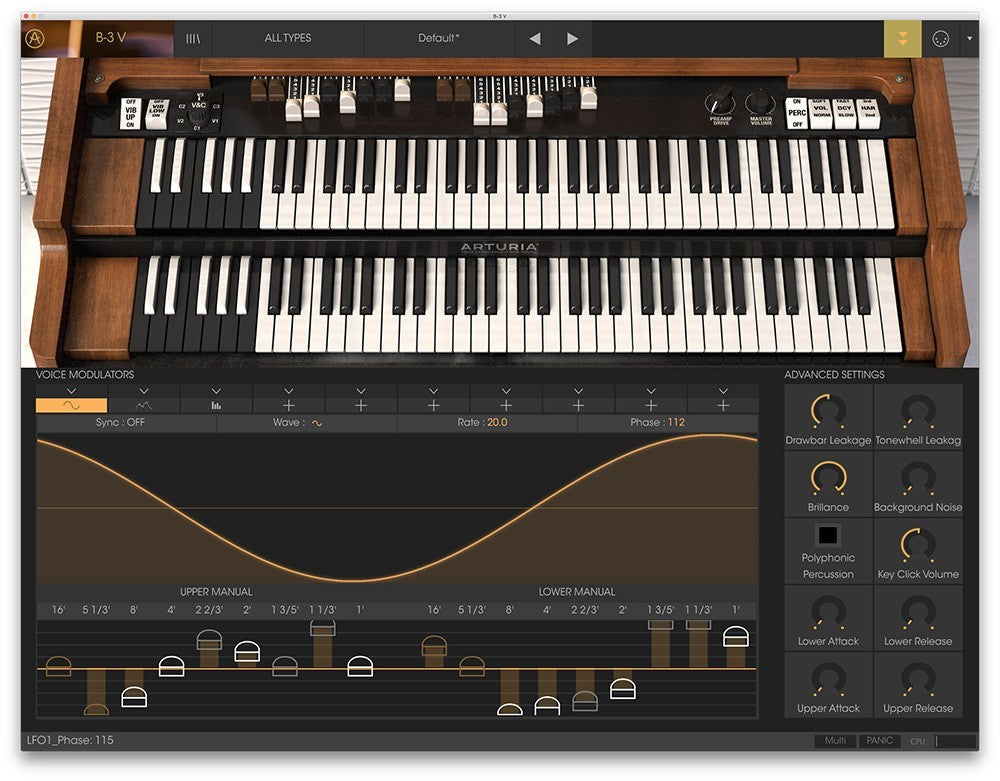 Arturia B-3 V Virtual Instrument Software
Arturia B-3 V delivers the most authentic tonewheel organ and rotary speaker experience you'll find anywhere, plus customizations that open up new creative opportunities.
Monarch of electronic organs, the rich sounding B3 has been a staple of jazz, gospel, rock, reggae and R&B — not to mention pro studios everywhere — for over a half century. Its electromagnetic tonewheel design gave it a beefy quality not found on later transistor organs. Arturia's faithful homage includes an authentic rotary speaker and an array of stomp boxes, plus inspiring updates like analog circuit mods and drawbar modulation for new animated and syncopated effects.
Majestic sound
No other organ so completely captured the hearts of keyboardists, spanning so many genres and years. It had the subtlety for jazz at the hands of artists like Jimmy Smith, Joey Defrancesco and John Medeski. It had the grace for gospel, as demonstrated by Elbernita 'Twinkie' Clark and Cory Henry. It had the energy to drive the reggae behind the likes of Bob Marley and Jimmy Cliff, and the soul of James Brown and Sly Stone. Most visibly, it had the raw power to hold its own in a rock world as diverse as ELP, Santana, Yes, Pink Floyd, Deep Purple, The Allman Brothers and Blood, Sweet and Tears.
Whether you're playing solo, in a group, or in a mix, Arturia B-3 V lets you cover the organ parts for any genre using the sound and feel of the real thing.
Unmatched authenticity
There are organs and there are B3s. Then there are B3 emulations and Arturia B-3 V. Where most other attempts are based on samples that only capture some of the qualities, Arturia created the B-3 V using the same critically acclaimed modeling technology that distinguishes their other software instruments. We put that same attention to detail into the included rotary speaker as well.
Even better with age
Rotary speakers have become an essential part of the tonewheel organ sound, so naturally Arturia has included one. But why stop there? They've also added lots of other options including multiple reverbs, an array of effects pedals, and even the ability to modify previously fixed analog circuit features like key click. The most radical enhancement is the addition of a modulation section to automate the movement of drawbars using envelopes, LFOs and step sequencers, letting you infuse your music with new animated textures.
With its combination of faithful realism and new mods, the B-3 V has you covered whether you're playing standards, rocking classics or pioneering new musical ground.
Features

Physical modeling engine (no samples)
Dual manual interface
Each manual has separate MIDI channel preferences
9 drawbars per manual
3 modeled chorus and vibrato settings
Separate upper and lower ON/OFF
Preamp drive
Modeled rotary speaker emulator
Advanced controls for adjusting the model
Convolution based reverb
Traditional Leslie performance controls
Swell pedal
Percussion controls

On/off
Volume soft/normal
Slow/fast decay
Harmonic selection

Output effects where you can change the order

Volume, wah, auto-wah
Flanger
Compressor
Chorus
Analog delay

New advanced drawbar modulators

LFOs with multiple waveforms and phase
Multipoint envelopes
Step sequencer
Drawbar destinations with positive and negative amount controls

Physical model engine parameters

Drawbar leakage
Tonewheel leakage
Brilliance
Background noise
Polyphonic percussion
Key click volume
Attack and release controls

86 factory presets
Easy to use MIDI mapping

Specifications

Standalone instrument
VST 2.4 32-bit and 64-bit plug-in
VST 3 32-bit and 64-bit plug-in
Audio Unit 32-bit and 64-bit plug-in
AAX 32-bit (ProTools 10.3.8) and 64-bit (ProTools 11) plug-in
NKS plug-in
Copy protection by Arturia Software Center
System requirements

Mac

macOS 10.8 or higher
4 GB RAM
2 GHz CPU
1GB free hard disk space
OpenGL 2.0 compatible GPU

Windows

Win 7 or higher
4 GB RAM
2 GHz CPU
1GB free hard disk space
OpenGL 2.0 compatible GPU
SKU
ART-B3V
Vendor
Arturia
Mpn
210520
Delivery Method
Download
Licensing Method
Online Authorization
Mac/PC Compatibility
Both
Operating System Compatibility
macOS 10.8 or higher
Windows 7 or higher
Plug-In Formats Supported
VST 2.4 32- and 64-bit
VST 3 32- and 64-bit
Audio Unit 32- and 64-bit
AAX 32- and 64-bit
NKS
Plug-In/Standalone Operation
Both
Software Type
Virtual Instrument
Ground shipping is FREE for all orders $99 and up.