Skip product carousel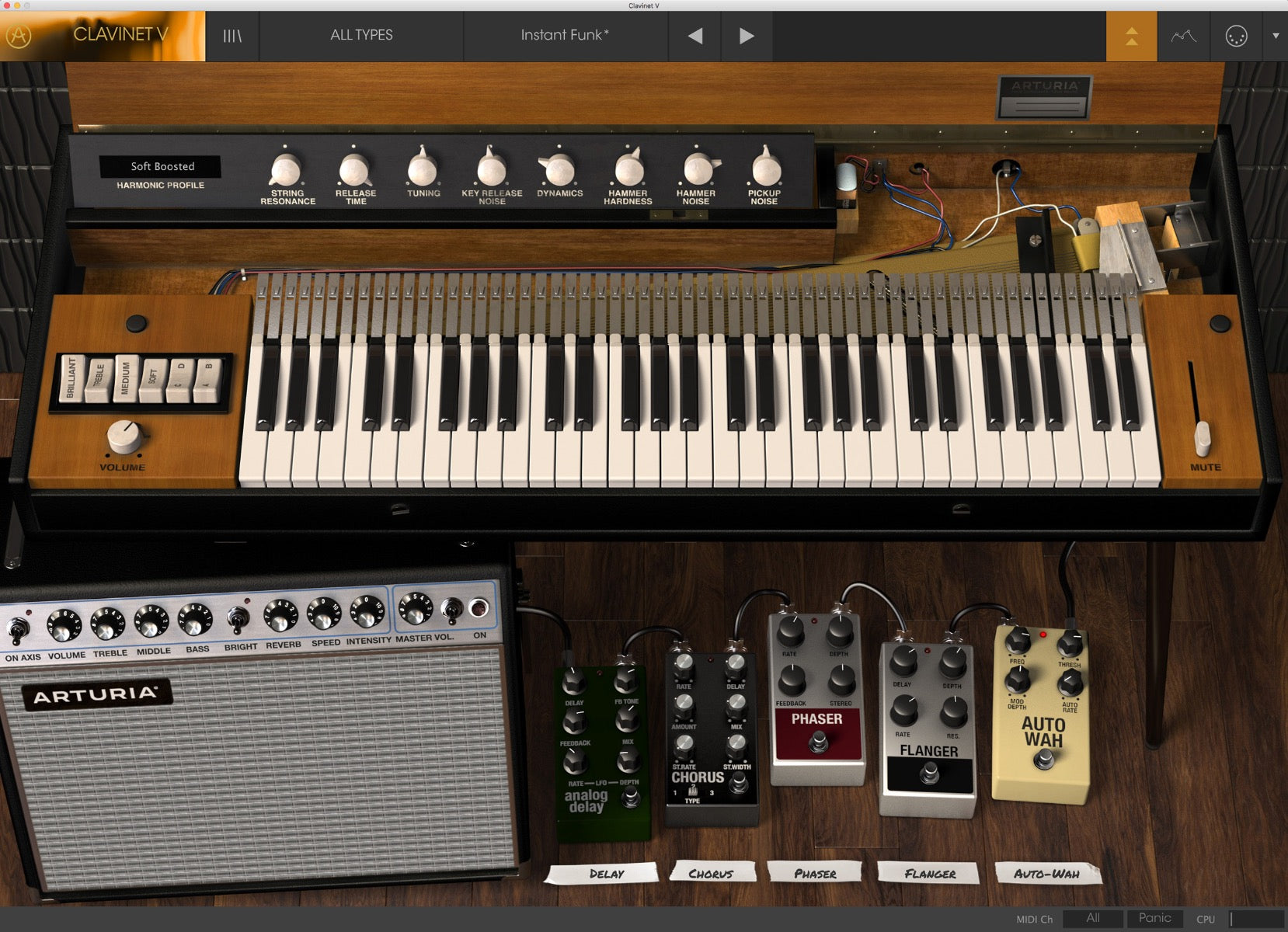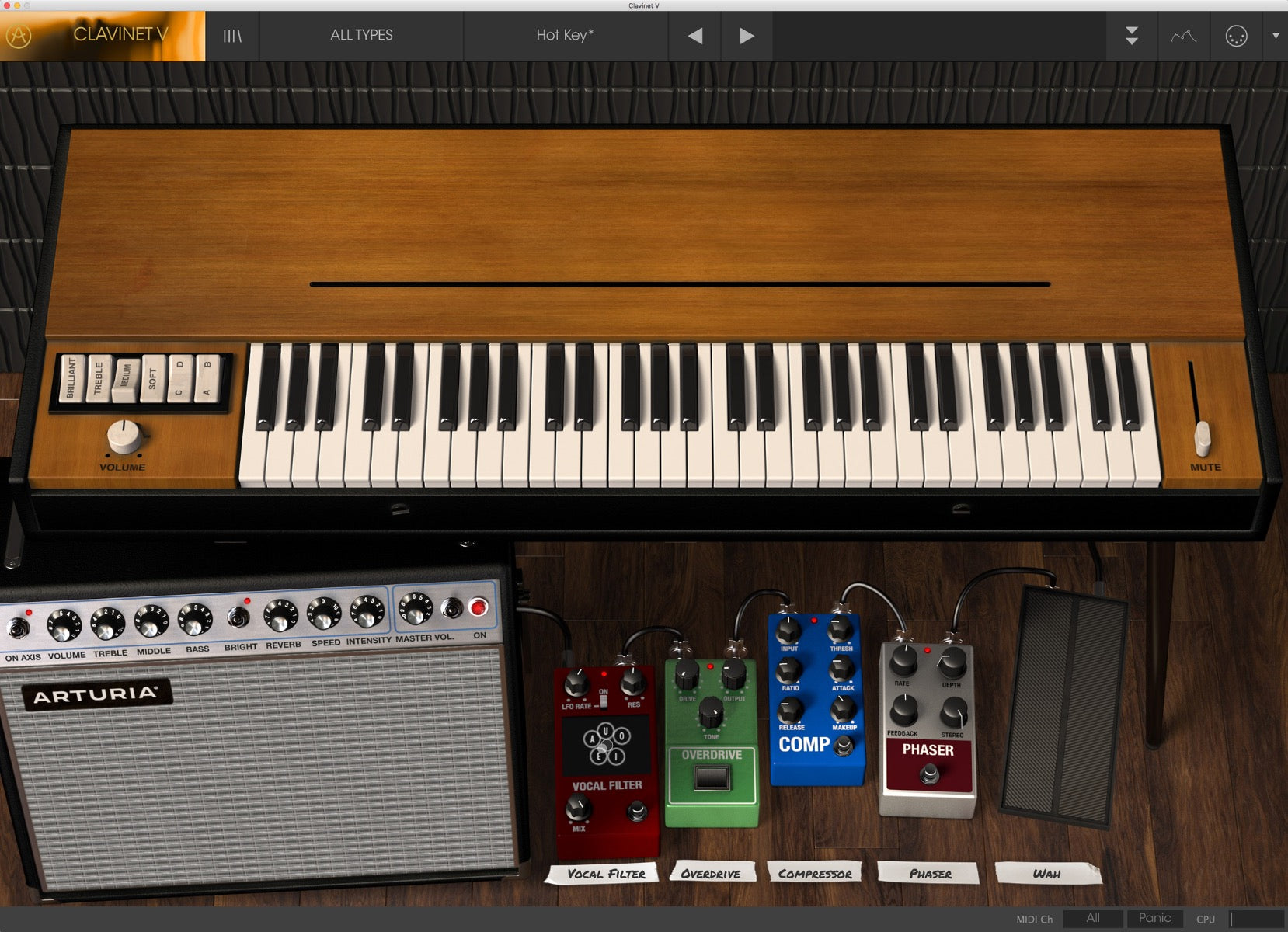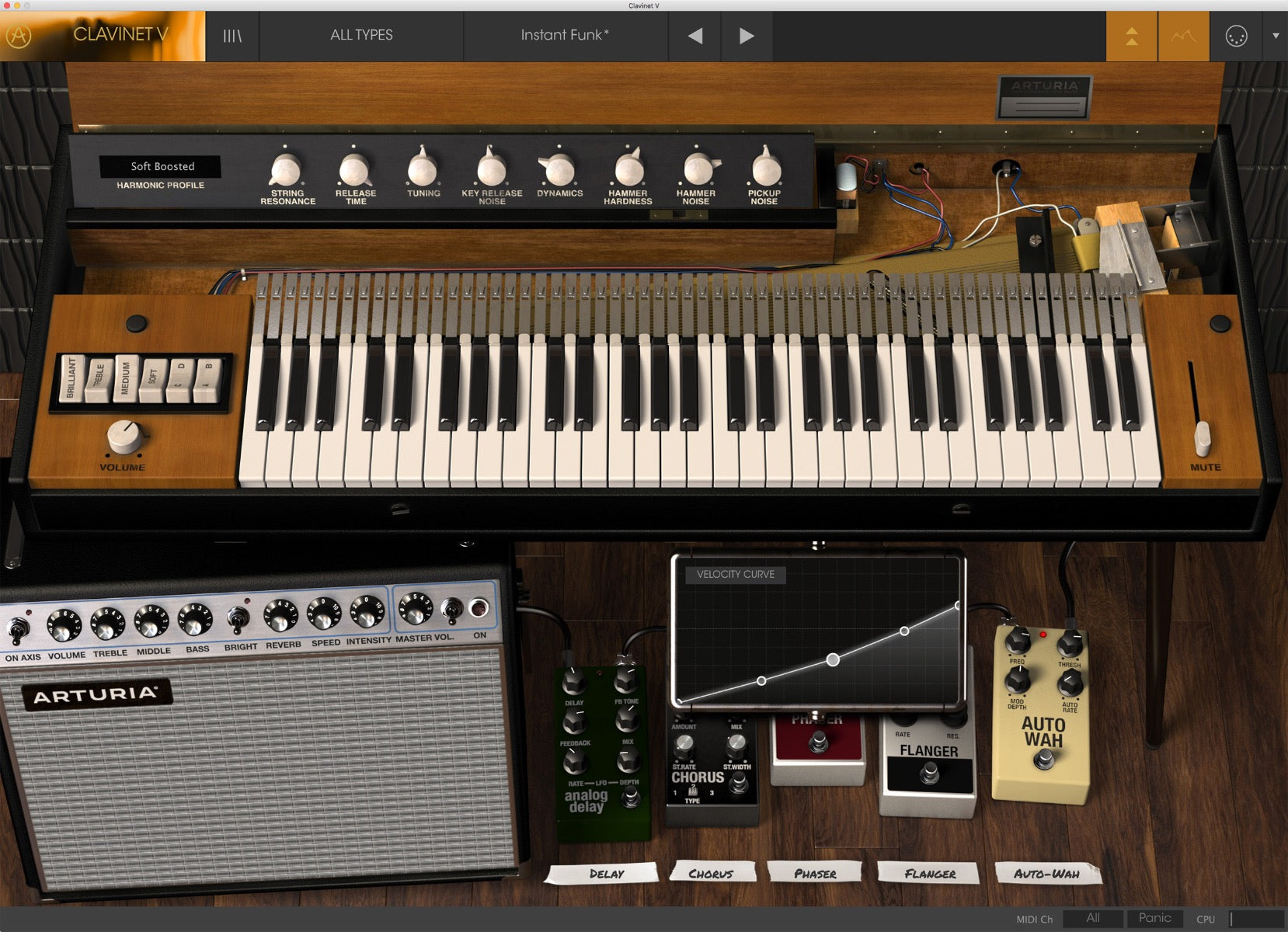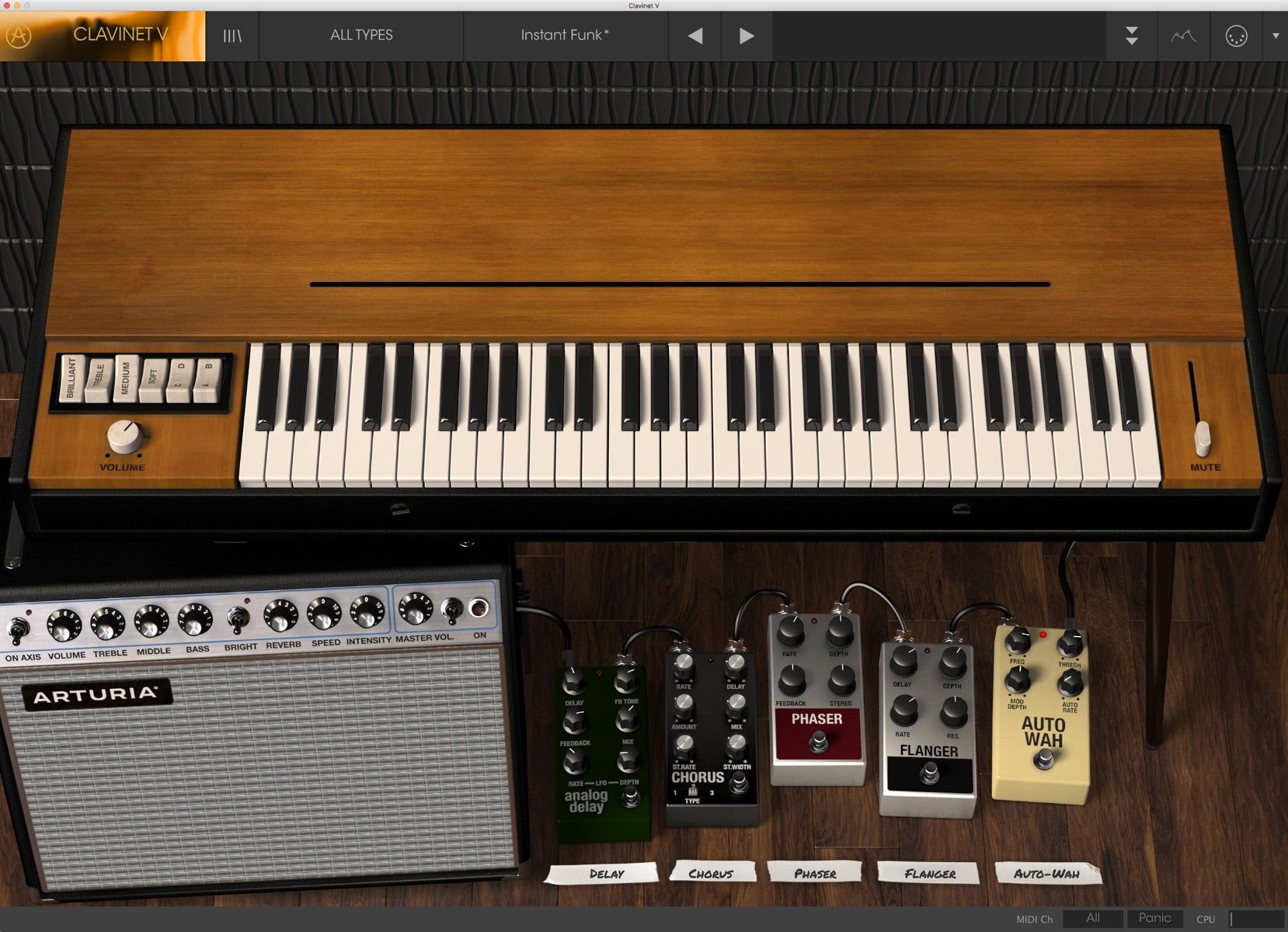 Arturia Clavinet V Virtual Instrument Software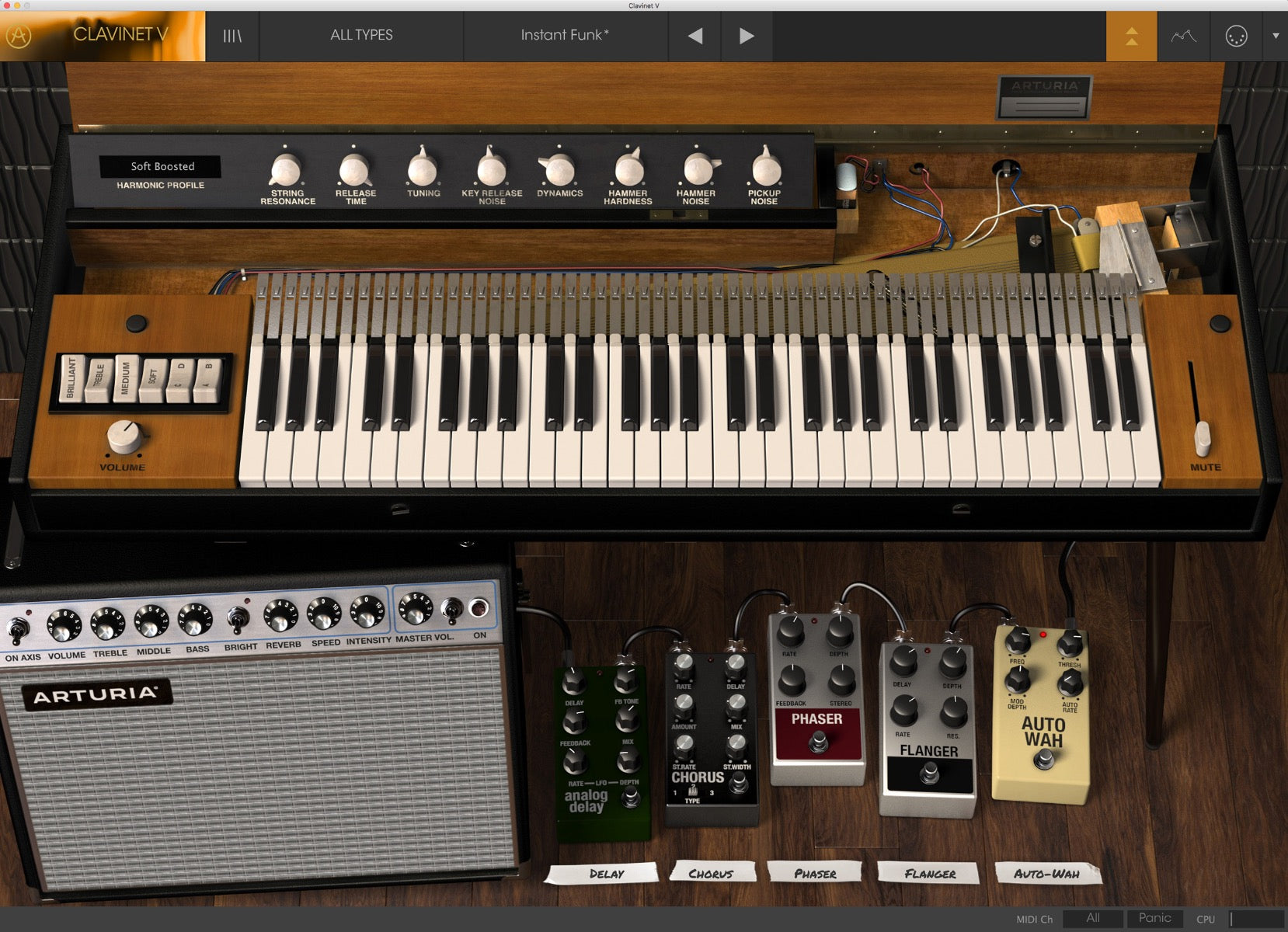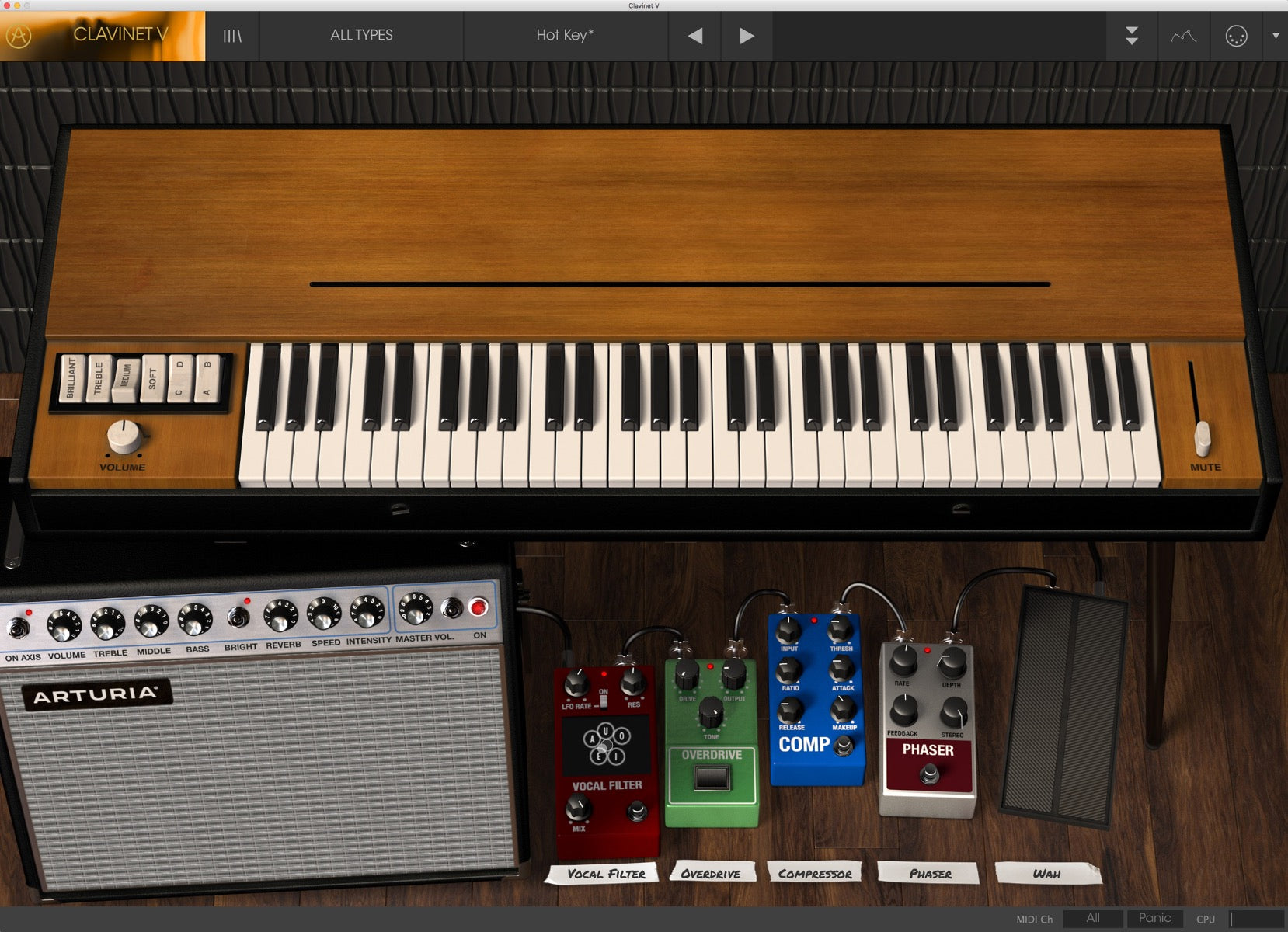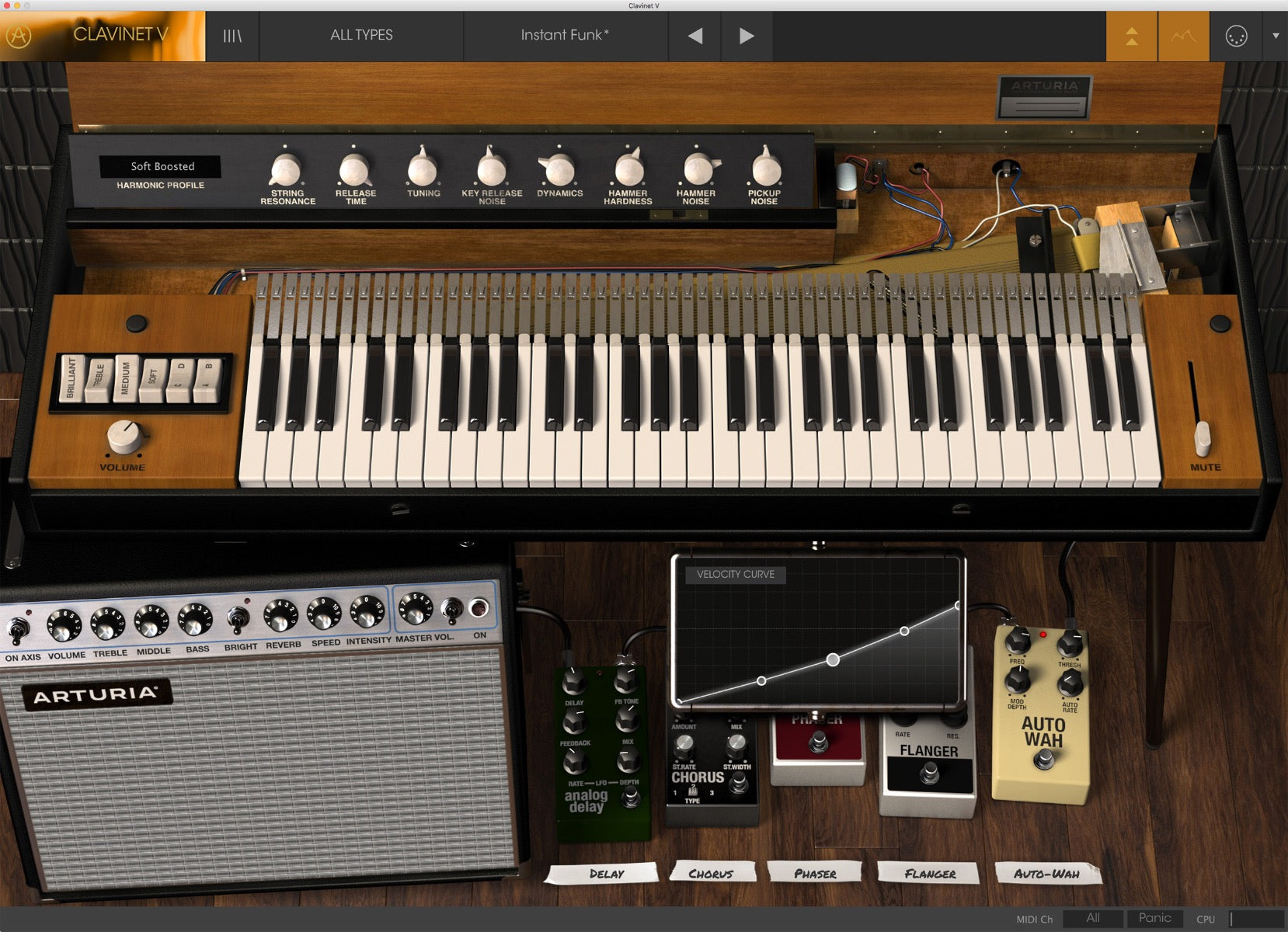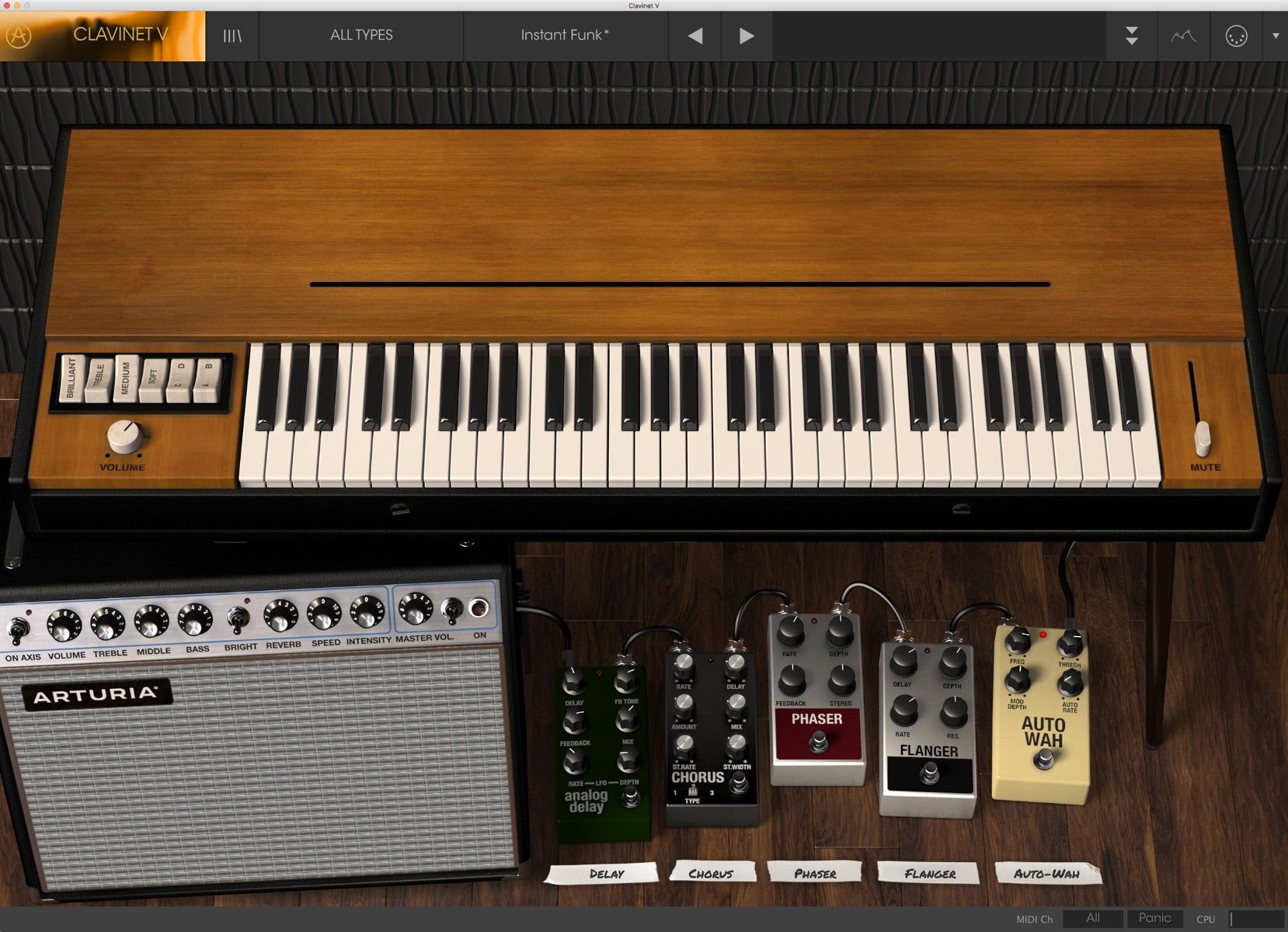 Arturia Clavinet V Virtual Instrument Software
From the first note you play on Arturia Clavinet V, you know this is no sample or synth. You feel that organic grit that only comes from a physical instrument, reproduced in minute detail by Arturia's award-winning modeling technology. They recreated the iconic Clavinet D6, including lightning response, multiple pickups, EQ rockers and variable mute. You can even tech your own customizations to age your instrument to taste. Dial in the rest of that coveted vintage sound you're looking for with the built-in virtual guitar amp and stompbox rig, or just hit the extensive preset library. When you want the real deal, you want Clavinet V.
May the funk be with you
Whether you love playing oldies or pioneering new musical territory, there's nothing like the distinctive sound of a Clavinet's hammered strings. The unmistakable bright, punchy sound of this vintage keyboard occupies a unique sonic space somewhere between harpsichord, hammered electric guitar and slapped bass. Top keyboardists of the 70s used its signature bark and bite to cut through the mix while delivering some of the most authoritative percussive keyboard lines ever played. Thanks to the ultra-realistic Clavinet V, you can now command the same crisp sound that helped define funk and formed the bedrock of many pop and R&B hits back in the day. If you're looking to add natural energy and vintage cred to your sound, Clavinet V is just the ticket.
Ain't nothing like the real thing, baby
Since the Clavinet is an electro-acoustic instrument complete with multiple settings and a dynamic action, there are countless subtle variations during performance. By comparison, 'clav' synth patches and samples seem one-dimensional. That's why Arturia applied their award-winning physical modeling and algorithmic emulation to give you a sound and playing experience indistinguishable from the real thing.
More than a Clavinet
The original Clavinet controls were simple to use, and Arturia has kept them authentic. If you want to go deeper, just click the lid open and you can easily tweak exactly how your instrument sounds and behaves. The built-in collection of effects pedals – chorus, flanger, wah and more – let you easily get the rich signature sounds of the keyboardists who popularized the instrument. You'll also find an integral vintage guitar amp, so you never have to look elsewhere to get just the sound you're looking for. Of course, everything can be preset for instant recall.
Physical modeling of real strings and action
When you play a Clavinet, rubber pads on the end of the keys drive the corresponding strings against a metal plate, giving the instrument its characteristic bright, percussive sound, similar to that of hammer-on guitar or slapped bass. When the key is released, a yarn weave beyond the strike point damps the strings. Arturia modeled each of those individual components so you get the authentic sound, including all the nuances of increased volume and brightness as you play with more force. A master damper slider also controls a variable degree of master muting for more subtle plucking effects.
Algorithmic emulation of pickups and circuitry
The Clavinet's string vibrations are converted to an electric signal via a pair of large phase-switchable 6-core humbucking pickups similar to those found in electric guitars, then preamplified to line level. Left-hand rocker switches determine the pickup engagement and phase, as well as all-or-nothing passing of low, mid and high frequency ranges. Arturia used their algorithmic emulation to perfectly reproduce the sound and behavior of each of these electronic components and controls individually. Various combinations of the modeled controls give you the exact tonal variations popularized on numerous flagship funk, pop, R&B and soul recordings of the 70s.
Dial in your perfect Clavinet
People used to pay seasoned techs to painstakingly modify their instruments to get just the right sound and response. The only reasons a player opened their keyboard was to tune it or fix it – not fun. With Clavinet V you'll actually want to pop the top, because that's where you'll find control over every aspect of the modeled components: start with one of six intrinsic harmonic profiles characteristic of various original instruments, dial in how old your instrument sounds by changing the string resonance and hammer hardness and then etermine how much gritty hammer and pickup noise you want, or how loose our tight your instrument feels.
A complete all-in-one vintage rig
Like guitars, most Clavinets were processed. It was common to use compression to punch things up for more presence and chorus to fatten and animate the sound. Those are just two of the effects you get in the full array of modeled stompboxes built right into Clavinet V: flanger, analog delay, overdrive, wah pedal and more. You can even use Arturia's unique new vocal filter for an ear-catching vowel effect. Clavinet V also lets you run direct for a cleaner sound or through Arturia's model of the most popular tube amp of the era for more warmth. The amp features both channel and master gain to heat things up to taste. It's all saved with your patches for instant recall of your entire custom rig.
A world of definitive Clavinet sounds at the click of your mouse
Physical modeling and algorithmic emulation combine in the Clavinet V to give you all the variations of authentic Clavinet sounds behind countless funk, pop, R&B and rock hits. The built-in effects complement puts your hands on sounds like the funky auto-wah on Stevie Wonder's 'Higher Ground' or a swirling chorus effect like Steely Dan's 'Kid Charlemagne.' Arturia's world-class sound design team has spent late nights working with the original instruments and historic tracks to bring you a library of 60+ inspiring presets to satisfy the needs of the most seasoned professional. Of course, you can tweak your own variations and save them for instant recall, too. You'll never again wish you had a vintage Clavinet in perfect condition, because you'll finally actually have them all!
Preset browser
Arturia's redesigned preset browser lets you quickly find just the sound you're looking for. Search by name or simply select the appropriate tags to dial in on the exact sonic character you're looking for. You can mark and recall your own favorites, enter comments and set up playlists. There's never been a more intuitive way to manage your library of designer and personal presets.
Resizable GUI
The user interfaces for all your Arturia instruments are now resizable, making it easy to work with any high resolution screen, UHD or Retina. You can decide whether you want to fill the screen with awesome graphic reproductions of classic instrument goodness, scale the window down when you're working in a DAW and screen real estate is at a premium, or even zoom for detailed work.
System requirements

Mac

macOS 10.10 or greater
4GB of RAM
2.5 GHz CPU
1GB hard disk space
OpenGL 2.0 compatible GPU

Windows

Win 7 or greater (64-bit)
4GB RAM
2.5 GHz CPU
1GB hard disk space
OpenGL 2.0 compatible GPU

Plug-in compatibility

VST 2.4
VST 3
Audio Unit
AAX
Can also be run as a standalone application

Protection

This software is protected by the Arturia Software Center, Arturia's utility software for managing your installations, activations and updates
Activations allowed on up to 5 different computers simultaneously
SKU
ART-CLAVINETV
Vendor
Arturia
Mpn
210625
Delivery Method
Download
Licensing Method
Online Authorization
Mac/PC Compatibility
Both
Operating System Compatibility
macOS 10.10 or greater
Windows 7 (64-bit) or greater
Plug-In Formats Supported
VST 2.4
VST 3
Audio Unit
AAX
Plug-In/Standalone Operation
Both
Software Type
Virtual Instrument
Ground shipping is FREE for all orders $99 and up.