Skip product carousel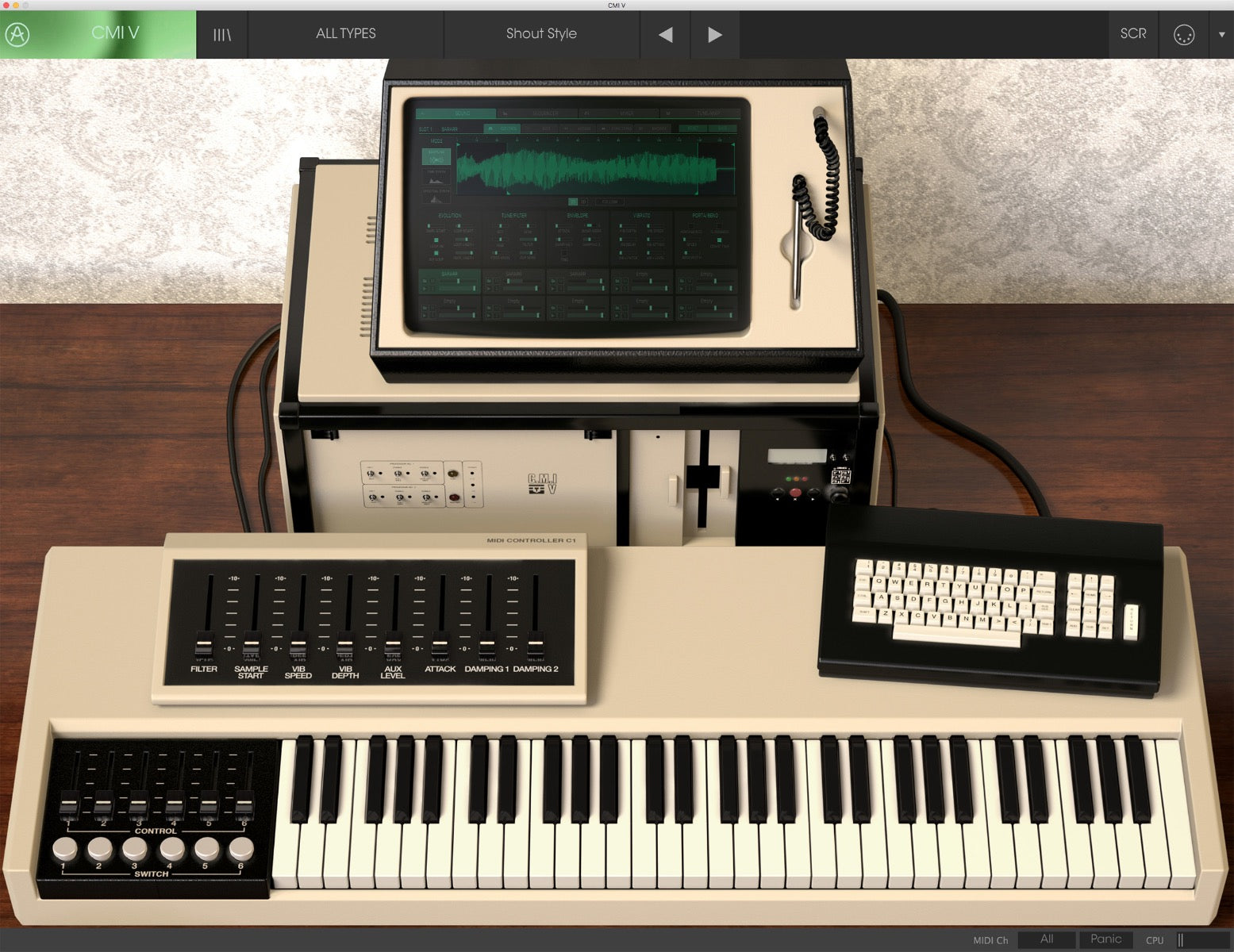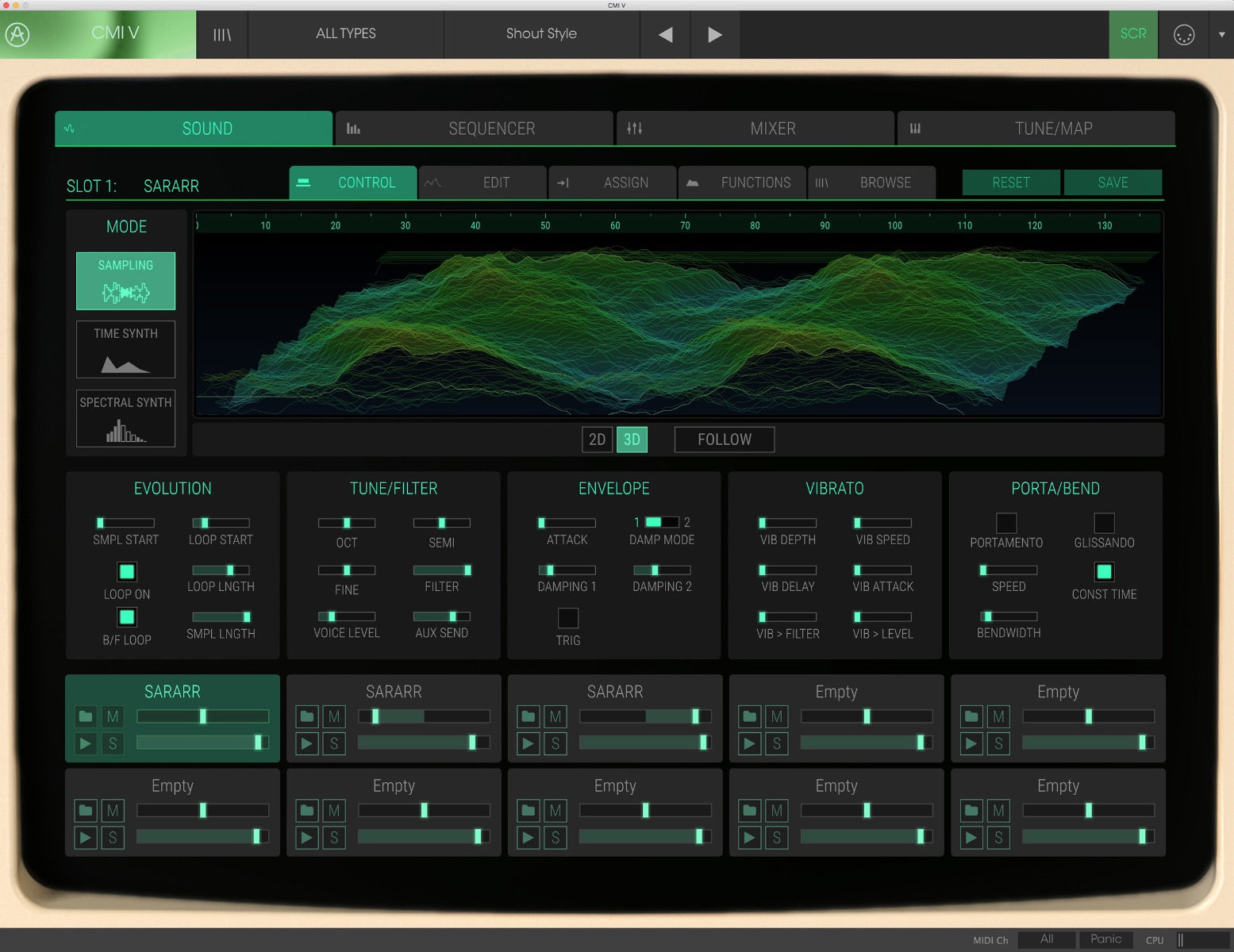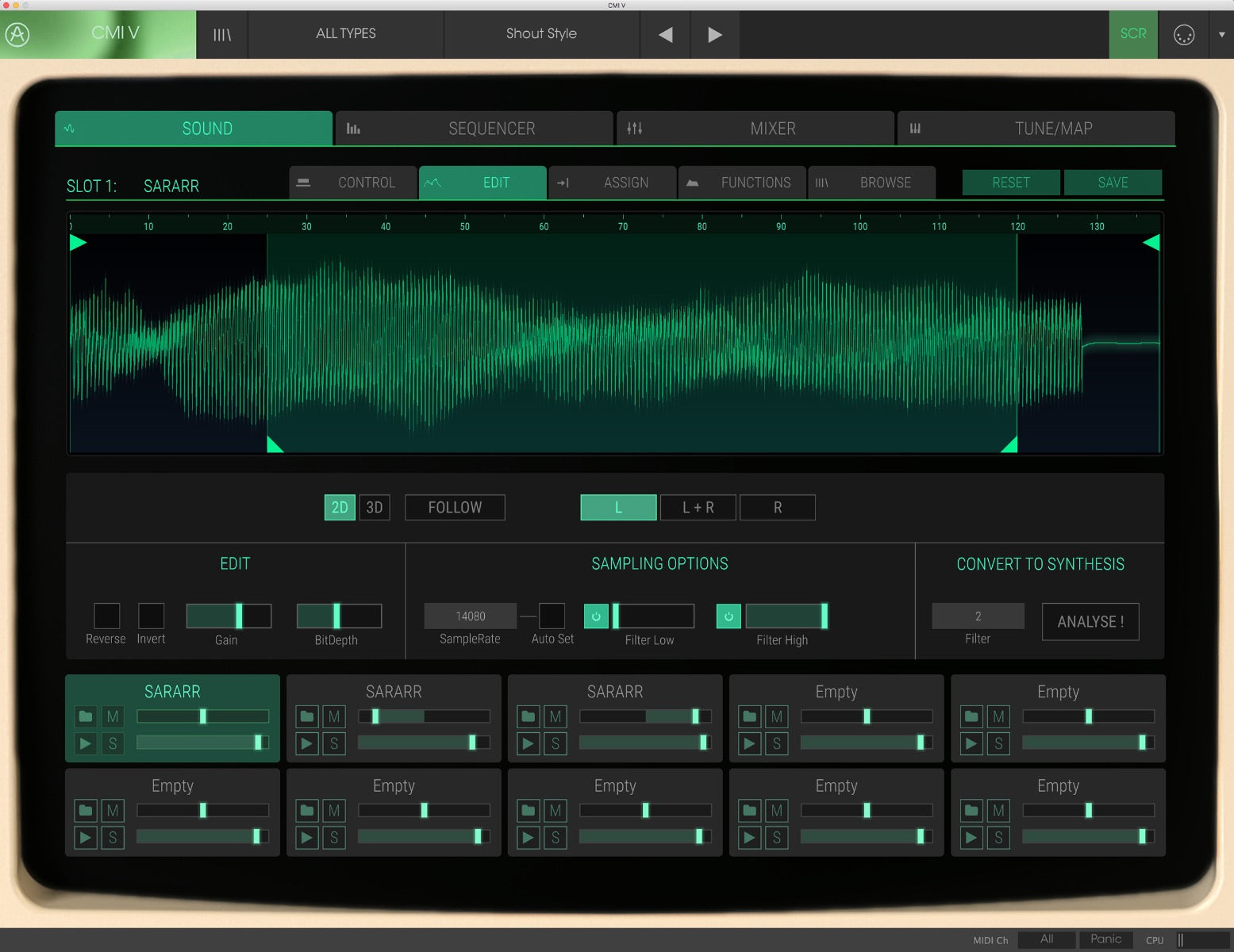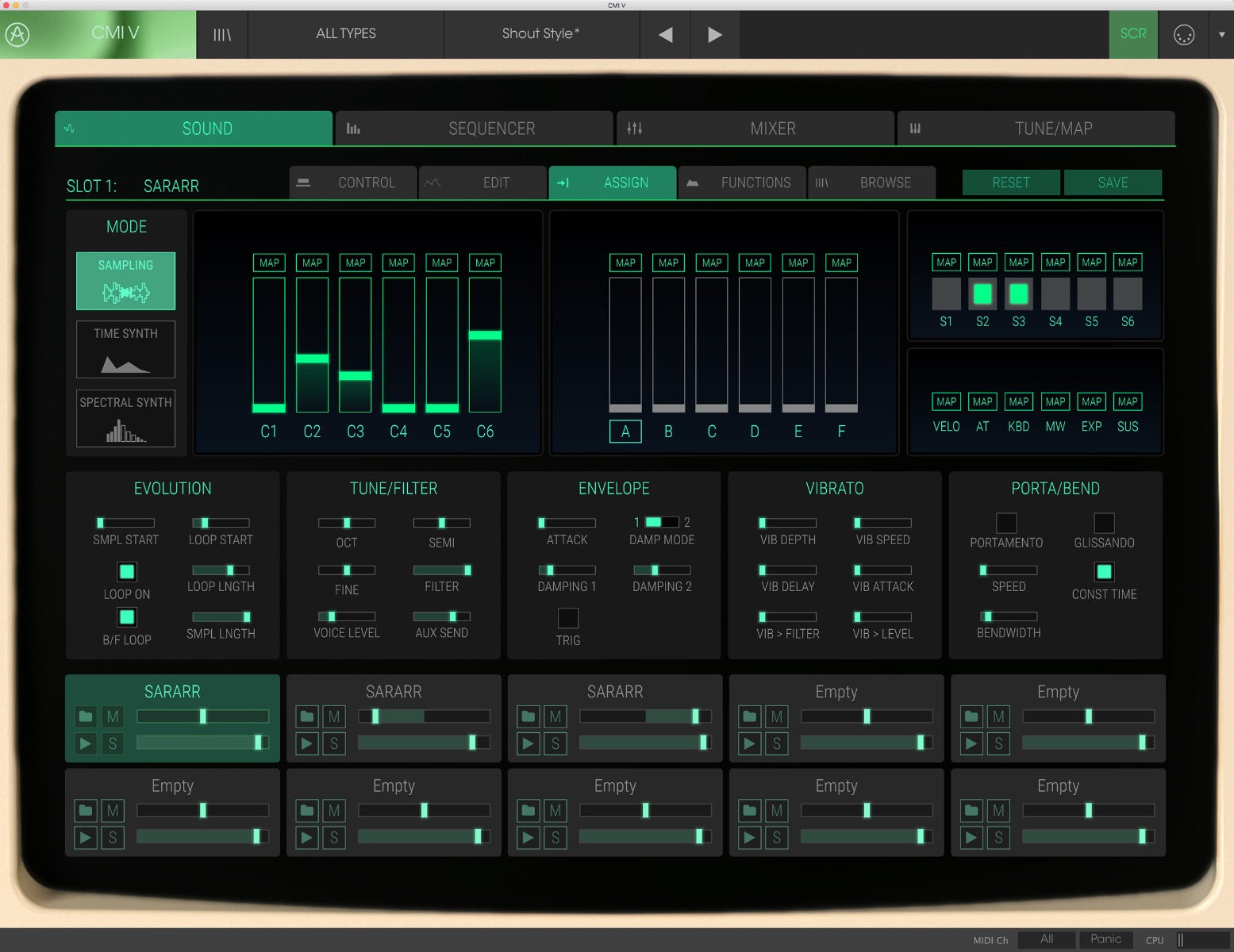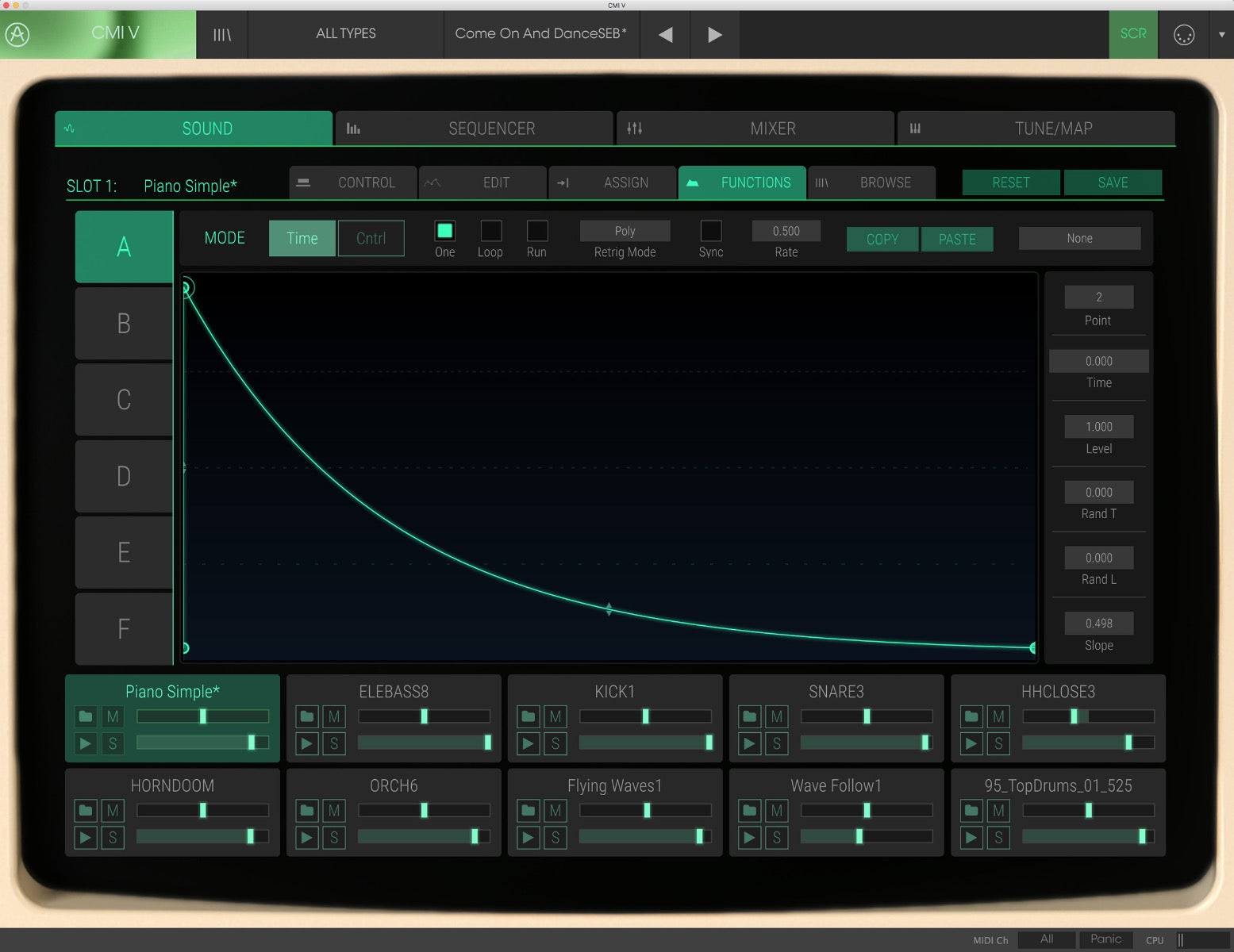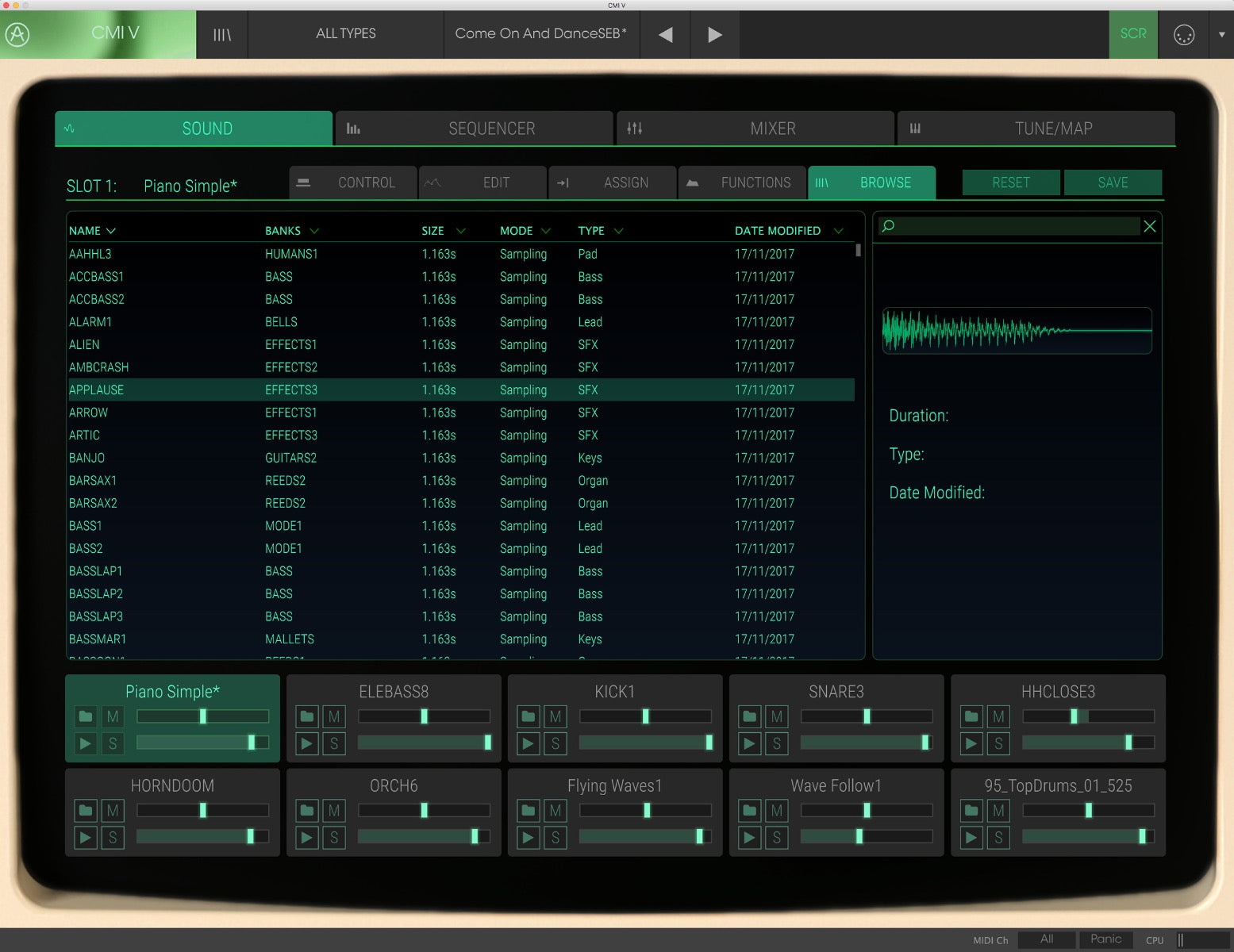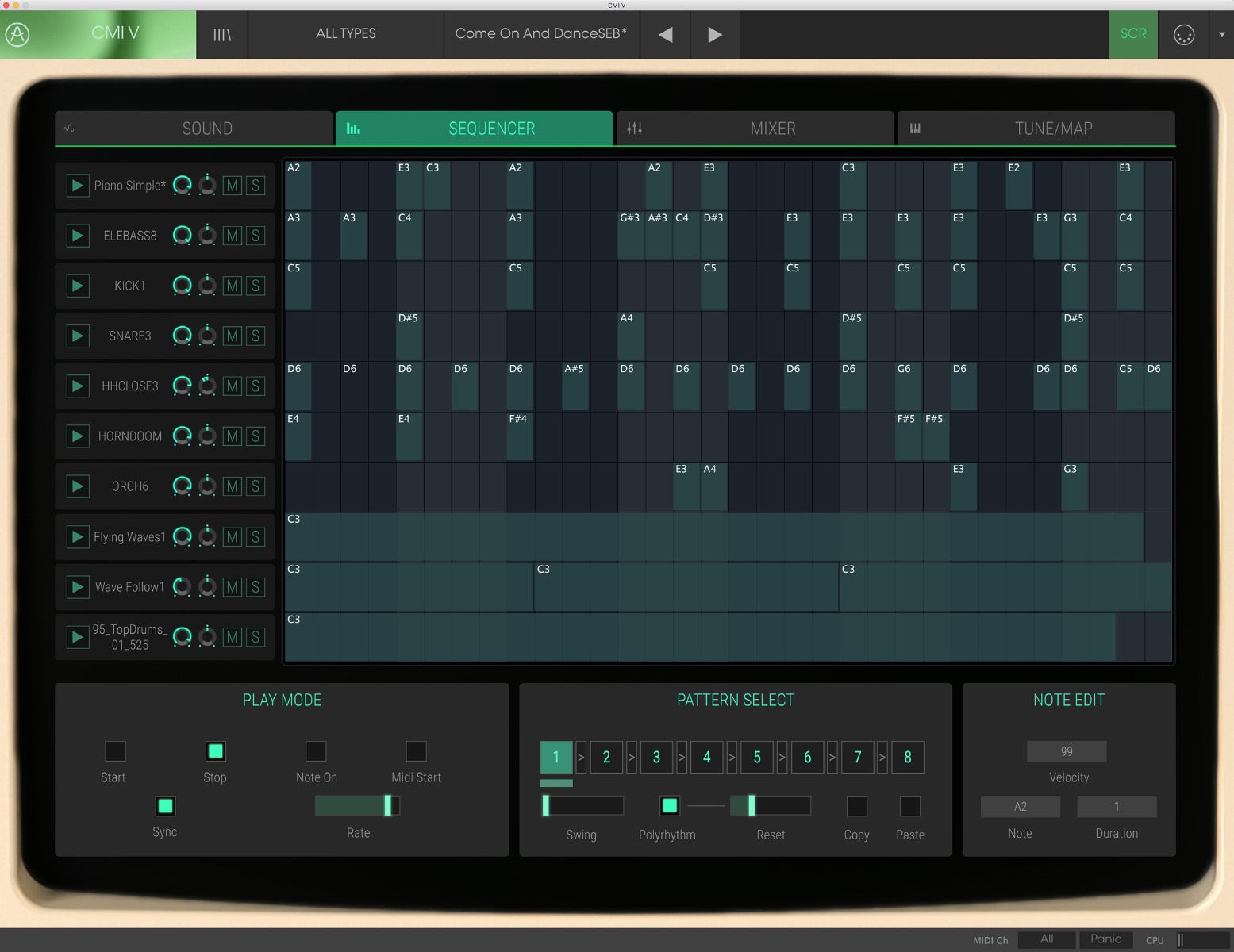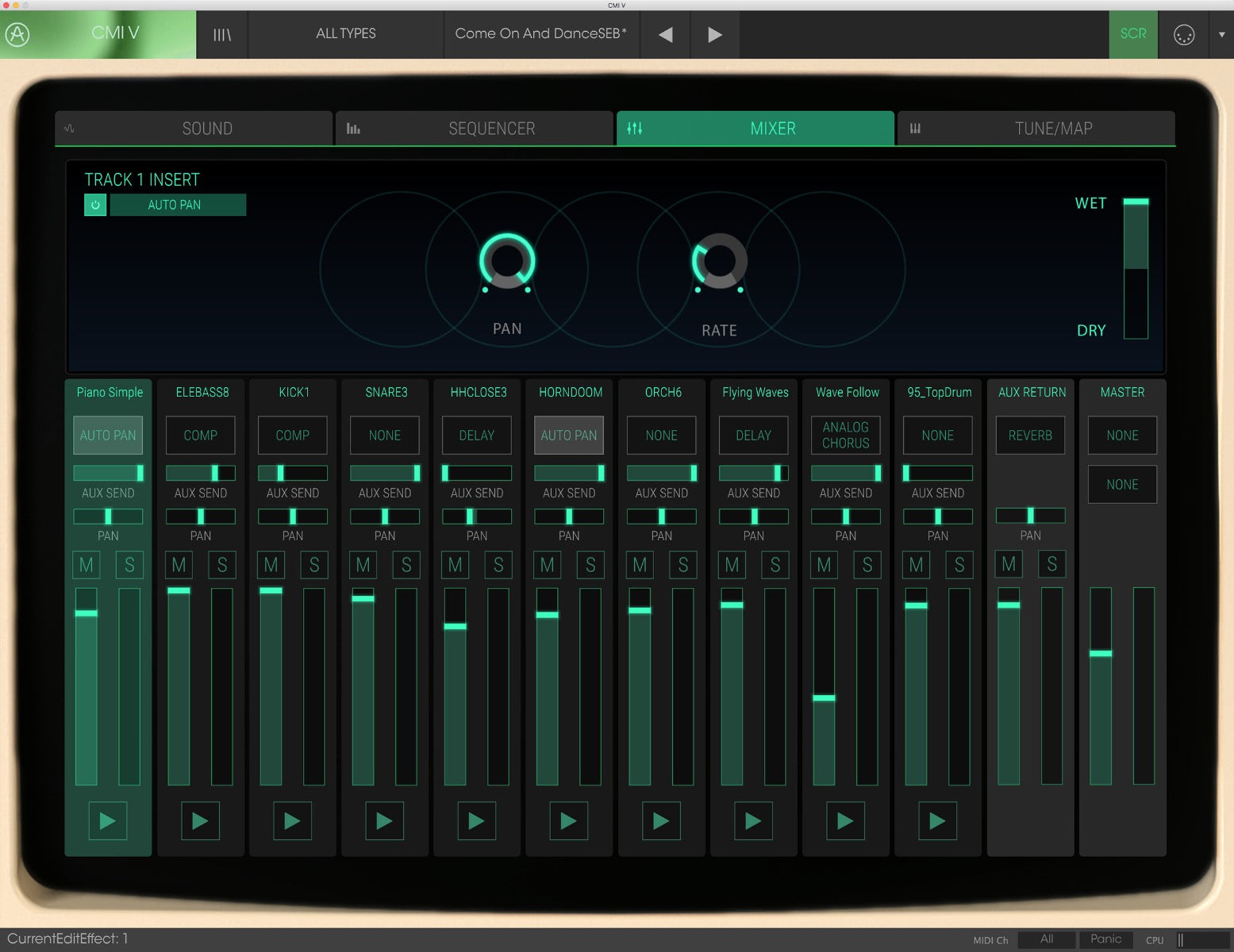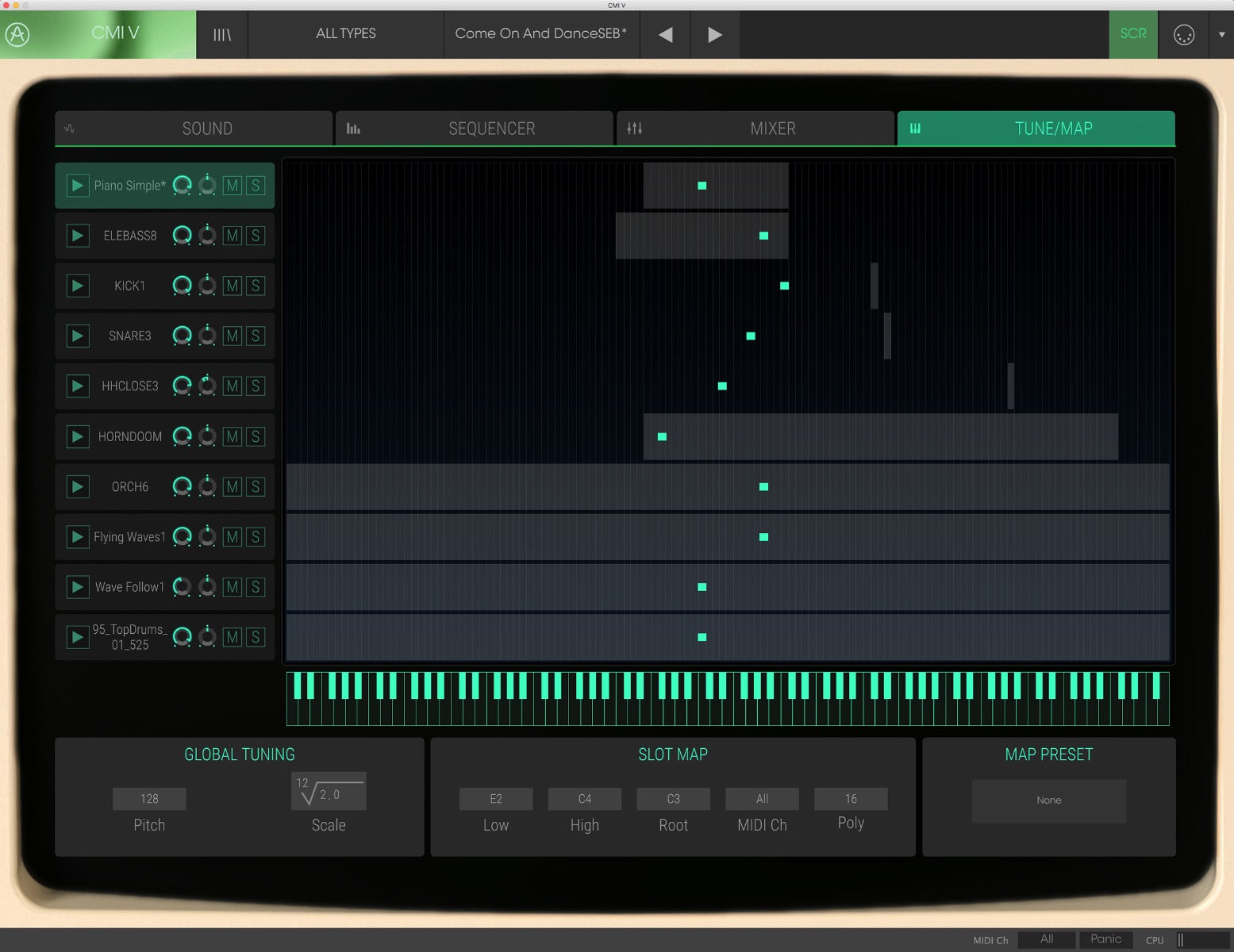 Arturia CMI V Virtual Instrument Software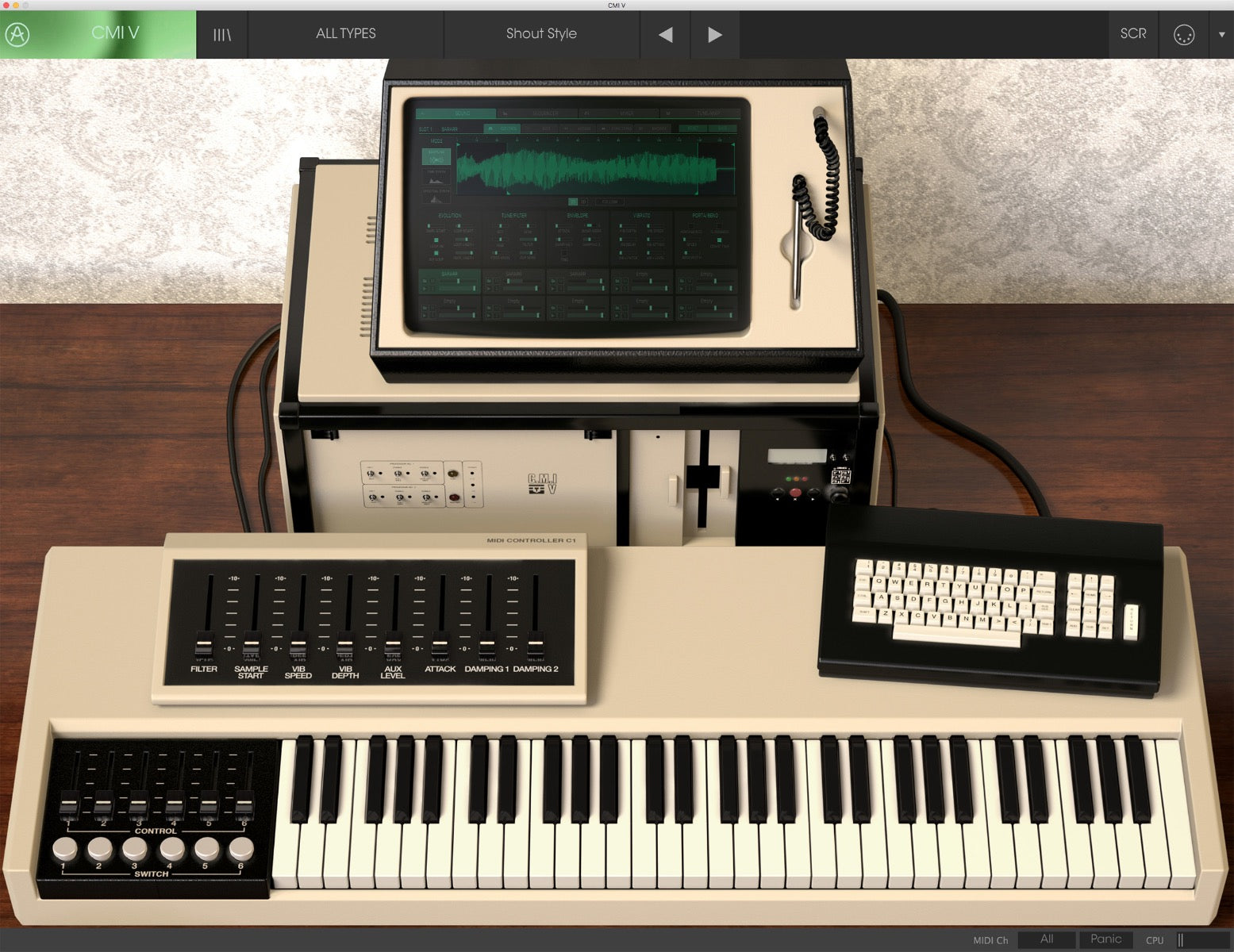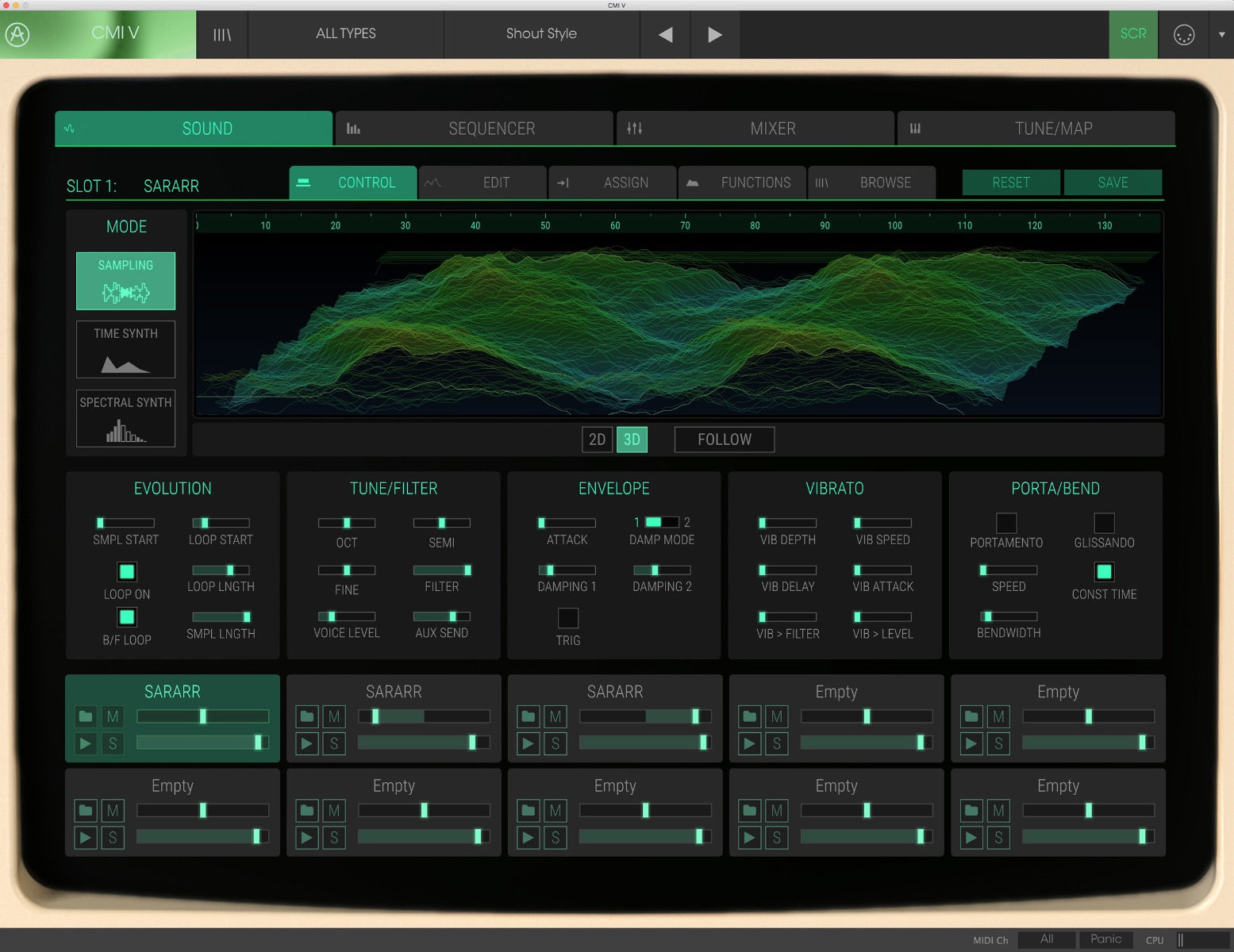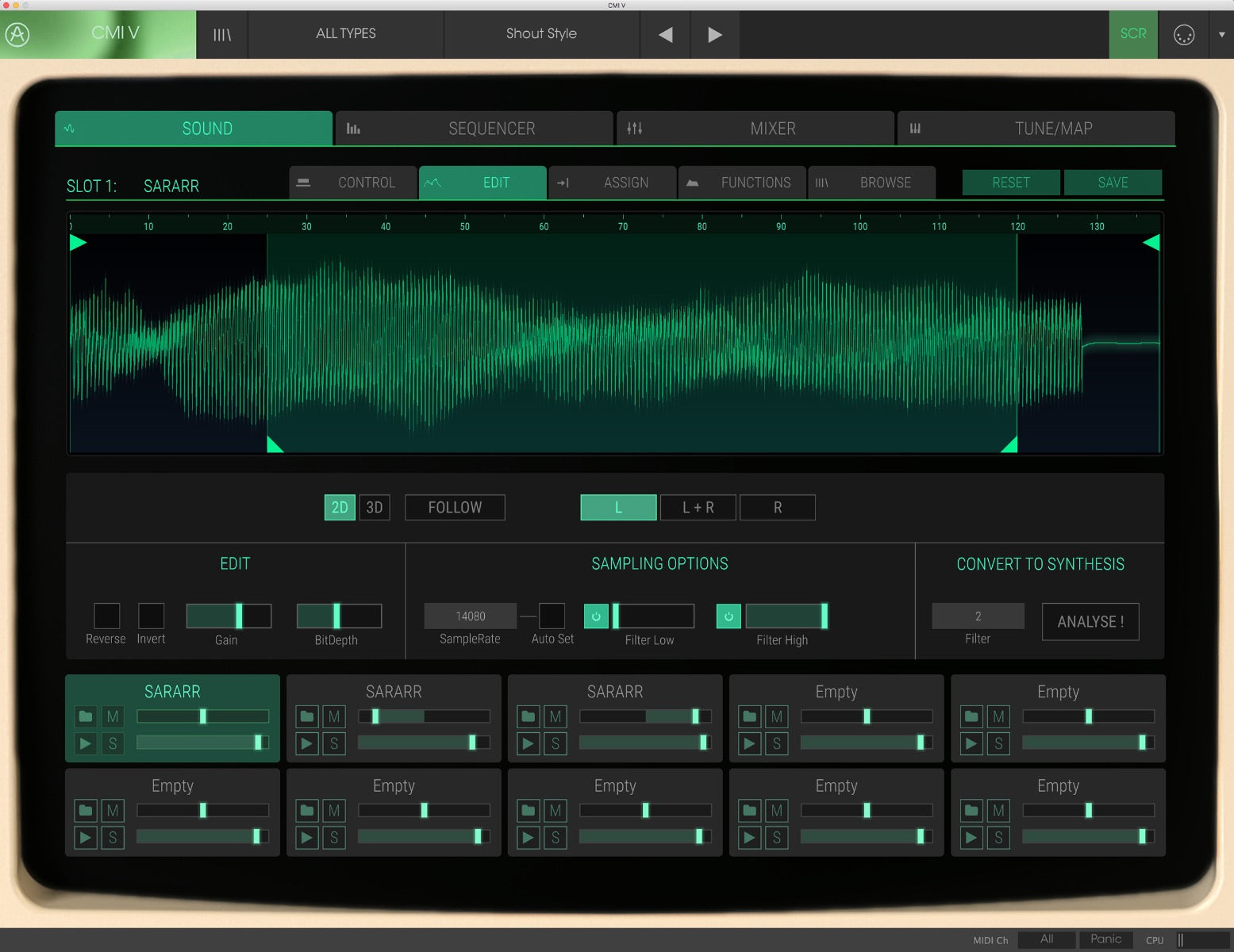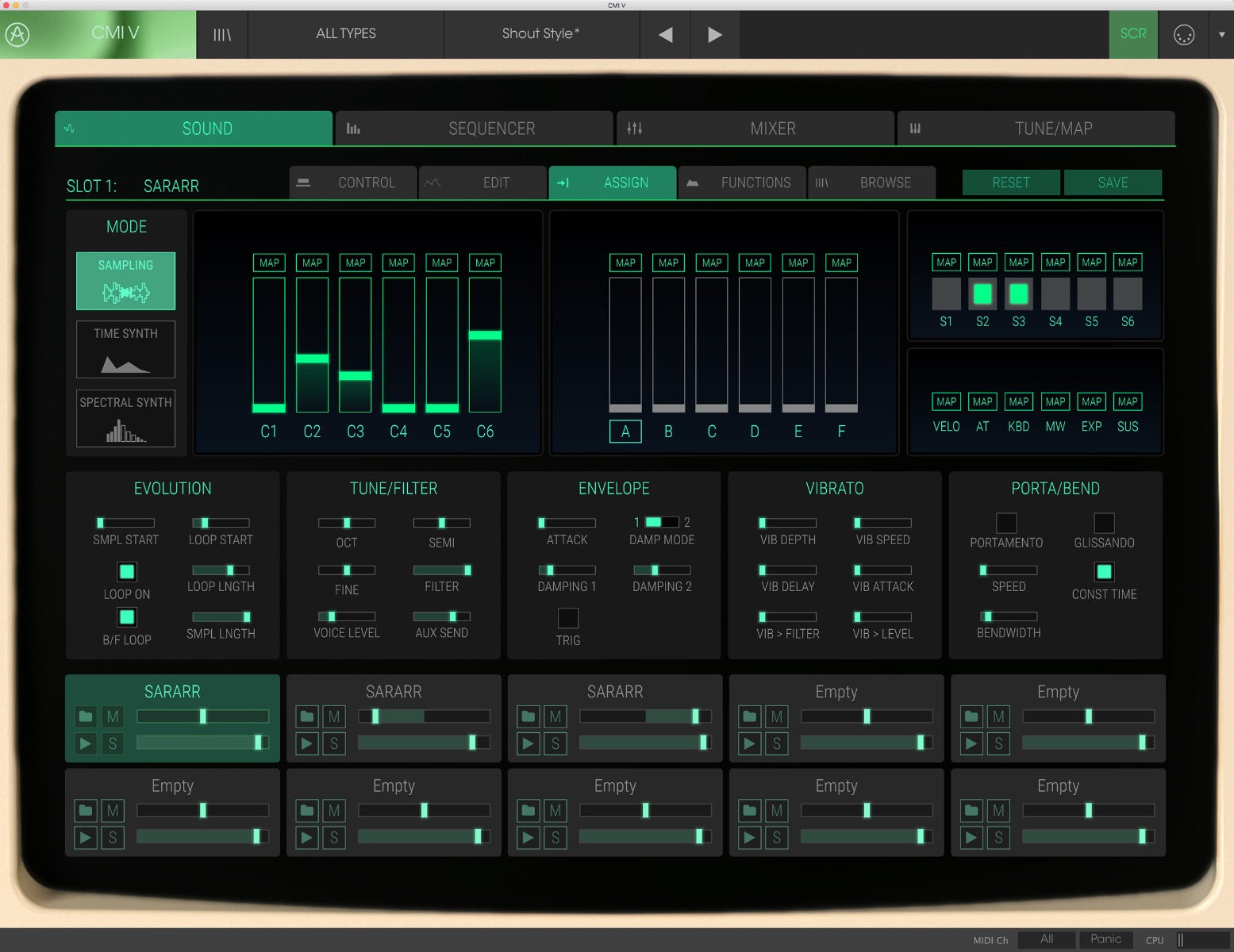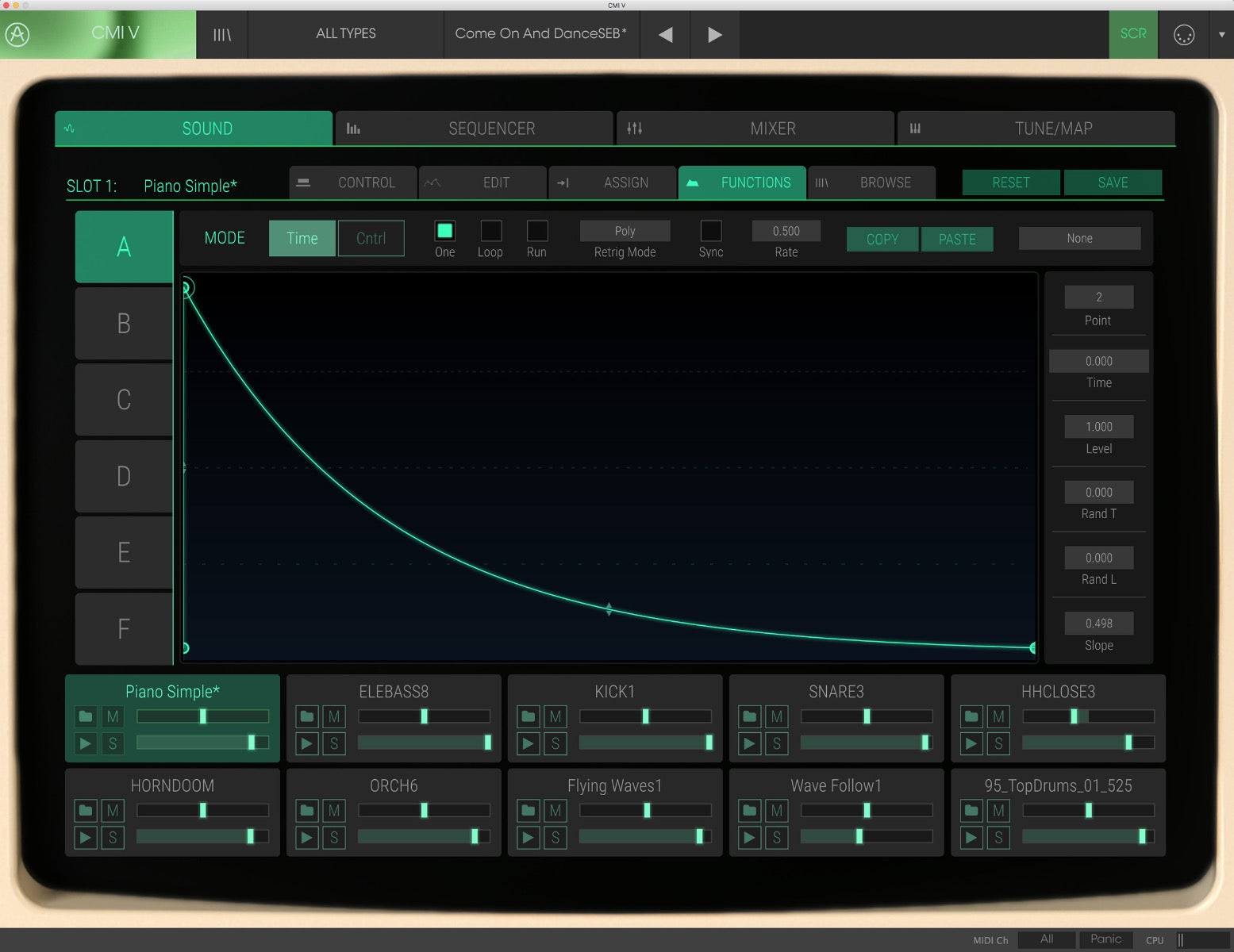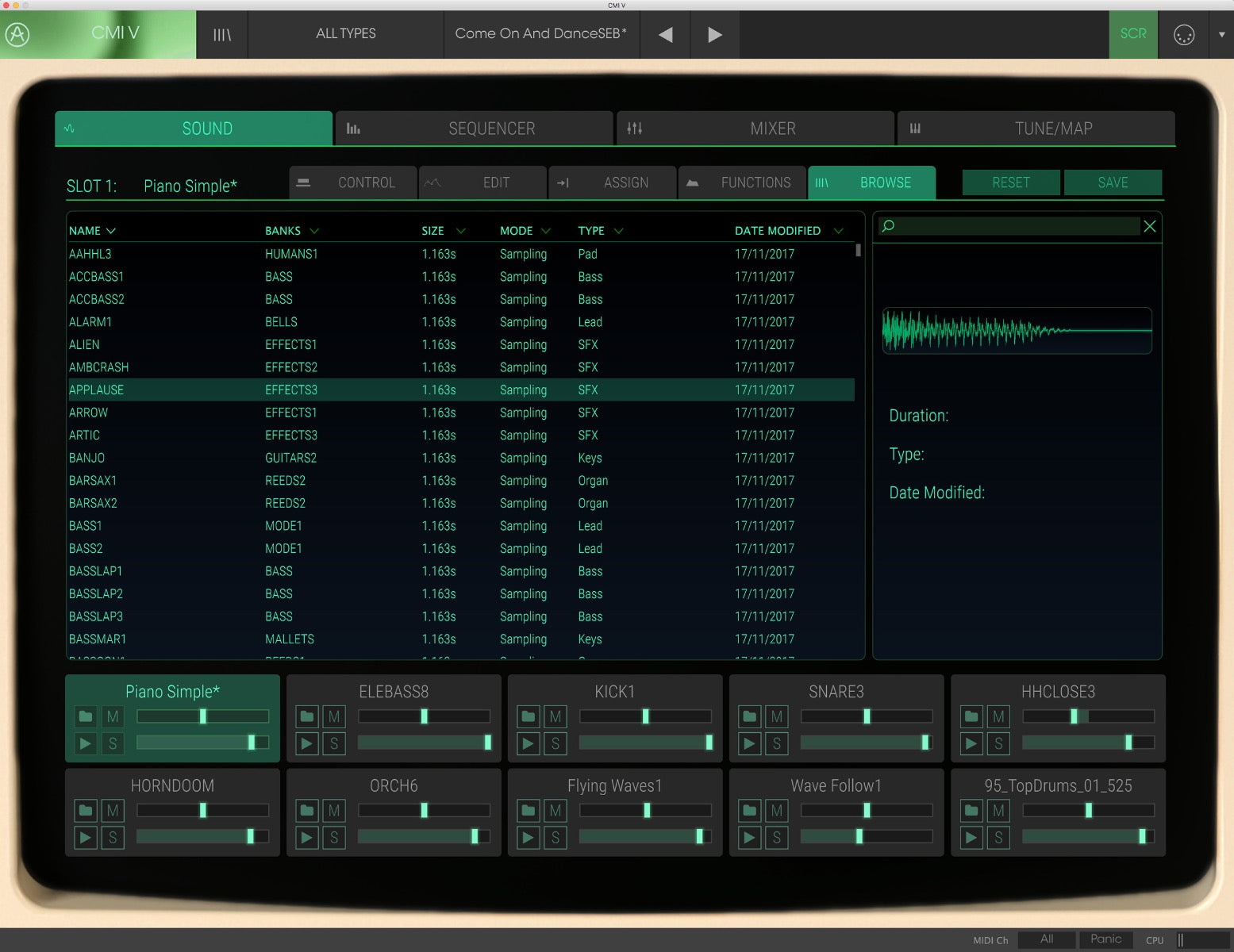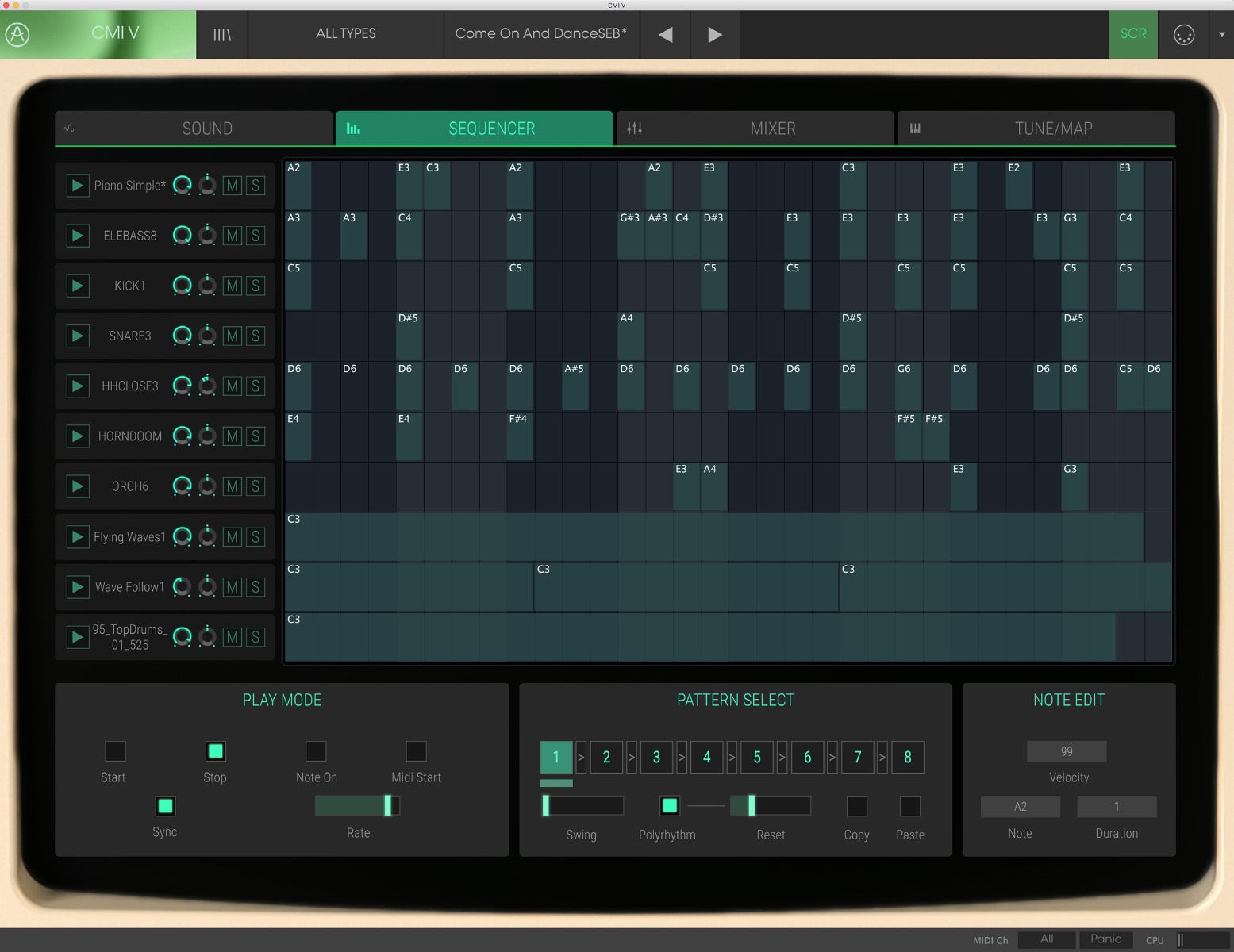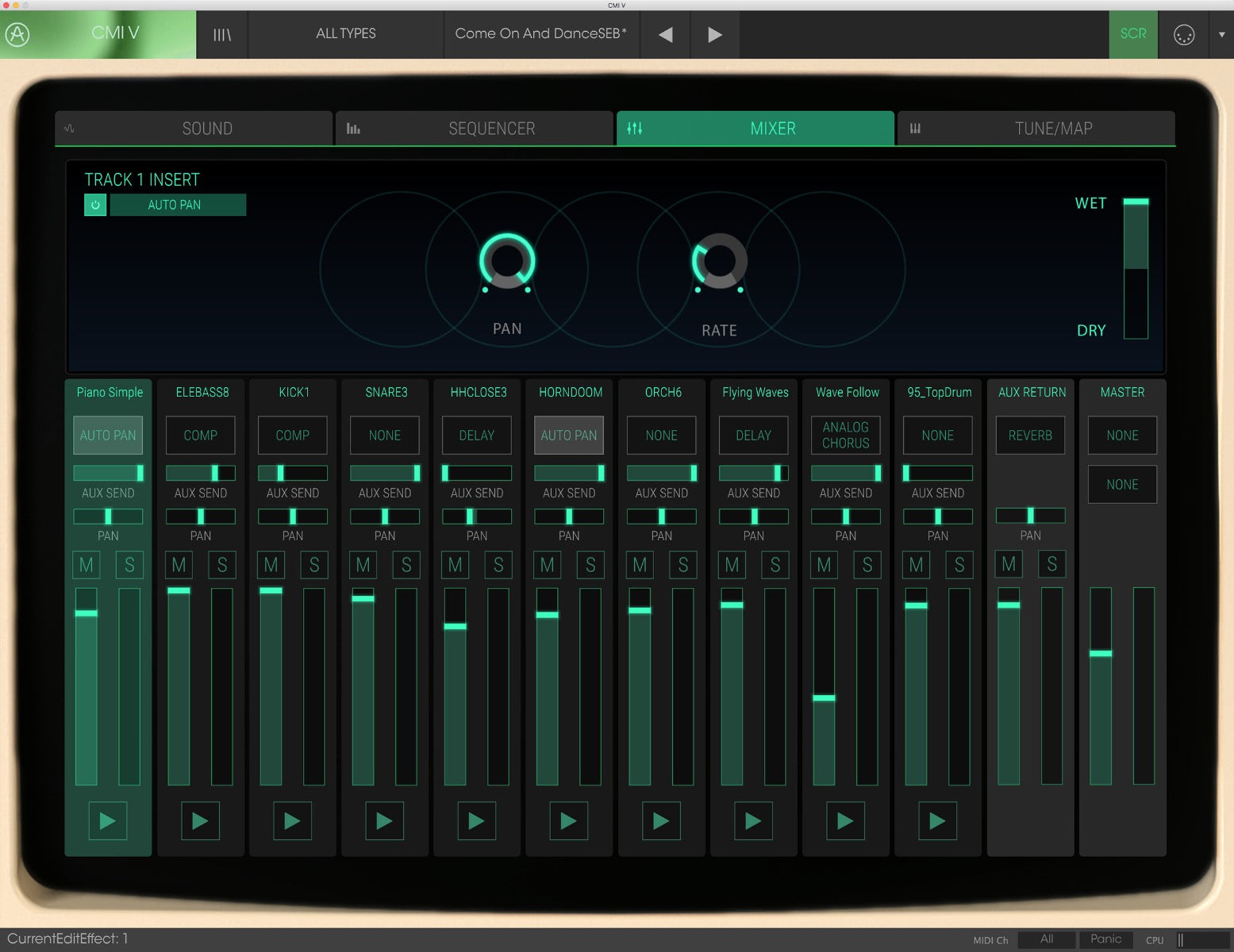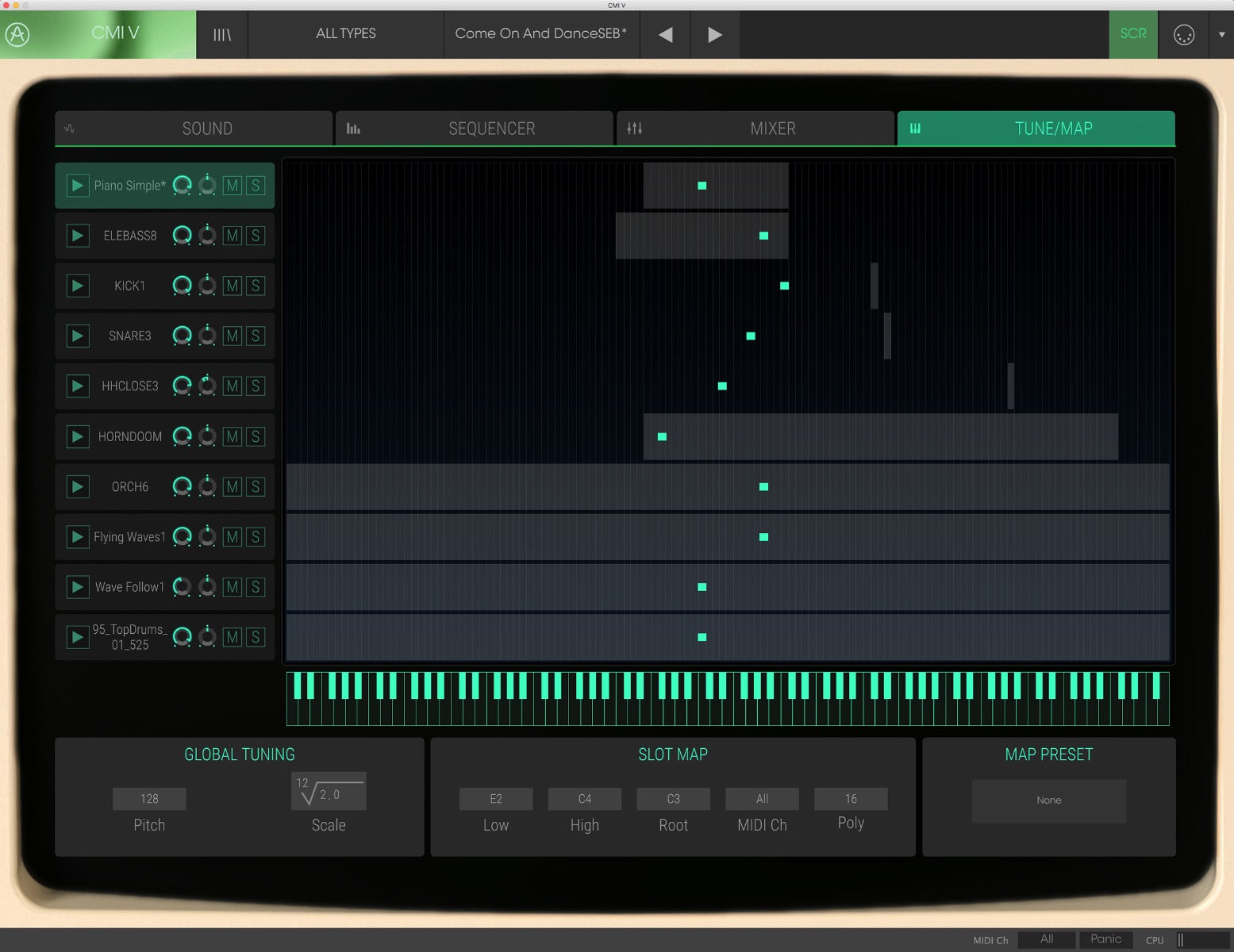 Arturia CMI V Virtual Instrument Software
In 1980, Fairlight CMI turned heads with the introduction of digital sampling; now, Arturia CMI V lets you turn some heads yourself. With the exotic new sound of digital samples, the promise of an all-in-one digital workstation and a physical design right out of a sci-fi movie, Fairlight CMI was an object of desire for most self-respecting 80s keyboardists. Arturia's faithful recreation gives you the same tools that many MTV stars used to make a cannonball splash into the pool. They've even made lots of improvements and additions that bring added power to this keyboard legend, including an alternate additive synthesis engine and tons of new modulation options. No vintage keyboard collection is complete without the CMI V.
The unique musical architecture of the CMI
CMI V isn't just a digital instrument; it's a complete digital workstation. Arturia's enhanced reproduction of this keyboard superhero lets you work with 10 digital instruments of your choice at once, mixing, layering, splitting and sequencing them as you please. Each instrument can draw from three different means of sound generation. The most obvious is the sampling engine that literally first defined the term in the industry. You can also shape sounds with the original additive synthesis engine, where you control each of the component harmonics over time. Arturia has even spun up the propellers and introduced a newer, simpler means of exploring additive synthesis like you've never heard it before named Spectral Synth. You also get around 300 expertly designed presets to get you going, including the original library of sounds you'll recognize from countless hit recordings.
The sound heard around the world
You know the sound of the CMI because it was everywhere – and still is. Consider the ear candy on Kate Bush's 'Running Up that Hill,' the rhythmic frenzy of Herbie Hancock's 'Rockit,' Peter Gabriel's exotic 'Sledgehammer' shakuhachi, the impossible horn line on Yes' 'Owner of a Lonely Heart,' the breathy vocal-flute on Tears for Fears' 'Shout' and 'Everybody Wants to Rule the World,' Trevor Horn's pulsing Page R bottom-end collage on 'Relax' by Frankie Goes to Hollywood. Speaking of Hollywood, there's Duran Duran's 'View to a Kill' Bond theme. How about Jan Hammer's pitch-processed drums on his weekly 'Miami Vice' TV scores? And MTV favorites like 'Close (to the Edit)' by Art of Noise and Yello's 'Oh Yeah' are poster children for all things CMI. Whether for cover-gig authenticity or just basking in nostalgia, CMI V delivers the fun novelty of songs that still fill the classic rock airwaves.
Sampler
The Sampler section is the heart of what put the CMI on the musical map and where most of the action happened on all those 80s recordings. You'll recognize the now-standard waveform display, including the ability to drag start time and length for both samples and loop points. You can even visualize the waveform in 3D. Tuning, envelope, filter and vibrato settings are also available to further shape your sound and performance.
In addition to the onboard instrument library, Sampler lets you load one of your own sample files for additional processing and performance options. You can instantly vary the playback sample rates of any samples from the digital dirt of 2.1k all the way up to 44.1k for modern CD quality, usually discovering interesting side effects along the way. Arturia also extended the original paltry sample length by a mile: up to 30 seconds long for evolving instruments and soundscapes.
Time Synth
Time Synth mode puts a powerful additive synthesis engine at your disposal. Determine how your sound animates by dragging multiple breakpoints on the independent envelopes for each of 32 harmonics. A real-time oscilloscope helps you visualize your work. Arturia has augmented the original simple sine waves for harmonics, allowing you to easily experiment with additional simple waveforms or more harmonically complex wavetables as the source for each harmonic, opening up a ton of creative possibilities. You can start from scratch, modify a preset or work with a sample you've converted from the Sampler page.
Spectral Synth
The new addition of Spectral Synth mode gives you a different take on additive synthesis. Rather than setting the individual harmonics, you affect an overall distribution curve of harmonics with controls including Center, Spread, Bias and Fundamental Boost. Modulating these parameters with functions and controllers provides another great way to add motion and energy to your sound designs. As with Time Synth, you can select different waveshapes in order to pioneer sounds beyond those based on simple sines. All totaled, Spectal Synth mode gives you an easier way to tame additive synthesis that also produces different new sonic results.
Cross-synthesis
CMI V features the original Fast Fourier Transform (FFT) function that gives you the power to analyze a sample and convert it to a harmonic profile to further manipulate using all the unique harmonic controls only available to you in Time Synth mode. Faithful modeling of this functionality means that, like the original, you get some unpredictable artifacts during the conversion process that can be musically useful themselves. You also have the option of converting your additive synth work into a sample in order to employ Sampler's display and controls in further defining your sound.
Assign tab
Arturia smashed through the limited modulation capabilities of the original instrument. CMI V's new Assign tab lets you map control and modulation sources to just about any system parameter. Simply click the Map button above the desired source, click/drag the parameter you want to control in the lower panel to the desired offset amount and click the Map button again to commit. Want to control sample start time with the keyboard? Done. Trigger a crazy pitch warble on every note using a sick envelope? Bring it!
Going further, you can map a single control or modulation source to multiple parameters simultaneously or vice versa. Hovering over a Map button illuminates all associated targets for easy visualization of assignments. You'll love the creative options this added flexibility brings to your programming adventures.
Function generators
Each instrument has its own six independent functions you can set up as envelopes, LFOs and tracking curves, ready to map to a plethora of destinations on the Assign tab. You can click and drag numerous breakpoints, drag the curvature of each segment for very detailed control and even specify randomization ranges for each point.
In Time mode, the Loop switch causes a function to repeat for use as an addition LFO, anything from a simple ramp or trill to the exotically complex. Other options are provided for detailed control over how a function retriggers and runs, plus the ability to sync it to multiples or divisions of your DAW tempo to add exciting animation to whatever parameters you choose.
In Control mode, the position along your function curve is determined by the current value of a controller you associate with it rather than by time. For example, if your function is controlling envelope damping and being controlled by the keyboard, you could draw your function so there's more or less damping as you play up and down the keys.
More modulation
In addition to all this new modulation functionality, all of the CMI IIx originals like the vibrato section are still in place. Arturia has upped the complement of assignable left-hand controllers to six sliders and six switches that are now available in the Assign and Functions tabs. You now also have a convenient dedicated set of front panel performance sliders for instant access to common sonic parameters like filter, attack, damping, sample start and more. MIDI is well in hand with the ability to map standard controllers like velocity, mod wheel, aftertouch and others to just about any parameters you can imagine for intimate performance control. Of course, with standard MIDI Learn capabilities, the sky's the limit for controller mapping.
Preset browser
Arturia's redesigned preset browser lets you quickly find just the sound you're looking for. Search by name or simply select the appropriate tags to dial in on the exact sonic character you're looking for. You can mark and recall your own favorites, enter comments and set up playlists. There's never been a more intuitive way to manage your library of designer and personal presets.
Resizable GUI
The user interfaces for all your Arturia instruments are now resizable, making it easy to work with any high resolution screen, UHD or Retina. You can decide whether you want to fill the screen with awesome graphic reproductions of classic instrument goodness, scale the window down when you're working in a DAW and screen real estate is at a premium, or even zoom for detailed work.
System requirements

Mac

macOS 10.10 or greater
4GB of RAM
2.5 GHz CPU
1GB hard disk space
OpenGL 2.0 compatible GPU

Windows

Win 7 or greater (64-bit)
4GB RAM
2.5 GHz CPU
1GB hard disk space
OpenGL 2.0 compatible GPU

Plug-in compatibility

VST 2.4
VST 3
Audio Unit
AAX
Can also be run as a standalone application

Protection

This software is protected by the Arturia Software Center, Arturia's utility software for managing your installations, activations and updates
Activations allowed on up to 5 different computers simultaneously
SKU
ART-CMIV
Vendor
Arturia
Mpn
210628
Delivery Method
Download
Licensing Method
Online Authorization
Mac/PC Compatibility
Both
Operating System Compatibility
macOS 10.10 or greater
Windows 7 (64-bit) or greater
Plug-In Formats Supported
VST 2.4
VST 3
Audio Unit
AAX
Plug-In/Standalone Operation
Both
Software Type
Virtual Instrument
Standard Shipping