Skip product carousel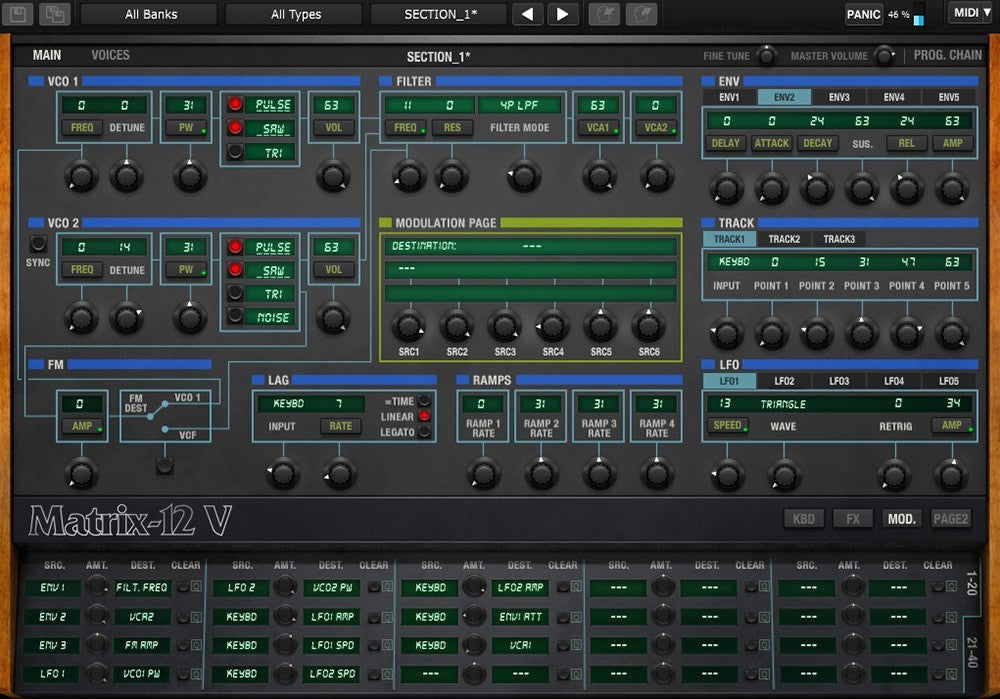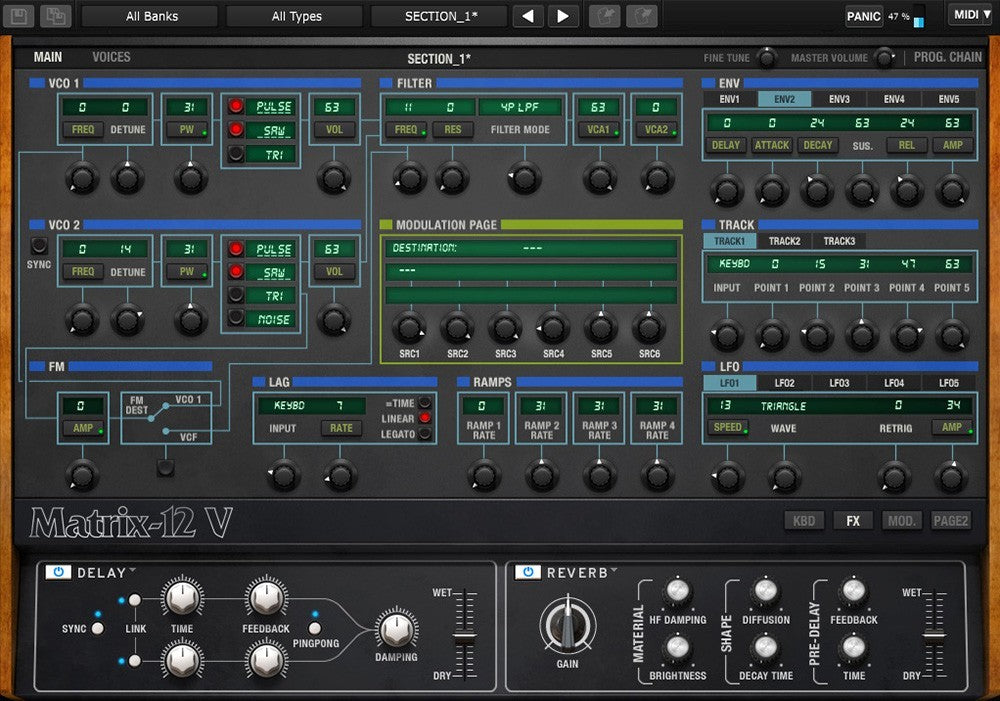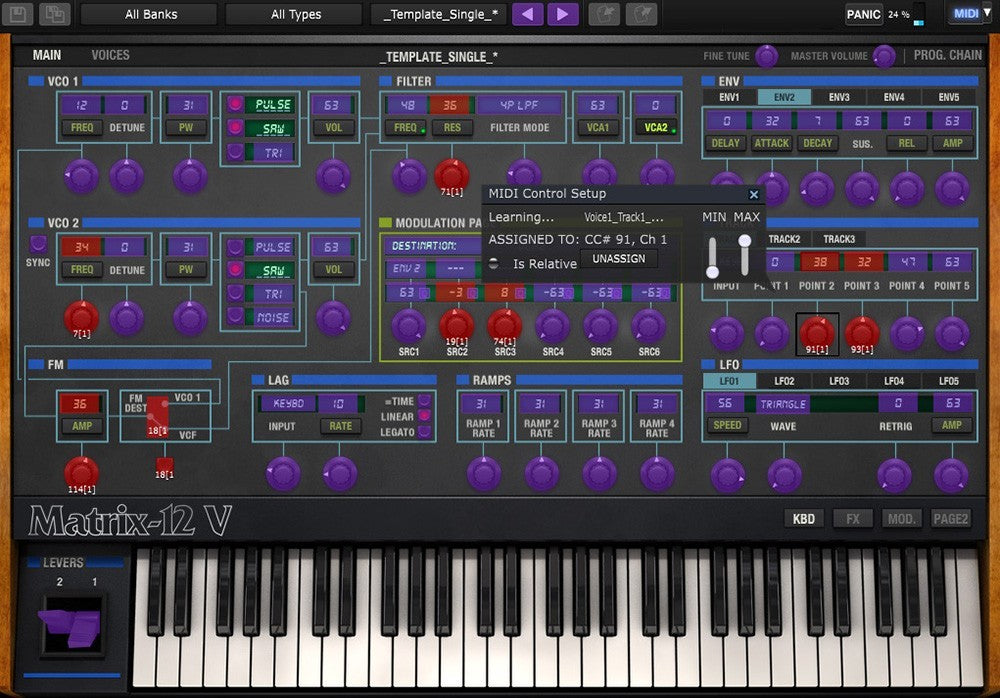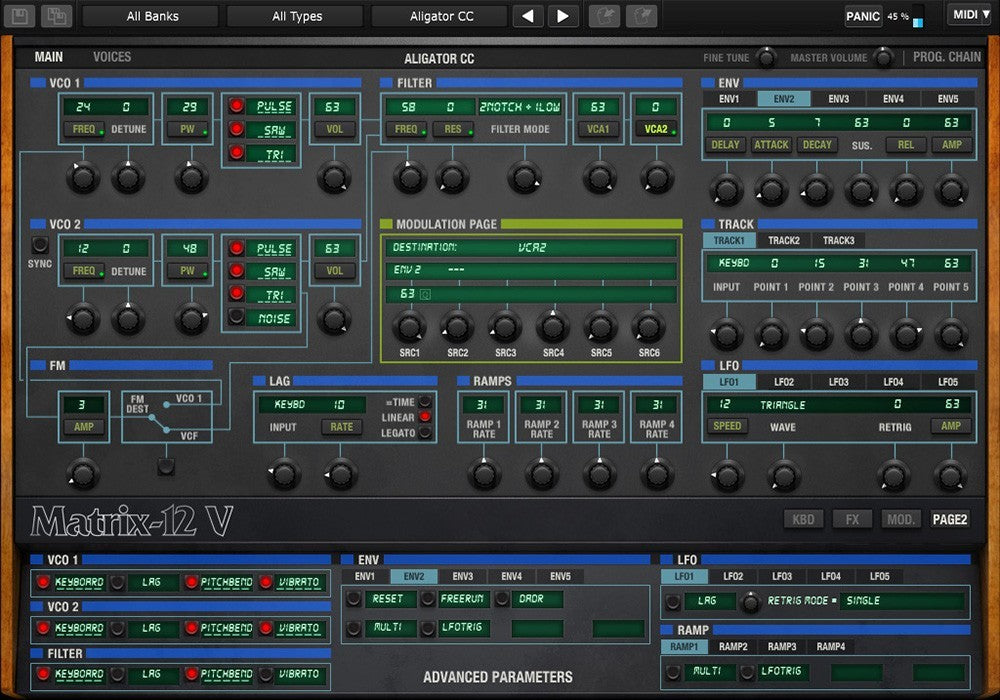 Arturia Matrix-12 V Virtual Instrument Software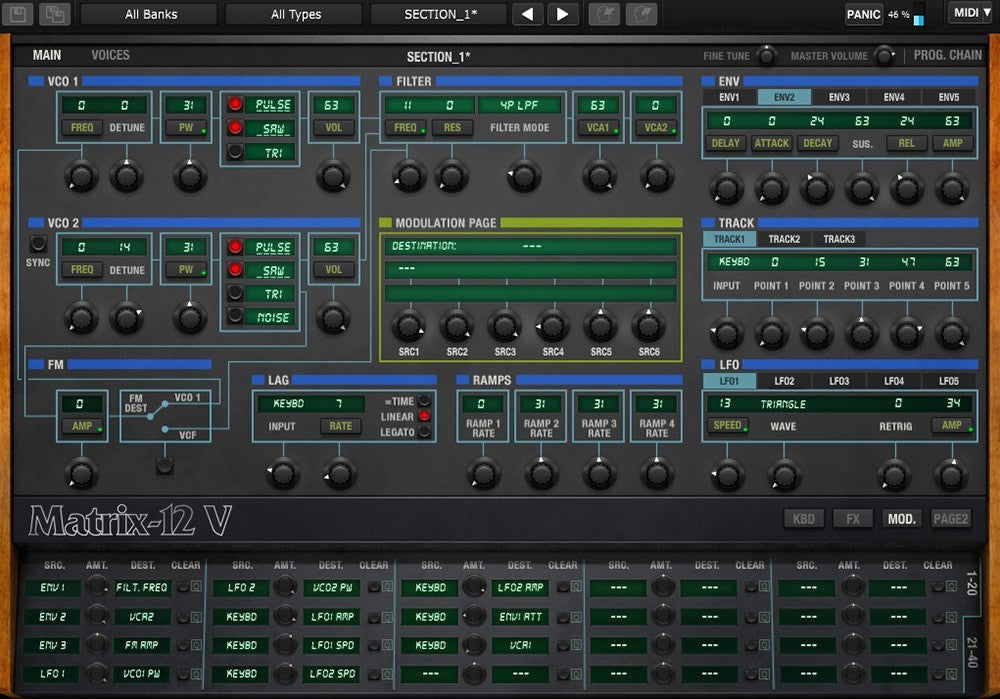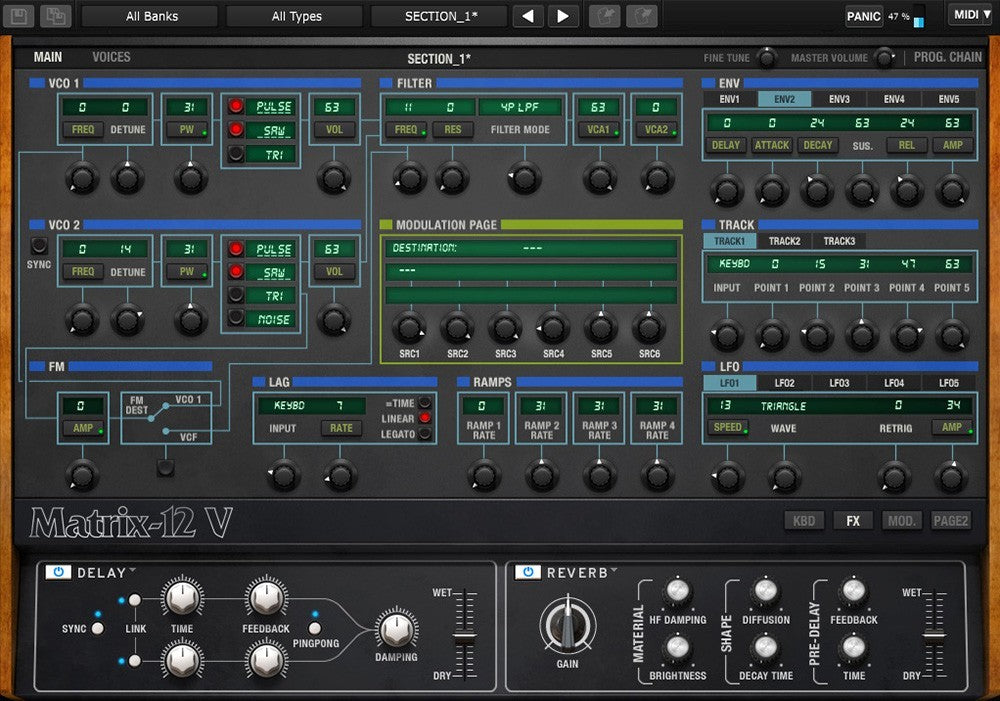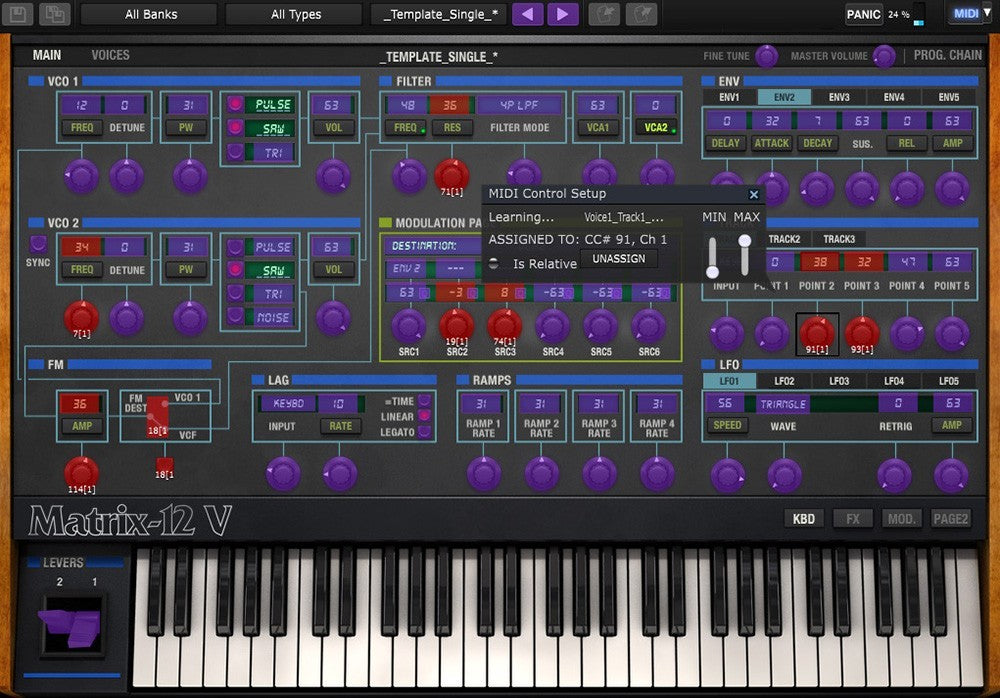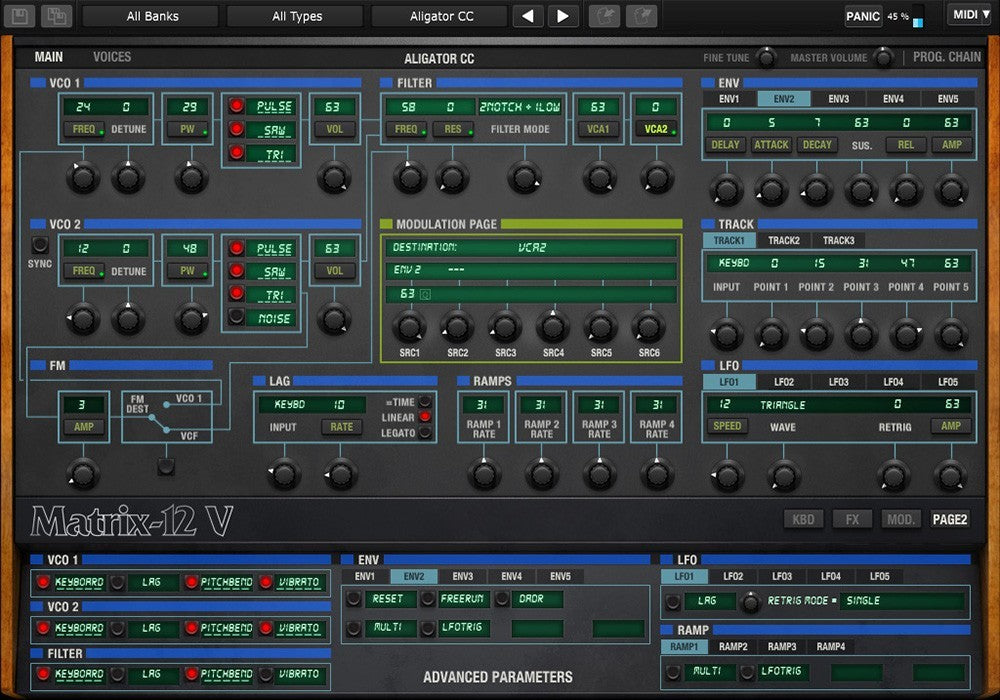 Arturia Matrix-12 V Virtual Instrument Software
The massively powerful Oberheim Matrix-12 has been resurrected at last. Using their TAE modeling technology, Arturia is able to recapture this beast of a synthesizer and bring it to you in Arturia Matrix-12 V.
The Matrix 12 was the first programmable analog synthesizer that took the best features of a preset voice path and modular flexibility. This bold combination made it a force of nature and something that had not been seen before. It also had a 15-mode filter system that enabled it to have sounds that had never been heard before.
Making the model
Every point in the signal path is important when modeling the sound of such a revered instrument, so to establish the proper foundation Arturia perfectly recreated the tonal characteristics of the original two oscillators and their waveforms in Matrix-12 V. It was equally critical to capture every nuance of its 15 filter modes, so Arturia kept at it until they had been modeled perfectly!
Another factor in defining the complex sound of the Matrix-12 was the amazing number of modulation sources and destinations it provided. This was a level of sophistication previously only available in a fully modular system. So, to complete the emulation Arturia modeled these capabilities, too, even surpassing them. With a nearly endless number of possible modulation routings in Matrix-12 V you can create sounds with highly organic qualities not found in other synthesizers.
The power of perfection
While the Matrix-12 was amazing in itself, Arturia pushed it further by adding a new effects chain for further sound processing. They also expanded the maximum number of modulation routings from 20 to 40, giving you even more creative freedom. Add to this the ability to control all the parameters via MIDI, and now you can do automations in a DAW or manually that could never be done before.
Features

Two oscillators, each offering triangle, sawtooth and variable-width pulse wave with PWM
Oscillator 2 can also function as a white noise generator
Oscillator 1 or the filter can be frequency modulated
Single filter with 15 modes

4 low pass
3 high pass
2 band pass modes
Notch
Phase shift
Four additional 'combo' filter modes

Ultra-powerful modulation matrix with 27 sources and 47 destinations
Modulation sources include 5 envelopes, 5 LFOs, 4 ramp, 3 track generators, velocity, pressure, keyboard follow and more
Two insert effect slots with six studio-grade effects available
12 voices of polyphony, just like the original instrument
Multitimbral

Specifications

Standalone instrument
VST 2.4 32-bit and 64-bit plug-in
VST 3 32-bit and 64-bit plug-in
Audio Unit 32-bit and 64-bit plug-in
AAX 32-bit (ProTools 10.3.8) and 64-bit (ProTools 11) plug-in
NKS plug-in
Copy protection by Arturia Software Center
System requirements

Mac

macOS 10.8 or higher
4 GB RAM
2 GHz CPU
1GB free hard disk space
OpenGL 2.0 compatible GPU

Windows

Win 7 or higher
4 GB RAM
2 GHz CPU
1GB free hard disk space
OpenGL 2.0 compatible GPU
SKU
ART-MATRIX12V2
Vendor
Arturia
Mpn
210516
Delivery Method
Download
Licensing Method
Online Authorization
Mac/PC Compatibility
Both
Operating System Compatibility
macOS 10.8 or higher
Windows 7 or higher
Plug-In Formats Supported
VST 2.4 32- and 64-bit
VST 3 32- and 64-bit
Audio Unit 32- and 64-bit
AAX 32- and 64-bit
NKS
Plug-In/Standalone Operation
Both
Software Type
Virtual Instrument
Ground shipping is FREE for all orders $99 and up.