Skip product carousel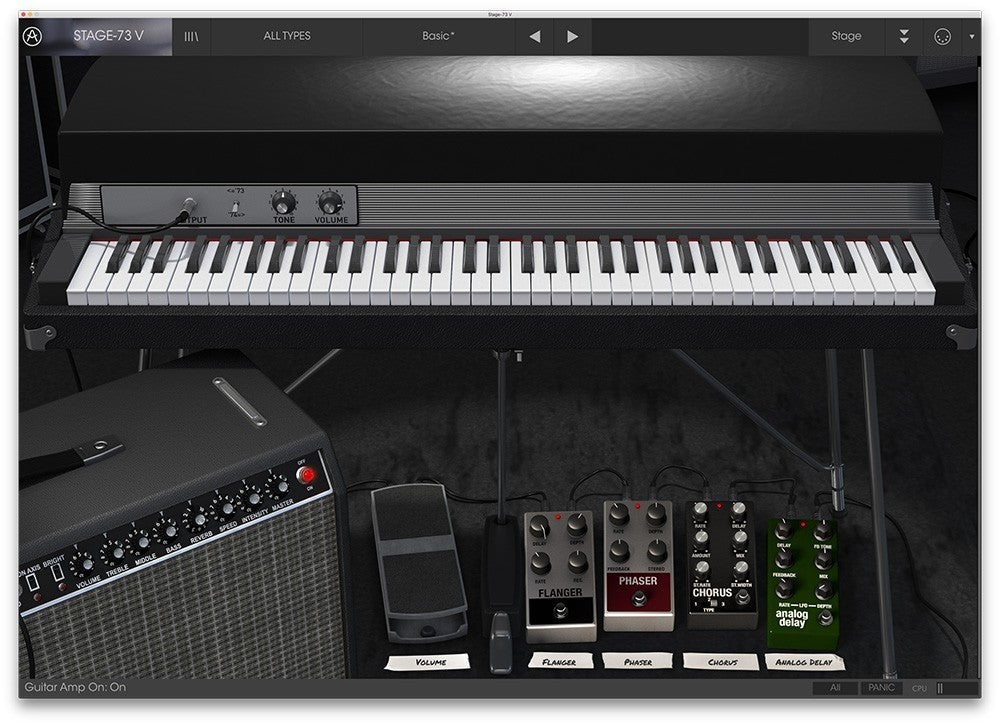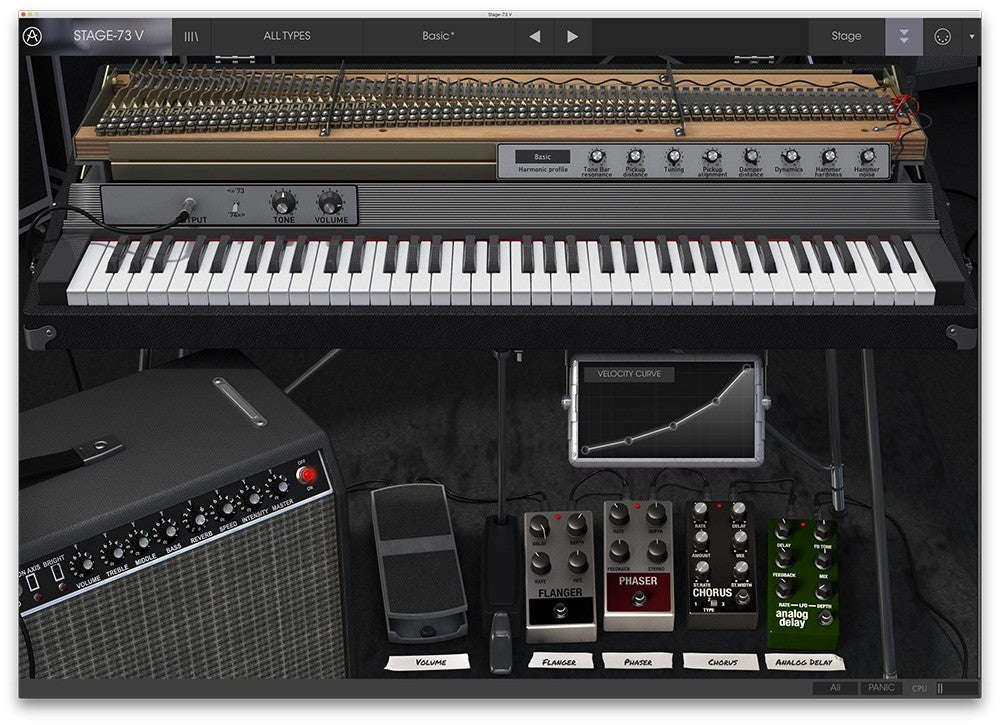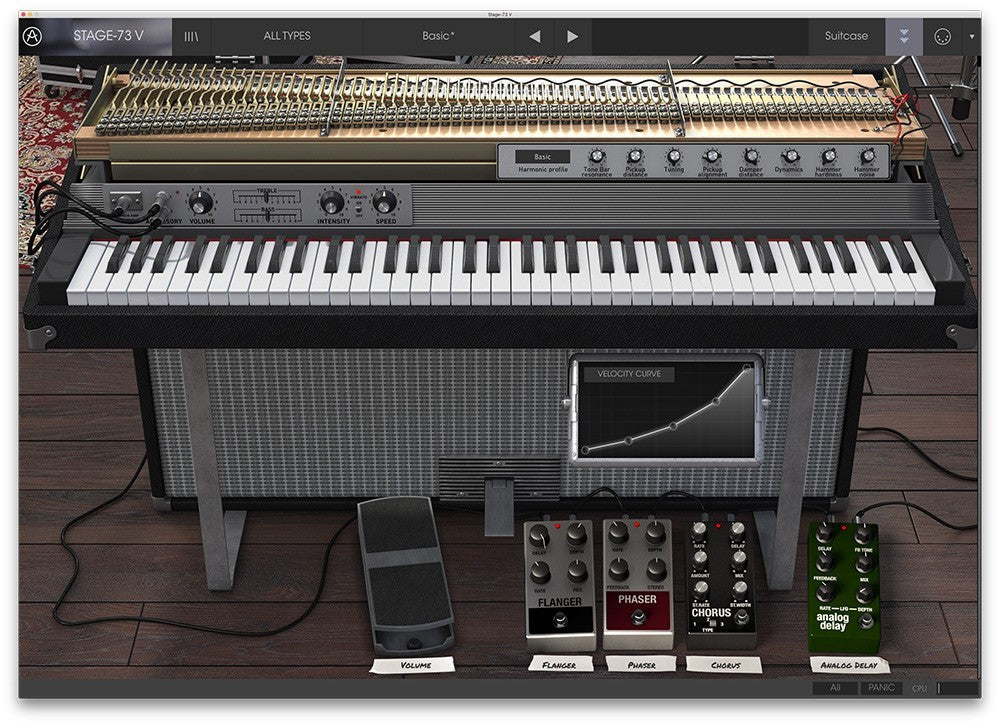 Arturia Stage-73 V Virtual Instrument Software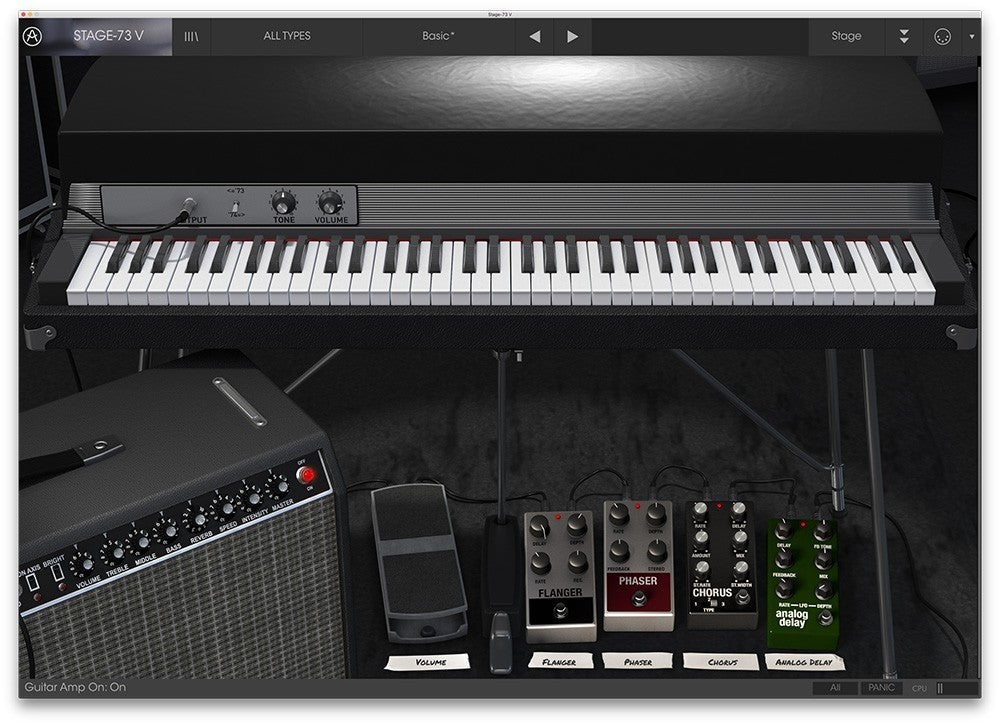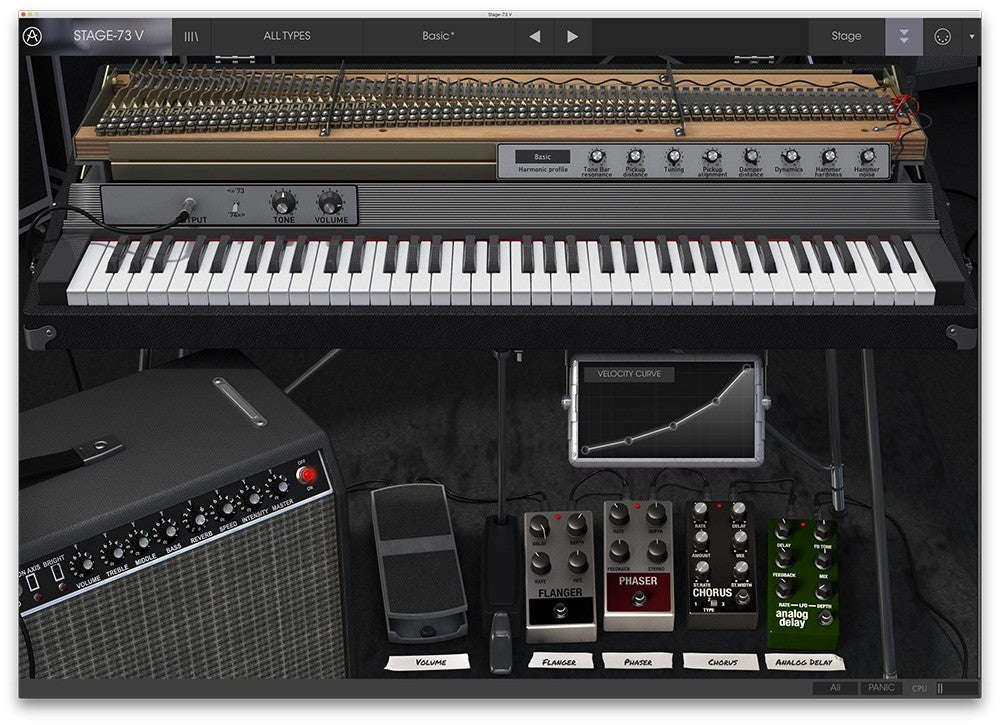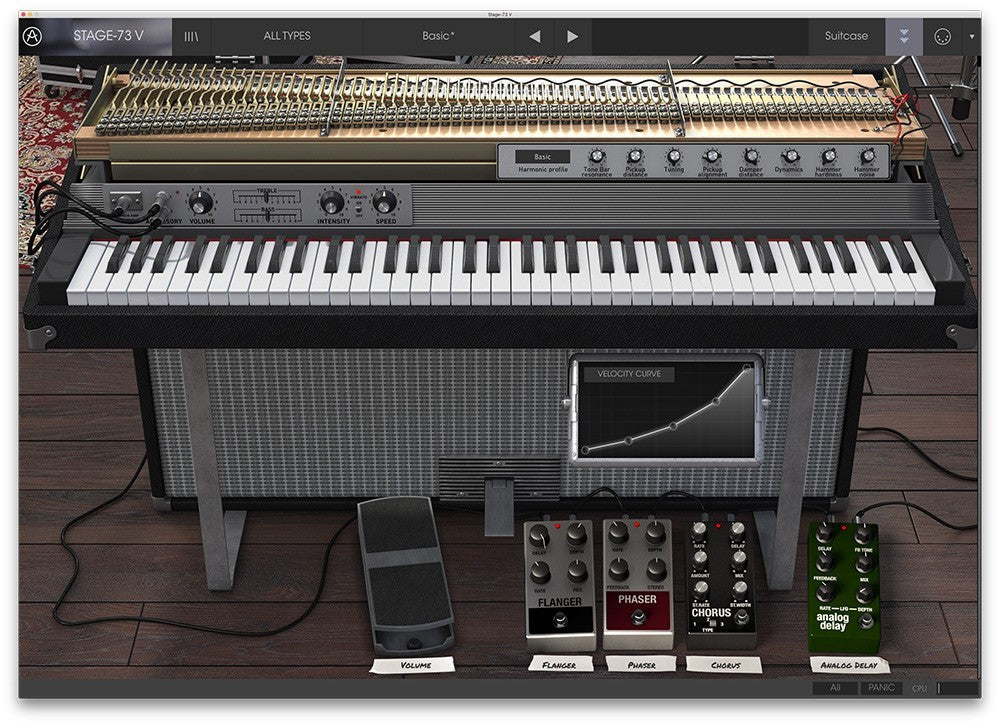 Arturia Stage-73 V Virtual Instrument Software
Arturia Stage-73 V gives you actual authentic modeling of both Stage and Suitcase versions of the most popular electric piano on the planet — complete with unparalleled control of virtual mechanics, a complement of effects pedals and built-in classic amps.
Stage-73 V uses Arturia's award-winning modeling technology to faithfully reproduce the tine-based sound and playing experience of the most loved electric pianos of all time. They have modeled both the Fender Rhodes Suitcase Piano and Stage Piano, including separate 1973 and 1974 models of the Stage in order to capture the difference in their components — we're talking total sonic and aesthetic fidelity to the originals. You can even 'pop the top' and customize the various mechanical components to make your instrument unique. Classic amps and an array of effect pedals round out the virtual electric piano you've always dreamed of having.
A sound that's always in style
The venerable sound of the Fender Rhodes simply refuses to go out of style. These instruments were used by a 'who's who' of keyboardists who pioneered mid-century jazz, funk, R&B and rock. With a tonal range spanning smooth, bell-like qualities to an aggressive bark depending upon how hard they're played, these seminal keyboards have been in continual use across just about every style imaginable right through to today.
Just like playing the real thing
There have been many attempts to emulate the Fender Rhodes. You already know that most software based on samples falls well short of the mark. That's what inspired Arturia to instead apply their critically acclaimed modeling technology to the whole system, including the tines (metal tone rods), the hammers that strike them, the pickups that generate the electromagnetic current and the circuits that amplify it all. The sum total is a totally authentic homage that stands on its own.
Unprecedented intimate control
Stage-73 V gives you access to the controls of the original instruments, plus many adjustments you've never been able to get your hands on before. For starters, a simple click switches up the entire instrument between the distinct sounds of a Suitcase, a '73 Stage or a '74 Stage. Open the top and you're in control of parameters like dynamics, hammer hardness, tone bar resonance and lots more — some that would take a tech a zillion hours to mod in hardware and some that simply aren't possible in the physical world. You also get the built-in amp and speaker in Suitcase mode, and the option of running direct or through a classic amp model in Stage mode. Next to the sustain pedal is a complete set of stomp boxes to dial in just the effects you're looking for, all saved right with your presets.
Whether you just want to rock the designer presets or get busy with mods of your own, the Stage-73 V has the flexibility to be just about any electric piano you want it to be.
Features

Advanced physical modeling engine — no static samples!
Stage and Suitcase models
Stage model features

Fender Rhodes Stage 73 1973 and earlier (Tone)
Fender Rhodes Stage 73 1974 and later (Bass Boost)
Fender Twin amp

Modeled spring reverb
On- and off-axis mic placement
Tone controls
Mono vibrato

Effects are post output circuits

Suitcase model features

Bass and treble EQ models
Stereo vibrato with speed and intensity controls
Modeled preamp of the Suitcase amp
Effects loop (pre-EQ)

Output effects where you can change the order

Volume, wah, auto-wah
Flanger
Compressor
Chorus
Analog Delay

Advanced mode for editing the model itself

Harmonic profile selections
Velocity curve editor
Tone bar resonance
Pickup distance
Tuning
Pickup alignment
Damper distance
Dynamic range
Hammer hardness
Hammer noise

80 factory presets
Easy to use MIDI mapping

Specifications

Standalone instrument
VST 2.4 32-bit and 64-bit plug-in
VST 3 32-bit and 64-bit plug-in
Audio Unit 32-bit and 64-bit plug-in
AAX 32-bit (ProTools 10.3.8) and 64-bit (ProTools 11) plug-in
NKS plug-in
Copy protection by Arturia Software Center
System requirements

Mac

macOS 10.8 or higher
4 GB RAM
2 GHz CPU
1GB free hard disk space
OpenGL 2.0 compatible GPU

Windows

Win 7 or higher
4 GB RAM
2 GHz CPU
1GB free hard disk space
OpenGL 2.0 compatible GPU
SKU
ART-STAGE73V
Vendor
Arturia
Mpn
210521
Delivery Method
Download
Licensing Method
Online Authorization
Mac/PC Compatibility
Both
Operating System Compatibility
macOS 10.8 or higher
Windows 7 or higher
Plug-In Formats Supported
VST 2.4 32- and 64-bit
VST 3 32- and 64-bit
Audio Unit 32- and 64-bit
AAX 32- and 64-bit
NKS
Plug-In/Standalone Operation
Both
Software Type
Virtual Instrument
Ground shipping is FREE for all orders $99 and up.