Skip product carousel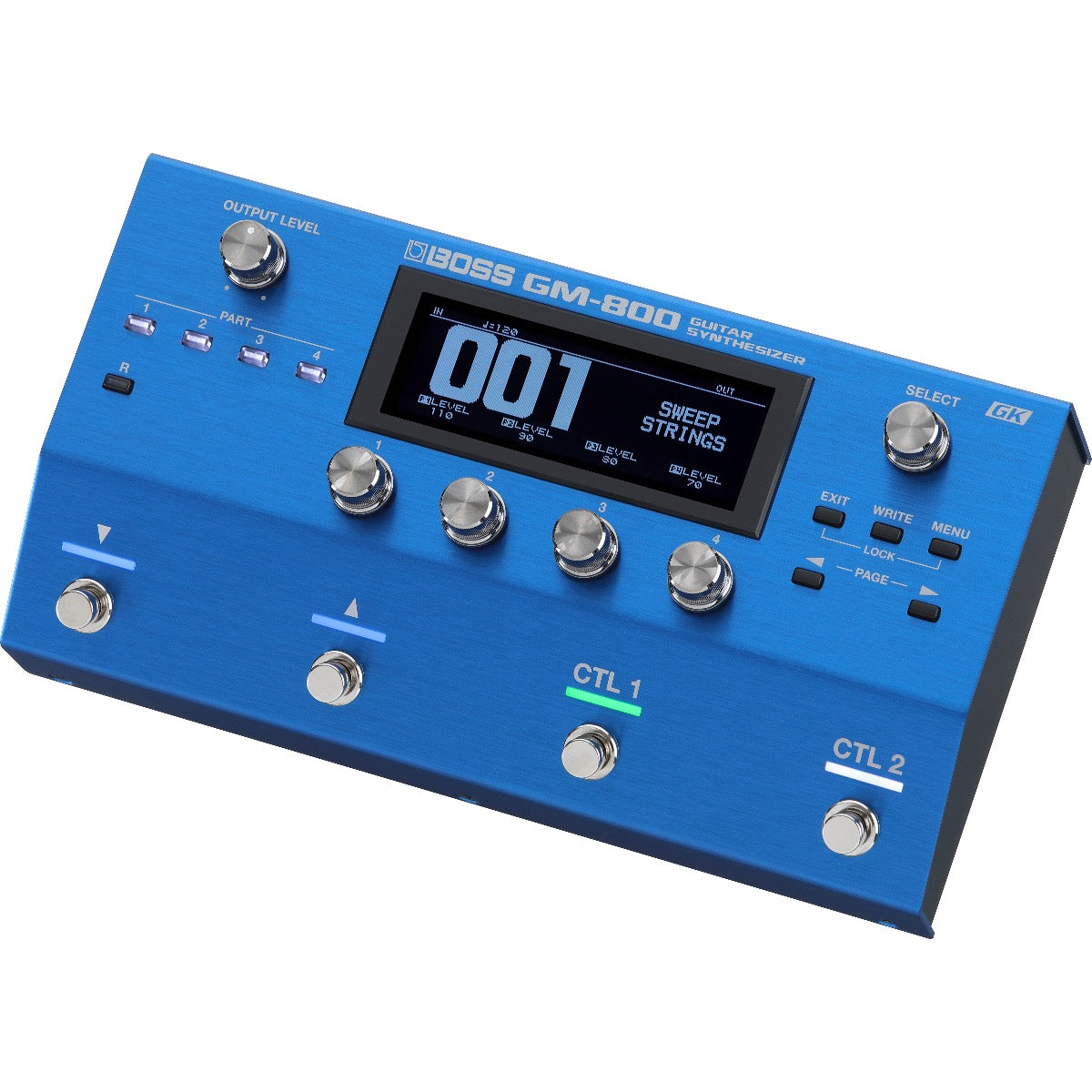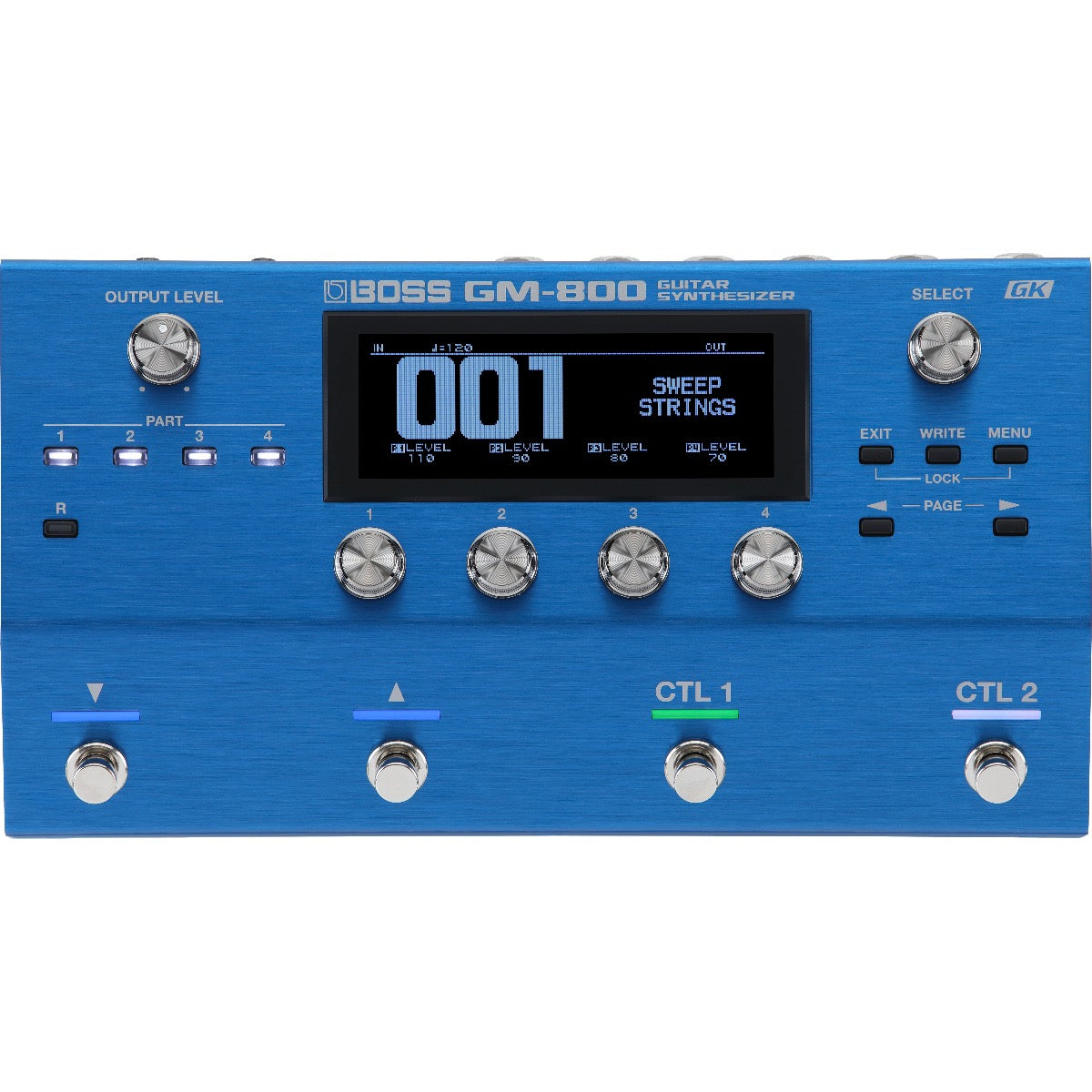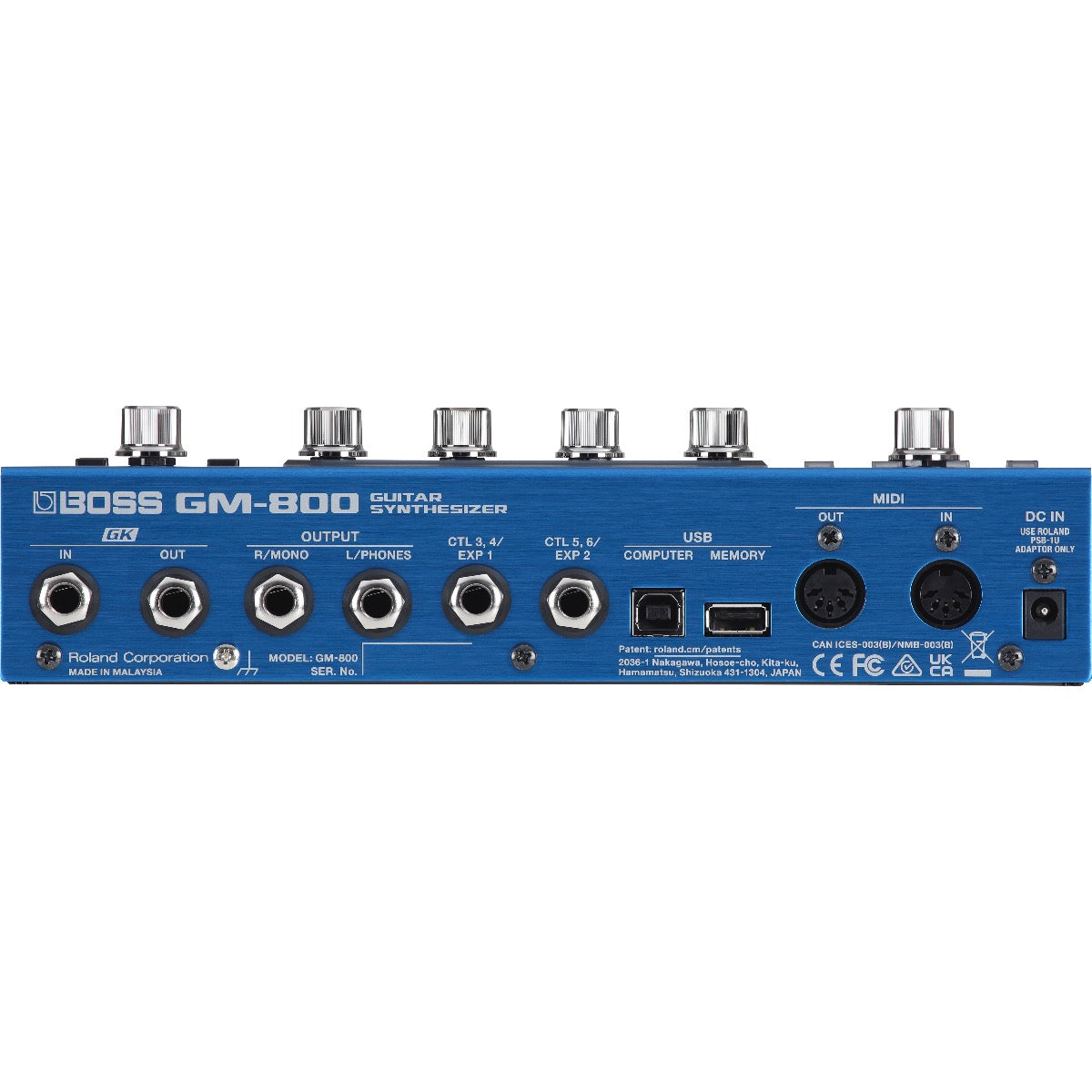 Boss GM-800 Guitar Synthesizer PERFORMER PAK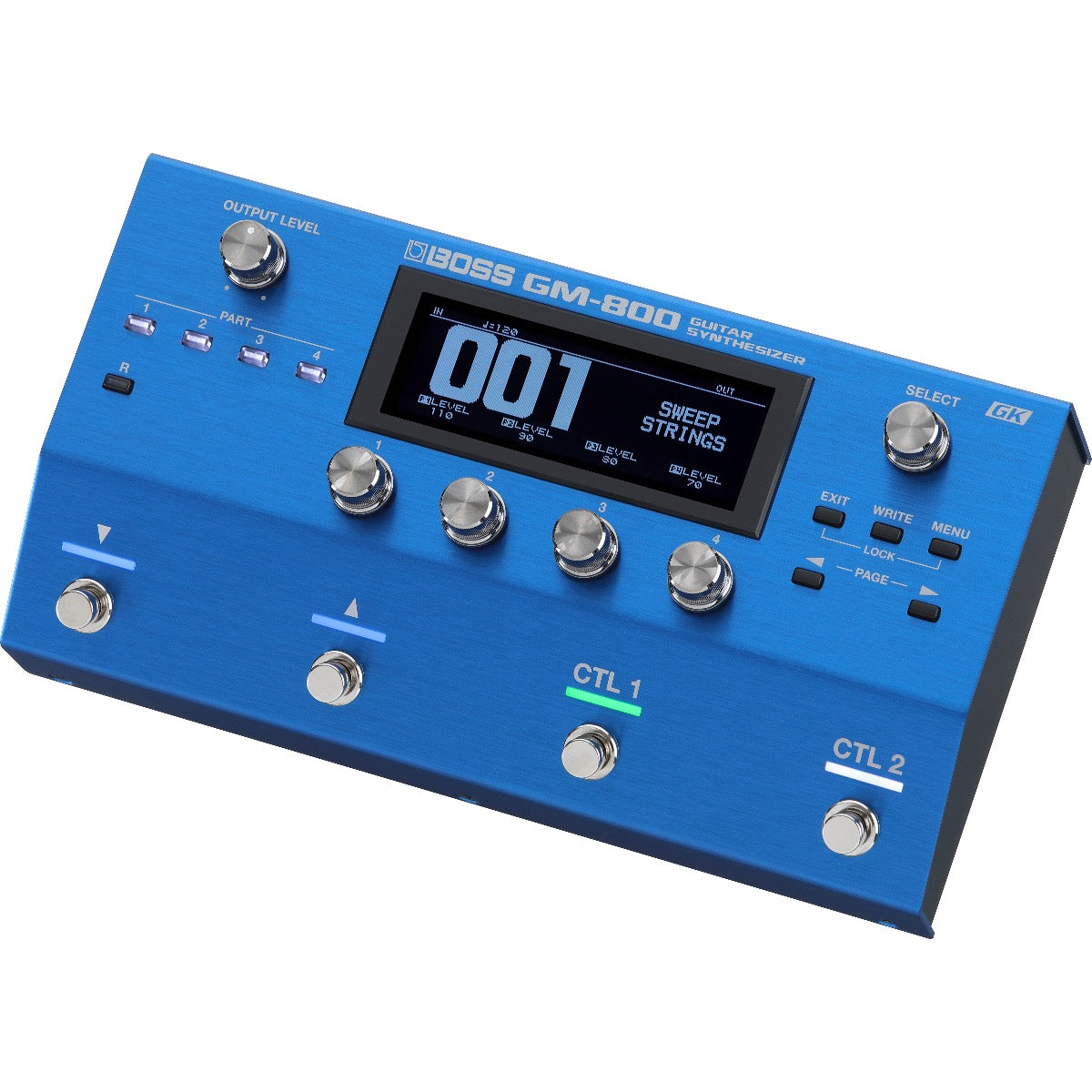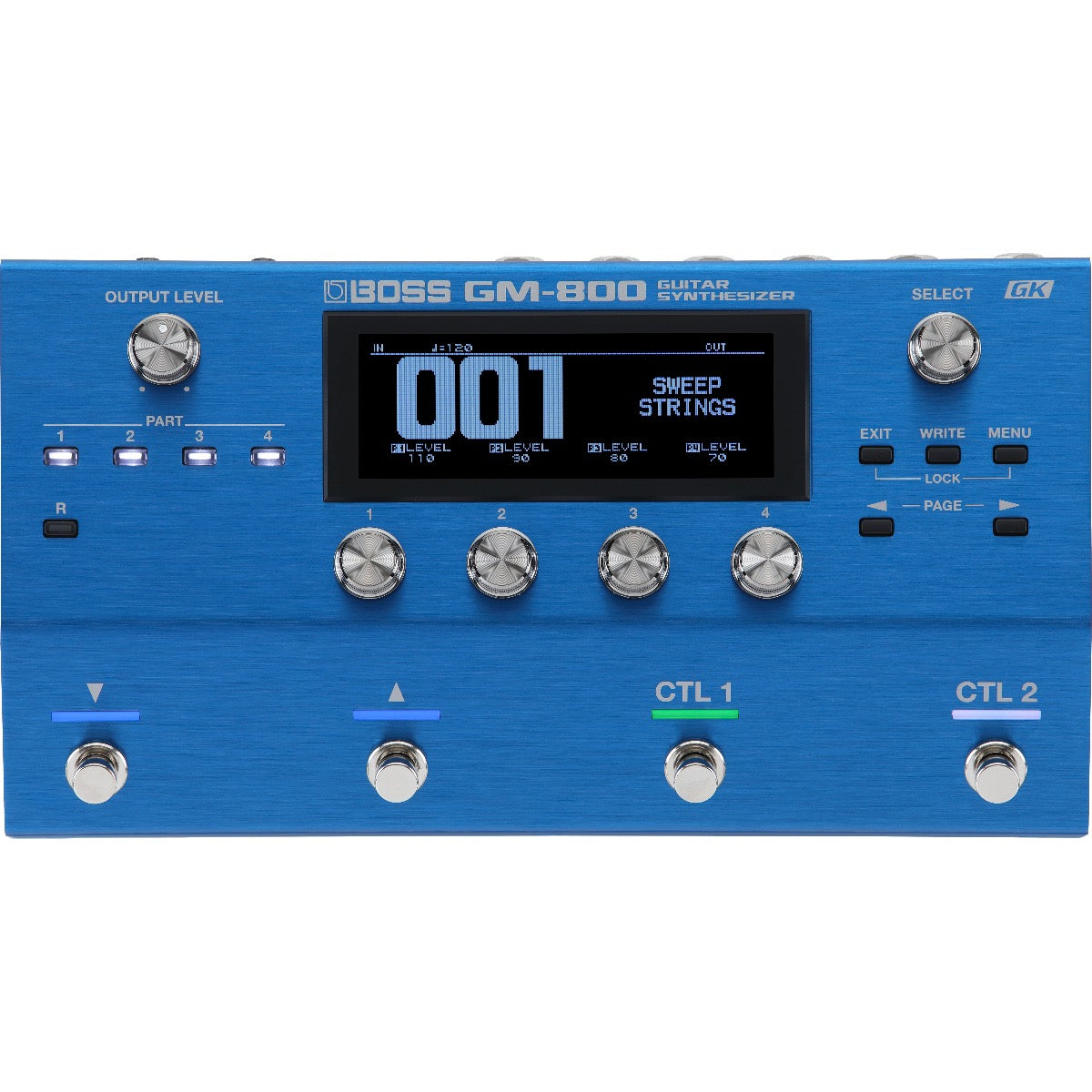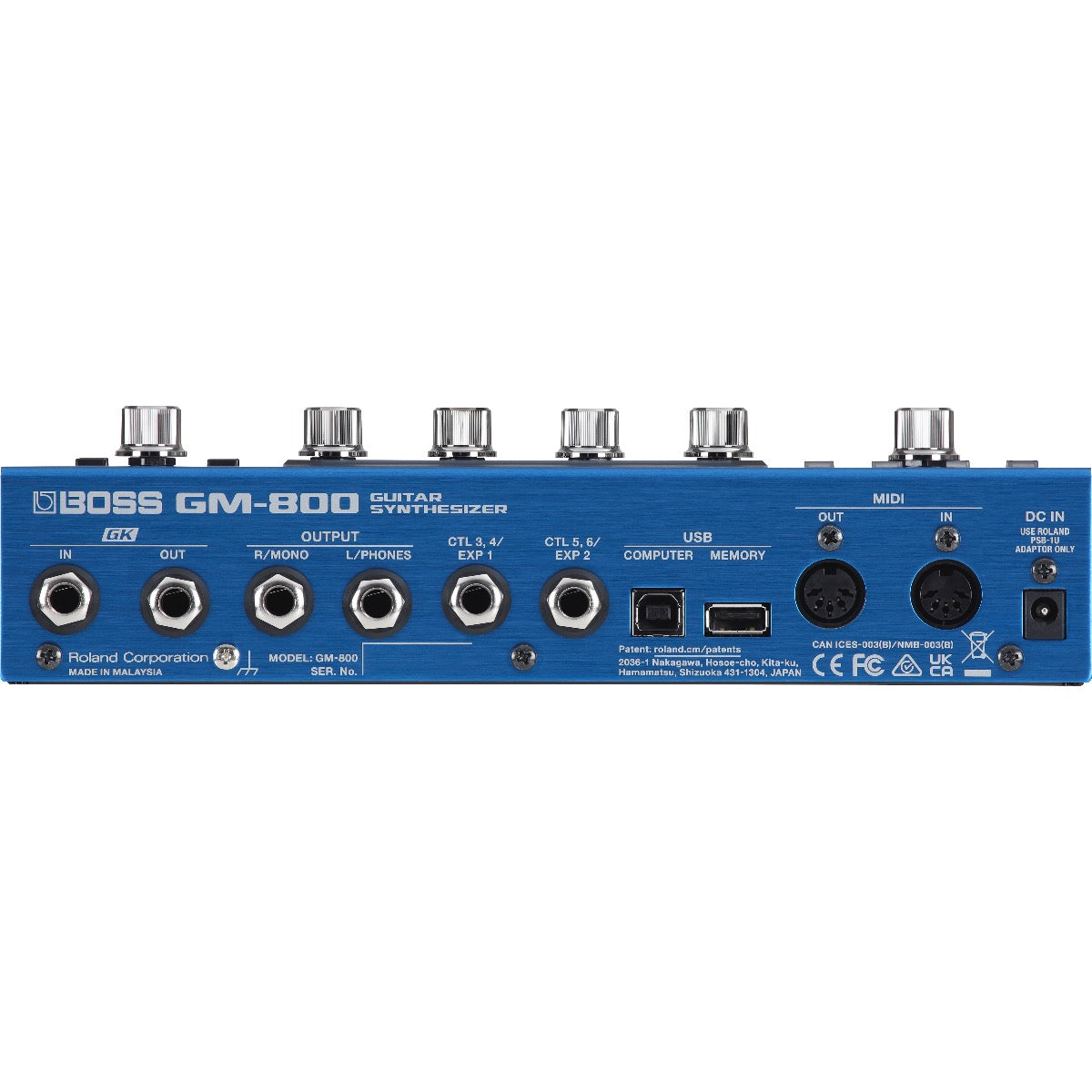 Boss GM-800 Guitar Synthesizer PERFORMER PAK
4 items included
This Kraft Music Bundle Includes
Click on a product to view more details.
BOSS Guitar Synthesis Evolves with the Power of ZEN-Core
The GM-800 elevates guitar synthesis into a new age of natural playability and boundless creative range. Driven by the newly developed Serial GK interface, the advanced ZEN-Core sound engine unlocks any sound imaginable—from acoustic instruments to classic and modern synths—while high-performance DSP delivers tracking stability and expressive scope never before possible. Freely combine and edit Tones with the intuitive Scene workflow, color sounds with a huge selection of effects, and explore a universe of fresh content on Roland Cloud. Compact, streamlined, and ultra-versatile, the GM-800 infuses your guitar or bass with unlimited musical potential.
Next-generation guitar and bass synthesizer with the newly developed Serial GK interface
Advanced ZEN-Core sound engine derived from flagship Roland synthesizers
Natural playing feel and solid tracking stability, realized through high-performance DSP
Powerful Scene workflow with four Tones plus Rhythm
Vast onboard sound library with over 1200 Tones and 70 Rhythm sounds
Explore Sound Packs, Wave Expansions, legendary Roland instruments, and more on Roland Cloud
Deep editing tools for each Tone, including sound parameters, sensitivity settings, and more
150 user-configurable Scenes, including 100 Scenes with professional ready-to-play sounds
Over 90 total effect types available in each Scene
Space-saving design flows into every setup, from pedalboard to desktop
Serial GK expansion jack for connecting to another BOSS guitar synthesizer product
Two external control jacks, each with support for up to two footswitches or an expression pedal
USB audio/MIDI connectivity and standard MIDI I/O
Guitar to MIDI function for playing external MIDI instruments via USB or a MIDI cable
Also functions as a standalone synthesizer sound module for MIDI keyboard use or DAW sound expansion
Edit Scenes and organize sounds on your computer with BOSS Tone Studio
GK pickup required
The Latest Milestone in Guitar Synth Innovation
BOSS and its parent company Roland have been the worldwide leaders in guitar synthesizer innovation for nearly five decades, beginning with the revolutionary GR-500 system in 1977. The GM-800 continues our dedication to this category, providing guitar and bass players with powerful creative tools and access to sounds typically only available with keyboard-based instruments. Expanding and elevating the concepts behind many historic Roland GR products, the GM-800 merges our latest pitch and string tracking advancements with a versatile, cutting-edge sound engine.
ZEN-Core Inside
The GM-800 is built around the expandable ZEN-Core Synthesis System, the sound source behind professional Roland products like the JUPITER-X and FANTOM keyboards, the ZENOLOGY software synthesizer, and many others. ZEN-Core is the most powerful synth engine in Roland's long history, distilling decades of expertise into one sonically vast and deeply expressive creative instrument.
Over 1200 Sounds at Your Fingertips
The ZEN-Core engine combines modern PCM synthesis and advanced modeling to bring you an infinite playground for sonic discovery. Play acoustic pianos, EPs, organs, and orchestral instruments. Tap into classic Roland synths like the JUPITER-8, JUNO-106, and many others. And combine them all together to build sounds never heard before.
Four Tones Plus Rhythm
The GM-800 features four Tone parts plus a Rhythm part filled with acoustic and electronic percussion sounds. Call up a part with the dedicated panel buttons, then explore a deep array of synth parameters, pitch settings, alternate tunings, and string assignments to shape sounds to perfection.
Intuitive Scene Workflow
The ZEN-Core workflow is based around Scenes, which are "super patches" containing every element in a sound: Tone selection, parameters tweaks, sensitivity and other play settings, effects, and more. And thanks to the muscular DSP, you can carry over the sound of the current Scene as you select a new one for seamless musical transitions. There are 150 user-configurable Scenes, and 100 come with pro sounds ready to play immediately.
Roland Cloud Expansion
The GM-800 supports an ever-growing range of creative options through Roland Cloud. Stay inspired with ZEN-Core Sound Packs and Wave Expansions. And play the ZENOLOGY synthesizer and legendary Roland instruments in your DAW from your guitar or bass. You can start using Roland Cloud right away with a free Roland Account and access additional content via three paid membership levels. All plans start with a free 30-day Ultimate trial to experience everything Roland Cloud has to offer.
Massive Effects Power
The GM-800 packs the full effects range of the modern ZEN-Core system. With an immense variety of effect types available in each Scene, you can shape, enhance, and mangle sounds to your heart's delight.
Dedicated MFX for Each Part
Along with their sound-shaping parameters, every Tone and Rhythm part has a dedicated MFX processor. Each offers over 90 effect types, including distortions, filters, mod effects, delays, and more. Many selections include two effect types for additional sound-shaping control.
Scene and System Effects
Within every Scene, you also get two additional FX for processing the combined sound, plus high-quality chorus/delay and reverb effects with independent send levels from each part. And with the Master Comp and EQ, you can shape the GM-800's sound output for any recording or performance setup.
Unlimited Guitar Expression
The GM-800 lets you harness an endless variety of sonic textures using the expressive playing characteristics of your guitar and bass. Optimize the performance with continuous pitch control or chromatic operation. Layer Tones to create rich, combined voices. Or assign them to individual strings, such as a bass sound on the low strings and a piano or sax sound on the high strings. You can even assign Tones to specific fret ranges, a powerful new feature made possible with the GM-800's advanced pitch detection.
Next-Generation Playability
The GM-800 delivers accuracy, stability, and real-time playability standards that far exceed previous systems, realized through skilled BOSS engineering and a high-speed processor dedicated solely to tracking. Multiple velocity and feel parameters let you dial in the optimal response for every sound and style. For example, you can set a Scene with piano sounds to respond to every dynamic nuance—from soft to loud—while setting another Scene with vintage analog synth sounds to the fixed velocity response found in the original instruments.
Compact Performer
The streamlined GM-800 flows smoothly from desktop operation to installation on an advanced pedalboard. The four footswitches default to Scene selection and two unique control settings, such as pedal hold, pitch bend, or Tone selection. But you can freely assign them to control a variety of functions via a powerful Assign matrix. Two external control jacks are also available, each supporting up to two footswitches or an expression pedal. And with five-pin MIDI I/O, you can interface with MIDI equipment from vintage to modern.
Expand Your Creative World
Along with standalone operation, the GM-800 merges seamlessly into a variety of expanded creative environments.
Edit Sounds with BOSS Tone Studio
Craft Scenes in detail from your computer using the BOSS Tone Studio software for the GM-800. Set up Tones, string assignments, sensitivity, and more from a large, friendly interface. Then use the Librarian function to organize your Scenes for different songs and performances.
Audio/MIDI Interface
With a single USB cable, you can capture GM-800 sounds as audio tracks in a DAW and "re-synth" sounds in a similar way to the re-amp technique used with standard guitar tones. A Guitar to MIDI function is also available, allowing you to play virtual instruments over USB and trigger hardware sound modules via the MIDI output.
MIDI Sound Module
The versatile GM-800 can do double duty as a compact, go-everywhere MIDI sound module. Connect a keyboard or other MIDI controller to the five-pin MIDI input to play sounds live. Or use the ZEN-Core engine as a premium USB sound source within your music production workflow.
Multifaceted Connectivity
The GM-800 features the newly developed Serial GK digital interface, which supports guitar/bass input from a BOSS GK-5 or GK-5B Divided Pickup and easy linking of multiple GM-800 units. GKC-AD and GKC-DA conversion boxes are also available for classic 13-pin GK devices, allowing you to drive the GM-800 with a Roland GK-3 or GK-3B pickup and use Serial GK devices with the BOSS SY-1000 and GP-10.
SKU
ROL-GM800PP
Vendor
Boss
Effect Type
Guitar Synth
Included From Manufacturer
AC adaptor (PSB-1U + AC Cord Set)
Rubber foot x 4
Mpn
GM-800
Audio Inputs
GK in 1/4" TRS, MIDI
Audio Outputs
GK out 1/4" TRS, MIDI, 1/4" L/Phones R/MONO, EXP 1/4" 1, EXP 1/4" 2
On-board Expression Pedal
No
Number of Pedal Switches
4
Power Adaptor
Included
Product Weight
2 lbs 9 oz
USB Functionality
File Transfer/Storage;Editor/Librarian
Width
9 11/16"
Depth
5 9/32"
Height
2 31/64" (without rubber feet)
Roland/Boss Consumer Limited Warranty
This limited warranty applies only to Roland and Boss products purchased in the United States of America.
Roland Corporation U.S. warrants to the first consumer only of a covered product purchased from an authorized Roland dealer in the U.S. that this product will be free from defects in materials for a period of three (3) years or defects in workmanship for a period of two (2) years. Please register this product online to establish the date of purchase (not a requirement for warranty service).
To exercise your rights under this Warranty as a purchaser, you must ship this product in appropriate packaging at your expense (insurance is recommended), together with proof of purchase, to Roland Corporation U.S., or to such other address as may be instructed by Roland Corporation U.S. (This shipping requirement shall not apply to those Roland products covered by in-home warranties). You should submit a new service request to obtain a Return Authorization number for the returned product. Any products shipped to Roland Corporation U.S. without a Return Authorization number shall be refused.
Roland Corporation U.S. will repair or replace this product at its sole option at no charge to you for parts or for labor within the warranty period; provided, however, that Roland Corporation U.S. reserves the right to determine whether the product is 'defective' for purposes of this Limited Warranty. This Warranty does not apply to damage to this product that occurred as a result of abuse or misuse, abnormal service or handling, battery leakage or failure, damage which may have been caused either directly or indirectly by another product, or if the product has been altered or modified in any way, or if the damage was caused by repairs or service provided or attempted by anyone other than Roland Corporation U.S. or a Roland Authorized Service Center.
In no event shall Roland Corporation U.S. be liable for any indirect, incidental, collateral, exemplary, punitive, consequential or special damages or losses arising out of your purchase of products and/or out of this warranty, including without limitation, loss of use, profits, goodwill or savings or loss of data, music, electronic files, or programs that may have been stored by a user of the product even if Roland Corporation U.S. has been advised of the possibility of such damages or claims. Some states do not allow the exclusion or limitation of incidental, punitive, or consequential damages, so the above limitation or exclusion may not apply to you.
Where applicable, if you qualify as a 'consumer' under the Magnuson-Moss Warranty Act, then you shall be entitled to any implied warranties allowed by law for the period of the Limited Warranty as set forth above. Some states do not allow limitations on how long an implied warranty lasts, so the above limitation may not apply to you. Except as stated above, the foregoing warranties are in lieu of all other conditions or warranties, express, implied or statutory, including without limitation, an implied condition or warranty of merchantability or fitness for a particular purpose and of any other warranty obligation on the part of Roland Corporation U.S.
Roland Corporation U.S. does not assume or authorize assumption of liability for it or any other warranty, either express or implied. This Limited Warranty gives U.S. purchasers specific legal rights, and you may also have other rights which vary from State to State.
Standard Shipping