Skip product carousel
Instant Rebate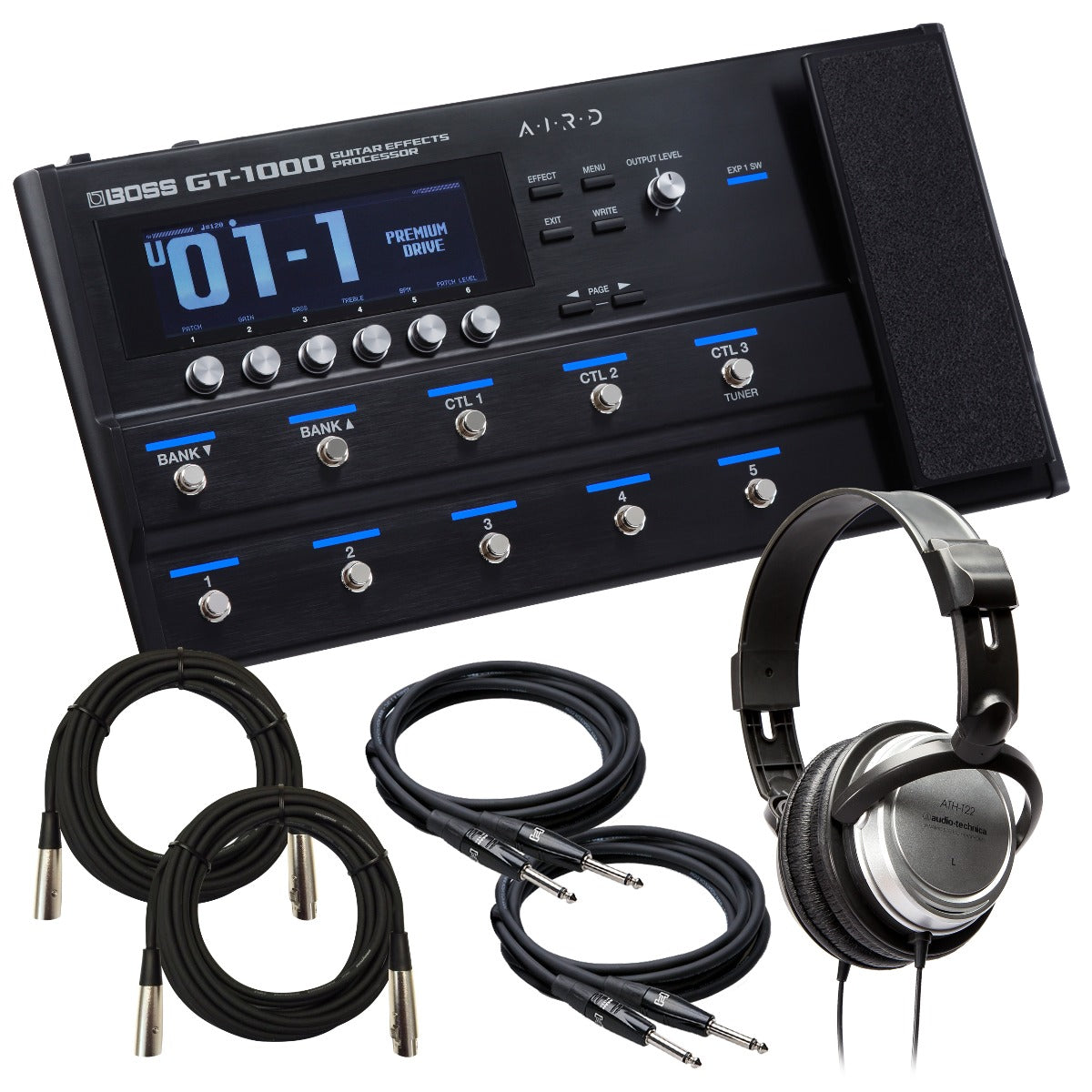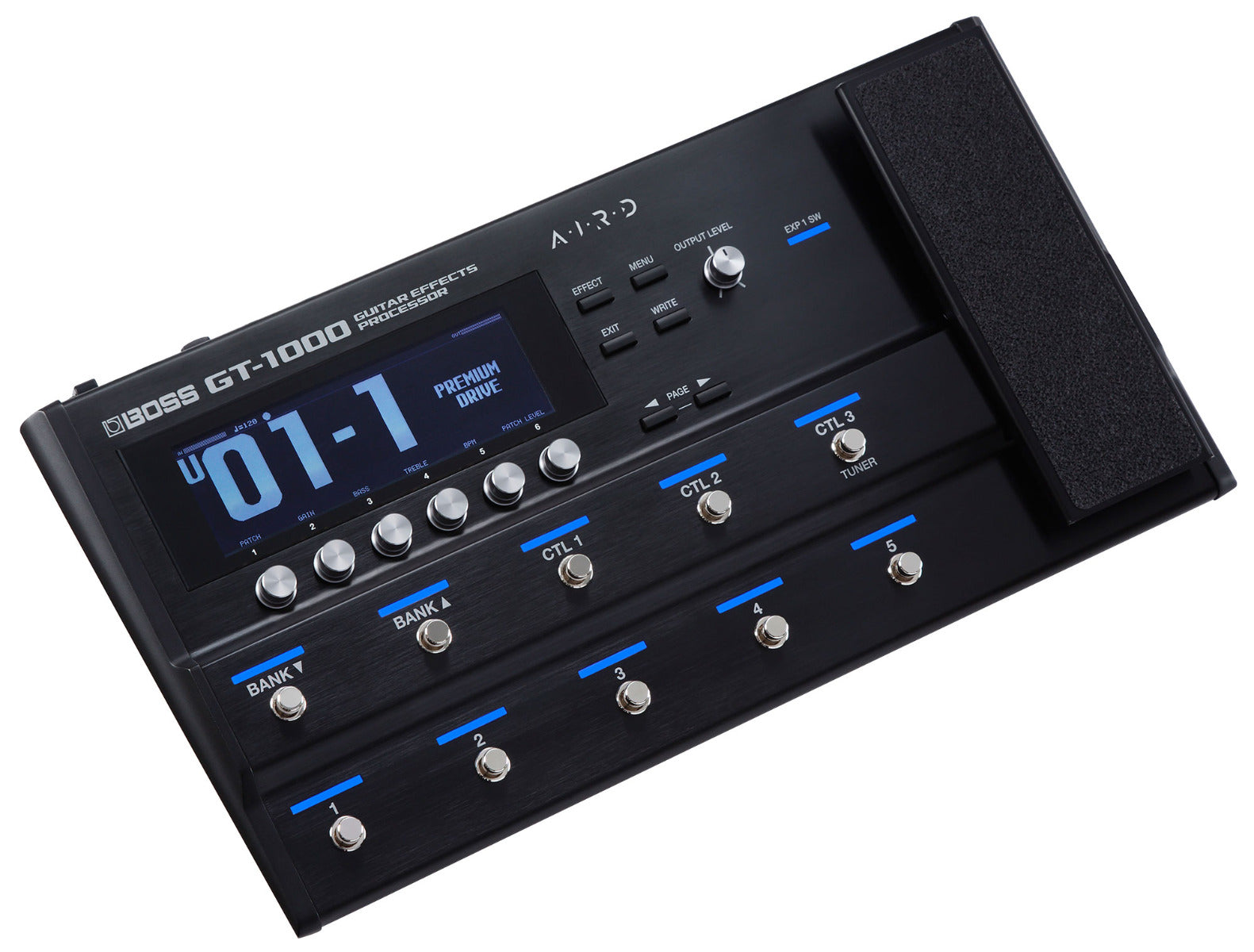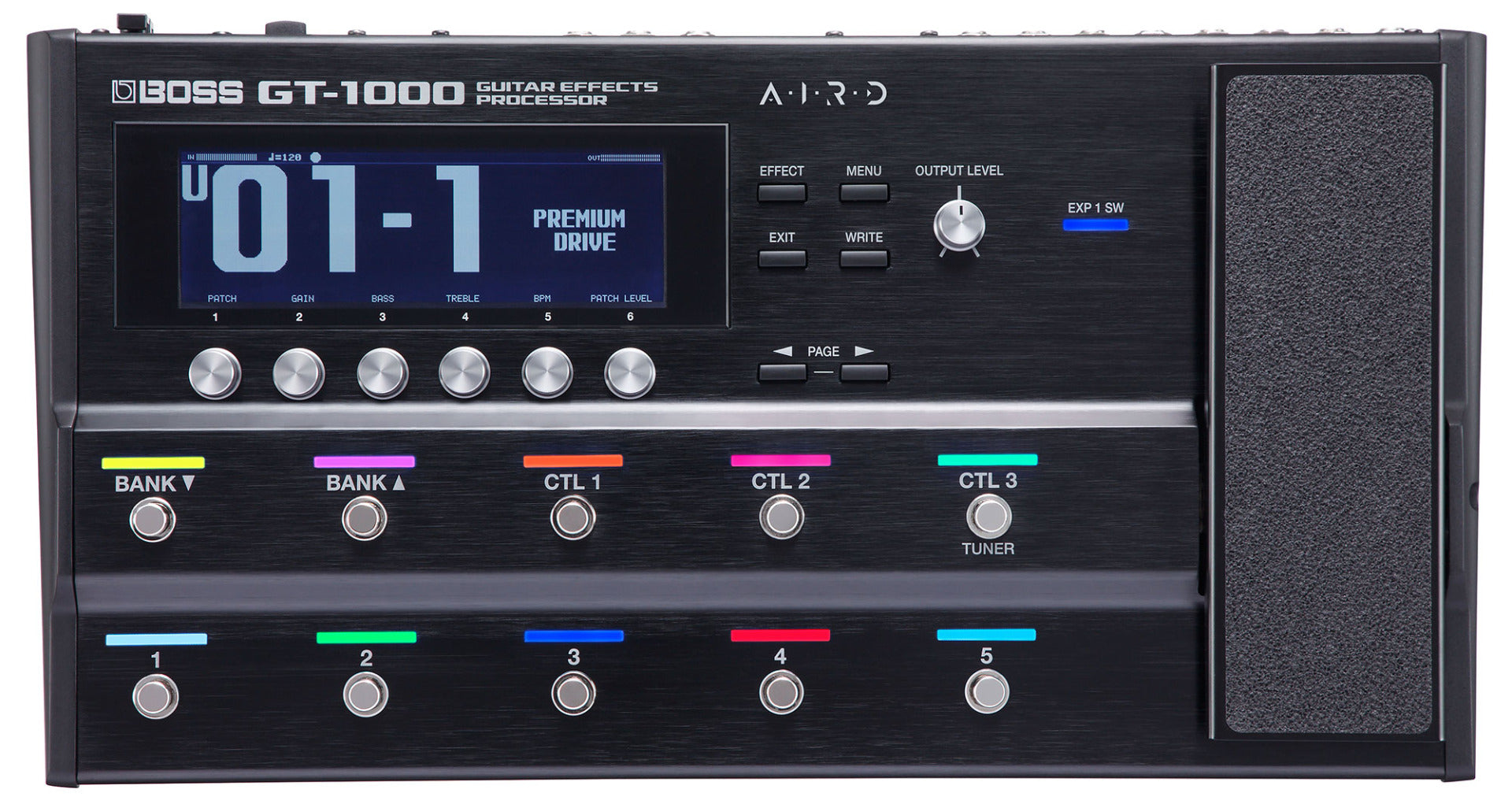 Boss GT-1000 Guitar Effects Processor BONUS PAK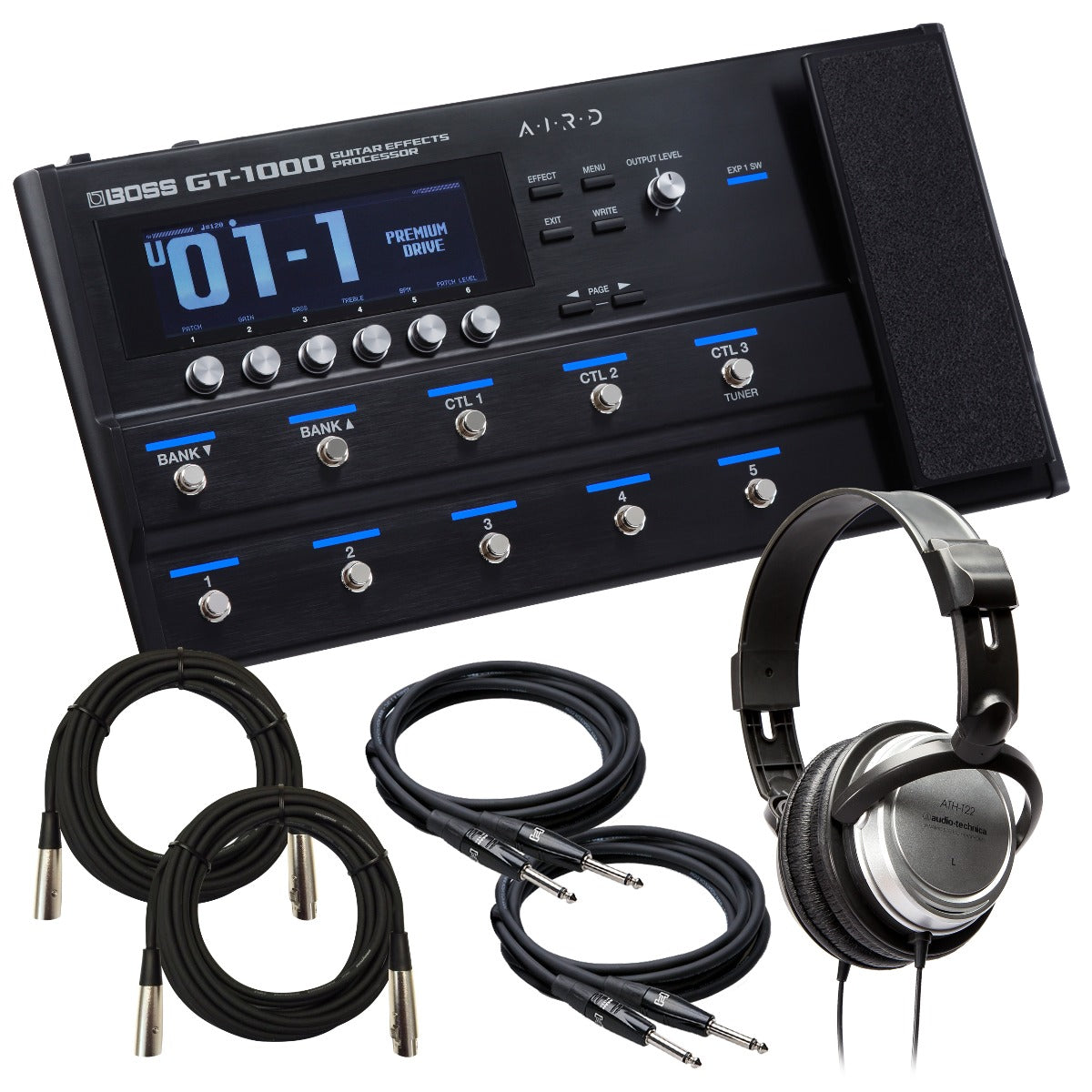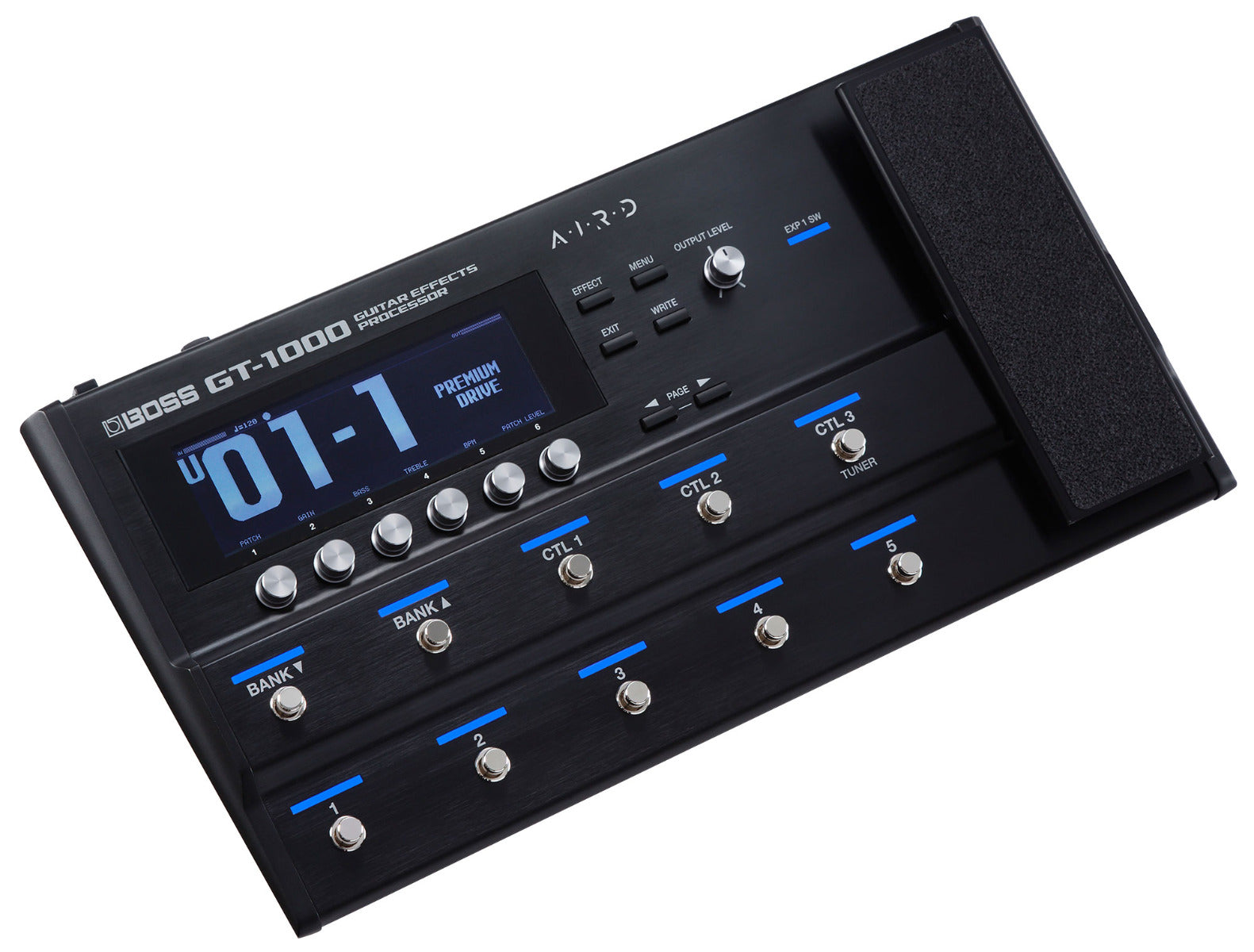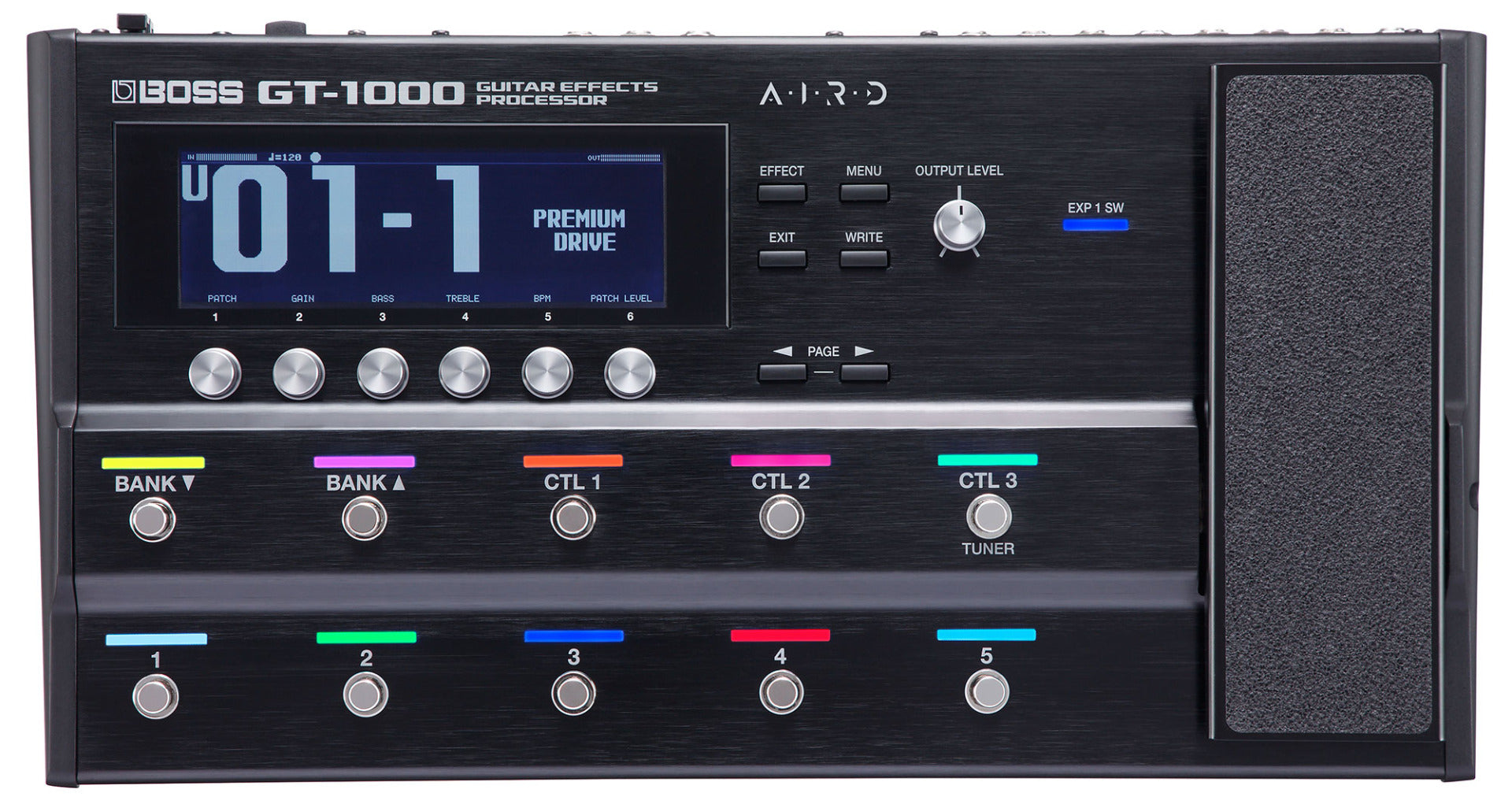 Boss GT-1000 Guitar Effects Processor BONUS PAK
4 items included
This Kraft Music Bundle Includes
$899.99
Regular price
$1,195.78
Instant Rebate ends January 2, 2024
Save $295.79
Click on a product to view more details.
Delivering unmatched sound quality and musical expression, the GT-1000 ushers in a new era of performance in amp/effects processors. This premium tone machine debuts the groundbreaking new AIRD (Augmented Impulse Response Dynamics) technology, realized with decades of advanced BOSS research and supported by an ultra-fast DSP engine, 32-bit AD/DA, 32-bit floating-point processing, and 96 kHz sampling rate throughout.
Based on BOSS's acclaimed Tube Logic approach, the comprehensive AIRD system in the GT-1000 brings unparalleled musical response and flexibility to a digital guitar processor. AIRD amplifiers live and breathe like real tube amps, providing inspiring feel and authentic tonal dynamics that were previously unattainable. And with sophisticated AIRD Output Select functionality, you're able to consistently achieve this amazing sound with any setup, from standard guitar amps to direct recording and full-range stage monitoring applications.
The GT-1000 also features a huge range of cutting-edge BOSS effects to enhance your tones, with numerous routing options and extensive real-time control at your command. And with the convenience of built-in Bluetooth®, you can adjust sounds, configure control assignments, and organize patches wirelessly from your mobile device using the BOSS Tone Studio app. Packing immense creative power in a streamlined pro design, the GT-1000 is a game changer that brings new levels of musical expression to guitarists everywhere.
Designed for Unparalleled Sound Quality
The GT-1000 is BOSS's most advanced amp/effects processor to date, built for no-compromise audio performance. To start, it's the first-ever guitar multi-effects unit with 32-bit AD/DA, 32-bit floating-point processing, and 96 kHz sampling rate throughout. There's an all-new DSP engine as well, specially designed for music applications and featuring over three times the power of previous generations.
This immense processing muscle unlocks far greater sonic detail than ever before possible, making it quick and easy to get the sounds you're after without endless parameter tweaks and microscopic EQ adjustments. If you've shied away from other amp/effects processors because they're hard to dial in and missing that "real deal" vibe, the GT-1000 is sure to change your mind.
AIRD: A Revolution in Digital Amp Processing
At its core, the GT-1000 harnesses BOSS's breakthrough AIRD technology for previously unattained musical power. Based on the comprehensive Tube Logic concept behind the renowned Katana, Waza, and Blues Cube amplifiers, AIRD takes the amp processor to a new level of performance, flexibility, and practical usability.
The tube amplifiers that guitarists love are interactive, highly expressive musical instruments that are far more the sum of their individual components. The Tube Logic design philosophy fully realizes this interactive experience, and it's been hugely successful in the self-contained guitar amps where it's been employed. However, bringing this approach to a guitar processor like the GT-1000 introduces many challenges, because players will use it with a variety of external amplification systems that add their own characteristics to the sound. BOSS developed AIRD to address these challenges, employing sophisticated techniques to ensure that the GT-1000's groundbreaking musical response can be consistently experienced in any application where the processor is used.
Highly Musical Guitar Amplifiers, Crafted with AIRD
The GT-1000 is loaded with immensely expressive guitar amplifiers, all meticulously crafted with AIRD. In contrast to traditional modeling methods, AIRD reproduces the complex internal component interactions of tube amps in every way, from guitar input to speaker output and everything in-between. The result is a complete interactive system that's a living, breathing instrument, just like your favorite high-end tube amp.
A key focus of AIRD is the reactive amp/speaker relationship, which is essential to the dynamic feel and musical responsiveness of tube amplifiers. This vital relationship is fully brought to life with the GT-1000's amps, producing guitar tones that are alive with punch, presence, and depth. Thanks to AIRD, your sound always feels great under your fingers and "sits in the mix" properly, delivering a truly organic musical experience that's never been available from a digital guitar processor until now.
The GT-1000 features a wide range of BOSS original amplifiers suitable for all guitar styles, from super-clean to ultra-heavy. A number of amp types employ Multi-Dimensional Processing (MDP) technology for dynamic, nuanced tone that reaches beyond the capabilities of analog designs. Classic tube amps throughout history are included as well, from coveted vintage combos to modern high-gain heads. Two amps can be used at once in a single patch, so you're able to switch between two sounds, blend amps for complex tones, or achieve big, expansive sound in stereo setups.
Optimized Performance for Every Playing Application
AIRD enables the GT-1000 to smoothly flow into any creative setup, allowing you to enjoy great tone and response with minimal adjustments. By choosing from a large selection of AIRD Output Select types, you can perfectly tailor the GT-1000 for any destination, whether it's a guitar amp input, an amp effects return, a power amp driving guitar speakers, a computer DAW, or a full-range monitoring system.
AIRD is fully integrated into the GT-1000's amplifiers at every level, so you'll always experience their authentic sound and interactive response no matter what you're connected to. And with the ability to apply different AIRD Output Select settings to the main and sub outputs, you can optimize the sound for two destinations at once, such as a guitar amp input and a direct feed to a house PA. The GT-1000's outputs also include independent ground lift functions, making it easy to tackle any hum issues that might be introduced with external devices.
Extraordinary Effects
As you'd expect from a flagship BOSS processor, the GT-1000 is loaded with all types of outstanding effects, from overdrives and distortions to specialty effects like Slicer, Slow Gear, and a host of others. Many selections harness BOSS's MDP tech, which intelligently adapts to your dynamics and playing register to achieve the perfect sound. Advanced algorithms from the renowned DD-500 Digital Delay, MD-500 Modulation, and RV-500 Reverb pedals are included too, along with sophisticated Acoustic Resonance processing inherited from the AD-10 pedal for acoustic/electric guitar.
Amps and effects can be configured with various series and parallel routing options, and signal paths can be divided and mixed at multiple points. Patch switching is ultra-fast thanks to the GT-1000's speedy DSP, and delay/reverb carryover is also possible. There are two effects loops as well, allowing you to connect your favorite external effects and preamps.
Streamlined Design, Ready to Travel
In today's music world, players need to travel as light as possible, and BOSS designed the GT-1000 for maximum control in a minimum amount of space. In comparison to other processors in its class, it offers a compact, streamlined design that's easy to carry and set up. The metal chassis is both strong and light, and features an array of freely assignable footswitches and an integrated expression pedal. Newly developed specifically for the GT-1000, the low-profile footswitches reduce size and weight while maintaining the rugged durability that all BOSS gear is famous for.
Intuitive Interface
With the GT-1000's large display and six switching knobs, the process of creating and adjusting sounds is smooth and efficient. Four different Play screen layouts provide alternate viewing options for various patch functions, and you can customize the knobs for quick access to specific parameters. While editing, the signal chain is clearly displayed, and it's simple to select effects blocks, adjust parameters, and change the order. The available parameters for selected effects can be displayed in layers, letting you see everything at once on screen.
An innovative new workflow feature in the GT-1000 is the ability to save any effect as a "Stompbox." Parameter adjustments to a Stompbox are reflected in all patches where it's used, basically mimicking the way you'd use physical pedals. This is ideal for effects where you use the same settings most of the time, but just need to make small adjustments occasionally. Now, you can make those changes quickly across multiple patches, eliminating the hassle of tweaking and saving each patch separately.
Intensive Performance Control
With its ten footswitches and expression pedal with toe switch, the GT-1000 gives you comprehensive creative control on stage and in the studio. And if you're a power user, there's support for additional control via external switches, pedals, MIDI, and USB. By default, the main footswitches are assigned to select patches, patch banks, and three control assignments. If you like, you can reassign the switches to control nearly any function, including effects on/off, tap tempo, parameter adjustment, system settings, and more.
Using the GT-1000's switching knobs and powerful Assign Matrix, control assignments are quick and intuitive. It's also possible to assign different colors to the status LEDs above the switches, and easily view the current switch assignments with a Play screen option.
USB Audio/MIDI and Wireless Editing via Bluetooth
The GT-1000's well-organized panel interface is a breeze to navigate, but things get even easier with your smartphone or tablet. The GT-1000 is equipped with onboard Bluetooth—a first for a pro-level amp/effects processor—allowing you to wirelessly manage sounds from the dedicated BOSS Tone Studio app for iOS and Android. Whether at home, in rehearsal, or on stage, you can comfortably tweak the GT-1000 from your device without having to bend over and edit via the hardware. It's even possible to record a riff with the GT-1000's built-in looper, and then roam the venue and adjust tones from the audience position!
The GT-1000 includes a USB audio/MIDI interface as well, with multi-channel audio operation for flexible computer recording and efficient re-amping. USB can also be used to edit and organize sounds with the desktop version of the BOSS Tone Studio editor for Mac and Windows.

SKU
ROL-GT1000BP
Vendor
Boss
Effect Type
Multi-Effects
Included From Manufacturer
Power Supply
Mpn
GT-1000
Control Connections
CTL4, 5/EXP2
CTL6, 7/EXP3
AMP CTL1, 2
Effects
116 Types
Audio Inputs
1/4" INPUT
Audio Outputs
1/4" L/MONO + R
XLR L + R
1/4" Headphone
On-board Expression Pedal
Yes
Number of Patches/Programs
250 (User) + 250 (Preset)
Number of Pedal Switches
10
Power Adaptor
Included
Product Weight
7 lbs 15 oz
USB Functionality
Editor/Librarian;Recording Interface
Width
18 3/16"
Depth
9 13/16"
Height
2 13/16"
Roland/Boss Consumer Limited Warranty
This limited warranty applies only to Roland and Boss products purchased in the United States of America.
Roland Corporation U.S. warrants to the first consumer only of a covered product purchased from an authorized Roland dealer in the U.S. that this product will be free from defects in materials for a period of one (1) year or defects in workmanship for a period of ninety (90) days. Please register this product online to establish the date of purchase (not a requirement for warranty service).
To exercise your rights under this Warranty as a purchaser, you must ship this product in appropriate packaging at your expense (insurance is recommended), together with proof of purchase, to Roland Corporation U.S., or to such other address as may be instructed by Roland Corporation U.S. (This shipping requirement shall not apply to those Roland products covered by in-home warranties). You should submit a new service request to obtain a Return Authorization number for the returned product. Any products shipped to Roland Corporation U.S. without a Return Authorization number shall be refused.
Roland Corporation U.S. will repair or replace this product at its sole option at no charge to you for parts or for labor within the warranty period; provided, however, that Roland Corporation U.S. reserves the right to determine whether the product is 'defective' for purposes of this Limited Warranty. This Warranty does not apply to damage to this product that occurred as a result of abuse or misuse, abnormal service or handling, battery leakage or failure, damage which may have been caused either directly or indirectly by another product, or if the product has been altered or modified in any way, or if the damage was caused by repairs or service provided or attempted by anyone other than Roland Corporation U.S. or a Roland Authorized Service Center.
In no event shall Roland Corporation U.S. be liable for any indirect, incidental, collateral, exemplary, punitive, consequential or special damages or losses arising out of your purchase of products and/or out of this warranty, including without limitation, loss of use, profits, goodwill or savings or loss of data, music, electronic files, or programs that may have been stored by a user of the product even if Roland Corporation U.S. has been advised of the possibility of such damages or claims. Some states do not allow the exclusion or limitation of incidental, punitive, or consequential damages, so the above limitation or exclusion may not apply to you.
Where applicable, if you qualify as a 'consumer' under the Magnuson-Moss Warranty Act, then you shall be entitled to any implied warranties allowed by law for the period of the Limited Warranty as set forth above. Some states do not allow limitations on how long an implied warranty lasts, so the above limitation may not apply to you. Except as stated above, the foregoing warranties are in lieu of all other conditions or warranties, express, implied or statutory, including without limitation, an implied condition or warranty of merchantability or fitness for a particular purpose and of any other warranty obligation on the part of Roland Corporation U.S.
Roland Corporation U.S. does not assume or authorize assumption of liability for it or any other warranty, either express or implied. This Limited Warranty gives U.S. purchasers specific legal rights, and you may also have other rights which vary from State to State.
Ground shipping is FREE for all orders $99 and up.