Skip product carousel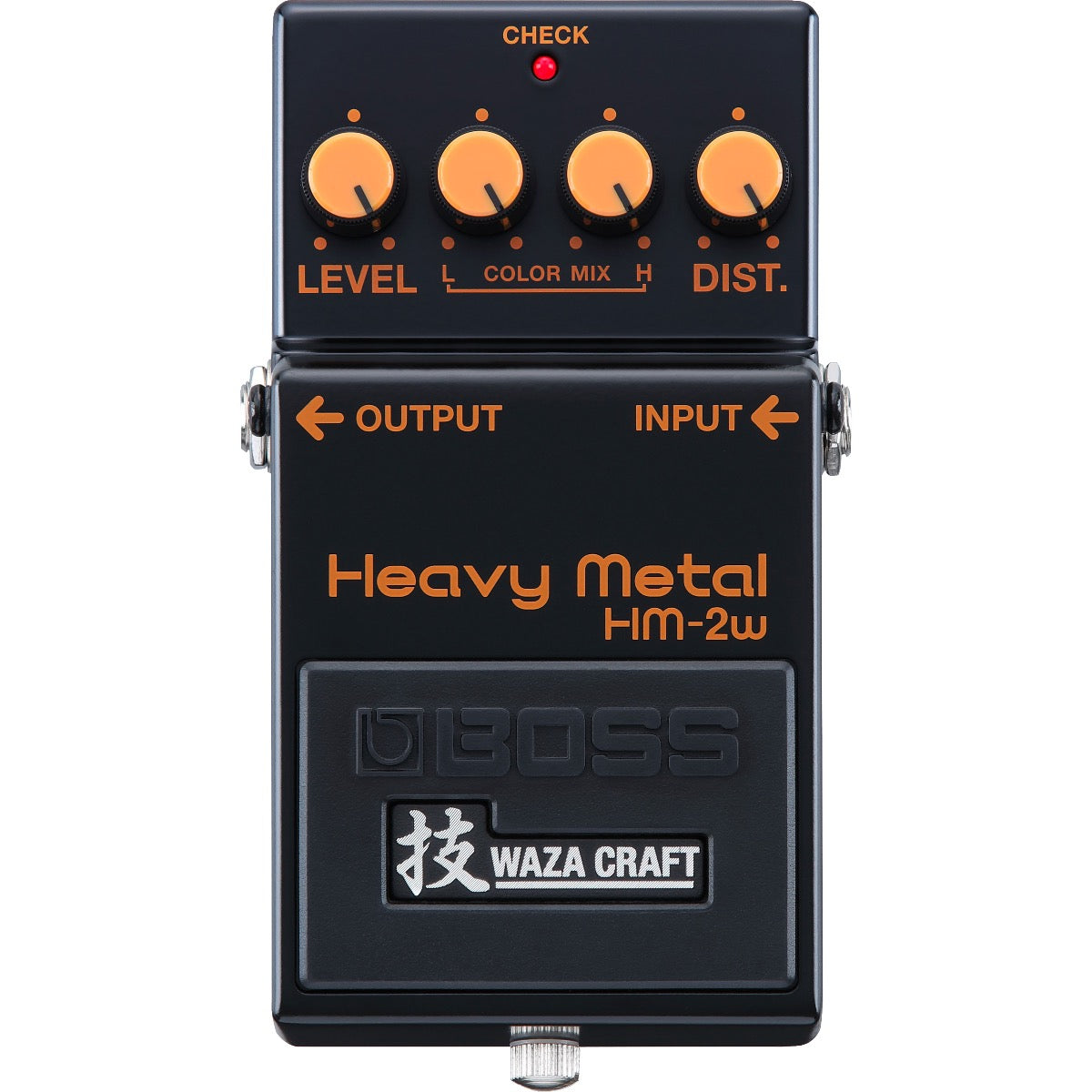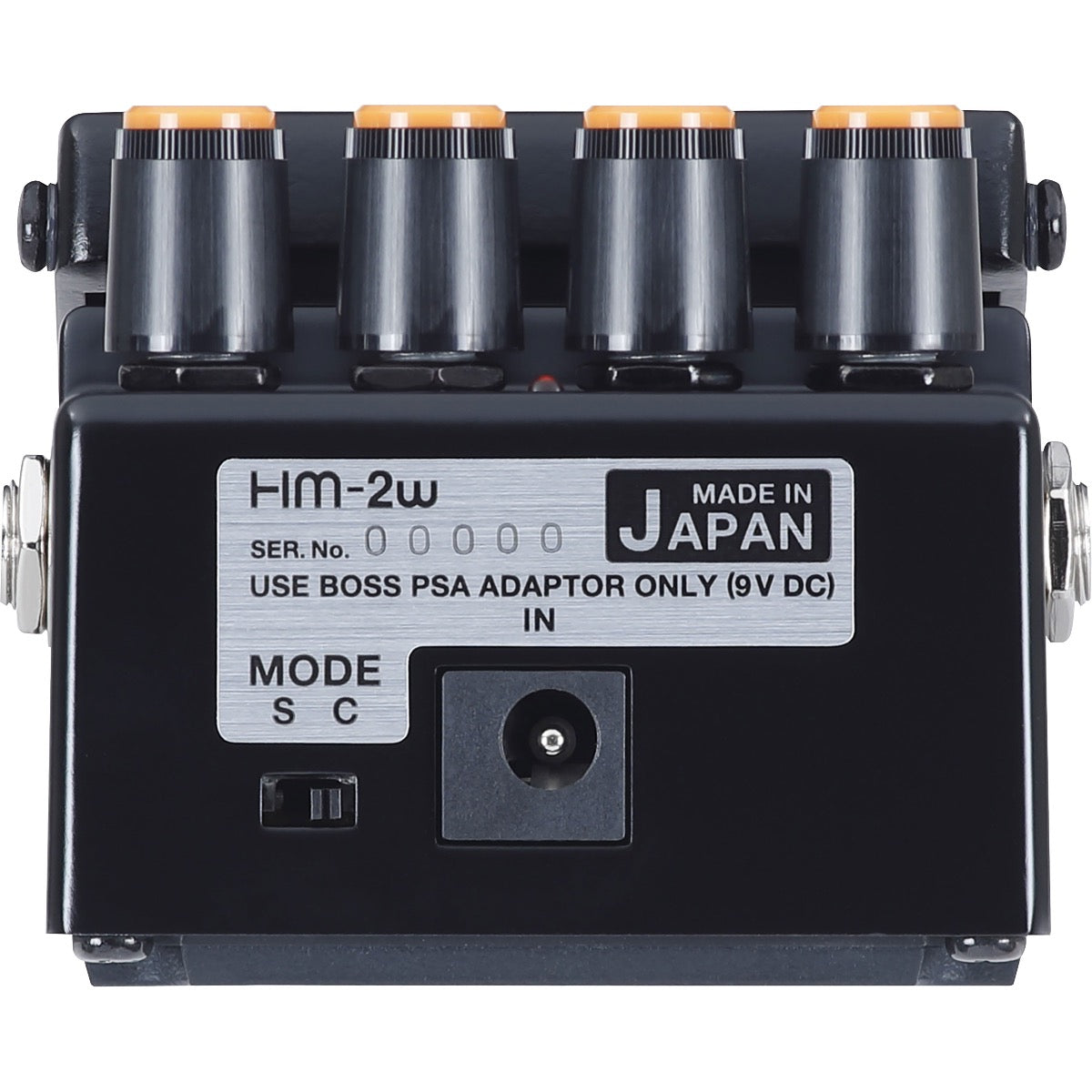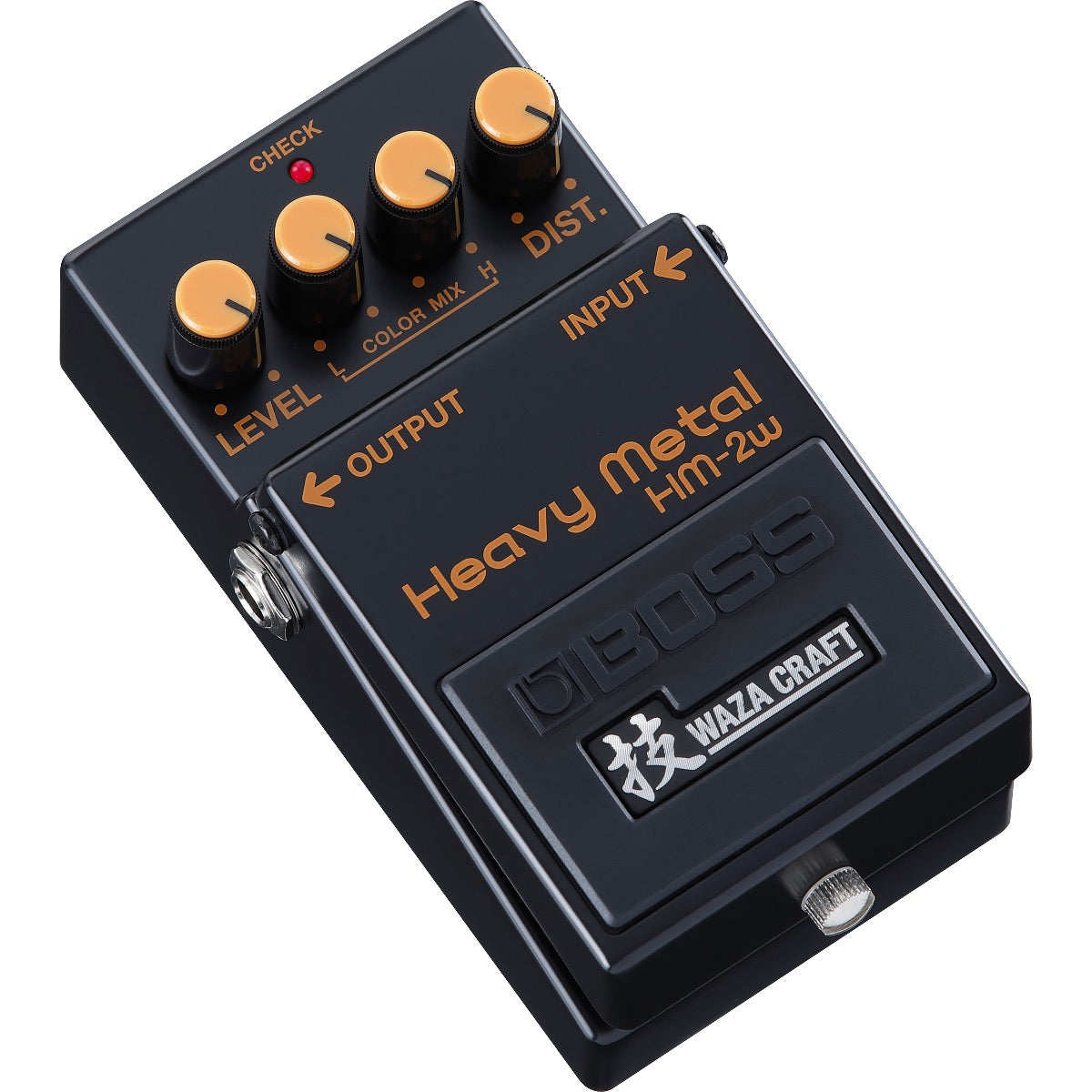 Boss HM-2W Heavy Metal Waza Craft Distortion Pedal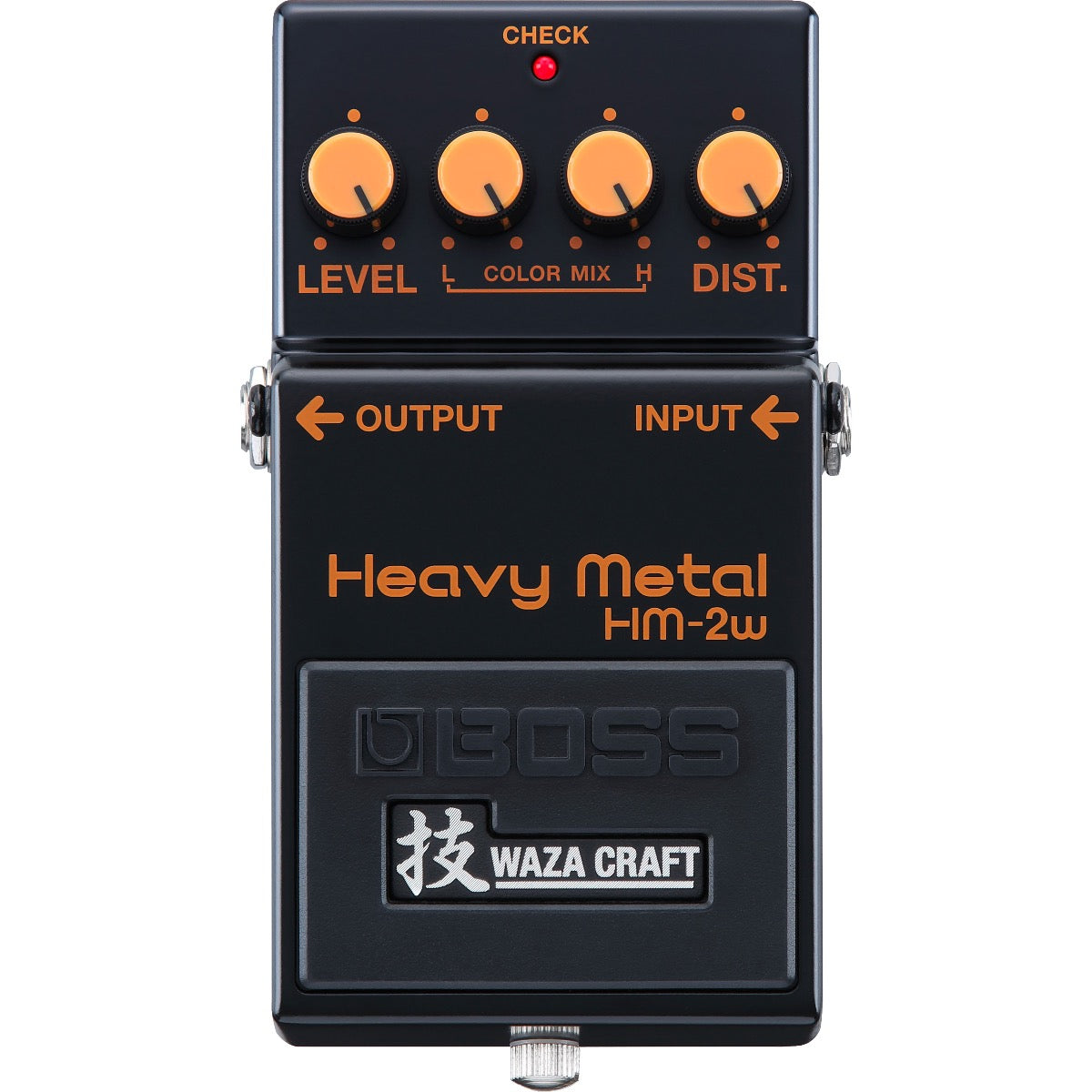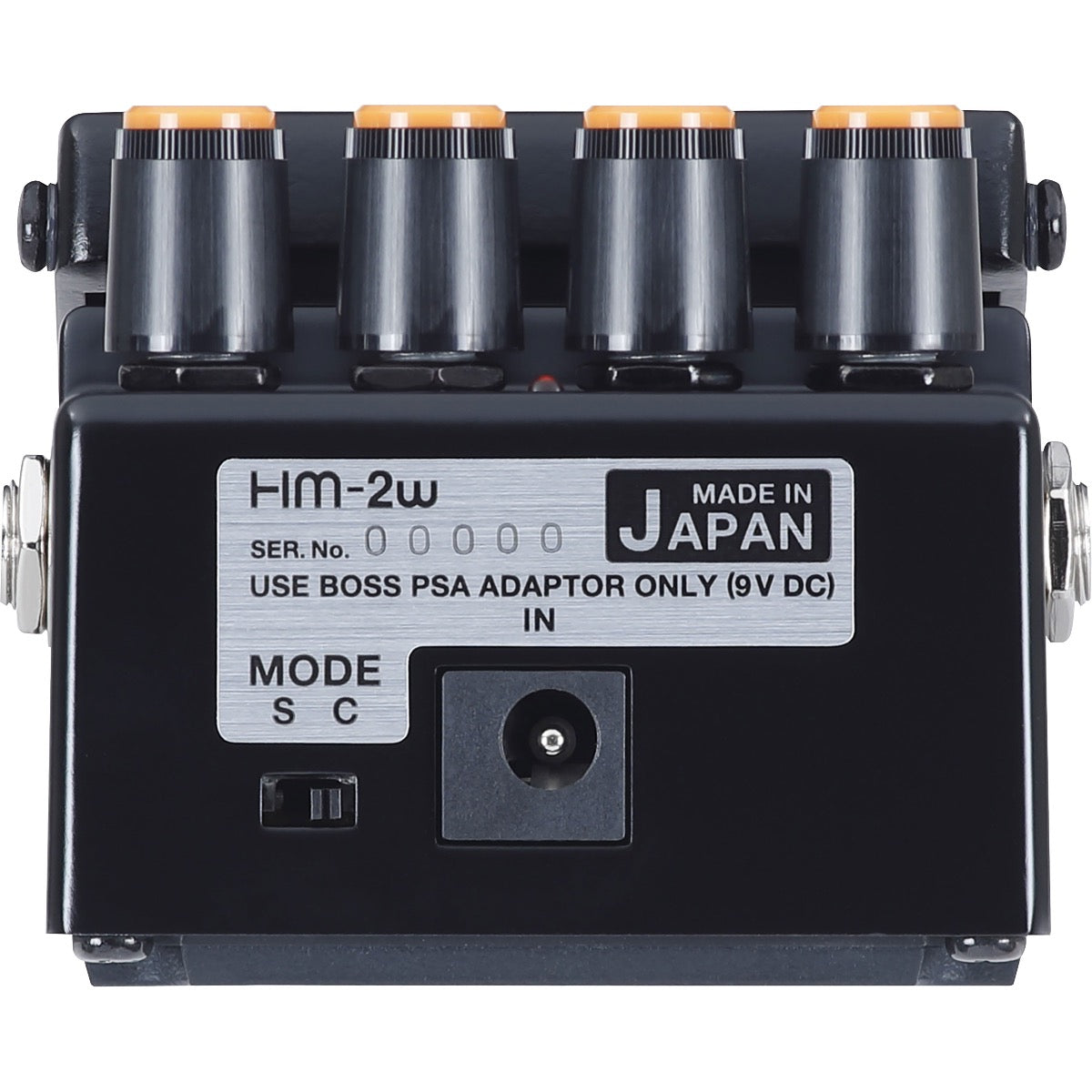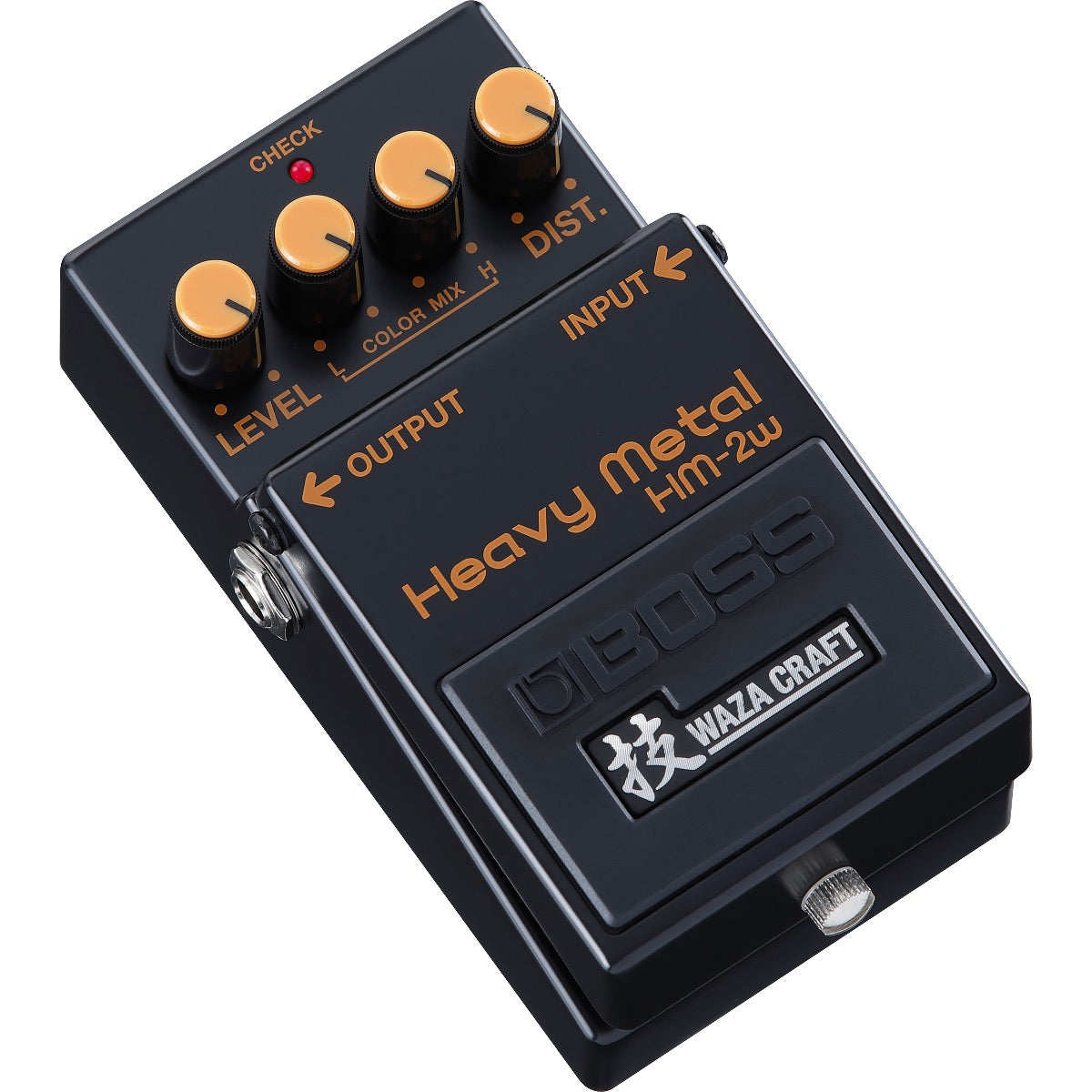 Boss HM-2W Heavy Metal Waza Craft Distortion Pedal
Produced from 1983 to 1991, Boss HM-2 Heavy Metal is a true legend in the history of distortion pedals. Its signature 'chainsaw' tone with all knobs maxed is the defining voice of Swedish death metal, and the slightly milder sides of its personality can be heard on tracks from mainstream to shoegaze. After years of requests from hardcore HM-2 fans, this iconic stomp is now reborn three decades later in a special Boss Waza Craft edition. HM-2W delivers the authentic analog sound of the original in all its glory, coupled with lots of modern refinements for enhanced performance.
Special edition Waza Craft pedal for the ultimate Boss tone experience
Authentic HM-2 appearance
Standard mode delivers the original HM-2 tone with lower noise and maximized level
Custom mode provides a more aggressive sound variation with special Waza Craft tuning
Premium buffer for clean and clear tone when bypassed
Boss five-year warranty
Death metal legend
When introduced in 1983, HM-2 was one of the first 'amp in a box' pedals ever, using an innovative Boss circuit to replicate the sound of early 80s British stack amps favored in the rapidly growing heavy metal genre. Near the end of its production run, seminal Swedish death metal bands adopted HM-2 for their primary guitar tones, and its uniquely aggressive sound and focused midrange became highly sought after by a new generation of players. The pedal's vast influence and popularity led to ongoing calls for Boss to bring it back, so they are pleased to present HM-2W to all those devoted fans around the world.
Standard mode: the original HM-2 sound
When HM-2W is in Standard mode, the tone and response of the original HM-2 pedal is reproduced with 100% authenticity. Boss was also able to add some modern improvements without affecting the sound, including reducing the noise floor and expanding the maximum level by 3dB. And with the premium Waza Craft buffer on board, the sound when bypassed is vastly improved. While cranking every knob all the way up is the sound of Swedish death metal, you can also conjure a wide range of tones for other styles with the sensitive distortion and color controls.
Get even more aggressive with Custom mode
HM-2W's Custom mode offers a similar sound character to Standard mode, but with just a little more of everything. The drive stage offers a bit more gain and includes more of the fundamental guitar sound for extra attack and sharpness. In addition, the low and high-mid characteristics have been tweaked to provide increased fullness and definition.
Orange and black is back
Along with the original HM-2 sound, Boss made every effort to capture the pedal's distinctive orange and black appearance, right down to the size and position of lettering on the panel. Every Waza Craft pedal features a mode switch for extended range, and it's been moved to the top on HM-2W to preserve the authentic control layout of HM-2.
Waza Craft: the art of superior tone
Since the beginning, the engineers at Boss have been committed to achieving the finest guitar tones using any technology necessary, from old school analog circuits to high tech DSP. This enthusiastic spirit continues on with the Waza Craft series, bringing you exceptional tone and touch response through carefully selected analog components, refined circuitry and meticulous attention to detail. In Japan, 'Waza' is the term for art and technique, and these special edition pedals proudly carry the Waza symbol to represent the pinnacle of Boss design and craftsmanship.
| | |
| --- | --- |
| SKU | ROL-HM2W |
| MPN | HM-2W Heavy Metal |
| Vendor | Boss |
| Effect Type | Distortion |
| Included From Manufacturer | 9V battery |
| Mpn | HM-2W |
| Effects | Distortion based on Boss HM-2 Heavy Metal |
| Audio Inputs | 1/4" mono input |
| Audio Outputs | 1/4" mono output |
| Number of Pedal Switches | On/off stomp switch |
| Power Adaptor | Boss PSA series (sold separately) |
| Product Weight | 1 lb |
| Width | 2.875" |
| Depth | 5.125" |
| Height | 2.375" |
Roland/Boss Consumer Limited Warranty
This limited warranty applies only to Roland and Boss products purchased in the United States of America.
Roland Corporation U.S. warrants to the first consumer only of a covered product purchased from an authorized Roland dealer in the U.S. that this product will be free from defects in materials for a period of three (3) years or defects in workmanship for a period of two (2) years. Please register this product online to establish the date of purchase (not a requirement for warranty service).
To exercise your rights under this Warranty as a purchaser, you must ship this product in appropriate packaging at your expense (insurance is recommended), together with proof of purchase, to Roland Corporation U.S., or to such other address as may be instructed by Roland Corporation U.S. (This shipping requirement shall not apply to those Roland products covered by in-home warranties). You should submit a new service request to obtain a Return Authorization number for the returned product. Any products shipped to Roland Corporation U.S. without a Return Authorization number shall be refused.
Roland Corporation U.S. will repair or replace this product at its sole option at no charge to you for parts or for labor within the warranty period; provided, however, that Roland Corporation U.S. reserves the right to determine whether the product is 'defective' for purposes of this Limited Warranty. This Warranty does not apply to damage to this product that occurred as a result of abuse or misuse, abnormal service or handling, battery leakage or failure, damage which may have been caused either directly or indirectly by another product, or if the product has been altered or modified in any way, or if the damage was caused by repairs or service provided or attempted by anyone other than Roland Corporation U.S. or a Roland Authorized Service Center.
In no event shall Roland Corporation U.S. be liable for any indirect, incidental, collateral, exemplary, punitive, consequential or special damages or losses arising out of your purchase of products and/or out of this warranty, including without limitation, loss of use, profits, goodwill or savings or loss of data, music, electronic files, or programs that may have been stored by a user of the product even if Roland Corporation U.S. has been advised of the possibility of such damages or claims. Some states do not allow the exclusion or limitation of incidental, punitive, or consequential damages, so the above limitation or exclusion may not apply to you.
Where applicable, if you qualify as a 'consumer' under the Magnuson-Moss Warranty Act, then you shall be entitled to any implied warranties allowed by law for the period of the Limited Warranty as set forth above. Some states do not allow limitations on how long an implied warranty lasts, so the above limitation may not apply to you. Except as stated above, the foregoing warranties are in lieu of all other conditions or warranties, express, implied or statutory, including without limitation, an implied condition or warranty of merchantability or fitness for a particular purpose and of any other warranty obligation on the part of Roland Corporation U.S.
Roland Corporation U.S. does not assume or authorize assumption of liability for it or any other warranty, either express or implied. This Limited Warranty gives U.S. purchasers specific legal rights, and you may also have other rights which vary from State to State.
Standard Shipping