Skip product carousel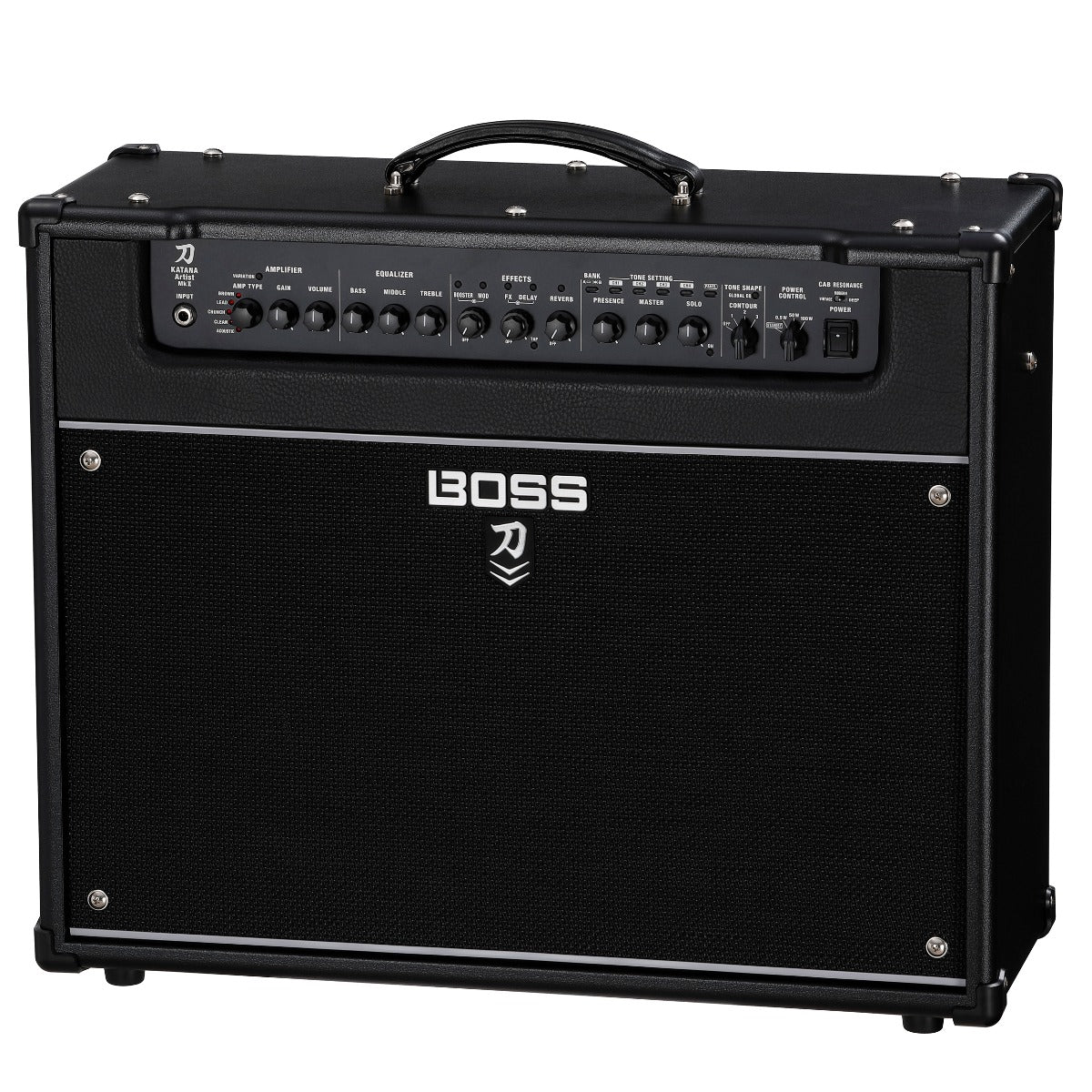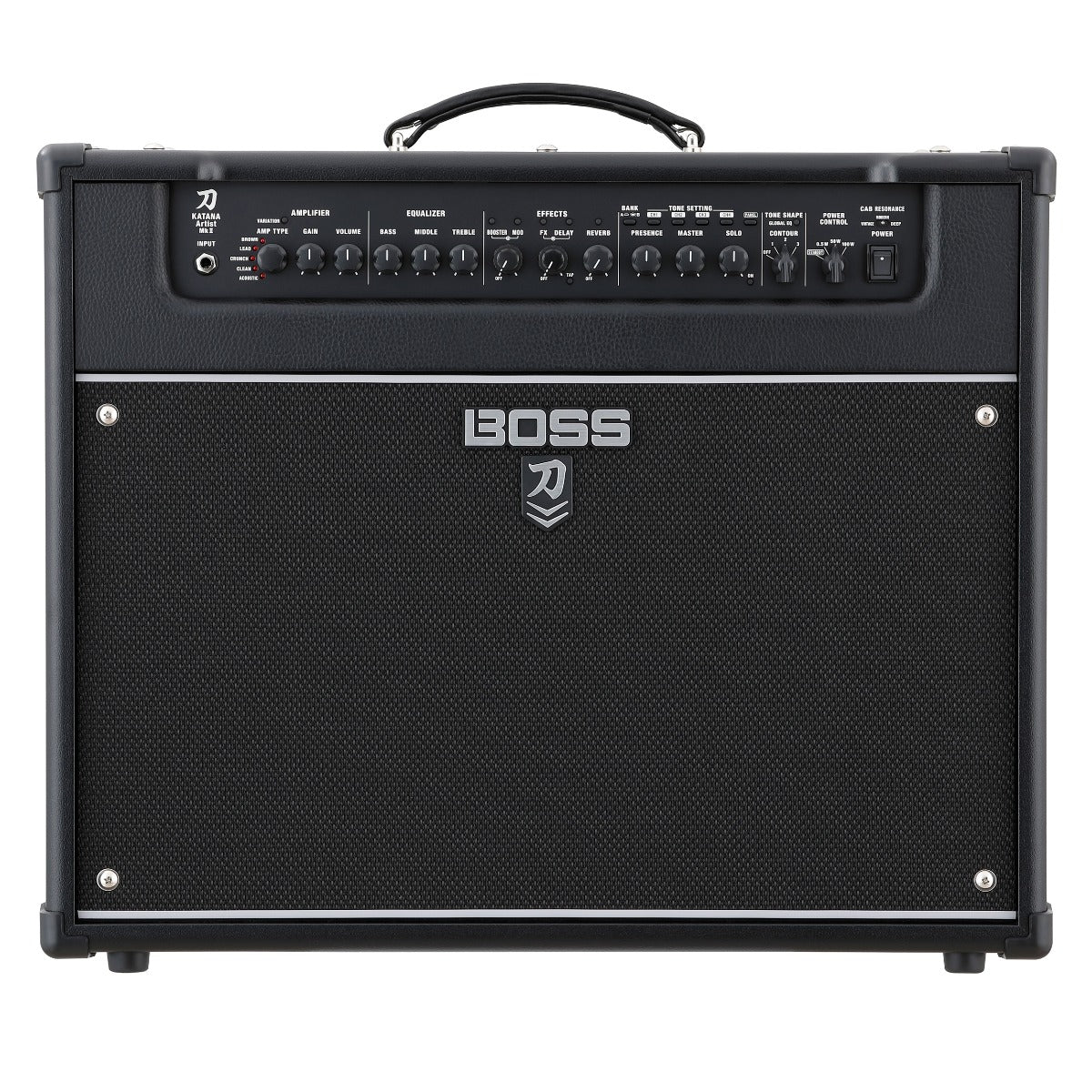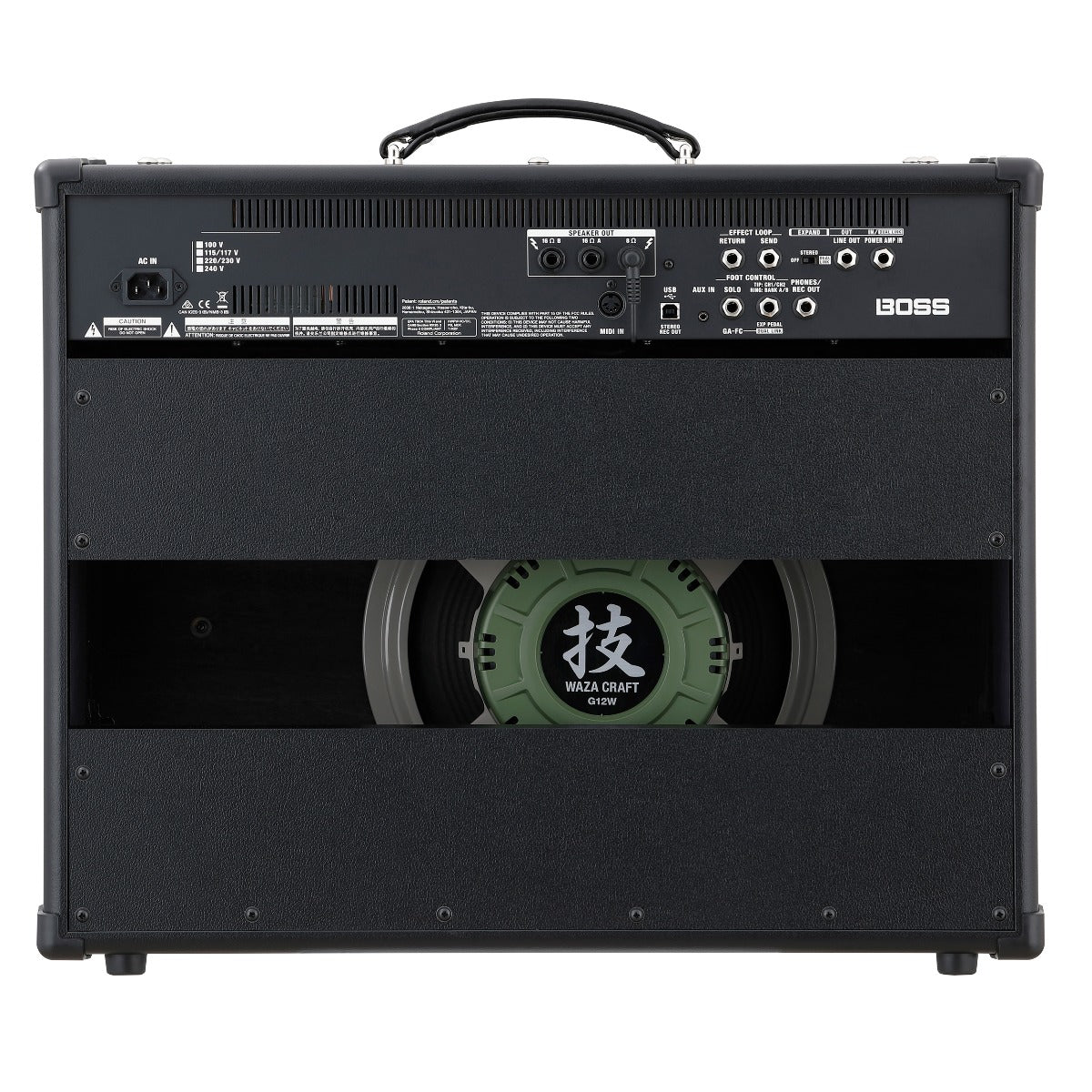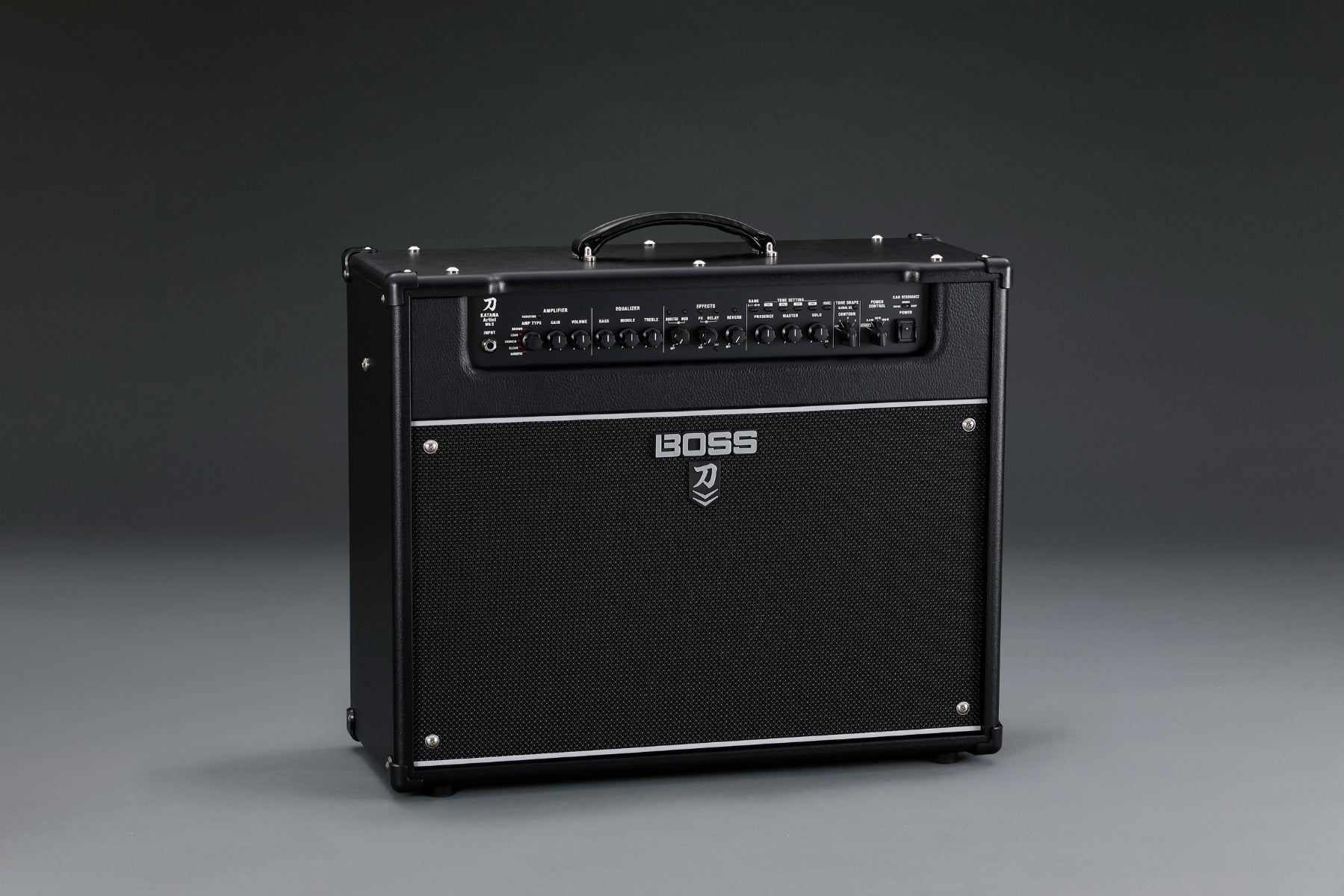 Boss Katana Artist MkII Guitar Amplifier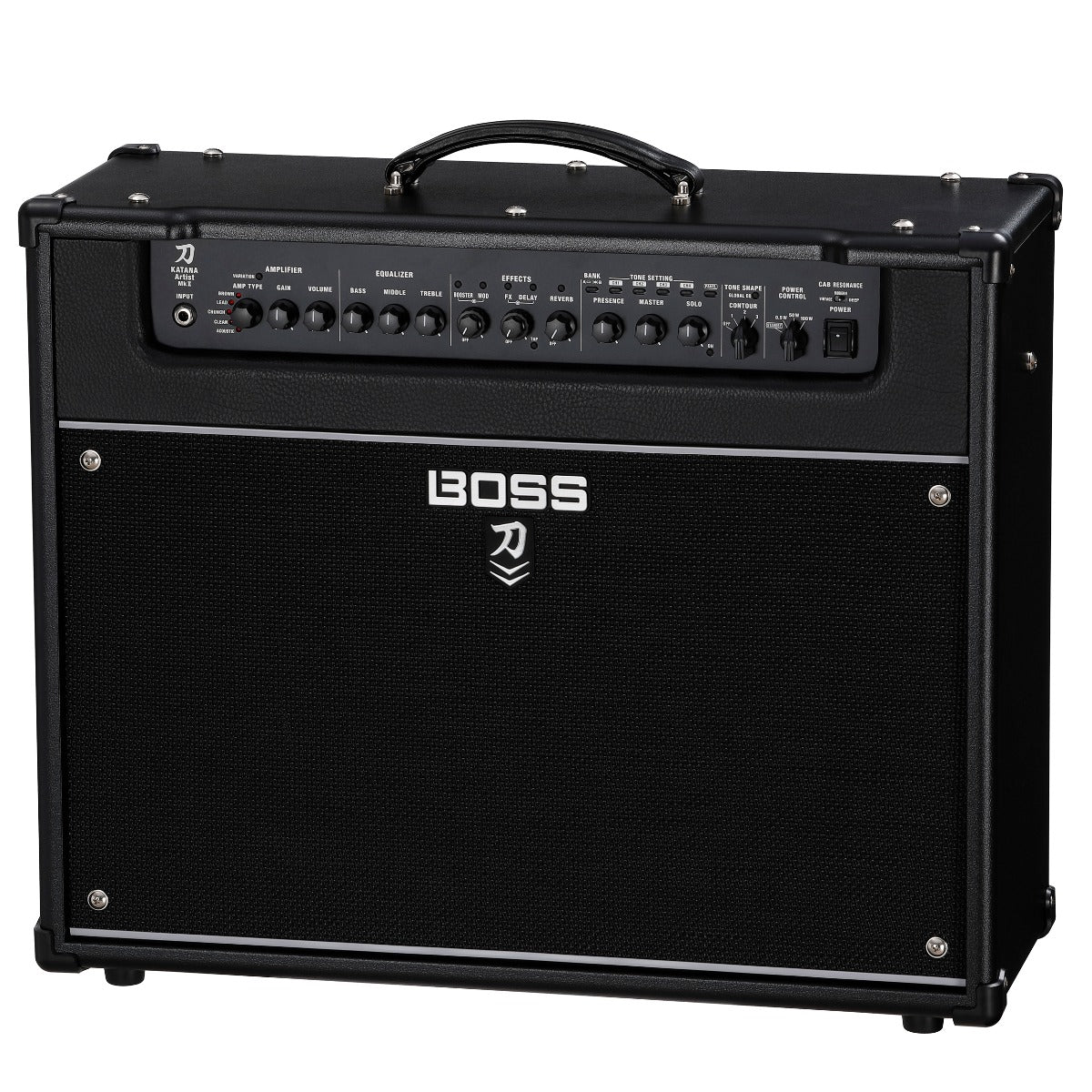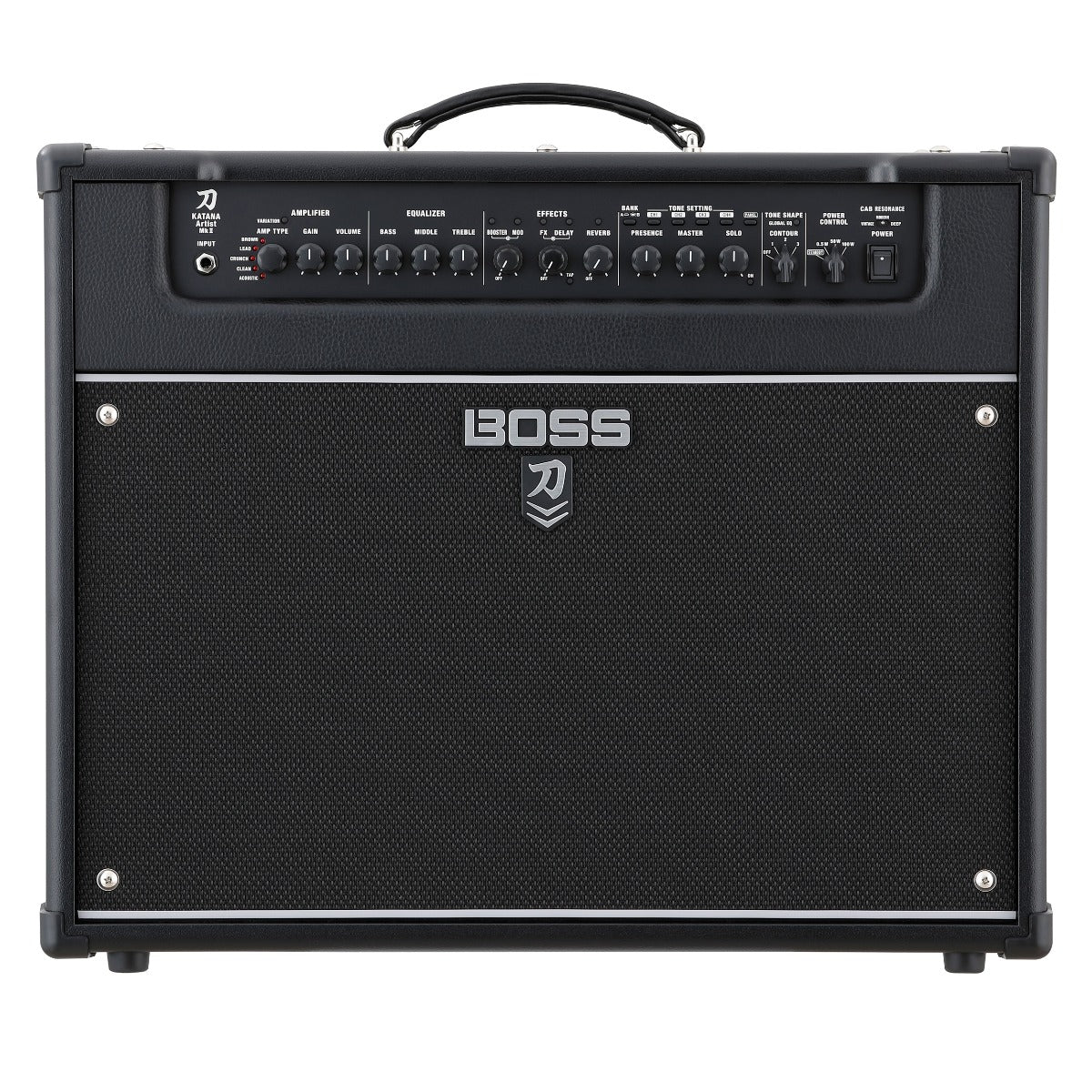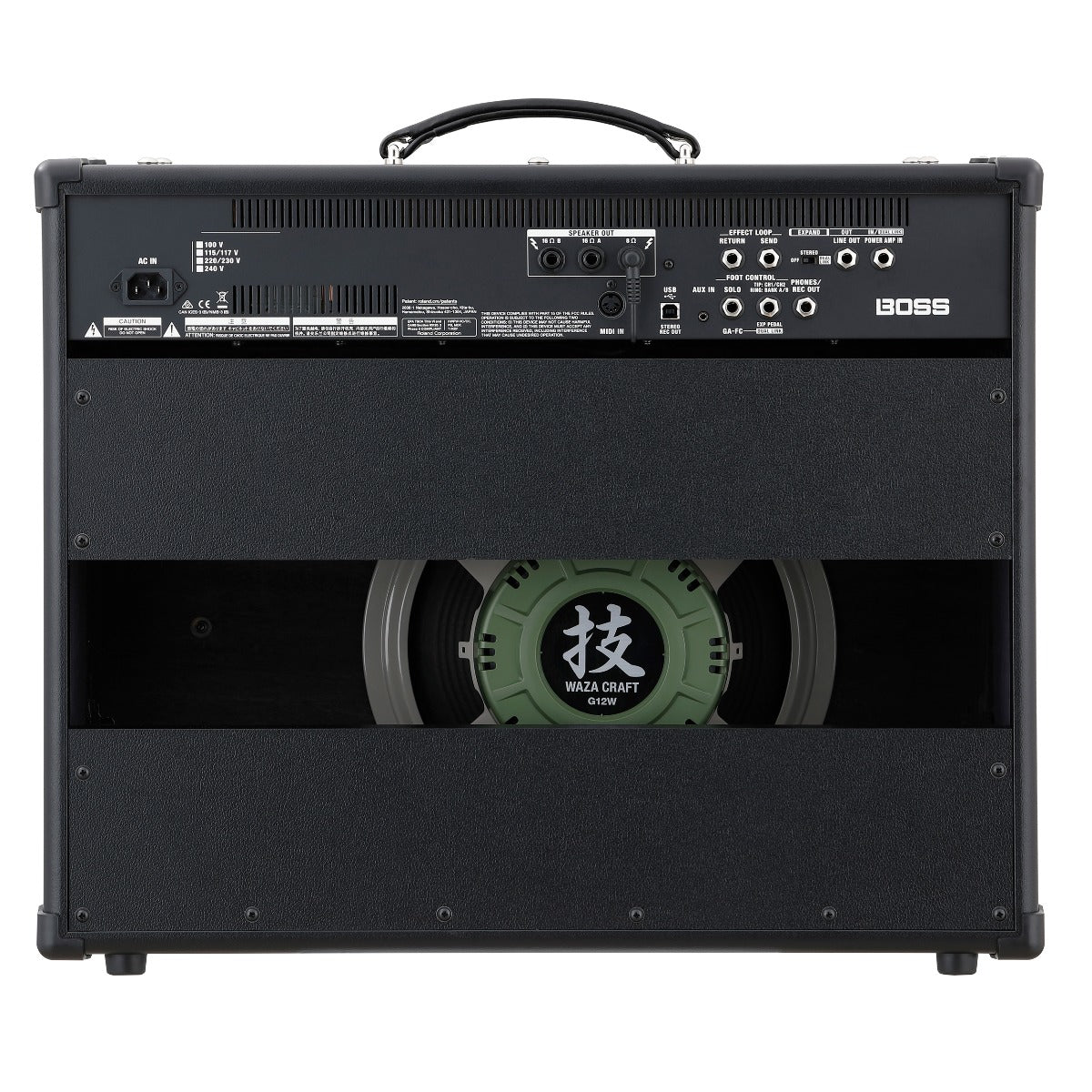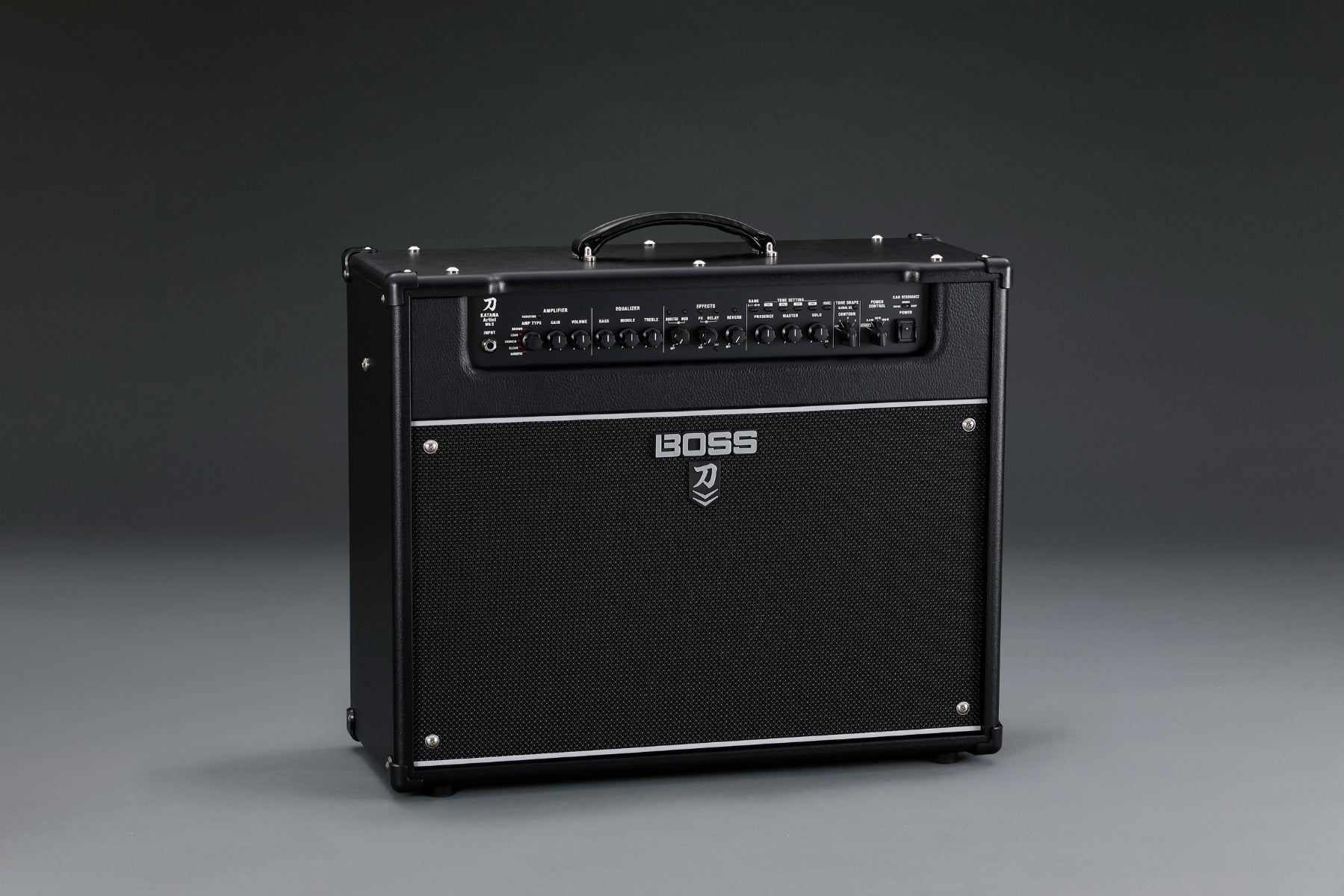 Boss Katana Artist MkII Guitar Amplifier
The Katana-Artist MkII elevates the premier model in the Katana lineup with next-generation features and flexibility. Newly voiced variations for all five amp characters double your tone choices, while onboard effects categories have been expanded from three to five. Exclusive front-panel controls provide even more sound-shaping options, including a three-way Contour switch, Global EQ with three customizable curves, and a Solo boost with adjustable level. And with powerful new dual amp functionality, it's easy to link and control two Katana-Artist MkIIs for massive, ultra-wide tones.
Professional 100-watt combo amp with enhanced tone and exclusive features
Custom Waza 12-inch speaker realizes classic British stack speaker tone and response with increased power handling
Tube Logic design approach produces class-defying power, authoritative punch, and cutting presence
Robust analog class-AB power amp section delivers authentic tone and highly musical response
Ultra-solid cabinet construction and semi-closed back for tight, focused tone with rich low end
Five amp characters with five variations, plus Booster, Mod, FX, Delay, and Reverb sections with three variations in each
Three-way Contour for shaping the overall tonal color and Global EQ switch with three settings (customizable in BOSS Tone Studio)
Switchable Solo function with level control
Integrated dual amp expansion functions for GA-FC control and true stereo effects
Updated BOSS Tone Studio editor software for customizing sounds with over 60 BOSS effects; newly added editor features include pre and post EQs, dedicated Pedal FX, and more
Series/parallel effect loop, external speaker outputs, and power amp input for preamps, modelers, and multi-effects
Eight Tone Setting memories for storing and recalling all amp and effect settings
Power Control for achieving cranked-amp tone and response at low volumes
Mic'd cabinet emulation on the line, USB, and phones/recording outputs, with three Air Feel settings available in BOSS Tone Studio
External control support via GA-FC foot controller, footswitches, expression pedal, and MIDI
Refined Sound for Professional Performers
Just like its predecessor, the Katana-Artist MkII has been designed with extra detail for discerning pro players. BOSS's custom Waza speaker puts the ultimate vintage rock sound under your fingers, while the cabinet's wide baffle and semi-closed back provide focused, punchy tones with rich low end and big midrange fullness. In addition, every Katana-Artist MkII amp character has been specially voiced for optimum response with the speaker and cab.
Waza Speaker: Legendary Tone, Modern Power
A key element to the Katana-Artist MkII's powerful sound is the 12-inch Waza speaker, developed by BOSS to deliver the wide dynamic response, smooth midrange, and rich harmonic overtones of the benchmark 25-watt British stack speaker from the 1960s. Through detailed analysis of original speakers and careful selection of the magnet, cone material, and other elements, the Waza speaker embodies the full mojo of this legendary speaker while boosting power capacity to 100 watts.
Expanded Amp Characters and Effects
The Katana-Artist MkII features the same core updates introduced with the Katana MkII amps. Variations are now available for the five amp characters, providing 10 different tone options to choose from. And with five simultaneous effects categories, you have the sound-shaping power of a massive pedalboard right inside your amp. Connecting to BOSS Tone Studio lets you dive much deeper if you want—customize the sections with over 60 different effect types, change the order with four different chains, and much more.
Deep Tone-Shaping Tools
On the front panel, you'll find some exclusive features only available with the Katana-Artist MkII. A three-way Contour switch lets you shape the amp's core tone, while three selectable Global EQ settings (adjustable in BOSS Tone Studio) are great for fine-tuning the overall sound for different guitars and styles. A foot-controllable, post-amp Solo boost function is also available, with a dedicated panel knob for fast adjustment.
Integrated Dual Amp Support
Powerful expansion features make it simple to use two Katana-Artist MkIIs together. With Dual Link, you can configure each amp with independent settings and operate them from a single GA-FC foot controller, allowing you to blend clean and dirty tones, create wet/dry setups, and more. Stereo Expand lets you use one amp as the master and the other as the slave, with onboard stereo-compatible effects like chorus, delay, and reverb distributed across both amps for a wide, immersive sound field.
Full-Throttle Sound Every Time You Plug In
Backed by BOSS's Tube Logic approach, the Katana-Artist MkII delivers the authentic output distortion characteristics of genuine tube amplifiers, with the sound and feel becoming richer and more responsive as you turn up the volume. But unlike that classic tube amp, Roland's variable Power Control lets you fly in the sweet spot without getting fired from the gig or kicked out of the house. Just throttle back the overall volume as needed to enjoy inspiring, cranked-amp sound anywhere you play.
One-Touch Recall of Custom Setups
With onboard Tone Setting memories, you can store your favorite amp character and effects setups for instant recall. After you've dialed in a sound with the panel controls, simply save it to the desired memory with a quick button hold. Eight Tone Settings (two banks of four) are available, with fast selection right from the panel. And for hands-free operation on the gig, just connect external footswitches or the GA-FC foot controller.
Ready-to-Mix Direct Tones
Line, USB, and phones/recording outputs feature mic'd cabinet emulation, letting you send mix-ready amp tones to a PA system, computer DAW, or headphones. The direct sound can be shaped with three different Air Feel settings, which are accessible from BOSS Tone Studio. Two-channel USB audio is supported, allowing you to track in true stereo with many of the Katana-Artist MkII's mod, EQ, delay, and reverb effects.
Compact Gig Commander
The optional GA-FC foot controller is the perfect partner for the Katana-Artist MkII—it connects with a single cable, requires no external power, and has a slim, rugged profile that takes up minimal space. With six footswitches, you can recall Tone Settings and turn the five effects sections on/off. The GA-FC also supports external footswitches and expression pedals, with default assignments that include tap tempo, bank selection, foot volume, and Pedal FX. Assignments can be customized via BOSS Tone Studio, including pedal control of up to three parameters at once.
BOSS Tone Studio Enhancements
BOSS Tone Studio has also evolved alongside the Katana MkII amplifiers. The interface has been updated with a refreshed look, and many parameters have been consolidated into the main screen for faster workflow. There's also a dedicated Pedal FX category, making it easier to assign wah and pedal bend effects to a connected expression pedal. And if you're a first-gen Katana owner, it's possible to import your custom patches and use them all with the Katana-Artist MkII.
Katana Mkii Version 2—new Creative Tools
Version 2 elevates the expressive power of your amp with newly added tone-shaping tools available in the BOSS Tone Studio app.
Contour Settings—Shape your core tone with three different Contour settings, each with four customizable frequency curves to choose from.
New Solo Block in FX Chain—Refine your lead guitar voice with a moveable Solo block, which can be assigned for on/off control via an external footswitch or the GA-FC Foot Controller.
New EQ Block in FX Chain—Moveable EQ block for additional tonal adjustment.
Two New Effects—Centa OD (Booster block) and Solo EQ (Solo block).
Three Global EQs—Fine-tune the overall sound for different guitars and styles.
Expanded Cab IR Capabilities—The Line Out cabinet IR options now include selectable microphone types and positions, giving you greater control of your direct sound.
SKU
ROL-KTNART2
MPN
Katana Artist MkII
Vendor
Boss
Amp Format
Combo
Amp Type
Digital Modeling
Included From Manufacturer
Power cord

GA-FC sticker
Mpn
KTN-ART-2
Speaker Config
1x12
Wattage
100 Watts
Amplifier Application
Electric Guitar
Amplifier Models
Five amp characters with five variations
Number of Channels
1
Effects
Booster, Mod, FX, Delay, and Reverb sections with three variations in each
Effects Loop
Yes
Equalization (EQ)
BASS knob
MIDDLE knob
TREBLE knob
Footswitch
(All sold separately)
Footswitch: BOSS FS-5L, BOSS FS-6, BOSS FS-7
Expression pedal: Roland EV-5, BOSS EV-30, BOSS FV-500L, BOSS FV-500H GA FOOT CONTROLLER (GA-FC)
Audio Inputs
INPUT jack: 1/4-inch phone type
POWER AMP IN/DUAL LINK jack: 1/4-inch phone type
RETURN jack: 1/4-inch phone type
AUX IN jack: Stereo miniature phone type
Audio Outputs
LINE OUT jack: 1/4-inch phone type
SEND jack: 1/4-inch phone type
SPEAKER OUT 16 ohms A jack: 1/4-inch phone type
SPEAKER OUT 16 ohms B jack: 1/4-inch phone type
SPEAKER OUT 8 ohms jack: 1/4-inch phone type
Power
100 Watts
Product Weight
41 lbs 15 oz
Speakers
12"
Width
24 13/16"
Depth
9 13/16"
Height
20 5/16"
Roland/Boss Consumer Limited Warranty
This limited warranty applies only to Roland and Boss products purchased in the United States of America.
Roland Corporation U.S. warrants to the first consumer only of a covered product purchased from an authorized Roland dealer in the U.S. that this product will be free from defects in materials for a period of three (3) years or defects in workmanship for a period of two (2) years. Please register this product online to establish the date of purchase (not a requirement for warranty service).
To exercise your rights under this Warranty as a purchaser, you must ship this product in appropriate packaging at your expense (insurance is recommended), together with proof of purchase, to Roland Corporation U.S., or to such other address as may be instructed by Roland Corporation U.S. (This shipping requirement shall not apply to those Roland products covered by in-home warranties). You should submit a new service request to obtain a Return Authorization number for the returned product. Any products shipped to Roland Corporation U.S. without a Return Authorization number shall be refused.
Roland Corporation U.S. will repair or replace this product at its sole option at no charge to you for parts or for labor within the warranty period; provided, however, that Roland Corporation U.S. reserves the right to determine whether the product is 'defective' for purposes of this Limited Warranty. This Warranty does not apply to damage to this product that occurred as a result of abuse or misuse, abnormal service or handling, battery leakage or failure, damage which may have been caused either directly or indirectly by another product, or if the product has been altered or modified in any way, or if the damage was caused by repairs or service provided or attempted by anyone other than Roland Corporation U.S. or a Roland Authorized Service Center.
In no event shall Roland Corporation U.S. be liable for any indirect, incidental, collateral, exemplary, punitive, consequential or special damages or losses arising out of your purchase of products and/or out of this warranty, including without limitation, loss of use, profits, goodwill or savings or loss of data, music, electronic files, or programs that may have been stored by a user of the product even if Roland Corporation U.S. has been advised of the possibility of such damages or claims. Some states do not allow the exclusion or limitation of incidental, punitive, or consequential damages, so the above limitation or exclusion may not apply to you.
Where applicable, if you qualify as a 'consumer' under the Magnuson-Moss Warranty Act, then you shall be entitled to any implied warranties allowed by law for the period of the Limited Warranty as set forth above. Some states do not allow limitations on how long an implied warranty lasts, so the above limitation may not apply to you. Except as stated above, the foregoing warranties are in lieu of all other conditions or warranties, express, implied or statutory, including without limitation, an implied condition or warranty of merchantability or fitness for a particular purpose and of any other warranty obligation on the part of Roland Corporation U.S.
Roland Corporation U.S. does not assume or authorize assumption of liability for it or any other warranty, either express or implied. This Limited Warranty gives U.S. purchasers specific legal rights, and you may also have other rights which vary from State to State.
Ground shipping is FREE for all orders $99 and up.