Skip product carousel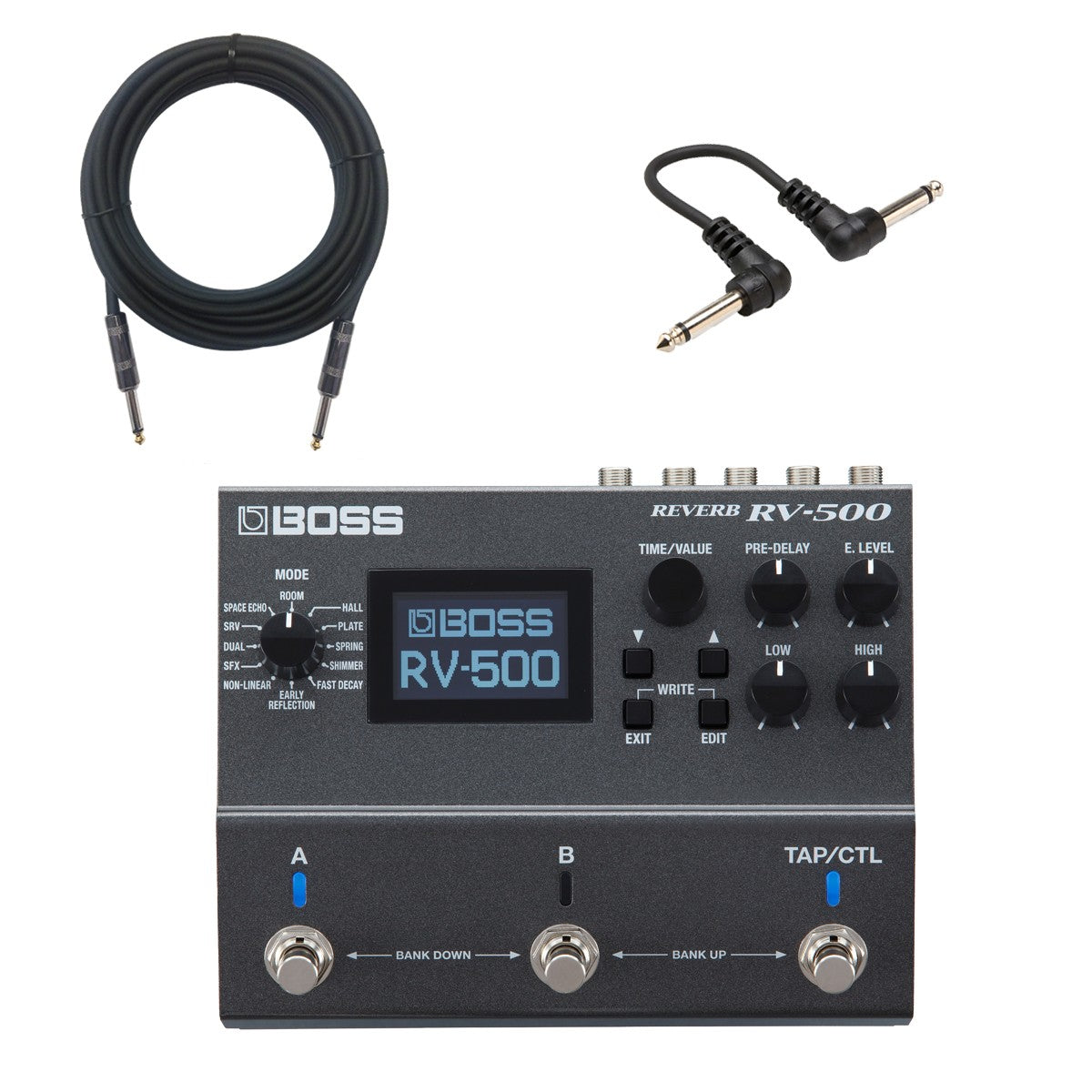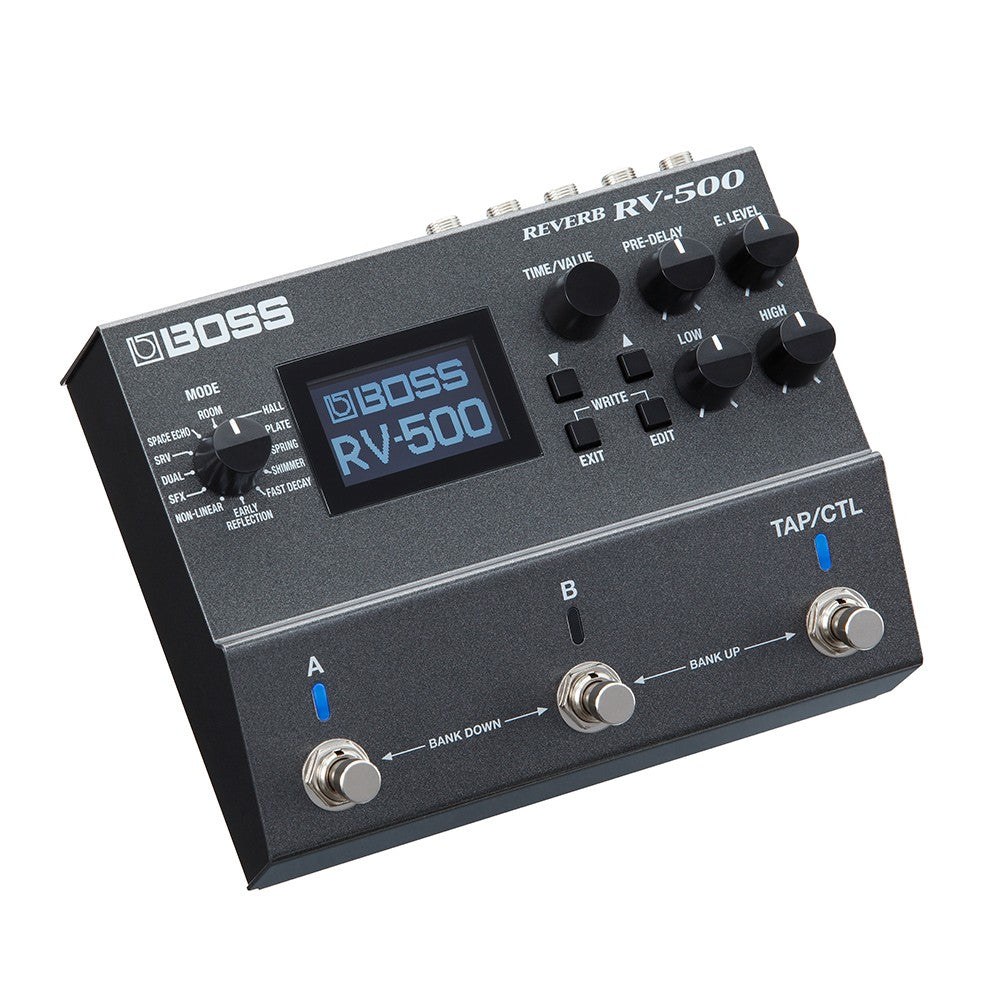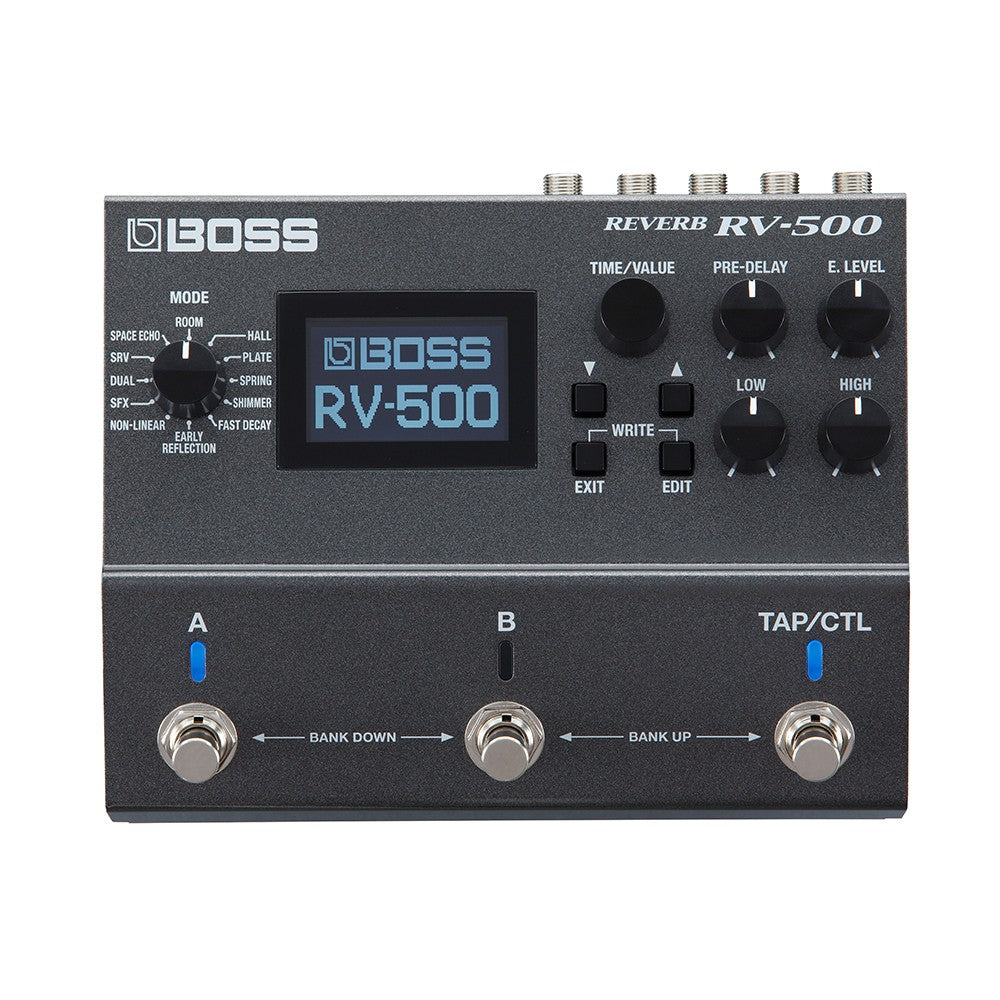 Boss RV-500 Digital Reverb BONUS PAK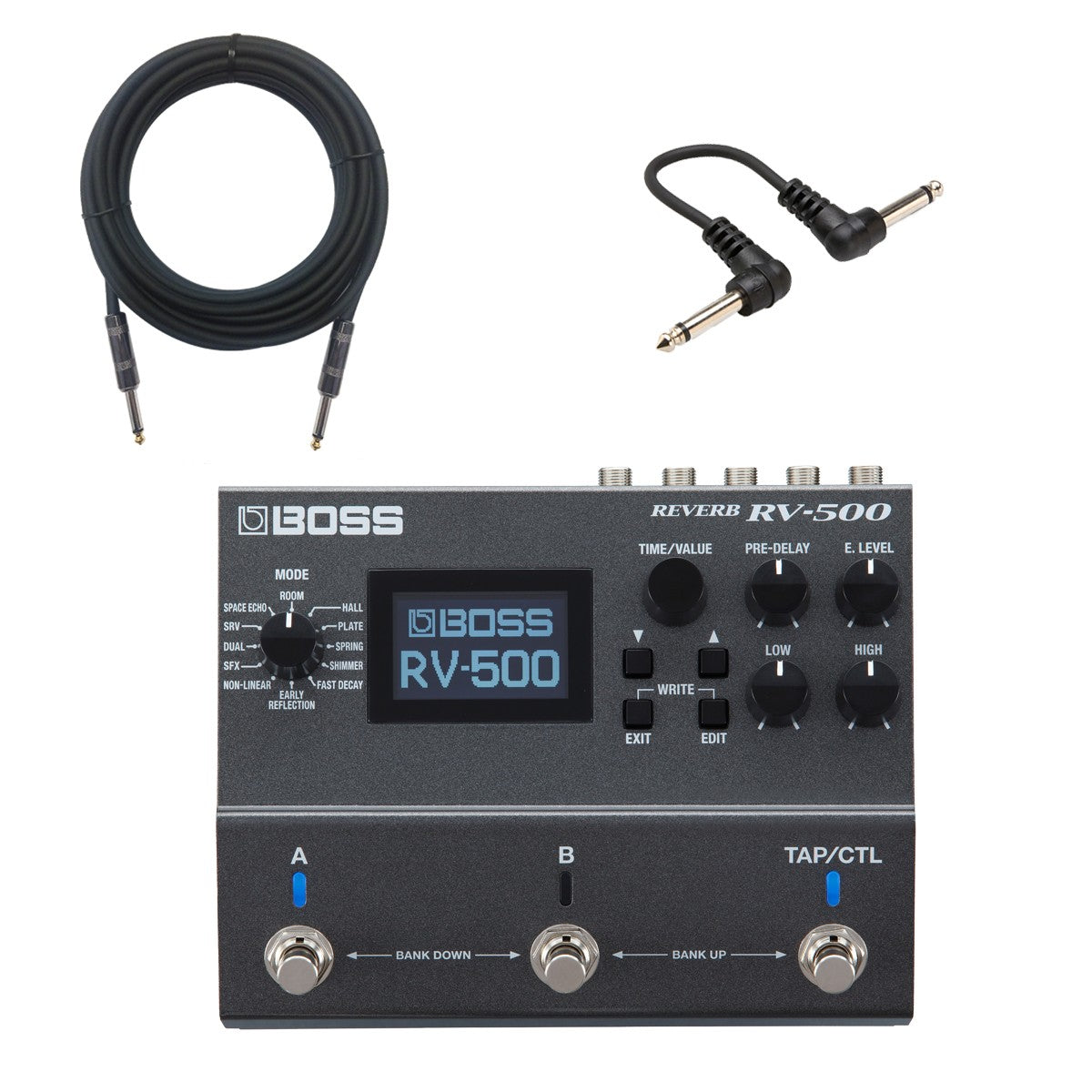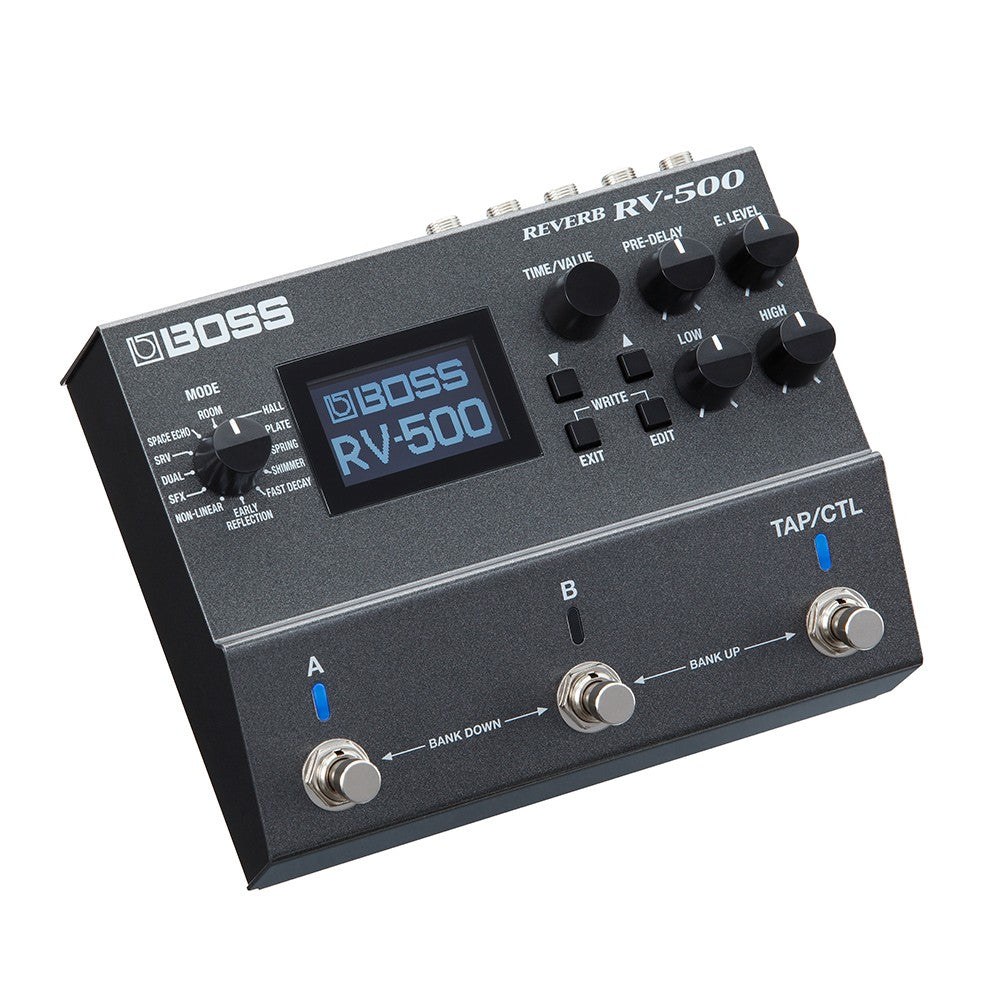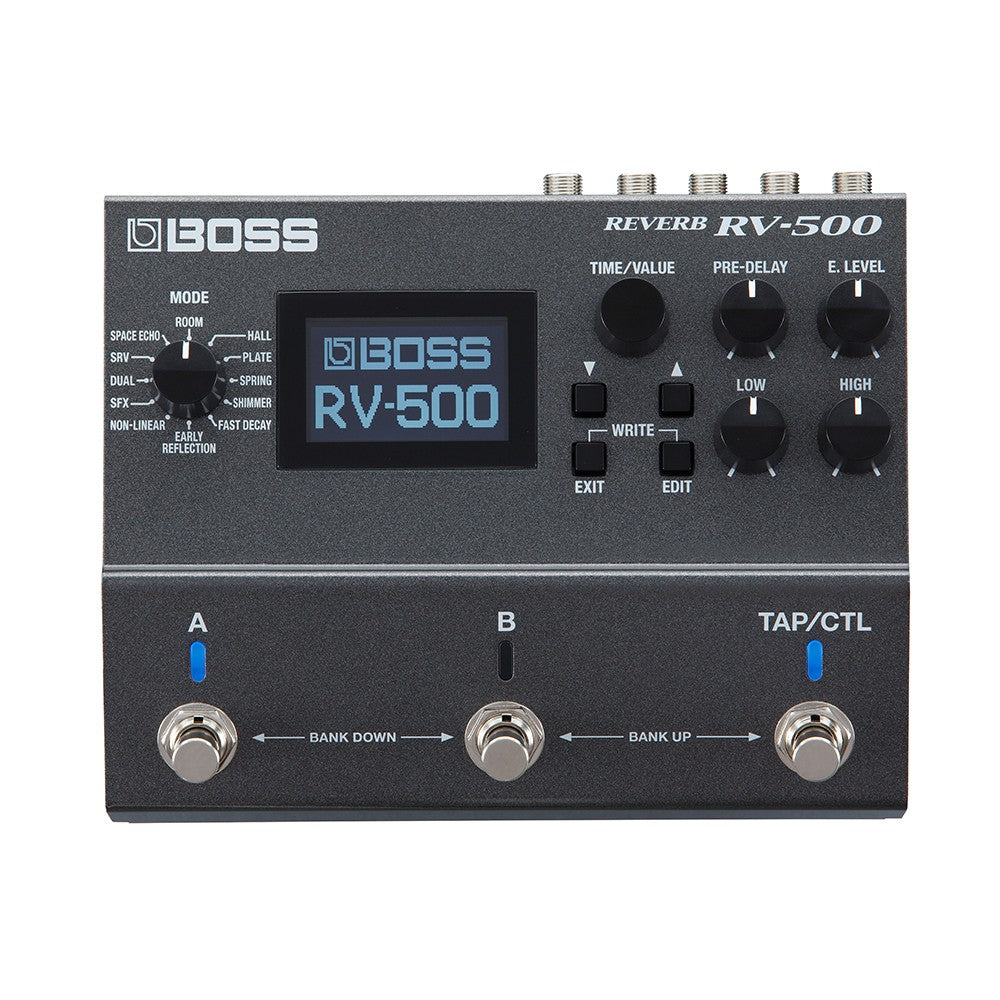 Boss RV-500 Digital Reverb BONUS PAK
3 items included
This Kraft Music Bundle Includes
$399.99
Regular price
$412.89
You Save $12.90
Click on a product to view more details.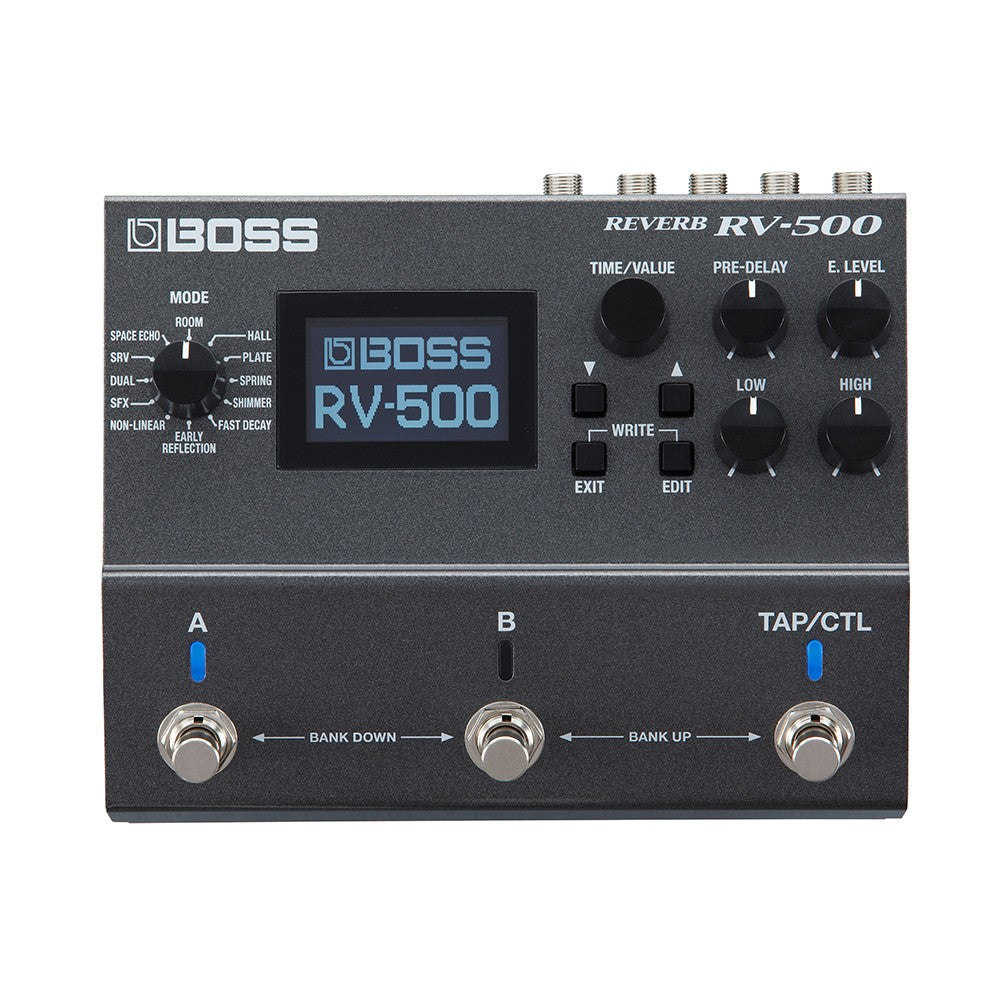 Boss RV-500 Digital Reverb
Sells separately for $399.99
Journey to new dimensions of time and space with the RV-500, the most powerful and versatile reverb processor BOSS has ever produced.
Want to Customize the Contents of Your Bundle?
Want to add, remove or upgrade this item? Our expert sales advisors are happy to help customize a bundle for you.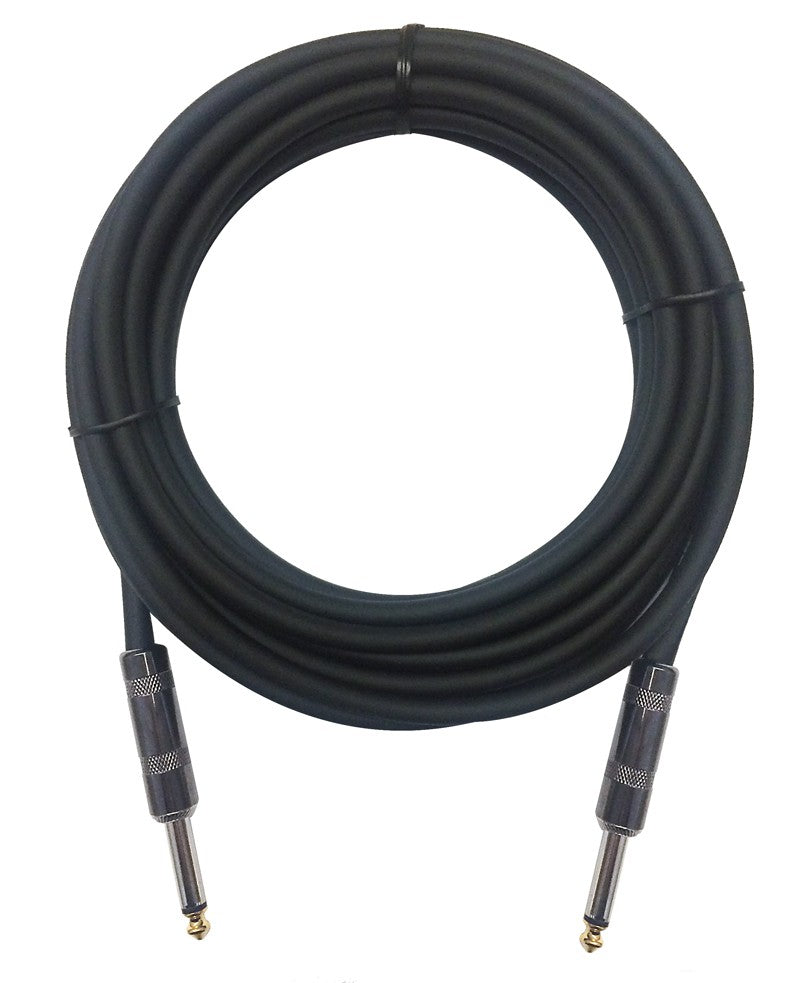 Kraft Music Instrument Cable by Strukture - 20'
Sells separately for $8.95
This instrument cable has a metal headshell and spring-steel strain relief, a great addition to this exclusive offer.
Want to Customize the Contents of Your Bundle?
Want to add, remove or upgrade this item? Our expert sales advisors are happy to help customize a bundle for you.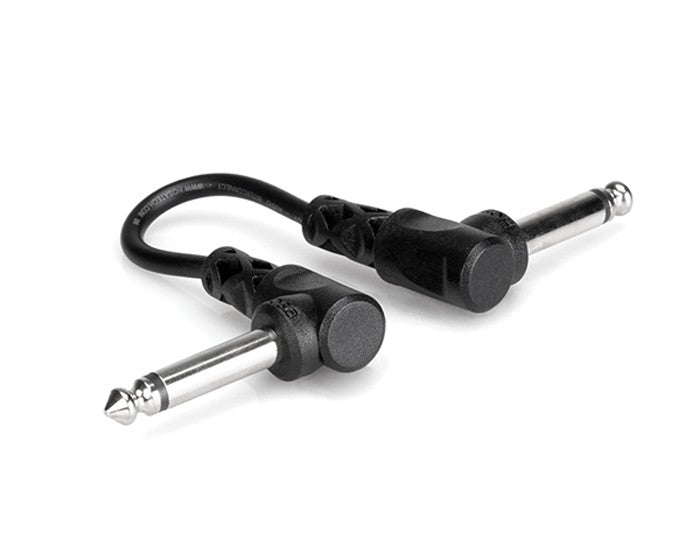 Hosa CFS-106 Guitar Patch Cable - 6"
Sells separately for $3.95
An affordable and convenient way to connect side inputs and outputs of effect pedals.
Want to Customize the Contents of Your Bundle?
Want to add, remove or upgrade this item? Our expert sales advisors are happy to help customize a bundle for you.
Interstellar Toolbox
Journey to new dimensions of time and space with the RV-500, the most powerful and versatile reverb processor BOSS has ever produced. This multifaceted creation machine features class-defying 32-bit AD/DA along with 32-bit/96 kHz floating point processing and immense programmability, putting pro-level studio reverb and more at your feet.
Twelve modes and 21 newly developed reverb algorithms deliver a huge range of textures, from complementary ambience to deep, immersive sonic atmospheres. And thanks to the RV-500's high-octane DSP, you can access a full-featured digital delay along with every reverb patch, and even run two reverb patches at once! Adding in MIDI I/O, support for external footswitch/expression control, and USB for connection to the free RV-500 Editor/Librarian software, the RV-500 is simply the most advanced reverb pedal available, bar none.
Studio-level sound with first-in-class 32-bit AD/DA, 32-bit floating point processing, and 96 kHz sampling rate
12 modes with 21 reverb types, all with deep editing parameters
Includes a wide range of reverb types from standard to advanced, plus Roland classics such as the SRV-2000 Reverb and RE-201 Space Echo
A/B Simul mode allows you to use two reverb patches at once
Selectable carryover function allows reverb tails to continue with patch change or effect bypass
Powerful DSP provides independent digital delay with modulation along with each reverb patch
Graphic LCD and intensive real-time control options
297 onboard patch memories and hands-on controls
Selectable buffered-bypass or true-bypass operation
MIDI I/O for interfacing with MIDI control devices
USB-MIDI for connecting to the RV-500 Editor/Librarian or a DAW (to be available in early July 2017)
Runs on four AA-size batteries or PSA-series AC adapter
Twelve Modes and 21 Unique Reverb Types
Inside the RV-500 are 21 top-quality reverb algorithms that enable you to shape any kind of space you can imagine. Each includes a massive range of adjustable parameters, from decay, density, and modulation to EQ, ducking, and more. Every algorithm has been newly developed specifically for this pedal, leveraging BOSS's decades of expertise in advanced reverb design. On tap is everything from standards like room, hall, and plate to advanced reverbs like shimmer, non-linear, SFX, and many more. Also included are all-new recreations of the RE-201 Space Echo and SRV-2000 Digital Reverb, two revered Roland classics from the '70s and '80s.
Extraordinary Sound
The RV-500 features 32-bit/96 kHz AD/DA, exceeding all industry standards for pedal-based effects. All internal processing is 32-bit floating point and runs at a 96 kHz sampling rate as well, delivering pristine sonic quality that goes beyond the highest-level digital processors used in top pro studios. If you wish, you can run your analog dry tone straight through so it's completely untouched with digital processing. You're also able to select true-bypass or buffered-bypass operation to suit the needs of your setup.
Intensive Real-Time Control
With its freely assignable switches and extensive support for real-time control, the RV-500 delivers unmatched creative expression and performance flexibility. By default, the A, B, and TAP/CTL switches offer intuitive control for patch/bank selection and bypass, plus tap tempo and real-time adjustment of various effect parameters. If you like, the switches can be customized to access three different reverbs patches, A/B Simul mode, and other functions. MIDI I/O opens the door to even more creative possibilities, offering deep control options with advanced setups.
Simultaneous Reverbs and Independent Digital Delay
With its powerhouse DSP engine, the RV-500 is far more than a one-effect device. To start, the pedal's Dual mode provides two independent reverbs at once; you can feed them both with a full-range input, or with divided frequency ranges on each input to build rich, multi-range sounds. And when you employ A/B Simul mode, you can use any two RV-500 reverb patches at the same time, with your choice of series or parallel connection order and mixed or split A/B output. What's more, each patch also includes a digital delay with a full set of parameters including modulation and EQ, plus the ability to set the reverb and delay effects for series or parallel operation on a per-patch basis.
Advanced Interface, Intuitive Operation
The RV-500 is equipped with a large LCD that clearly shows the patch name, delay time, and other vital performance information. It also makes it easy to view and adjust the unit's deep editing parameters and advanced control features. With the grab-and-go panel knobs, you have top-level access to essential parameter adjustments like pre-delay, high and low EQ, and effect level. And via USB, you can connect with the free RV-500 Editor/Librarian on your computer for remote editing, patch backup, and more.
RV-500 Modes and Algorithms
Room-Four types: small, medium, large, and ambience.
Hall-Three different hall sizes.
Plate-Classic studio-style reverberation.
Spring-Choose from one to three springs.
Shimmer-Two voices of pitch-shifted reverb.
Fast Decay-Unique reverb with quick decay for increased clarity.
Early Reflection-Four types with envelope parameters to shape unique sounds.
Non-Linear-Includes gate, reverse, and granular types.
SFX-Three characterful reverb types for special effects: Lo-Fi, Slowverb, and Storm.
Dual-Two independent reverbs that can accept a full-range or frequency-divided input.
SRV-Recreates the Roland SRV-2000, a classic rack reverb from the 1980s.
Space Echo-Recreates the Roland RE-201 Space Echo, one of the most coveted tape echo units ever made.
| | |
| --- | --- |
| SKU | ROL-RV500BP |
| Vendor | Boss |
| Effect Type | Reverb |
| Included From Manufacturer | Batteries |
| Mpn | RV-500 |
| Control Connections | Expression Pedal |
| Effects | Room, Hall, Plate, Spring, Shimmer, Fast Decay, Early Reflection, Non- Linear, SFX, Dual, SRV, Space Echo |
| Audio Inputs | Stereo 1/4" (L + R) |
| Audio Outputs | Stereo 1/4" (L + R) |
| On-board Expression Pedal | No |
| Number of Patches/Programs | 198 (99 banks x 2 [A] [B]), 297 (99 banks x 3 [A] [B] [C]) |
| Number of Pedal Switches | 3 |
| Power Adaptor | PSA-S series (Sold Separately) |
| Product Weight | 2 lbs 4 oz |
| USB Functionality | Editor/Librarian |
| Width | 6 3/4" |
| Depth | 5 7/16" |
| Height | 2 1/2" |
Roland/Boss Consumer Limited Warranty
This limited warranty applies only to Roland and Boss products purchased in the United States of America.
Roland Corporation U.S. warrants to the first consumer only of a covered product purchased from an authorized Roland dealer in the U.S. that this product will be free from defects in materials for a period of five (5) years or defects in workmanship for a period of two (2) years. Please register this product online to establish the date of purchase (not a requirement for warranty service).
To exercise your rights under this Warranty as a purchaser, you must ship this product in appropriate packaging at your expense (insurance is recommended), together with proof of purchase, to Roland Corporation U.S., or to such other address as may be instructed by Roland Corporation U.S. (This shipping requirement shall not apply to those Roland products covered by in-home warranties). You should submit a new service request to obtain a Return Authorization number for the returned product. Any products shipped to Roland Corporation U.S. without a Return Authorization number shall be refused.
Roland Corporation U.S. will repair or replace this product at its sole option at no charge to you for parts or for labor within the warranty period; provided, however, that Roland Corporation U.S. reserves the right to determine whether the product is 'defective' for purposes of this Limited Warranty. This Warranty does not apply to damage to this product that occurred as a result of abuse or misuse, abnormal service or handling, battery leakage or failure, damage which may have been caused either directly or indirectly by another product, or if the product has been altered or modified in any way, or if the damage was caused by repairs or service provided or attempted by anyone other than Roland Corporation U.S. or a Roland Authorized Service Center.
In no event shall Roland Corporation U.S. be liable for any indirect, incidental, collateral, exemplary, punitive, consequential or special damages or losses arising out of your purchase of products and/or out of this warranty, including without limitation, loss of use, profits, goodwill or savings or loss of data, music, electronic files, or programs that may have been stored by a user of the product even if Roland Corporation U.S. has been advised of the possibility of such damages or claims. Some states do not allow the exclusion or limitation of incidental, punitive, or consequential damages, so the above limitation or exclusion may not apply to you.
Where applicable, if you qualify as a 'consumer' under the Magnuson-Moss Warranty Act, then you shall be entitled to any implied warranties allowed by law for the period of the Limited Warranty as set forth above. Some states do not allow limitations on how long an implied warranty lasts, so the above limitation may not apply to you. Except as stated above, the foregoing warranties are in lieu of all other conditions or warranties, express, implied or statutory, including without limitation, an implied condition or warranty of merchantability or fitness for a particular purpose and of any other warranty obligation on the part of Roland Corporation U.S.
Roland Corporation U.S. does not assume or authorize assumption of liability for it or any other warranty, either express or implied. This Limited Warranty gives U.S. purchasers specific legal rights, and you may also have other rights which vary from State to State.
Ground shipping is FREE for all orders $99 and up.