Skip product carousel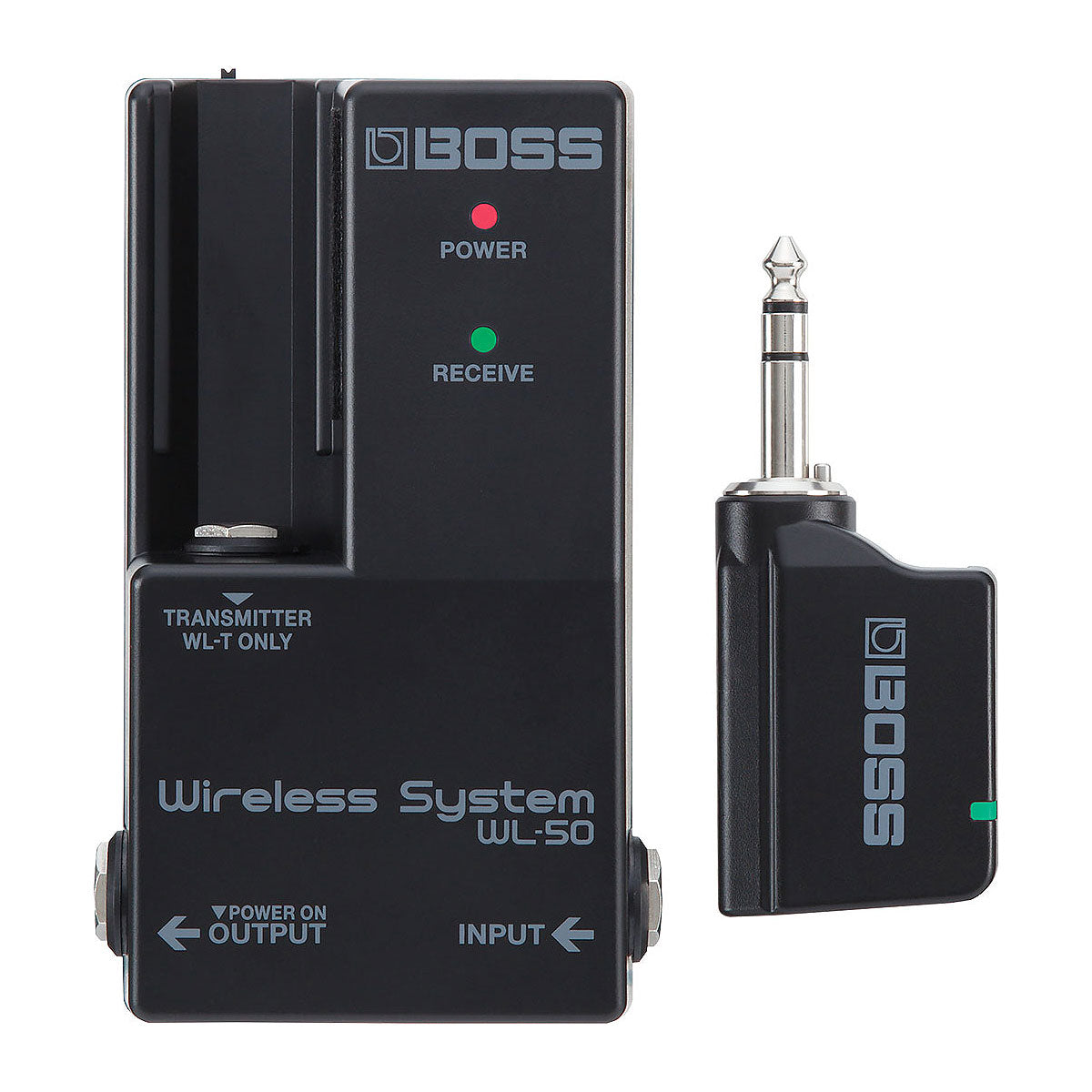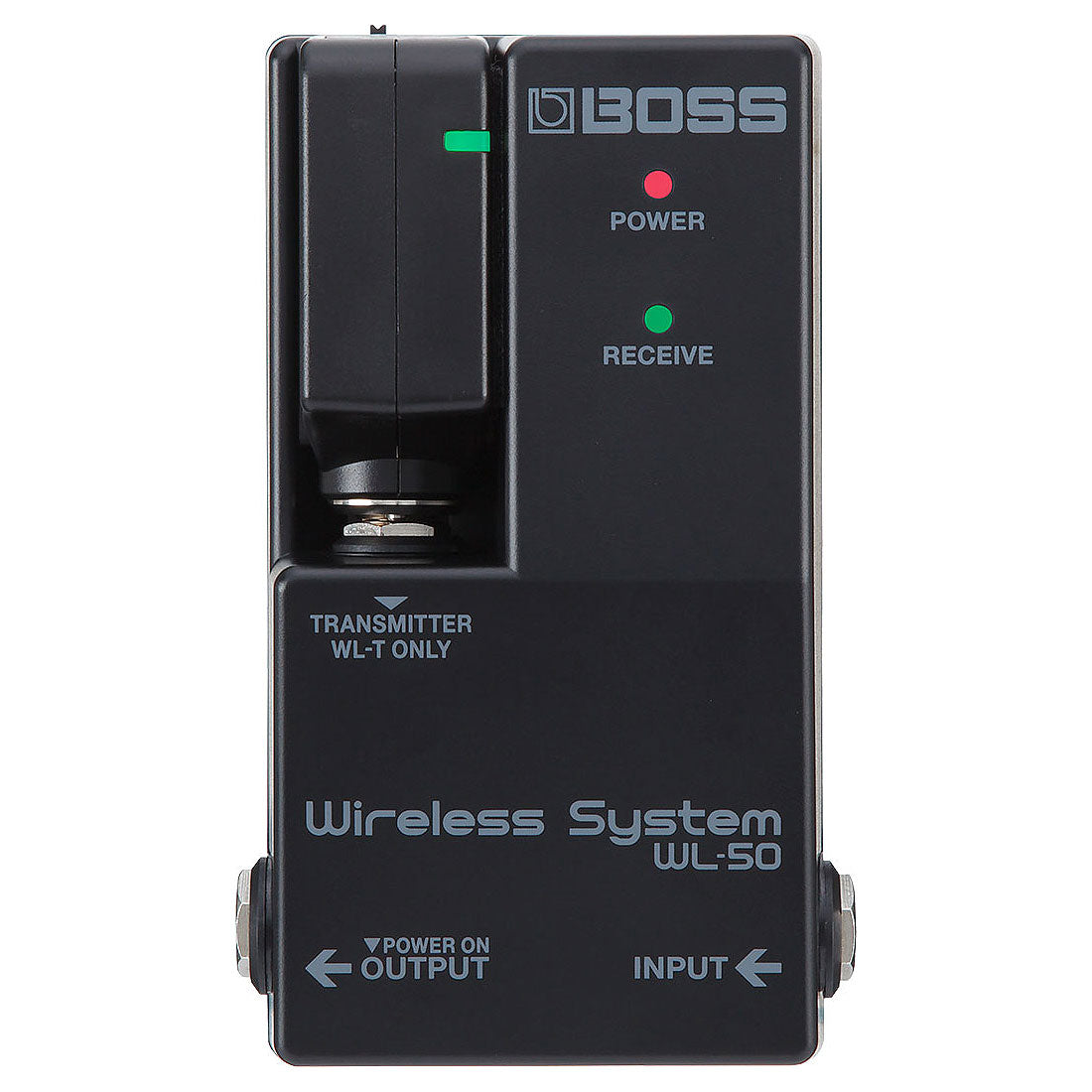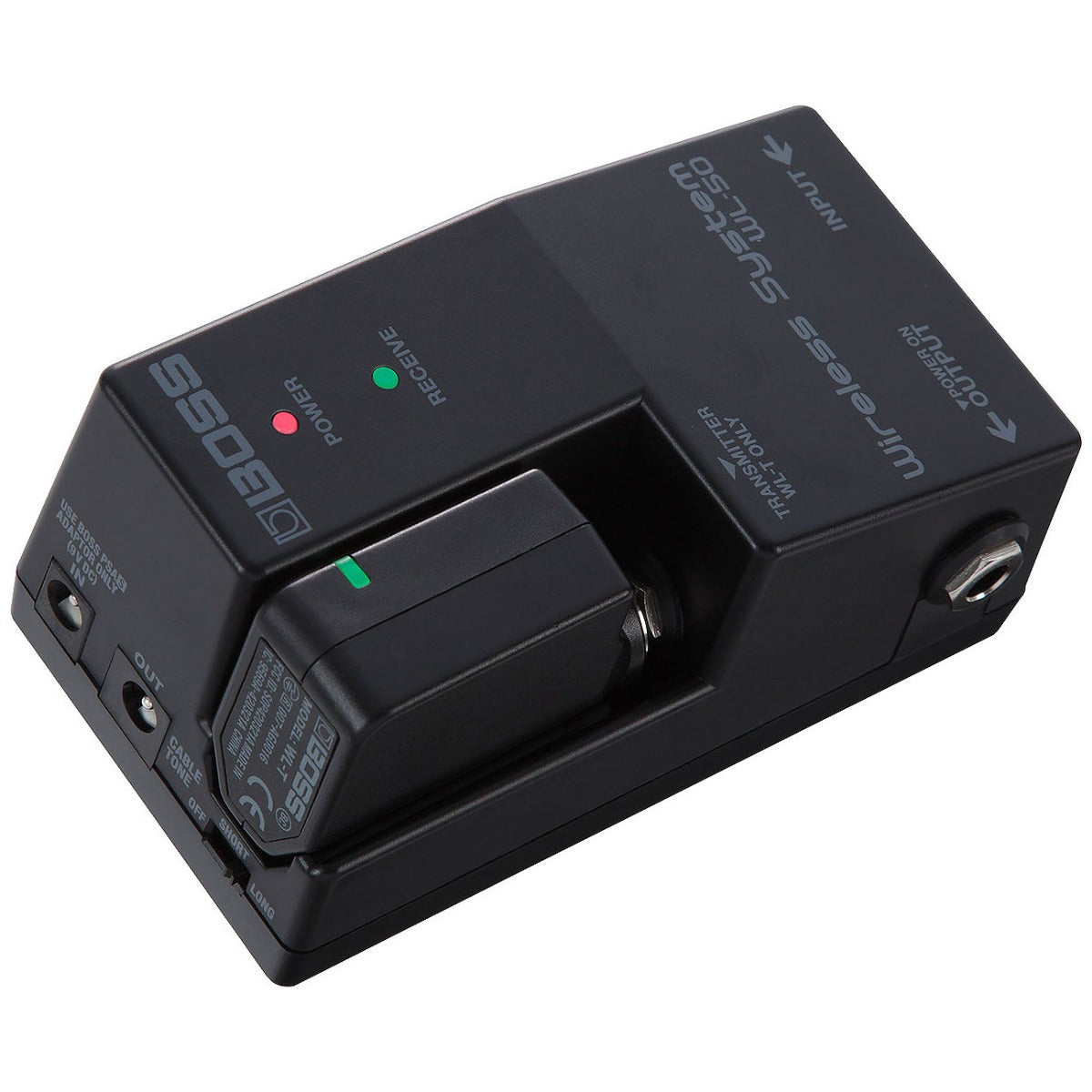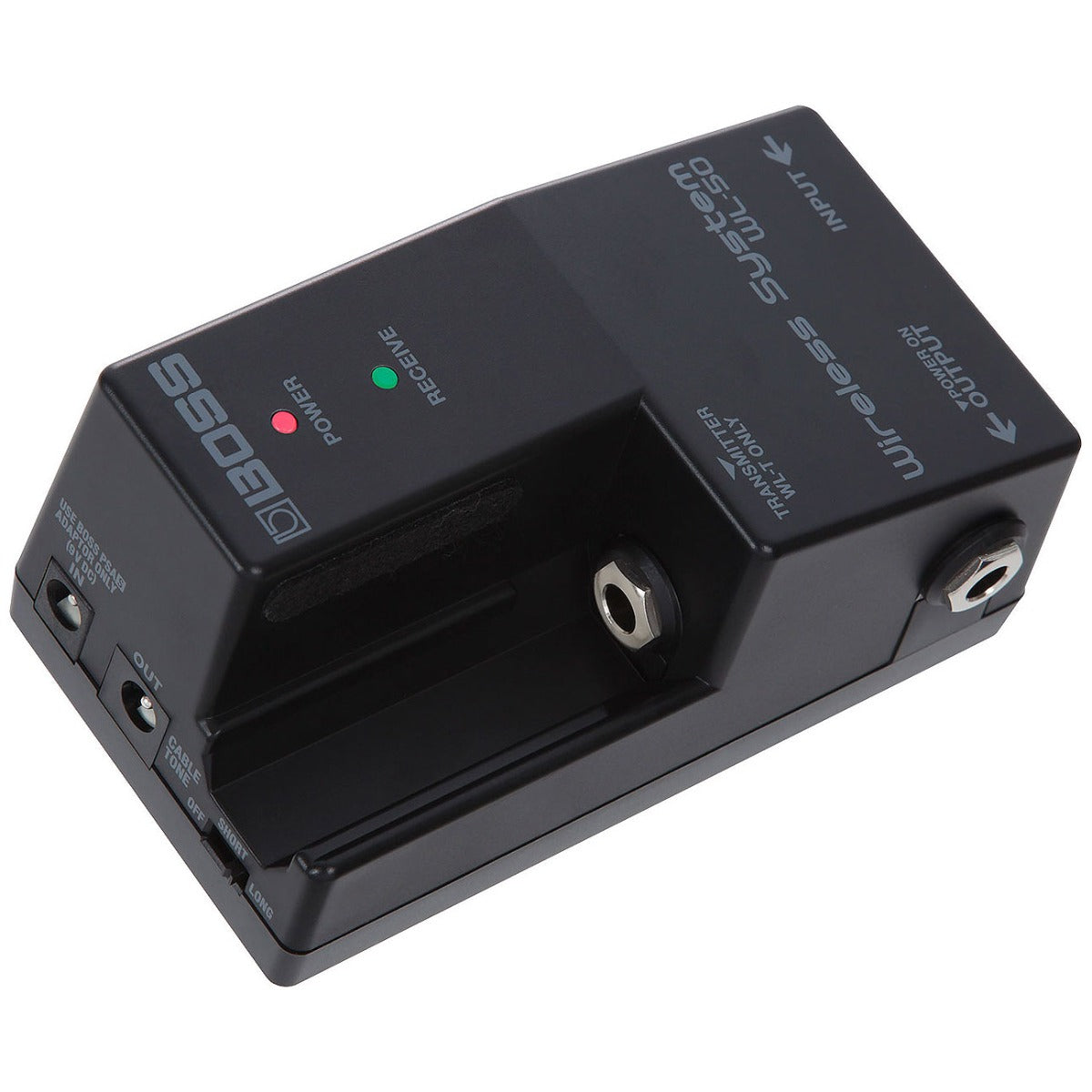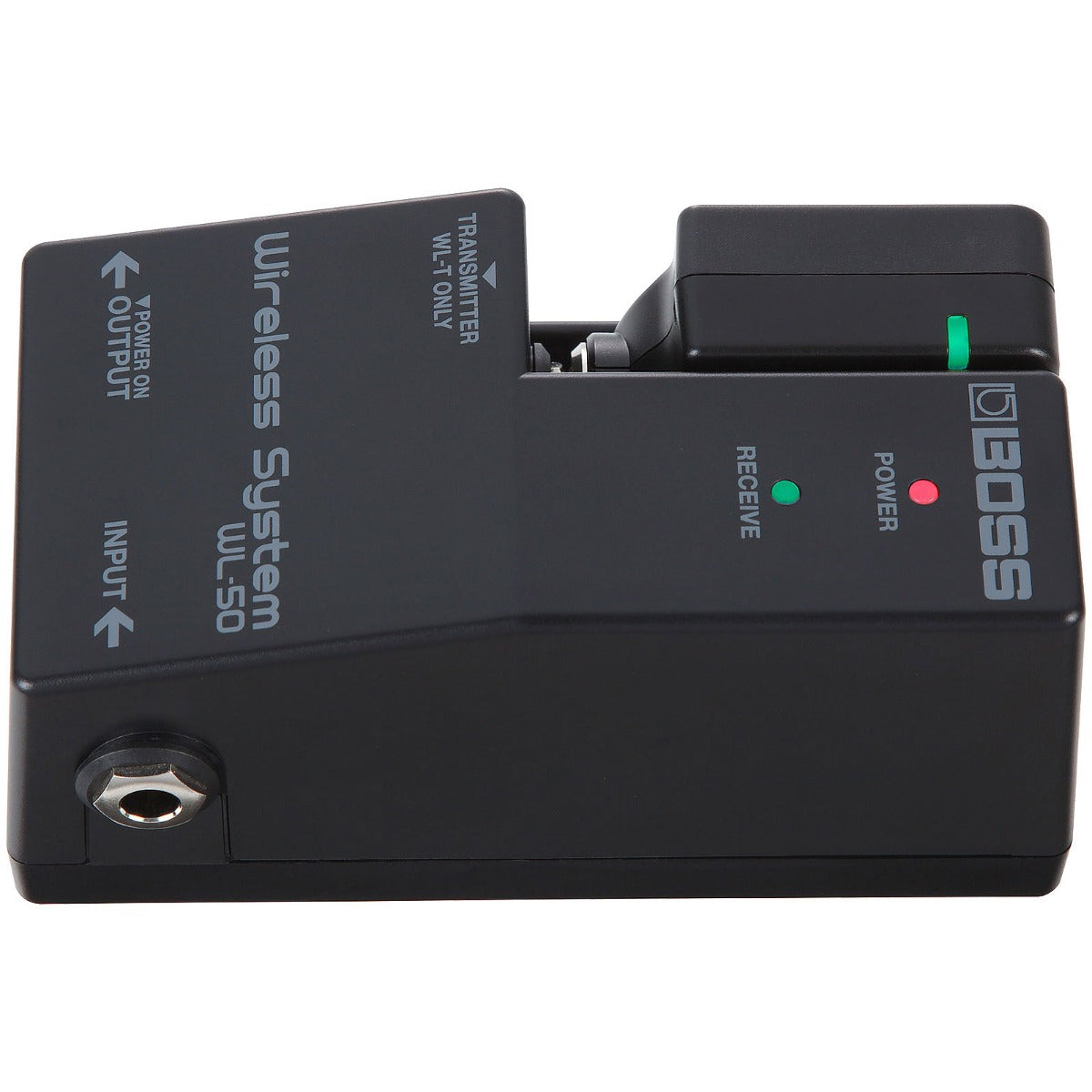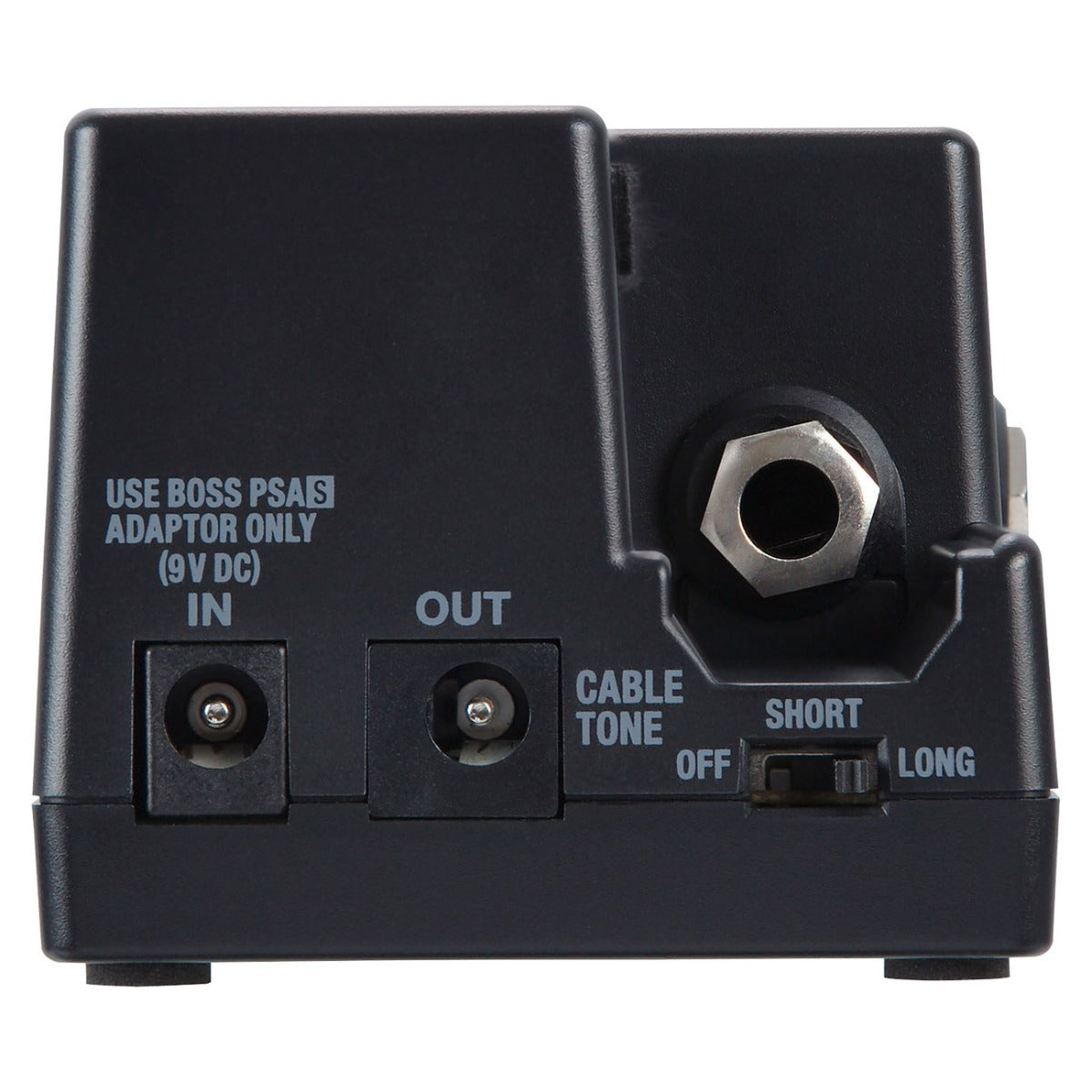 Boss WL-50 Wireless System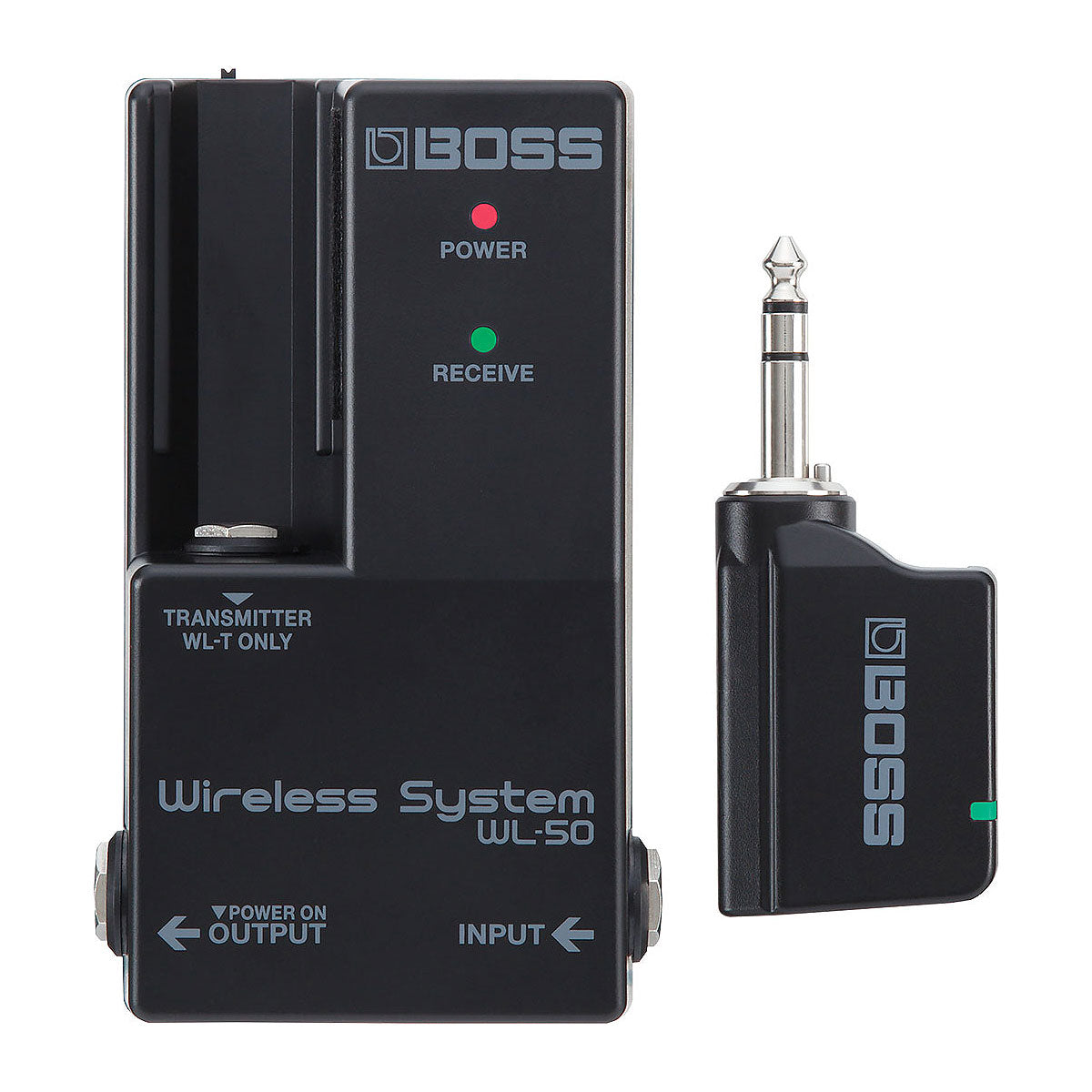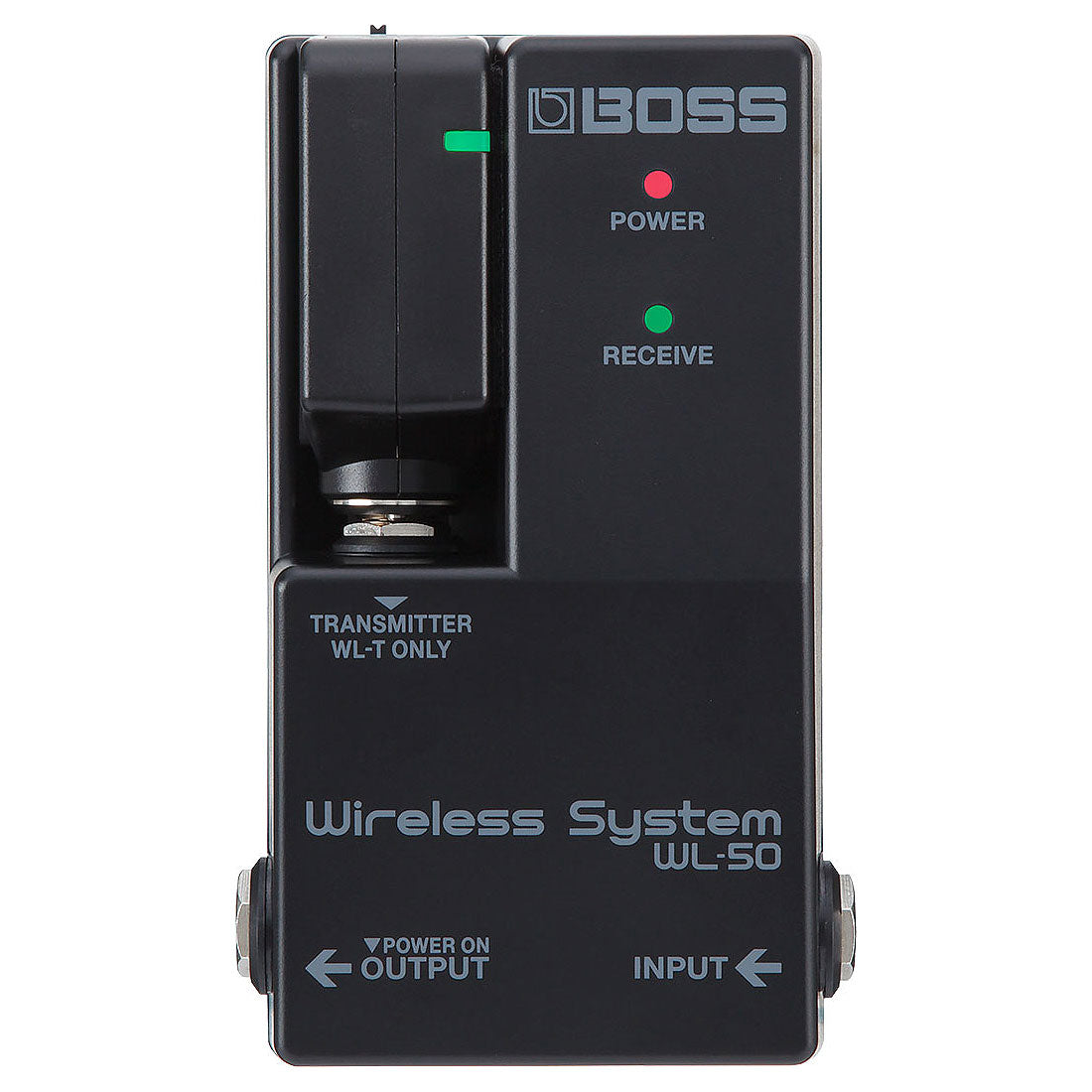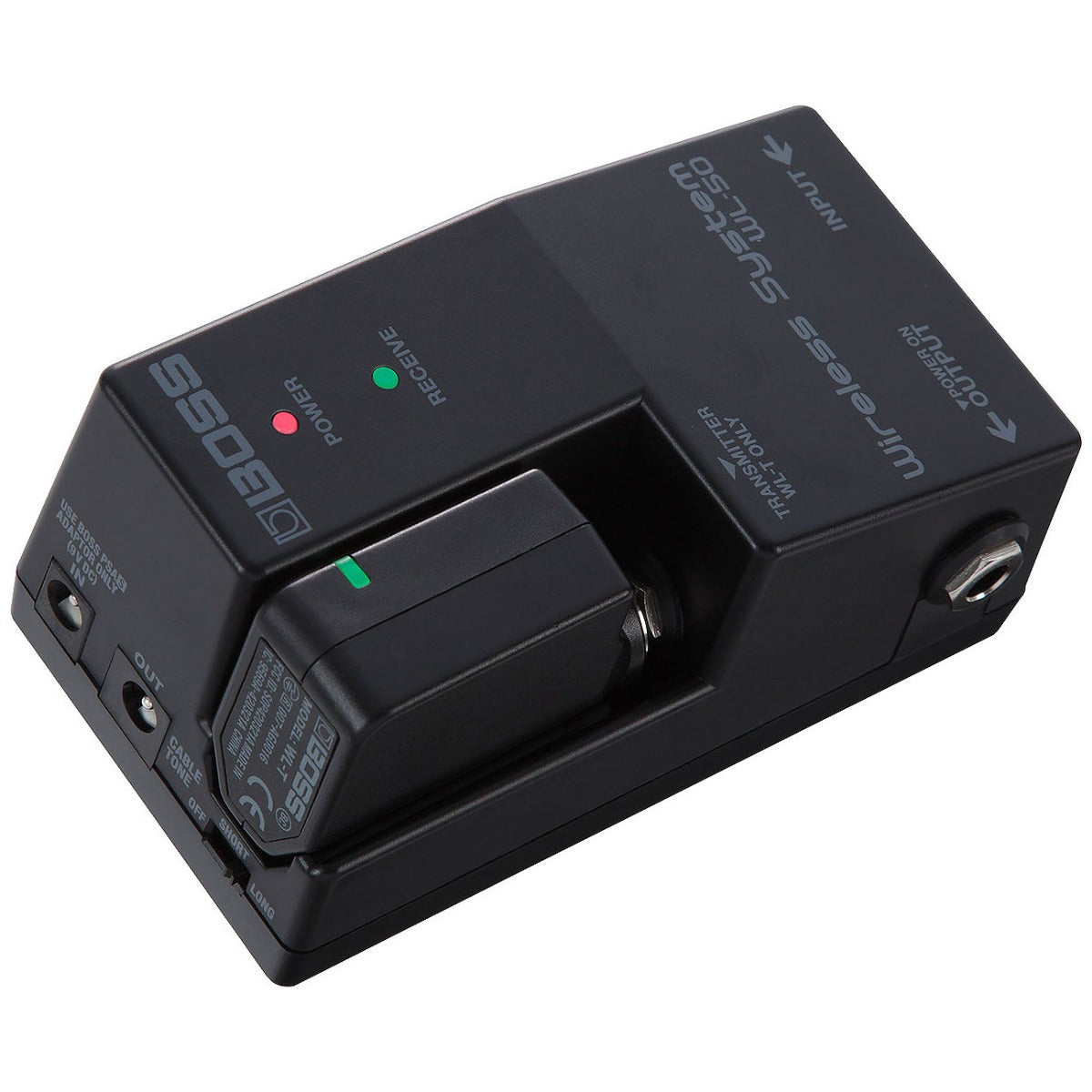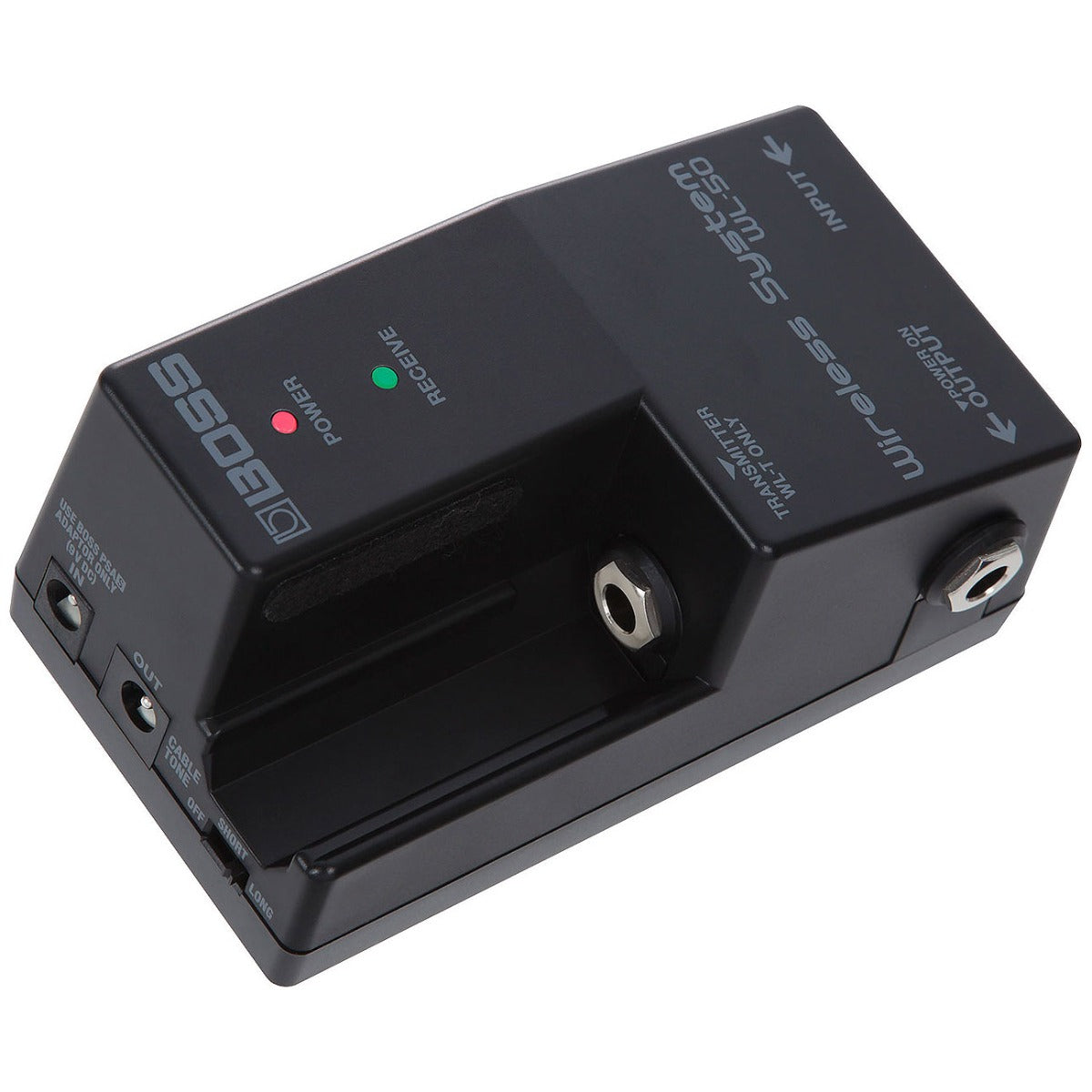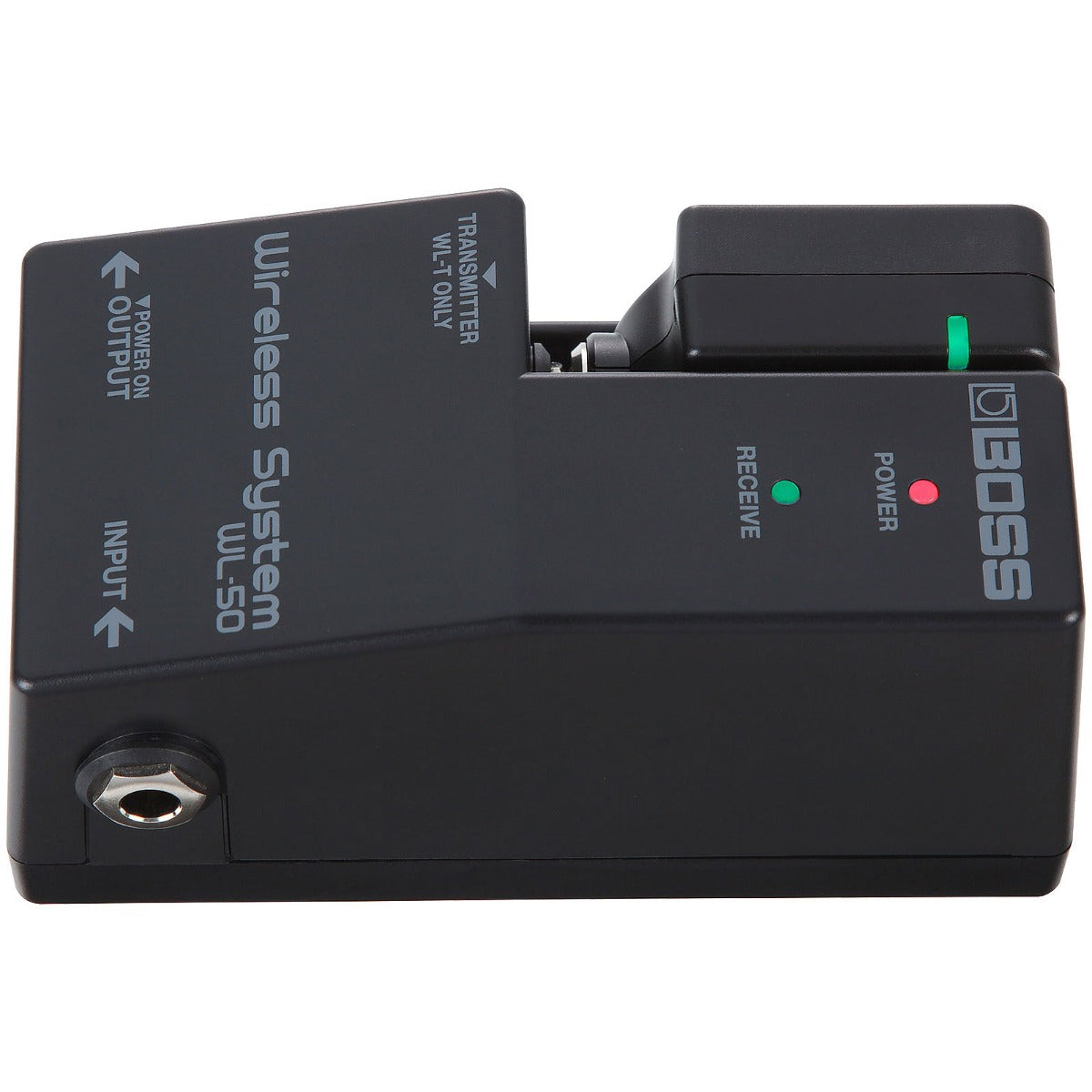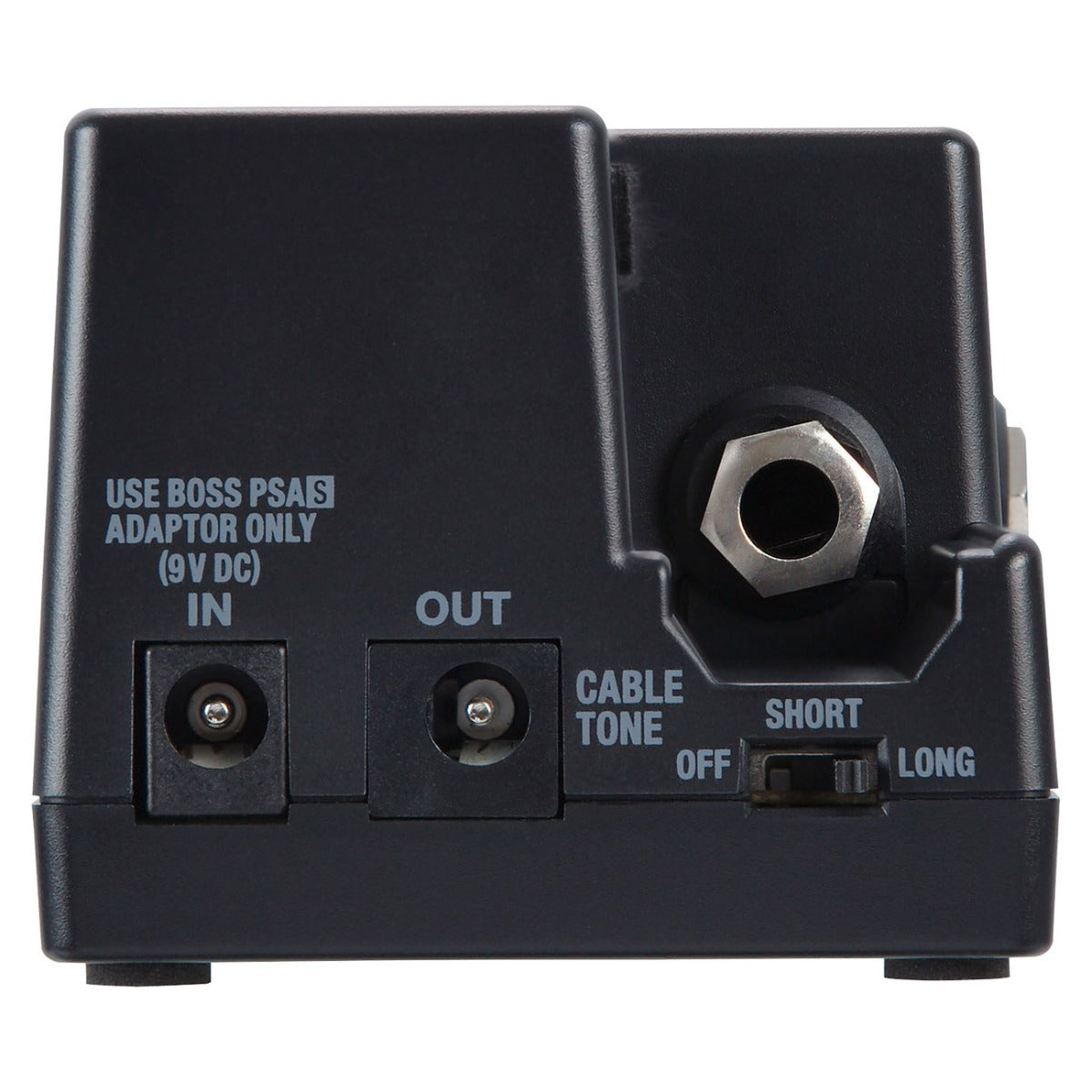 Boss WL-50 Wireless System
Wireless Freedom for Pedalboards
With the WL-50, it's never been easier to bring wireless freedom to your pedalboard. Driven by new BOSS technology, the WL-50 delivers premium sound and a plug-and-play experience that eliminates all the hassles normally associated with wireless systems. The stompbox-sized receiver fits right alongside your other pedals, and includes a docking port for charging the transmitter and automatically setting the best wireless connection. There's even a handy DC output, allowing you to distribute power to multiple pedals on your board.
Once you experience the wireless independence provided by the WL-50, you'll never go back to using a standard cable again! Setup is quick and simple, and you're able to move about freely while playing at home, jamming with friends, and performing on stage. During sound check at a gig, you can listen to your tone out front and dial in the best sound for your audience. And with the ability to roam and interact with other musicians, your live shows will be more dynamic and entertaining than ever.
Plug-and-play wireless system in a stompbox-size format for pedalboards
Optimum wireless connection set automatically, with no complicated setup required
Newly developed BOSS technology delivers premium audio performance with rock-solid stability, ultra-low latency (2.3 ms), and 65-foot/20-meter range (line-of-sight propagation)*
Built-in rechargeable battery in transmitter provides up to 12 hours of continuous playing time
Plug the transmitter into the receiver's docking port for charging and automatic wireless setup**
Selectable cable tone simulation options: short, long, and bypass
Receiver powered by optional PSA-S adaptor or two AA batteries
With PSA-S adaptor power, the receiver's DC output can distribute power to one or more pedals using an optional PCS-20A daisy-chain cable
Spare WL-T Transmitter available separately
* The transmission range may vary due to local conditions.
** To charge the transmitter, the receiver must be powered via a BOSS PSA-S adaptor. It's also possible to directly charge the transmitter with a standard USB adaptor (5 V/500 mA or higher).
Lightning-Fast BOSS Wireless Technology
Equipped with high-performance BOSS wireless technology that debuted in the Katana-Air wireless guitar amp, the WL-50 delivers exceptional sound quality with wide dynamic range. Working in the 2.4 GHz frequency band, the system automatically accesses the optimum channel to ensure rock-solid audio performance with absolutely no drop-outs. And with ultra-low latency of just 2.3 ms, you'll always enjoy great playing feel with no lag whatsoever. Up to 14 BOSS wireless systems can be used simultaneously in one space, allowing multiple musicians to enjoy wireless freedom at the same time.*
*Environmental conditions may affect the actual number of simultaneous systems available.
Just Another Pedal on Your Board The WL-50 has a slightly smaller footprint than a standard BOSS compact pedal and can be powered just like your other stomps, making it an easy addition to any pedalboard setup. Simply place it at the beginning of your chain and connect the receiver's output to the first pedal. The receiver is also equipped with a regular ¼-inch input jack, so you can always use a traditional guitar cable in a pinch.
Integrated Transmitter Dock
The WL-50 features a built-in dock that's used to charge the transmitter and establish the wireless connection. The system's streamlined profile is maintained even when the transmitter is docked, with a total height that's about the same as a normal BOSS stomp.
Plug In and Rock
Once you've installed the WL-50 on your board and charged the transmitter, it's literally as simple to use as a standard guitar cable. Just dock the transmitter in the receiver, wait about 10 seconds, and then plug the transmitter into your instrument. That's it! The optimum wireless connection is set automatically during docking, with no other user operation required.
Cable Tone Simulation
The WL-50 includes two selectable cable tone simulation options that reproduce the natural capacitive effect that's introduced when using a guitar cable with standard passive pickups. You can also bypass the effect when cable tone simulation is not desirable, such as when using an acoustic/electric guitar with an onboard preamp or an instrument with active pickups.
Pedal Power Distribution
When the receiver is powered via a BOSS PSA-S adaptor, it becomes a power distribution center for other stomps on your board. By using an optional PCS-20A daisy-chain cable, you're able to power a number of BOSS compact pedals at the same time.
Battery-Powered Operation for Mobile Gigging
At street gigs and other mobile performance situations, running your pedals on battery power is often the best choice. The WL-50 receiver can run for up to ten hours on two AA batteries, allowing you to take your wireless setup with you! While running on battery power, the receiver is unable to charge the transmitter. But don't worry—you can still charge it using a common USB adaptor (5 V/500 mA or higher), the same type used with most smartphones and tablets.
SKU
ROL-WL50
Vendor
Boss
Included From Manufacturer
Transmitter
Batteries
Mic Style
Guitar System
Mpn
WL-50
Wired Wireless
Wireless
Included from Manufacturer
Transmitter
Batteries
Manufacturer Part Number (MPN)
WL-50
Roland/Boss Consumer Limited Warranty
This limited warranty applies only to Roland and Boss products purchased in the United States of America.
Roland Corporation U.S. warrants to the first consumer only of a covered product purchased from an authorized Roland dealer in the U.S. that this product will be free from defects in materials for a period of three (3) years or defects in workmanship for a period of two (2) years. Please register this product online to establish the date of purchase (not a requirement for warranty service).
To exercise your rights under this Warranty as a purchaser, you must ship this product in appropriate packaging at your expense (insurance is recommended), together with proof of purchase, to Roland Corporation U.S., or to such other address as may be instructed by Roland Corporation U.S. (This shipping requirement shall not apply to those Roland products covered by in-home warranties). You should submit a new service request to obtain a Return Authorization number for the returned product. Any products shipped to Roland Corporation U.S. without a Return Authorization number shall be refused.
Roland Corporation U.S. will repair or replace this product at its sole option at no charge to you for parts or for labor within the warranty period; provided, however, that Roland Corporation U.S. reserves the right to determine whether the product is 'defective' for purposes of this Limited Warranty. This Warranty does not apply to damage to this product that occurred as a result of abuse or misuse, abnormal service or handling, battery leakage or failure, damage which may have been caused either directly or indirectly by another product, or if the product has been altered or modified in any way, or if the damage was caused by repairs or service provided or attempted by anyone other than Roland Corporation U.S. or a Roland Authorized Service Center.
In no event shall Roland Corporation U.S. be liable for any indirect, incidental, collateral, exemplary, punitive, consequential or special damages or losses arising out of your purchase of products and/or out of this warranty, including without limitation, loss of use, profits, goodwill or savings or loss of data, music, electronic files, or programs that may have been stored by a user of the product even if Roland Corporation U.S. has been advised of the possibility of such damages or claims. Some states do not allow the exclusion or limitation of incidental, punitive, or consequential damages, so the above limitation or exclusion may not apply to you.
Where applicable, if you qualify as a 'consumer' under the Magnuson-Moss Warranty Act, then you shall be entitled to any implied warranties allowed by law for the period of the Limited Warranty as set forth above. Some states do not allow limitations on how long an implied warranty lasts, so the above limitation may not apply to you. Except as stated above, the foregoing warranties are in lieu of all other conditions or warranties, express, implied or statutory, including without limitation, an implied condition or warranty of merchantability or fitness for a particular purpose and of any other warranty obligation on the part of Roland Corporation U.S.
Roland Corporation U.S. does not assume or authorize assumption of liability for it or any other warranty, either express or implied. This Limited Warranty gives U.S. purchasers specific legal rights, and you may also have other rights which vary from State to State.
Ground shipping is FREE for all orders $99 and up.