Skip product carousel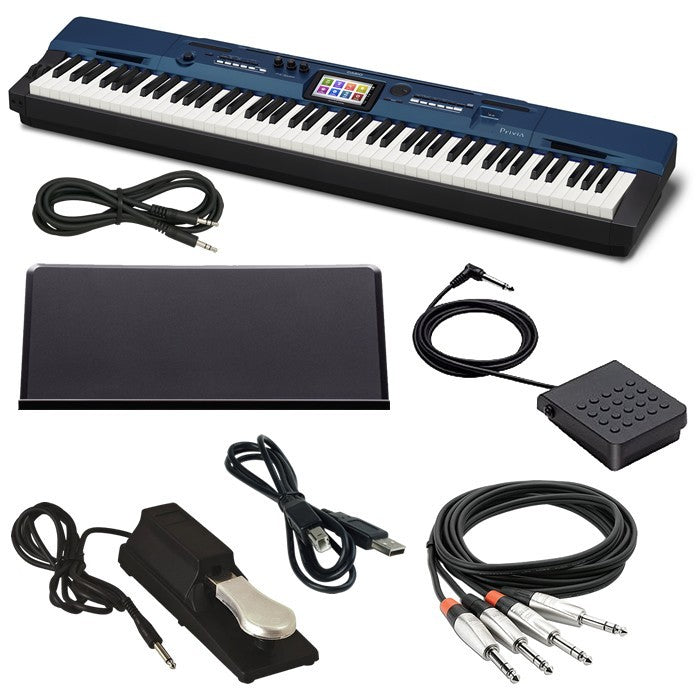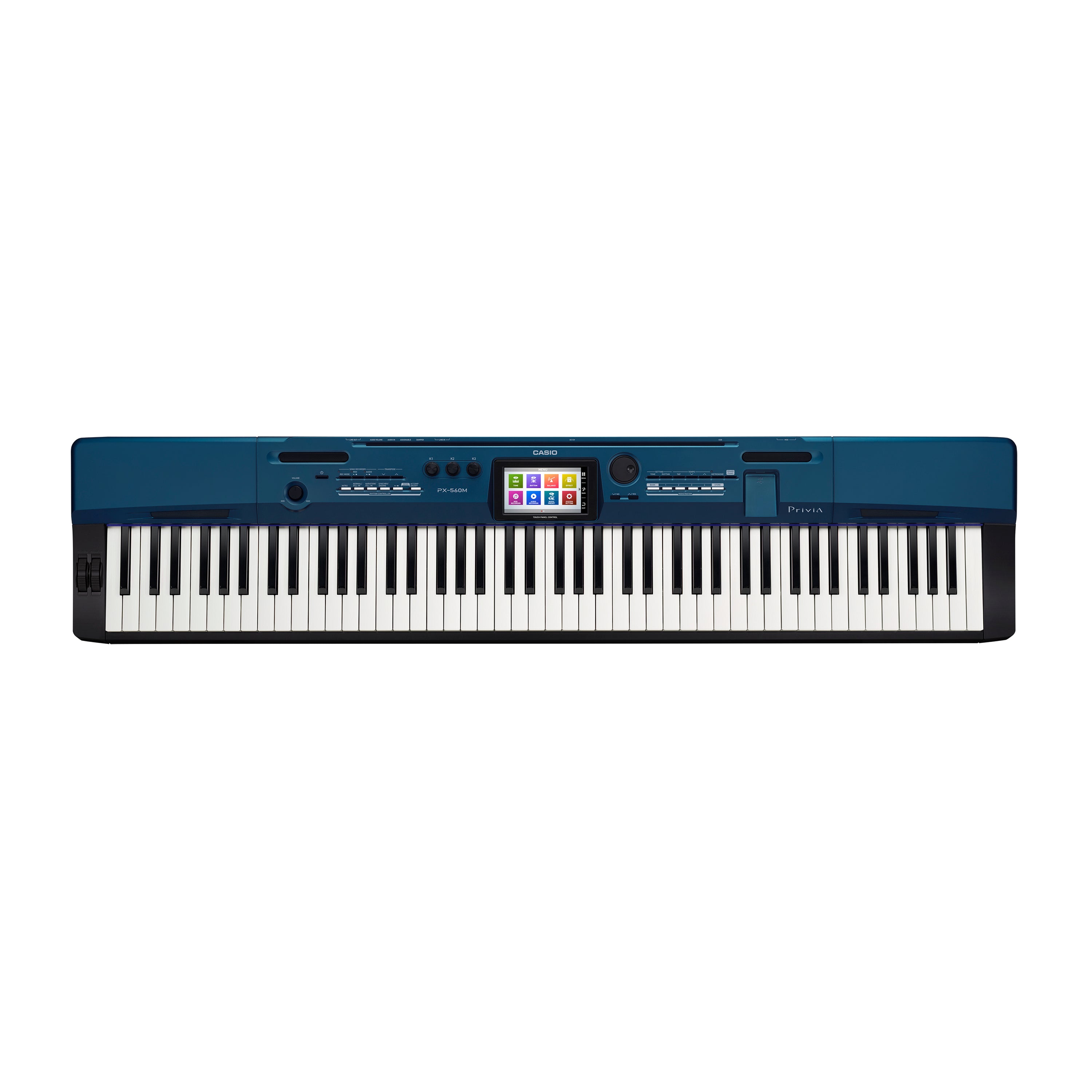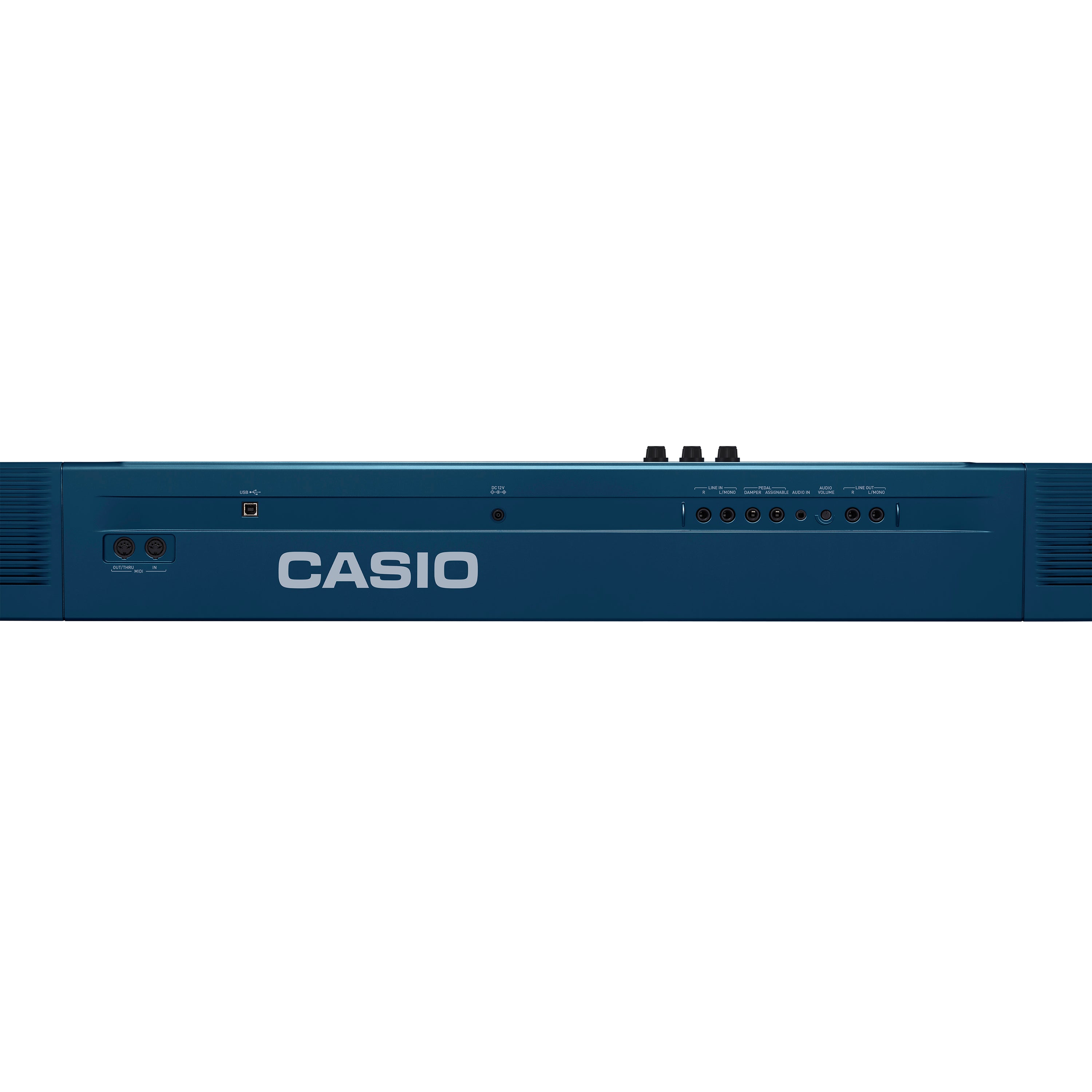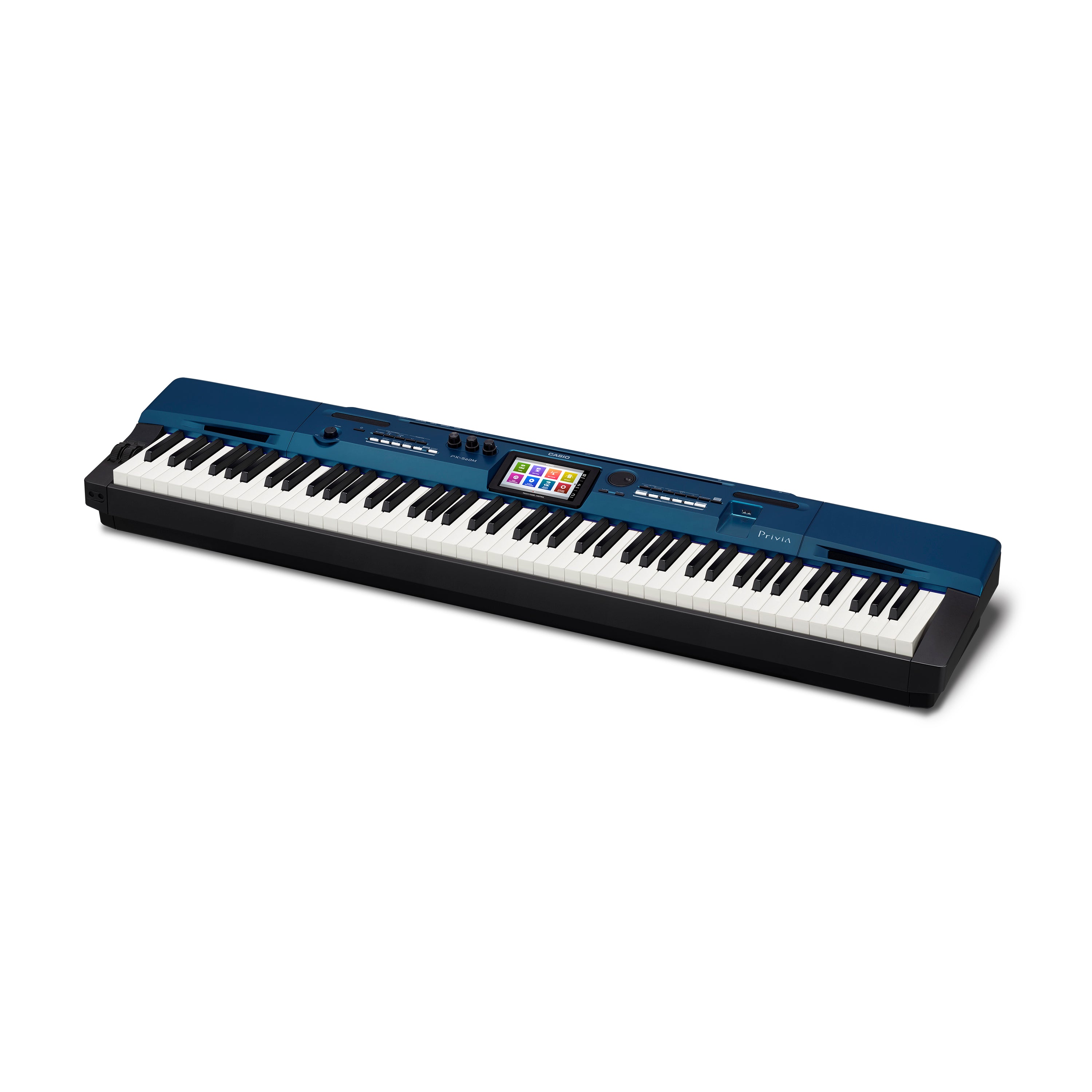 Casio Privia Pro PX-560 Digital Piano - Blue CABLE KIT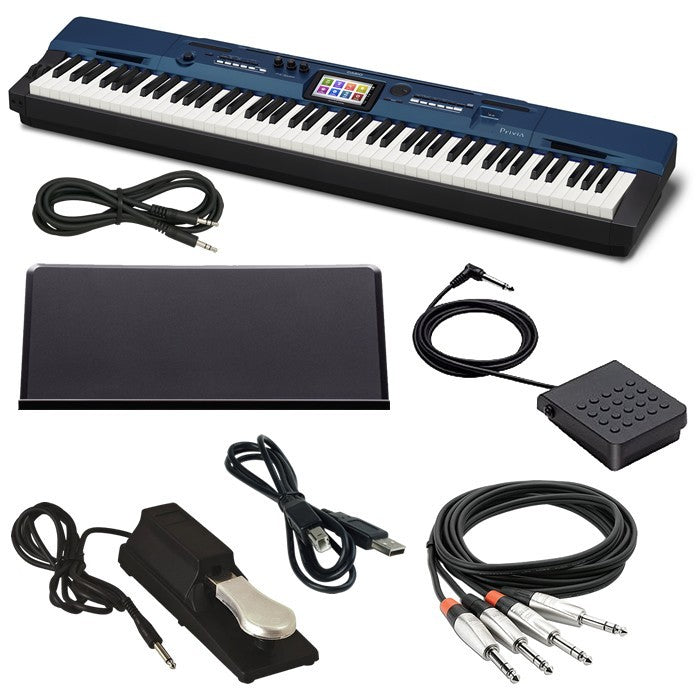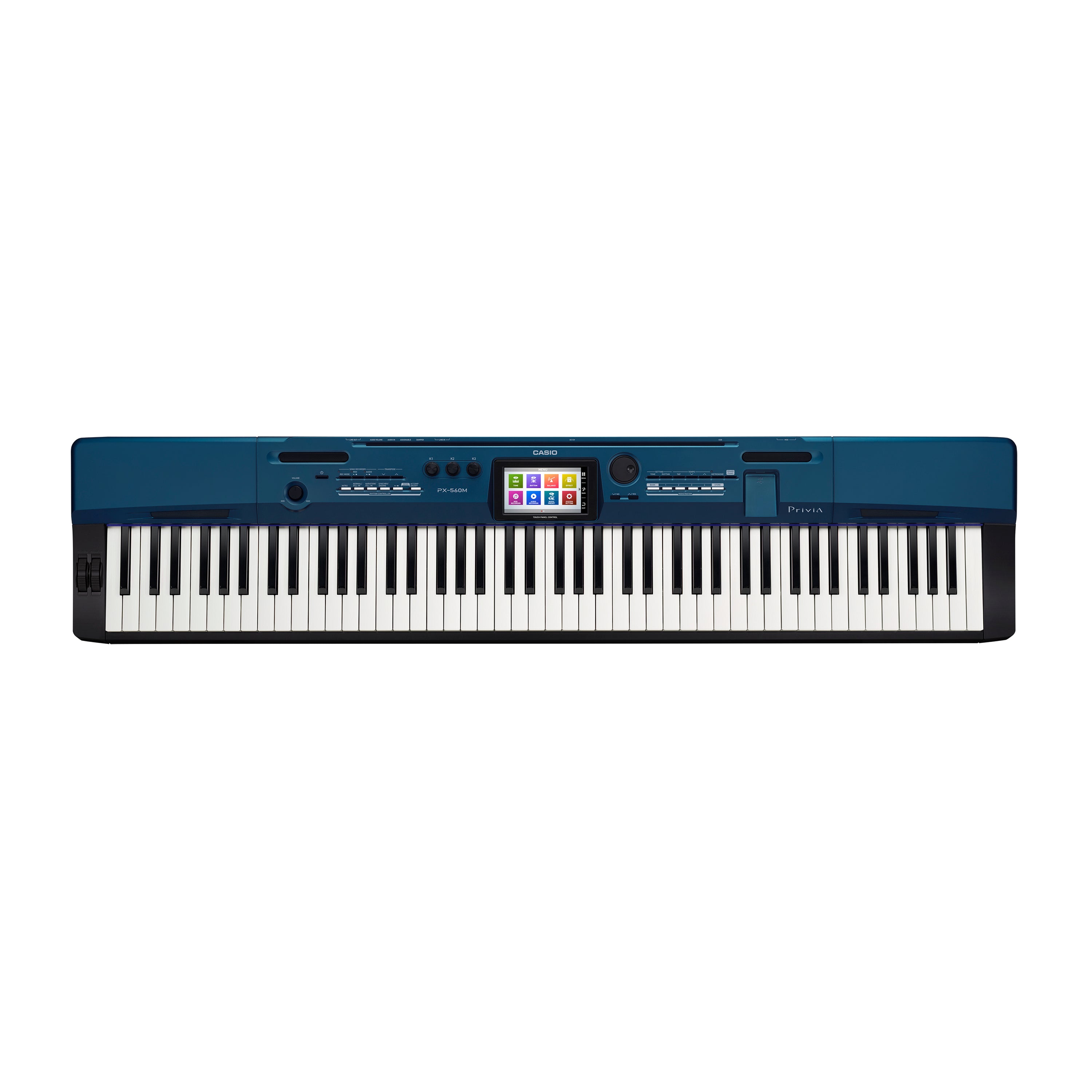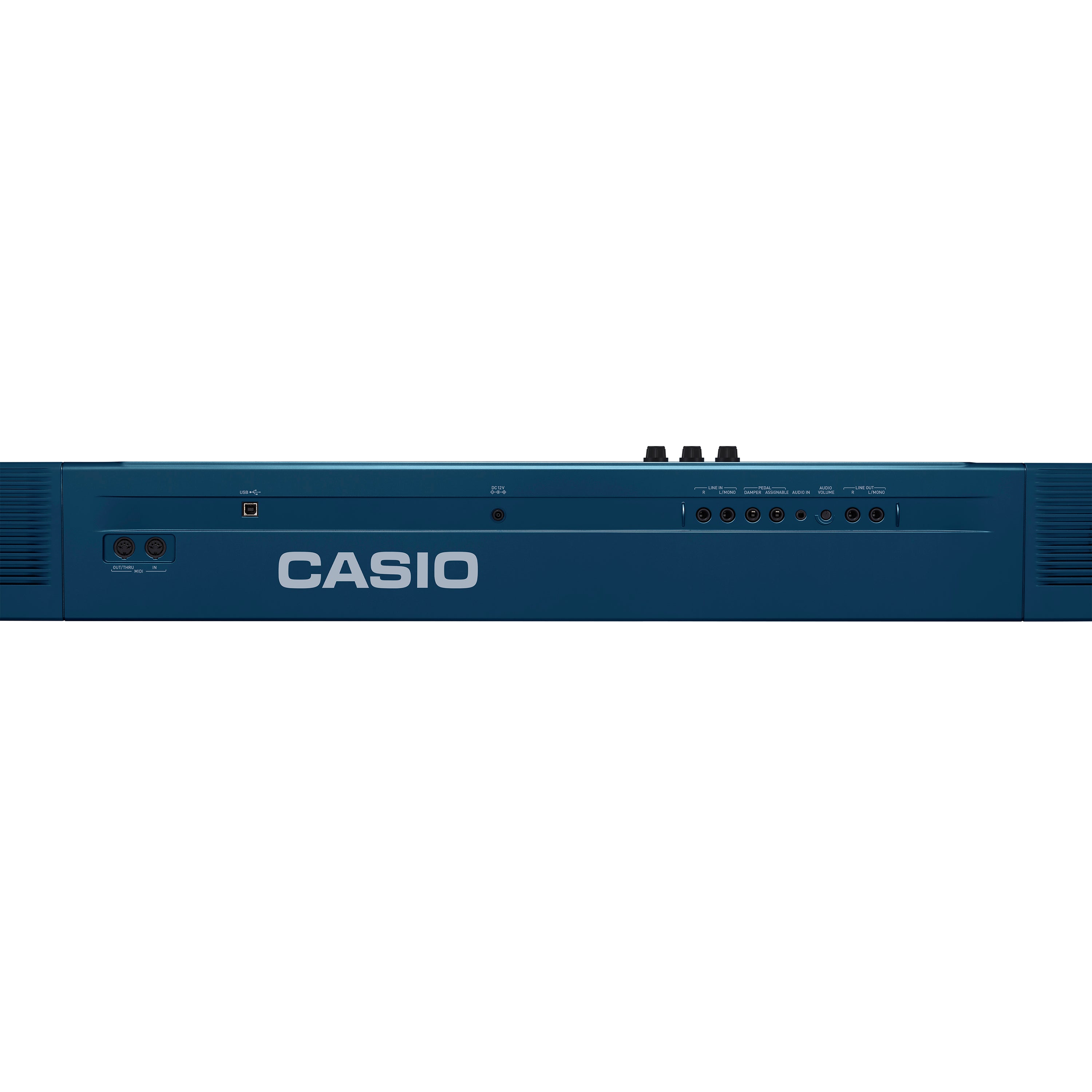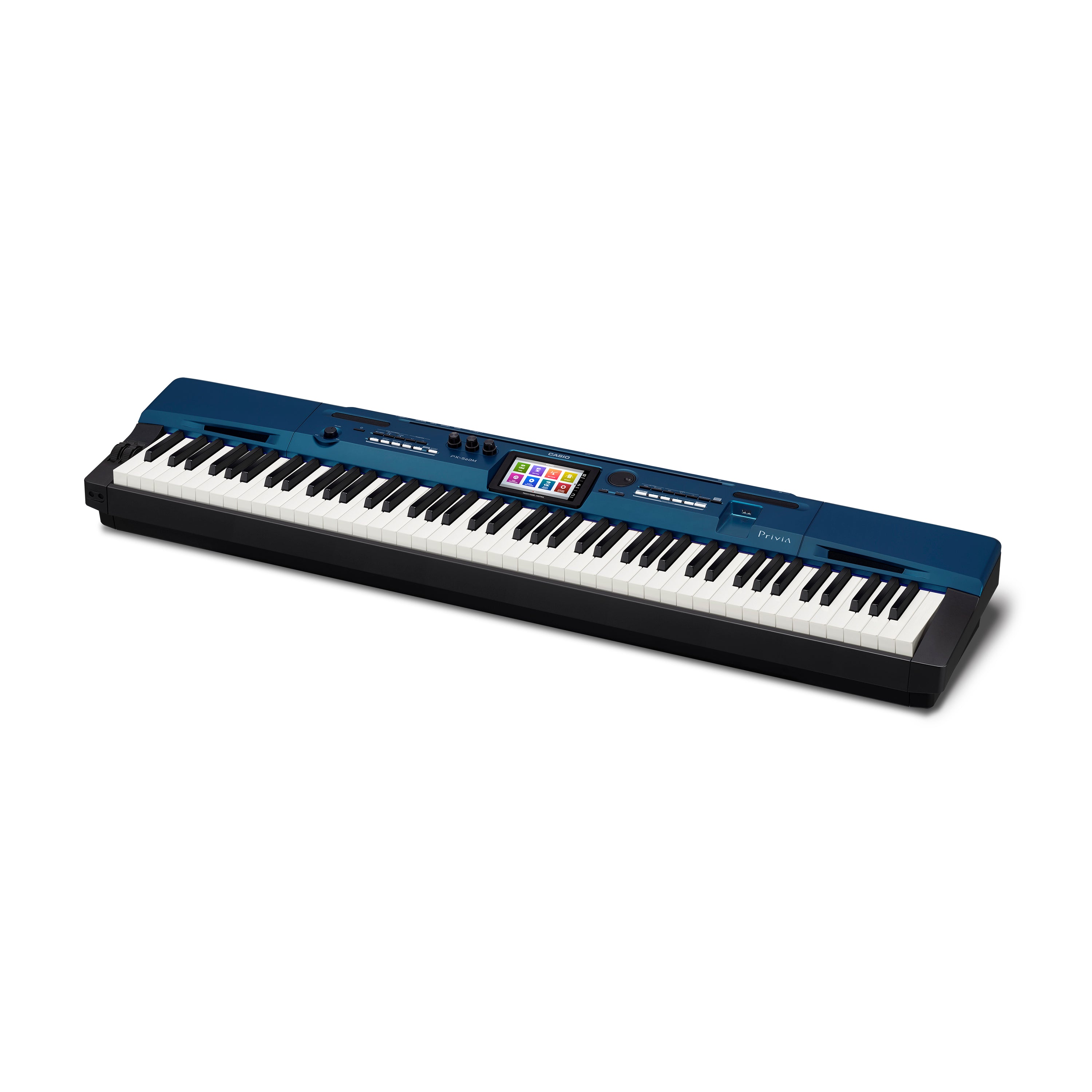 Casio Privia Pro PX-560 Digital Piano - Blue CABLE KIT
5 items included
This Kraft Music Bundle Includes
$1,299.00
Regular price
$1,365.80
You Save $66.80
Click on a product to view more details.
Introducing the Privia Pro PX-560 Digital Piano, a stage piano unlike any other. From the first look at its striking blue case, you'll know it's different. It boasts some of Casio's most impressive sonic technology, in an easy-to-use instrument that sounds every bit as great as it looks. For the piano player who wants to go deeper, the PX-560 delivers a comprehensive set of features that will take your music further than ever. 
Easy-to-use 5.3" touch display
256-note polyphony
88-key Tri-Sensor Scaled Hammer Action Keyboard
Hammer Response
Damper and String Resonance
Key Off Simulation
Fully capable synthsizer
600 Presets
Pitch and mod wheels
2 headphone outputs
MIDI and USB Connectivity
Built-in Speaker System
Aux audio input
Touch Your Music
Front and center is Casio's new Color Touch Interface. Its bright, 5.3" display is clear and easy to read, and the interface is inspiring yet simple. You'll see familiar graphics to help you select instruments and functions, making exploring the PX-560 fun and easy. You'll find yourself experimenting with new ideas, new sounds, and new ways of creating music.
The Keys to Success
The PX-560 features Casio's renowned Tri-Sensor Scaled Hammer Action II keyboard, which accurately reproduces the touch and response of a concert grand piano, despite the PX-560's light overall weight. As on a real concert grand, the keys are heavier in the lower register, and lighter up top. Your fingertips will immediately feel the ebony and ivory textured keys, which not only feel more realistic, but also give your hands a positive grip to keep your playing on point.
The Piano
Casio's Multi-Dimensional AiR Sound Source delivers some of the best piano sounds you've ever heard. Its Linear Morphing technology creates smooth transitions between the softer and louder sounds. Damper Resonance gives you the deep feeling of the piano's soundboard interacting with the strings. String Resonance models the harmonic relationships between vibrating strings. Hammer Response mimics the time between pressing the key and the hammer striking the strings. Key Off Simulation gives you control of a note's decay by how quickly the key is released. And with a massive 256 notes of polyphony, you won't have to worry about dropped notes.
A Sound Design For Sound Designers
Under the hood, the PX-560 is not just a highly capable stage piano, but a full-fledged synthesizer. Going deep into sound design is as easy as touching the display. The PX-560 features Casio's Hex Layer technology, borrowed from the flagship Privia Pro PX-5S. This means you can create massive splits and layers, with four zones and a total of 14 layers at once. What's more, you can edit these Tones to sculpt them into something new and all your own. There are three realtime control knobs, as well as a modulation wheel, all of which can be controlling up to two assignable parameters at once. With great-sounding filters, responsive envelopes, and extensive modulation, the PX-560 can be a sonic playground as well as a performance instrument.
Take The Stage
The PX-560 is designed to perform, and to make you sound your best. You'll be delighted at how lightweight it is (just over 26 pounds), and how easily you can integrate it into your live setup. Its 1/4" outputs and inputs give you great connectivity for PA systems and multi-keyboard rigs, and its dual pedal inputs can be configured to accept an expression pedal, damper pedal, or footswitches.
Homeward Bound
In addition to fitting just about any commercially-available keyboard stand, the PX-560 fits neatly in Casio's optional CS-67P wooden stand, making a stylish musical statement in any home. Add the optional SP-33 3-pedal unit to experience realistic soft, sostenuto, and damper pedals, fixed in place for an accurate piano performance. The built-in speaker system has more than enough power to entertain at home. If you connect your favorite music player to its 1/8" stereo audio input, it even becomes a high-quality music dock.
A Built-In Studio
When the muse speaks, you owe it to yourself to capture your idea. You don't want to miss the chance to record your creation. The PX-560 gives you two ways to make sure your work is preserved. There is a 17-track MIDI recorder with editing features, and a USB audio recorder that creates an audio file directly onto a USB stick. You can create the sounds you want to play, record and edit MIDI songs with them, then add external instruments via the audio inputs, and capture the whole mix to share with the world.
SKU
CAS-PX560BECK
Vendor
Casio
Built In Speakers
Yes
Connectivity
MIDI and USB
Included From Manufacturer
Music Rest
Sustain Footswitch
Power Supply
Keys Weighted
Hammer Weighted
Key Cover
No
Number of Keys
88
Mpn
PX560BE
Piano Cabinet Style
Portable
Product Unique Features
Pitch + Mod Wheel
Accompaniments
Yes
Duet Mode
Yes
Finish
Blue
Half-Damper Support
Yes (With Optional Pedal Unit)
Audio Inputs
1/8" Aux in
Audio Outputs
1/4" L+R Stereo Unbalanced
Headphone Out
Key Action
Tri-sensor Scaled Hammer Action Keyboard II
Layer Feature
Yes
Metronome
Yes
Pedals
SP-3 Sustain Pedal Included
Product Weight
26.5lbs
Rhythm Patterns
220
Song Recorder
Audio & MIDI
Number of Songs
100
Number of Sounds
650
Speaker Power
2 x 8 Watts
Speaker Size
(2) 4.72"
(2) 1.97"
Split Feature
Yes
Storage Type
Internal;USB
Number of Tracks
16 Multi Track + 1 System Track
Transpose Feature
Yes
Voices of Polyphony
256
Width
52.0"
Depth
11.5"
Height
5.8"
Casio Limited Warranty
This product, except for the case and battery, is warranted by Casio and its distributors to the original purchaser to be free from defects in material and workmanship under normal use for a period of one year from the date of purchase. This warranty is valid only for service in the country of purchase.
For a limited time, if you register your product online at Casio's website, you may qualify for a warranty extension of four (4) years on select Celviano digital piano models or two (2) years on select Privia digital piano models. Please visit Casio's website and register your product for details.
Ground shipping is FREE for all orders $99 and up.