Skip product carousel
Special Offer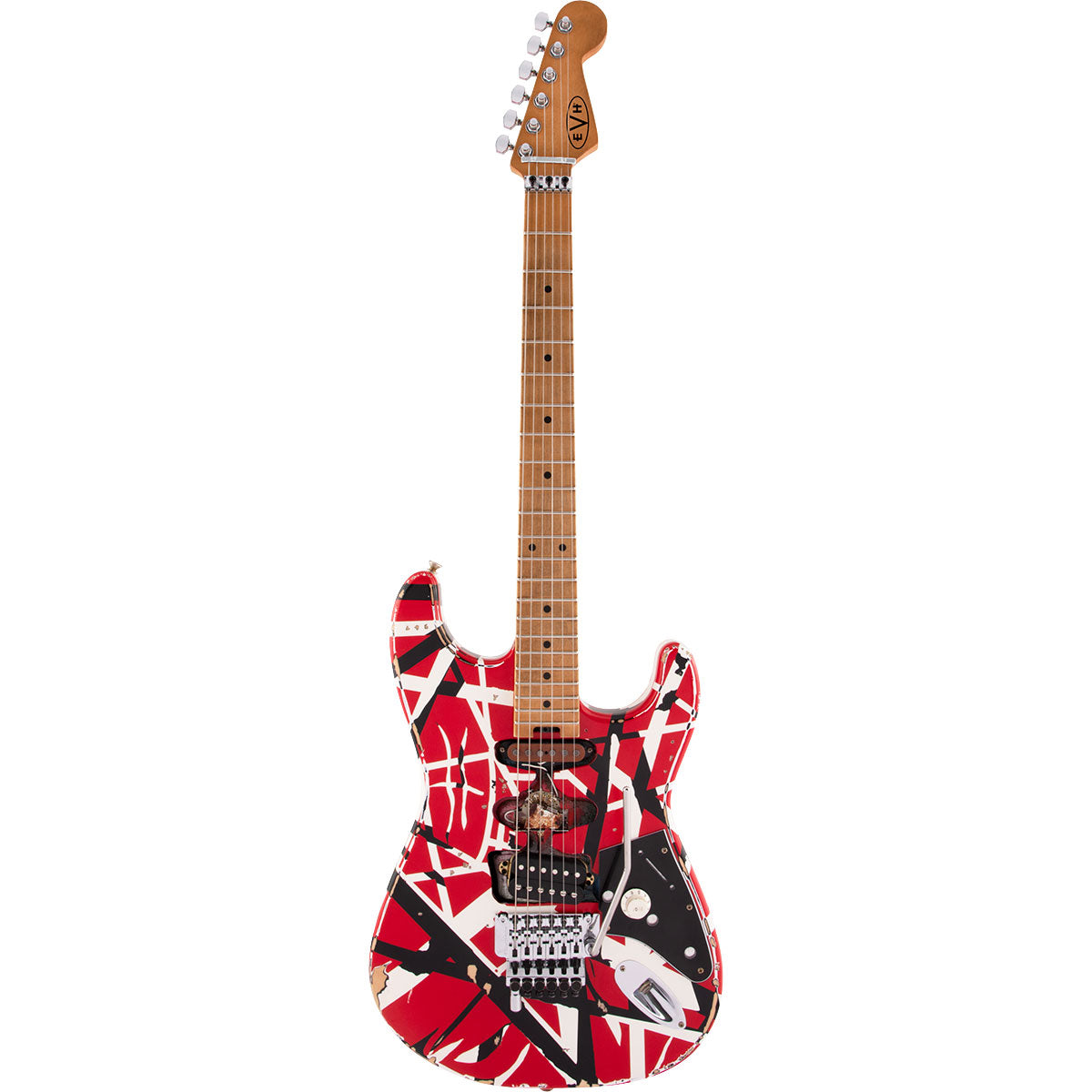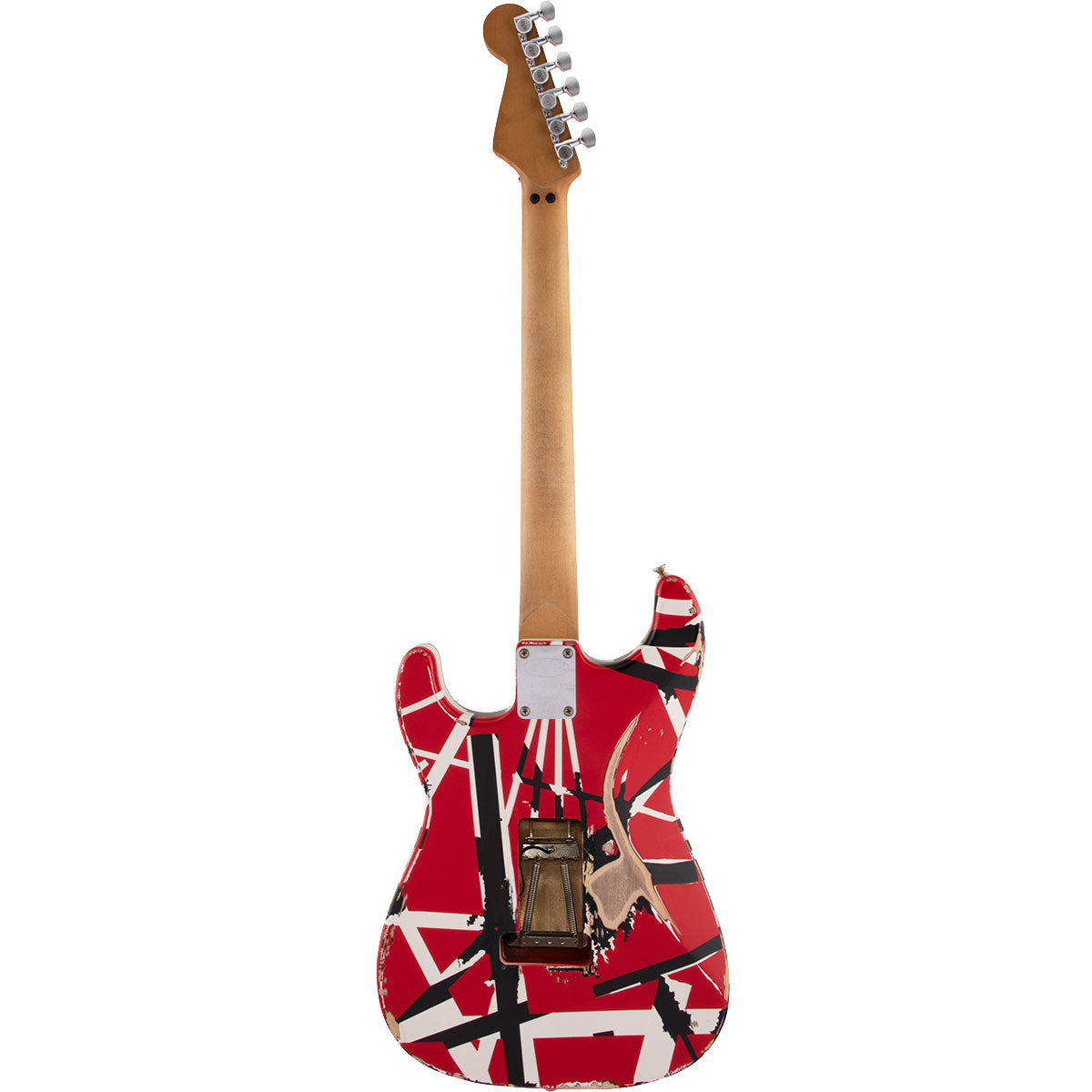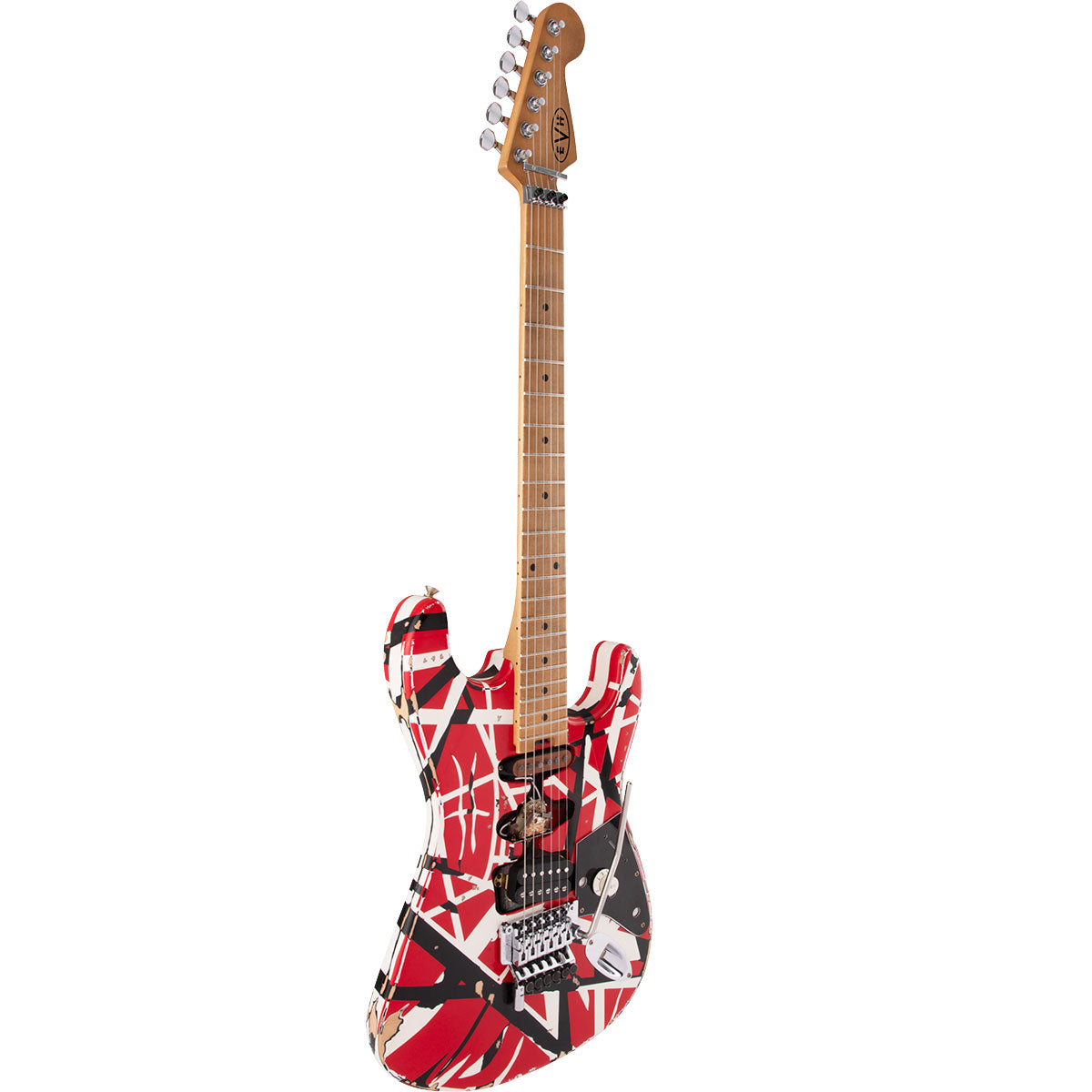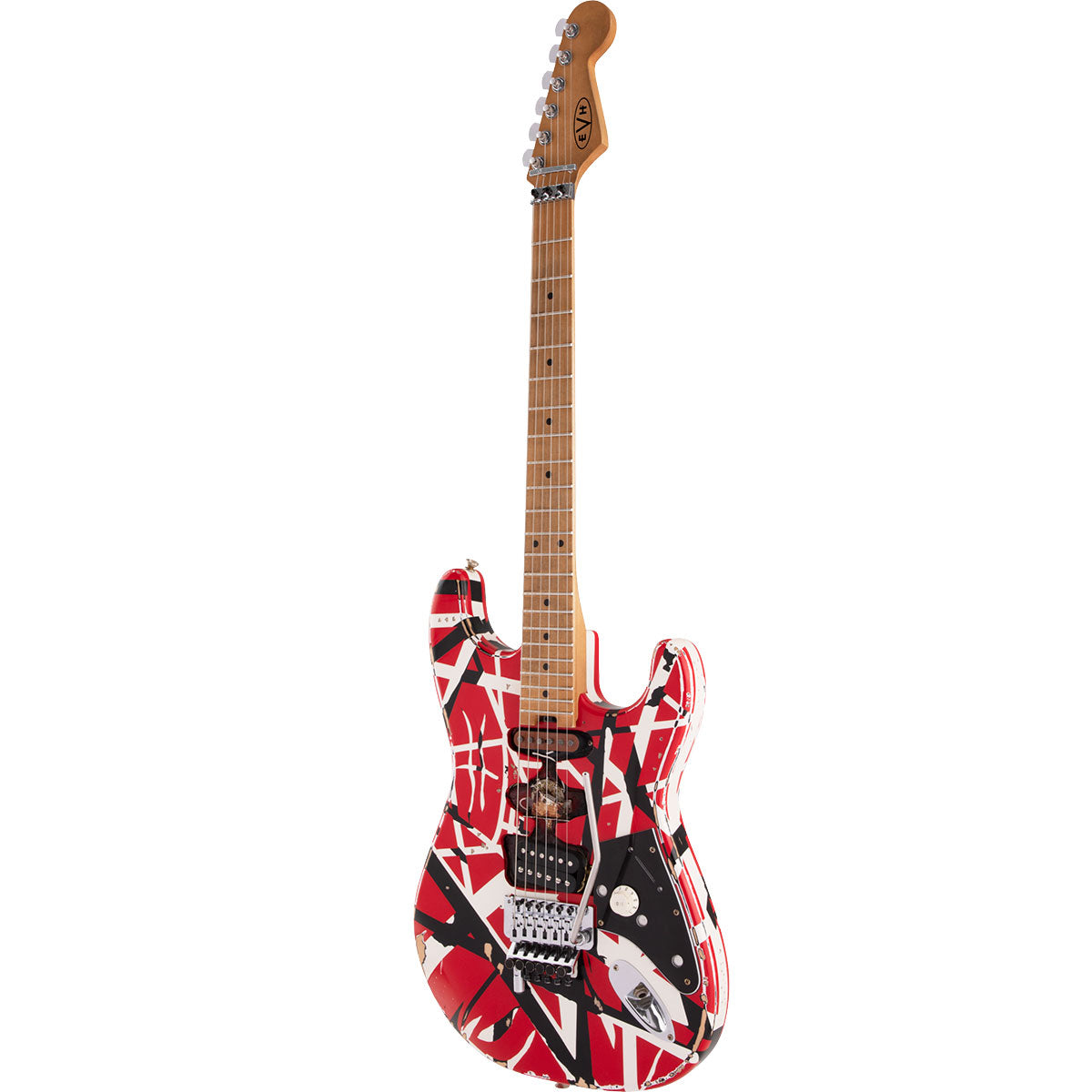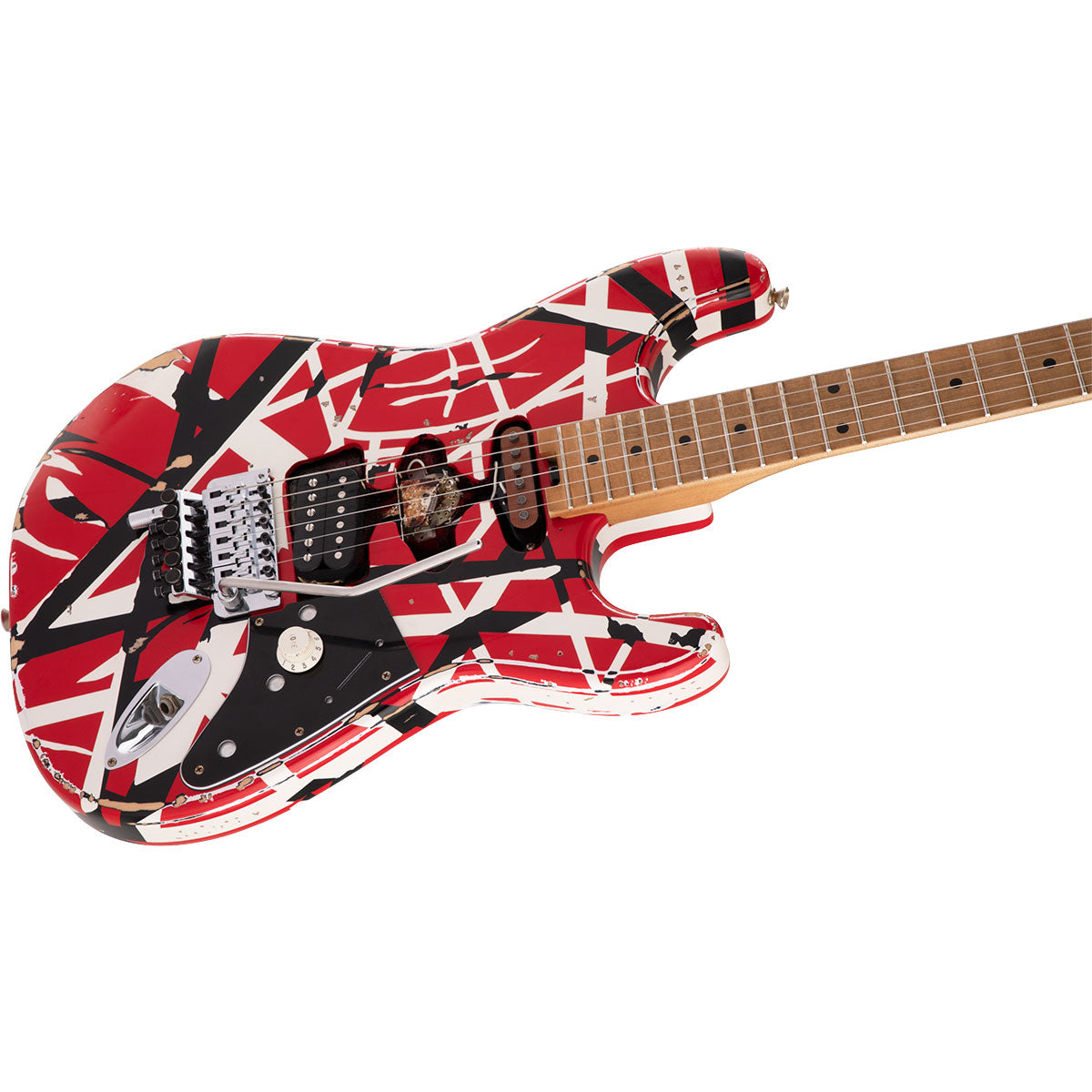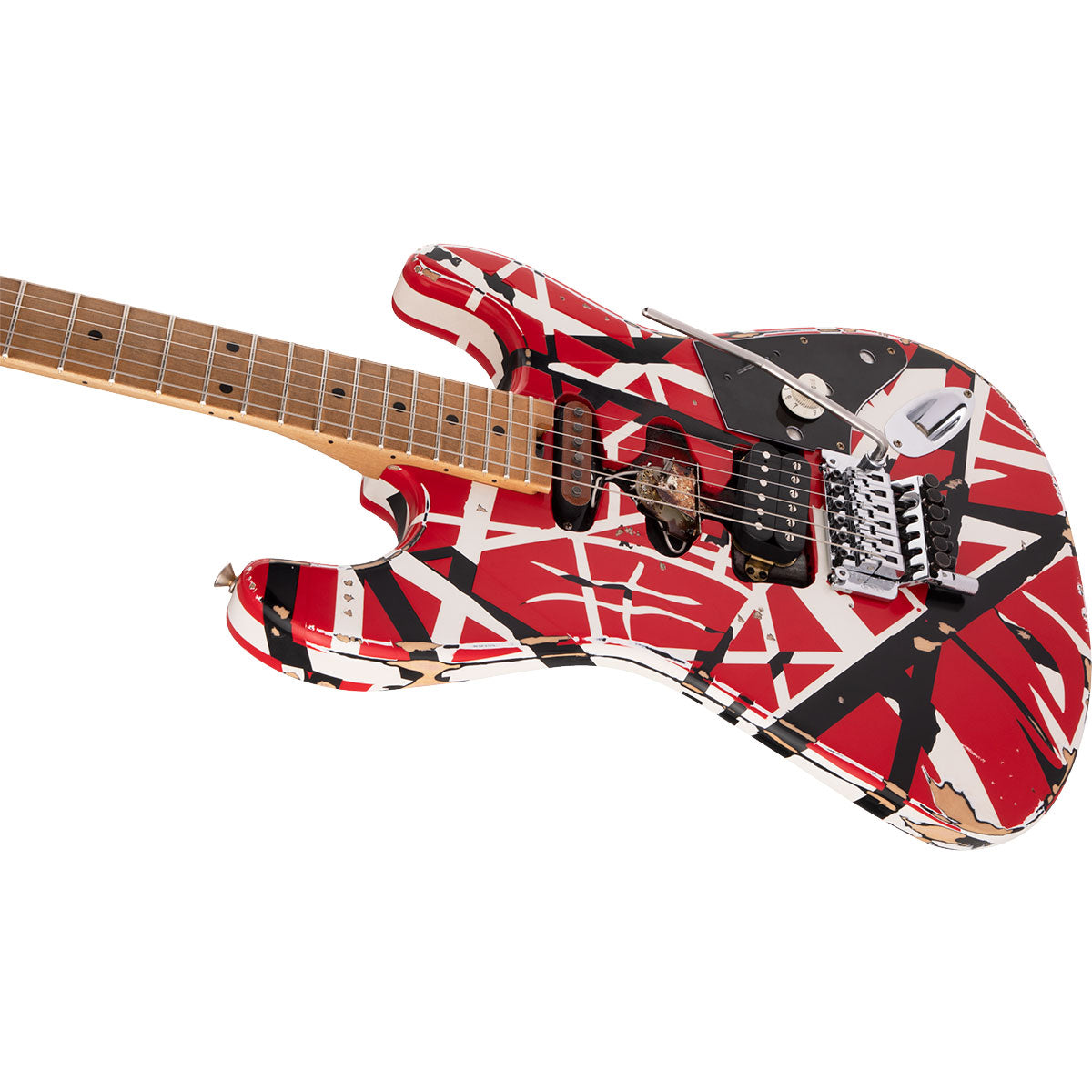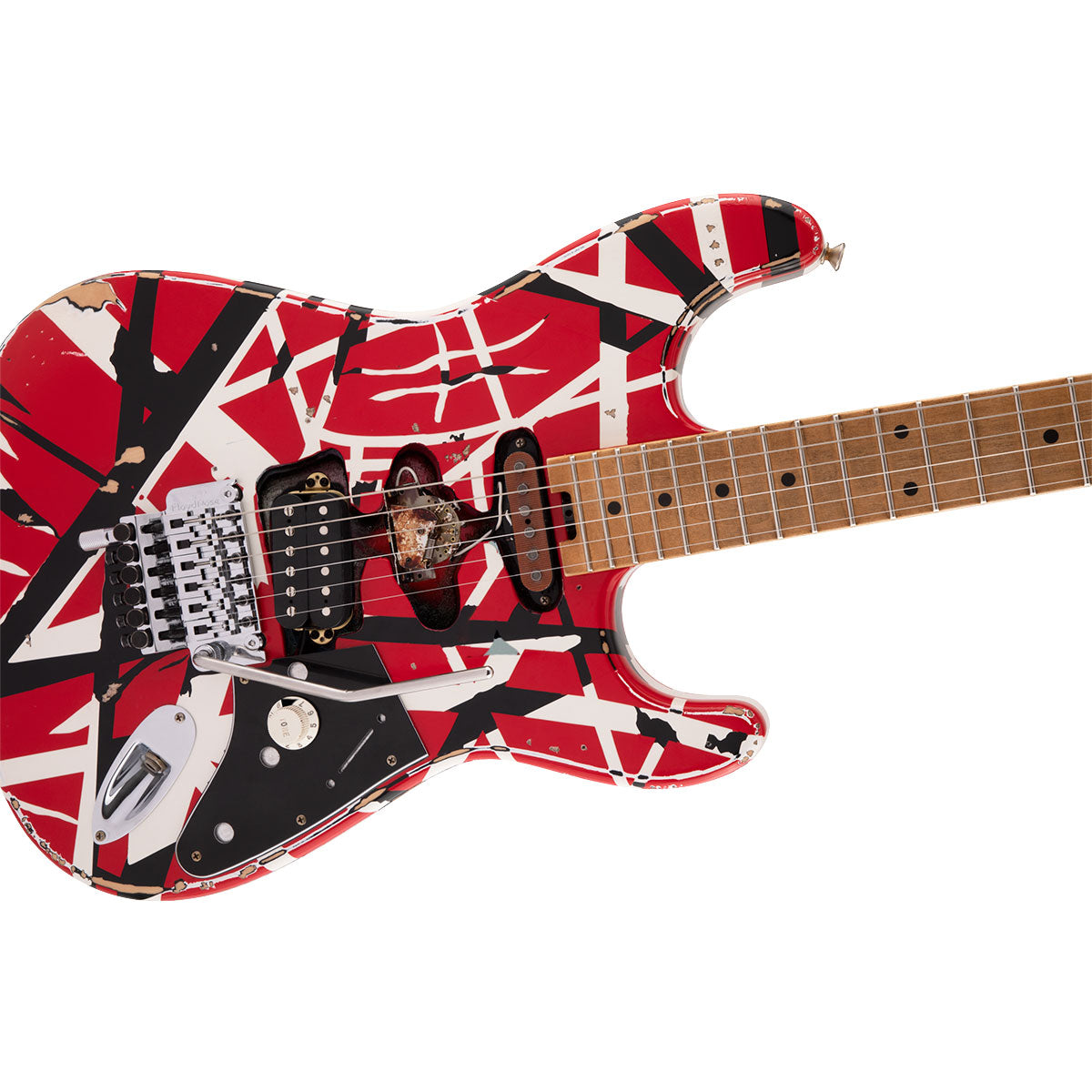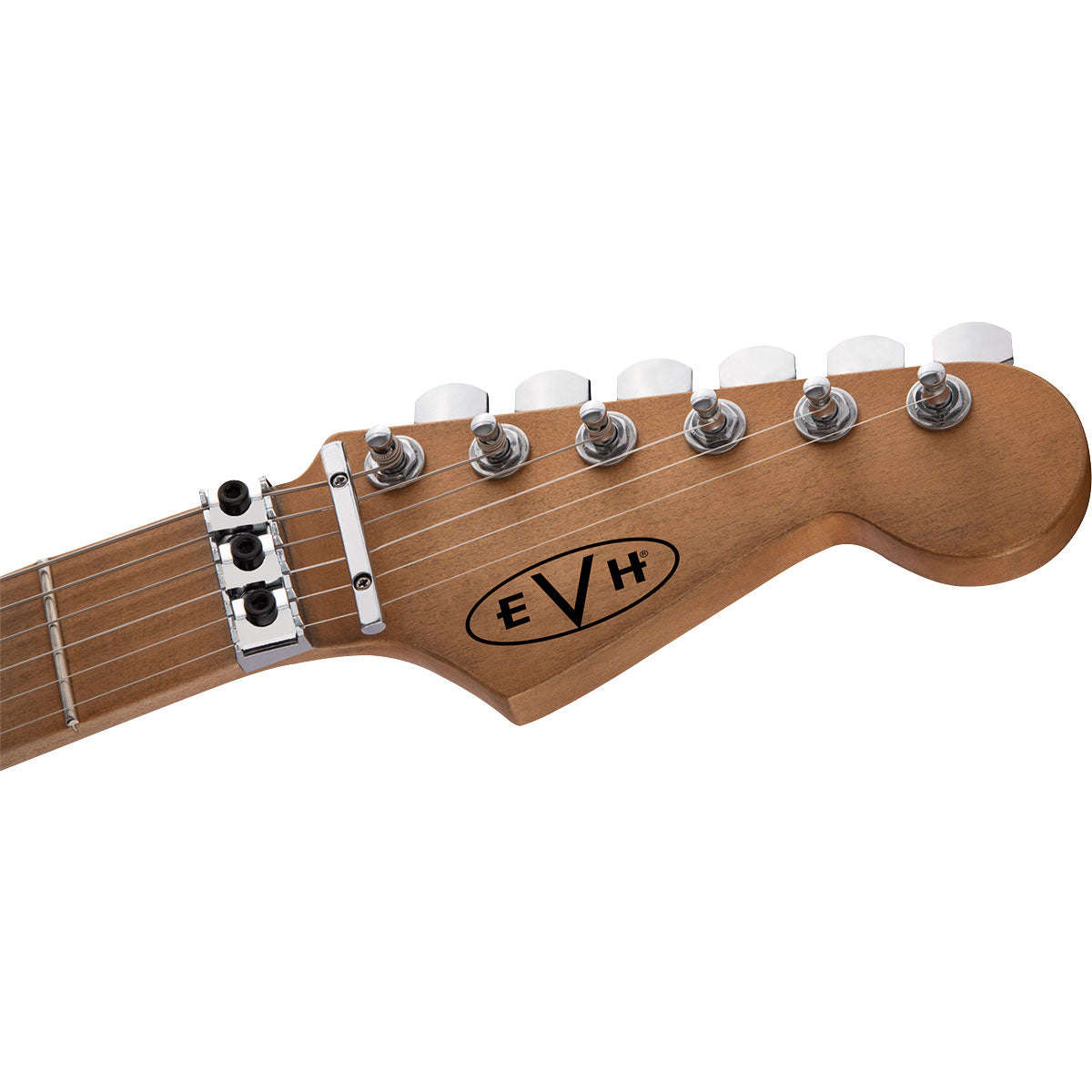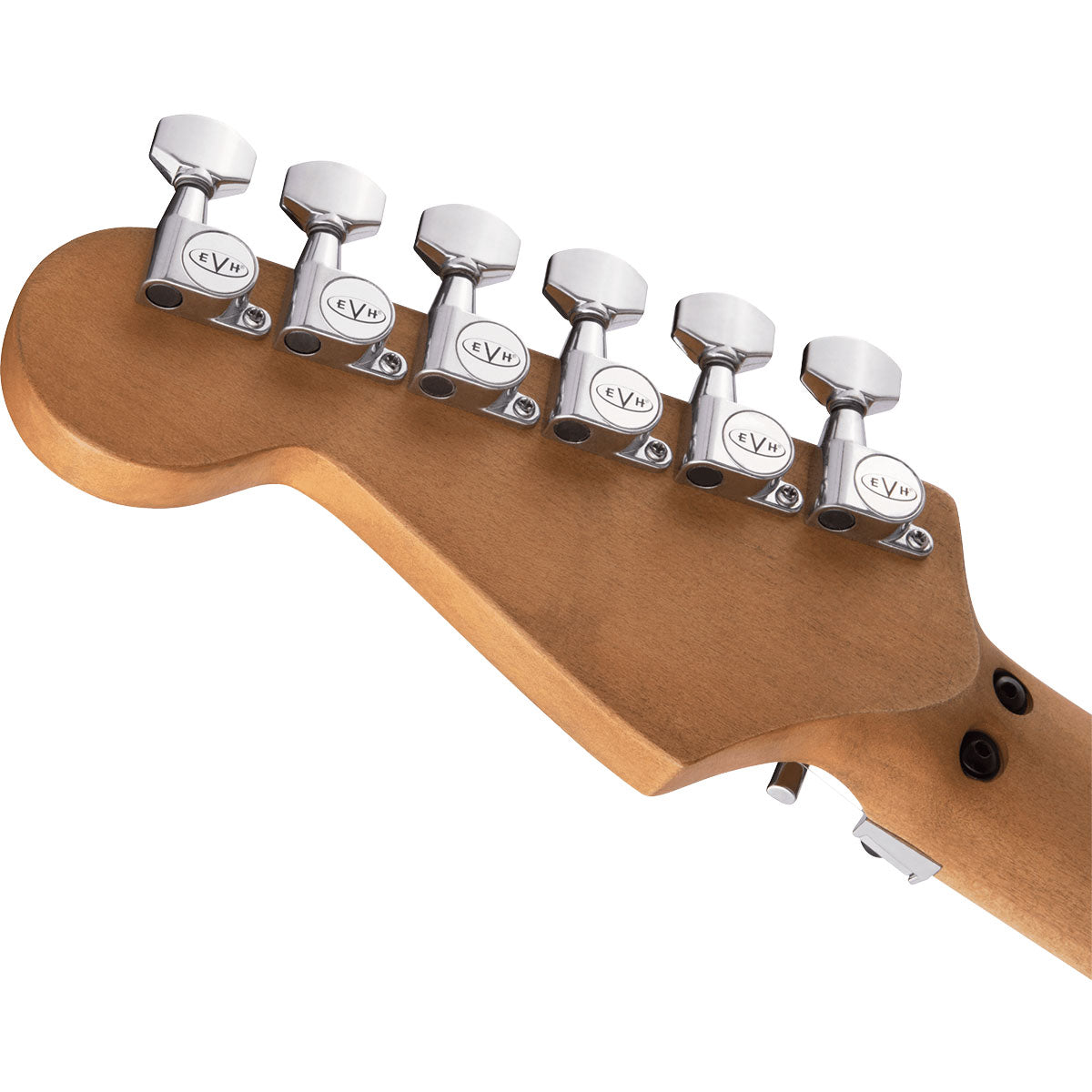 EVH Striped Series Frankenstein Frankie Electric Guitar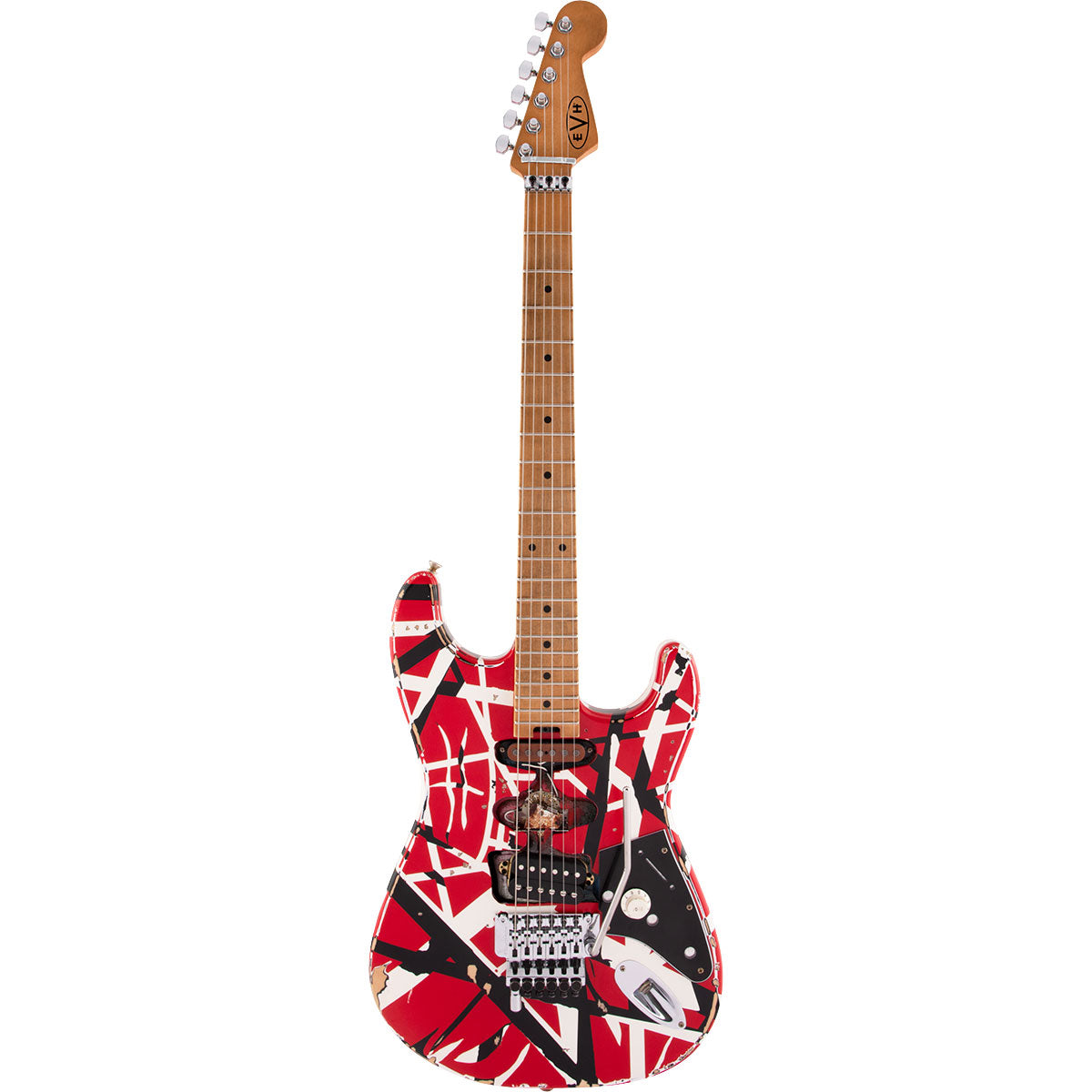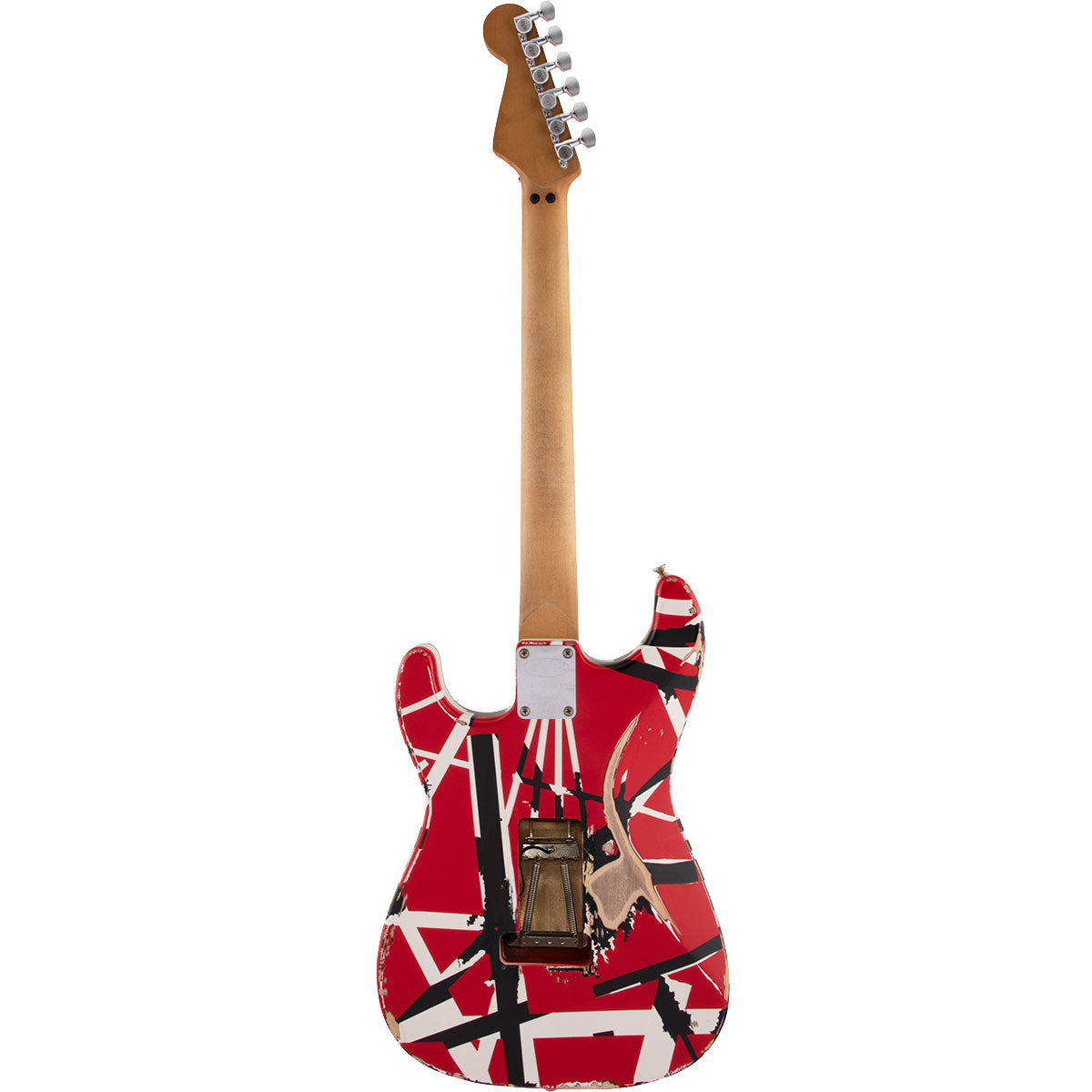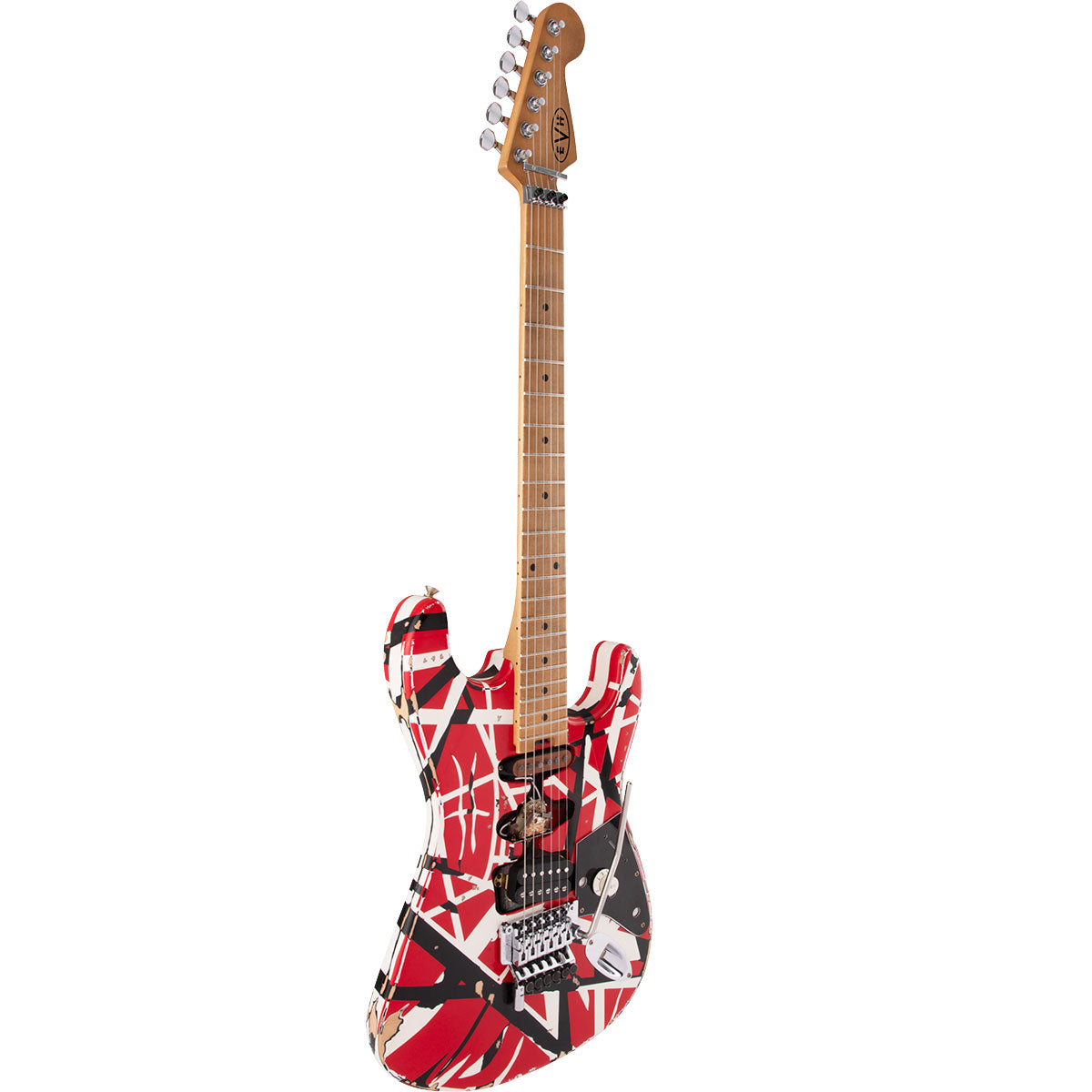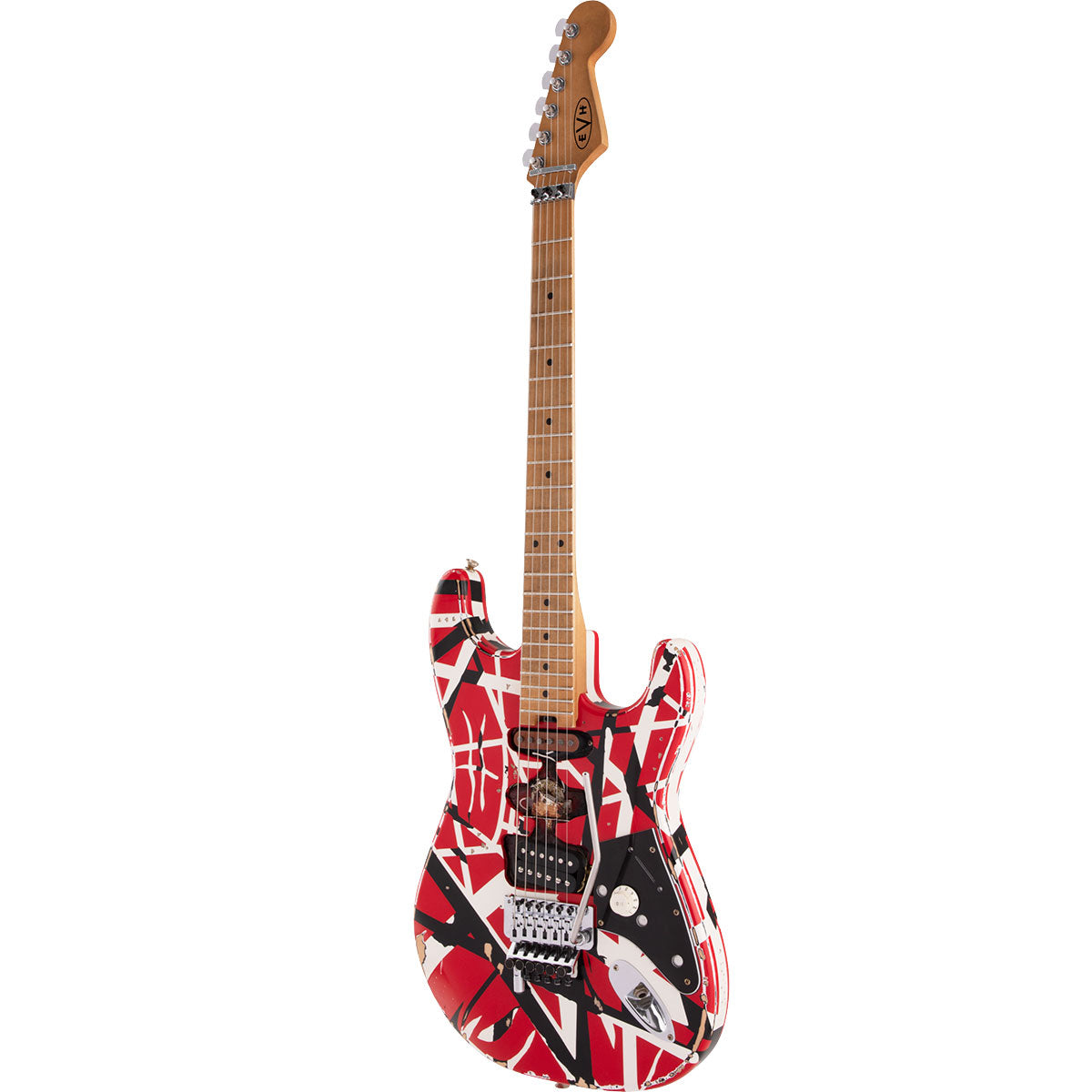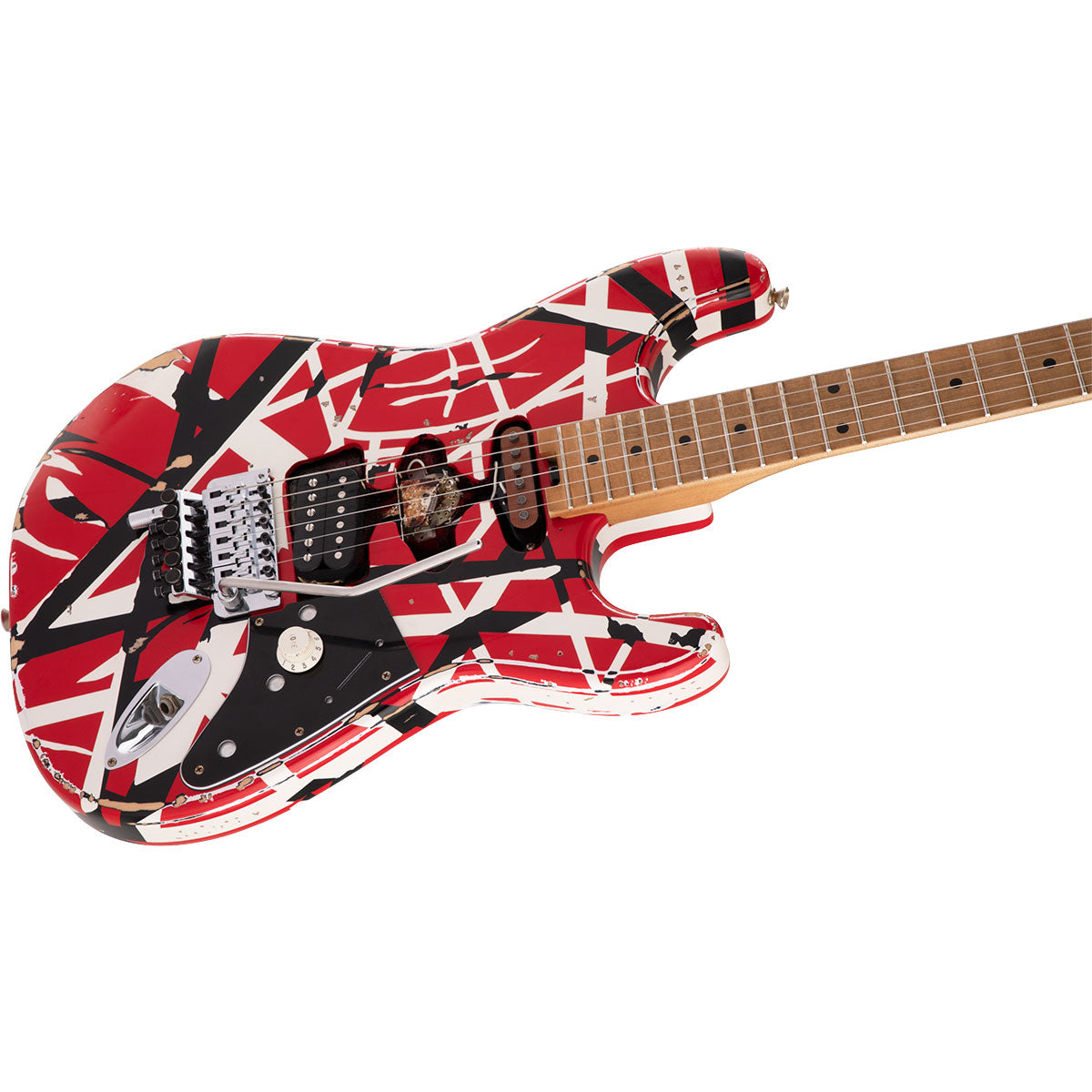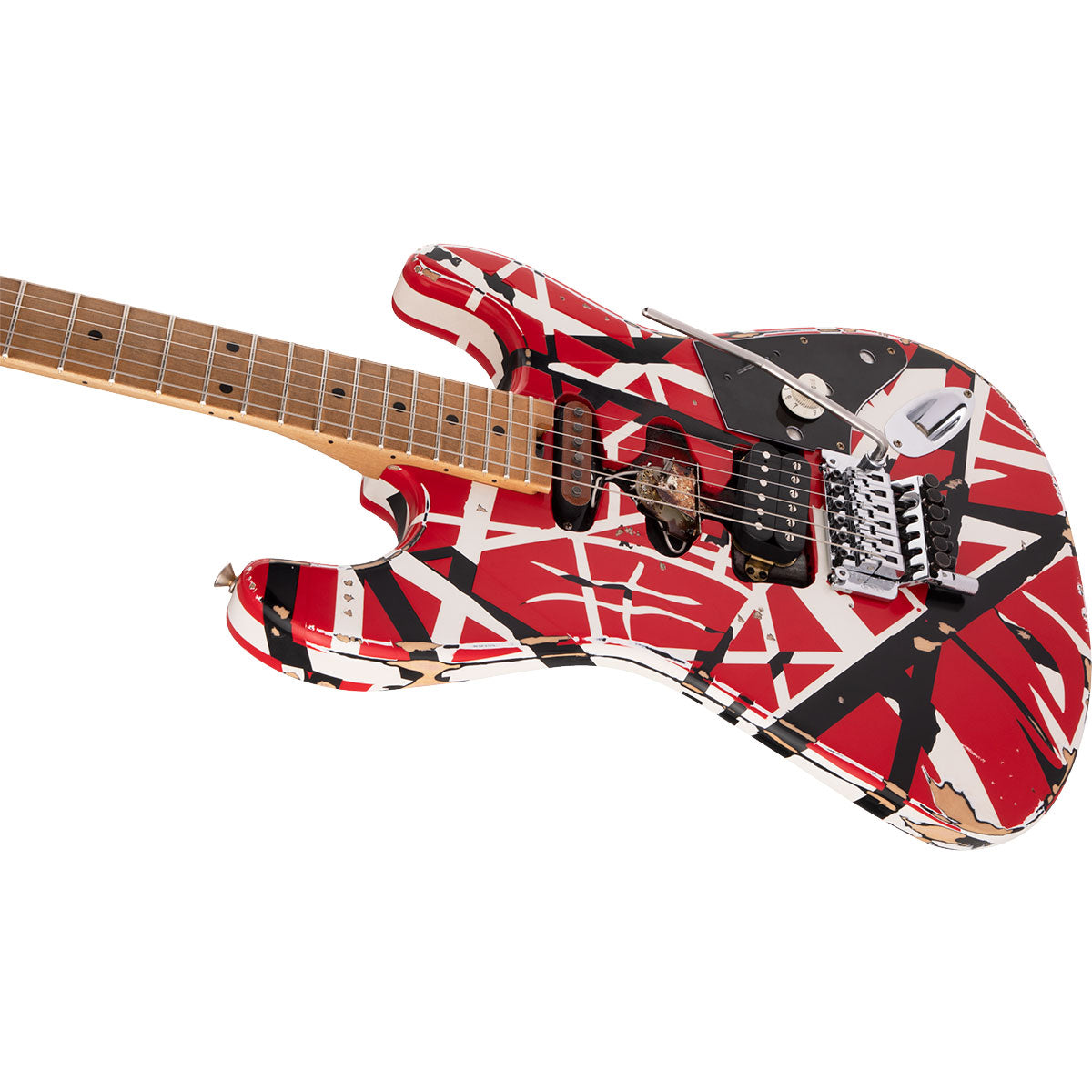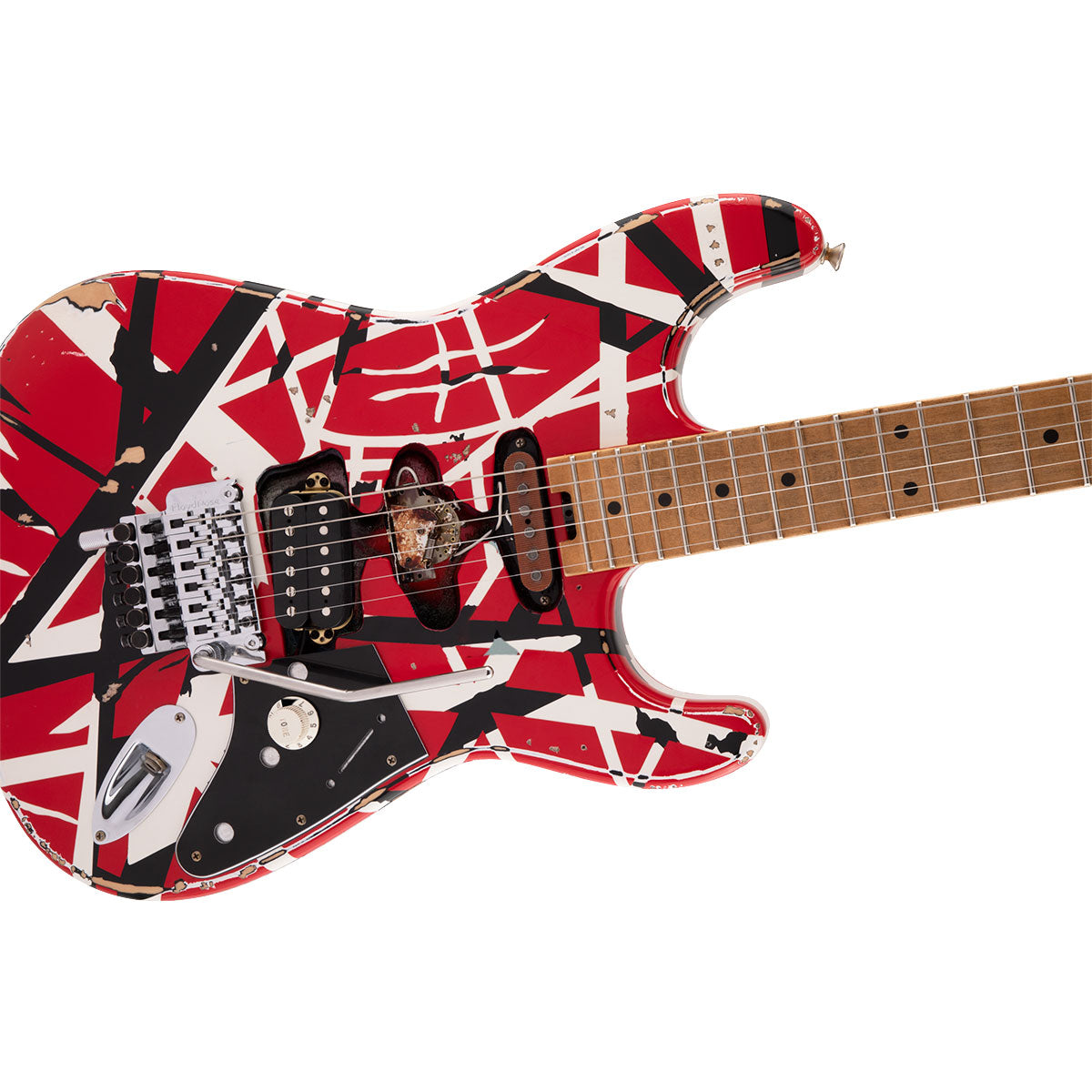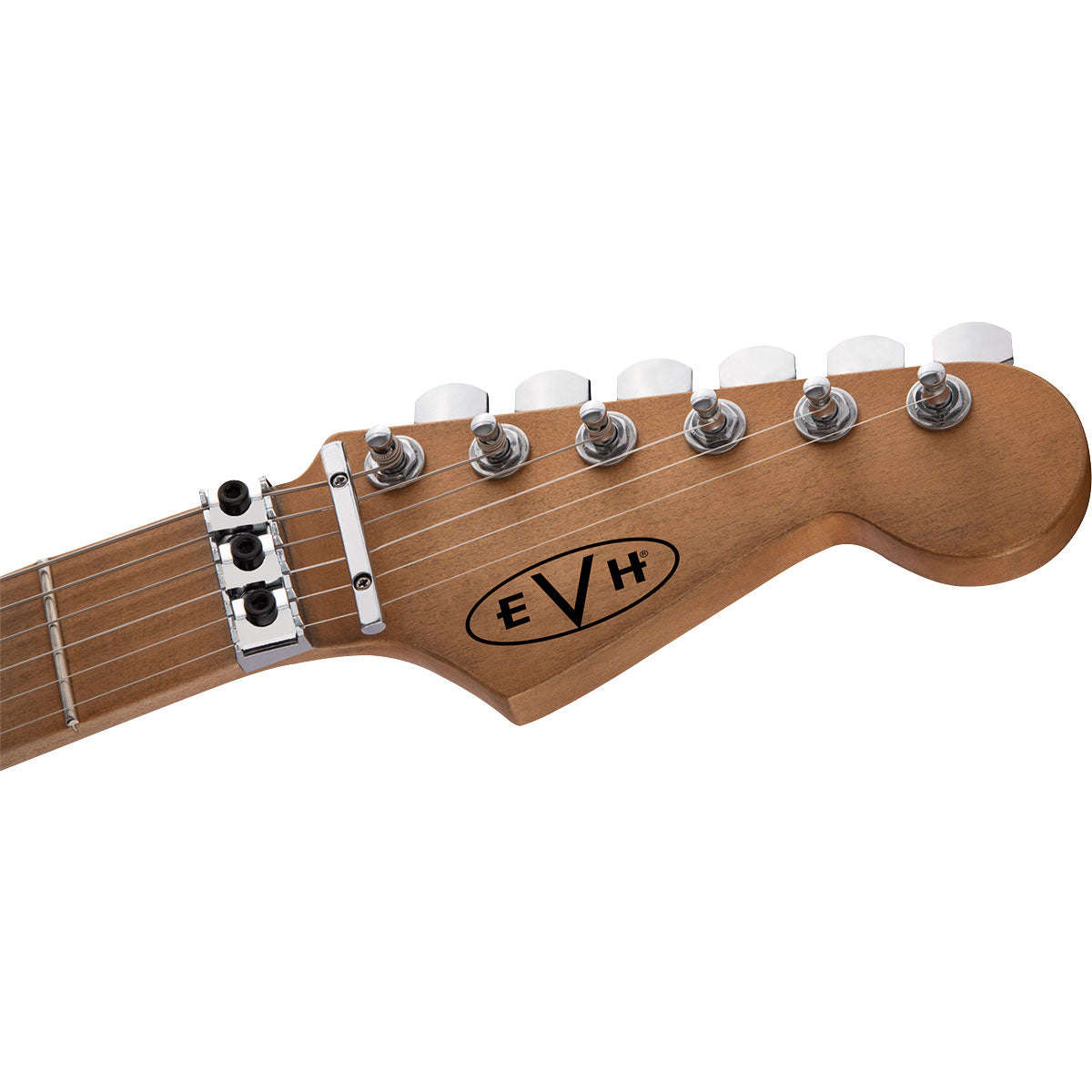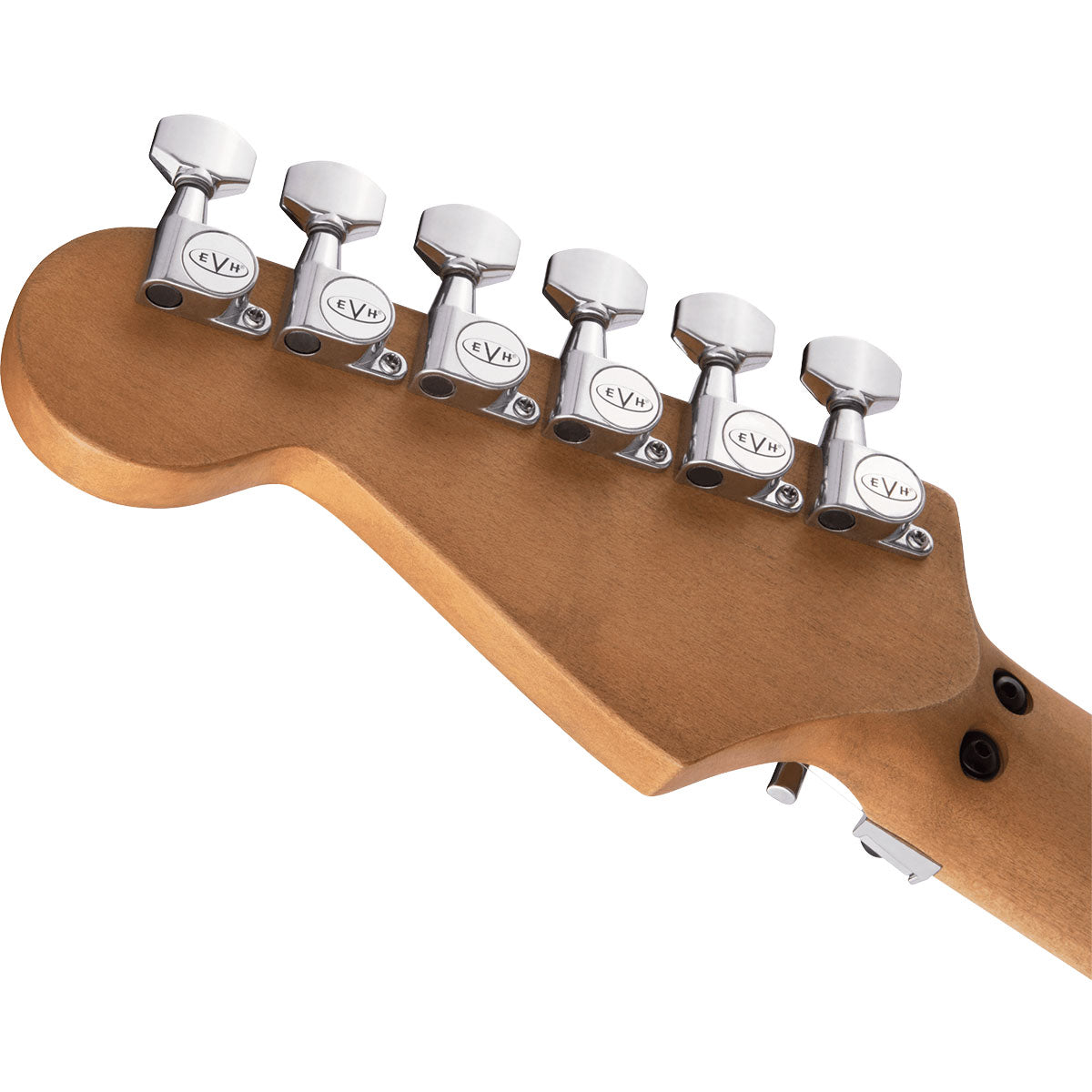 EVH Striped Series Frankenstein Frankie Electric Guitar
Widely regarded as the most recognizable electric guitar ever, Eddie Van Halen's iconic and revered Frankenstein guitar now comes your way with a price tag the everyday musician can afford in the form of EVH Striped Series Frankenstein 'Frankie.'
Sporting Eddie's famed red with white-and-black-striped paint job and a worn-in reliced look, Frankie features a basswood Stratocaster-style body paired to a graphite-reinforced quartersawn maple neck. An oiled finish on the back of the neck allows for hours of playing comfort, while the 12"-16" compound radius maple fingerboard with 22 jumbo frets was designed for fast and furious playing styles.
Routed for an HSS pickup configuration just like Eddie's original, Frankie features an EVH Wolfgang humbucking bridge pickup with a dummy Strat neck pickup and a dummy five-way blade housed in the middle position.
A sturdy and dependable EVH-branded Floyd Rose locking trem and Floyd Rose locking nut work in tandem for precise tuning even with extreme changes in pitch, while the EVH D-Tuna retunes to drop-D and back with strict accuracy at the flick of a finger.
Other unique features include a white skirted Strat-style single volume control knob (labeled 'tone'), custom black pickguard, reliced chrome hardware, standard strap buttons and EVH neck plate.
Bolt-on quartersawn maple neck with Eddie Van Halen's modified 'C' backshape
Bolt-on is a type of neck construction that joins the maple neck to the body of the guitar with screws or bolts, resulting in bright tone with more control. The quartersawn grain runs the length of the neck and as well as being visually appealing, is less susceptible to shrinking, warping or splitting. Graphite-reinforcement rods flank the truss rod for even more increased neck stability, while your fretting hand will feel right at home on the modified 'C'-shape neck, which has a .790" thickness at the 3rd fret and .825" at the 12th fret.
12"-16" compound radius maple fingerboard
The innovative 12"-16" compound radius maple fingerboard design gradually flattens toward the heel from its smaller and more rounded profile at the nut for unparalleled comfortable chording and riffing near the nut and seamless bending near the heel. Maple is a dense wood that produces bright, snappy tones, articulate notes with bite and a tight low end.
Eddie's famed Frankenstein pickup mods
To throw imitators off his scent, Eddie faked people out by hacking into his original Frankenstein guitar and screwing a three-way switch sideways into the middle position and housing a non-functional single coil pickup in the neck position. The Frankie guitar follows suit, featuring an EVH Wolfgang humbucking bridge pickup with a dummy Strat neck pickup and a dummy five-way blade housed in the middle position. The direct mount EVH Wolfgang bridge humbucker with Alnico 2 magnets is hotter and delivers rich harmonics, cutting highs and snarling mids.
Unique cosmetics and appointments
Other standout appointments of this fan favorite include a reliced red with white-and-black-striped paint job, reliced hardware, custom black pickguard, top-mount Strat-style output jack and white skirted Strat-style single volume control knob labeled 'tone.'
EVH-branded Floyd Rose locking trem, R3 locking nut and EVH D-Tuna
Eddie Van Halen was the first player to popularize the innovative Floyd Rose locking tremolo, even advising Floyd Rose on his early designs to integrate round disc finger-type tuners that you would see on a cello or violin. Now universally embraced, the EVH-branded Floyd Rose bridge features the EVH logo stamped on the bridge plate, steel saddles and a solid brass block. The Floyd Rose bridge and R3 (43 mm) locking nut is a professional-grade double-locking design that secures the strings in the saddle and nut, providing ultimate tuning stability and dynamic tremolo action. Standard equipment on Eddie's personal guitars since the early 90s, the EVH D-Tuna is a unique patented device that enables players to drop the E to D and back in an instant.

SKU
EVH-5107900503
MPN
Frankenstein Frankie
Vendor
EVH
Electric Body Style
Double Cutaway
Fingerboard
Maple
Included From Manufacturer
EVH nickel-plated steel strings (.009–.042 gauges)
Tremolo arm
Hex keys
Mpn
5107900503
Pickup Config
HSS
Product Unique Features
Bolt-on graphite-reinforced quartersawn modified 'C' shape neck with oiled finish
Two-way adjustable truss rod with heel-mount adjustment wheel
Floyd Rose Retainer Bar string trees
EVH-branded Gotoh tuning machines
Floyd Rose 1000 Series locking tremolo arm
Brass tremolo block
Black custom Frankie pickguard
Oversized strap buttons
Black dot position inlays
Right Left Handed
Right
Strings
6-Strings
Vib Trem Bridge
Yes
Body Material
Basswood
Bridge
EVH-branded Floyd Rose locking tremolo with EVH D-Tuna
Controls
Volume knob
Fingerboard Radius
12"-16" compound radius
Finish
Satin lacquer
Red with Black Stripes Relic
Hardware Finish
Chrome
Neck Material
Maple
Number of Frets
22
Nut Material
Locking
Nut Width
1.6875"
Pickup Switching
Dummy 5-way blade
Pickups
Direct mount EVH Wolfgang humbucking bridge pickup
Dummy Strat neck pickup
Scale Length
25.5"
EVH ELECTRIC GUITARS AND BASSES 2-YEAR LIMITED WARRANTY
Fender warrants this EVH brand electric guitar or bass to be free from defects in materials and workmanship for two (2) years from the date of original purchase, subject to the limitations set forth herein ("Limited Warranty"). This Limited Warranty applies only to the original retail purchaser when this instrument is purchased from an Authorized EVH Dealer and is subject to the limitations set forth herein. IMPORTANT: PLEASE RETAIN YOUR ORIGINAL SALES RECEIPT, AS IT IS YOUR PROOF OF PURCHASE VALIDATING THIS LIMITED WARRANTY.
FMIC has established a network of independent Authorized EVH Service Centers for warranty service. The EVH Dealer from whom you purchased your electric guitar or bass may also be authorized for warranty service and should be the first point of contact when service of any kind is required for your EVH electric guitar or bass. To receive warranty service, return the complete instrument to an Authorized EVH Service Center, with your sales receipt as proof of purchase, during the applicable Limited Warranty period. To the extent feasible, defective components that qualify for coverage under this Limited Warranty will be repaired or replaced (at Fender's discretion) without charge. If the qualified component is not repaired, Fender may, at its sole discretion, either replace with a comparable product or refund the purchase price. Remedies beyond normal service repair of any EVH instrument require both an evaluation and confirmation of the defect and a direct recommendation to Fender from an Authorized EVH Service Center for alternative considerations.
All transportation, insurance and freight charges associated with warranty service and repairs on EVH electric guitars or basses are the responsibility of the purchaser, as is any service initiated for the purpose of customizing setups or adjustments beyond factory specifications. Initial standard setup and adjustment of the instrument and its components at the time of purchase are considered normal Dealer product preparation and are not covered by this Limited Warranty.
Limitations and Exclusions
The following items are not covered by this Limited Warranty.
Fret wear, saddle wear, nut wear, strings and batteries.
Checking, shrinking, sinking, discoloration and wear of lacquer finishes.
Setups, adjustments or routine maintenance of any kind.
Damage to finishes or cracks, splitting, or warpage of wood due to changes in temperature or humidity, exposure to or contact with sun, fire, moisture, body salts and acids of perspiration, guitar straps, guitar stands/hangers made from vinyl, plastic, rubber or other synthetic materials, any other chemicals or non-EVH approved polishes.
Damage, corrosion or rusting of any hardware components caused by humidity, salty air, or exposure to the moisture, body salts and acids of perspiration.
Any damage to an instrument resulting from customization or modification.
Normal wear and tear on any part of the instrument, case or gig bag including jacks, controls, switches, plated surfaces, tuning machines, pickguards, zippers, clasps, handles, latches, case hardware etc.
All other damage and deterioration due to normal usage, wear and tear, aging, accidents, neglect, abuse, or Acts of Nature.
Any instrument, whose serial number is missing, altered or tampered with in any fashion.
Any instrument purchased from anyone other than an Authorized EVH Dealer.
Instruments that have been serviced by unauthorized persons (any person other than a EVH Certified Technician at an Authorized EVH Service Center).
THE FOREGOING CONSTITUTES THE ONLY WARRANTY MADE BY FENDER WITH RESPECT TO THE PRODUCTS AND IS MADE EXPRESSLY IN LIEU OF ALL OTHER WARRANTIES EXPRESS OR IMPLIED. Any implied warranties, including without limitation, any implied warranties of merchantability or fitness for any particular purpose, imposed under state law are limited to the duration of this Limited Warranty. In so far as such warranties cannot be disclaimed, Fender limits the duration and remedies of such warranties to the duration of this express warranty and, at Fender's option, to the repair, replacement or refund described herein. Some states, provinces, or countries do not allow limitations on how long an implied warranty lasts, so the above limitations may not be applicable to you.
FMIC ASSUMES NO LIABILITY FOR PROPERTY DAMAGE RESULTING FROM FAILURE OF THIS PRODUCT NOR ANY LOSS OF INCOME, SATISFACTION, OR DAMAGES ARISING FROM THE LOSS OF USE OF SAME DUE TO DEFECTS OR AVAILABILITY OF SAME DURING SERVICE.
THIS WARRANTY GIVES YOU SPECIFIC LEGAL RIGHTS THAT VARY FROM STATE TO STATE (OR BY COUNTRY OR PROVINCE). OTHER THAN AS PERMITTED BY LAW, FENDER DOES NOT EXCLUDE, LIMIT OR SUSPEND OTHER RIGHTS YOU MAY HAVE, INCLUDING ANY RIGHTS UNDER CONSUMER PROTECTION LAWS THAT CANNOT BE LAWFULLY CHANGED OR EXCLUDED. FURTHER, FENDER DOES NOT EXCLUDE, LIMIT OR SUSPEND OTHER RIGHTS YOU MAY HAVE AGAINST THE PERSON WHO SOLD THE EVH ELECTRIC GUITAR OR BASS TO YOU IF THAT PERSON HAS BREACHED THEIR SALES CONTRACT WITH YOU. FOR A FULL UNDERSTANDING OF YOUR RIGHTS YOU SHOULD CONSULT THE LAWS OF YOUR COUNTRY, PROVINCE OR STATE.
Standard Shipping