Skip product carousel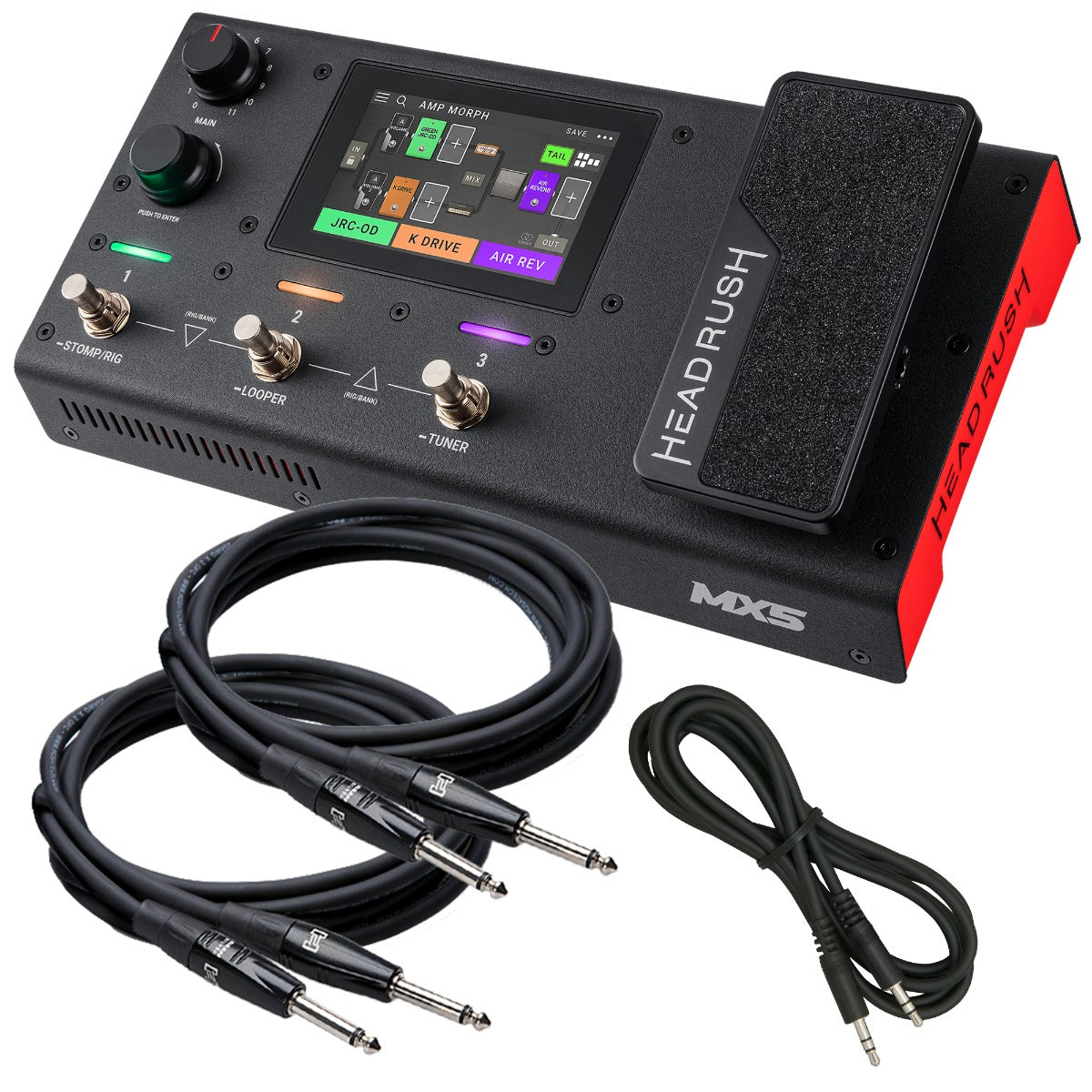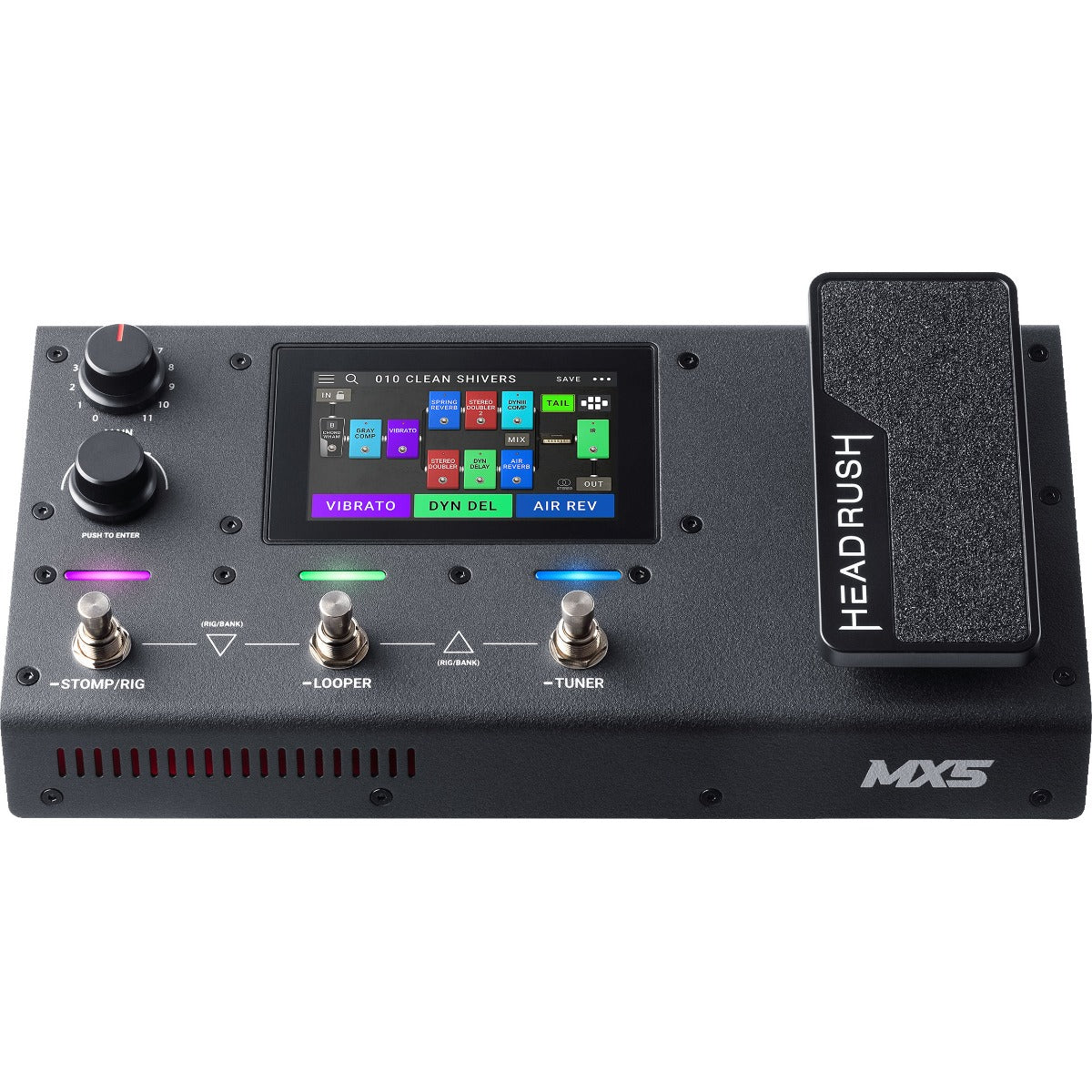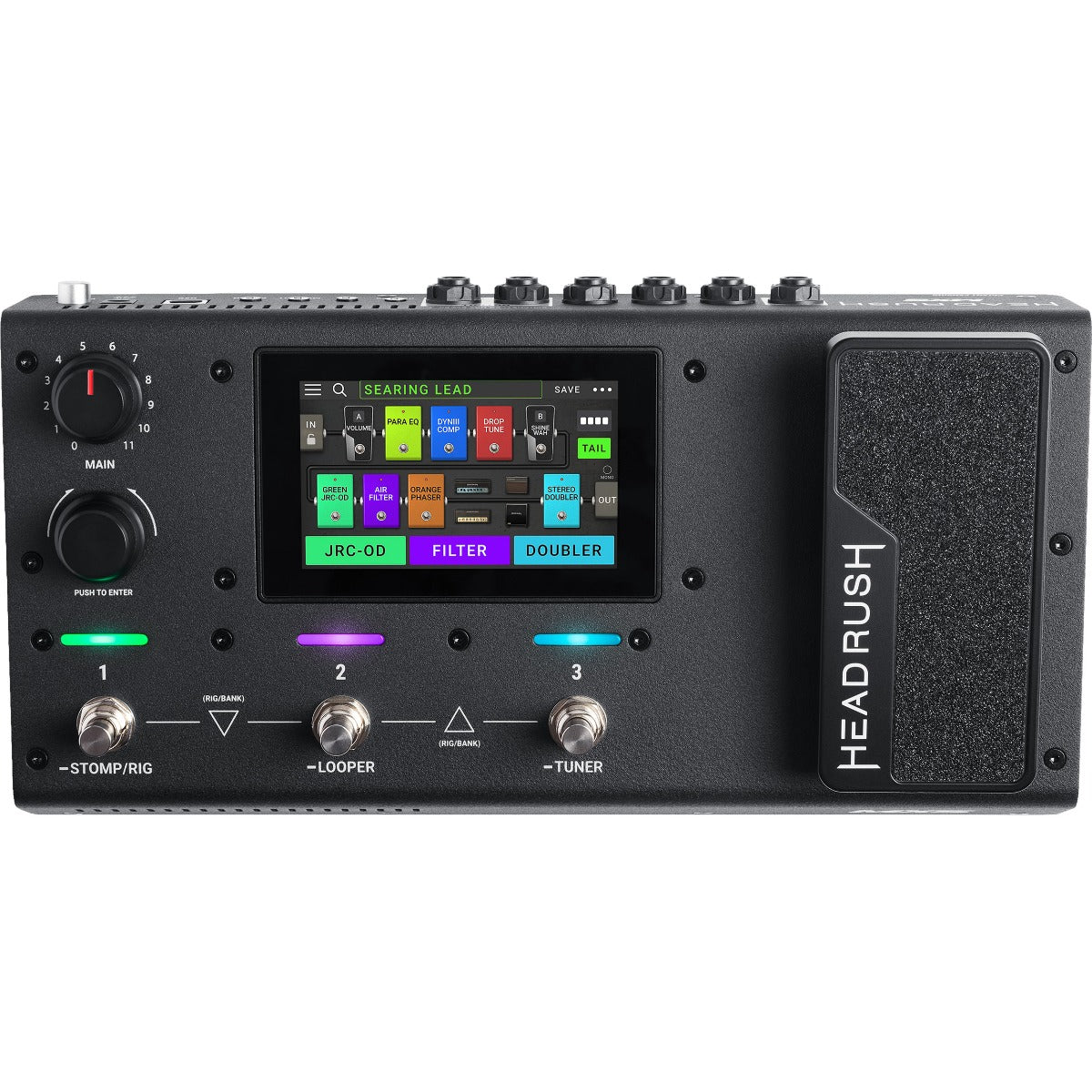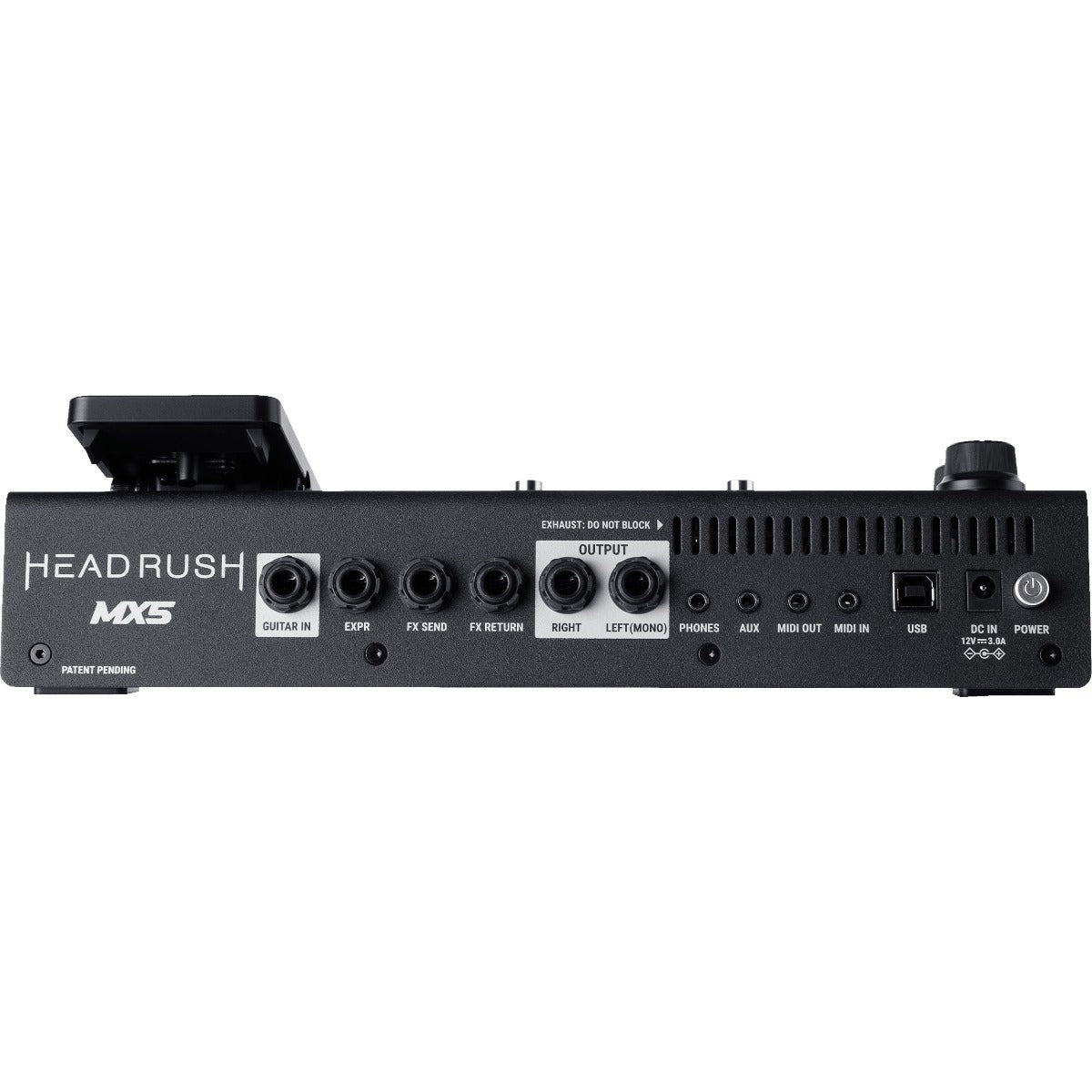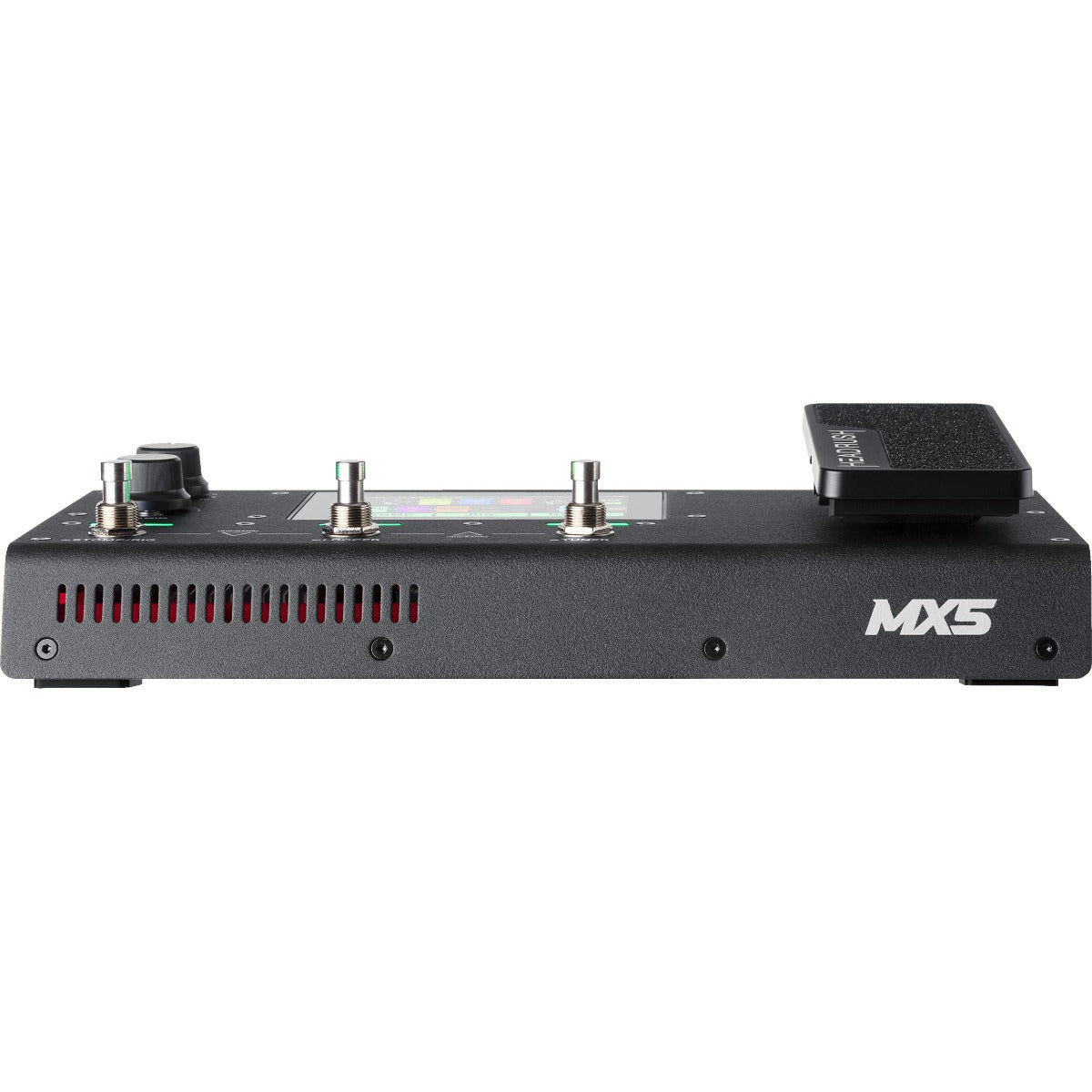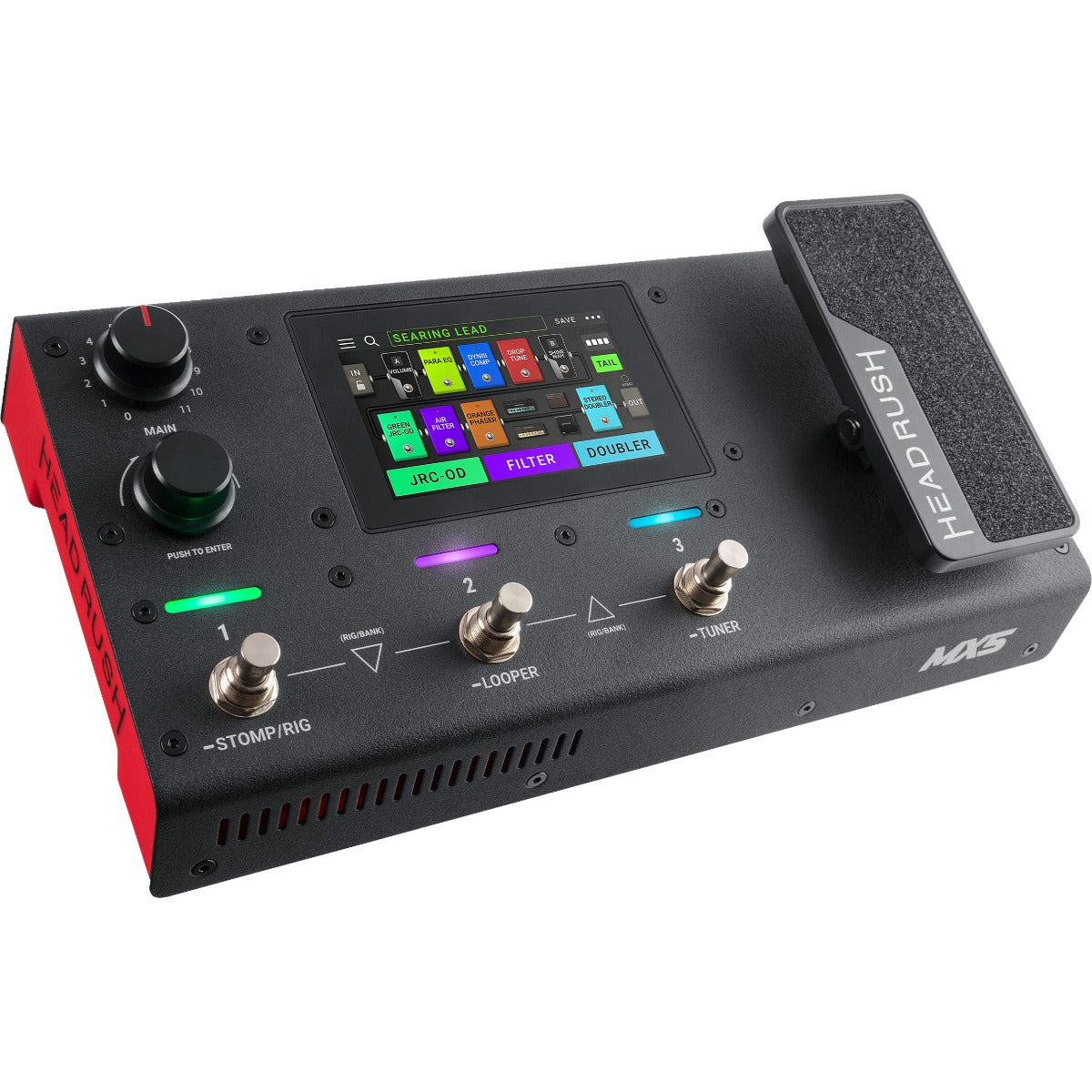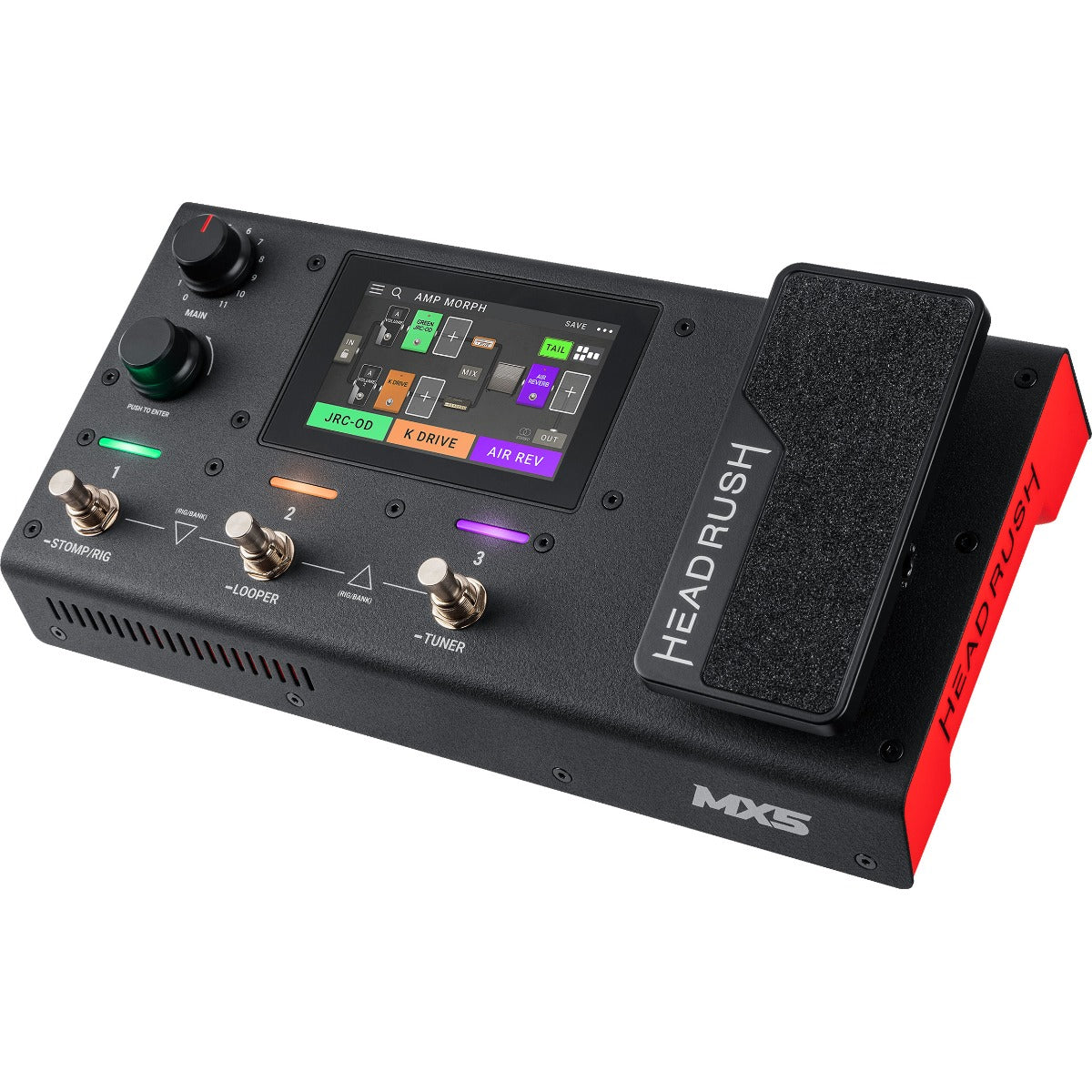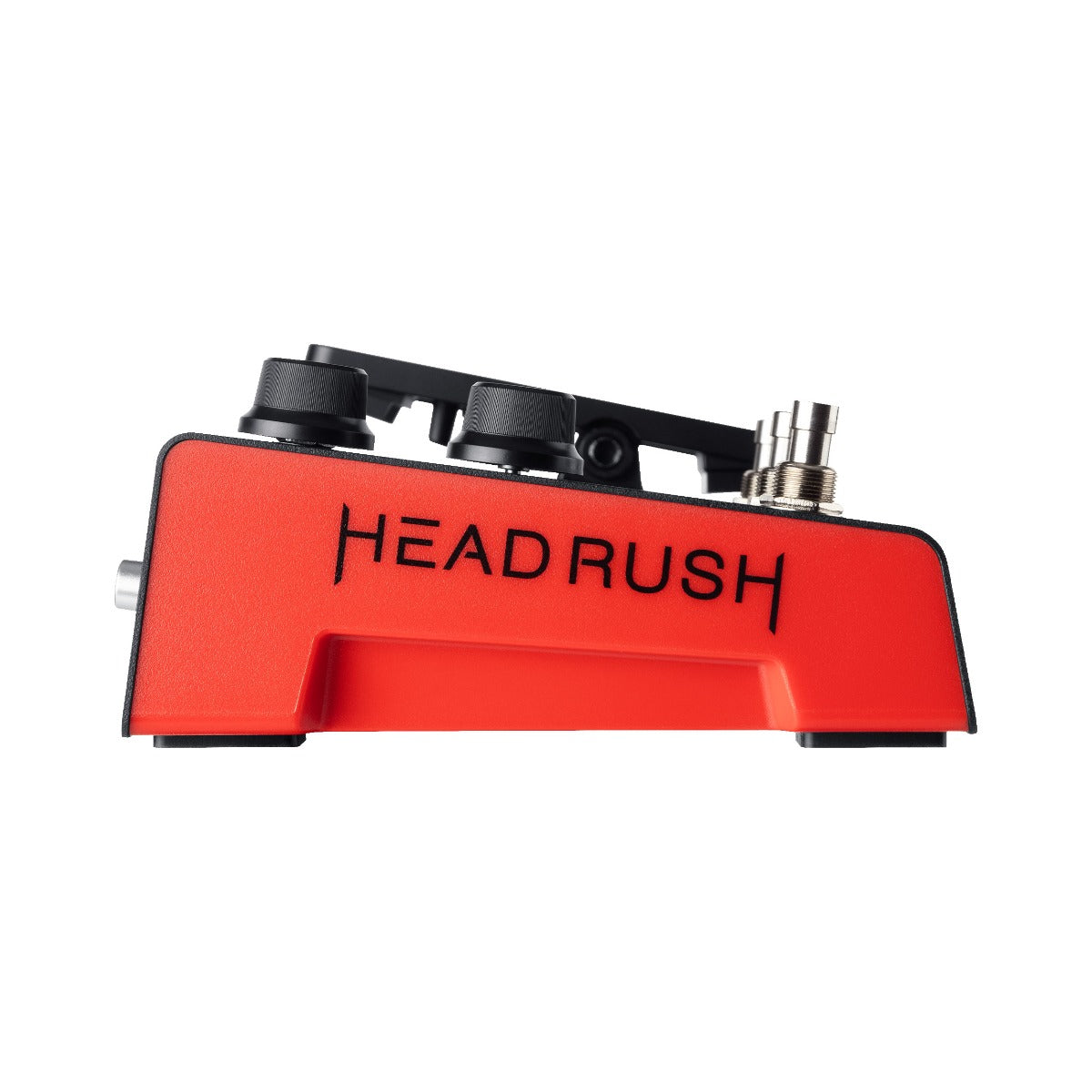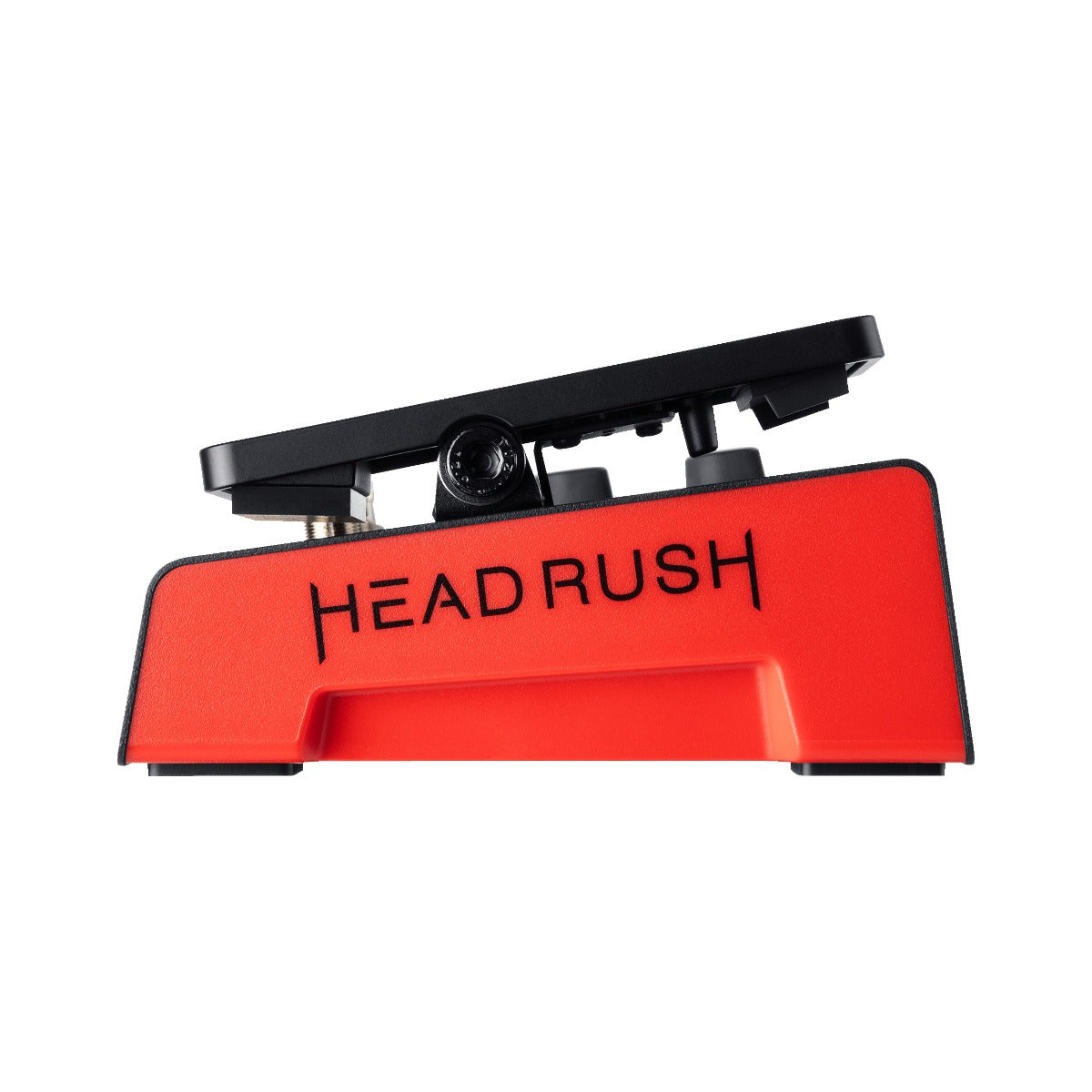 HeadRush MX5 Amp Modeling Guitar Effect Processor CABLE KIT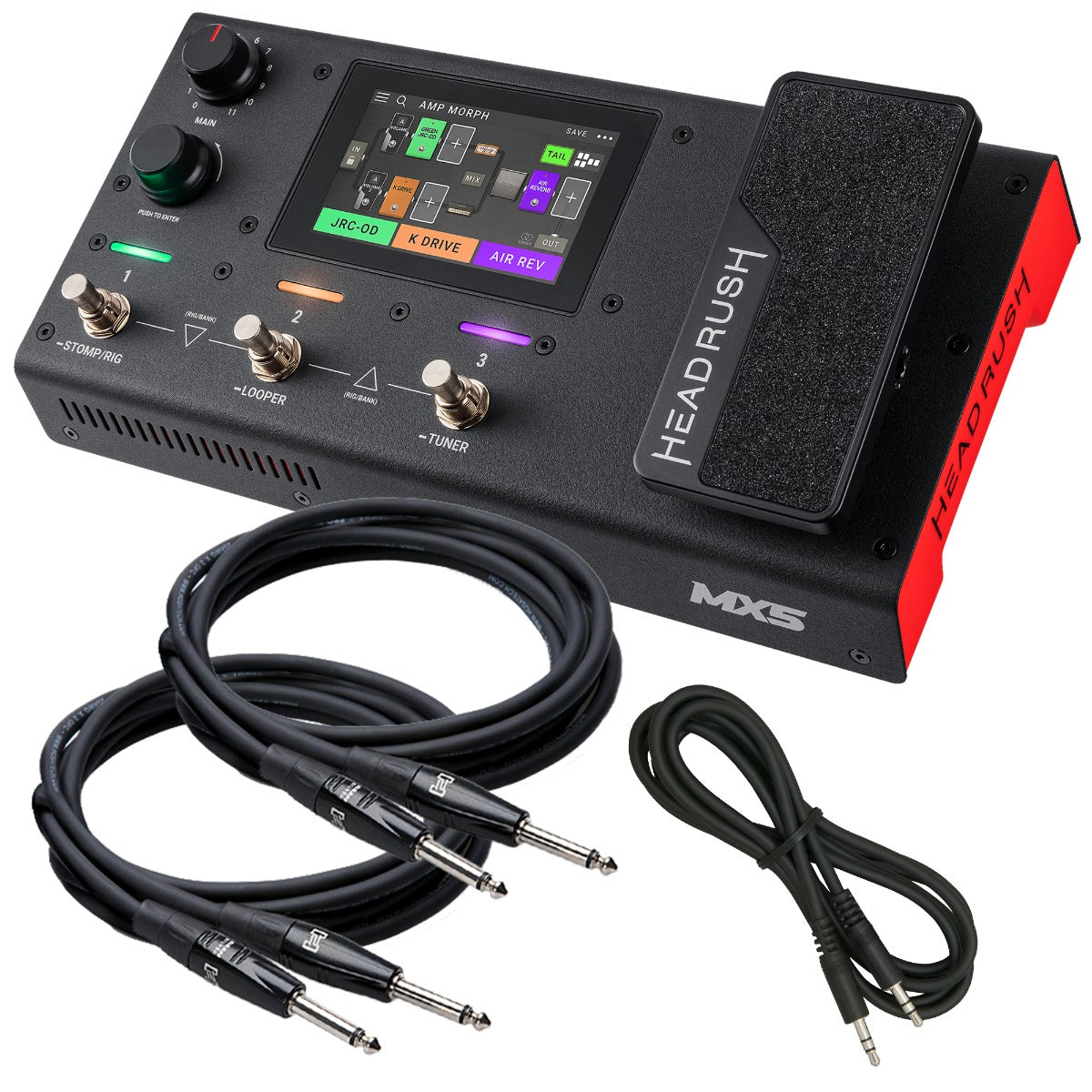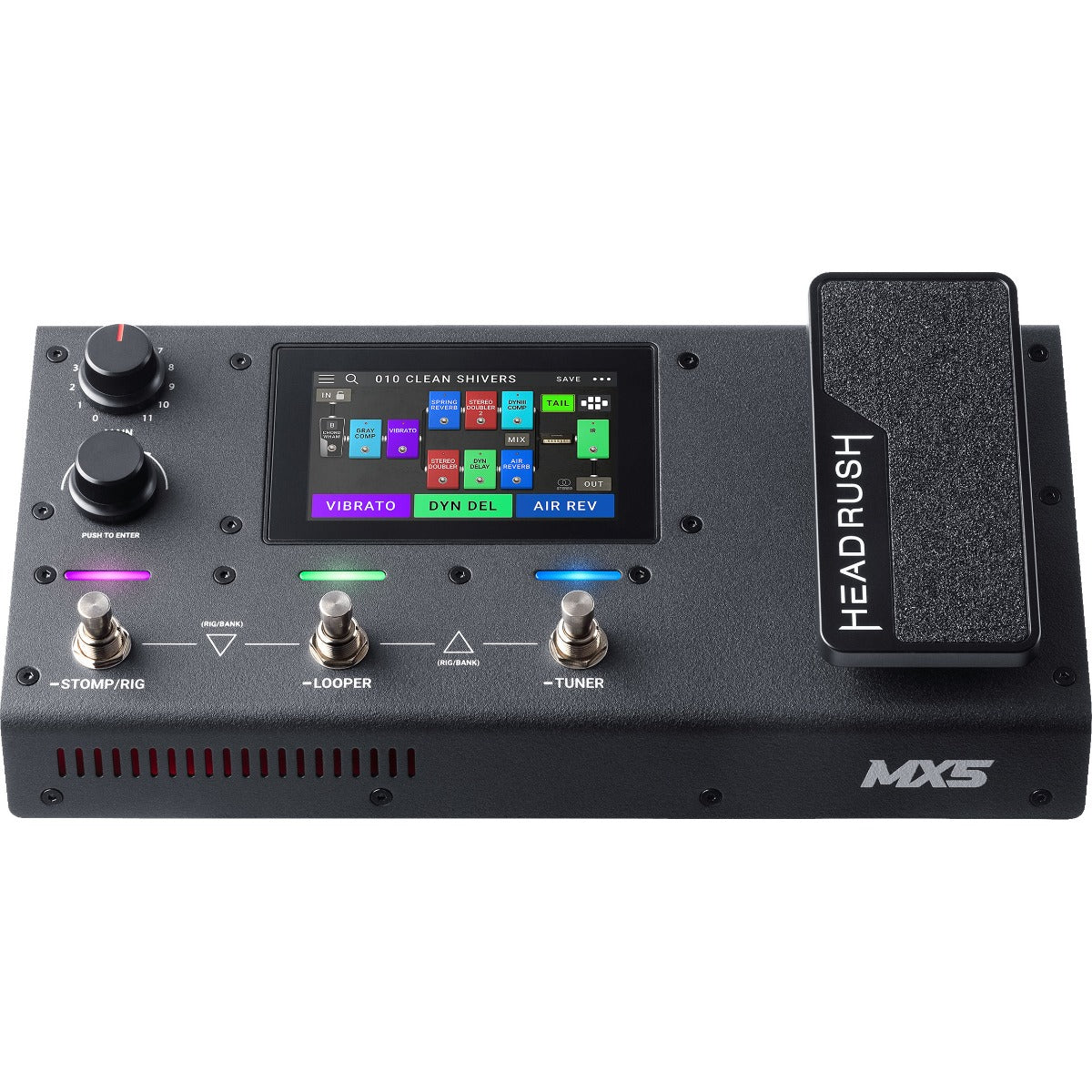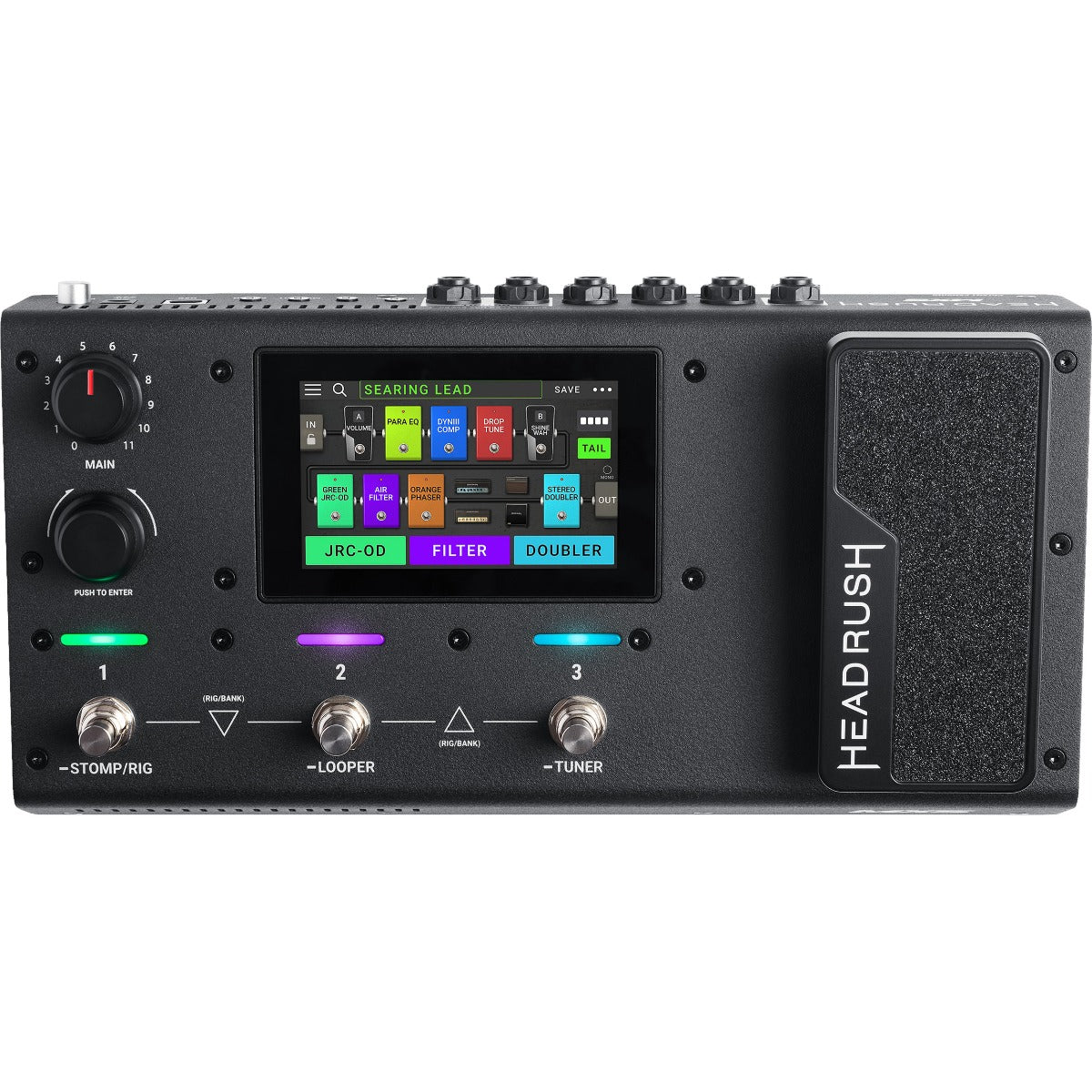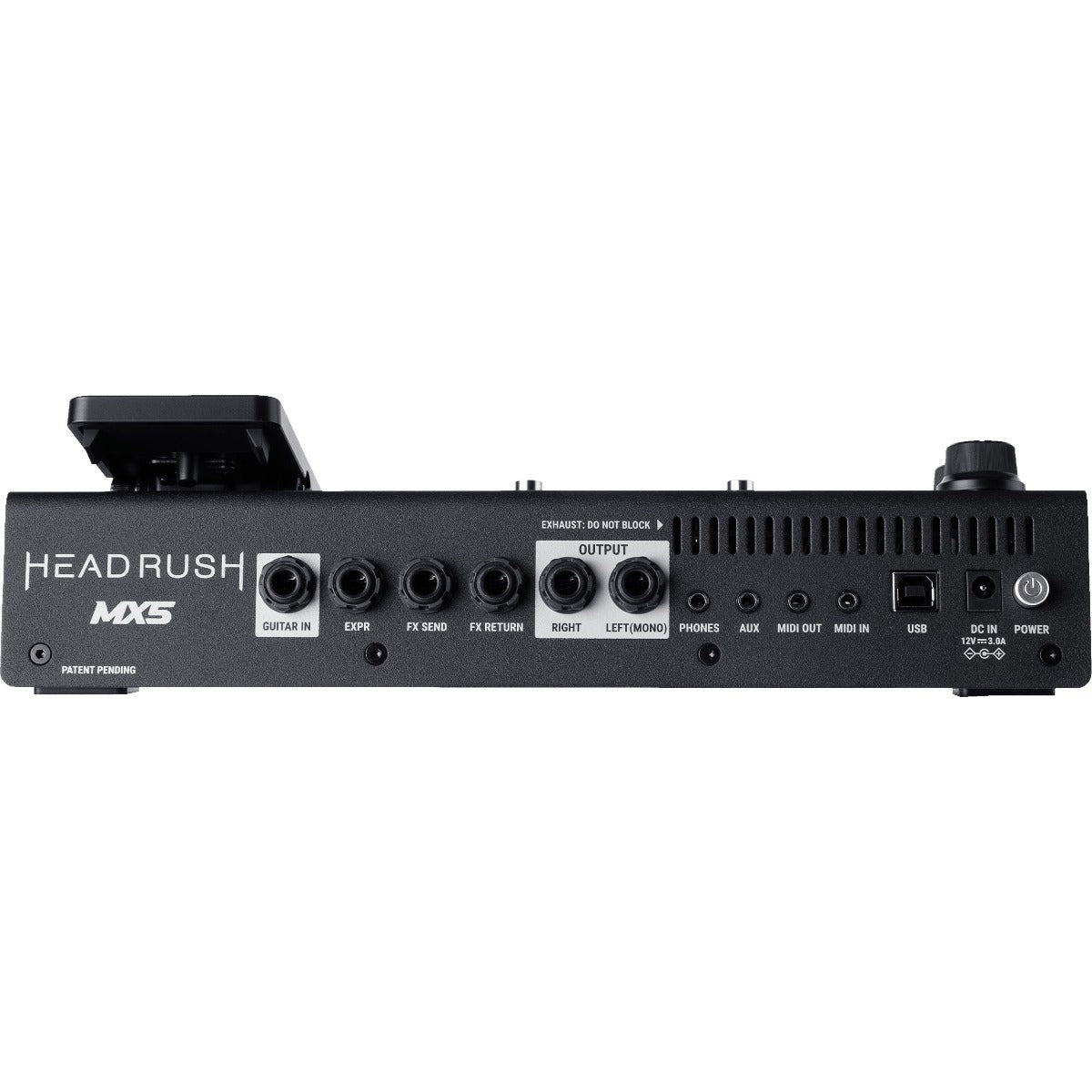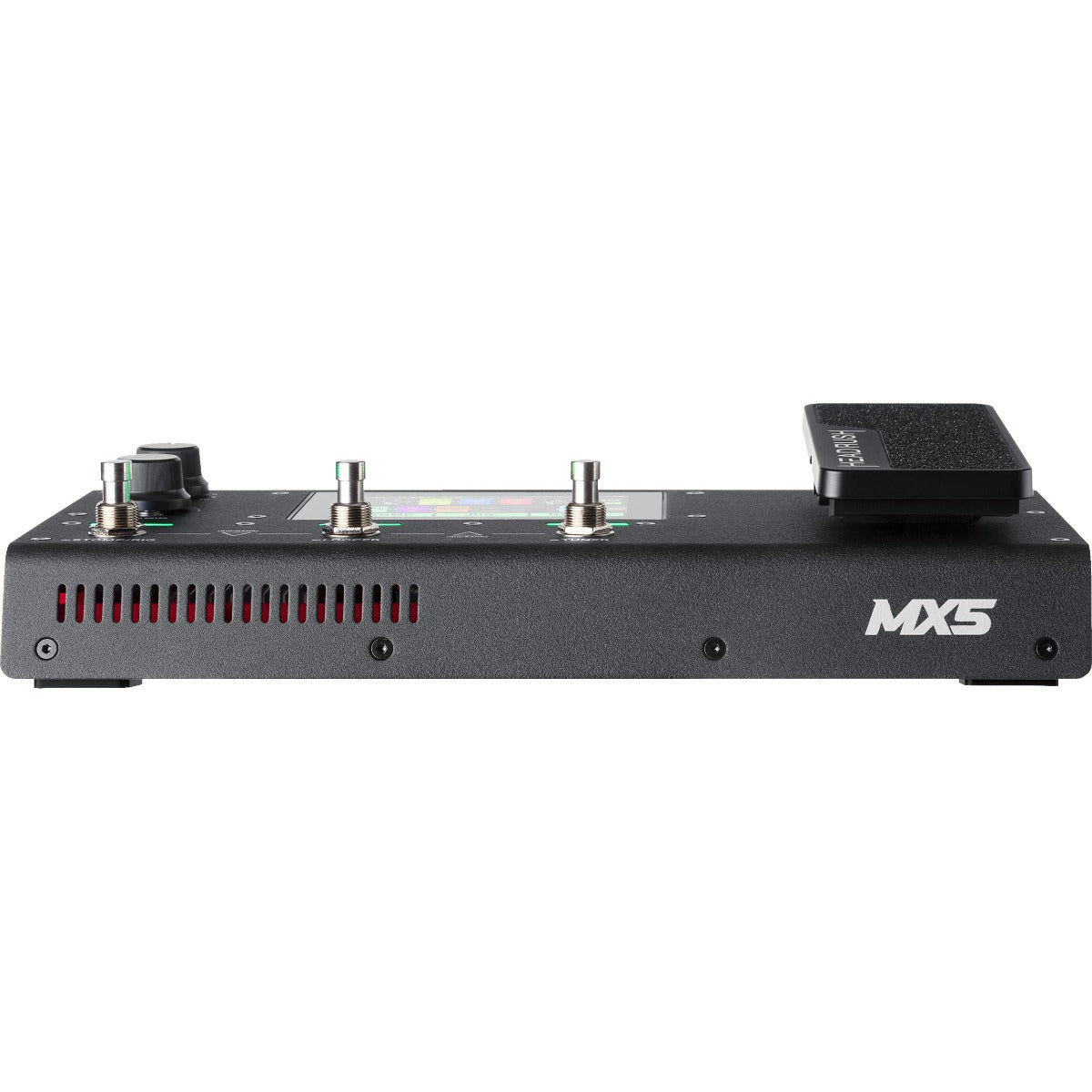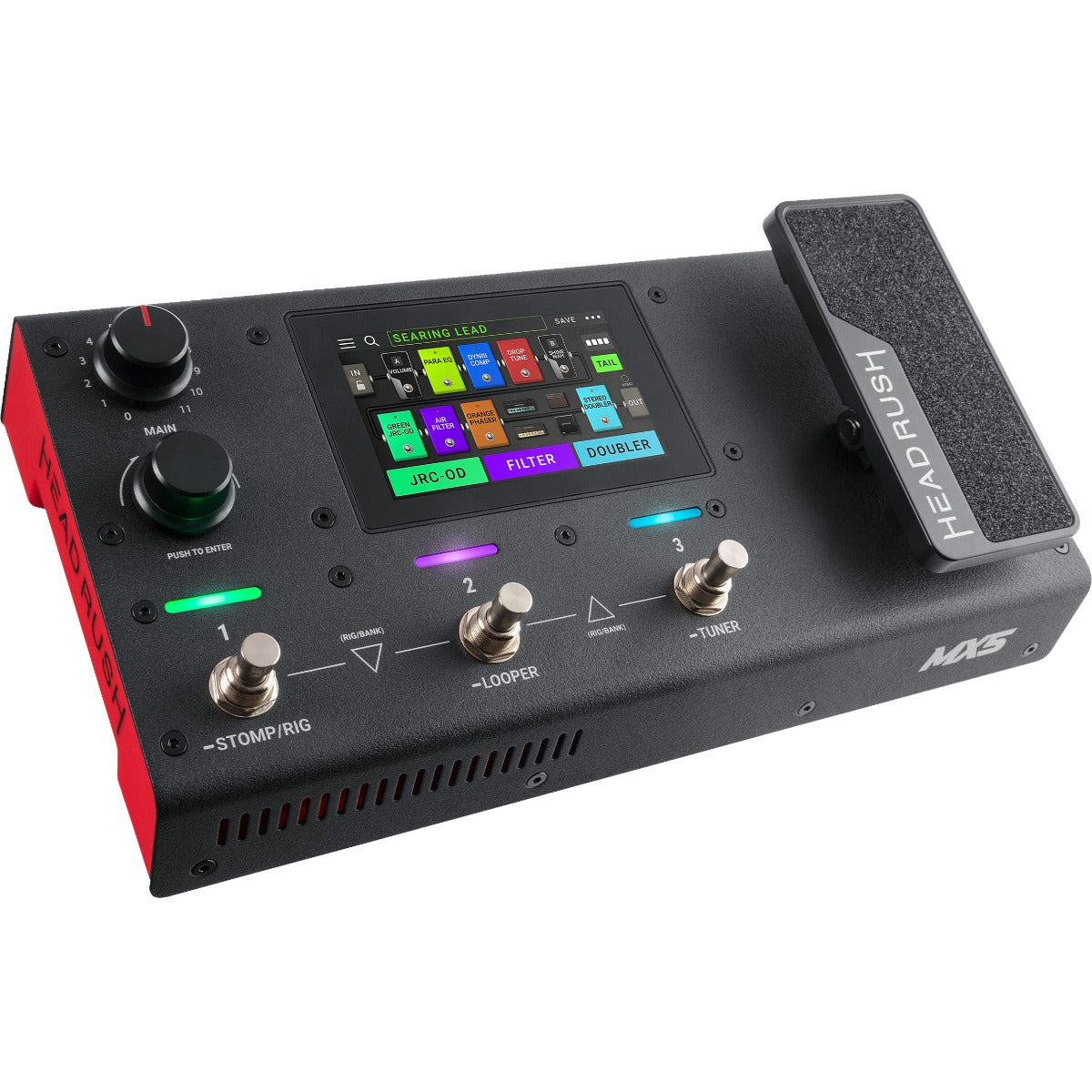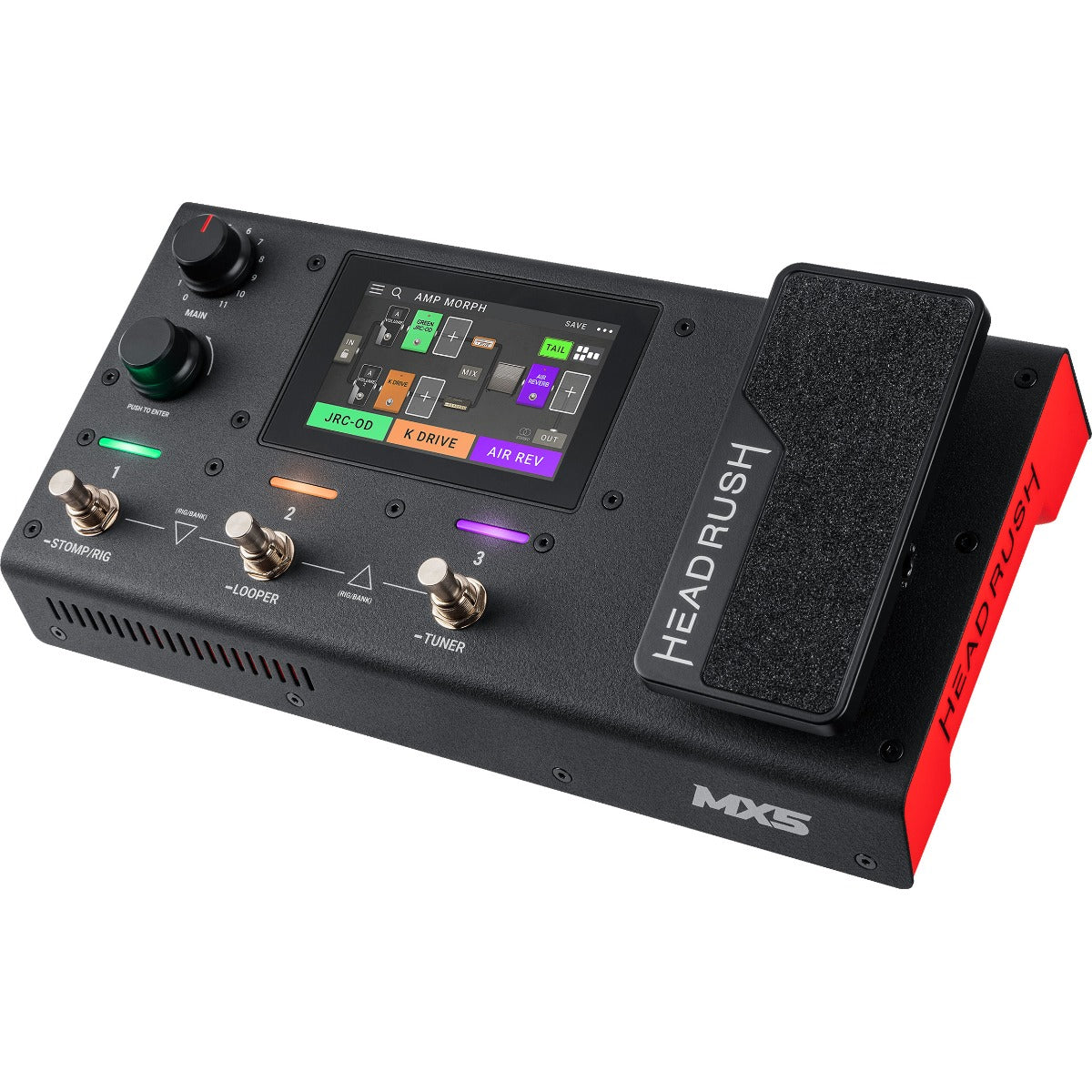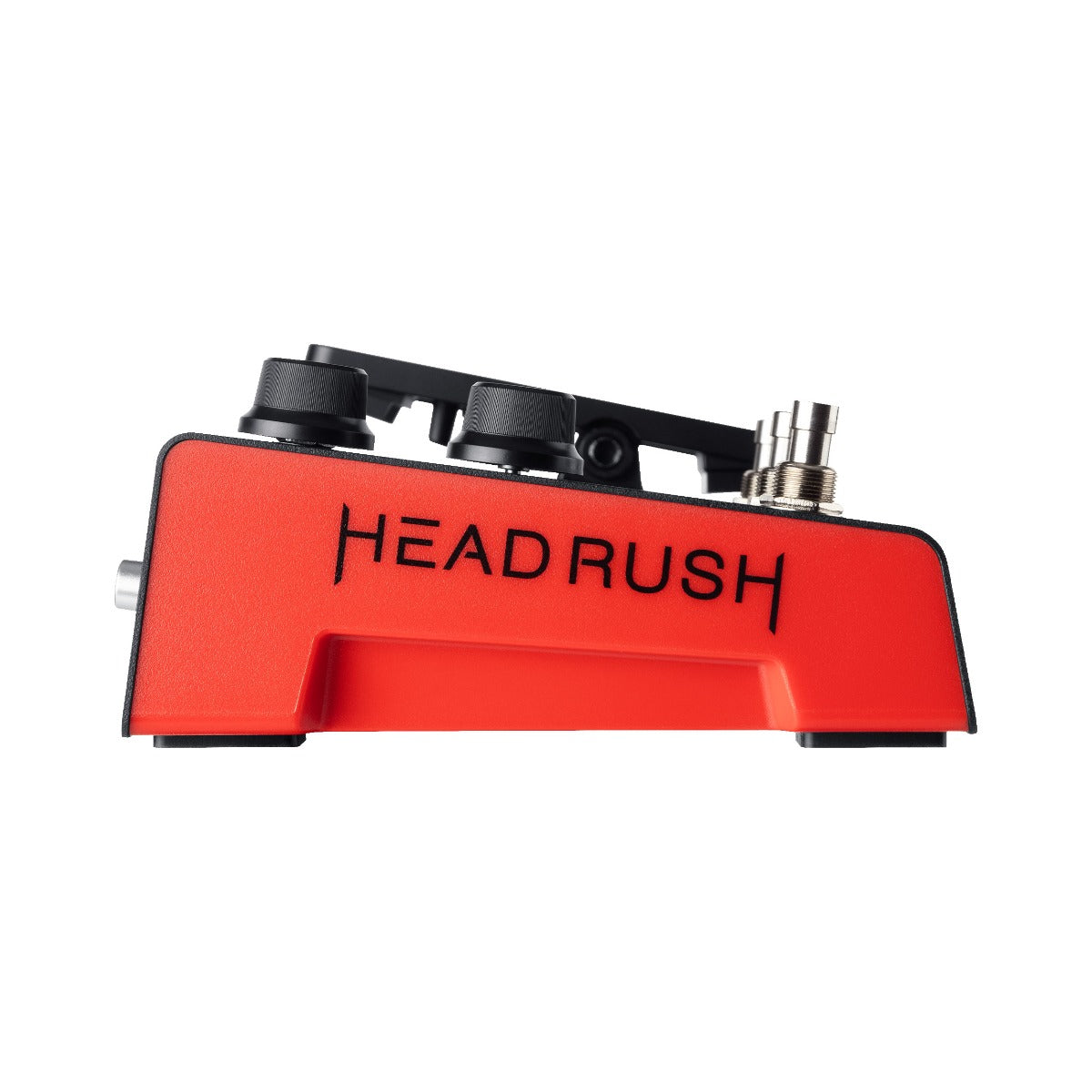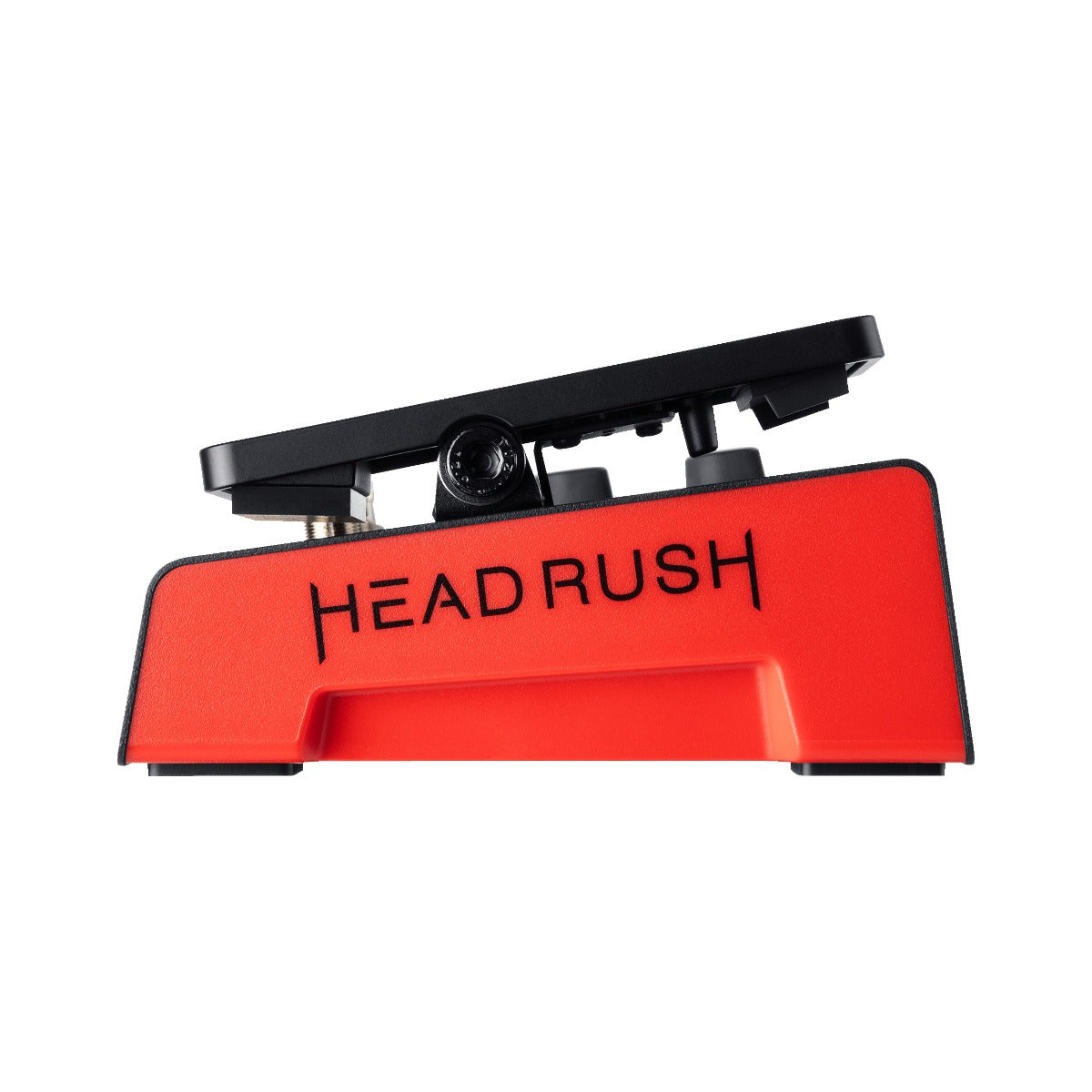 HeadRush MX5 Amp Modeling Guitar Effect Processor CABLE KIT
3 items included
This Kraft Music Bundle Includes
Click on a product to view more details.
HeadRush MX5 Amp Modeling Guitar Effect Processor
Sells separately for $399.00
Featuring a finely-tuned quad-core processor and 4" high-resolution touch display, HeadRush MX5 is an incredibly easy to use and realistic-sounding guitar effects and amp modeling processor. The touch display enables you to touch, swipe and drag-and-drop to instantly create and edit your perfect tone in an unprecedentedly realistic and intuitive way.
Want to Customize the Contents of Your Bundle?
Want to add, remove or upgrade this item? Our expert sales advisors are happy to help customize a bundle for you.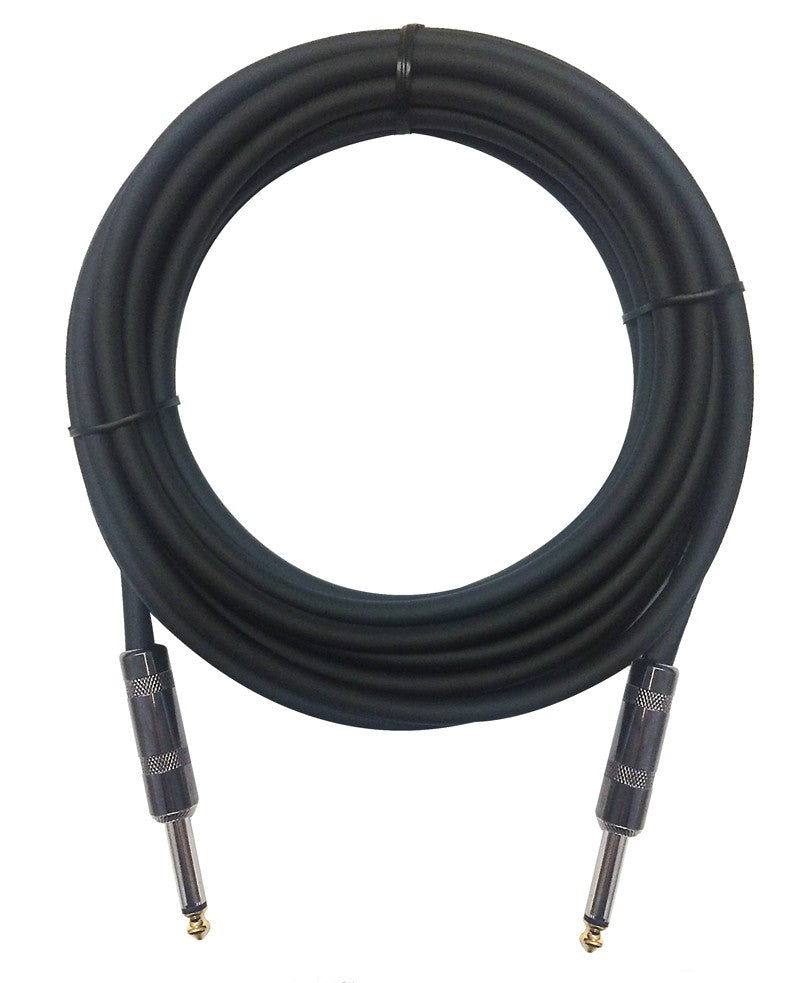 Kraft Music Instrument Cable by Strukture - 10'
Sells separately for $7.95
This instrument cable has a metal headshell and spring-steel strain relief, a great addition to this exclusive offer.
Want to Customize the Contents of Your Bundle?
Want to add, remove or upgrade this item? Our expert sales advisors are happy to help customize a bundle for you.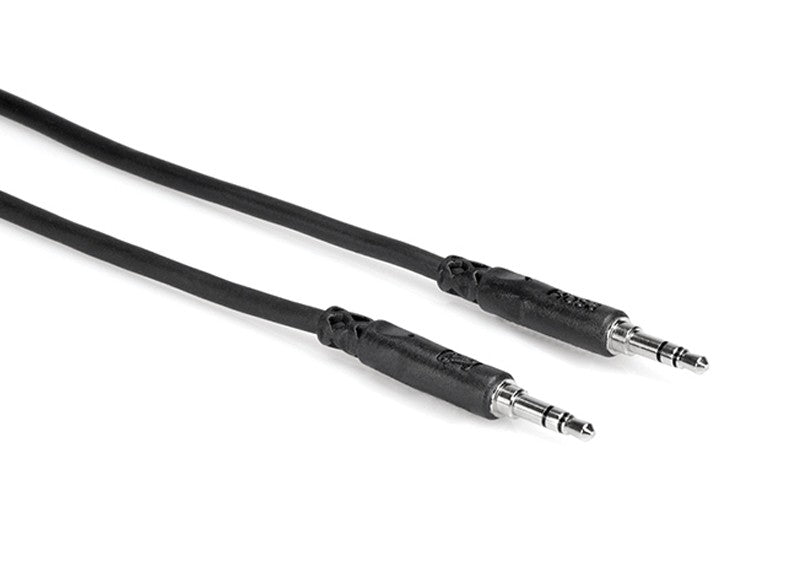 Hosa CMM-110 Stereo Interconnect 1/8" to 1/8" - 10'
Sells separately for $8.95
This cable is great for connecting equipment that uses 3.5mm (1/8") mini connectors like mp3 players, smartphones, tablets, portable CD players, and more.
Want to Customize the Contents of Your Bundle?
Want to add, remove or upgrade this item? Our expert sales advisors are happy to help customize a bundle for you.
Featuring a finely-tuned quad-core processor and 4" high-resolution touch display, HeadRush MX5 is an incredibly easy to use and realistic-sounding guitar effects and amp modeling processor. The touch display enables you to touch, swipe and drag-and-drop to instantly create and edit your perfect tone in an unprecedentedly realistic and intuitive way.
Custom-designed DSP system with powerful quad-core processing
High-resolution 4-inch touch display with guitarist-centric interface
Versatile library of realistic and responsive amplifier, cabinet, mic and effects models
Gapless preset switching with reverb/delay tail spillover
Load virtually unlimited custom impulse response files
Hands-free edit mode for quick on-the-fly live editing
Looper with save and load loop features
Built-in expression pedal with toe-switch and adjustable tension
Stereo FX loop for external effects or 4-cable connectivity with guitar/bass amps
Record and re-amp via USB at up to 24-bit/96KHz
Amazing 4" touch display
Center stage on HeadRush MX5 is an ultra-responsive 4-inch touch display and a guitarist- centric, intuitive user interface: literally touch, swipe and drag-and-drop to instantly create rigs with lightning speed and precision. For the gigging guitarist, MX5's radiant high-resolution display has you covered, providing critical feedback exactly where and when you need it, especially when tweaking tones via the expression pedal in hands-free mode. Everything about HeadRush MX5 is designed to make it simple, fast and intuitive to jump right in and create your perfect tone in seconds.
Perfectly portable and flexible
Equally suited to home recording or live performance situations, HeadRush MX5 is incredibly portable at just 3.5 lb and can fit in most backpacks or instrument cases. It's never been this easy to bring the best classic vintage and modern gear to rehearsals, performances or recording sessions near or far without breaking the bank – or your back!
Ever-expanding universe of incredibly realistic models
HeadRush MX5 packs a big punch of tone with an immense library of 46 amplifier models, 15 cabinets with 10 microphone emulations, 300 impulse responses and 63 premium FX! All HeadRush models are flawless simulations of the most sought-after vintage and modern gear with unrivaled accuracy and authentic dynamic response. There's even an expertly curated selection of premium HeadRush FX that can't be found anywhere else. This library will continue to be expanded with regular firmware updates that add new models and features based on user requests and feedback.
Unlimited tonal expansion with third-party IR support
Out of the box, HeadRush MX5 includes over 300 precision-captured impulse responses, meticulously crafted in IoSR Studios with some of the most historic guitar cabs inspired by Marshall, Fender, Vox, Orange and more. Loading your own third-party IRs is a snap: simply hook up MX5 to your Mac or PC via USB, drag and drop your choice IRs. Plus, with virtually unlimited storage for IRs with 1,024 and 2,048 sample lengths, MX5's tone sculpting possibilities are virtually limitless.
Gapless preset switching with reverb/delay tail spillover
Gapless preset switching is an exclusive HeadRush feature, ensuring any reverb or delay tails will continue to ring out even after changing your preset or rig. The result? No break in your sound, and your rig changes sound fluid and seamless.
Easy-to-use Stomp, Rig and Hybrid footswitch modes
Controlling your sound has never been easier courtesy of MX5's 3 built-in footswitches that toggle 3 models or scenes, change rigs or access your setlists. Quickly switch among footswitch modes by holding footswitch 1 to select your desired mode. You can also select setlists, enter hands-free mode and lock the touch display from this menu.
Convenient hands-free edit mode
Need to add a little more gain at the last minute? No problem! Using the hands-free edit mode, you can adjust any parameter mid-song without having to stop playing and/or bend over. Simply select the model that you want to adjust, select the parameter and then use the built-in expression pedal to fine-tune your settings.
Toggle multiple effects with just one footswitch
The powerful Scenes feature enables you to turn multiple models on or off in each rig, as well as select different model presets using only one footswitch. When you press the footswitch assigned to that scene, all models included in that scene will turn on or off or change to a different preset depending on how you assign them. This powerful feature is an incredibly efficient way to create quick access for different tones in the same rig.
Fully-assignable expression pedal for maximum control
The expression pedal has two powerful modes – Classic and Advanced – alongside a toe switch to switch between Expression Pedal A and B. In Classic mode, if you assign a wah pedal to Expression Pedal A and a volume pedal to Expression Pedal B, only one of them will be active at any time; when you are controlling the wah pedal, the volume pedal will be bypassed and vice versa. In Advanced mode you can assign up to four parameters to each expression pedal; moving the pedal will adjust all of its assigned parameters simultaneously. Using the toe switch will select the other expression pedal and leave the current pedal's parameters active and at its maximum value.
Best-in-class looper with save and load functionality
HeadRush MX5 has an advanced built-in looper that you can use to layer parts during performances or use as a songwriting tool when inspiration strikes. You can load WAV and MP3 audio files into the Looper to play along with backing tracks; you can also save your new loops as WAV files and export them to your Mac/PC via USB Transfer Mode for sharing with the world. Each loop has a maximum length of 5 minutes and can hold up to a whopping 20 minutes of layered audio at a time.
Instantly apply global EQ to sound great in any room
HeadRush MX5's global EQ feature is perfect for tailoring your sound to any space; whether it's a venue or rehearsal space, fine tune your presets to ensure you sound great and complement the acoustic characteristics of any environment. Dial back the low and low mids in boomier venues or push up the high end in soundproofed rehearsal spaces – whatever your space demands, MX5 delivers, letting you quickly apply some corrective equalization to your main 1/4" outputs and all of your presets without permanently altering them.
Quickly organize your rigs for performances
You can use the convenient setlists feature to quickly organize and reorder your rigs for an upcoming performance. A setlist is a saved collection of rigs, which you can save and recall at a later time – perfect if you only need some of your rigs for a performance.
Record and reamp via the built-in USB audio interface
HeadRush MX5's USB connection opens up a world of feature-rich, intuitive recording and reamping to a computer. When HeadRush MX5 is connected to your computer, you can select and use it as a 24-bit 96 kHz audio interface. When choosing the reamp option you can add the tone coloration of an amp to a pre-recorded audio signal, in this case sending audio from your DAW through HeadRush MX5 and then recording it back into your DAW. This time-saving feature is perfect for changing the sound of a pre-recorded killer guitar take without having to manually play the same part again.
All the connections you need
HeadRush MX5 assimilates seamlessly into your current rig with all the connections you need to handle any performance situation. Combining a 1/4" guitar input, two 1/4" TRS outputs switchable between amp or line level, a 1/8" output for headphones, 5-pin MIDI in/out via two 1/8" to 5-pin adapters, plus an onboard 1/4" stereo FX loop to integrate external pedals at any point in the signal chain, effortless integration into your existing setup is a snap. HeadRush MX5 even features a 1/4" TRS input to connect an external expression pedal. HeadRush MX5 unites your existing equipment while opening up a world of new sonic possibilities.
SKU
HEA-MX5CK
MPN
MX5
Vendor
HeadRush
Effect Type
Multi-Effects
Included From Manufacturer
2 × 1/8" to 5-pin MIDI adapters
USB cable
Power supply
Mpn
MX5
Product Unique Features
High-resolution 4-inch touch display with guitarist-centric interface
Onboard looper with save and load loop features
Load custom impulse response files
Record and re-amp via USB at up to 24-bit/96KHz
Control Connections
1/4" TRS expression pedal input
1/8" MIDI input
1/8" MIDI output
2 × 1/8" to 5-pin MIDI adapters included
Effects
46 amplifier models
15 cabinets with 10 microphone emulations
300 impulse responses
63 premium FX
Audio Inputs
1/4" mono guitar input
1/4" stereo effects return input
1/8" stereo aux input
Audio Outputs
Dual balanced stereo 1/4" main output
1/8" stereo headphone output
1/4" stereo effects send output

On-board Expression Pedal
Yes
Number of Pedal Switches
3 × multi-function/assignable footswitches
Multi-function/assignable expression pedal toe switch
Power Adaptor
12 VDC, 3.0 A, center-positive adapter included
Product Weight
3.46 lb
USB Functionality
File Transfer/Storage;Recording Interface
Width
11.6"
Depth
7.6"
Height
2.75"
HeadRush Limited Warranty for products purchased in the USA
All Products: inMusic Brands, Inc. ('inMusic') warrants to the original purchaser that HeadRush products and all other accessories are free from defects in material and workmanship under normal use and service for the period commencing upon the date of purchase from an authorized HeadRush dealer and continuing for the following period of time after that date for one (1) year. inMusic warrants factory-refurbished merchandise to be free of material and operational defects for a period of ninety (90) days from the original date of retail sale. This refurbished merchandise warranty is not transferable.
This Limited Warranty is conditioned upon proper use of the product by the purchaser. This Limited Warranty does not cover: (a) damage caused by improper installation or improper connection to any peripheral; (b) damage caused by an external electrical fault; (c) damage from use of parts not manufactured or sold by HeadRush; (d) product purchased from anyone other than an HeadRush authorized dealer; (e) modifications to product not approved in writing by HeadRush; (f) equipment that has the serial number removed or made illegible; (g) normal cosmetic and mechanical wear; (h) damage or loss during transit to an Authorized HeadRush Repair Center; or (i) units that are purchased and/or located outside of the continental USA.
What are inMusic's obligations? During the applicable warranty period, HeadRush will repair or replace, at HeadRush's sole option, without charge to the purchaser, any defective component part of the product. To obtain service under this Limited Warranty, purchaser must first contact HeadRush and obtain a return merchant authorization ('RMA') number. Purchaser must then return the product to HeadRush in an adequate container for shipping, accompanied by purchaser's sales receipt or comparable proof of sale showing the date of purchase, the serial number of the product, and the seller's name and address. To obtain an RMA number and assistance on where to return the product, contact HeadRush customer service at (401) 659-8195. Upon receipt, HeadRush will repair or replace the defective products. HeadRush may, at HeadRush's sole option, use rebuilt, reconditioned, or new parts or components when repairing any product or replace a product with a rebuilt, reconditioned, new or comparable product. Repaired products will be warranted for a period equal to the remainder of the original Limited Warranty on the original product or for 90 days, whichever is longer. All replaced parts, components, boards, and equipment become the property of HeadRush. If HeadRush determines that any product is not covered by this Limited Warranty, purchaser must pay all parts, shipping, and labor charges for the repair or return of such product.
The warranties given in this limited warranty, together with any implied warranties covering HeadRush products, including without limitation any warranties of merchantability or fitness for a particular purpose, are limited to the duration of this limited warranty. Except to the extent prohibited by applicable law, inMusic or HeadRush shall not be liable for any special, incidental, consequential, indirect or similar damages, loss of profits, damages to purchaser's property, or injury to purchaser or others arising out of the use, misuse or inability to use any HeadRush product, breach of warranty, or negligence, including but not limited to inMusic's or HeadRush's own negligence, even if inMusic, HeadRush, or their agents have been advised of such damages, or for any claim brought against purchaser by any other party. This limited warranty is the complete warranty for HeadRush products, and is given in lieu of all other express warranties. This limited warranty shall not extend to anyone other than the original purchaser of this product and states purchaser's exclusive remedy. If any portion of this limited warranty is illegal or unenforceable by reason of any law, such partial illegality or unenforceabilty shall not affect the enforceability of the remainder of this limited warranty which purchaser acknowledges is and will always be construed to be limited by its terms or as limited as the law permits. This Limited Warranty allocates risk of product failure between purchaser and HeadRush, and HeadRush's product pricing reflects this allocation of risk and the limitations of liability contained in this Limited Warranty. The agents, employees, distributors, and dealers of HeadRush are not authorized to make modifications to this Limited Warranty, or make additional warranties binding on HeadRush or inMusic. Accordingly, additional statements such as dealer advertising or presentation, whether oral or written, do not constitute warranties by HeadRush or inMusic and should not be relied upon.
Some states do not allow the exclusion or limitations of incidental or consequential damages or how long an implied warranty lasts, so the above limitations or exclusions may not apply to purchaser.
This Limited Warranty gives you specific legal rights. You may also have other rights, which vary from one jurisdiction to another.
Please record the serial number of your unit as shown on the back of the chassis as well as the name of the dealer from whom you purchased the unit. Retain this information and your original purchase receipt for your records. Go to the HeadRush website to register your product.
Standard Shipping