Skip product carousel
Bonus Item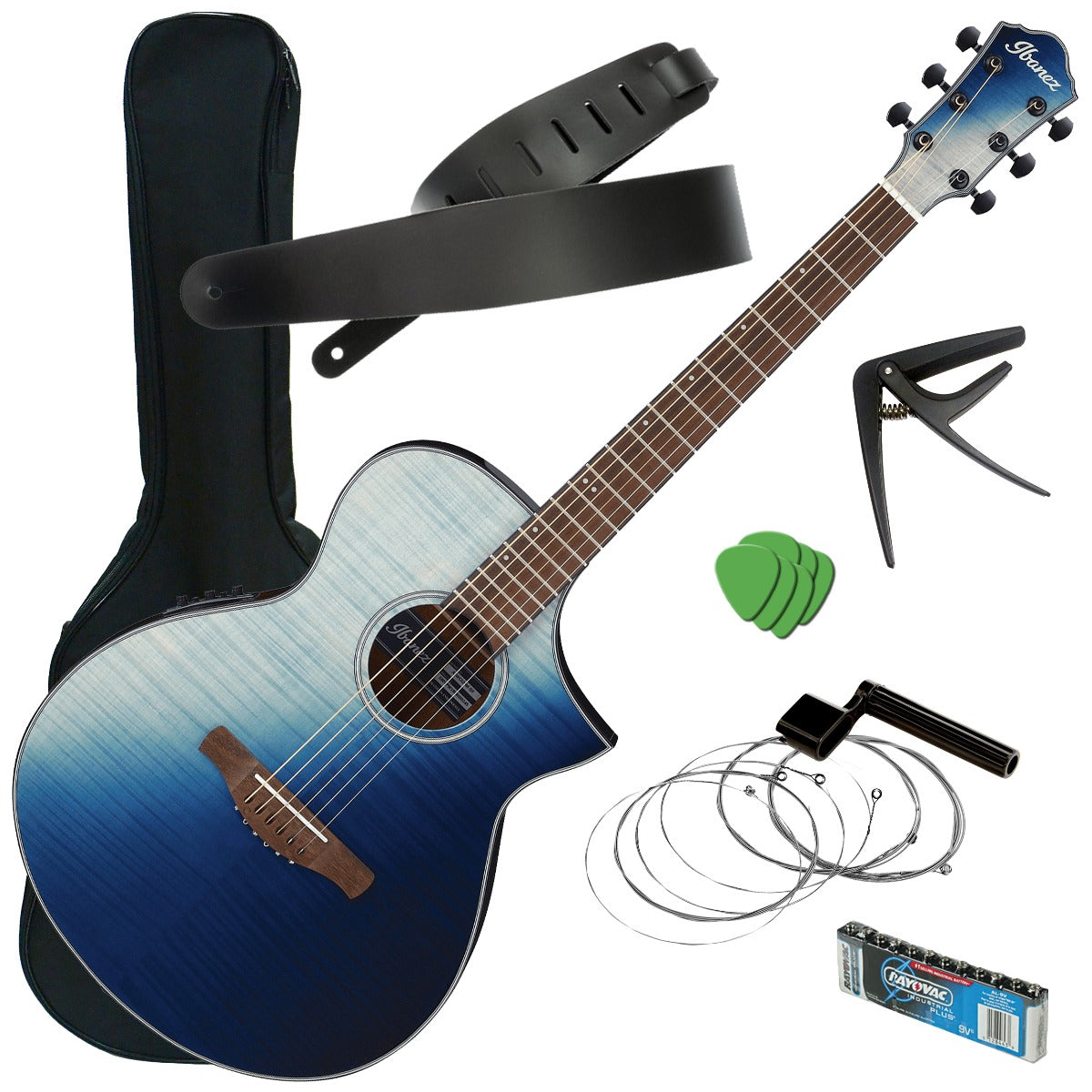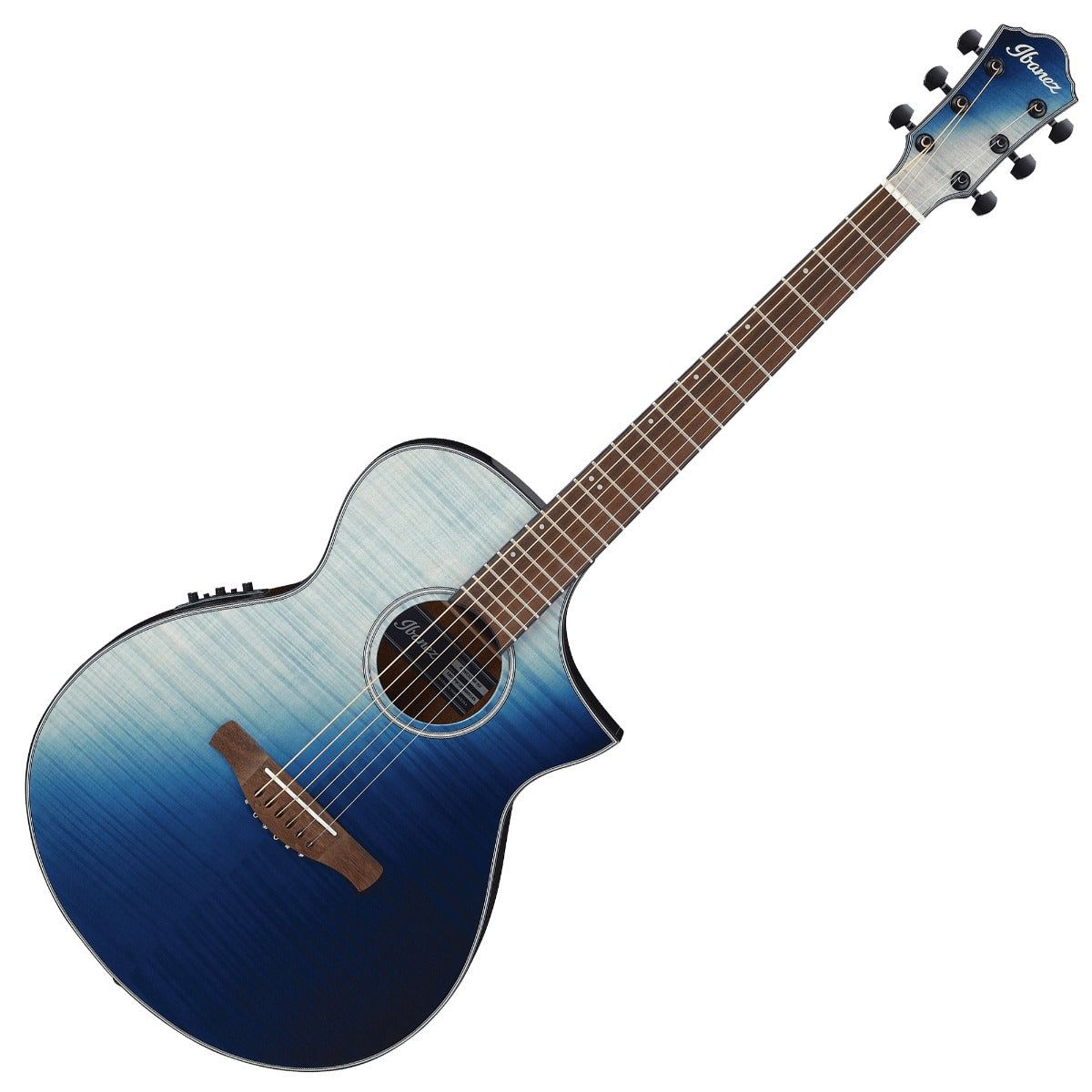 Ibanez AEWC32FM Ac-El Guitar - Indigo Sunset Fade GUITAR ESSENTIALS BUNDLE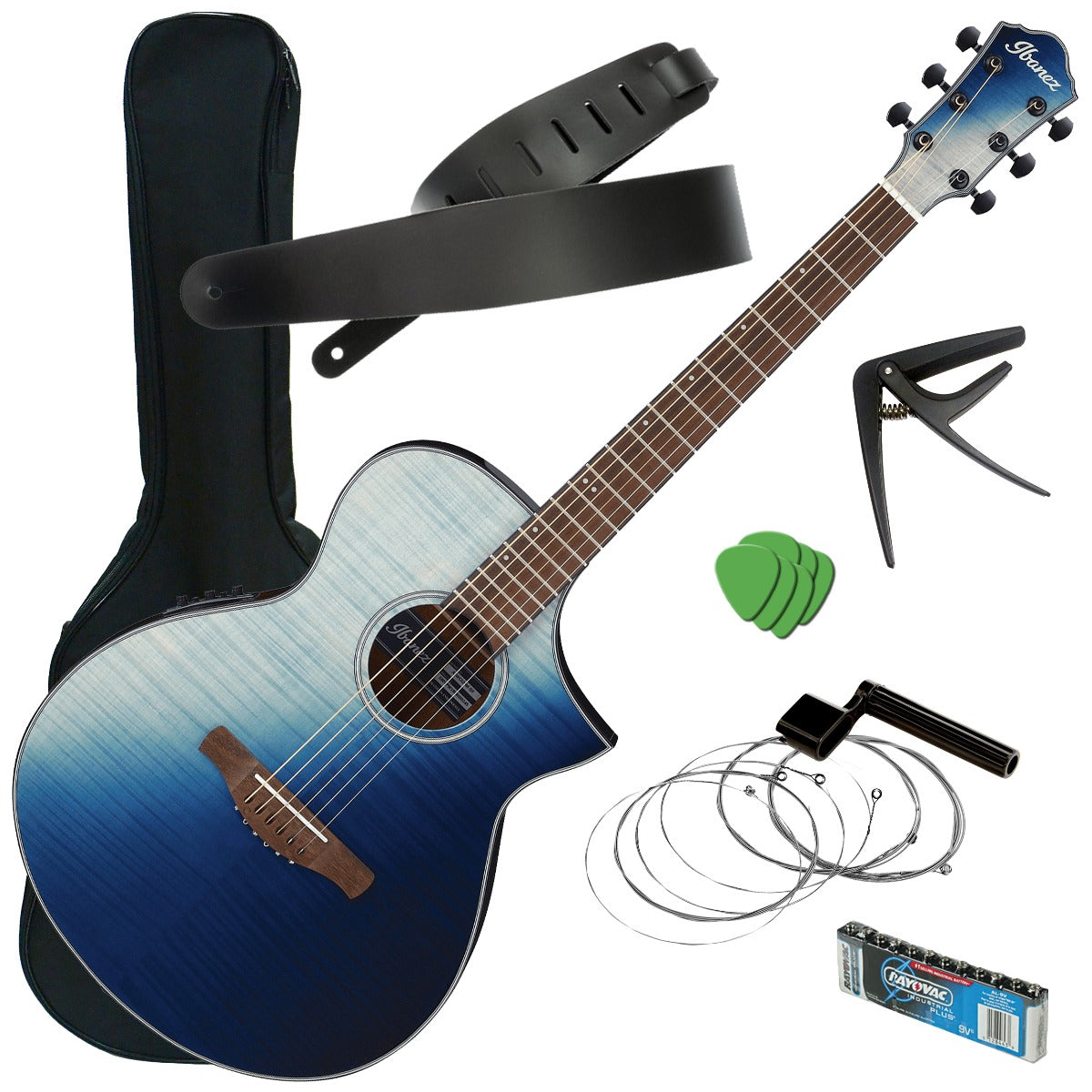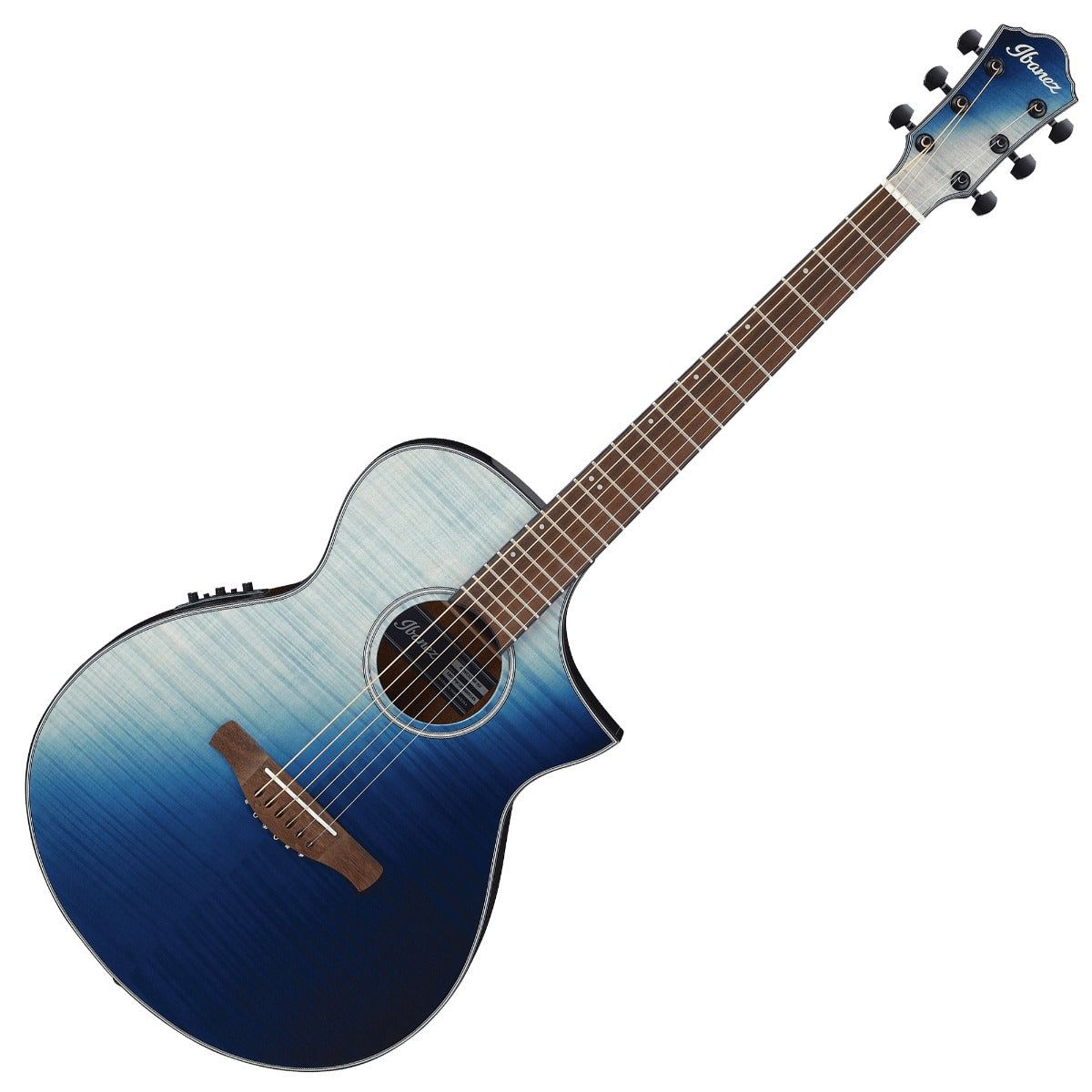 Ibanez AEWC32FM Ac-El Guitar - Indigo Sunset Fade GUITAR ESSENTIALS BUNDLE
8 items included
This Kraft Music Bundle Includes
$474.99
Regular price
$516.67
You Save $41.68
Click on a product to view more details.
As an industry leader in the use of Exotic tonewoods, Ibanez continues to innovate with their new AEW series. New AEWC features compact yet deep enough body with a 'soft' Florentine cutaway enables both playability and amplification-friendly.
The king of shredding gear, Ibanez proudly introduces a brand new acoustic guitar specially designed for electric guitar players: the AEWC32FM. Inspired by electric guitars' playability and appearance, this is an acoustic guitar that shredders will have very little trouble adjusting to.
The AEWC's remarkably slender body, 60 mm neck joint, and 70 mm body end provide ultimate playing comfortability. Its original cutaway unites the curved line's beauty and eases access to upper positions. The medium frets on AEWC32FM's fretboard contribute to smooth playability, especially for single-note playing. The combination of the Fishman Sonicore pickup and the Ibanez preamp supports on-stage performances. Without bridge pins, the bridge offers a fast and easy structure for string changing. The AEWC32FM delivers the pleasure of playing acoustic guitar with great playability and usability for electric guitar players.

| | |
| --- | --- |
| SKU | IBA-AEWC32FMISFGE |
| MPN | AEWC32FM |
| Vendor | Ibanez |
| Acoustic Body Style | AEWC |
| Cutaway | Yes |
| Fingerboard | Laurel |
| Included From Manufacturer | Hex Wrench |
| Mpn | AEWC32FMISF |
| Right Left Handed | Right |
| Strings | 6-Strings |
| String Material | Steel |
| Back Material | Sapele |
| Bridge | Rosewood |
| Bridge Saddle Material | Plastic |
| Electronics | Ibanez AEQ210TF preamp w/Onboard tuner |
| Finish | Satin Polyurethane |
| Hardware Finish | Black |
| Neck Material | Mahogany |
| Number of Frets | 20 |
| Nut Material | Plastic |
| Nut Width | 43mm |
| Scale Length | 25" |
| Side Material | Sapele |
| Top Material | Flamed Maple |
| Built-In Tuner | Yes |
Ibanez Acoustic Guitar Limited Warranty
Please return your completed Ibanez Acoustic Warranty Card within 10 days of purchase to ensure proper owner registration of your guitar. This Ibanez Acoustic or Acoustic-Electric guitar ('Instrument') is warranted to be free from defects in materials and workmanship to the original owner, subject to all the following terms and conditions.
The Warranty provided herein is for the lifetime of the original retail purchaser, except for any factory-installed electrical/electronic components or tuning hardware, the Warranty is for a period of one (1) year from the date of the original retail purchase.
This Warranty is given by Hoshino (U.S.A.) Inc., 1726 Winchester Rd., Bensalem, Pennsylvania 19020 ('Hoshino') only to the original purchaser of this Instrument. Hoshino will repair or replace any part or parts of the Instrument which may prove defective under normal use and service during the Warranty Time Period stated above (or, for factory-installed electrical/electronic components or tuning hardware, the one (1) year Warranty Time Period stated above) which Hoshino's examination shall disclose to its satisfaction to be thus defective. If replacement of your instrument is deemed necessary by Hoshino, Hoshino will replace the instrument with one of the same model or the most similar style of a value not in excess of the original purchase price of your instrument. This Warranty does not apply unless you provide a copy of your original sales receipt.
This Warranty does not cover: (a) any non-factory-installed electrical/electronic components or tuning hardware; (b) damage or defects due to alteration, misuse, abuse, normal wear and tear, extremes of temperature or humidity or abnormal strain; (c) accidental or intentional damage; (d) damage in shipping; (e) the repair or replacement of expendable maintenance items including, but not limited to, strings, tuning machines, or scratched pickguards; (f) normal fret wear; (g) plating on metal parts; (h) cracking or other damage to the finish; (i) any damage from accessories (synthetic straps, etc.); (j) guitars whose trademarks, name, or serial number have been altered or removed and any guitar that does not carry the brand name Ibanez. Guitars marked "by Ibanez" are not covered by this warranty. (k) tonal characteristics (tone is a subjective matter and is not warranted); or (l) any Instrument purchased from other than an authorized Ibanez dealer.
To obtain warranty service, the Instrument must be returned to Hoshino at the address listed above through an authorized Ibanez dealer. A return authorization number, to be obtained from Hoshino Customer Service Department, must be written in a conspicuous place on the outside of the return shipping carton or the return will be refused. When returning the Instrument for service under this Warranty, a copy of the sales receipt establishing proof and time of purchase must be sent along with the instrument. All freight and insurance must be prepaid by the original owner.
You must maintain this instrument, without alteration, negligent use, misuse or abuse. All service of this Instrument must be performed by Hoshino. Any service performed on this instrument by other than Hoshino, or not specifically authorized by Hoshino, will terminate this Warranty.
Hoshino's sole and exclusive responsibility shall be as provided under this Warranty and, under no circumstances shall Hoshino be liable for any incidental or consequential damages. This Limited Warranty is your exclusive remedy and is made in lieu of all other written warranties, express or implied; all implied warranties, including, without limitation, any implied warranty of merchantability or fitness for a particular purpose, are hereby expressly limited in duration to the duration of this written Warranty. Some states do not allow limitations on how long an implied warranty lasts or the exclusion or limitation of incidental or consequential damages, so the above limitations or exclusions may not apply to you. This Warranty gives you specific legal rights, and you may also have other rights which vary from state to state. No person, whether or not an agent, is authorized to make or assume any obligations other than those stated in this warranty.
Save your receipt! Ibanez cannot perform any Warranty Service without a copy of your original sales receipt. The registration of this Ibanez Acoustic Guitar is important as it will allow Hoshino to keep you apprised of any improvements and / or upgrades made after your purchase.
Ground shipping is FREE for all orders $99 and up.