Skip product carousel
Bonus Item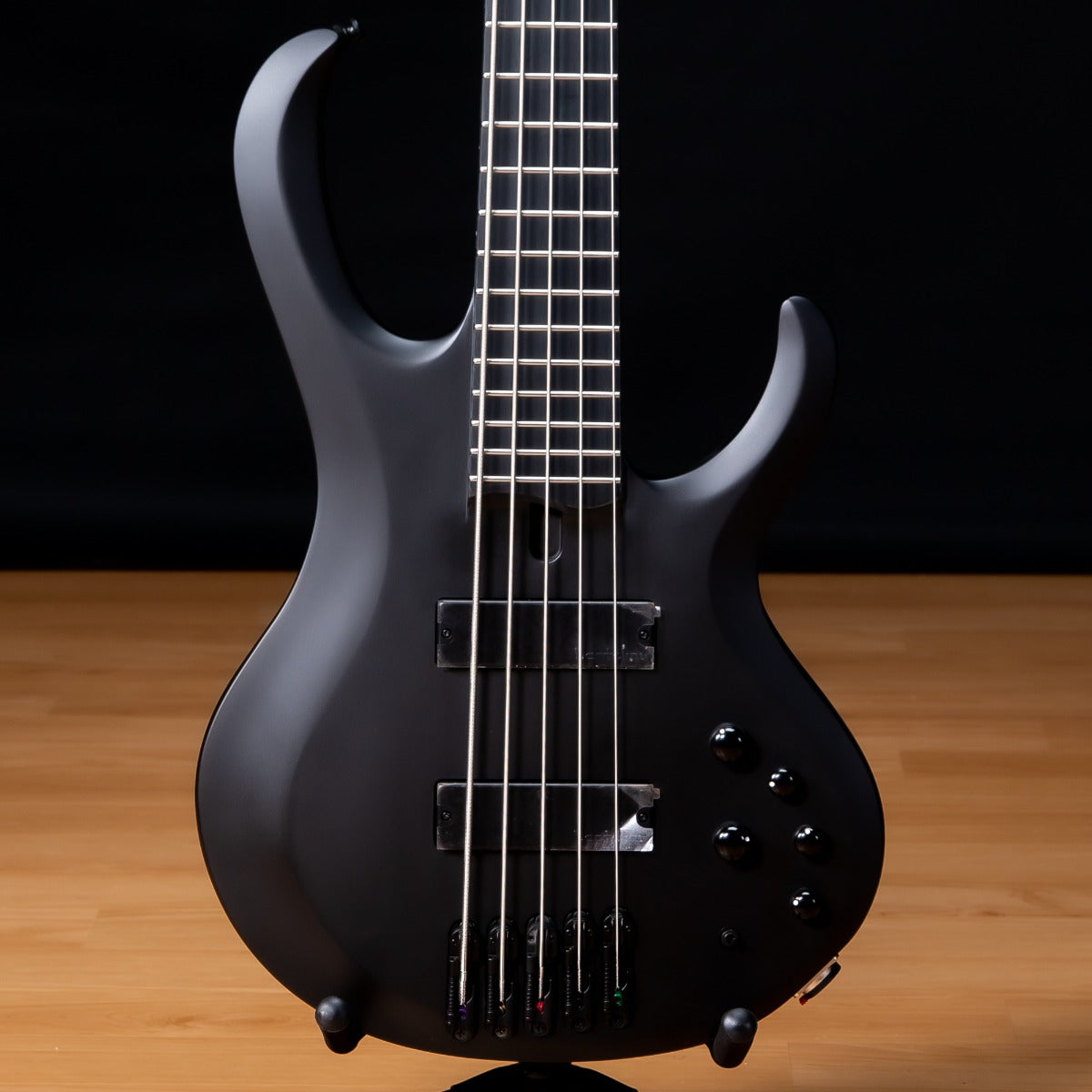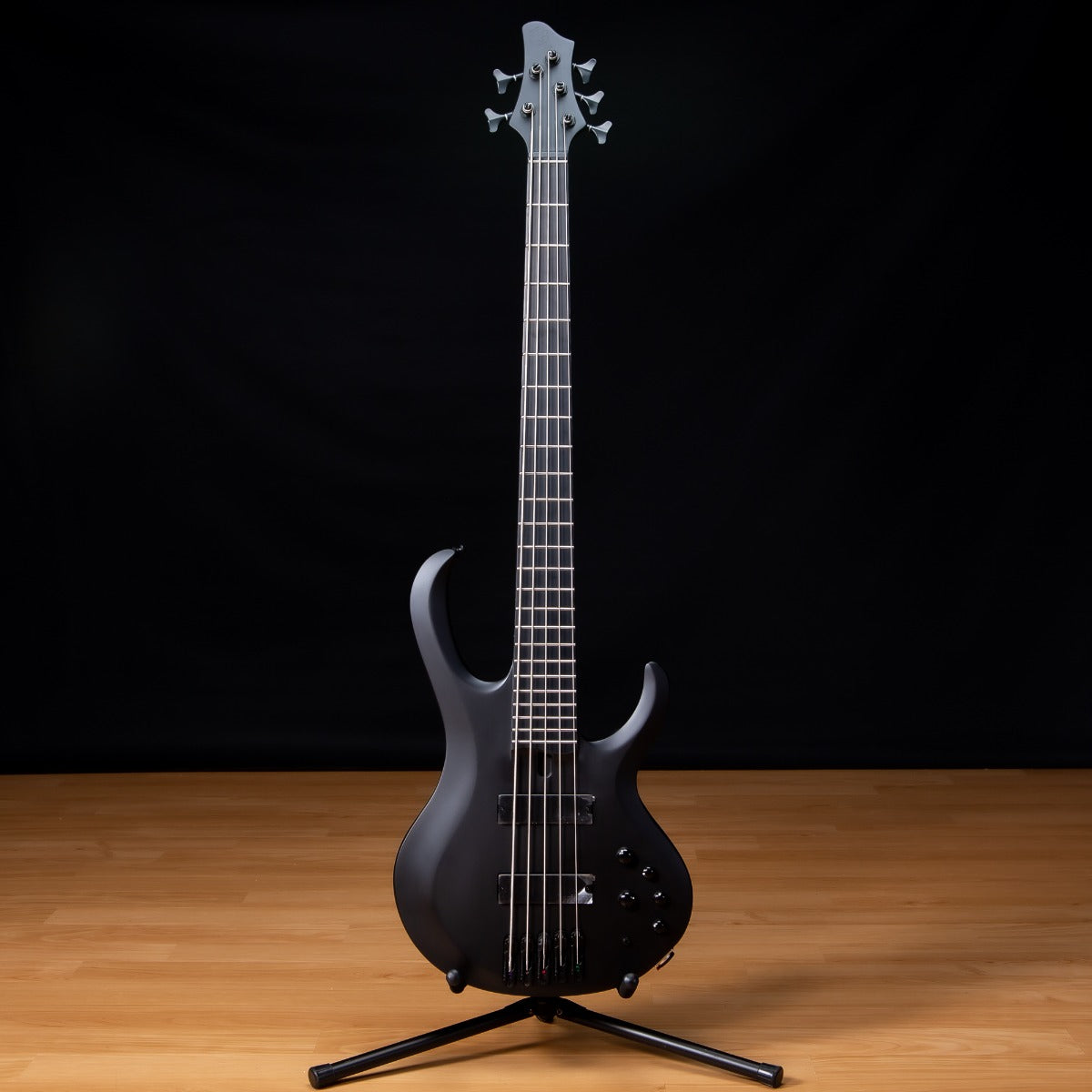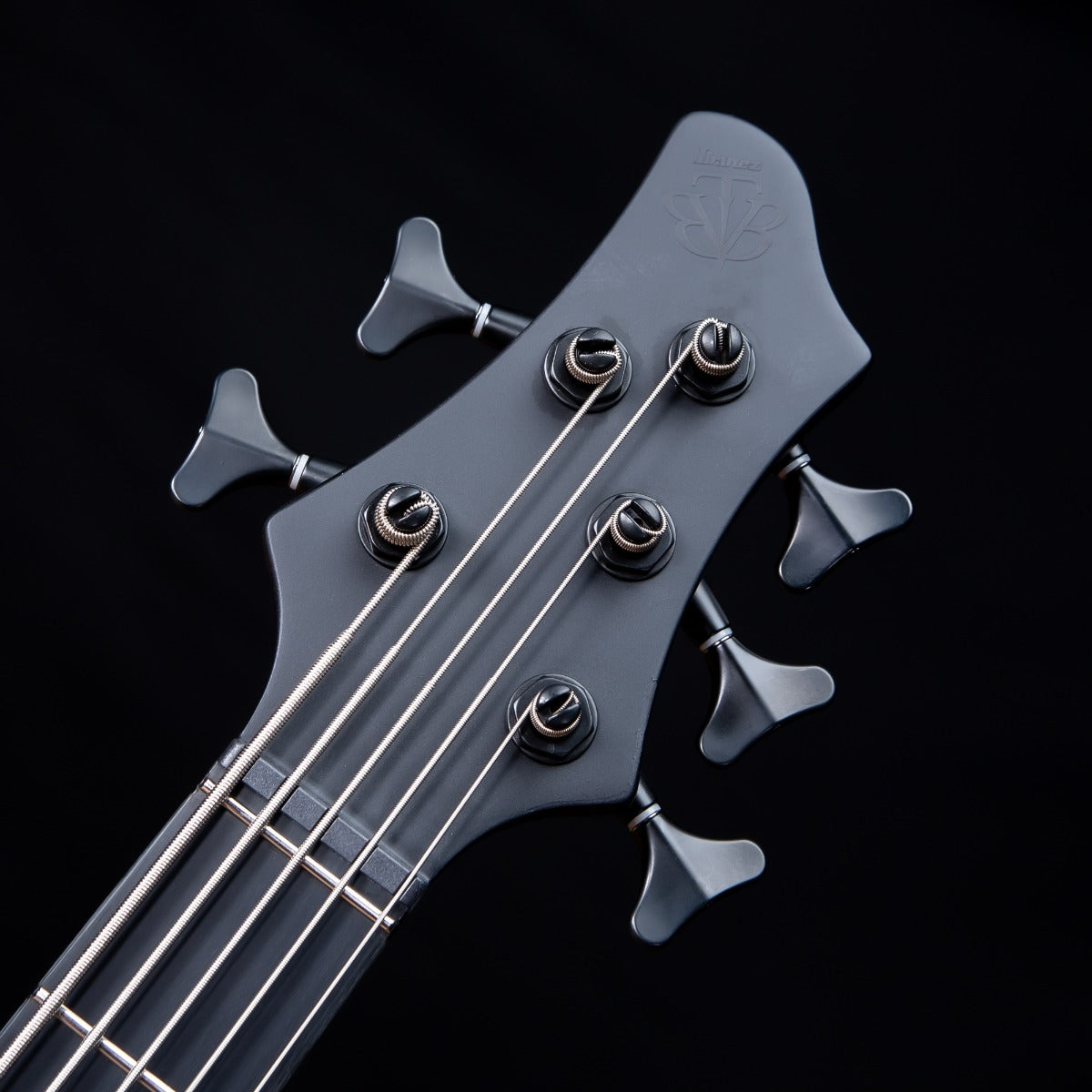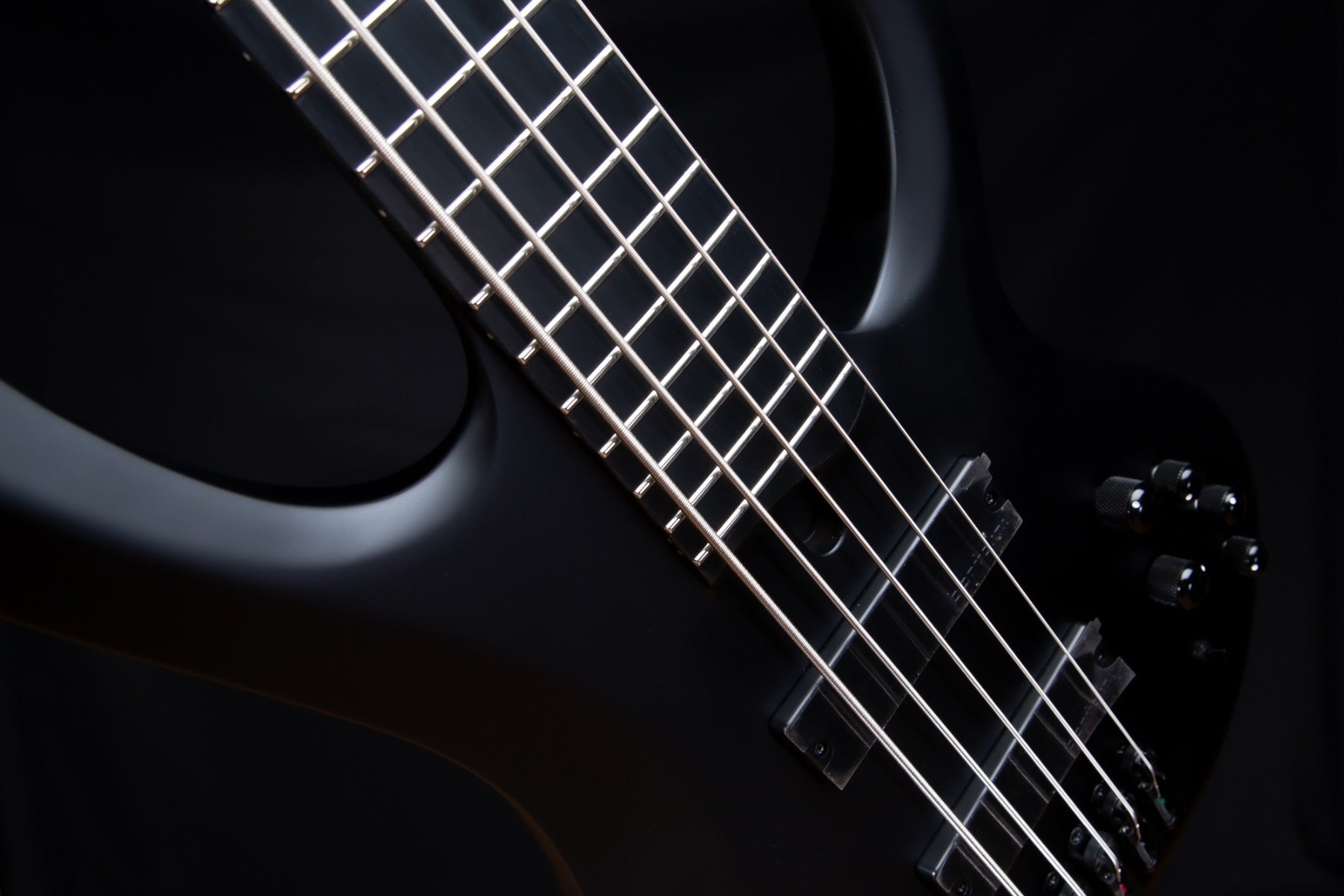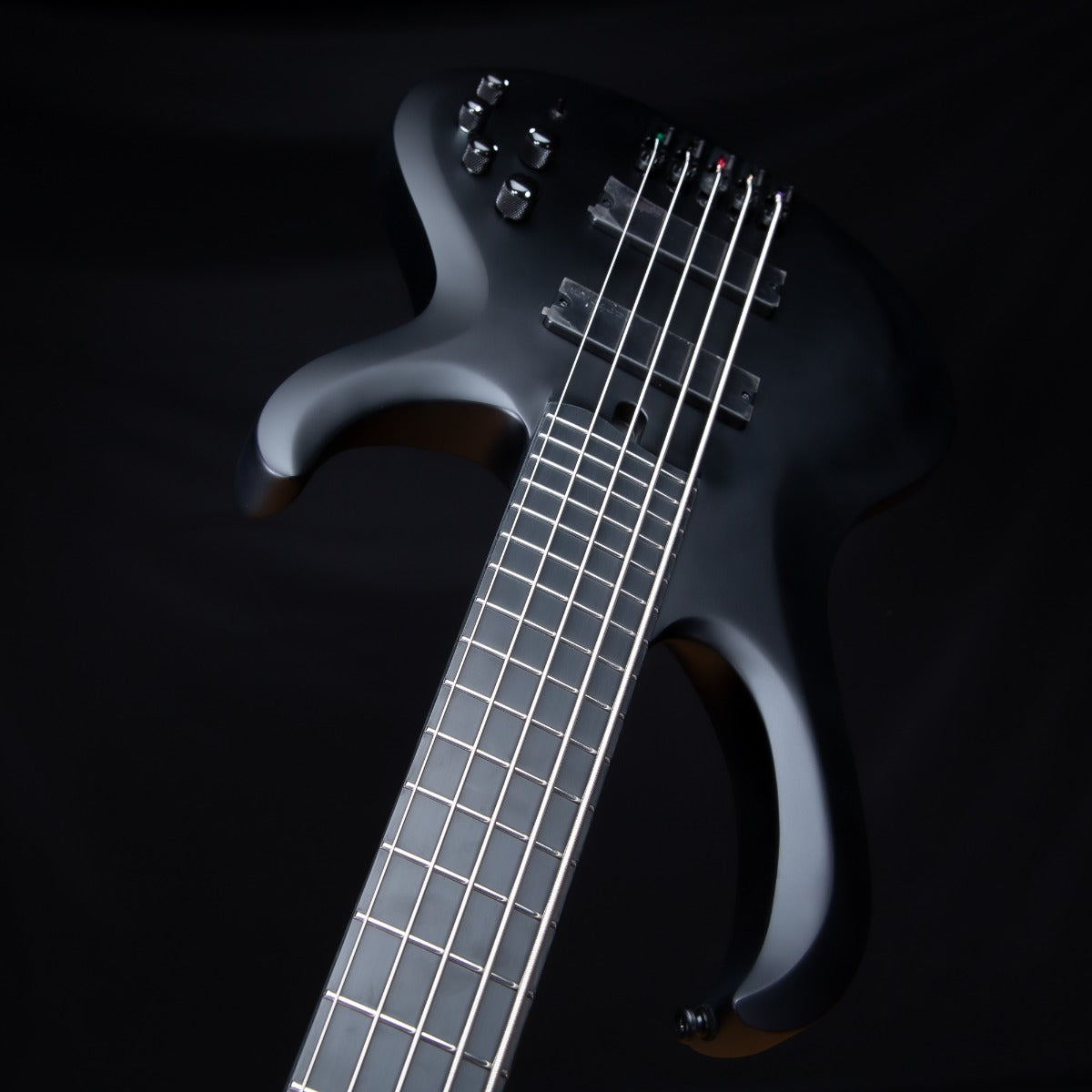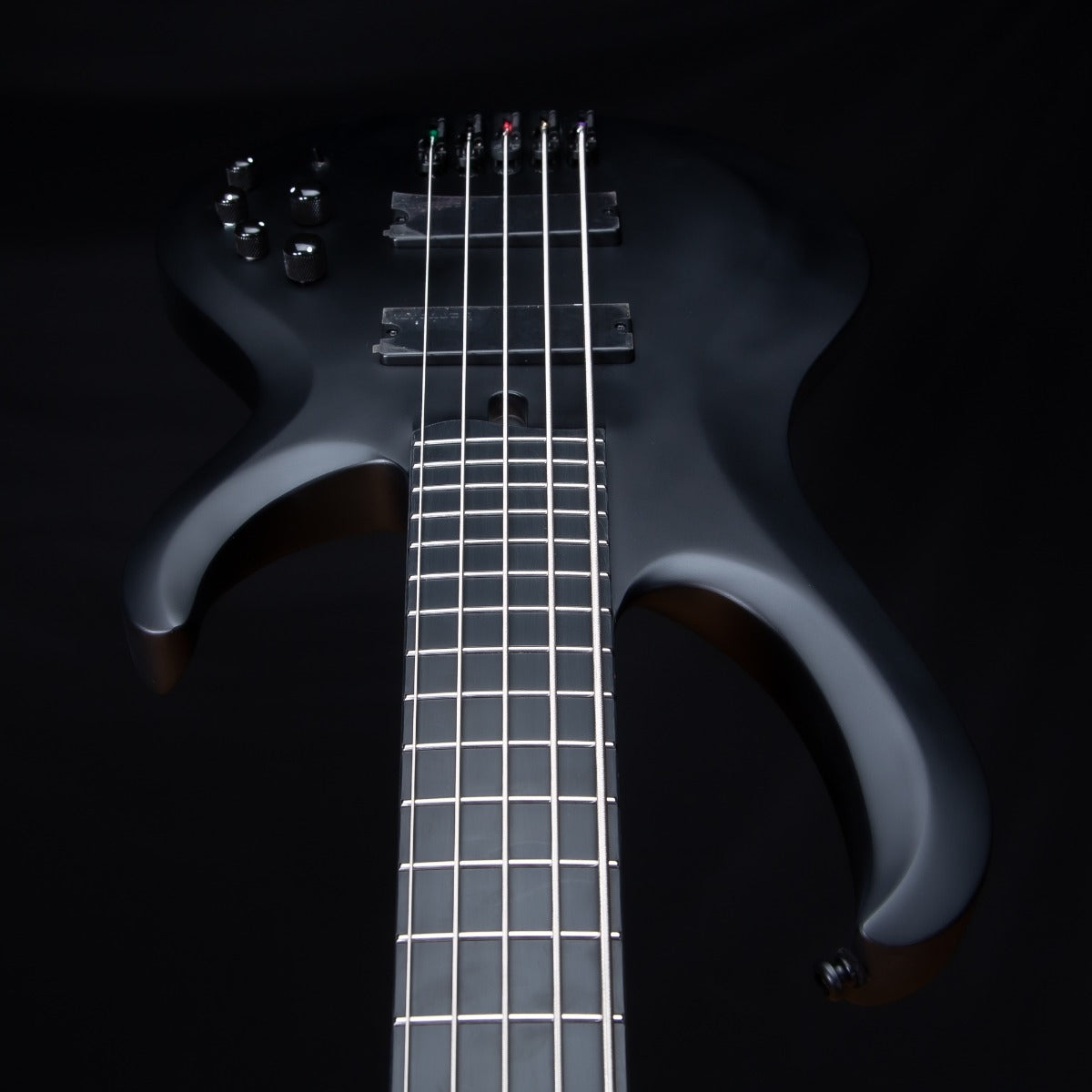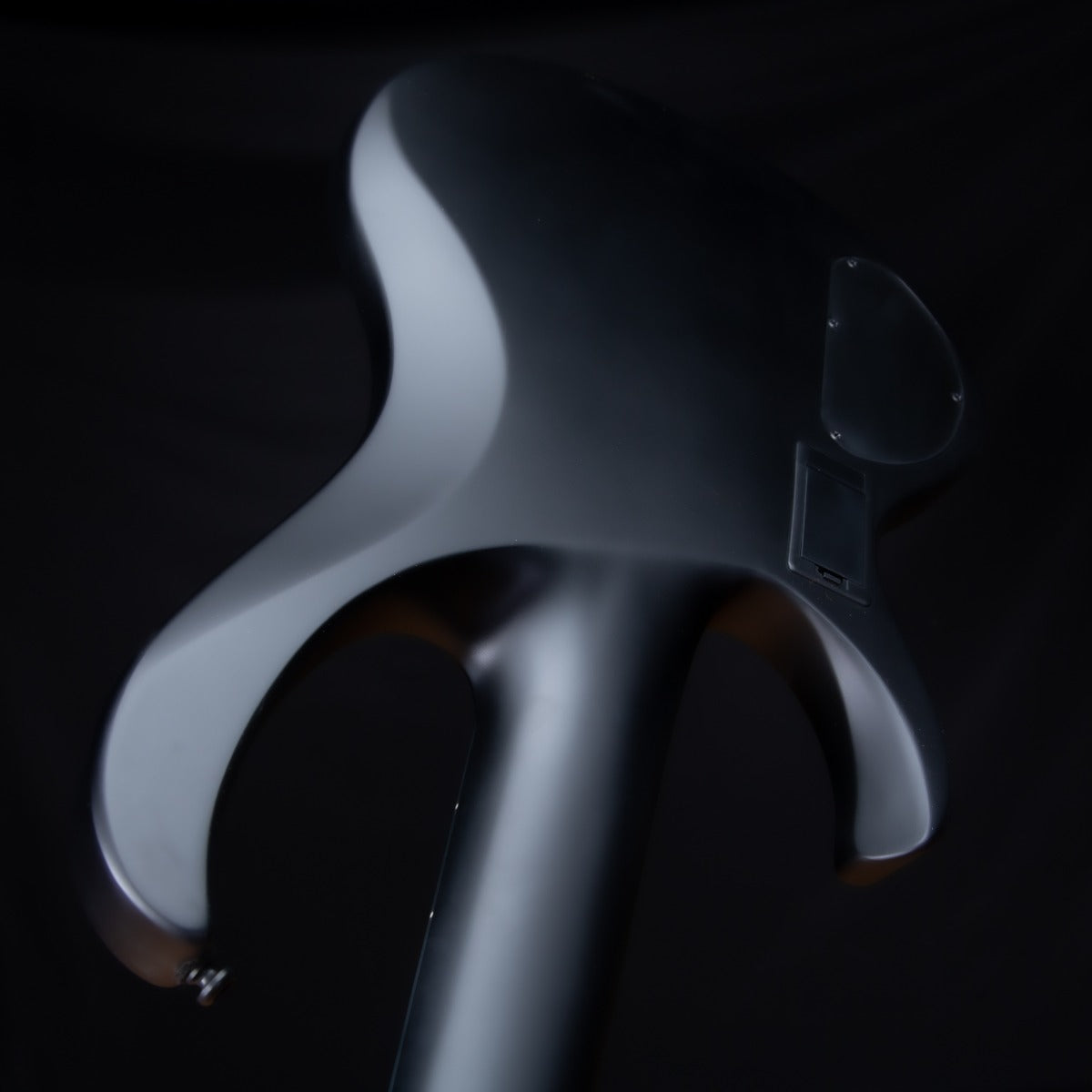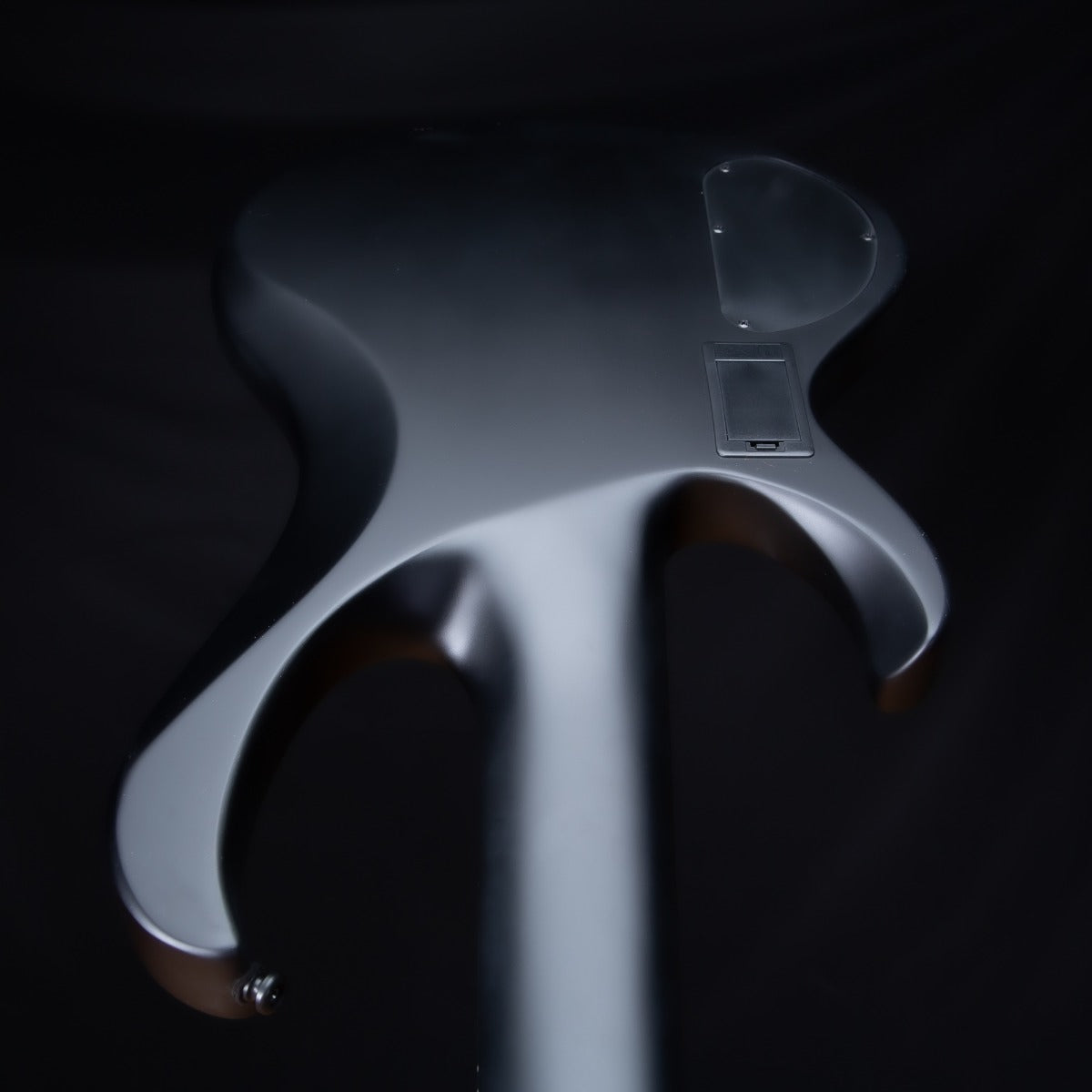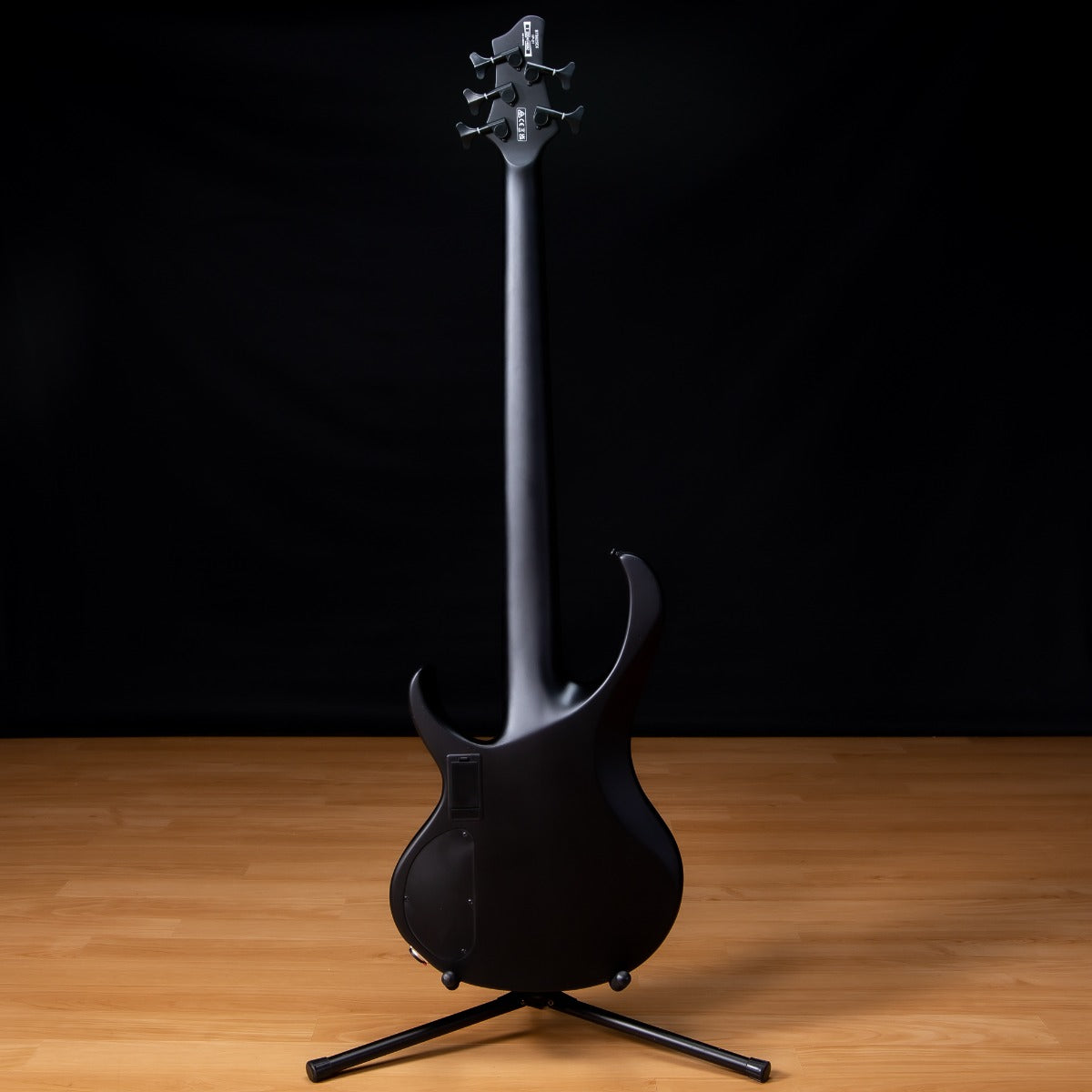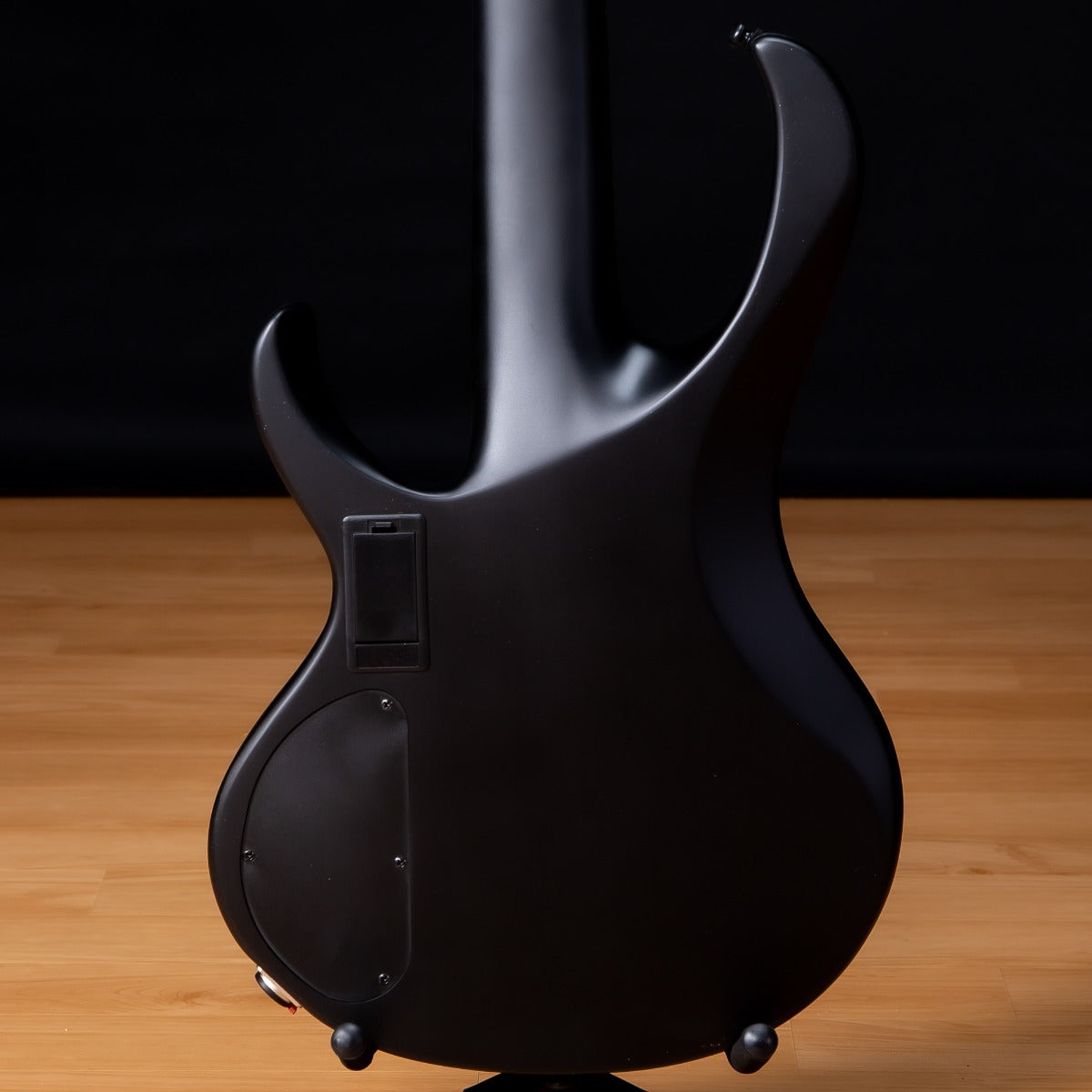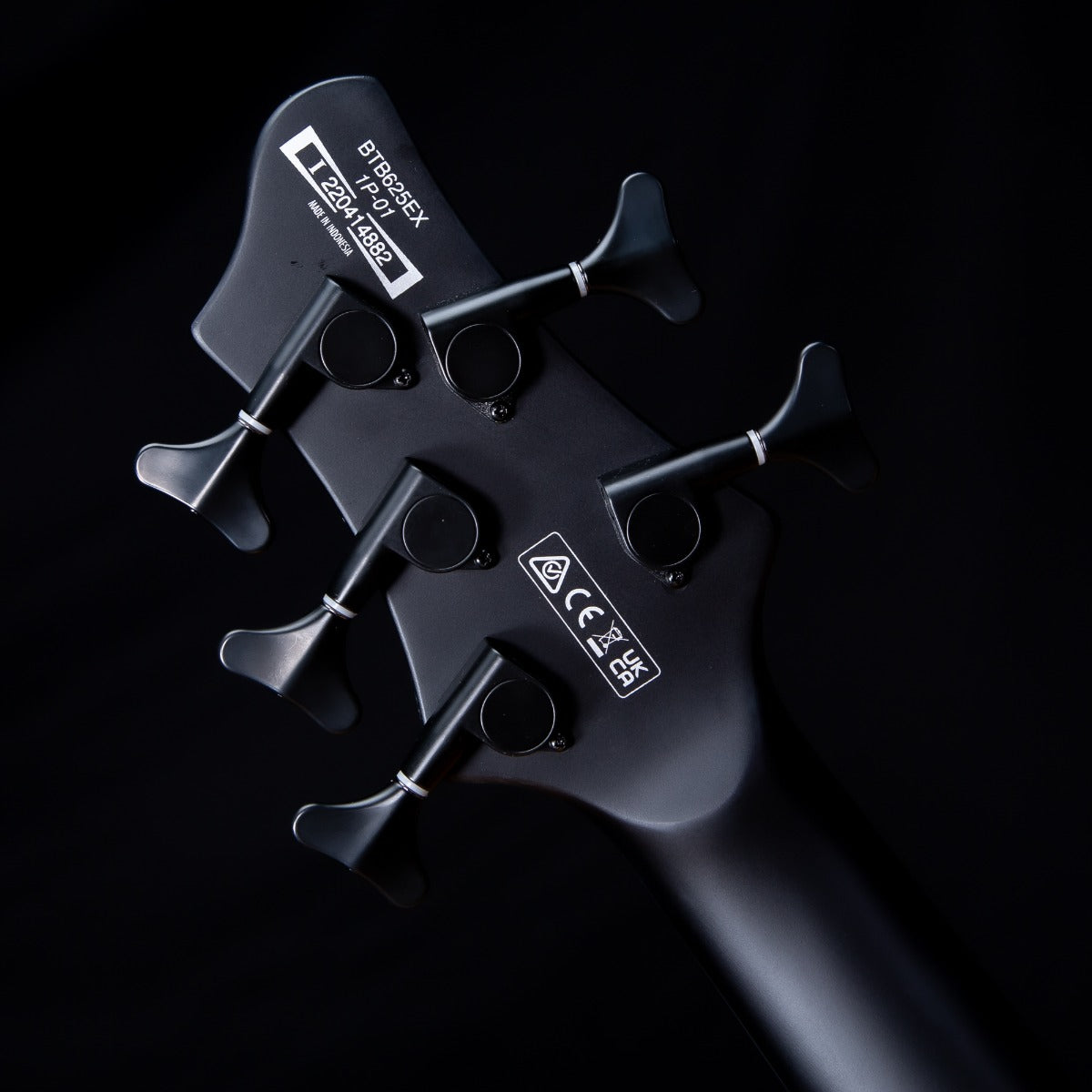 Serial Number: 220414882
Weight: 10.05 lbs.
IBANEZ BTB625EX BTB Iron Label 5-string Bass - Black Flat SN 220414882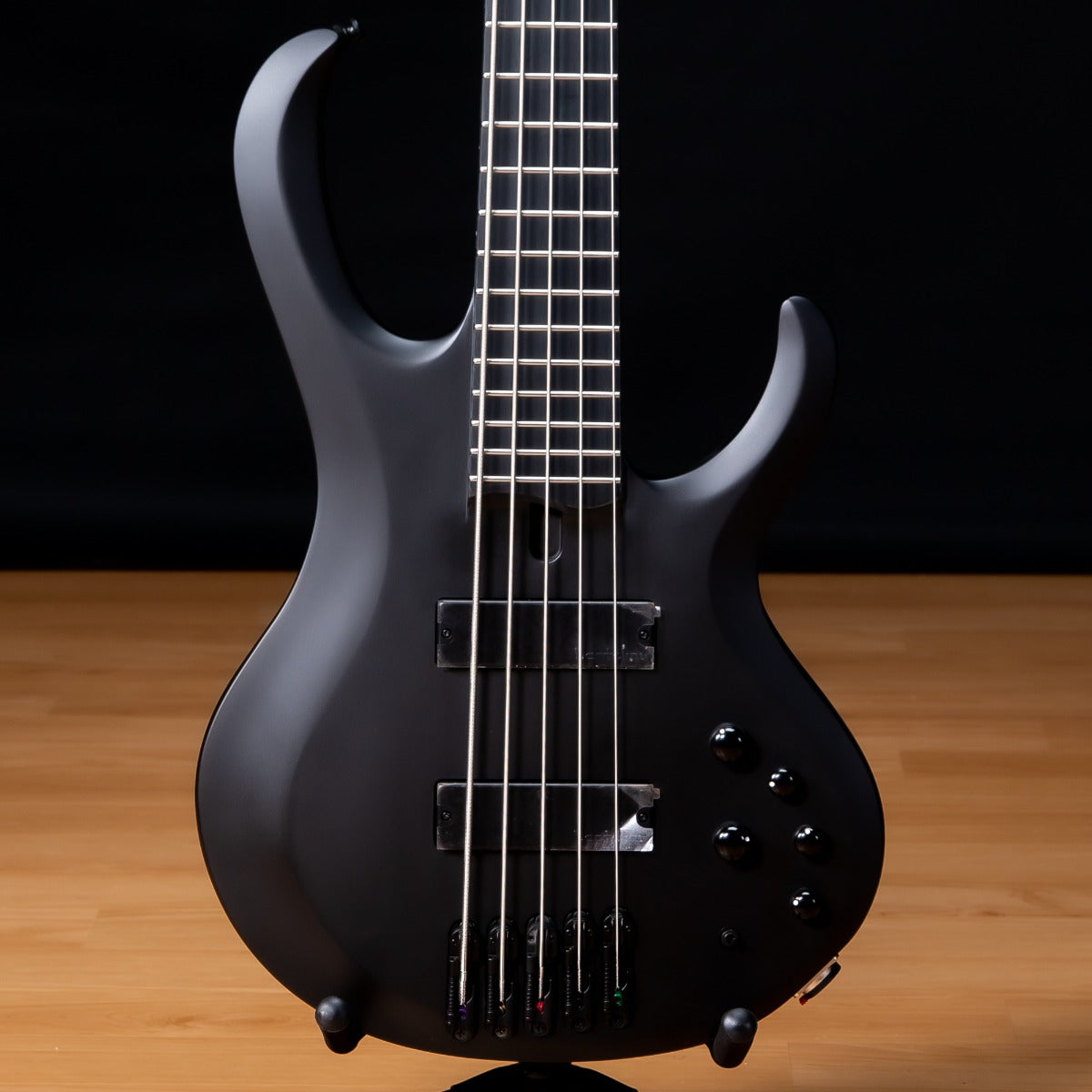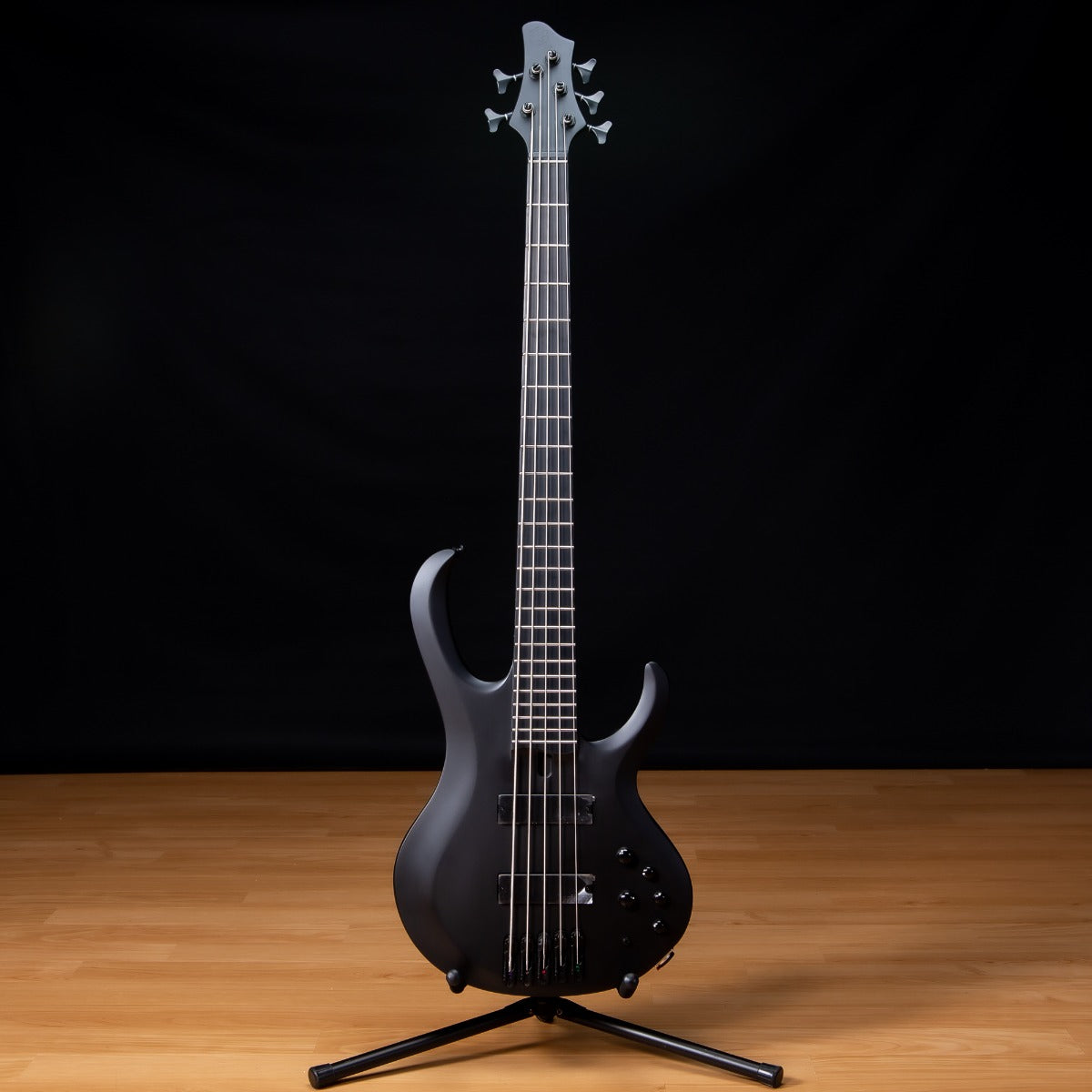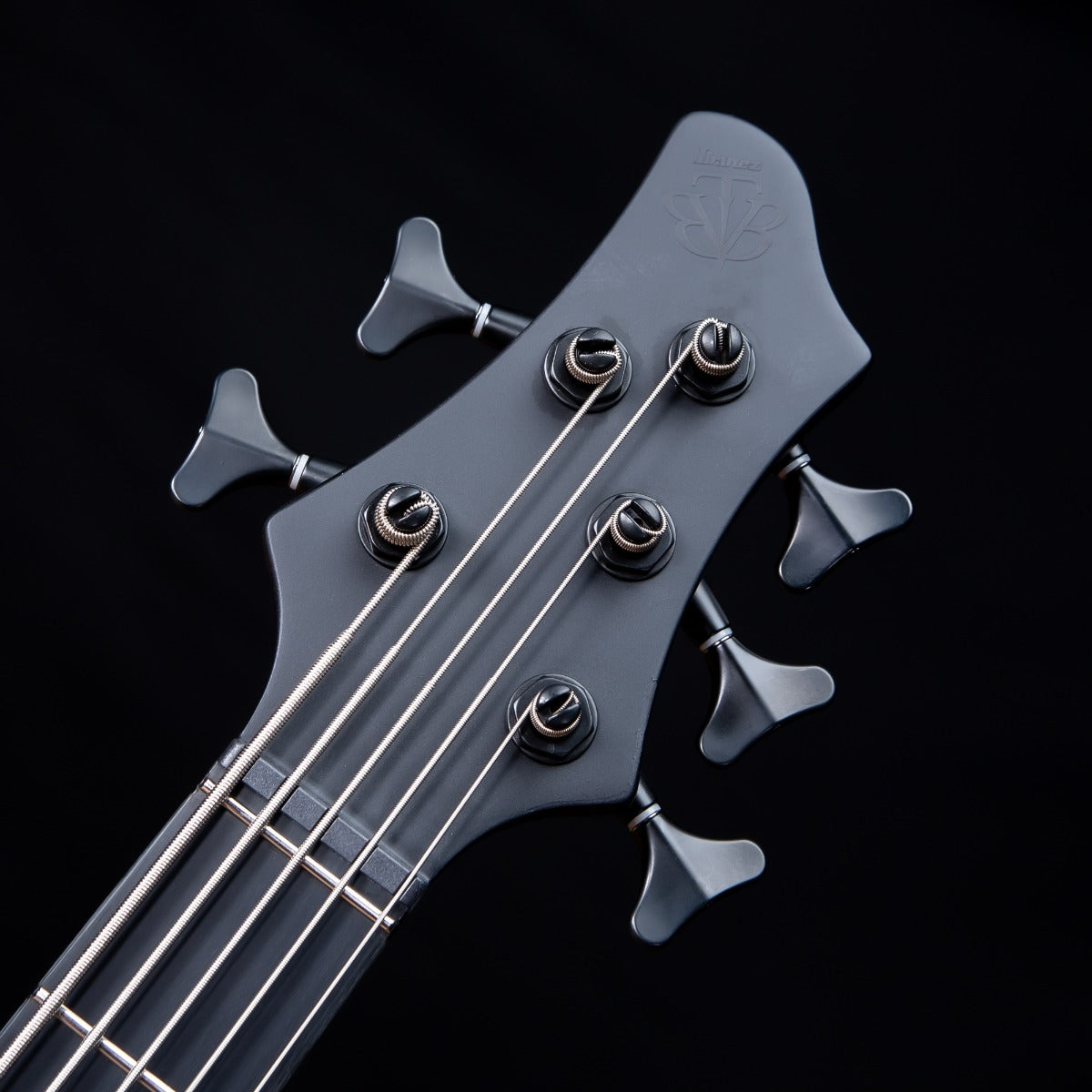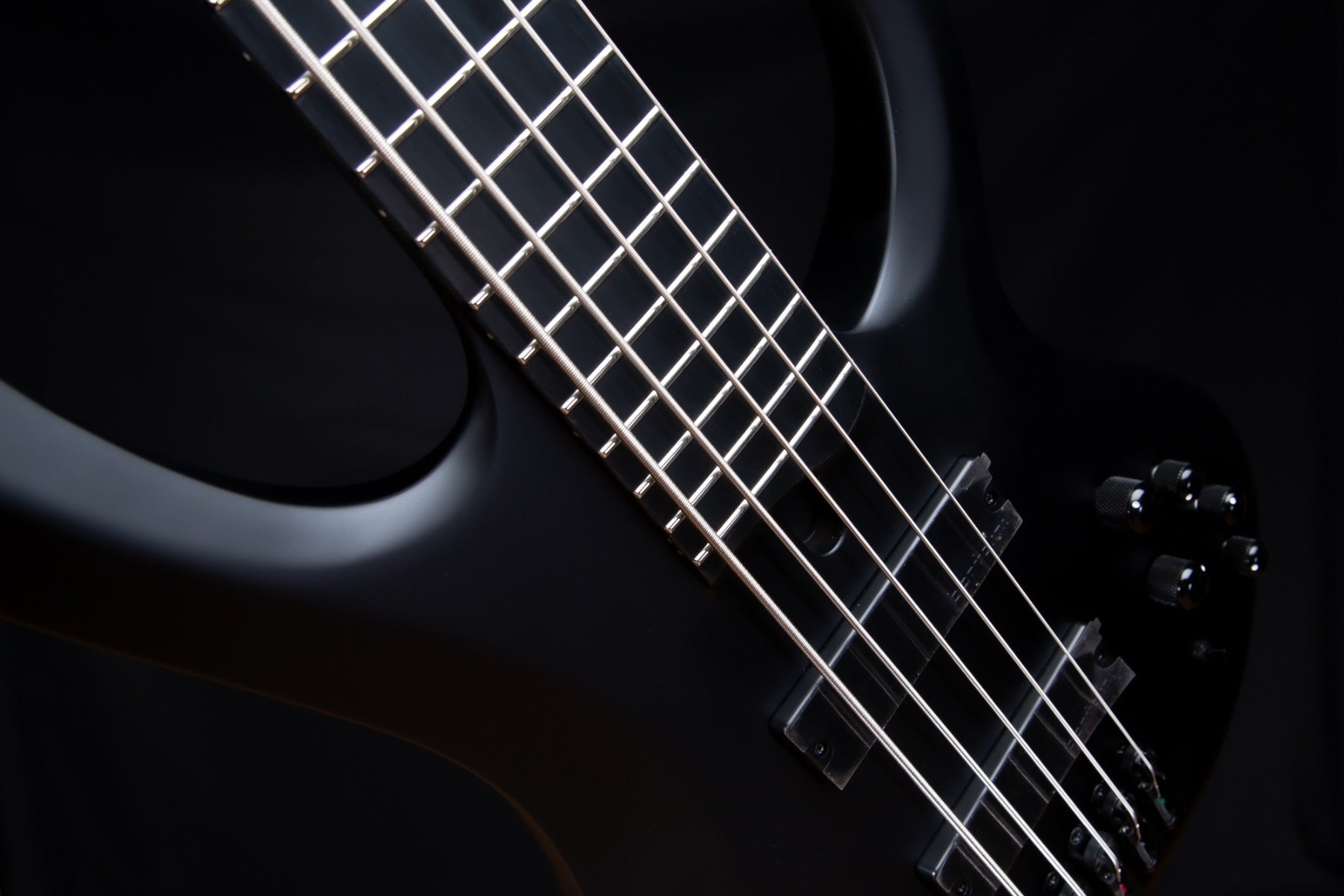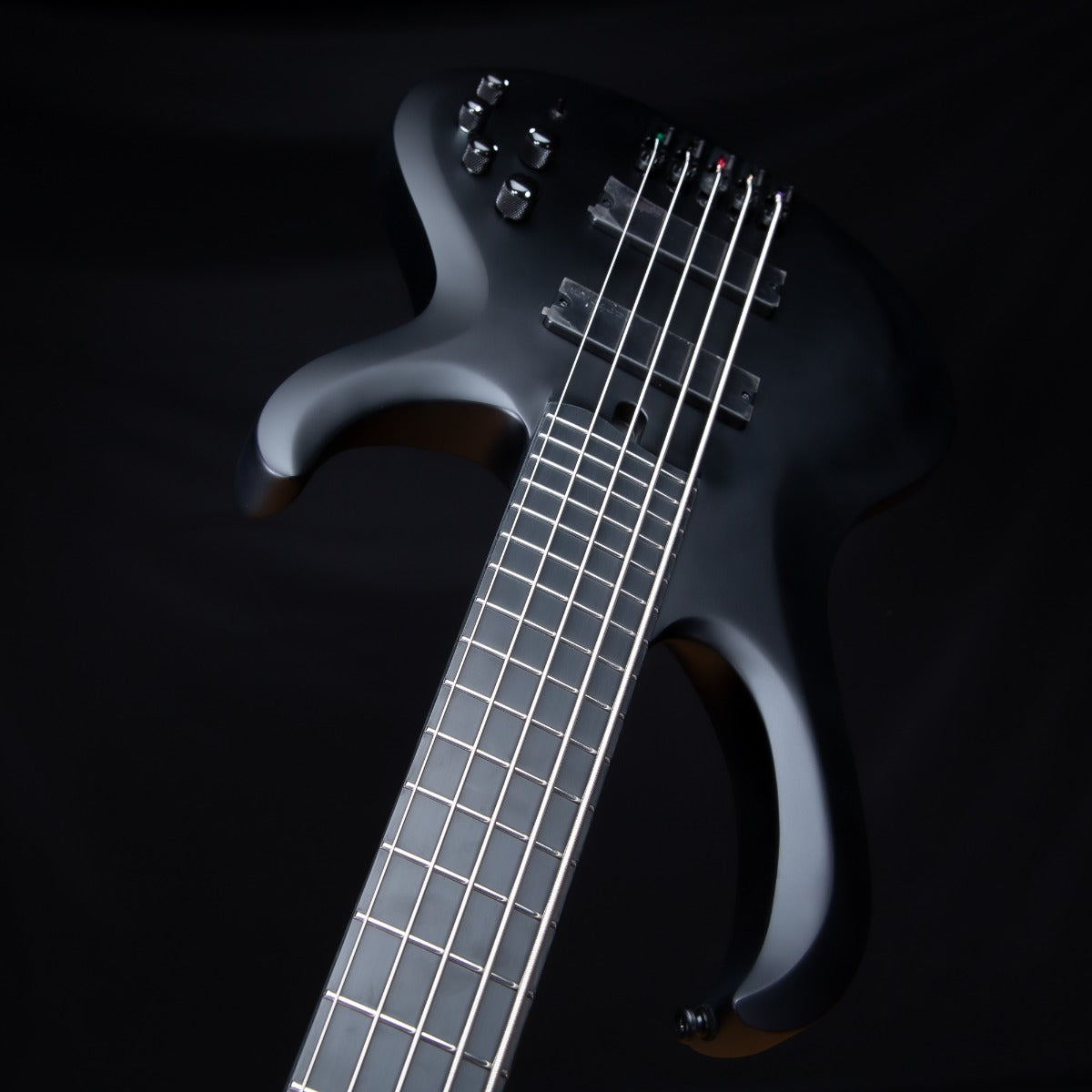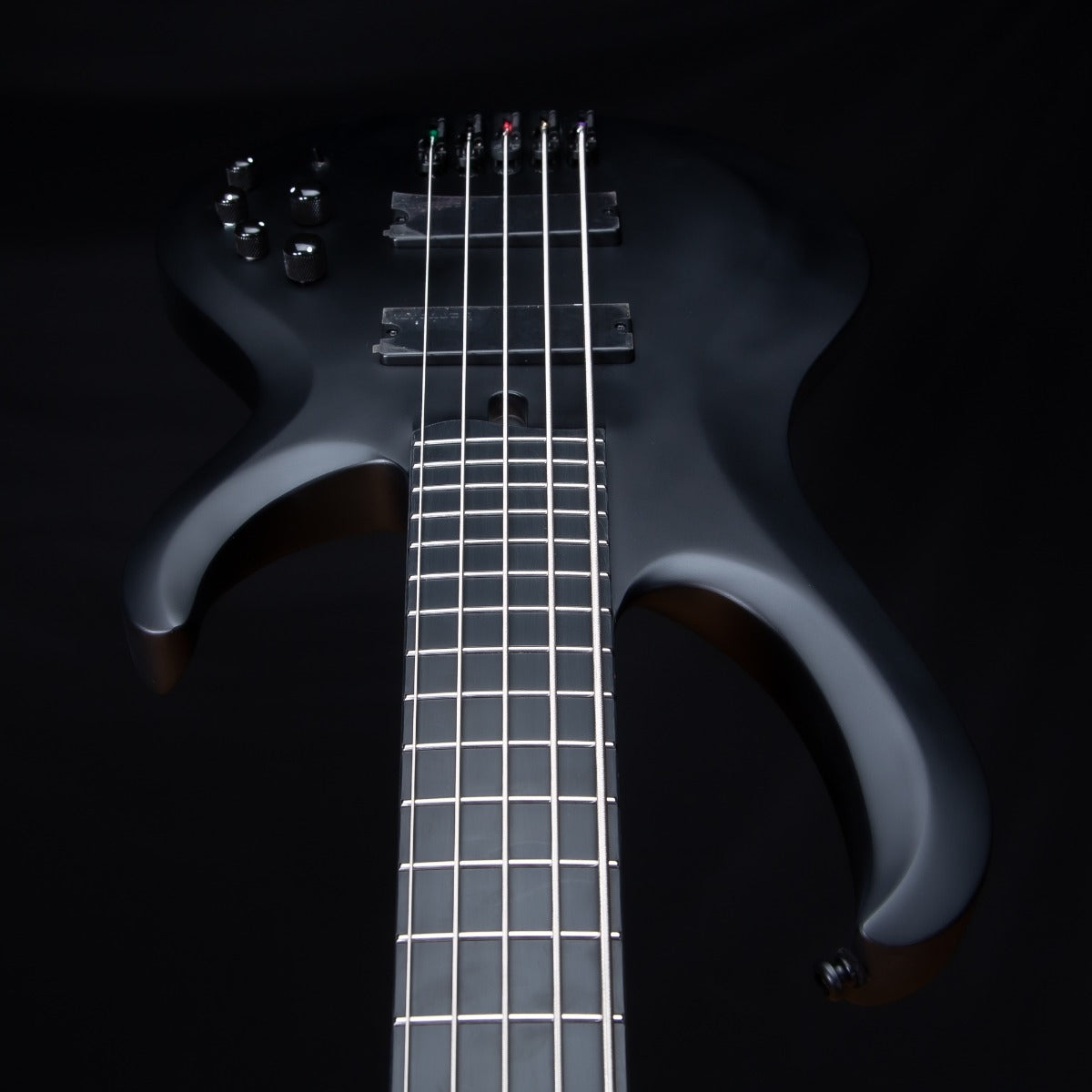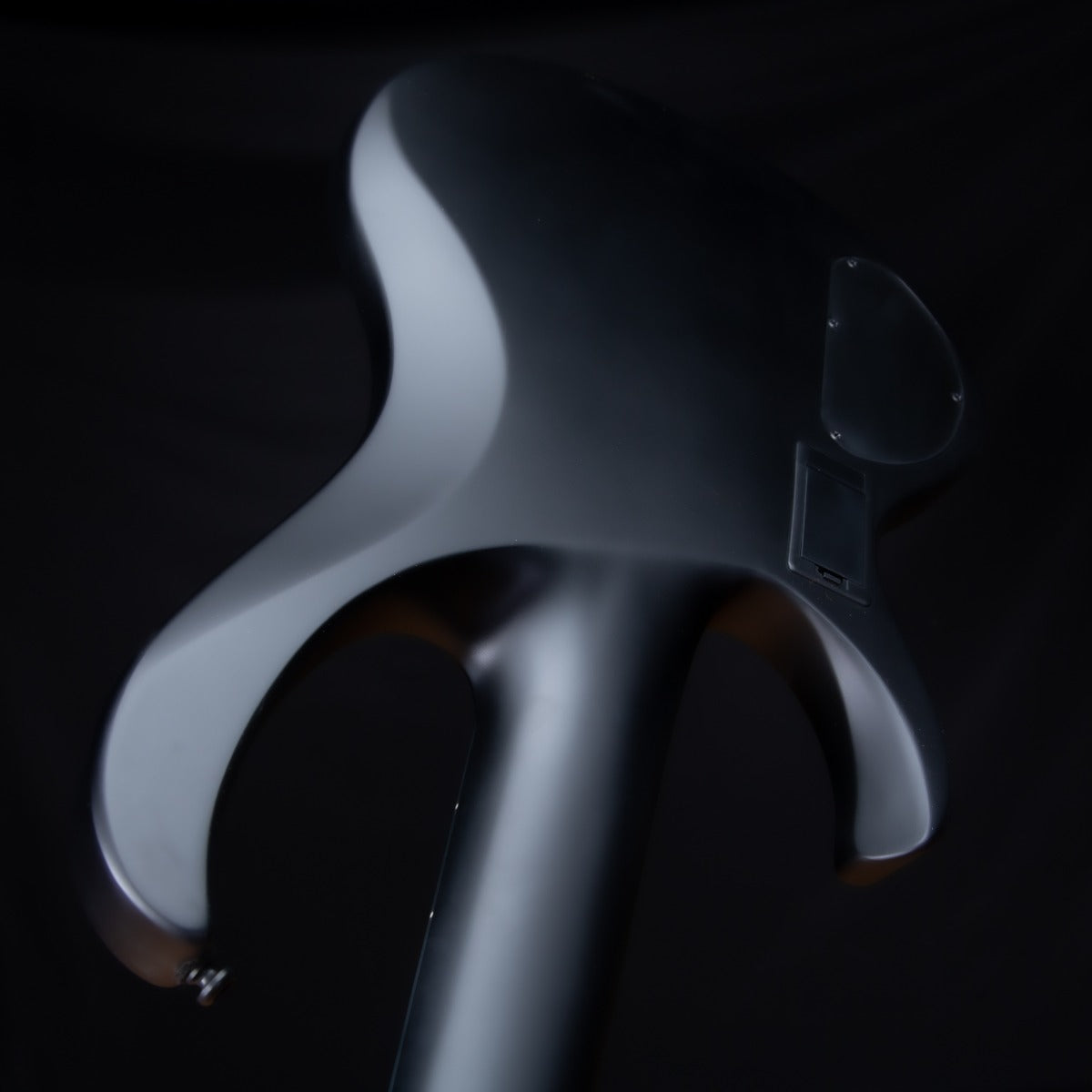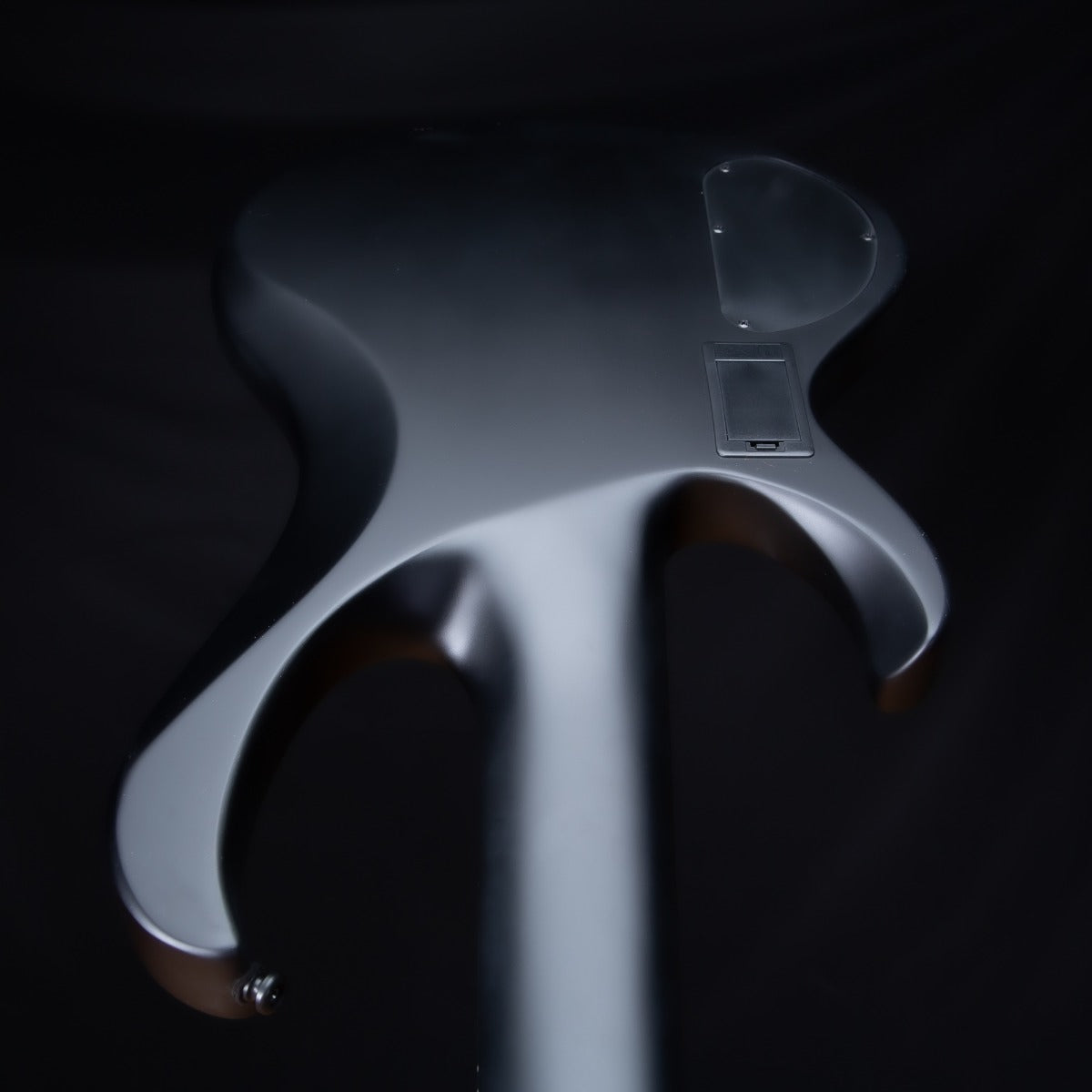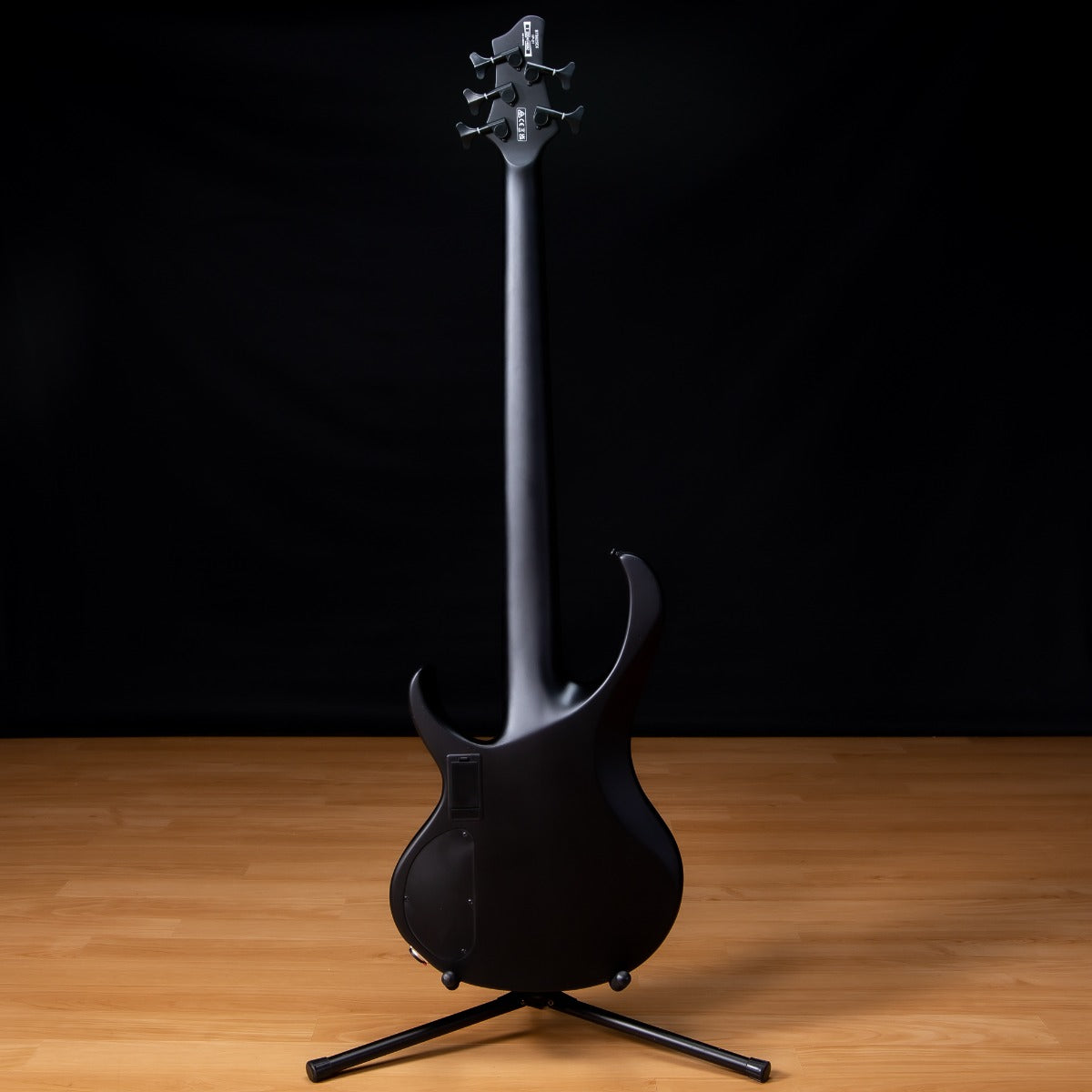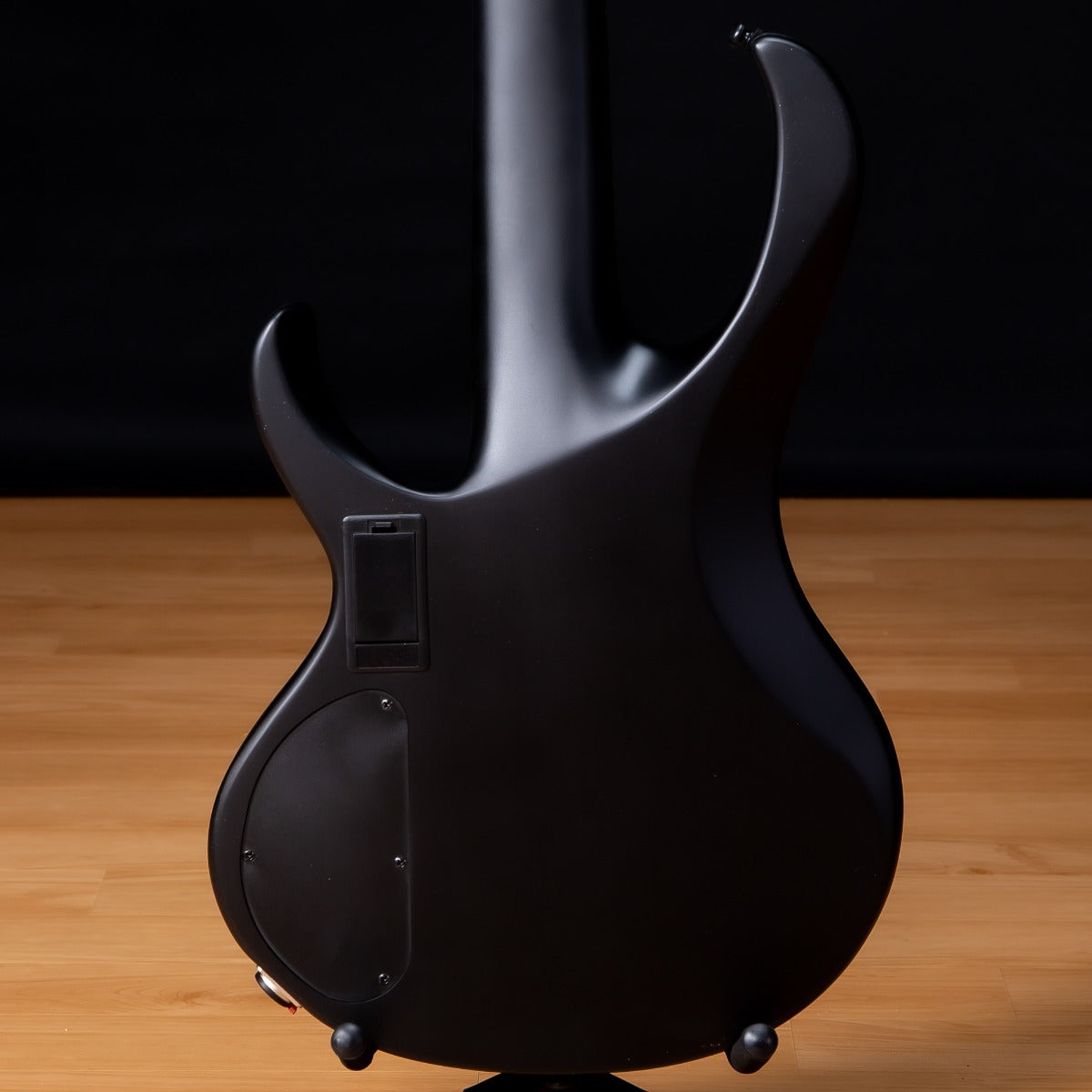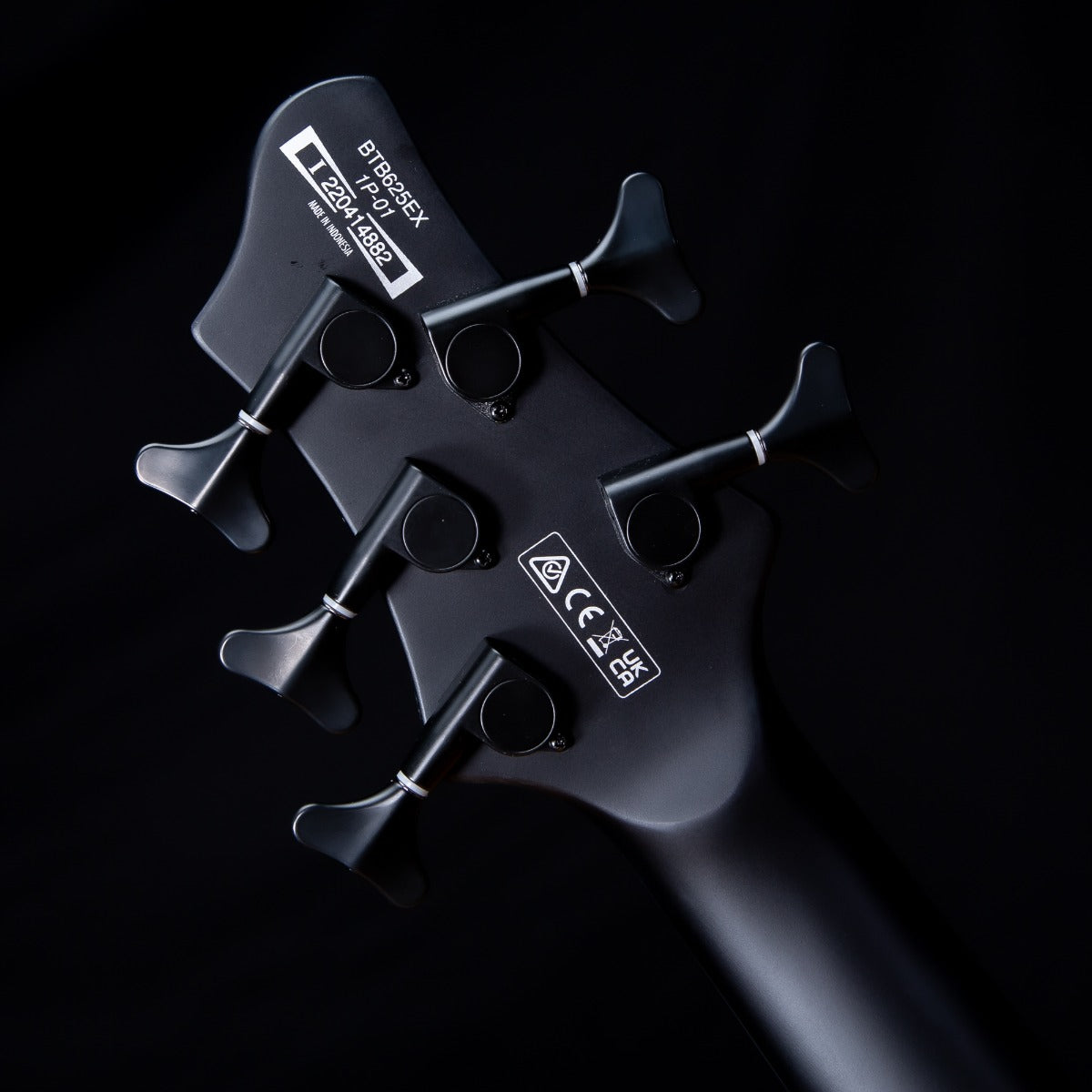 IBANEZ BTB625EX BTB Iron Label 5-string Bass - Black Flat SN 220414882
Without a doubt, your instrument should reflect the dedication you place in your musicianship and creative endeavors. At a certain point, the word "boutique" comes to mind: Select-grade materials, neck-thru construction, and top quality components, all in a meticulously combined into a stunning pro-level instrument. But what about the upfront investment of such an instrument? That's where Ibanez comes in. Ibanez's ability to build small-shop quality, into inspiring yet affordable instruments, is showcased in droves with BTB series basses.
The Iron Label line was originally developed with metal and nothing but metal in mind. Ibanez modded and tweaked until they got to the heaviest-hitting metal axes they've ever built. They're purposefully spartan, and you won't find a feature here that doesn't contribute directly to a bone rattling, earth shattering tones these guitars pump out. Carrying forward that same philosophy, the next generation of Iron Label guitars take this raw metal energy to a completely new level. They sport totally blacked out looks, and their supercharged electronics amounting to some of the heaviest-swinging metal axes Ibanez has ever produced.
5pc Maple/Walnut neck with Graphite reinforcement rods
The 5pc Maple/Walnut neck provides tonal clarity and superior attack.The Graphite reinforcement rods provides massive sustain and excellent stability.
Ebonol fretboard
Ebonol is a synthetic material which is made from layers of black paper and phenolic resin. An Ebonol fretboard provides tight and bright sound.
Okoume body
The Okoume body provides a bright and solid sound.
Bartolini® BH2 pickups
The Bartolini® BH2 pickups provide a tight bottom-end, punchy mid-range, and smooth response. The dual-coil style configuration maximizes articulation and a long blade pole piece widens the magnetic field, providing balanced string-to-string pickup response.
Ibanez Custom Electronics 3-band EQ
The Ibanez Custom Electronics 3-band EQ is our latest refinement on the concept of simple, straightforward, no-nonsense EQ control. The Boost and Cut for the Mid Control are each centered on slightly different frequencies, an innovation that delivers a preset range of the most favorable bass tones.
MR5 bridge
The Mono-Rail V is the ultimate bridge for bass string isolation. Each bridge is independently and securely locked down to the body for maximum vibration transfer without interference.
3-way Mid frequency switch
The 3-way Mid frequency switch allow players to change the mid-tone between 250, 450, and 700 Hz.
| | |
| --- | --- |
| SKU | IBA-BTB625EXBKF-S1 |
| MPN | BTB625EXBKF |
| Vendor | Ibanez |
| Fingerboard | Ebonol |
| Mpn | BTB625EXBKF |
| Pickup Config | SS |
| Right Left Handed | Right |
| Strings | 5-Strings |
| Vib Trem Bridge | No |
| Body Material | Okoume |
| Bridge | MR5 bridge |
| Controls | treble boost/cut, mid boost/cut, and bass boost/cut. Volume, and the pickup balancer control |
| Fingerboard Radius | 12" |
| Finish | Black Flat |
| Hardware Finish | Black |
| Neck Material | Maple/Walnut |
| Number of Frets | 24 |
| Nut Material | Graph Tech |
| Nut Width | 1.85" |
| Pickup Switching | 3-way mid frequency switch |
| Pickups | Bartolini® BH2 Passive |
| Scale Length | 35" |
Ibanez Electric Guitars and Basses Limited Warranty
Ibanez Electric Guitars and Basses sold in the United States are warranted by Hoshino USA. Please note that this information is only for Ibanez electric guitars and basses sold by authorized dealers in the United States.
Please return your completed Ibanez Warranty Card within 10 days of purchase to ensure proper owner registration of your guitar. This Ibanez Electric guitar ('Instrument') is warranted to be free from defects in materials and workmanship to the original owner, subject to all the following terms and conditions.
The Warranty provided herein is for a period of one (1) year from the date of the original retail purchase.
This Warranty is given by Hoshino (U.S.A.) Inc., 1726 Winchester Rd., Bensalem, Pennsylvania 19020 ('Hoshino') only to the original purchaser of this Instrument. Hoshino will repair or replace any part or parts of the Instrument which may prove defective under normal use and service during the one(1) year Warranty Time Period stated above (which Hoshino's examination shall disclose to its satisfaction to be thus defective. This Warranty does not apply unless you provide a copy of your original sales receipt.
This Warranty does not cover: (a) any non-factory-installed electrical/electronic components or tuning hardware; (b) damage or defects due to alteration, misuse, abuse, normal wear and tear, extremes of temperature or humidity or abnormal strain; (c) accidental or intentional damage; (d) damage in shipping; (e) the repair or replacement of expendable maintenance items including, but not limited to, strings, tuning machines, or scratched pickguards; (f) normal fret wear; (g) plating on metal parts; (h) cracking or other damage to the finish; (i) any damage from accessories (synthetic straps, etc.); (j) an Instrument whose serial number has been defaced; (k) tonal characteristics (tone is a subjective matter and is not warranted); or (l) any Instrument purchased from other than an authorized Ibanez dealer.
To obtain warranty service, the Instrument must be returned to Hoshino at its address listed above through an authorized Ibanez dealer. A return authorization number, to be obtained from Hoshino Customer Service Department, must be written in a conspicuous place on the outside of the return shipping carton or the return will be refused. When returning the Instrument for service under this Warranty, a copy of the sales receipt establishing proof and time of purchase must be sent along with the instrument. All freight and insurance must be prepaid by the original owner.
You must maintain this instrument, without alteration, negligent use, misuse or abuse. All service of this Instrument must be performed by Hoshino. Any service performed on this instrument by other than Hoshino, or not specifically authorized by Hoshino, will terminate this Warranty.
Hoshino's sole and exclusive responsibility shall be as provided under this Warranty and, under no circumstances shall Hoshino be liable for any incidental or consequential damages. This limited warranty is your exclusive remedy and is made in lieu of all other warranties, express or implied; all implied warranties, including, without limitation, any implied warranty or merchantability or fitness for a particular purpose, are hereby expressly limited in duration to the duration of this written warranty. Some states do not allow limitations on how long an implied warranty lasts or the exclusion or limitation of incidental or consequential damages, so the above limitations or exclusions may not apply to you. This Warranty gives you specific legal rights, and you may also have other rights which vary from state to state. No person, whether or not an agent, is authorized to make or assume any obligations other than those stated in this warranty.
Save your receipt! Ibanez cannot perform any Warranty Service without a copy of your original sales receipt. The registration of this Ibanez Guitar is important as it will allow Hoshino to keep you apprised of any improvements and / or upgrades made after your purchase.
Ground shipping is FREE for all orders $99 and up.