Skip product carousel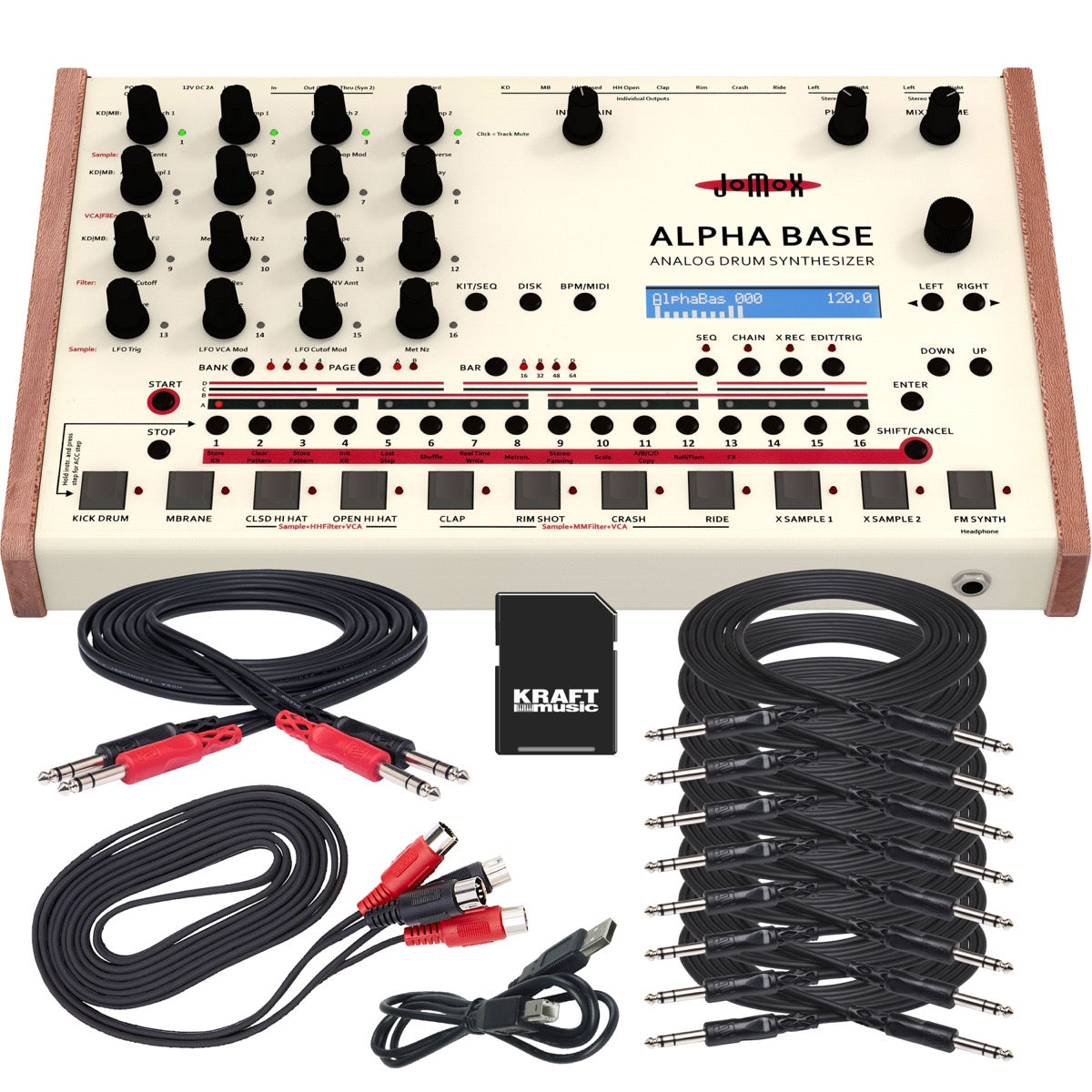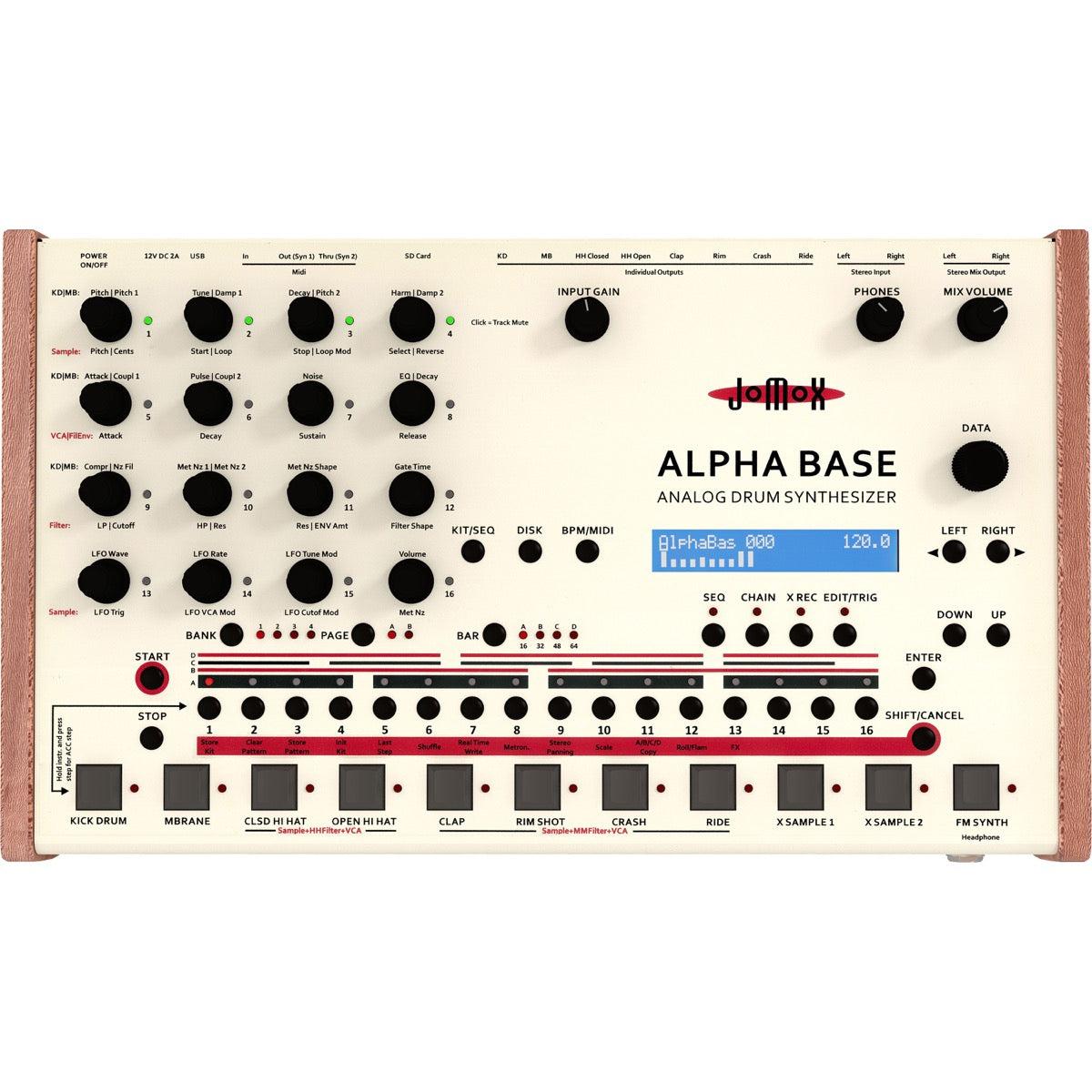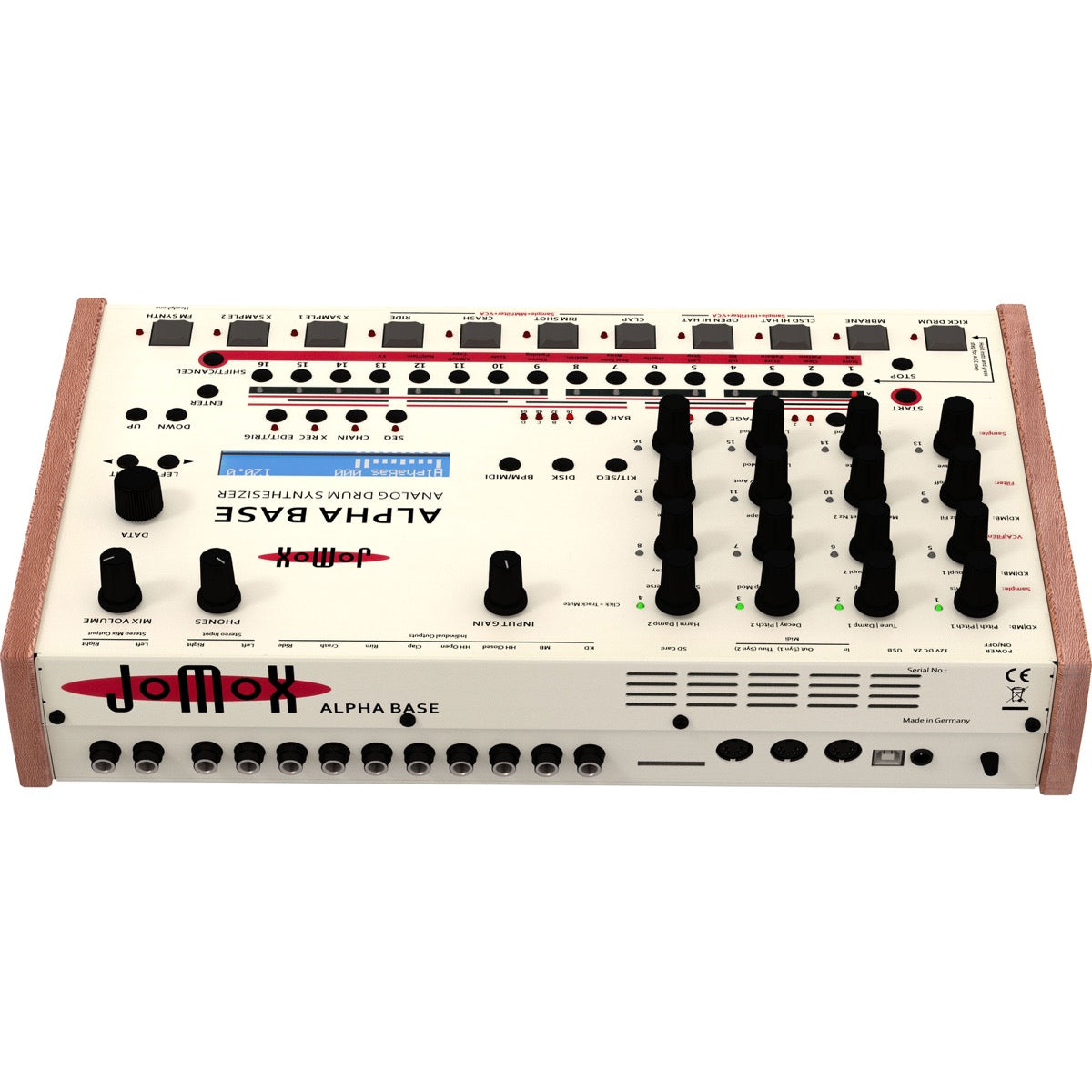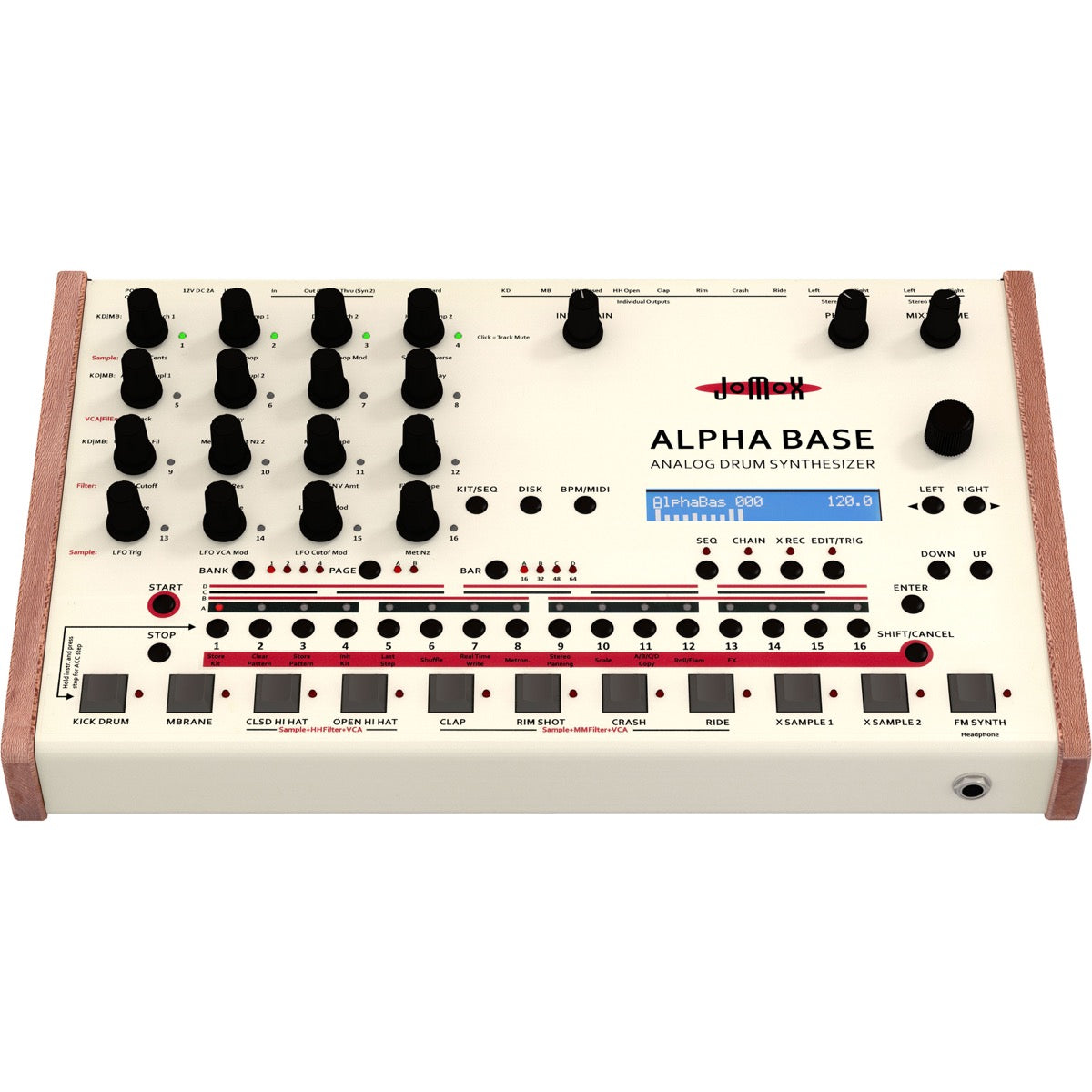 JoMoX Alpha Base Analog Drum Synthesizer CABLE KIT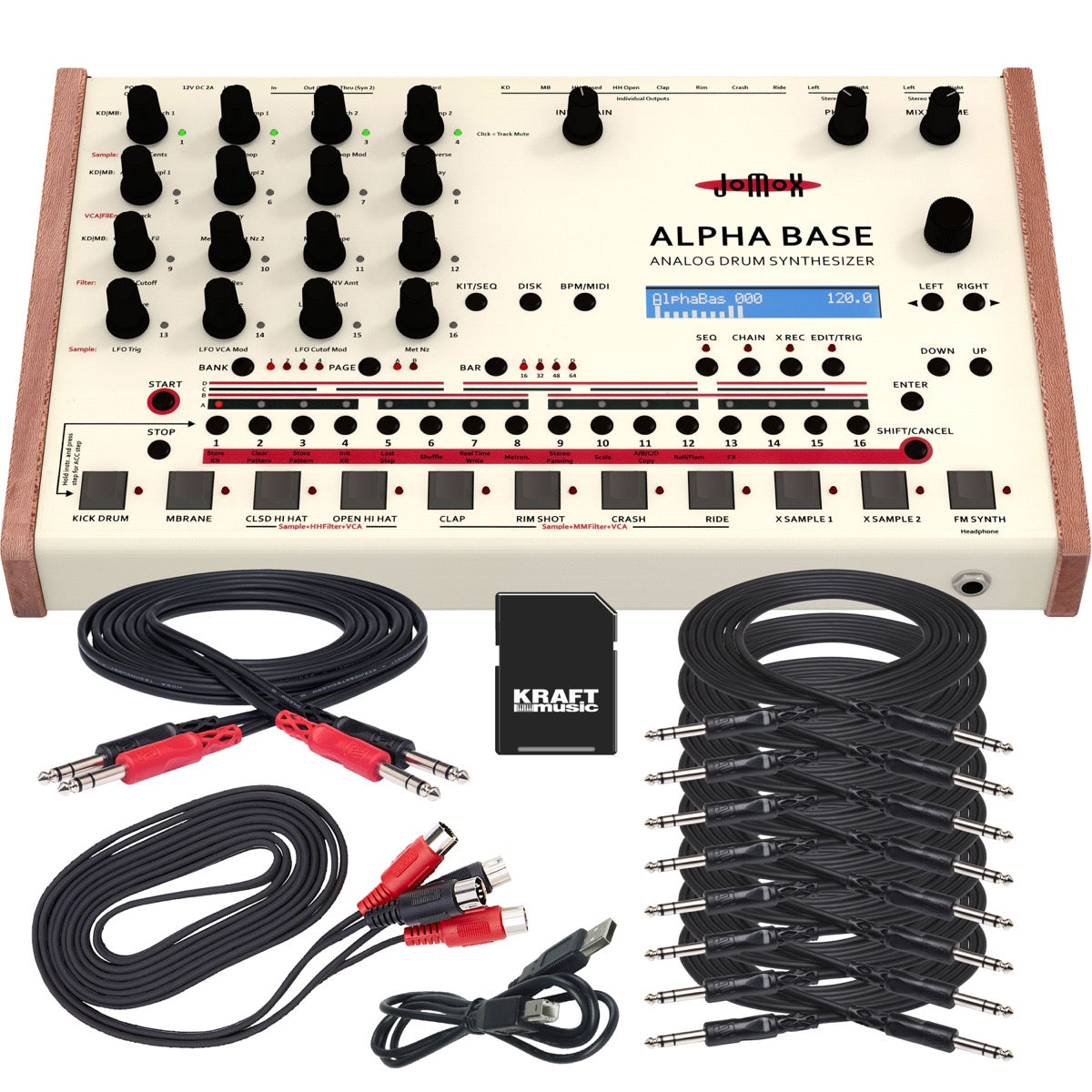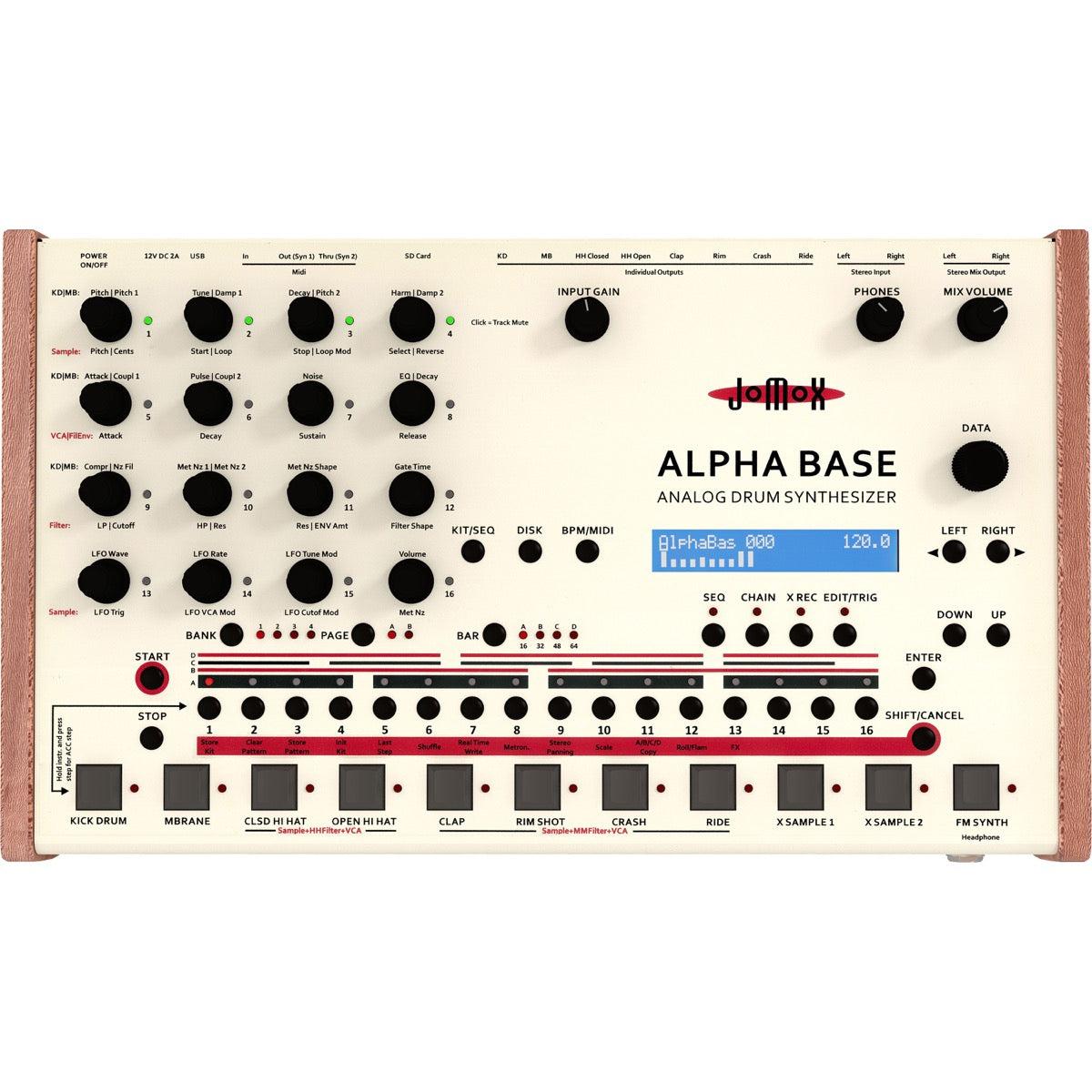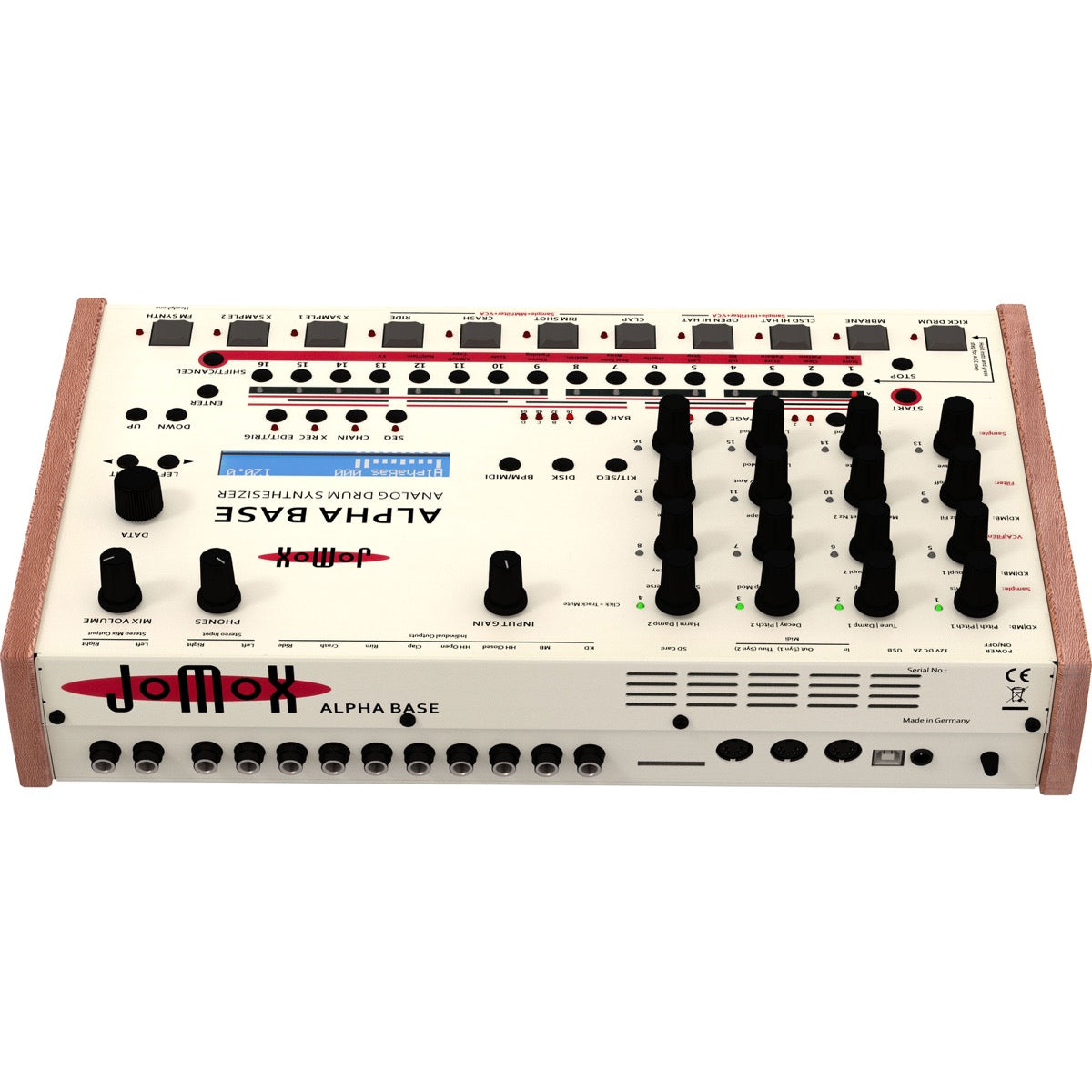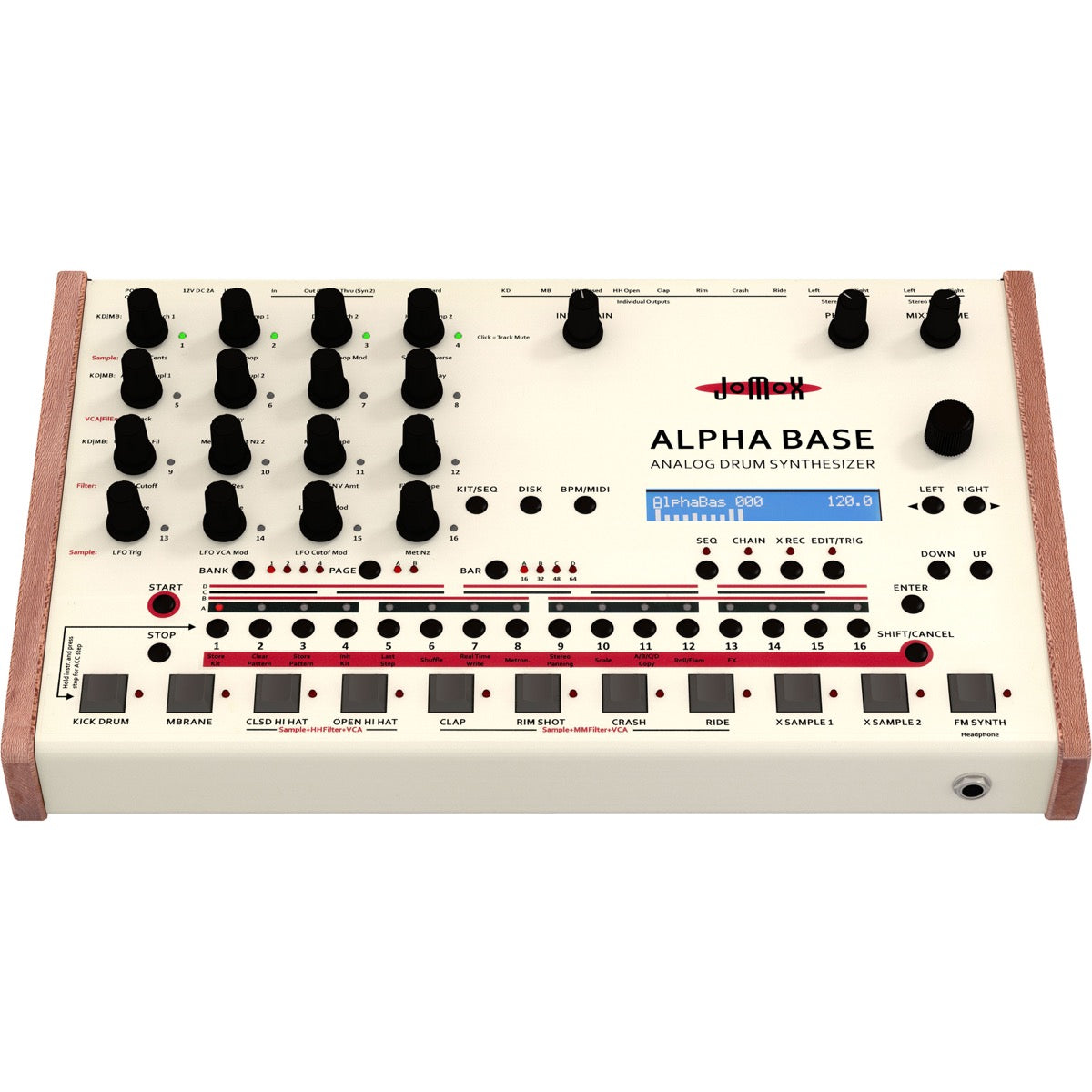 JoMoX Alpha Base Analog Drum Synthesizer CABLE KIT
6 items included
This Kraft Music Bundle Includes
$1,799.00
Regular price
$1,939.44
You Save $140.44
Click on a product to view more details.
JoMoX Alpha Base builds on the legacy of the classic XBASE 09, XBASE 999 and XBASE 888 drum machines with an entirely new design that combines pure analog circuitry with sample-based sounds and a built-in FM synth, all driven by a powerful sequencer, processed by analog filters and VCAs and sweetened by onboard reverb and delay. This is truly the flagship JoMoX drum machine!
Storage in internal flash memory for 250 16-bit/48kHz samples
SD card for sample transfer/loading
MIDI in, out, thru
USB port for MIDI over USB
MIDI out and thru jacks can also send DIN sync out
Hi-Z stereo inputs for sampling, effects or sidechain, suitable for guitar/bass or line level up to +20dBu
Balanced stereo outputs for main mix
8 individual instrument balanced outputs
Headphone output
18 encoders
3 analog potentiometers for input volume, main mix volume and headphone volume
2×24 character LCD display
Sturdy metal case with wood sides
Kick drum
At the heart of Alpha Base is the famous JoMoX analog kick drum, which has been further refined here, bringing along not only its legendary punch and assertiveness but also distinctive parameters like LFO, pitch envelope, metallic noise and gate time.
MBrane
Next up is JoMoX's similarly famous MBrane circuit, which mimics the two vibrating membranes of a physical drum with a pair of two-pole filters that interact with one another through both mixing and frequency modulation. This voice covers a huge spectrum of analog snare drums, cowbells, claves, glasses, tomes, bass drums, etc. The MBrane channel also has two dedicated LFOs, pitch envelopes and a metallic noise source.
Samples + filter
The next six instruments are hybrid voices that run samples through real analog filters and VCAs. Each sample channel has a dedicated analog metallic noise circuit that can be used on its own or blended with the sample.
Hi-hat
Two of the six sample-based channels are reserved for hi-hats and use the time-tested hi-hat filter from XBASE 999. This specialized filter can conjure up wonderful and noisy hi-hat sounds by blending samples with the metallic noise source.
Clap, rim, crash, ride
The next four channels each have a dedicated 2-pole resonant multimode filter switchable among lowpass, highpass and bandpass modes; the filter cutoff can be modulated by a dedicated ADSR envelope and LFO per instrument. By pushing the filter into self-oscillation you can create wonderful analog toms, claves, sticks, etc. by means of the VCA envelope or even bend samples to their extremes. Conceptually, each of the four multimode filter channels is a little synth voice; a sampled synth bass run through the analog filter is practically indistinguishable from a real analog synth!
X Sample
The two X Sample channels are purely digital; Alpha Base has audio inputs to sample your own sounds directly into these channels with about 4 seconds of sample time available, more than enough for drum samples. Samples can be stored on an SD card for playback on the X Sample channels or transferred to internal flash memory for playback on other sample-based channels. All samples can be pitched and modulated across a wide range. Sample start and end points can be adjusted and sample playback can be looped. Each X Sample channel has a dedicated LFO with modulation targets for pitch, volume and loop phase.
FM synth
Also included is a dedicated channel for a mini FM synth. With four operators and six voices it can create everything from weird and crazy percussion to simple chords. Played with an external MIDI keyboard it can be used as a polyphonic FM synth.
Effects
Alpha Base has onboard delay and reverb with send levels per instrument. Delay and reverb can also be inserted into the analog signal path on the hi-hat, clap, rim and ride channels.
Editing
For parameter editing, Alpha Base has 16 encoders arranged in a 4×4 matrix. Each instrument only addresses two parameter 'pages' of 16 values each, making editing as easy as possible without extensive menu-diving. The 2×24 display can show four parameters at a glance.
Sequencer
Alpha Base has a 16-step running LED sequencer with 11 tracks of a maximum 64 steps each. Individual track lengths may vary and are controlled by the track-specific 'last step' parameter, enabling complex polymeters and polyrhythms. Alpha Base also allows individual swing settings per track, microtiming for individual steps and per-step roll and flam settings along with two extra per-step parameters for pitch and filter cutoff frequency.
Parameter locks
Alpha Base also allows for parameter lock-style per-step automation, with per-step sound locking available via the sound/instrument patch preset list. To program parameter locks, simply hold a step and change the parameter value you wish to automate.
Pattern chain
Neighboring patterns can easily be chained together to create simple song structures. To create chains, simply hold two step/pattern buttons to create a pattern that will be stored with the first pattern in the chain.
MIDI/USB/Sync24
Alpha Base has MIDI in, out and thru jacks as well as MIDI over USB. Each of its 11 instruments can be addressed on its own MIDI channel and can be played or sequenced externally via pitch and velocity. Every internal parameter is controllable via MIDI CC and all knobs transmit MIDI CCs. The 5-pin MIDI jacks are also compatible with DIN Sync24 for sync with legacy x0x-style machines.
SKU
JOM-ALPHABASECK
MPN
Alpha Base
Vendor
JoMoX
Analog Digital
Analog
Built In Speakers
No
Included From Manufacturer
Power supply
Midi
In, Out, Thru, and USB
Mpn
ALPHABASE
Product Unique Features
Onboard sampling
Dedicated multimode analog filters and VCAs
Onboard 4-operator FM synth capable of 6-voice polyphony
Arpeggiator
No
Effects
Reverb and delay
Expansion Options
SD card slot for sample loading, transfer and playback (card cold separately)
Audio Inputs
Dual 1/4" stereo hi-Z inputs for sampling, effects or sidechain
Audio Outputs
Dual 1/4" balanced mix outputs
8 × individual instrument 1/4" balanced outputs
1/4" stereo headphone output
Internal Storage Capacity
Storage for 250 16-bit/48kHz samples in internal memory
Sample loading, transfer and playback from SD card (card sold separately)
Multitimbral Capability
12 parts
Product Weight
7.26 lbs.
Sampling
Onboard sampling via Hi-Z stereo inputs
Sample loading, transfer and playback from SD card (card sold separately)
Sequencer
11 tracks
1–64 steps per pattern
Per-track or global shuffle/swing
Roll/flam per step
Per-step parameter locking for pitch and one other selectable-per-step parameter
USB Port (to Host)
MIDI;System Updates
Voices of Polyphony
11 channels
FM Synth channel capable of 6-voice polyphony
Width
16.1"
Depth
9.5"
Height
3.2"
JoMoX Limited Warranty
JoMoX products are covered under warranty for two (2) years.
Ground shipping is FREE for all orders $99 and up.