Skip product carousel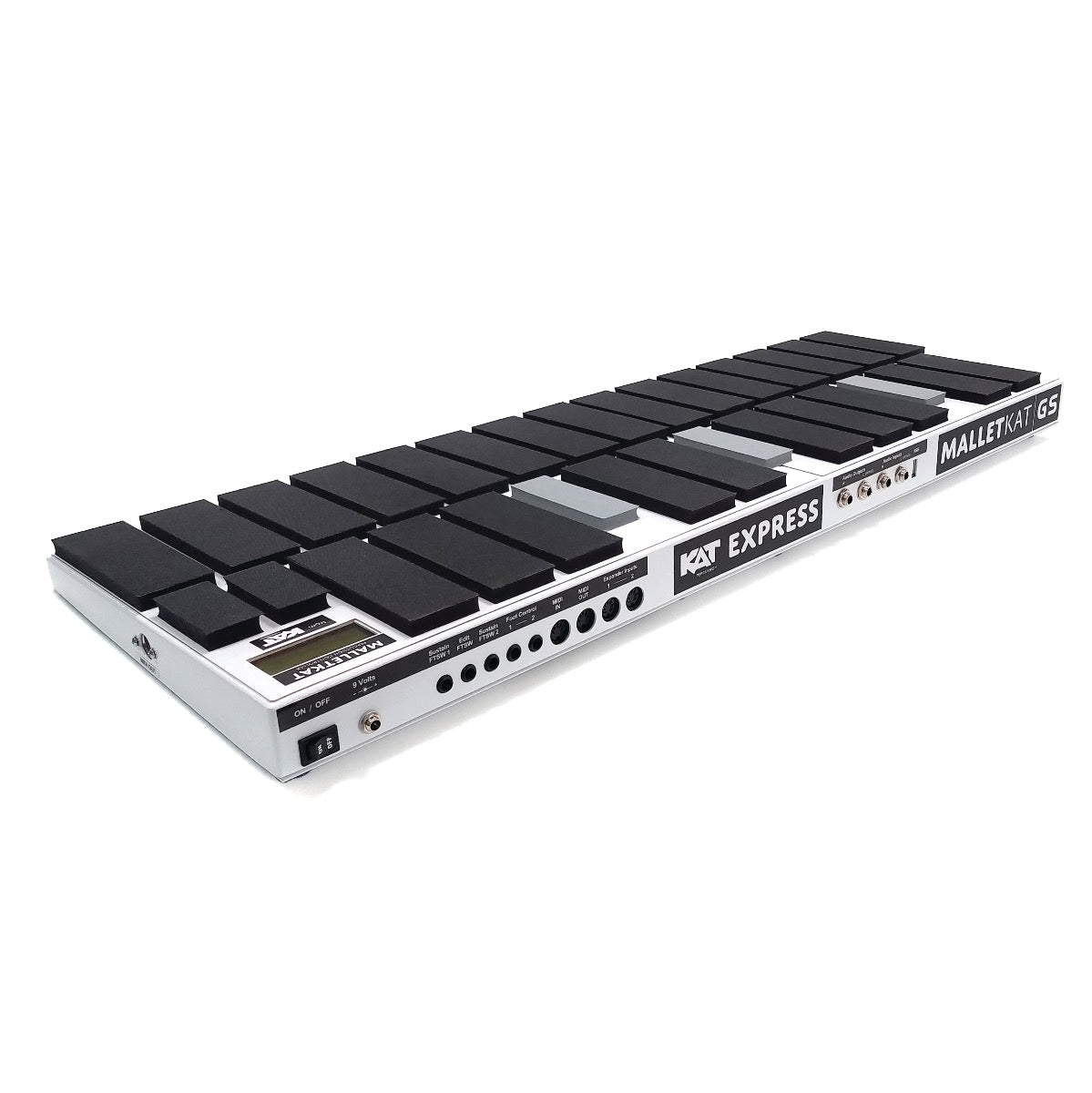 KAT Percussion MalletKAT GS Express Percussion Controller STAGE RIG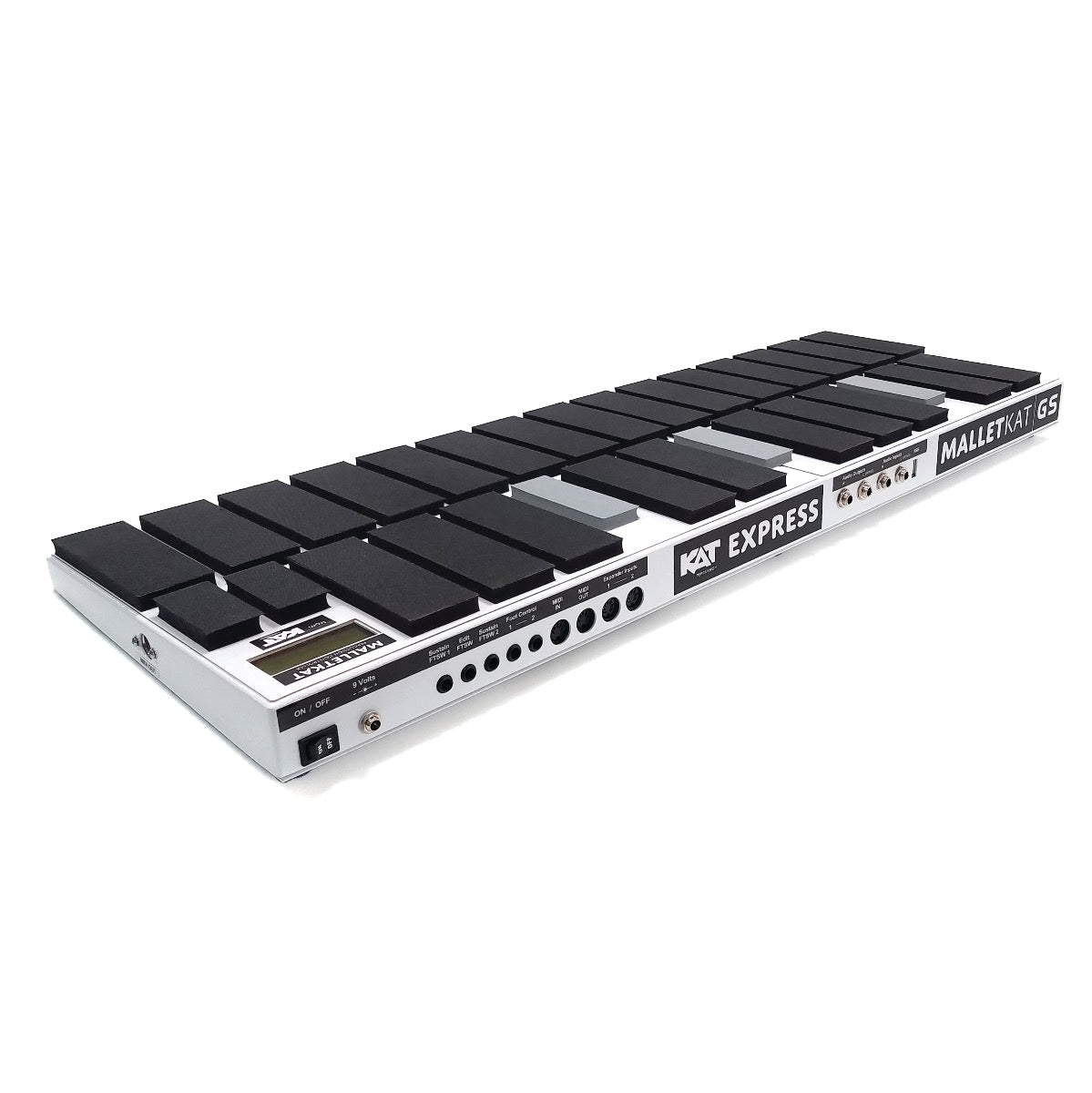 KAT Percussion MalletKAT GS Express Percussion Controller STAGE RIG
6 items included
This Kraft Music Bundle Includes
Click on a product to view more details.
The MalletKAT is the world's most powerful and responsive MIDI percussion mallet controller, now with a built-in sound engine, new audio board design and firmware enhancements. The MalletKAT GS Express offers a standard 2-octave design which can be expanded to 3 or 4 octaves.
Updated User Kits
Built in Metronome
Layered Sounds
Velocity Shifted Sounds
Split Keyboard Sounds
Special Percussion Non-Chromatic Layouts
Use of Warp Modes
Velocity Controlled Gate Times
Velocity Gate
Dampen Modes
Crossfading
Chain Accessibility
Dedicated Reverb
The single most requested feature is now here!! There is also a dedicated reverb knob on the front panel.
Inline Audio Merge
The malletKAT GS also has 1/4 inch. stereo inputs that will merge its audio with the malletKAT. Now you can practice with other players or play with CD's and hear it on your headphones or remote speakers.
Huge Sound Library
The malletKAT GS is packed with an expanded collection of over 1000 instruments using over 14,000 samples. Moreover, these instruments were curated and tailored to respond to the articulations, gestures, and dynamics of a mallet player - not a keyboardist. You WILL notice a difference. Chromatic Percussion, Latin Percussion, World Percussion, Chinese, Indian, African, Brazilian, Middle Eastern Percussion - The typical sounds you are used to getting are still included! Such as pianos, keyboards, organs, basses, guitars, ethnic stringed instruments, brass and woodwinds, strings, accordions, choir effects, and synthesizer pads and effects.
General MIDI
A complete GM (General MIDI) sound library that can be accessed by any MIDI instrument via the malletKAT's MIDI IN connection. USB FLASH UPGRADABLE: From time to time, sound library updates will become available. Our sound module can be updated with a simple Flash Stick that plugs into our NEW USB input on the back of the malletKAT GS. (Not available on GS Upgrades)

SKU
KAT-MALKATGSEXPSR
MPN
MalletKAT GS Express
Vendor
KAT Percussion
Bus Power
No
Controller Type
Mallet
Midi
In and Out
Mpn
7551GS
Control Connections
1/4" Sustain Footswitch 1
1/4" Sustain Footswitch 2
1/4" Edit Footswitch
Foot Control 1
Foot Control 2
Five-Pin MIDI Support
Yes
Product Weight
9 lbs.
Width
32"
Depth
11"
Height
2.5"
KAT Percussion 1-Year Limited Warranty
This Limited Warranty applies only to KAT Percussion products purchased in the United States.
Your KAT Percussion product purchased from an authorized KAT Percussion dealer in the U.S. will be free of any defects in materials and/or workmanship if used under normal operating conditions for a period of one (1) year from the date of purchase. This Limited Warranty shall apply only to the original purchaser.
Please register this product online at the KAT Percussion website or mail in the included KAT Percussion Product Registration form to establish the date and proof of purchase. Although registration is not a requirement for Limited Warranty service, please retain your sales receipt, as it is your proof of purchase. This Limited Warranty is void without proof of purchase.
Standard Shipping