Skip product carousel
Price Drop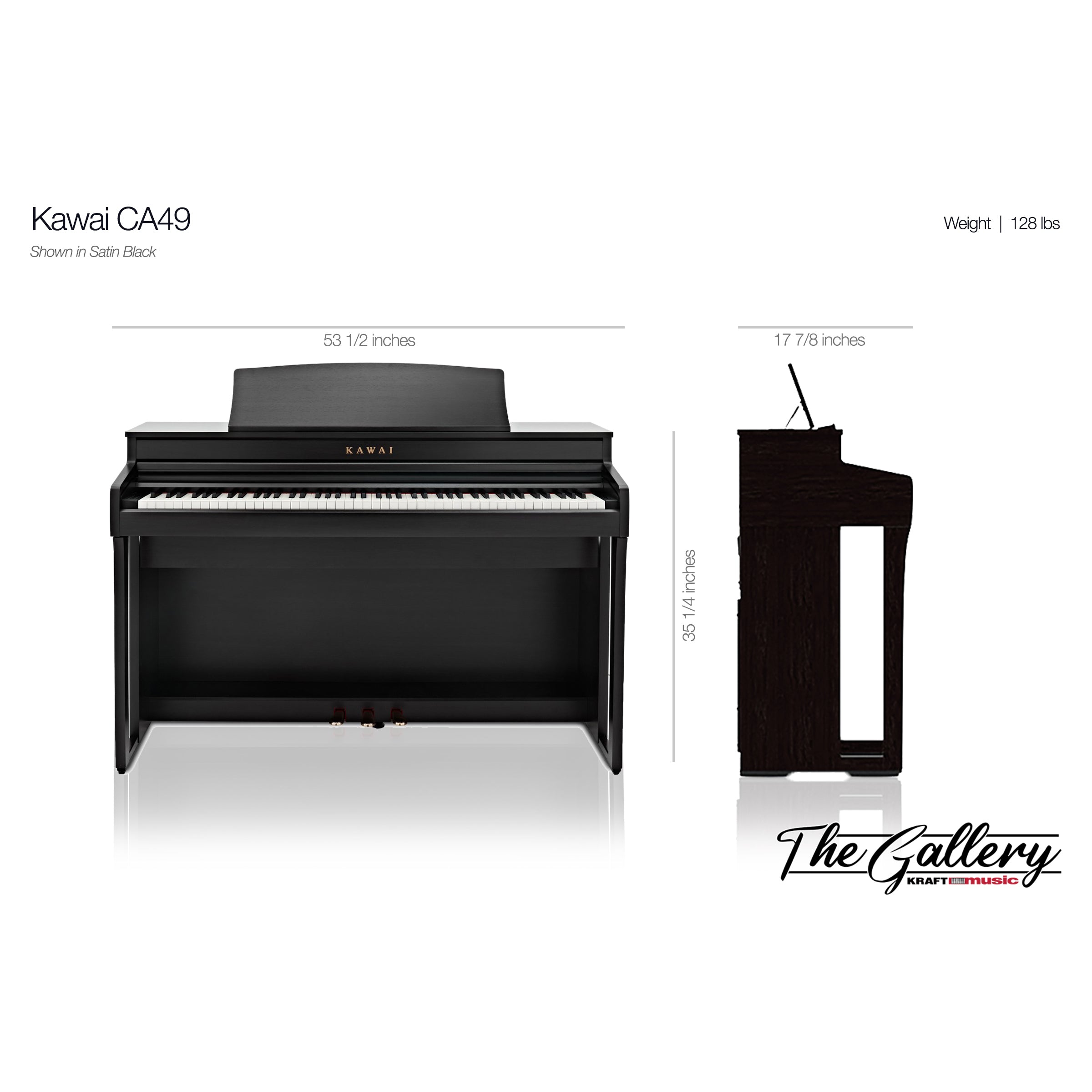 Kawai CA49 Concert Artist Digital Piano - Satin White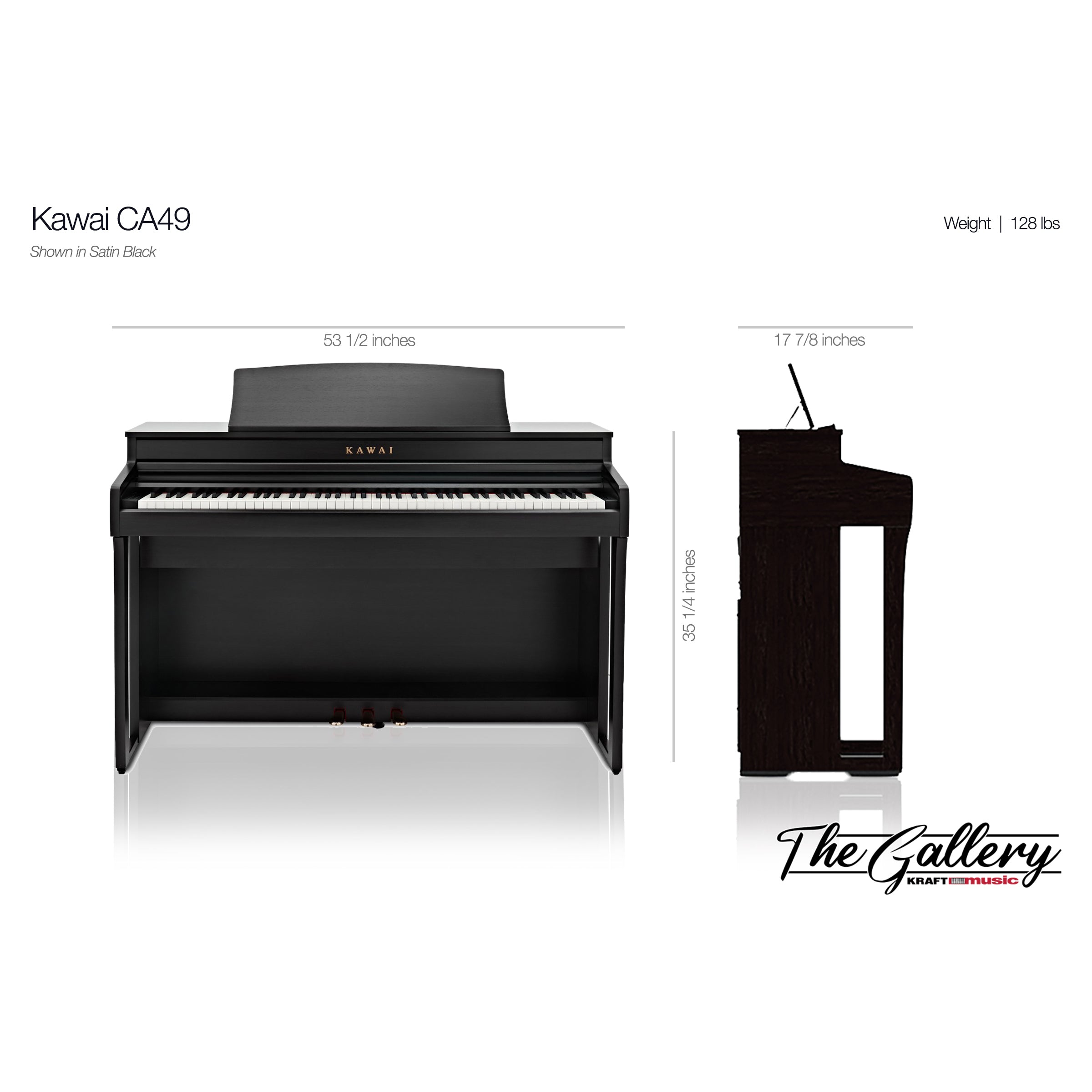 Kawai CA49 Concert Artist Digital Piano - Satin White
Introducing the Kawai CA49 Concert Artist…
Kawai CA49 digital piano delivers a legacy of authentic sound and premium features. CA49 also boasts Kawai's Grand Feel Compact wooden-key keyboard action along with the acoustic piano sounds of Shigeru Kawai SK-EX and Kawai EX concert grand pianos, providing a more natural and realistic playing experience. A handy Low Volume Balance function improves consistency when practicing at reduced volume levels.
CA49 shares its tall body and rounded edge details with Kawai's larger Concert Artist models for a more impressive, premium experience. It also features a modern OLED graphic display in its cheekblock control panel for easy operation. The Kawai Concert Artist Series is one of the most award-winning lines of digital pianos available today, and CA49 is a model that will deliver players of all levels a premium piano experience.
Modern cabinet design modeled after larger Kawai Concert Artist instruments
Shigeru Kawai SK-EX and Kawai EX grand piano sounds
Tone Control setting with 8 selectable tone presets
Smart Mode Virtual Technician allows access to deep regulation and voicing adjustments
Thoughtfully designed control panel layout with modern OLED graphic display
Built-in Chopin Waltzes 1-19 lesson book book
Low Volume Balance function for improved touch response consistency at reduced volume levels
Enhanced light touch response setting for younger players
CA49 dimensions and weight
Please refer to this diagram to help visualize how this piano might fit in your room of choice. The weight listed is based on the finished, assembled instrument, and is measured in pounds. The height, width and depth dimensions are measured in inches.
Color Swatches - Satin White
Please note that the color may vary depending upon your screen settings or due to the device that you are viewing. These photos are designed to give you an idea of the rich finish of the piano.
Features Overview
Touch
CA49 utilizes Kawai's Grand Feel Compact keyboard action, which draws upon 90 years of acoustic piano craftsmanship to provide an exceptionally realistic playing experience. All 88 black and white keys are crafted entirely from long pieces of wood, with finely textured Ivory Touch key surfaces applied to assist playing control.
As with an acoustic grand piano action, the keys rest on a metal balance pin and move with a smooth seesaw-like motion, while the extended pivot length ensures a consistent, evenly-balanced touch weight – even when playing towards the back of the key. The Grand Feel Compact action also incorporates grade-weighted hammers, bass region counterweights and let-off simulation for added authenticity, while its accurate triple-sensor key detection system allows rapidly repeated notes such as trills to be performed smoothly without unnatural breaks in sound.
Tone
CA49 captures the magnificent tone of Kawai's flagship Shigeru Kawai SK-EX full concert grand piano. Widely regarded as the 'premier pianos of Japan,' Shigeru Kawai instruments grace the stages of concert halls and musical institutions throughout the world and are prized for their exceptional tonal clarity. In addition, CA49 also features the distinctive sound of Kawai's highly-acclaimed EX concert grand piano, which has frequently been selected by professional pianists in such prestigious events as the Chopin, Tchaikovsky and Rubinstein international piano competitions, among others.
Both instruments have been carefully recorded, meticulously analyzed and faithfully reproduced with full 88-key sampling using Kawai's Harmonic Imaging sound technology. This unique process accurately recreates the broad dynamic range of the original grand pianos, affording pianists an extraordinary level of expressiveness ranging from the softest pianissimo to the strongest, boldest fortissimo.
Bluetooth
In addition to standard MIDI jacks for connecting to other instruments, CA49 also boasts integrated Bluetooth MIDI technology that allows the instrument to communicate with supported smart devices wirelessly. Once connected to a phone, tablet or laptop, CA49 owners can enjoy a wide variety of exciting music-related apps that enhance their learning and playing experience without additional cables.
Lessons and exercises
CA49 features a three-song recorder, allowing performances to be recorded to internal memory and played back at the touch of a button. In addition, the convenient lesson feature allows aspiring pianists to learn the piano using a built-in collection of etudes from Czerny and Burgmüller or songs from the popular Alfred course books. The left and right hand parts for each piece can be practiced separately and the tempo can be adjusted to help perfect more difficult passages.
Smart Mode Virtual Technician
An experienced piano technician is essential to fully realize the potential of a fine acoustic piano. In addition to meticulously tuning each note, the technician also performs numerous regulation and voicing adjustments that allow the instrument to truly sing. CA49's Smart Mode Virtual Technician simulates these refinements digitally with ten preset configurations that adjust various characteristics of the grand piano sound to match different musical styles.
Grand Feel Pedal System
When the damper pedal of an acoustic piano is pressed and released, it is often possible to hear the sound of the damper head touching and releasing the strings. CA49 reproduces this sound with its Damper Noise setting, allowing the volume of this sound to be adjusted. The speed at which the damper pedal is pressed will also influence the prominence of the damper noise, with fast pedaling creating a very pronounced sound.
Additional sounds
Complementing its beautiful acoustic piano voices, CA49 also features a modest selection of additional sounds ranging from electric pianos and drawbar or church organs to strings, human choirs and synth pads, inviting musicians to add greater variety to their performances.
Concert Magic
This exclusive feature lets anyone enjoy the thrill of playing the piano, even if you've never played before. Concert Magic is an intelligent, interactive system that makes playing songs incredibly simple and fun: all you need to do is tap any key and Concert Magic will take care of playing the correct notes. You get to control the song's rhythm and expression, which are the other two elements of playing music. With Concert Magic you can experience a world of musical styles: Children's Songs, Christmas Songs, American Classics, Favorite Hymns, Classical Piano Selections, Patriotic Songs, International Songs and music for Special Occasions.
Superior headphone experience
CA49's Spatial Headphone Sound (SHS) technology enhances the depth and realism of the instrument's sound when listening through headphones or earphones. The player can select one of three different acoustic presets that adjust the spatial positioning of the sound, while also helping to reduce auditory fatigue when using earphones or headphones for extended periods of time.
Adjustable music rest
As with a grand piano, the viewing angle of CA49's music rest can be adjusted to suit the performer's playing position or laid flat to provide a level surface for notating scores.
SKU
KAW-CA49WH
MPN
CA49 White
Vendor
Kawai
Bluetooth
App Connectivity
Built In Speakers
Yes
Connectivity
USB and MIDI
Included From Manufacturer
Matching bench
Headphone hook
Power supply
Keys Weighted
Hammer Weighted
Key Cover
Yes
Key Num
88
Mpn
CA49 WH
Piano Cabinet Style
Console
Product Unique Features
Smart Mode Virtual Technician app to personalize sound and touch response
Alfred, Burgmüller, Czerny, Chopin and Beyer lesson songs
OLED graphic display
Bluetooth MIDI
Accompaniments
No
Duet Mode
Yes
Finish
Satin White
Half-Damper Support
Yes
Audio Outputs
1/4" headphone output
1/8" headphone output
Key Action
Kawai Grand Feel Compact
Layer Feature
Yes
Metronome
Yes
Pedals
Sustain with half-pedal support
Soft
Sostenuto
Product Weight
128 lbs
Song Recorder
MIDI
Number of Songs
3
Number of Sounds
19
Speaker Power
40W (20W × 2)
Speaker Size
(2) 5.12"
(2) 1.97"
Split Feature
No
Storage Type
Internal
Number of Tracks
1
Transpose Feature
Yes
Voices of Polyphony
192
Width
53 1/2"
Depth
17 7/8"
Height
35 1/4"
5-Year Kawai Limited Warranty
Kawai CN, CA, CS, and CP models are covered by Kawai's five (5) year limited warranty. This warranty covers digital piano models CN, CA, CS and CP against defects in materials or workmanship for five (5) years from the date of purchase. Kawai will attempt to perform service at the location of the instrument. However, if this is not reasonably feasible, then You will be responsible for any installation or removal charges and for any initial shipping charges if the instrument(s) must be shipped for warranty service. However, Kawai will pay the return shipping charges to your location within the USA or Canada if the repairs are covered by the warranty. More details can be found at the Kawai America Corporation's U.S. web site.