Skip product carousel
Bonus Item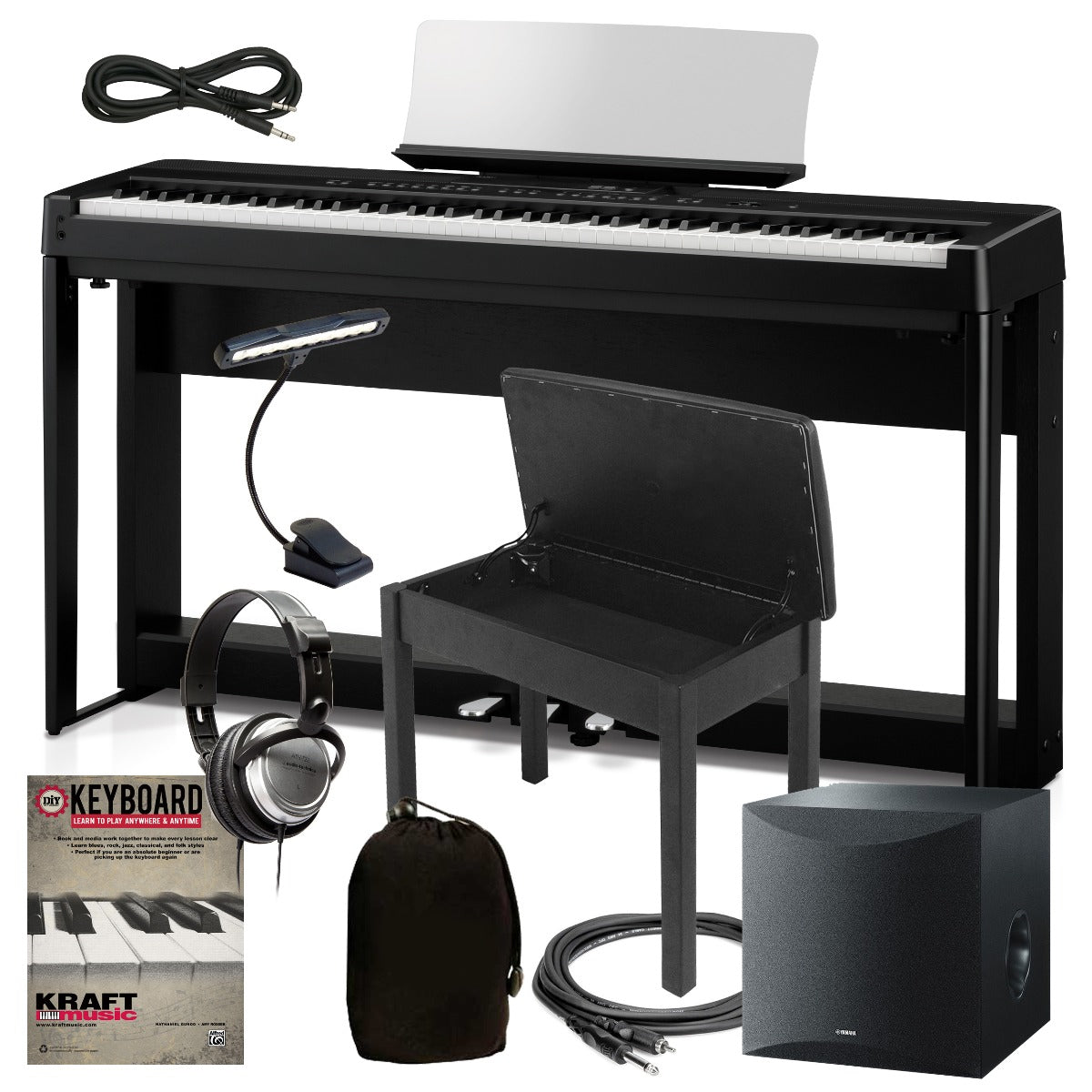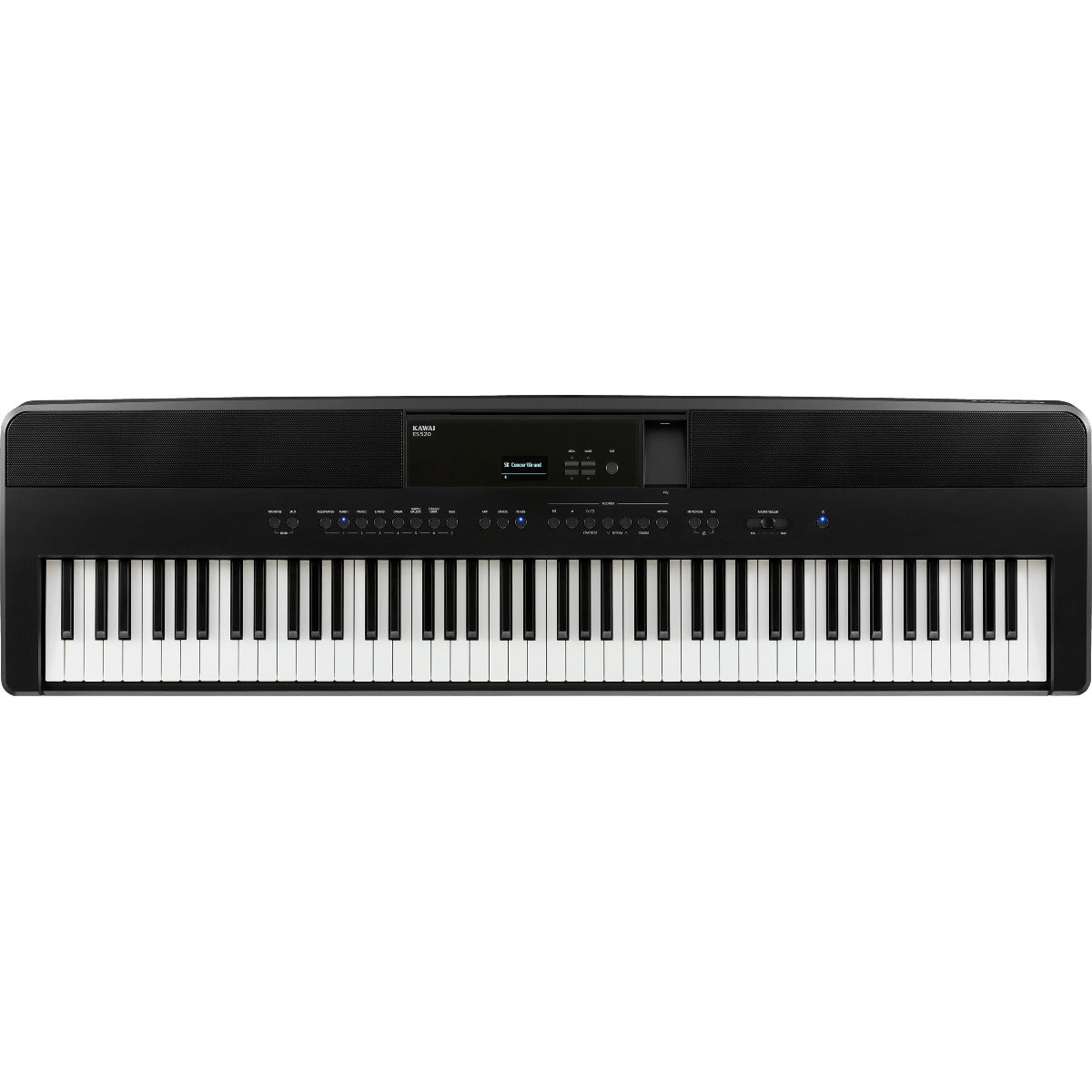 Kawai ES520 Portable Digital Piano - Black COMPLETE HOME BUNDLE PLUS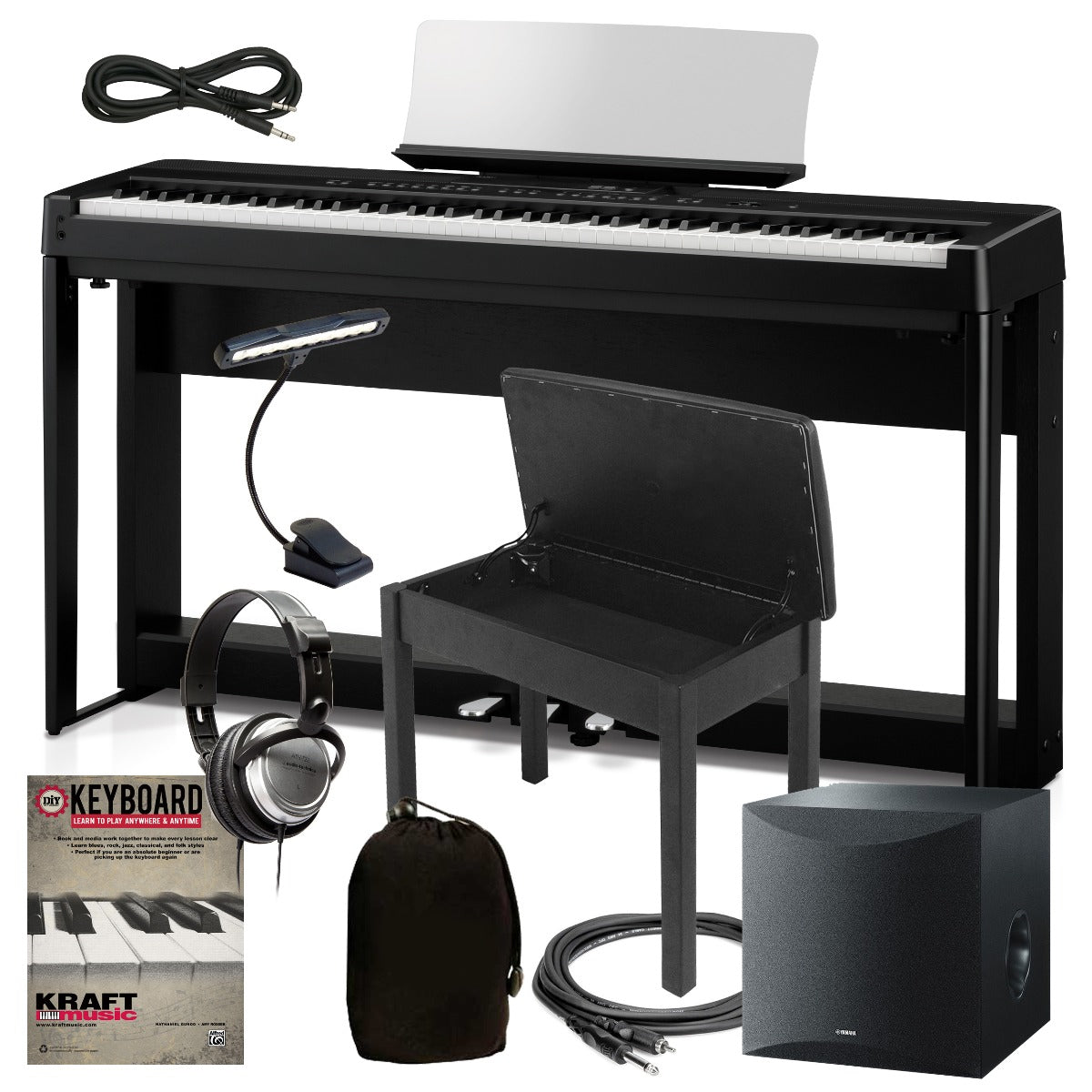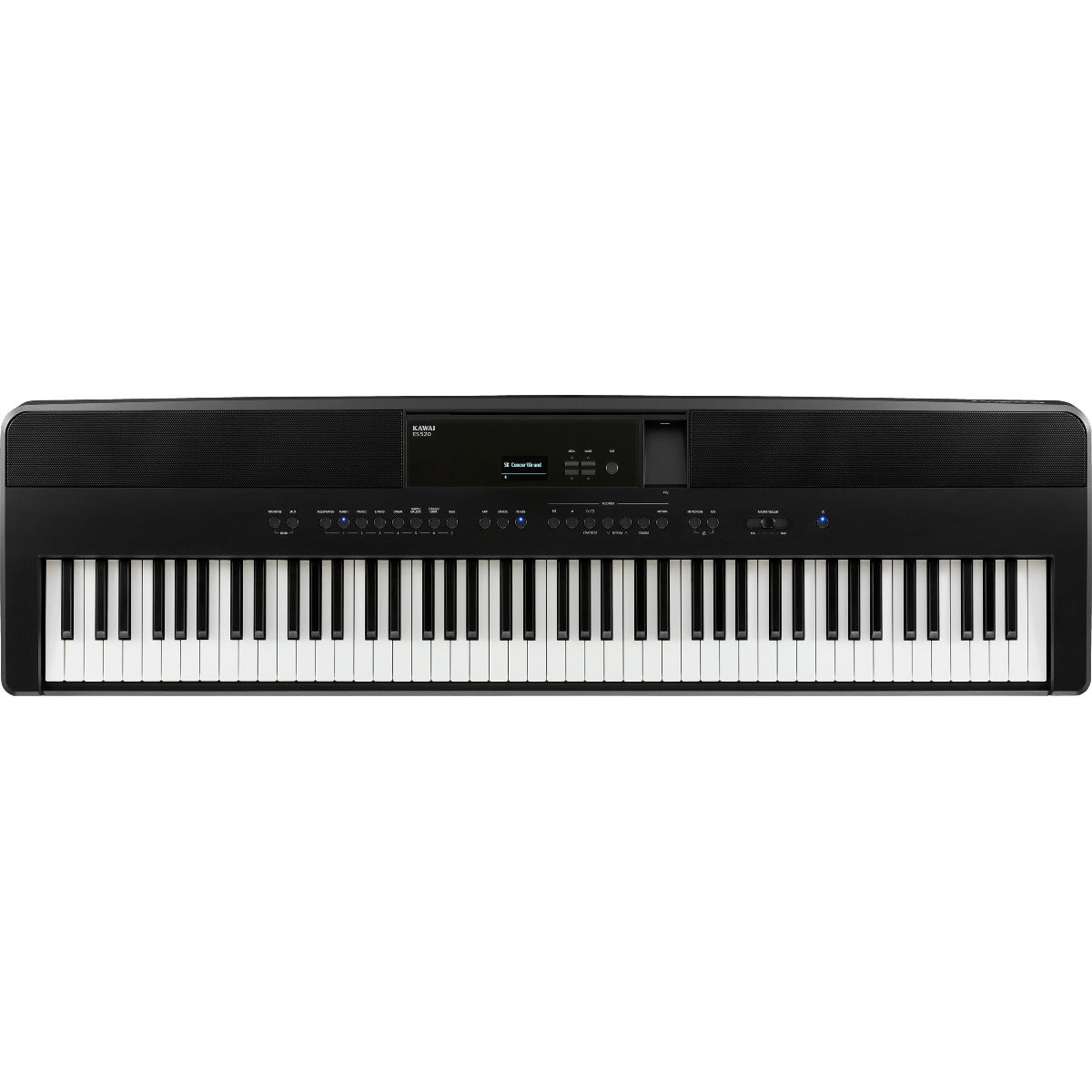 Kawai ES520 Portable Digital Piano - Black COMPLETE HOME BUNDLE PLUS
11 items included
This Kraft Music Bundle Includes
Click on a product to view more details.
Combining Kawai's authentic Responsive Hammer Compact II keyboard action and Progressive Harmonic Imaging sound technologies with modern Bluetooth connectivity and a powerful 40W speaker system, Kawai ES520 delivers best-in-class touch and tone within a stylish, highly portable package for the home, studio or stage.
Authentic Responsive Hammer Compact II keyboard action
Matte key surfaces, triple sensor hammer detection
Progressive Harmonic Imaging sound engine with 88-key sampling
Shigeru Kawai SK-EX and Kawai EX grand piano sounds
Integrated Bluetooth MIDI and audio wireless technology
Standard MIDI, USB-to-host/-device and audio in/out connectivity
Spatial Headphone Sound technology for enhanced depth and realism
Intuitive control panel layout with high quality OLED display
Modern, lightweight design with matching stand and triple pedal unit (both sold separately)
At home, on stage, your music
Kawai ES520 has been designed to deliver the finest playing experience possible within a portable piano. This stylish instrument is ideally suited to musicians seeking a piano that provides an authentic keyboard action and a selection of inspiring sounds, yet can still be moved easily or placed on an attractive furniture stand without occupying too much space. ES520 is also an excellent choice for gigging musicians, academic institutions and places of worship, thanks to its lightweight body, powerful speaker system and great audio connectivity. And with a slew of customizable settings, Bluetooth MIDI and audio and engaging apps, ES520 is also an extremely personal piano that players of all ages and abilities can take pride in owning.
Responsive Hammer Compact II keyboard action
ES520's Responsive Hammer Compact II (RHCII) keyboard action has been developed to represent the distinctive touch of an acoustic grand piano. Based on Kawai's highly-regarded RH keyboard action design, its springless technology and sturdy construction delivers consistent upward and downward motion for a smooth, natural and highly authentic piano playing experience.
Acoustic piano key weighting
Just as acoustic pianos utilize heavier bass hammers and lighter treble hammers, the RHCII keyboard action also employs different hammer weights appropriately graded for each playing range. Such details provide greater stability during fortissimo passages while preserving delicate pianissimo control to satisfy the demands of even the most discerning pianist.
More realistic and responsive
The Responsive Hammer Compact II keyboard action employs an accurate triple-sensor key detection system for enhanced playing realism. The added third sensor improves responsiveness when playing the same key repeatedly, and unlike conventional two-sensor keyboard actions found in most portable pianos allows the sound of a single note to be gradually 'layered' without the previous tone being lost. In addition, Kawai's action technology also monitors the speed at which each key is lifted, influencing the release character of piano sounds and providing a greater range of expression between staccato and legato playing.
Two world-class concert grand pianos
Earning a reputation as the premier pianos of Japan, Shigeru Kawai instruments grace the stages of concert halls and musical institutions throughout the world and are prized for their outstanding tonal clarity and exceptional dynamic range. ES520 captures the magnificent tone of the flagship Shigeru Kawai SK-EX concert grand piano, a peerless instrument hand-built by master piano artisans at the Shigeru Kawai Piano Research Laboratory in Ryuyo, Japan, and widely regarded as one of the finest instruments in its class. In addition, ES520 also features the distinctive sound of Kawai's highly acclaimed EX concert grand piano, which has been selected by professional pianists in such prestigious events as the Chopin, Tchaikovsky and Rubinstein international piano competitions. Both SK-EX and EX are faithfully reproduced with full 88-key sampling using advanced Harmonic Imaging sound technology to establish a new standard in digital piano tonal quality and allow musicians to appreciate the contrasting properties of each.
True character in every note
The rich, expressive sound of the SK-EX and EX concert grand pianos is at the heart of ES520, with all eighty-eight keys of these world-class instruments painstakingly recorded, meticulously analyzed and accurately reproduced as high-fidelity digital waveforms. Recording each key individually in this way, as opposed to stretching the same tone over several different notes, preserves the grand pianos' unique harmonic character and guarantees that the sound heard when playing any one of ES520's weighted keys is a faithful representation of the original acoustic source.
Rich, dynamic, expressive
When playing a fine piano, the amount of pressure applied to the keyboard affects not only the volume of the sound produced but also the unique tonal character of each note. Therefore, in order to construct a realistic acoustic portrait of each grand piano, not only is each key recorded individually, but also at a wide variety of different volumes ranging from gentle pianissimo to thunderous fortissimo. ES520 offers a highly detailed acoustic portrait, employing Kawai's proprietary Progressive Harmonic Imaging sampling technology to ensure smooth tonal transitions across the keyboard and throughout the entire dynamic range.
Variety beneath your fingertips
Alongside the classically voiced SK-EX and EX grand piano sounds, ES520 also showcases a selection of jazz, pop and modern variations suitable for a range of musical genres. A traditional Kawai upright piano sound is also included for pieces that suggest a feeling of nostalgia or call for a slightly more intimate tonal character.
Personalized piano enhancements
The knowledge and skill of an experienced piano technician is essential to bring out the best of a fine acoustic piano. In addition to tuning each note, the technician also performs numerous regulation and voicing adjustments that allow the instrument to truly sing. ES520's powerful Virtual Technician function simulates these refinements digitally, allowing discerning musicians to shape aspects of the selected piano's character to suit their personal preferences. Perform touch weight and voicing adjustments, regulate hammer and key release noises and fine tune string and damper resonances. It's even possible to adjust the precise tuning, volume and character of individual notes.
Studio-quality effects and reverb
ES520's powerful digital effects engine enhances the instrument's superior core sounds, applying additional layers of detail and realism that bring performances to life. Tailor an instrument's character and feeling with a range of studio quality chorus, tremolo, delay and auto-pan effects. Add vintage warmth to electric pianos and trademark growl to drawbar organs using the dedicated amp simulation speaker models. Then, adjust the instrument's reverb controls to position yourself within one of six acoustic environments, ranging from a small practice room to an inspirational grand cathedral.
Premium audio technology
The Kawai ES920 features a redesigned motherboard, amplifier and audio delivery system. These premium components combine to deliver best-in-class audio quality, producing an extremely rich, clear sound with minimal distortion.
Room-filling resonance and tonal clarity
ES520's impressive 40W output system utilizes speaker box enclosures that deliver a rich, expansive sound to rival much larger console digital pianos. This design allows for a compact, portable instrument capable of enthralling medium-sized audiences without the need for additional amplification.
Integrated Bluetooth connectivity
In addition to standard USB and MIDI jacks for connecting to computers or other instruments, ES520 also features integrated Bluetooth MIDI and audio technologies that allow the instrument to communicate with supported smart devices wirelessly. Once paired with a phone, tablet or laptop, ES520 owners can enjoy a wide variety of exciting music-related apps that enhance their learning and playing experience or stream audio from songs and videos directly through the instrument's powerful speaker system without the need to connect additional cables.
Flexible USB connectivity
ES520 is equipped with modern USB connectors that not only allow the instrument to be connected to a computer for MIDI use, but also to load and save data to USB memory devices directly. This latter USB-to-device functionality allows favorite instrument settings, registrations and memorable recorder songs stored within internal memory to be safely preserved on USB flash drives, or for standard MIDI files (SMF) downloaded from the internet to be played back and enjoyed using the instrument's superb Progressive Harmonic Imaging sounds without additional hardware or cables.
Additional instrument sounds
Supplementing its beautiful acoustic piano voices, ES520 also features a strong selection of additional sounds. Vintage electric pianos, drawbar organs and warm synth pads allow this portable piano to serve as a convenient gigging board, while church organs, strings and graceful choir voices ensure that the versatile ES520 is equally at home in places of worship. Furthermore, the Dual playing mode also allows two different sounds, such as grand piano and strings, to be layered together, while the Split and Four Hands modes divide the keyboard into two independent sections, with volume balances adjustable in real time from the front panel.
Superior headphone experience
ES520's Spatial Headphone Sound technology enhances the depth and realism of the instrument's sound when listening through headphones or earphones. The player can select one of three different acoustic presets that adjust the spatial positioning of the sound while also helping to reduce auditory fatigue when using earphones or headphones for extended periods of time. In addition, ES520 also allows players to select a variety of headphone types – open, semi-open, closed, in-ear, canal, etc. – for an optimized listening experience.
Uncluttered appearance, lightweight body
ES520 adopts a brand new exterior design, utilizing a molded unibody construction. Its smoothly rounded edges and clean lines complement the flat, uncluttered panel surface, with elegantly recessed buttons that depress with a satisfying click. Lightweight and portable, ES520 weighs just 32 lb yet possesses a stylish, professional quality that players can trust. ES520's clean design is appropriate for both traditional and contemporary spaces, and with matching designer stand and triple pedal options (both sold separately), the instrument can be easily transformed into an ultra-compact piano replacement for the lounge, studio or bedroom.

SKU
KAW-ES520BCHP
MPN
ES520
Vendor
Kawai
Bluetooth
Audio Receiving and App Connectivity
Built In Speakers
Yes
Connectivity
USB and MIDI
Included From Manufacturer
F-10H damper pedal with half-pedal support
Transparent music rest
Power supply
Keys Weighted
Hammer Weighted
Key Cover
No
Key Num
88
Mpn
ES520B
Piano Cabinet Style
Portable
Accompaniments
No
Duet Mode
Yes
Finish
Black
Half-Damper Support
Yes
Audio Inputs
1/8" stereo external audio input
Audio Outputs
Dual 1/4" stereo main output
1/4" stereo headphone output
1/8" stereo headphone output
Key Action
Kawai Responsive Hammer Compact II action
Grade-weighted hammers
Matte key surfaces
Triple sensor hammer detection
Layer Feature
Yes
Metronome
Yes
Pedals
Kawai F-10H damper pedal with half-pedal support included
Compatible with Kawai F-302 Grand Feel Pedal Bar (optional, sold separately)
Product Weight
32 lb
Song Recorder
MIDI
Number of Songs
3 (±5,000 note memory capacity)
Number of Sounds
34
Speaker Power
40W (20W × 2)
Speaker Size
(3.15" × 4.72") × 2
Split Feature
Yes
Storage Type
USB Flash Drive;Internal
Number of Tracks
1
Transpose Feature
Yes
Voices of Polyphony
192
Width
52.75"
Depth
14.75"
Height
5.75"
Limited 3-Year Warranty on Kawai CE, CL, EP and ES Model Digital Pianos
Standard Shipping