Skip product carousel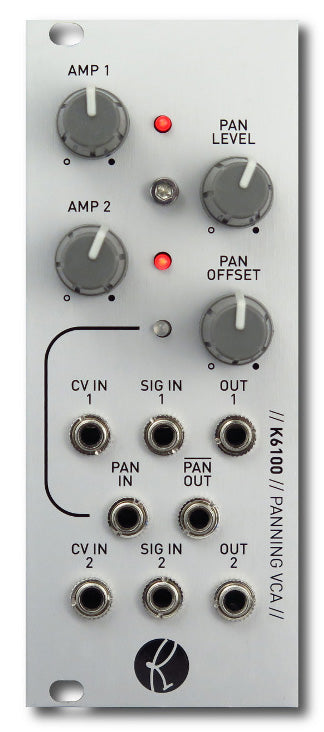 Kilpatrick Audio K6100 Panning VCA Eurorack Module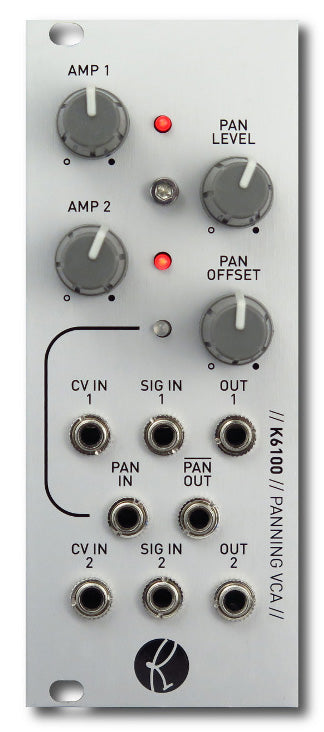 Kilpatrick Audio K6100 Panning VCA Eurorack Module
VCAs are the heart of any system, and Kilpatrick Audio K6100 Panning VCA is a small and flexible design that offers excellent performance in a small package. It looks great and sounds great, offering several different modes of operation.
You can use K6100 Panning VCA as two independent VCAs or combined for ganged/stereo operation. Each channel has an offset control that can be used to tailor the response based on your CV input source or used as a manual volume control.
By using internal normalling connections, the input signals and CV signals are normalled to the second channel when only the first channel inputs are used. This allows you to use K6100 Panning VCA as a dual VCA with the same source or as a stereo VCA with the same control voltage signal. Or, for that extra level of dimension, use the PAN IN control to adjust the relative balance between the two channels.
Features

High-end VCA circuits have optimum noise performance and exponential response
Panning circuit responds linearly to pan control and input voltage
CV in circuit responds logarithmically to amp control and input voltage
PAN OUT jack offers an inverted version of the PAN IN signal as a utility for chaining the pan signal to control other modules
AMP and PAN offset controls allow fine tuning or full manual control
Bi-color red/green panning indicator shows the pan amount and direction
PAN LEVEL control allows the panning CV input signal to be adjusted for different depths of modulation
Designed and made in Canada using high quality parts

Physical specifications

Size: 10hp
Power usage: 40mA @ +12V, 40mA @ -12V
SKU
KIL-K6100
Vendor
Kilpatrick Audio
Module Type
Amplifier
Module Width
10hp
Mpn
K6100
Module Power Usage
40mA @ +12V
40mA @ -12V
1U Module
No
+5V Required
No
Kilpatrick Audio Limited Warranty
Kilpatrick Audio products carry a one (1) year warranty covering parts and labor. Please record your serial number and date/place of purchase to expedite support and warranty inquiries.
Cables included with Kilpatrick Audio products carry a thirty (30) day warranty.
Ground shipping is FREE for all orders $99 and up.