Skip product carousel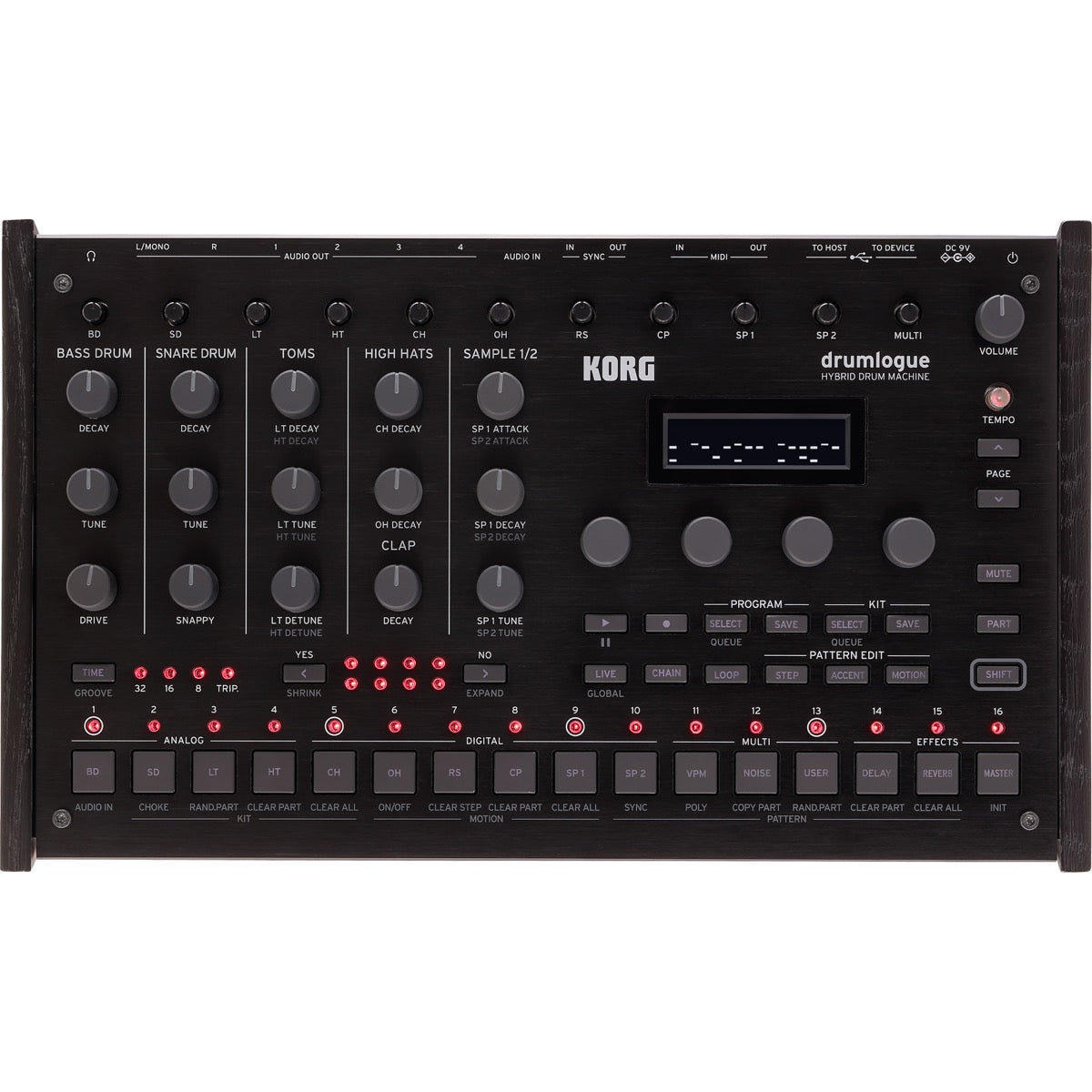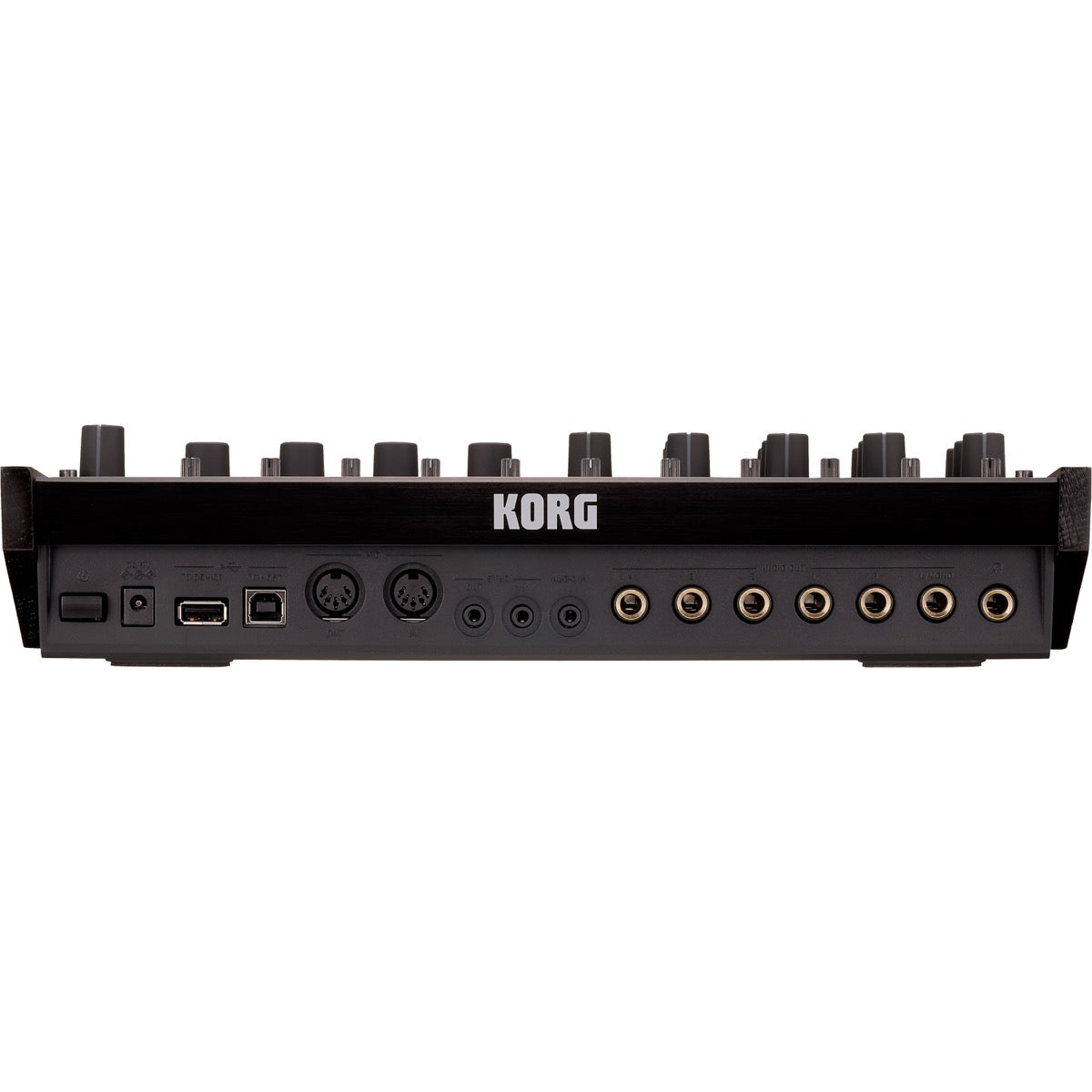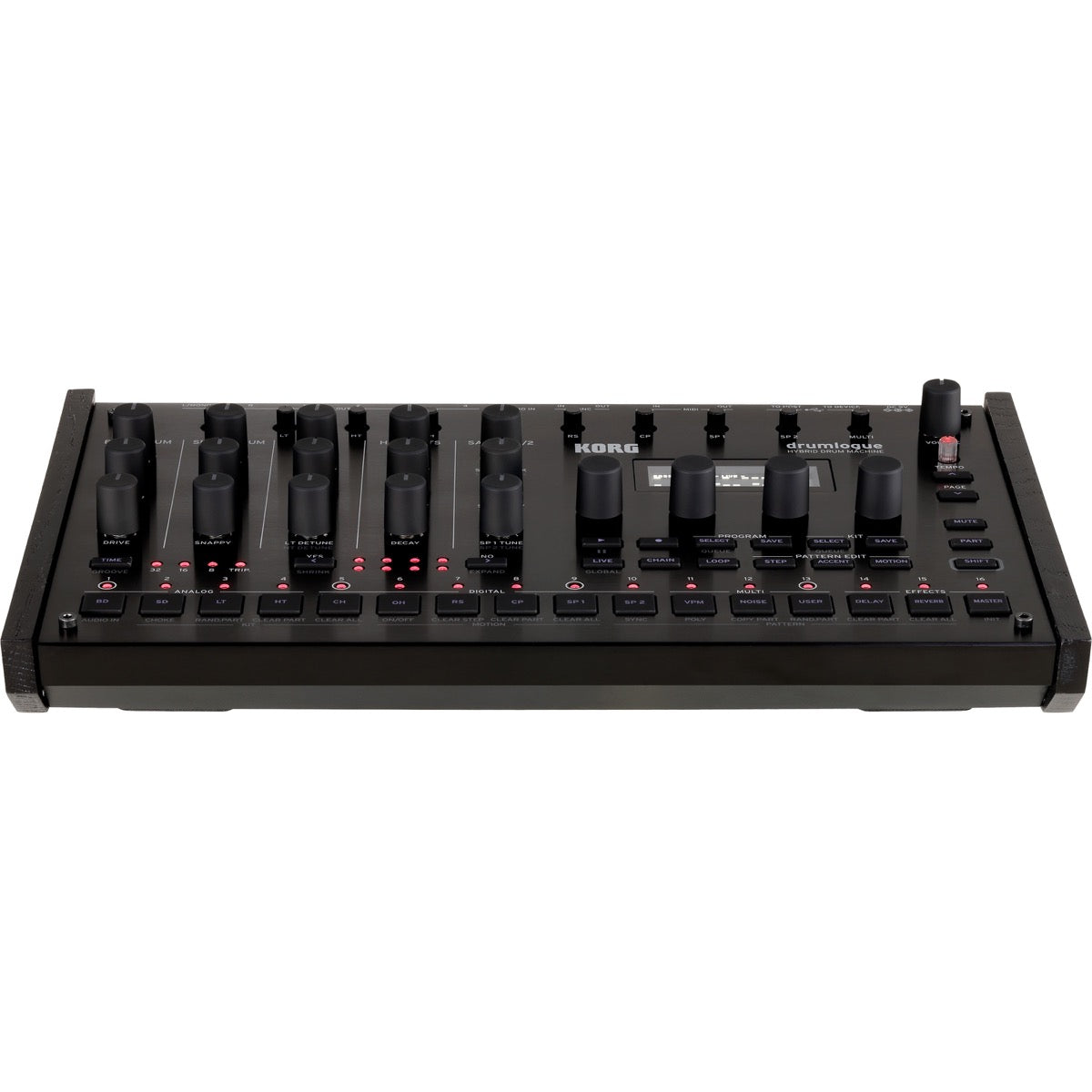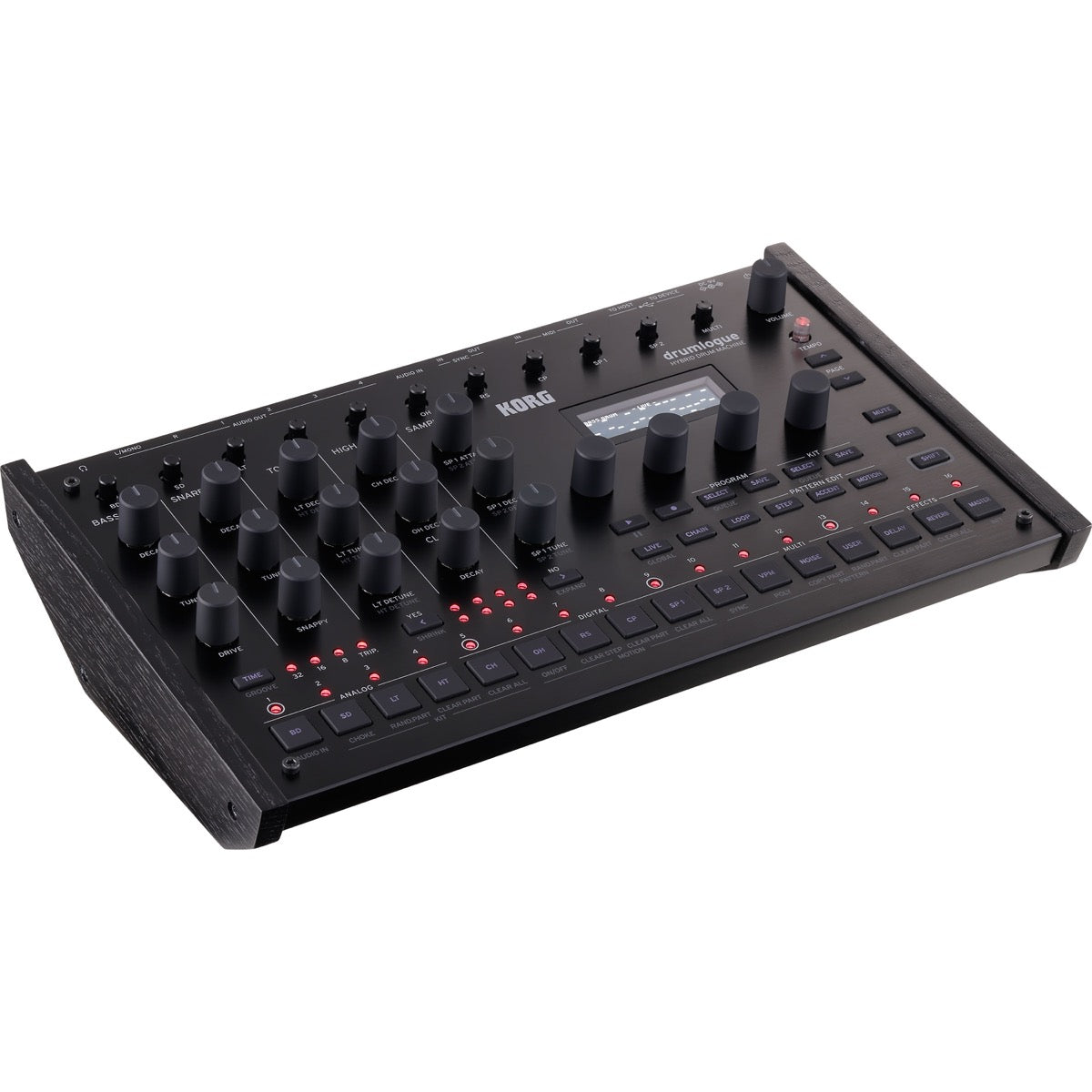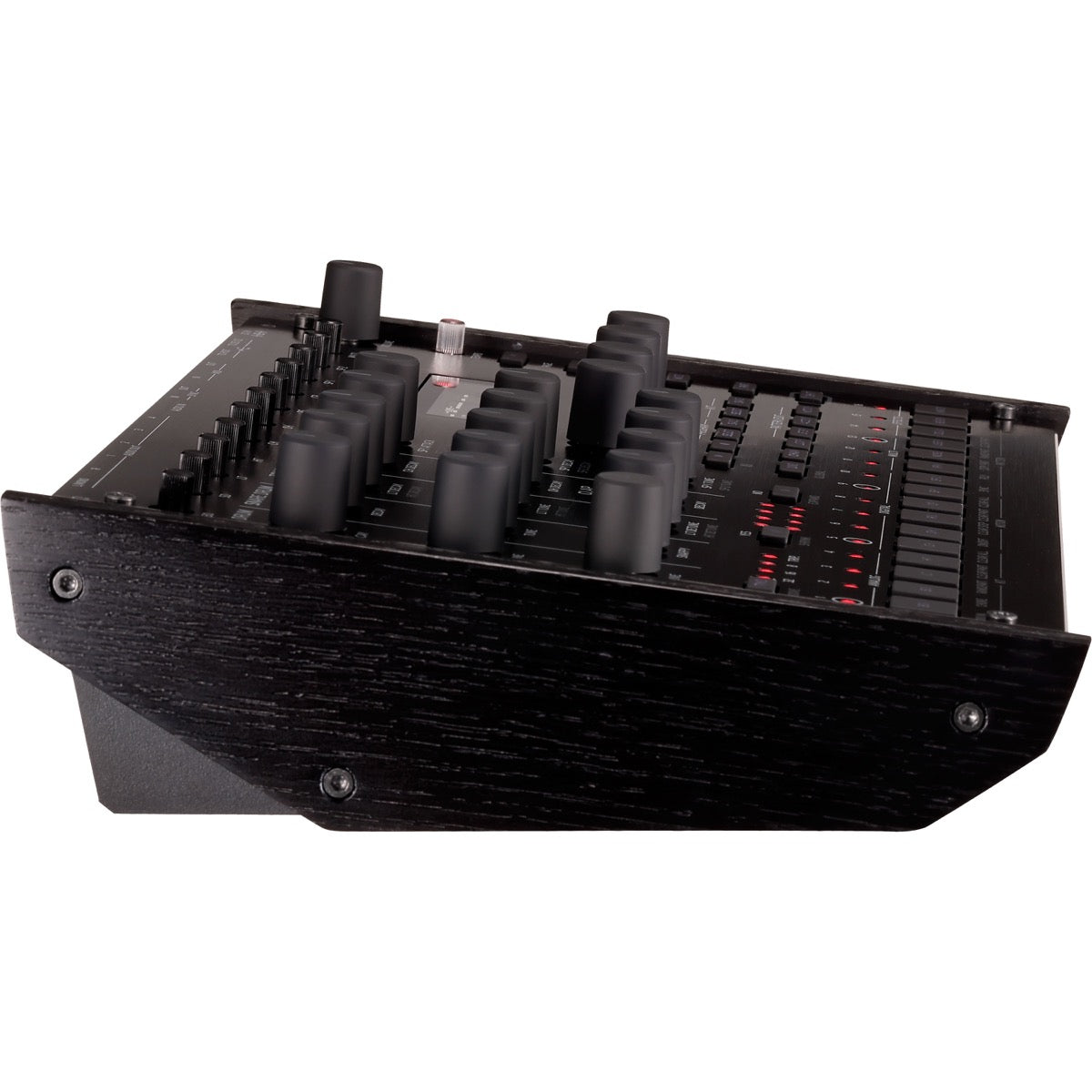 Korg Drumlogue Hybrid Drum Machine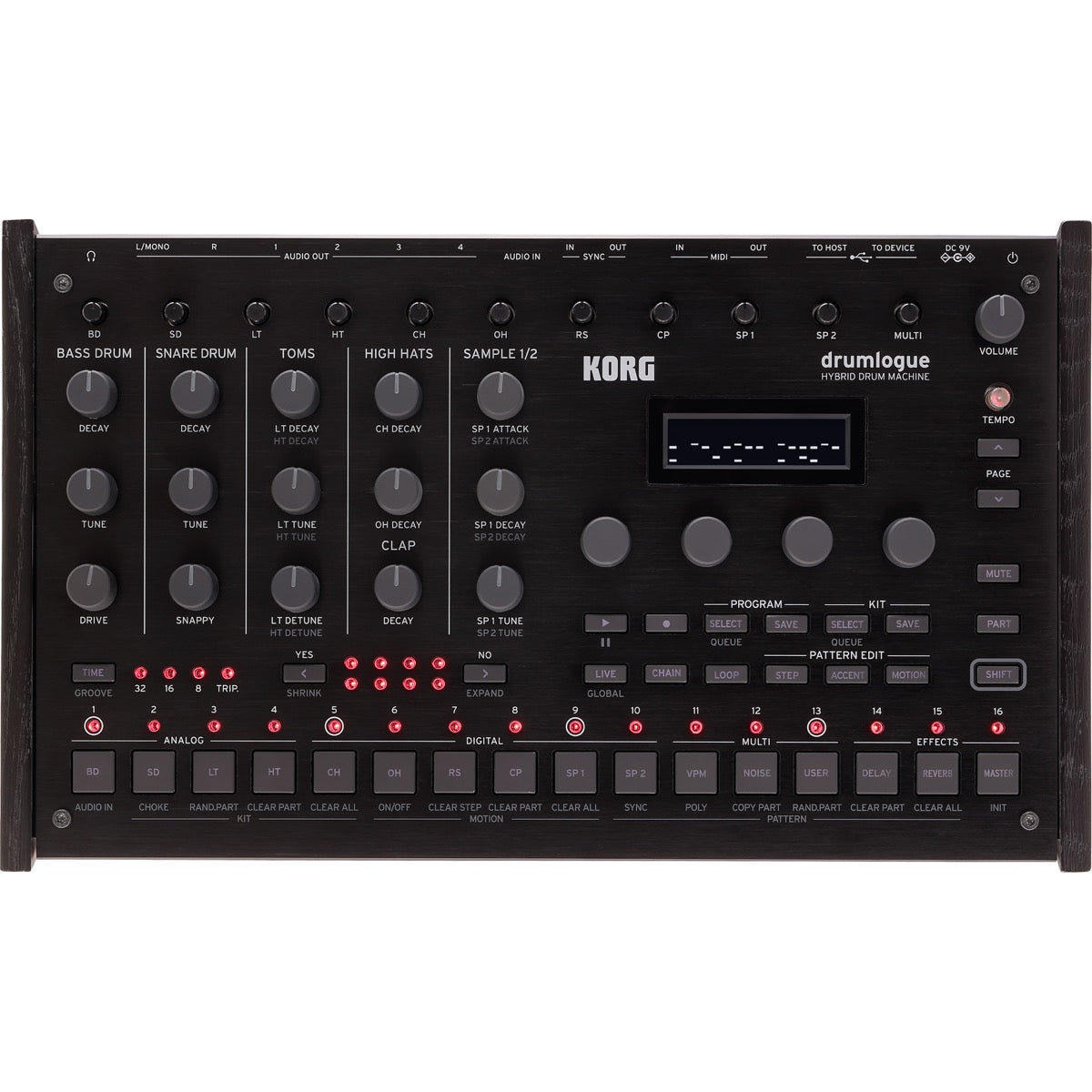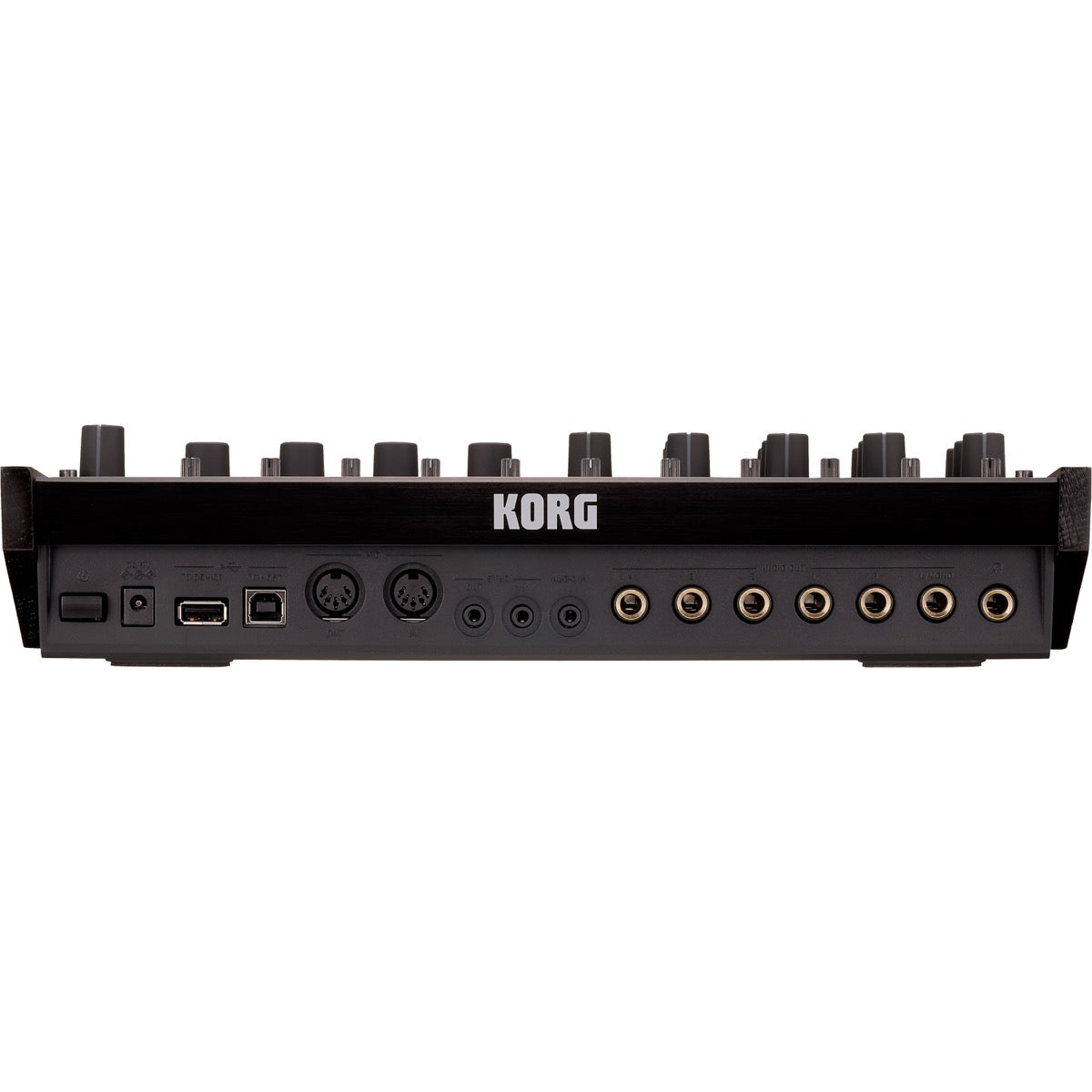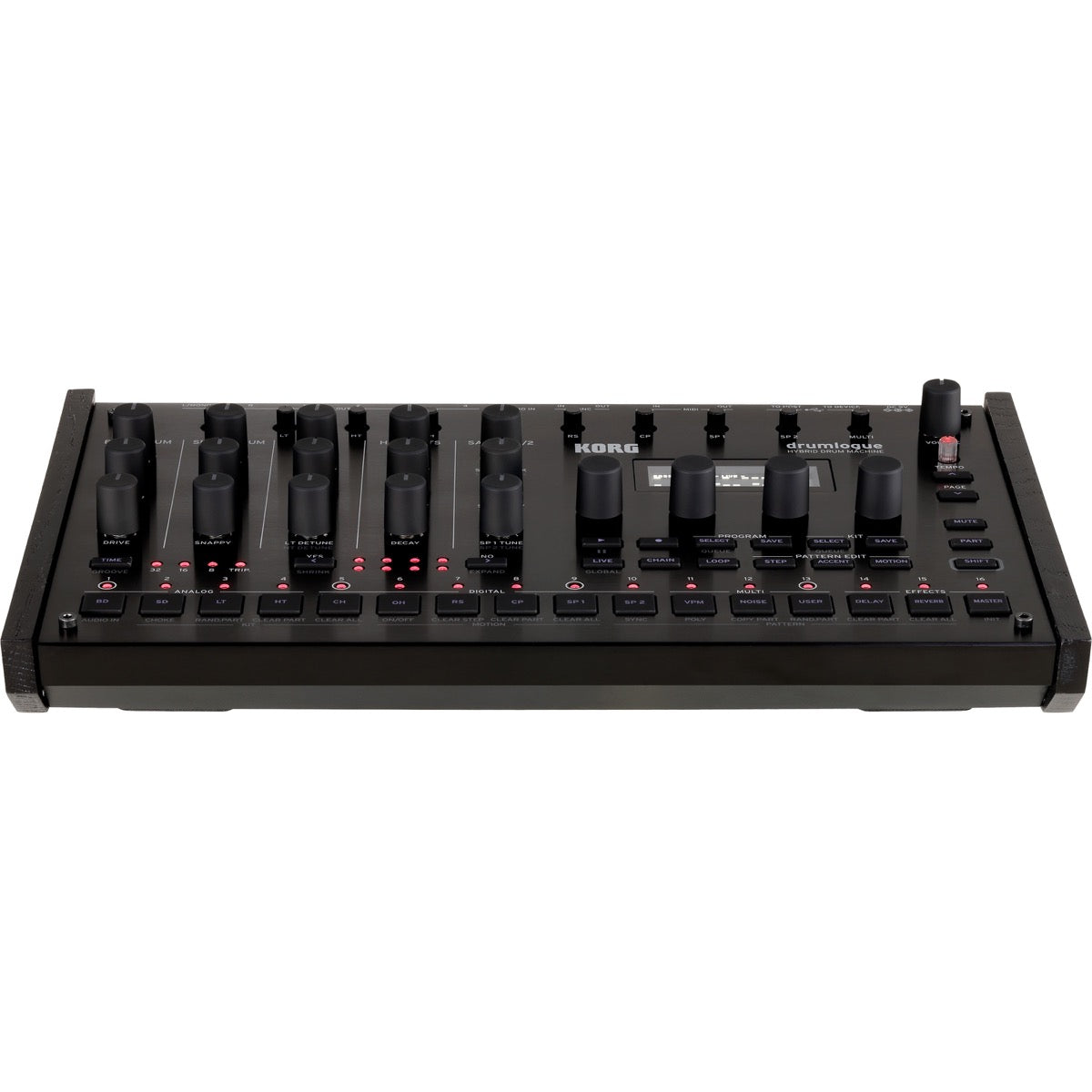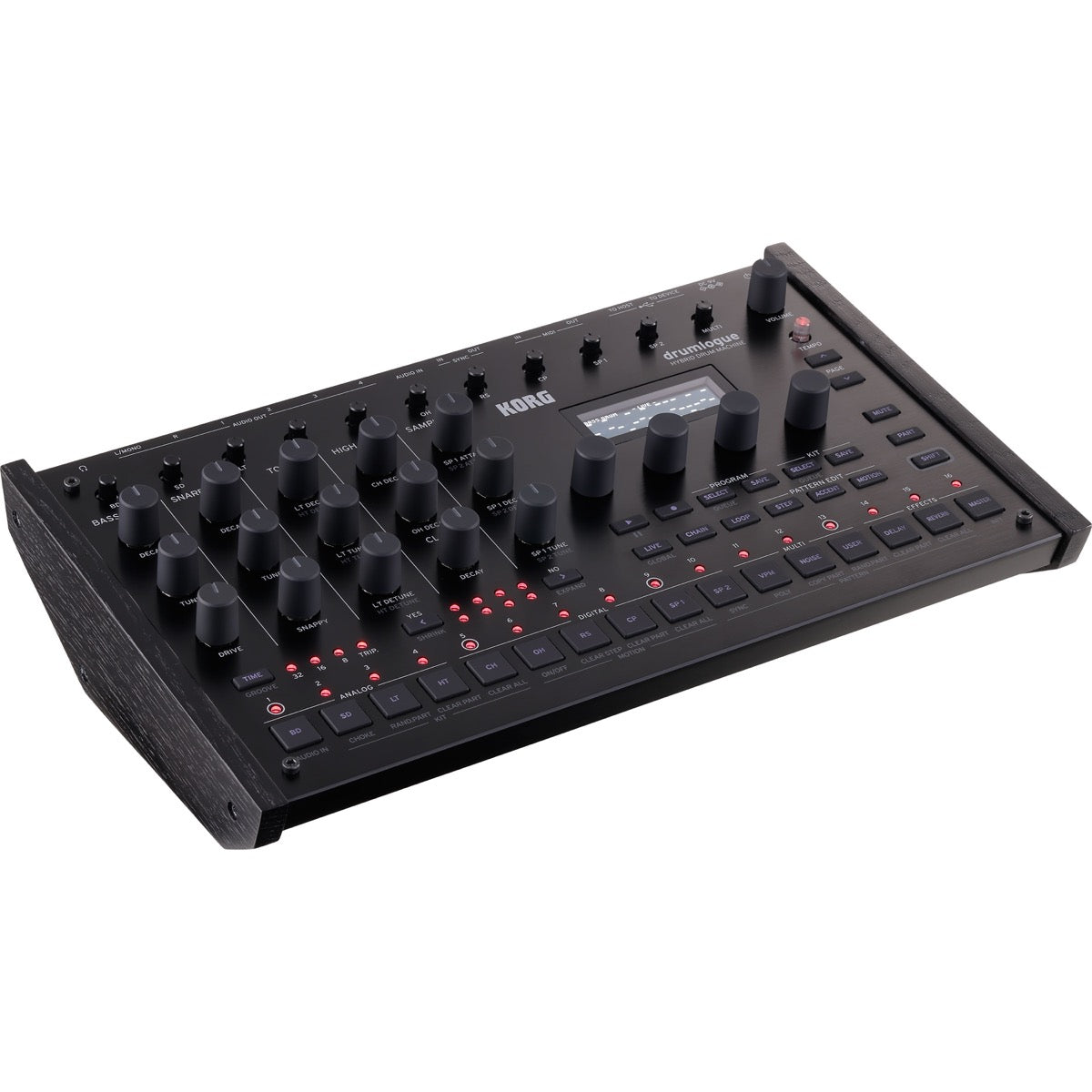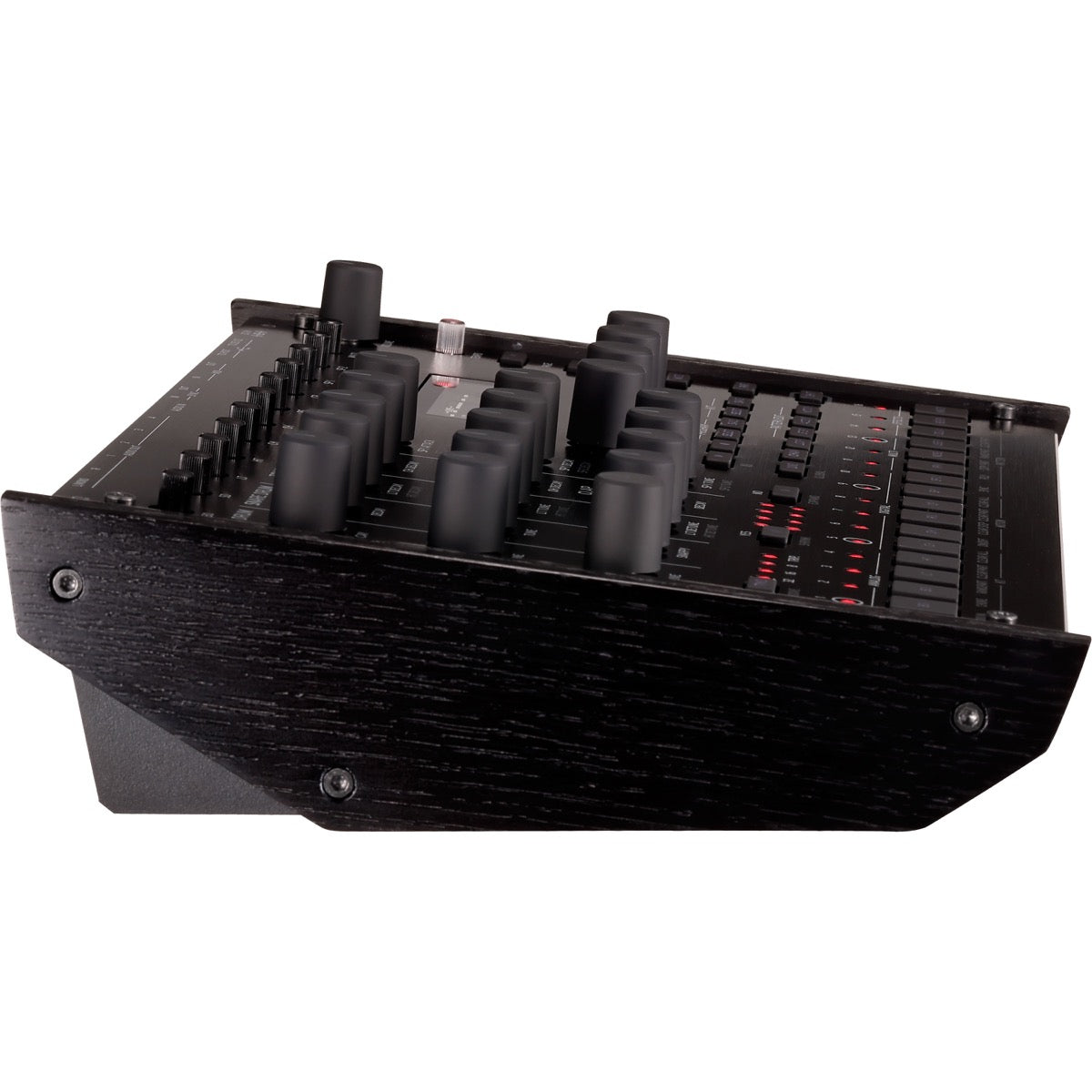 Korg Drumlogue Hybrid Drum Machine
Korg Drumlogue marks a paradigm shift in drum machines, offering players the raw power and rich sounds of analog circuitry and the flexibility of digital voices, as well as the unique Multi engine and Drumlogue SDK for fully configurable user custom synthesizers. Drumlogue's heavy-duty, dynamic sequencer, customizable effects and intuitive controls will make it a must-have in your studio to create music for any genre or style.
Raw analog power
Drumlogue was conceived to provide the ultimate analog sound for your beats and features newly-developed circuits by Korg engineer Junichi Ikeuchi, who also worked on ARP 2600 M, MS-20 Mini and ARP Odyssey. These new analog circuits – Bass Drum, Snare Drum, Low Tom and High Tom – will not only provide a solid foundation for your track, they will make it stand out with an elevated harmonic richness and a thick low end.
Hands-on control
The most important controls for each of these parts have dedicated knobs on the front panel that can be tweaked at any time without any menu diving necessary, and for further sound exploration each part provides many more parameters accessible through the powerful onboard sound editing system. Last but not least, each part on Drumlogue – analog or digital – has a dedicated volume knob that will make your mixing process smooth and easy.
Digital flexibility
As the perfect complement to its analog section, Drumlogue also provides seven digital parts: six sample-based and one Multi engine synthesis part. The sample-based parts can play any of 64 preloaded PCM drum kits, and additional sounds can easily be easily loaded into Drumlogue just by connecting it to your computer via USB and dragging and dropping your samples onto its main memory.
Multi engine and Drumlogue SDK
The popular Multi engine from Prologue and Minilogue XD is now more powerful than ever. In addition to the VPM (variable phase modulation) and Noise generator engines, the Multi engine features a new User Synth custom slot that can play full-fledged synth voices that provide vast sonic possibilities never before heard on a drum machine.
Custom synths
Drumlogue's synth voices are not limited to static waveforms. Custom synths can be built that not only generate sound but even implement built-in filters, LFOs, MIDI-controlled polyphony and more. The only restriction for third-party developers is their creativity (and CPU usage!), giving you unbound sound exploration.
Exclusive Sinevibes Nano synth plug-in
Korg collaborated with popular 'logue SDK plug-in developer Sinevibes to include an exclusive synth plug-in called Nano as a factory preset on Drumlogue, letting you explore the power behind the expanded Multi engine. Nano is a full-fledged virtual analog synth with a wide array of features and plenty of customizable parameters, boasting dual oscillators with optional ring modulation, a 4-pole state-variable filter with soft clipping distortion, built-in EG and built-in multi-waveform LFO.
Sequencing powerhouse
Drumlogue's heavy duty 64-step sequencer makes it easy and intuitive to create complex rhythm patterns and polyrhythms that elevate your music creation process with innovative features such as per-step probability, per-step alternate trigger patterns, per-step micro offsets, per-track groove patterns and much more. Thanks to its clear OLED display, it is also very easy to visually follow and edit your sequences.
Sequencer modes and functions
Drumlogue is great both in the studio and playing live. With its Chain mode, creating long and interesting patterns is straightforward and clearly displayed. In Loop mode you can switch among several variations to play your sequence in new and interesting ways. The Motion and Accent recording functions are intuitive and fast and if you want to try new things on your track, the Randomization function is there to help you.
Built-in effects
Drumlogue includes several high-quality effects across three categories that can be used simultaneously: Delay, Reverb and Master effects. The send amounts for Delay and Reverb effects can be set independently for each part, and multiple return points are available. Master effects add that final polish to your sound and bring it all together. Master effects can be bypassed on a per-part basis, making it possible to apply them to specific audio parts. A sidechain bus is also available to Master effects that can make use of it.
Custom effects
In addition to the included multiple and varied Delay, Reverb and Master effects, Drumlogue can also load custom third-party options into each category. Each effect can implement up to 24 parameters, all easily accessed in a well laid out menu. Drumlogue has an external audio input, so you can process other instruments through Drumlogue's effect chain, making it an ideal companion for your studio setup.
Connectivity
Drumlogue has a variety of inputs, outputs and connections, integrating seamlessly with your rig. The USB to Device port allows connectivity with other USB MIDI class-compliant devices for additional customizable control. Drumlogue has four individual audio outputs in addition to the stereo headphone and master outputs, and you can assign any part to any output to expand routing options for external processing or multitrack recording. Drumlogue easily syncs to your other gear via MIDI in/out, sync in/out or to a computer via USB.
Ease of use
Designed with simplicity and accessibility in mind, the most important parameters for your main drum parts all have dedicated knobs on the front panel that can be adjusted on the fly, as well as dedicated volume pots for each part that will speed up your mixing process. The wide and clear OLED screen coupled with its simple UI with 4 dedicated encoder knobs makes navigation fast and smooth.
Design
Drumlogue's main panel is slanted, offering great ergonomics and improved visibility. With its sturdy aluminum body, brushed hairline finish and wooden side panels, Drumlogue's sleek design will add to your musical inspiration.
SKU
KOR-DRUMLOGUE
MPN
Drumlogue
Vendor
Korg
Analog Digital
Hybrid
Built In Speakers
No
Included From Manufacturer
Power supply
Midi
In, Out, and USB
Mono Poly
Polyphonic
Mpn
DRUMLOGUE
Product Unique Features
Multi engine features User Synth custom slot that can play full-fledged synth voices
Sinevibes Nano synth plug-in included
Custom user synth plug-ins and effects (sold separately) can be loaded
Control Connections
USB to Device port for connection to external MIDI controllers (sold separately)
Effects
Reverb and Delay send effects with multiple algorithms and return points
Master effects with multiple algorithms and sidechain bus
Custom third-party effects (sold separately) can be loaded into each category
Audio Inputs
1/8" stereo external audio input
Audio Outputs
Dual 1/4" stereo main output
4 × assignable 1/4" mono outputs
1/4" stereo headphone outout
Oscillators per Voice
Varies by Sound Engine
Product Weight
3.09 lb
Programs/Presets
128 total programs (64 preset)
128 total drum kits (64 preset)
Sampling
User samples can be loaded from computer via drag and drop over USB connection
Sequencer
64-step sequencer with per-step probability and micro offsets, per-track groove patterns
Chain and Loop playback modes
Motion and Accent recording functions
USB Port (to Host)
MIDI;File Transfer
Voices of Polyphony
11 voices
User synths may be played polyphonically via MIDI, the actual voice count will depend on the synth's implementation
Width
12.48"
Depth
7.44"
Height
2.87"
Korg USA Warranty Policy
All Korg products purchased from a Korg USA authorized dealer are warranted to be free from defects in material and workmanship to the original consumer for a period of one (1) year.
Register your new Korg keyboard, keyboard rack module or digital piano online and receive a certificate that extends the product warranty for an extra year from the date of purchase. Product must be registered within 90 days of purchase to receive an extra year of warranty.
Tuner and Metronome products are warranted to be free from defects in material and workmanship to the original consumer for a period of three (3) years.
Tubes, AC Adapters and Foot Switches are warranted to be free from defects in material and workmanship to the original consumer for a period of ninety (90) days.
The customer must provide proof of purchase in order to obtain warranty service. The dated sales slip or copy thereof is the only acceptable proof of purchase.
The product must be purchased from a Korg USA authorized dealer and have a valid serial number.
This warranty is valid only in the USA.
Damage resulting from the following causes are excluded from the warranty set forth above: misuse, including damage occurring during shipment, damage caused by battery leakage, accident, fire, unauthorized repairs, tampering, cosmetic damage or other types of damage which are the result of improper handling or abuse; the cleaning of controls or contacts due to exposure to dirty, dusty, or otherwise contaminated environment; damage resulting from modification; damage to units used for loan or rental.
Standard Shipping