Skip product carousel
Instant Rebate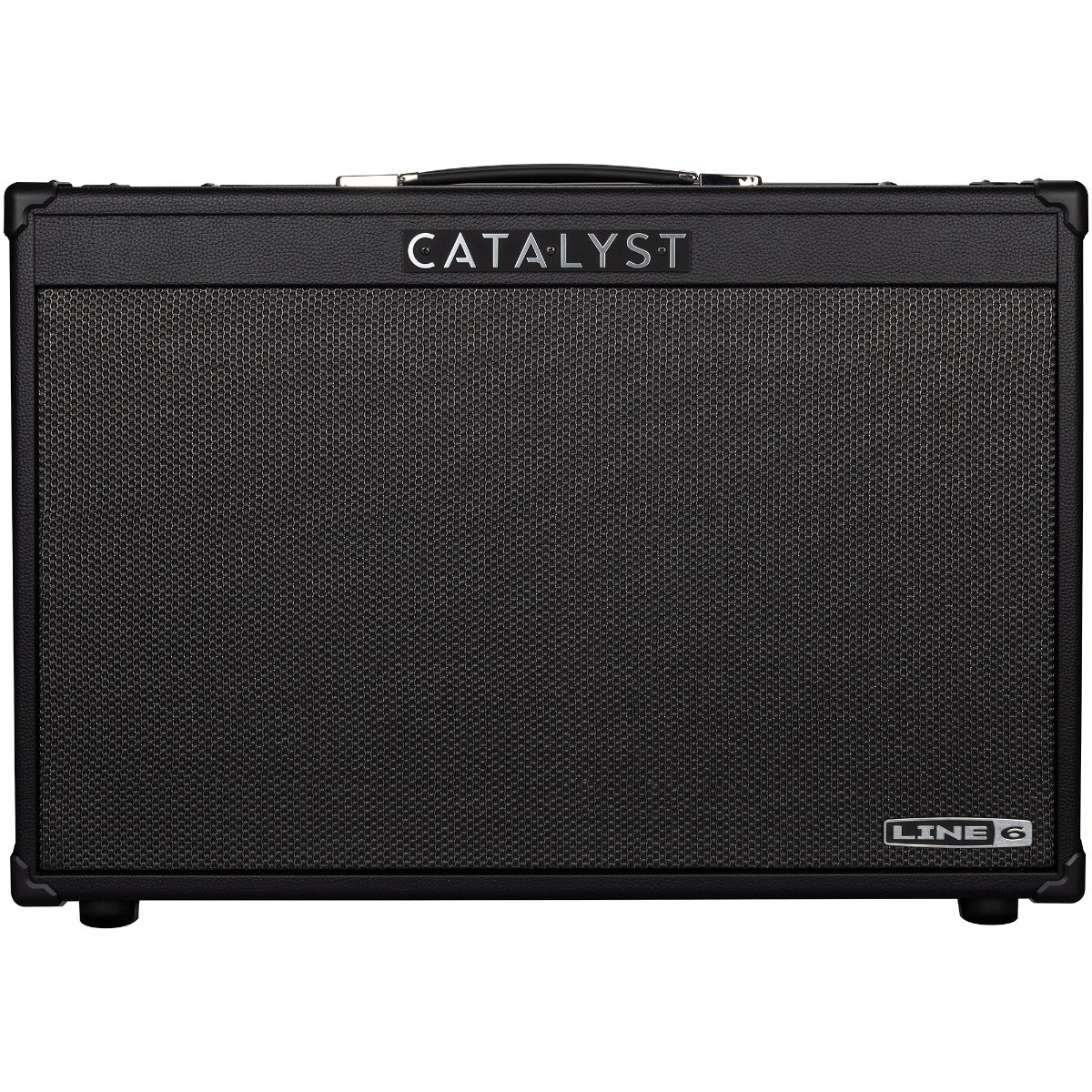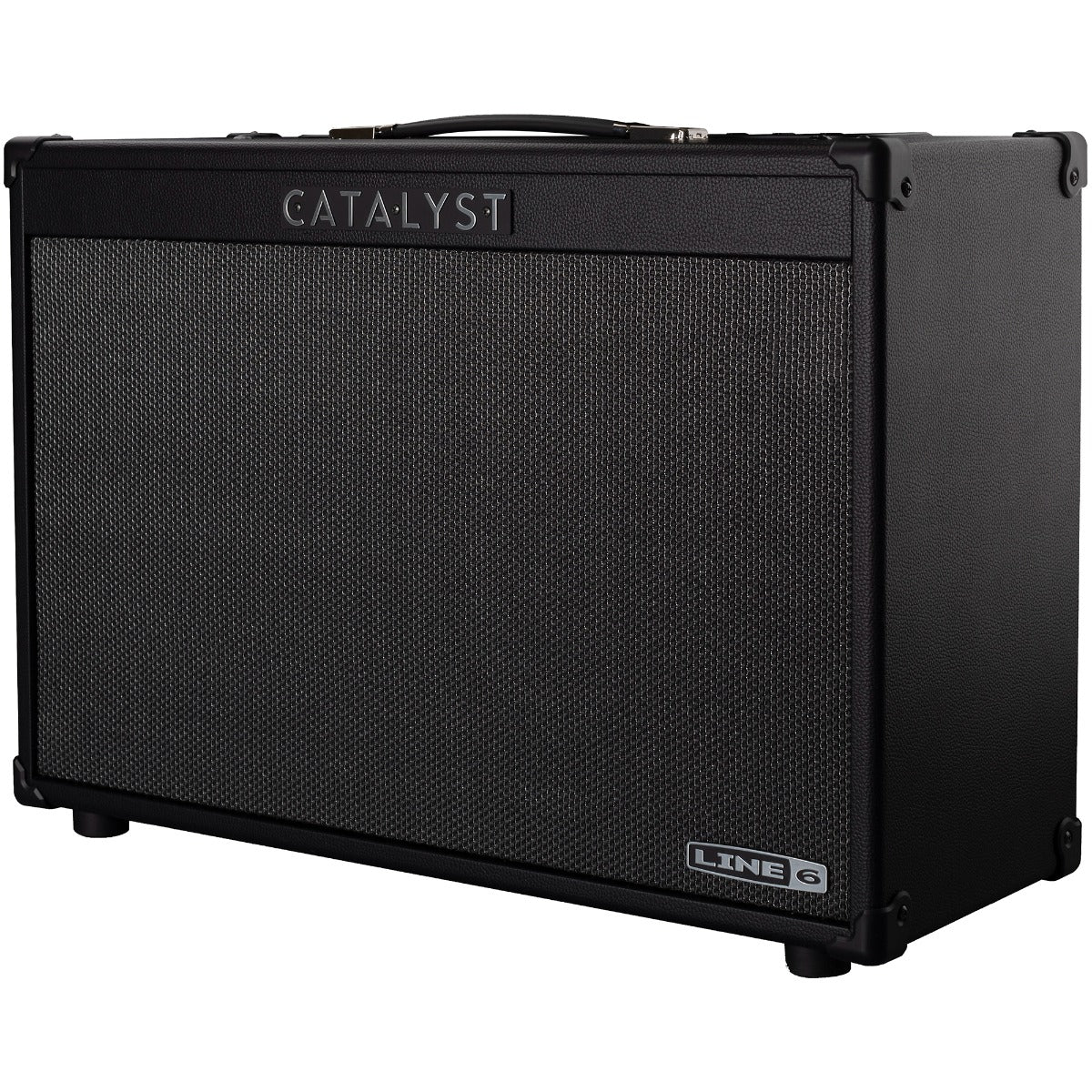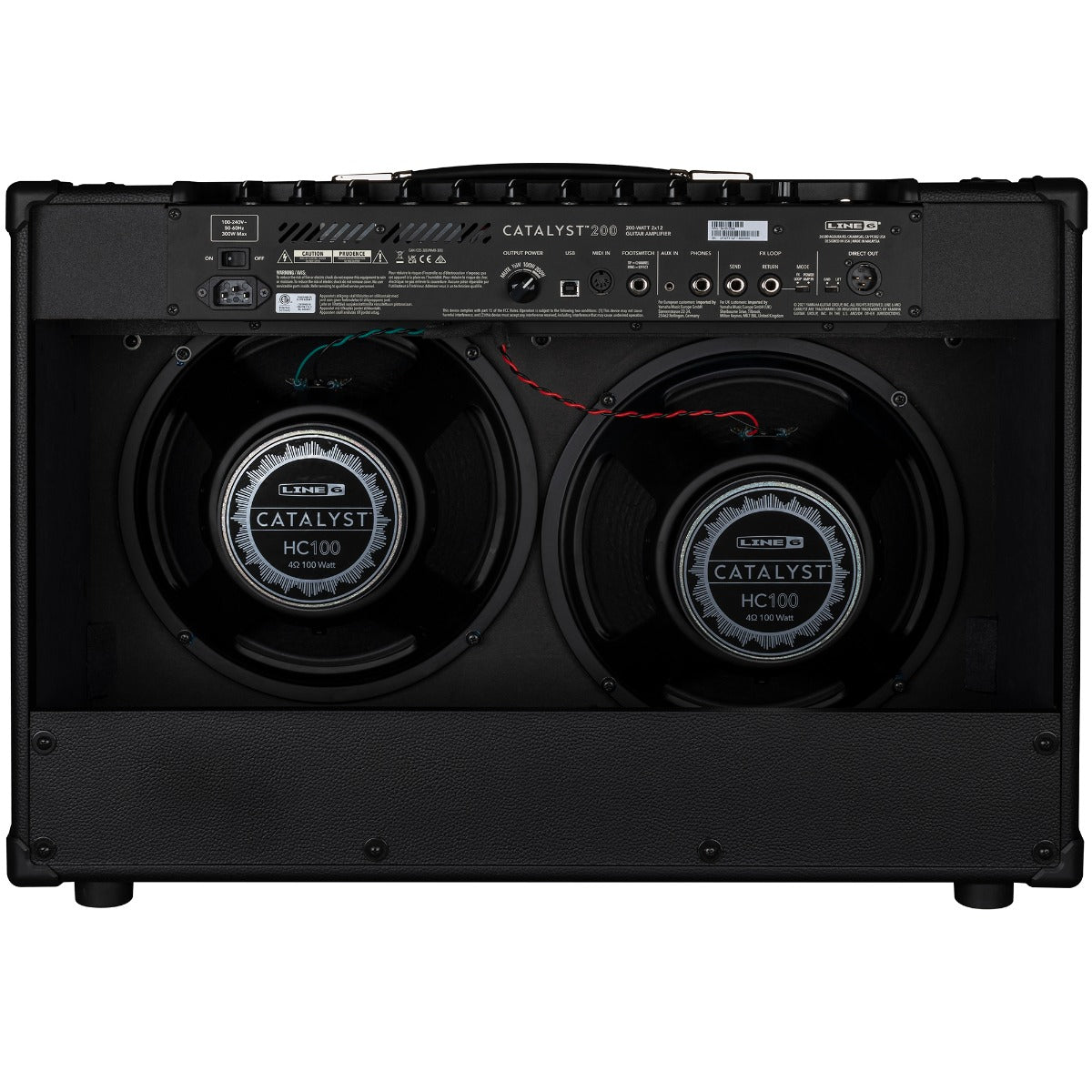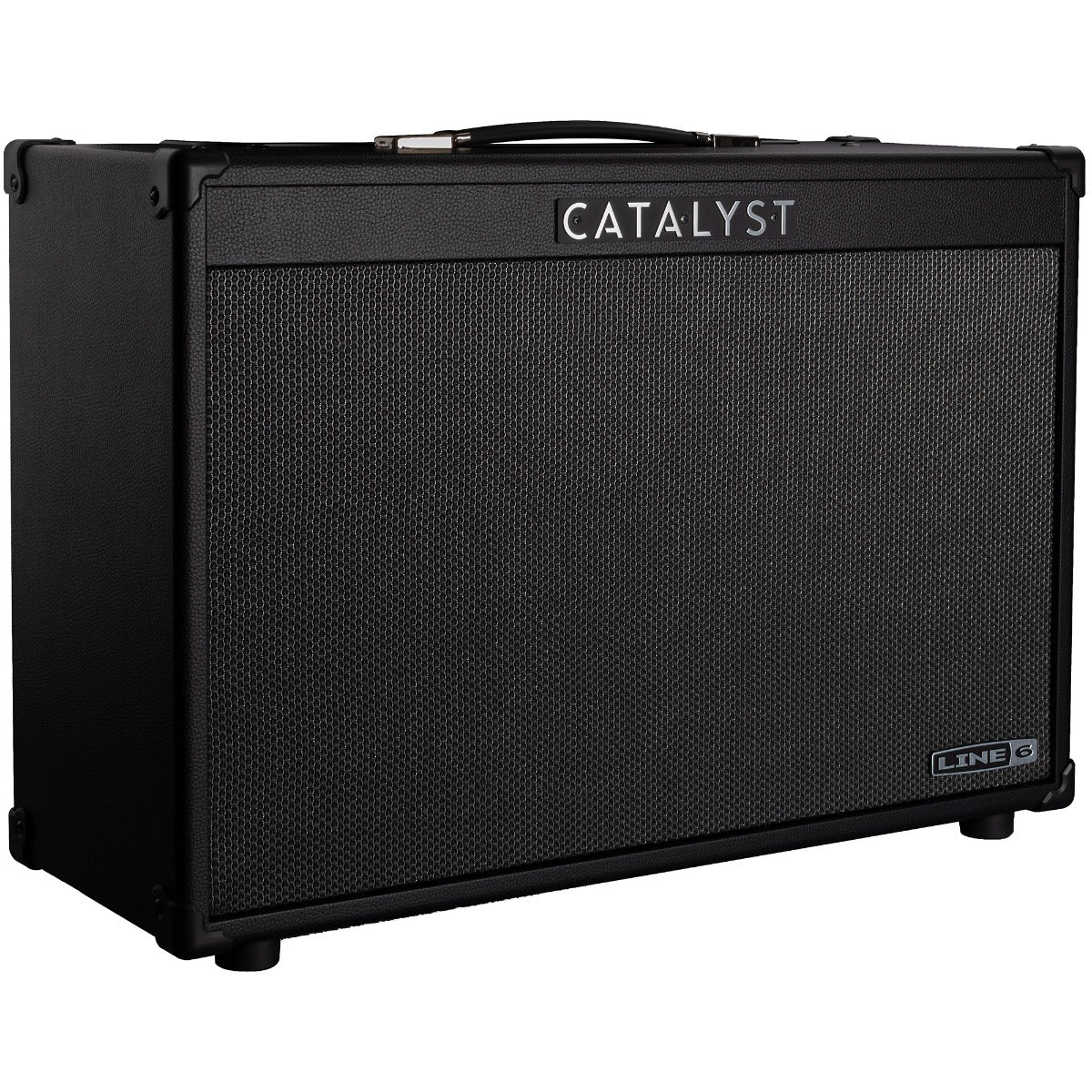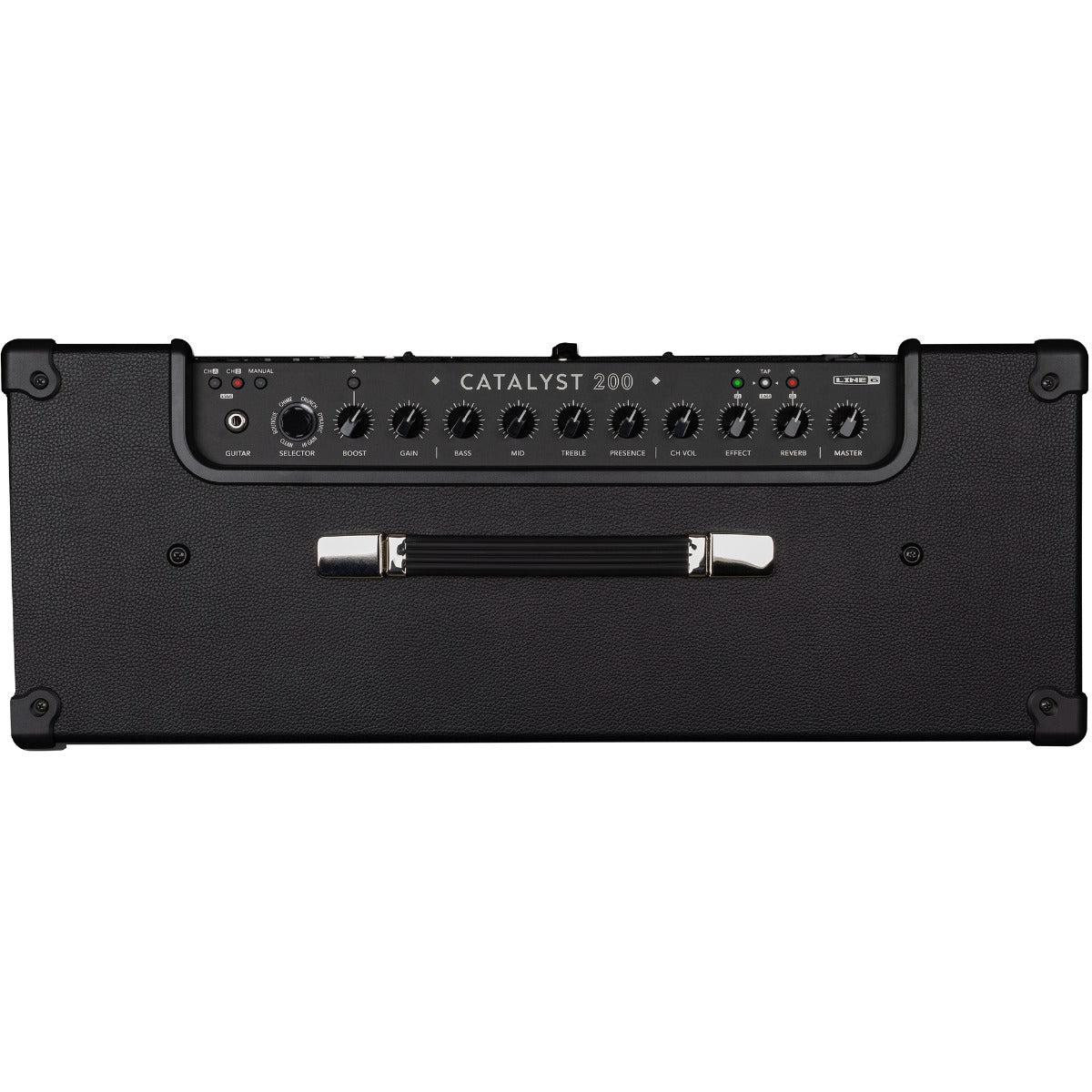 Line 6 Catalyst 200 2x12 Combo Guitar Amplifier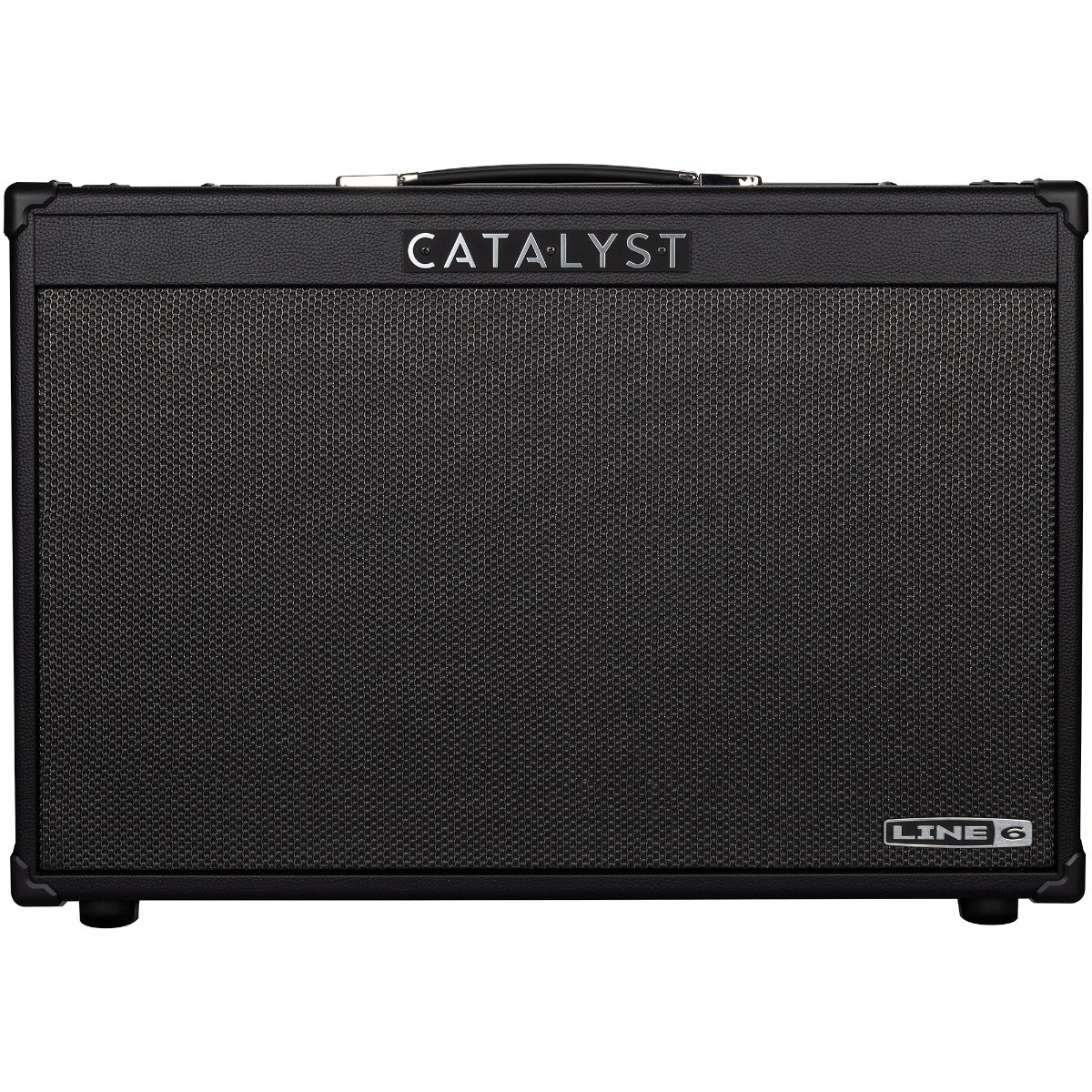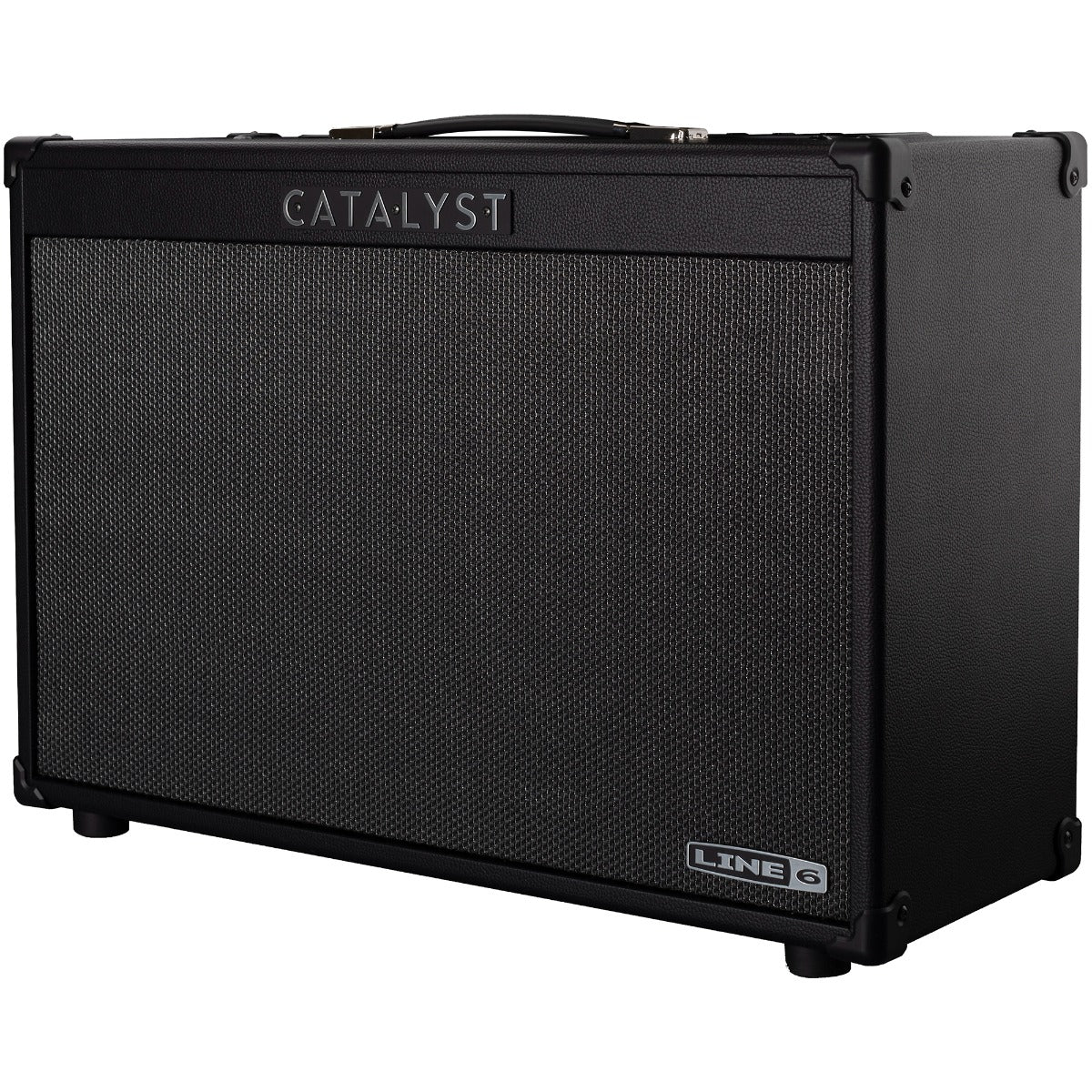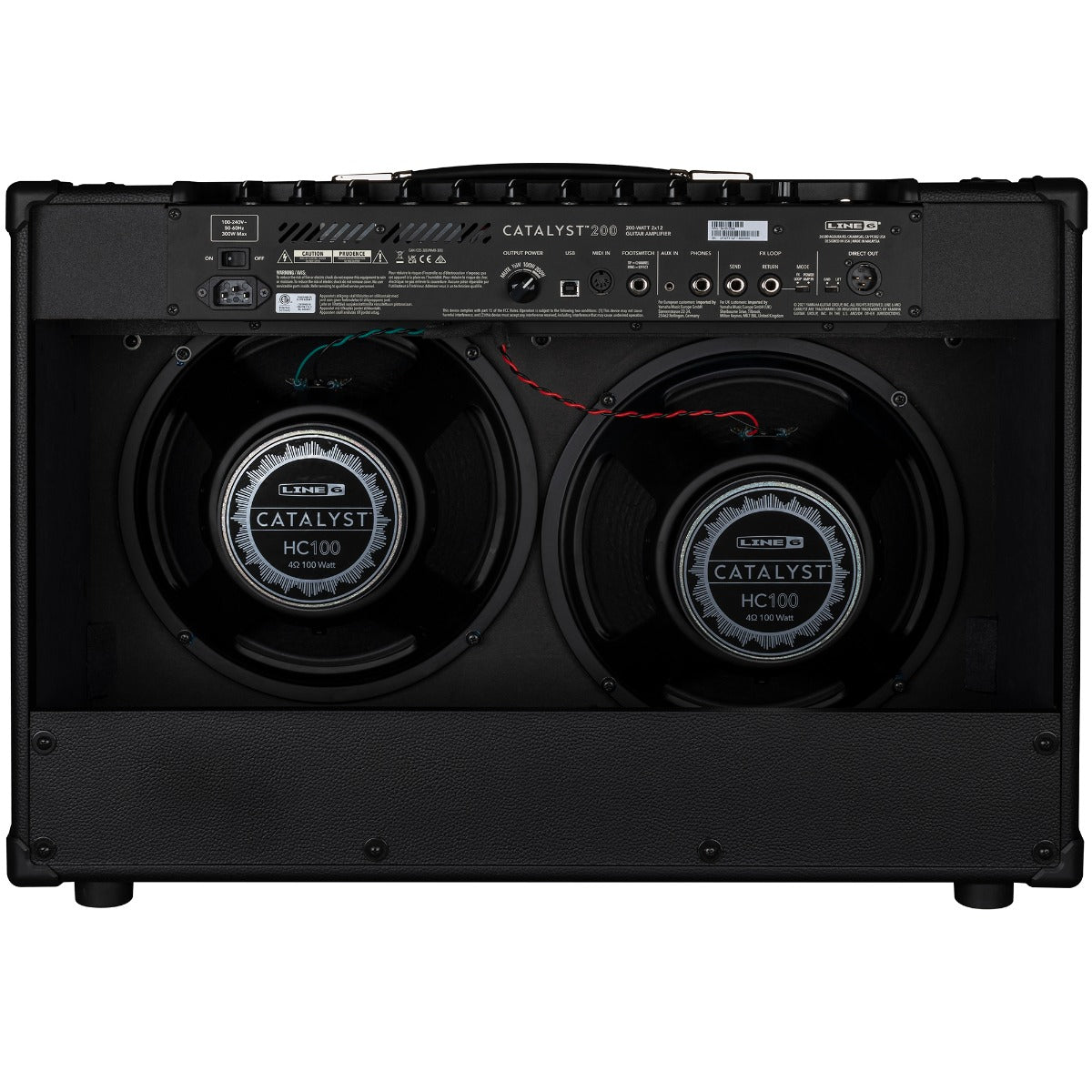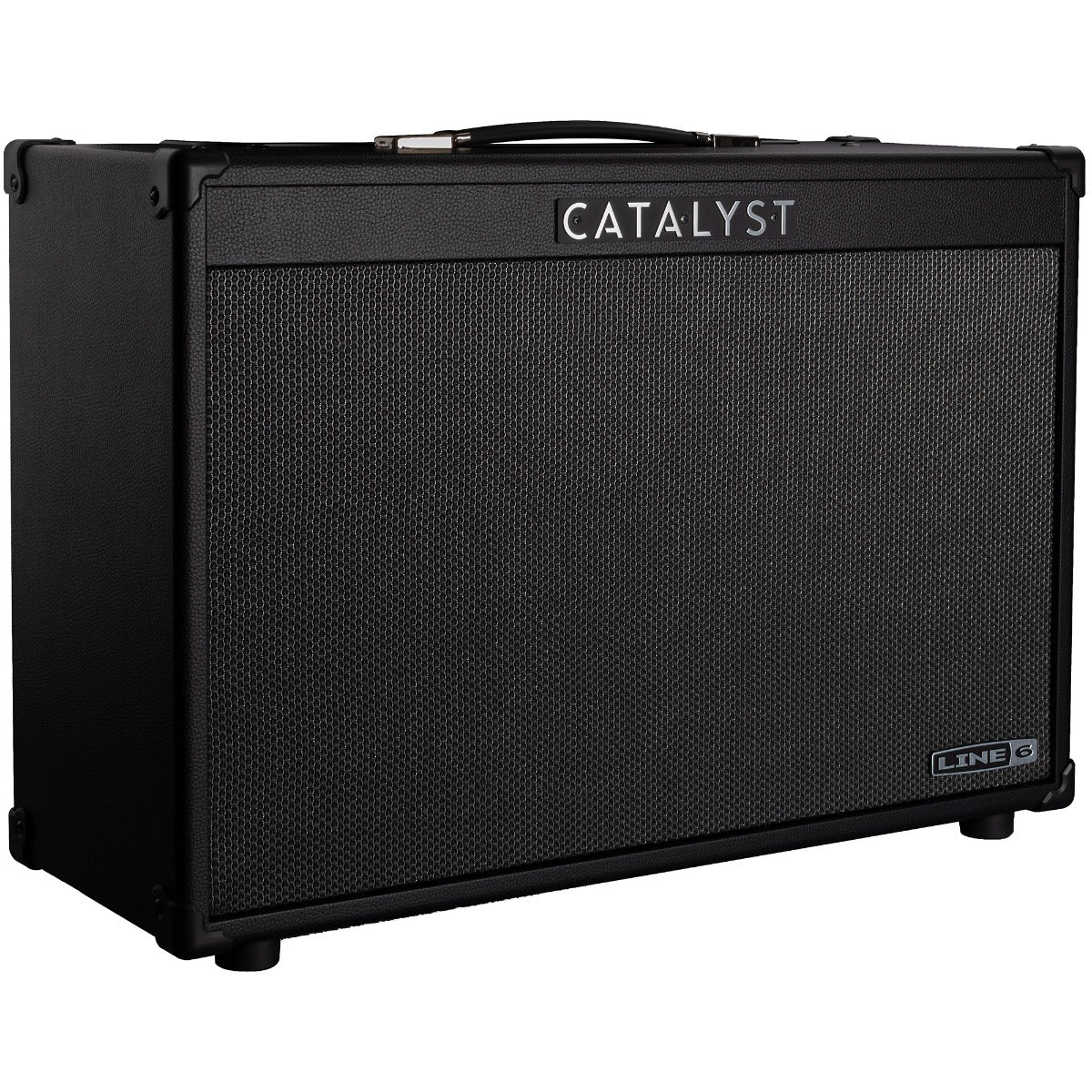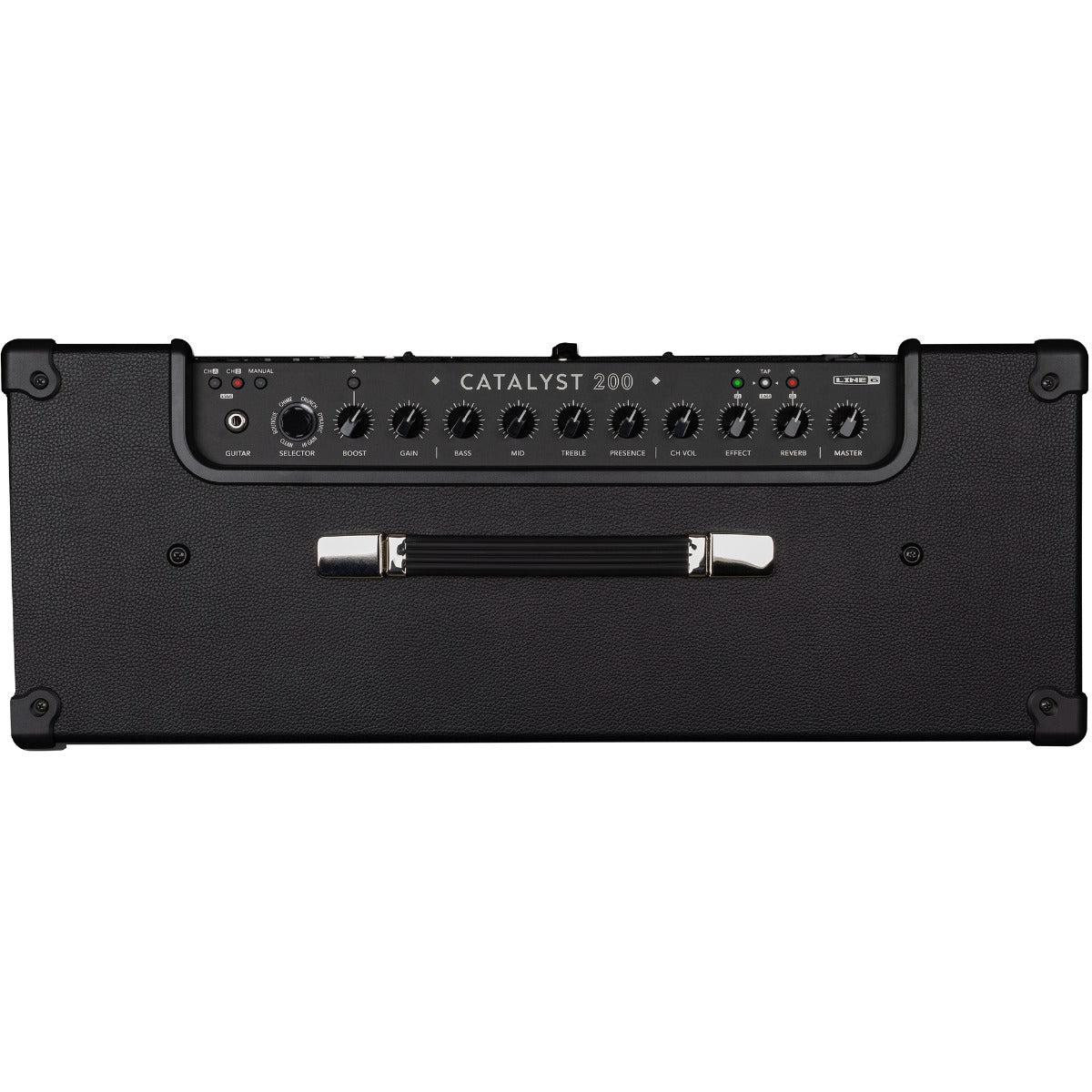 Line 6 Catalyst 200 2x12 Combo Guitar Amplifier
Catalyst 200 is a dual-channel 2x12 combo amplifier that performs like a traditional guitar amp—while providing the increased versatility of a modern amp. The flagship of the Catalyst family of three guitar amplifiers, the 200-watt Catalyst 200 is capable of holding its own on nearly any stage, while also sporting studio-friendly features such as a USB audio interface. The Catalyst 200 amplifier offers six Original Amp Designs—ranging from pristine clean to modern high-gain—crafted using our renowned HX® sound design techniques to ensure exceptional tone and feel. This powerful and sturdily constructed combo is equally suited for stage or studio use, and features an XLR line output and a 4-channel USB recording interface. Also included is a Boost circuit customized for each amp type, a dedicated Reverb section with six reverb types, 18 additional effects, an effects loop, a Power Amp input for using Catalyst 200 as a powered speaker, MIDI In (via DIN connector or USB), and power attenuation options for playing at any volume. The free Catalyst Edit app for desktop and mobile devices provides deep editing capabilities. Add an optional LFS2 footswitch for even more flexibility, and an optional cover to protect your combo.
200-watt, dual-channel 2x12 combo amp (with optional LFS2 footswitch)
Catalyst 200 operates like a traditional amp—but provides increased versatility
6 Original Amp Designs—pristine clean to modern high-gain
Dedicated Boost and Reverb sections (6 reverb types), 18 Effects (3 types)
Power attenuator (half power, 0.5 watts, Mute) for reduced volume
XLR line output for pro connection to P.A. or recording devices
Effects loop and Power Amp input for integrating external devices
MIDI In via DIN connector or USB
4-channel audio interface, MIDI, and Mac®/iOS®/PC/AndroidTM connectivity via USB
Free Catalyst Edit app for desktop and mobile devices
SKU
LN6-CAT200
MPN
Catalyst 200
Vendor
Line 6
Amp Format
Combo
Amp Type
Digital Modeling
Mpn
99-014-0505
Speaker Config
2x12
Wattage
200 Watts
Amplifier Application
Electric Guitar
Amplifier Models
6
Number of Channels
2
Effects
24
Effects Loop
Yes
Equalization (EQ)
Bass, Mid, Treble, Presence
Footswitch
LFS2 Footswitch Sold Separately
Audio Inputs
1/4" Instrument In
1/8" Aux In
Audio Outputs
XLR Direct Out
1/4" Headphones
Power
200 Watts
Product Weight
41.67 lbs
Speakers
2 x 12"
Width
30.31"
Depth
13.46"
Height
22.05"
Line 6 Limited Warranty
Please be aware that your warranty is only valid in the region where you purchased your unit. For instance, if you buy your unit in Germany, then you must have the unit serviced in Germany, or within that region. If you live in South America, you will be interacting with the distributor for the country that you live in. It is for this reason that Line 6 recommends that you always buy your unit locally.
You will need to present your original, dated proof of purchase to have any warranty work performed at any Line 6 Authorized Service Center for repair.
General Warranty Periods
36 month parts and labor warranty:
StageSource speakers
12 month parts and labor warranty:
All amplifiers, including speakers
Helix family of products (extended warranty details below)
AMPLIFi family of products
Firehawk family of products
StageScape mixer
BackTrack/BackTrack + Mic
FBV Controller pedals
POD units (except Pocket Pod and Pocket Pod Express)
Line 6 Branded Wireless Products
Sonic Port
Speaker cabinets
Stompbox modeler pedals
ToneCore Pedals (Module AND Dock purchased together as one unit)
TonePort UX8
Variax instruments (one-year parts and labor for electronics and a limited lifetime warranty on wood)
90 days parts and labor warranty:
MIDI Mobilizer I/II
Mobile Keys 25/49
Mobile In
GuitarPort/RiffTracker
Pocket POD and Pocket POD Express
ToneCore Docks (purchased individually)
ToneCore Modules (purchased individually)
POD Studio GX, UX1, UX2 and KB37
Variax Workbench Interface
All Power Amp and Preamp Tubes
Any refurbished (B-Stock) Line 6 product
90 day warranty:
EX-1 Expression Pedal
All Line 6-Branded Accessories that are purchased separately, including power supplies, amp covers, custom carry bags
30 day return period:
Add-on software licenses (except iLok)
Helix Extended Warranty
Customers who purchased a Helix Floor, Helix Rack, or Helix LT processor, or a Helix Control pedal in the United States and have a copy of the original purchase receipt qualify for the extended warranty. Customers who qualify will have a second year added to their current one-year Helix Warranty at no cost upon registration.

Registration is required within one year of the purchase date. You already qualify if you've registered your Helix and have a copy of the original purchase receipt. Otherwise, register your product at the Line 6 website and make sure you have a copy of the original purchase receipt.
Line 6 warranties transfer from one end user to another within the original warranty period (as long as the user has the original dated proof of purchase), but not when purchased second hand from a retail outlet.
If you purchase a Line 6 product sold as new from an authorized Line 6 retailer with an online storefront, the standard warranty applies as if it were purchased in a physical store. If you purchase a used unit from an individual on eBay, you do so at your own risk with no warranty offered by Line 6, unless the seller includes a copy of the original receipt to transfer the warranty to you.
The only way to redeem warranty on a used item is to have the original purchase receipt, dated within the product warranty period. So if you fail to get such a receipt, the manufacturers warranty will not be honored.
The Warranty does not cover:
Damage from physical abuse such as dropping the unit, impact from hard objects or damage to external components as a result of negligence.
Damage due to liquid contamination.
Damage resulting from any use other than that it was intended for.
Any unit that has been repaired or had an attempted repair made to it by unauthorized personnel.
Damage due to incorrect connection, connection to faulty equipment or connection to faulty or incorrect power supplies.
Damage in transit as a result of inadequate packaging or protection.
Ground shipping is FREE for all orders $99 and up.