Skip product carousel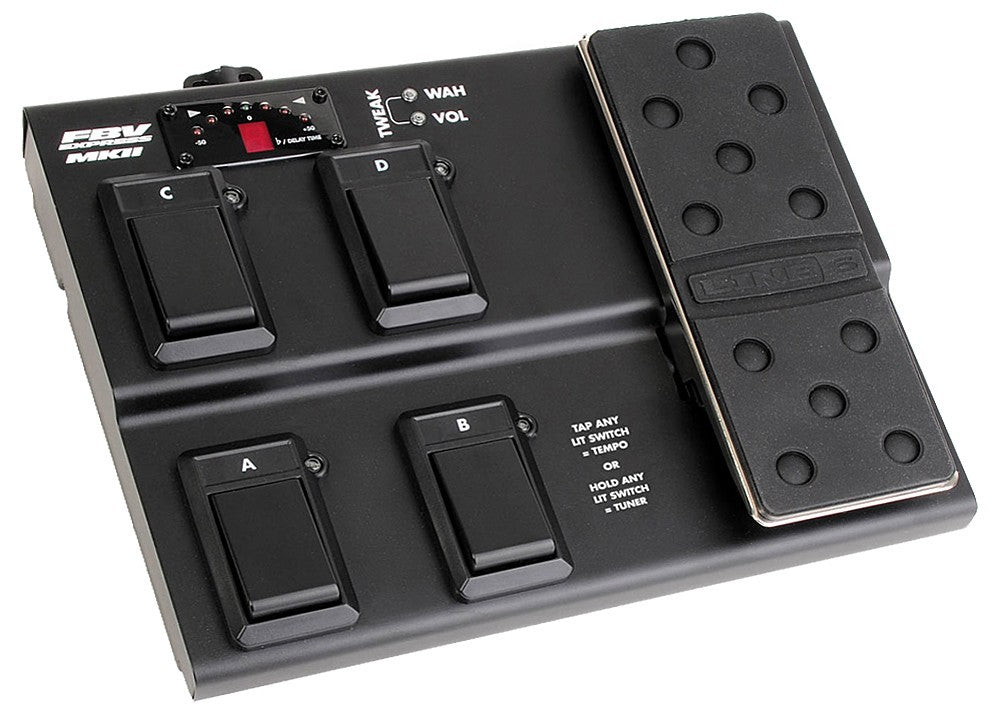 Line 6 FBV Express MkII 4-button Foot Controller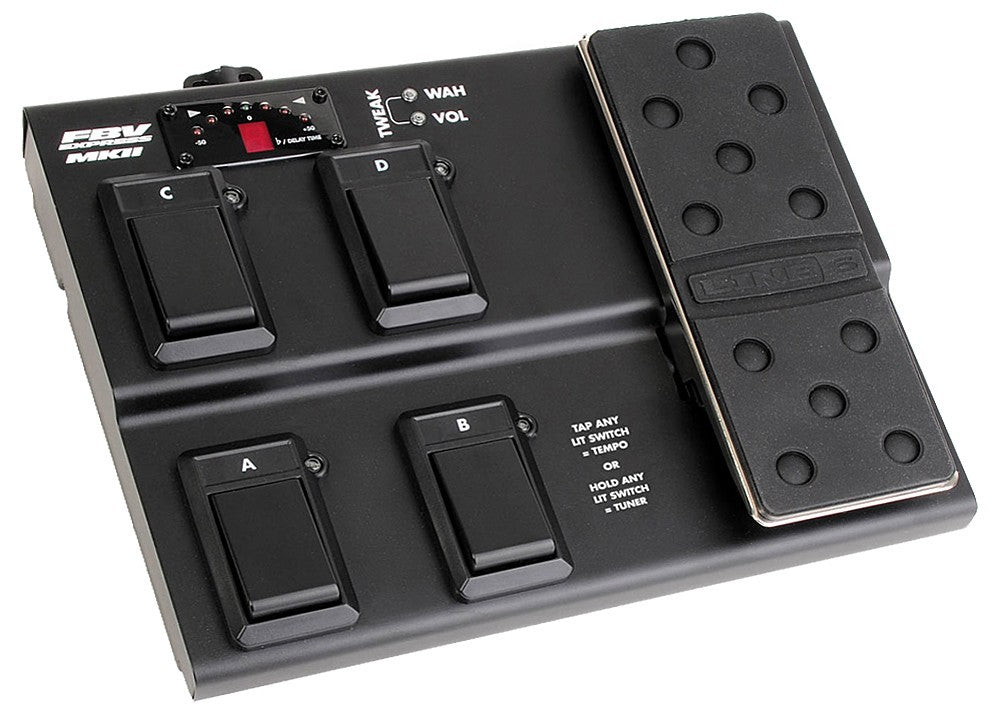 Line 6 FBV Express MkII 4-button Foot Controller
Get hands-free channel switching and more for your Line 6 amp and POD® with FBV Express™ MkII foot controller!
FBV Express MkII offers all the classic advantages you expect from a Line 6 foot controller, including rock-solid channel switches, a rugged wah/volume pedal and a chromatic tuner display but it's also full of surprises.
The steel footswitches are built for constant stomping. They make it easy to store and select four channel presets, to synchronize time-based effects with Tap Tempo, and to activate the chromatic tuner.
The burly, full-sized volume/wah pedal feels solid under your foot and features plenty of grip. Clicking the toe switch toggles between volume and wah control.
FBV Express MkII connects to your Line 6 amp or POD via the included locking RJ-45 cable. FBV Shortboard MkII also features a USB jack that can be used for upgrading the firmware of Spider® IV and Spider Valve™ MkII amplifiers.
Perfectly paired with Spider IV and Spider Valve MkII guitar amplifiers, FBV Express MkII provides complete, hands-free control of the looper, pitch-shifter and other on-board amplifier effects.
FBV Express MkII is compatible with most Line 6 amplifiers and POD processors.
Hands-free channel switching and more for your Line 6 amp and POD
Footswitches and chassis are constructed of reliable steel
4 channel switches: A, B, C and D
Chromatic tuner display
Volume/wah pedal is burly, full-sized and features plenty of grip
Bright LEDs show active channel, tap tempo and volume or wah
Self-powered via included locking RJ-45 cable
USB jack, RJ-45 jack
| | |
| --- | --- |
| SKU | LN6-FBVEMKII |
| Vendor | Line 6 |
| Mpn | 99-040-0814 |
| Manufacturer Part Number (MPN) | 99-040-0814 |
Line 6 Limited Warranty
Please be aware that your warranty is only valid in the region where you purchased your unit. For instance, if you buy your unit in Germany, then you must have the unit serviced in Germany, or within that region. If you live in South America, you will be interacting with the distributor for the country that you live in. It is for this reason that Line 6 recommends that you always buy your unit locally.
You will need to present your original, dated proof of purchase to have any warranty work performed at any Line 6 Authorized Service Center for repair.
General Warranty Periods
36 month parts and labor warranty:
StageSource speakers
12 month parts and labor warranty:
All amplifiers, including speakers
Helix family of products (extended warranty details below)
AMPLIFi family of products
Firehawk family of products
StageScape mixer
BackTrack/BackTrack + Mic
FBV Controller pedals
POD units (except Pocket Pod and Pocket Pod Express)
Line 6 Branded Wireless Products
Sonic Port
Speaker cabinets
Stompbox modeler pedals
ToneCore Pedals (Module AND Dock purchased together as one unit)
TonePort UX8
Variax instruments (one-year parts and labor for electronics and a limited lifetime warranty on wood)
90 days parts and labor warranty:
MIDI Mobilizer I/II
Mobile Keys 25/49
Mobile In
GuitarPort/RiffTracker
Pocket POD and Pocket POD Express
ToneCore Docks (purchased individually)
ToneCore Modules (purchased individually)
POD Studio GX, UX1, UX2 and KB37
Variax Workbench Interface
All Power Amp and Preamp Tubes
Any refurbished (B-Stock) Line 6 product
90 day warranty:
EX-1 Expression Pedal
All Line 6-Branded Accessories that are purchased separately, including power supplies, amp covers, custom carry bags
30 day return period:
Add-on software licenses (except iLok)
Helix Extended Warranty
Customers who purchased a Helix Floor, Helix Rack, or Helix LT processor, or a Helix Control pedal in the United States and have a copy of the original purchase receipt qualify for the extended warranty. Customers who qualify will have a second year added to their current one-year Helix Warranty at no cost upon registration.

Registration is required within one year of the purchase date. You already qualify if you've registered your Helix and have a copy of the original purchase receipt. Otherwise, register your product at the Line 6 website and make sure you have a copy of the original purchase receipt.
Line 6 warranties transfer from one end user to another within the original warranty period (as long as the user has the original dated proof of purchase), but not when purchased second hand from a retail outlet.
If you purchase a Line 6 product sold as new from an authorized Line 6 retailer with an online storefront, the standard warranty applies as if it were purchased in a physical store. If you purchase a used unit from an individual on eBay, you do so at your own risk with no warranty offered by Line 6, unless the seller includes a copy of the original receipt to transfer the warranty to you.
The only way to redeem warranty on a used item is to have the original purchase receipt, dated within the product warranty period. So if you fail to get such a receipt, the manufacturers warranty will not be honored.
The Warranty does not cover:
Damage from physical abuse such as dropping the unit, impact from hard objects or damage to external components as a result of negligence.
Damage due to liquid contamination.
Damage resulting from any use other than that it was intended for.
Any unit that has been repaired or had an attempted repair made to it by unauthorized personnel.
Damage due to incorrect connection, connection to faulty equipment or connection to faulty or incorrect power supplies.
Damage in transit as a result of inadequate packaging or protection.
Standard Shipping