Skip product carousel
Bonus Item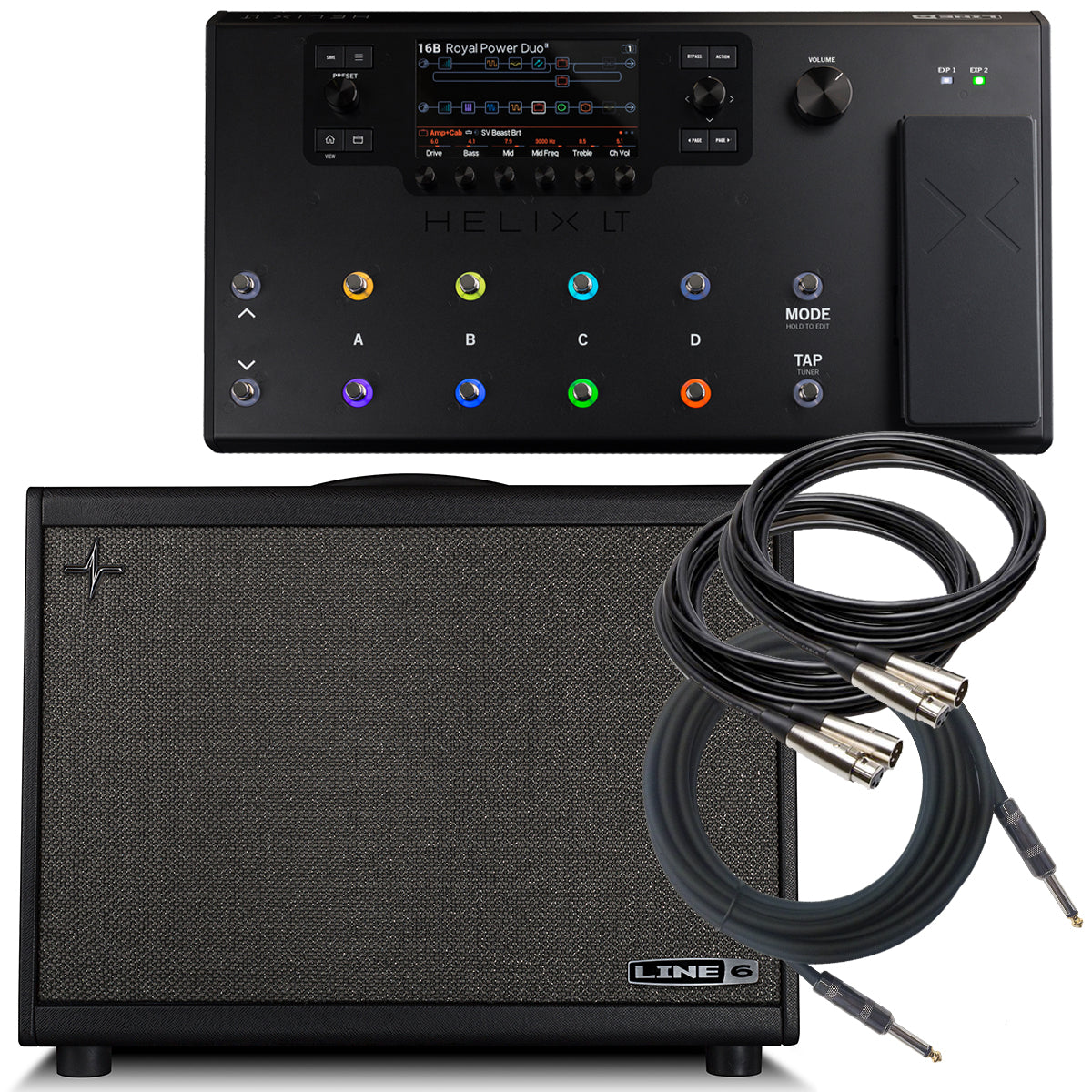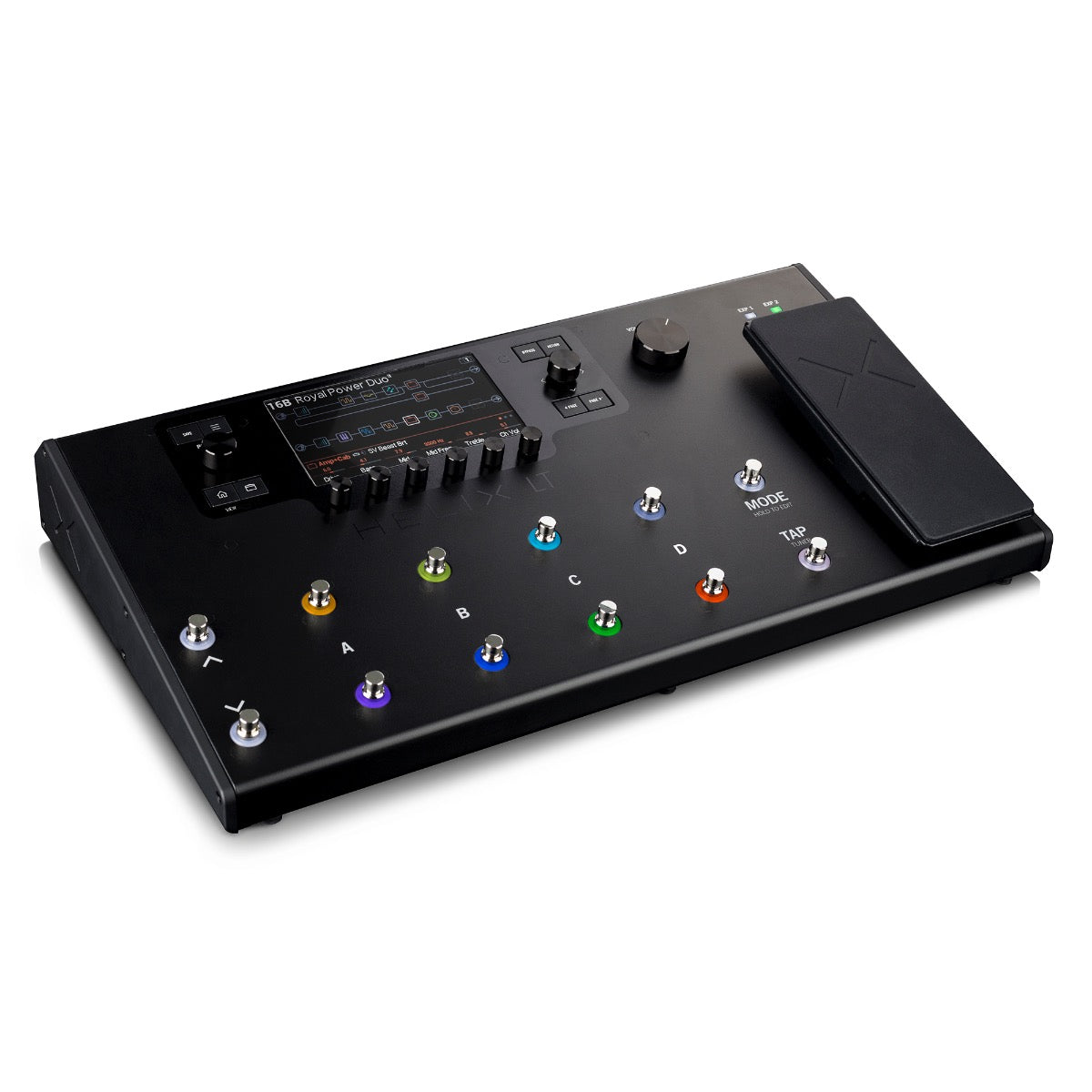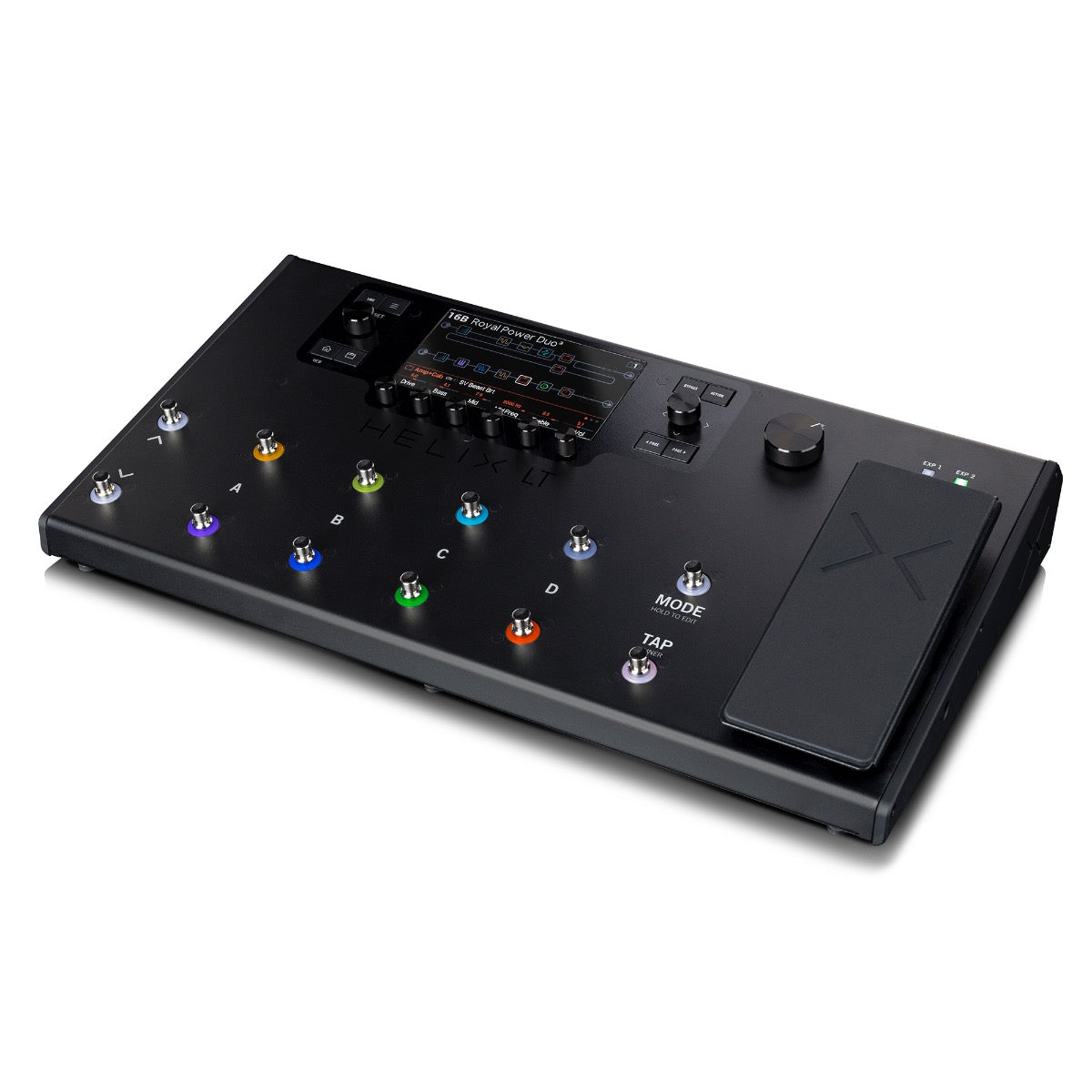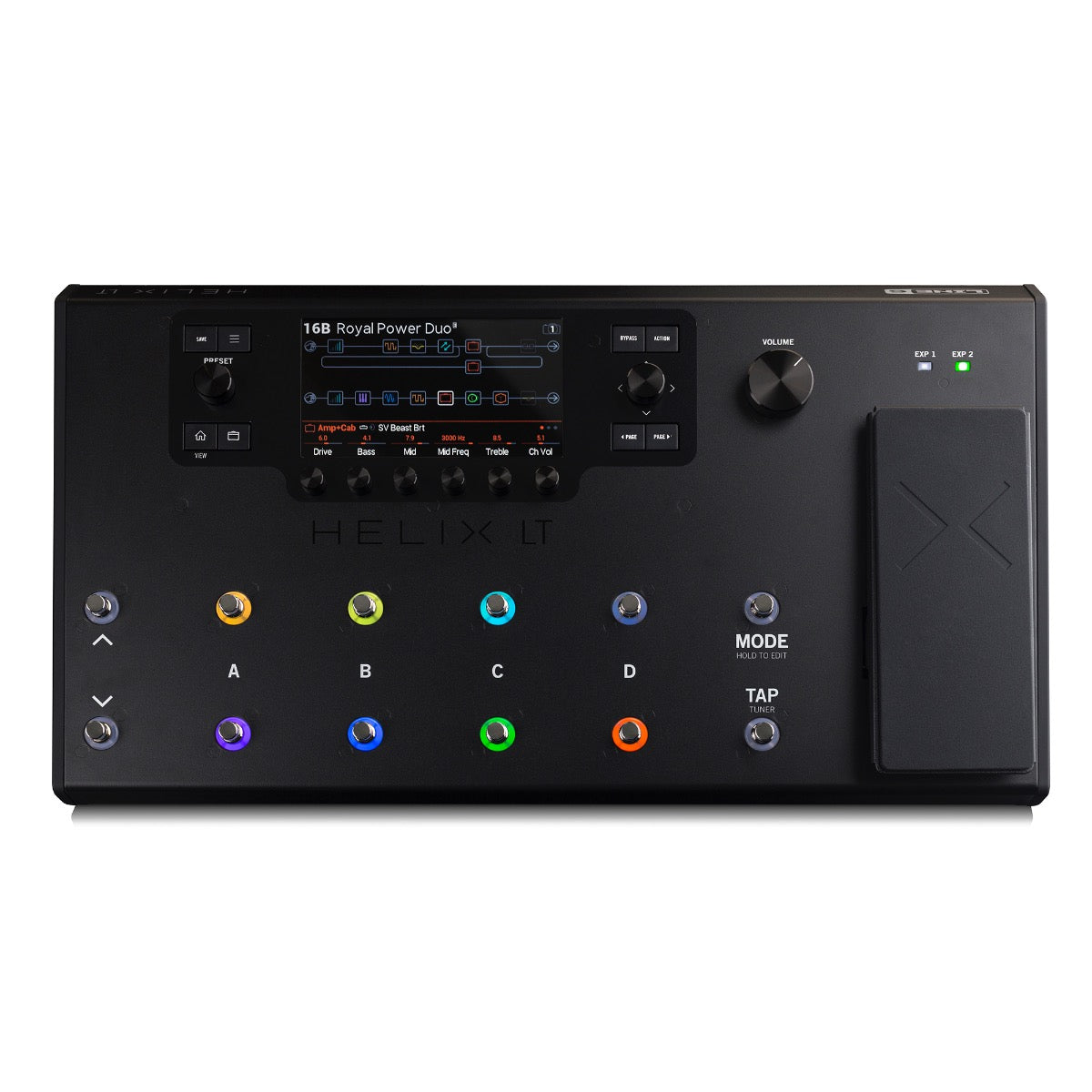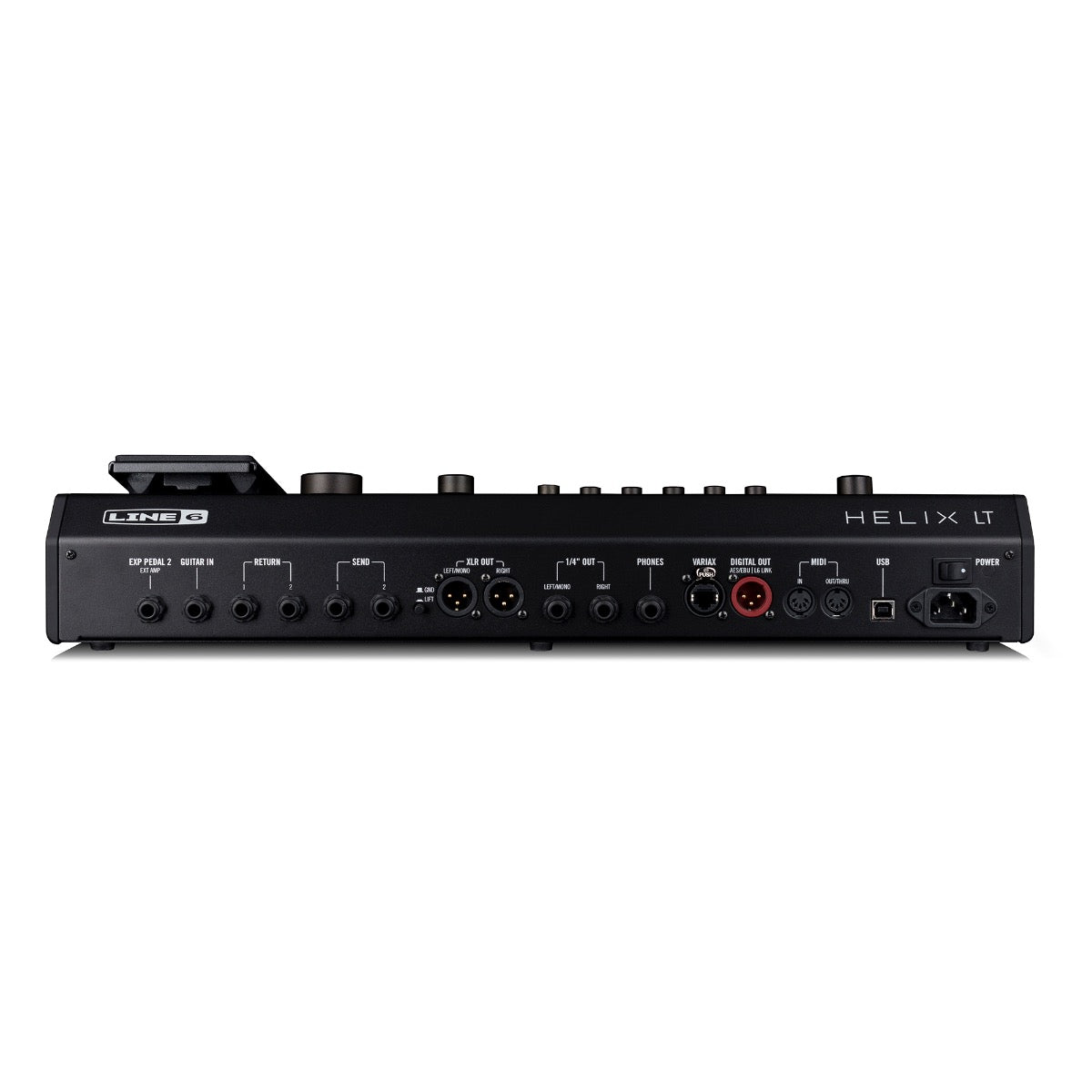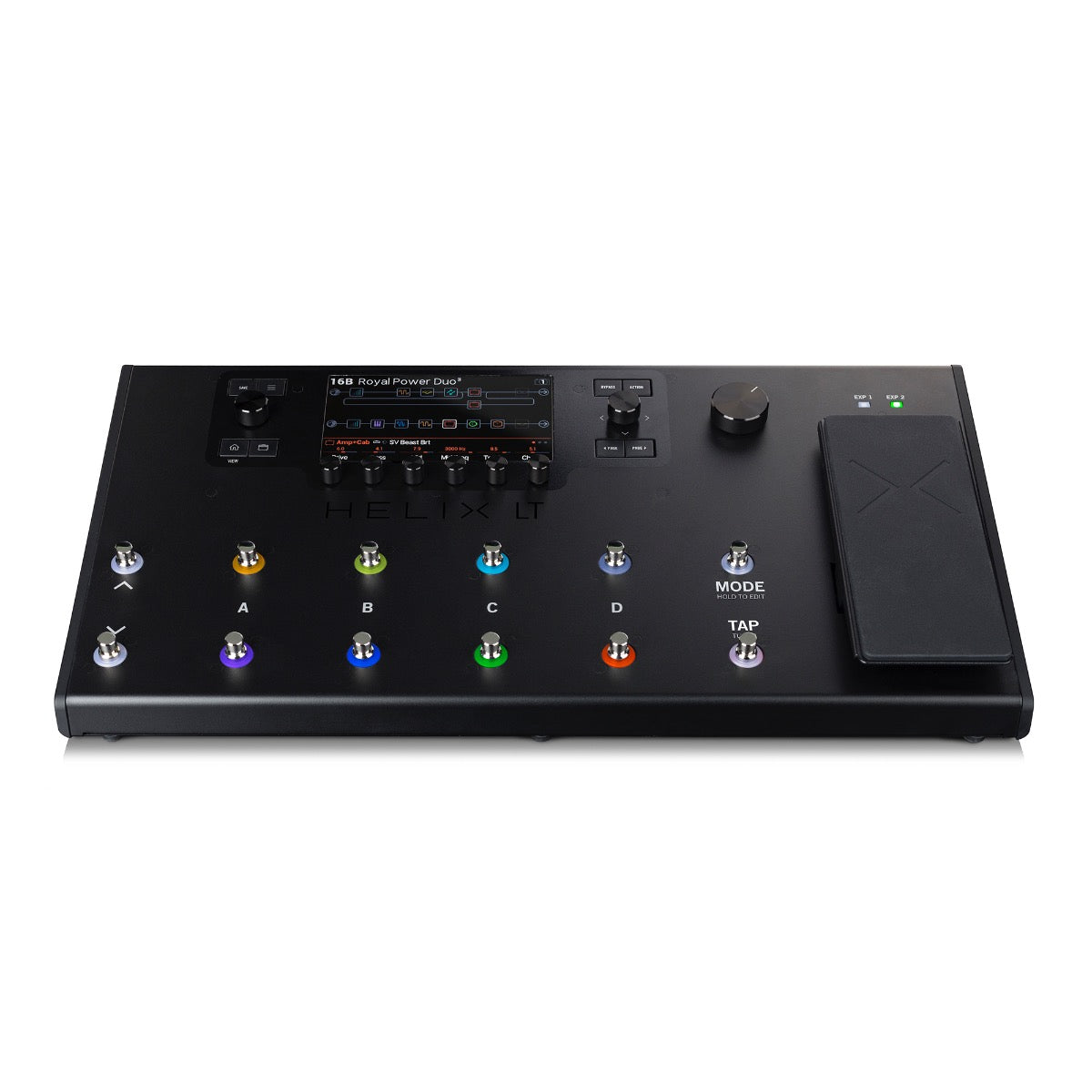 Line 6 Helix LT Guitar Processor POWERCAB PLUS BUNDLE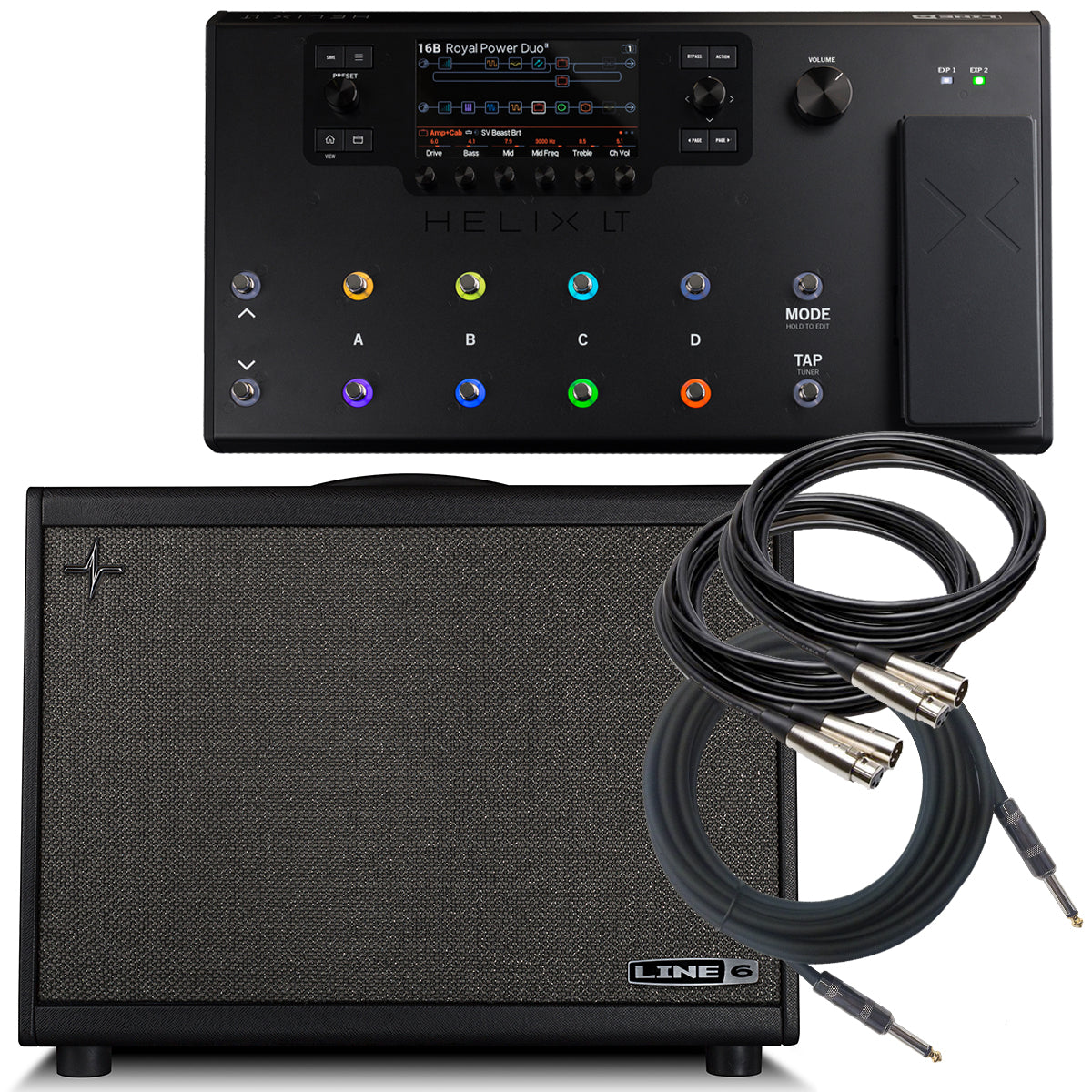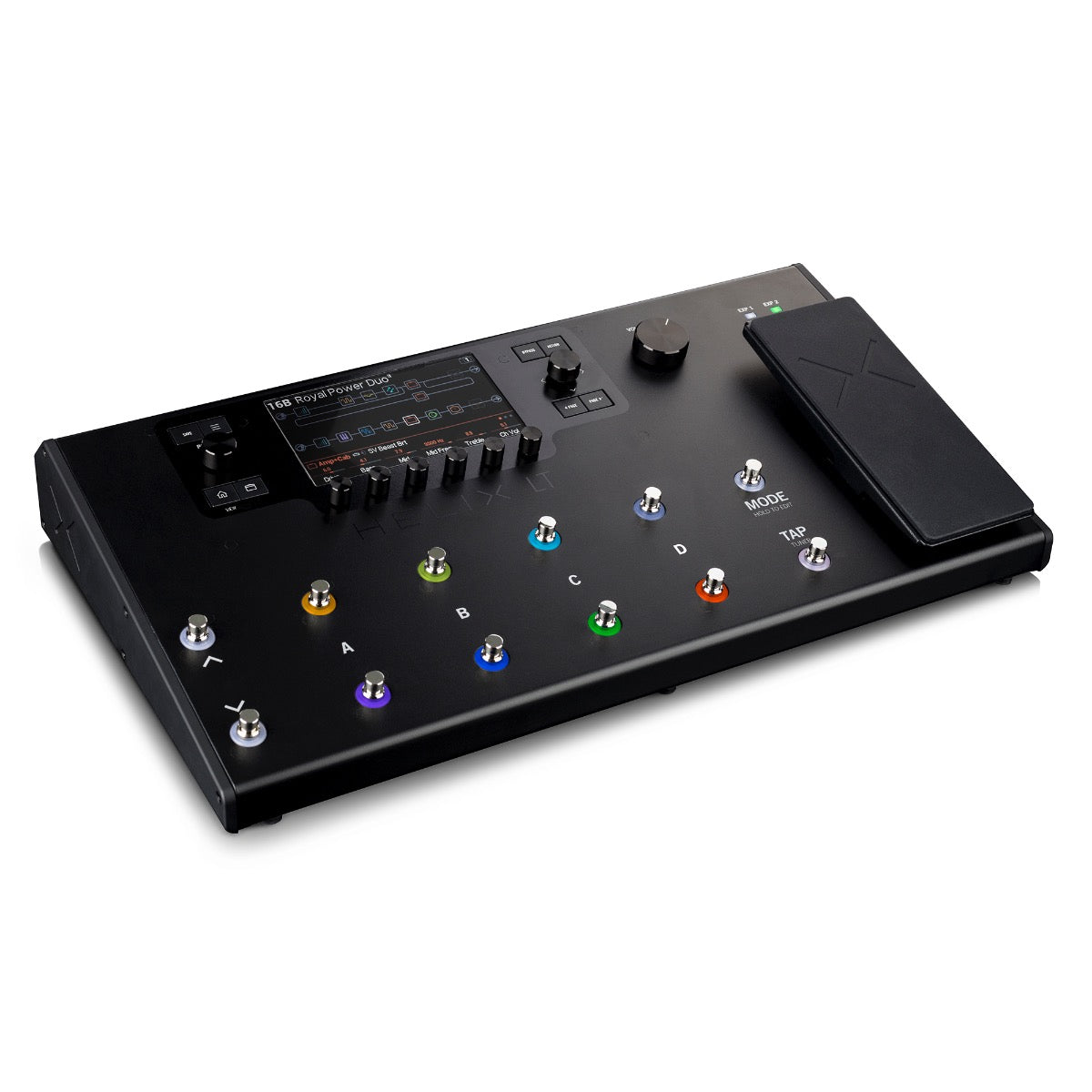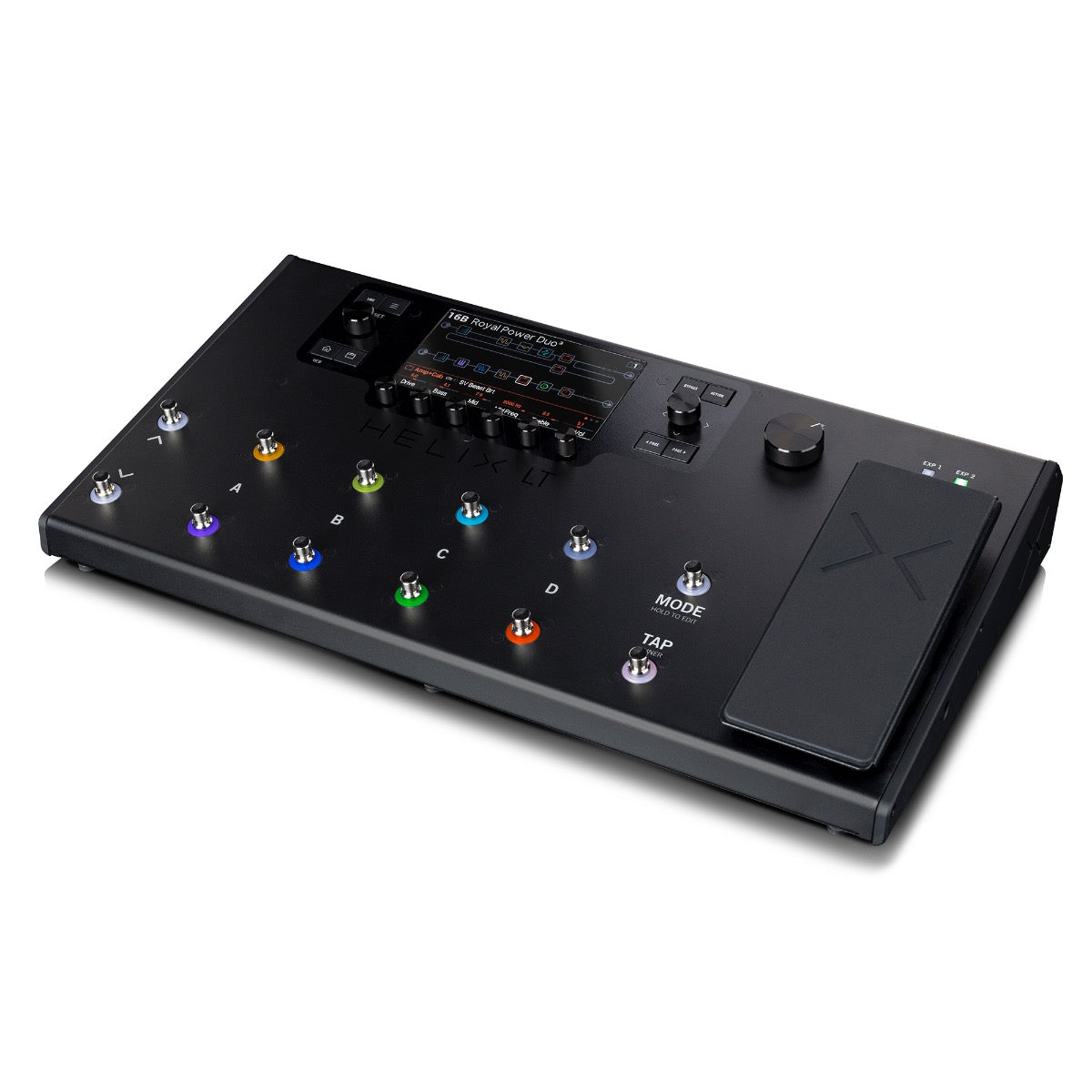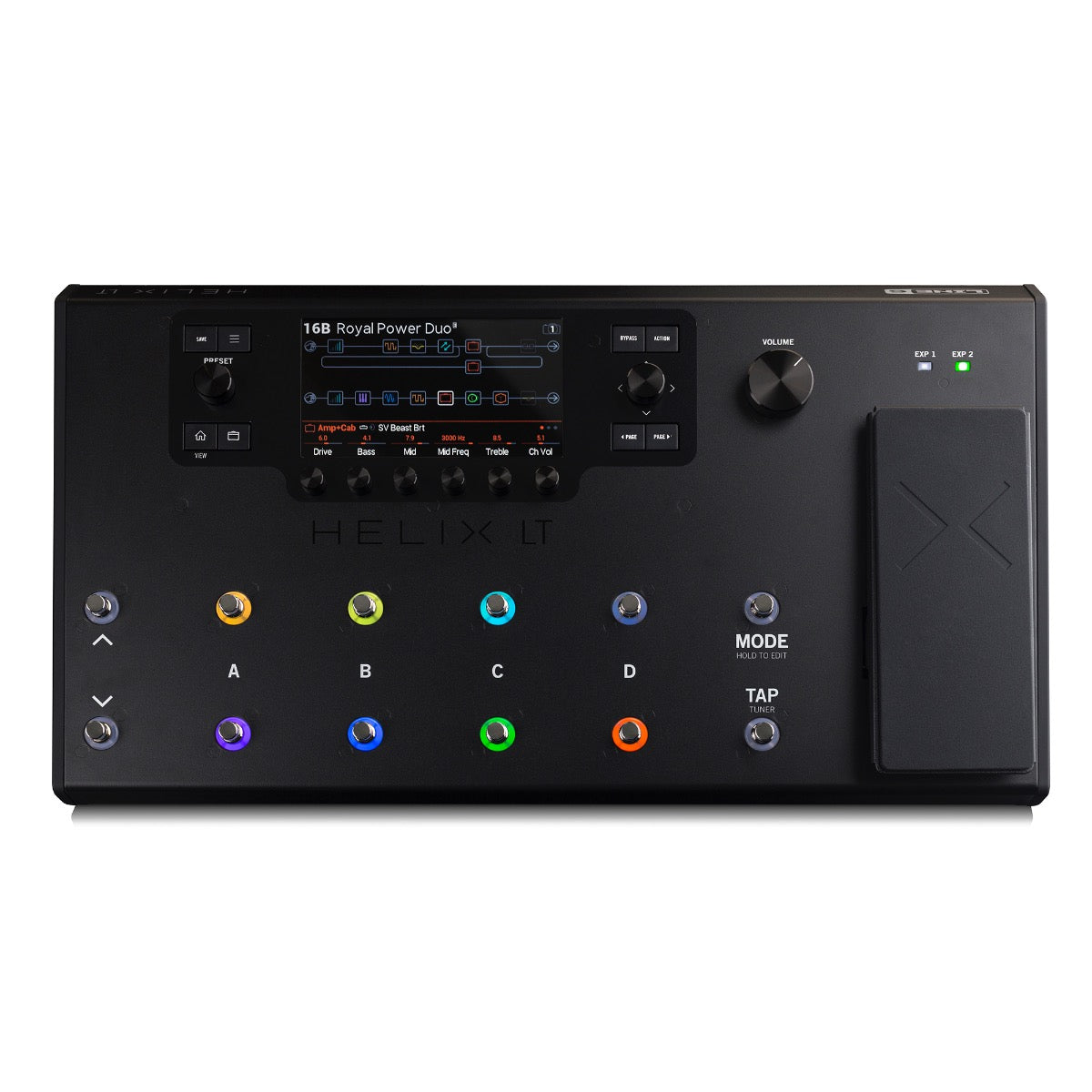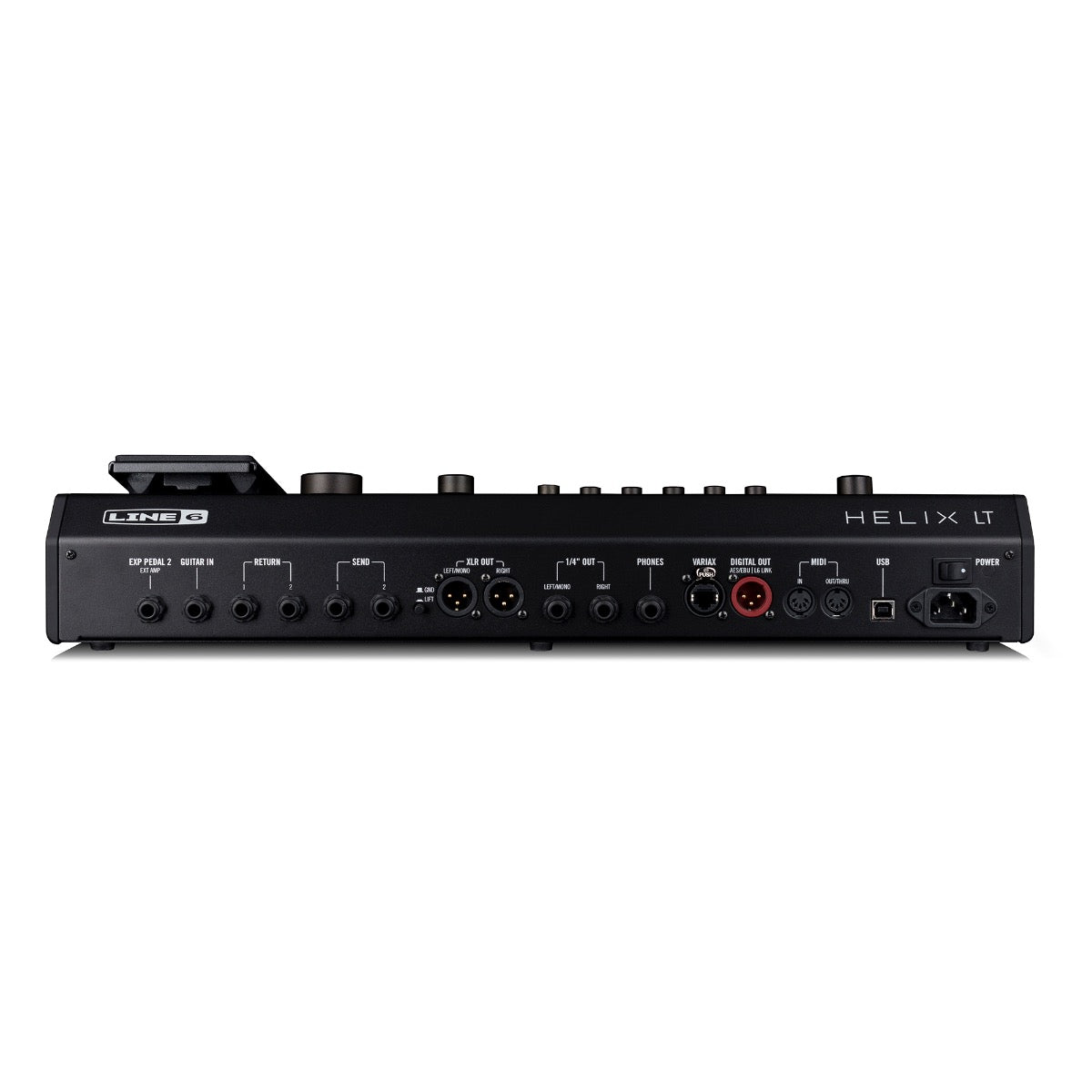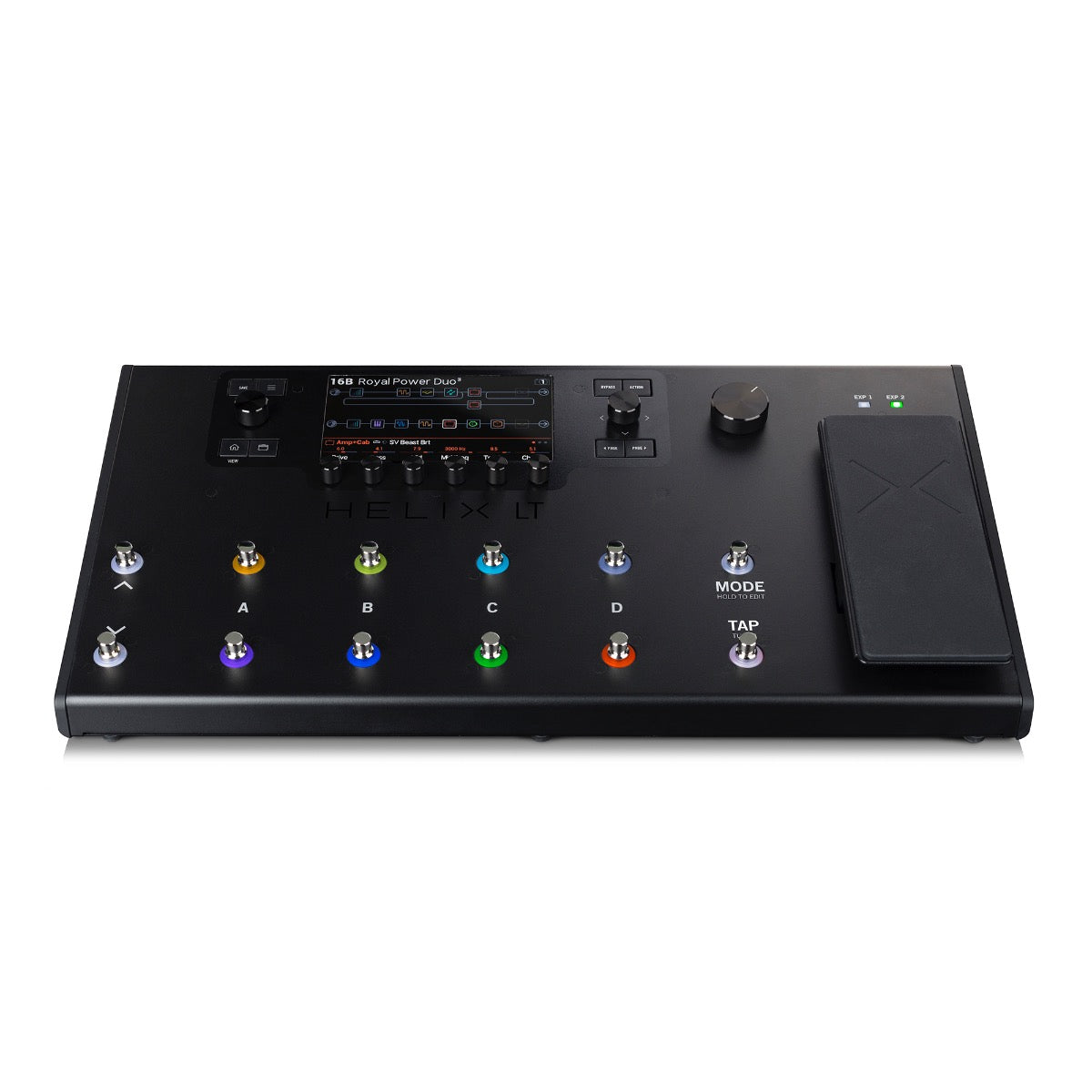 Line 6 Helix LT Guitar Processor POWERCAB PLUS BUNDLE
4 items included
This Kraft Music Bundle Includes
$1,999.99
Regular price
$2,112.83
You Save $112.84
Click on a product to view more details.
The Helix LT guitar processor delivers the highest levels of performance, flexibility, and control in its class. Featuring the same powerful dual-DSP processing and award-winning HX Modeling technology found in the flagship Helix Floor and Helix Rack guitar processors, its streamlined I/O complement and hardware configuration make it more affordable for budget-conscious guitarists who still want to access the power of Helix.
Powerful Dual-DSP HX Modeling
Large 6.2", 800x480-Pixel LCD Screen
62 Amps, 37 Cabs, 16 Microphones, and 104 Effects
Capacitive Footswitches. Touch to Edit, Hold to Assign, Press to Engage
Up to 2 Expression Pedals, External Amp Switching, and Deep MIDI Control
20.87 x 11.93 x 3.66 inches, 12.5 lbs
Line 6 Helix 3.60 Firmware Update Features 14 New Models
The Helix 3.60 firmware update for Helix and HX hardware devices and the 3.60 software update for the Helix Native plugin introduce three new amplifiers including the Grammatico GSG, seven new guitar speaker cabinets featuring 12" speakers in various combinations, two new bass cabs, and two new effects.
Authentic Tone
Helix guitar processors represent a giant leap forward in modeling technology. Dual-DSPs provide massive power to accurately recreate the sonic characteristics and full dynamic response of classic and modern amplifiers and effects.
Hx Hybrid Cabs
The Helix HX Hybrid cabs featured in the Helix LT processor represent a new approach to the speaker cabinet capture process. They provide the same resolution and low-end accuracy as a 2048-point or higher Impulse Response, while only using roughly the same amount of DSP power as a 1024-point IR. A choice of 16 different microphones and 23 recording distances provides additional sonic flexibility and real-time dynamic control. The Helix LT processor also lets you load custom impulse responses, allowing you to personalize your rig even further.
Capturing Each Amp Component
Models that respond like the real thing. With Helix processors, each stage of an amp's circuitry has been measured and matched back to the original, so that each model reacts and interacts with the player as expected. This level of dynamic circuit detail extends into areas such as power supply ripple, individual tube sag, and control over B+ voltages.
Intelligent Interface
The Helix LT processor features a clear and intuitive interface that enables fast tone creation and easy interaction—all with a minimal learning curve and the elimination of complex menu diving. A large color LCD lays out the entire signal chain and provides instant access to amp and effects parameters, as well as displaying footswitch assignments and status while in Performance mode.
Capacitive Touch Footswitches
Simply touch a footswitch to instantly jump to any block and quickly adjust a parameter or assign controllers. The process is so fast you can comfortably assign any item to a switch in three seconds.
Robust I/O and Routing
The Helix LT processor provides best-in-class analog and digital I/O and signal-routing capabilities for studio and stage applications—including two assignable effects loops—making it easy to integrate into any live performance rig or studio setup.
Powerful Master Controller
When you need to incorporate external devices via MIDI, the Helix LT processor offers maximum flexibility. In addition to powerful real time MIDI control, it can send up to six separate commands at preset recall, enabling you to, for example, change a preset on a synth, start a sequencer, and turn up a fader on an external digital mixer with a single press of a footswitch. And with its external amp-switching capabilities and two expression pedal inputs it can serve as the command center for any rig.
SKU
LN6-HELIXLTPC1
MPN
Helix LT
Vendor
Line 6
Effect Type
Multi-Effects
Mpn
99-060-2305
Control Connections
1/4" Expression Pedal
Effects
104
Audio Inputs
1/4" Guitar In
2 x 1/4" Returns
Audio Outputs
XLR L/Mono+Right
1/4" L/Mono+Right
1 x AES/EBU
1/4" Phones
2 x 1/4" Sends
On-board Expression Pedal
Yes
Number of Patches/Programs
62 Amps, 37 Cabs, 16 Microphones, and 104 Effects
Number of Pedal Switches
12
Power Adaptor
Standard IEC AC cable
Product Weight
12.5 lbs
USB Functionality
Editor/Librarian;Recording Interface
Width
20.87"
Depth
11.93"
Height
3.66"
Line 6 Limited Warranty
Please be aware that your warranty is only valid in the region where you purchased your unit. For instance, if you buy your unit in Germany, then you must have the unit serviced in Germany, or within that region. If you live in South America, you will be interacting with the distributor for the country that you live in. It is for this reason that Line 6 recommends that you always buy your unit locally.
You will need to present your original, dated proof of purchase to have any warranty work performed at any Line 6 Authorized Service Center for repair.
General Warranty Periods
36 month parts and labor warranty:
StageSource speakers
12 month parts and labor warranty:
All amplifiers, including speakers
Helix family of products (extended warranty details below)
AMPLIFi family of products
Firehawk family of products
StageScape mixer
BackTrack/BackTrack + Mic
FBV Controller pedals
POD units (except Pocket Pod and Pocket Pod Express)
Line 6 Branded Wireless Products
Sonic Port
Speaker cabinets
Stompbox modeler pedals
ToneCore Pedals (Module AND Dock purchased together as one unit)
TonePort UX8
Variax instruments (one-year parts and labor for electronics and a limited lifetime warranty on wood)
90 days parts and labor warranty:
MIDI Mobilizer I/II
Mobile Keys 25/49
Mobile In
GuitarPort/RiffTracker
Pocket POD and Pocket POD Express
ToneCore Docks (purchased individually)
ToneCore Modules (purchased individually)
POD Studio GX, UX1, UX2 and KB37
Variax Workbench Interface
All Power Amp and Preamp Tubes
Any refurbished (B-Stock) Line 6 product
90 day warranty:
EX-1 Expression Pedal
All Line 6-Branded Accessories that are purchased separately, including power supplies, amp covers, custom carry bags
30 day return period:
Add-on software licenses (except iLok)
Helix Extended Warranty
Customers who purchased a Helix Floor, Helix Rack, or Helix LT processor, or a Helix Control pedal in the United States and have a copy of the original purchase receipt qualify for the extended warranty. Customers who qualify will have a second year added to their current one-year Helix Warranty at no cost upon registration.

Registration is required within one year of the purchase date. You already qualify if you've registered your Helix and have a copy of the original purchase receipt. Otherwise, register your product at the Line 6 website and make sure you have a copy of the original purchase receipt.
Line 6 warranties transfer from one end user to another within the original warranty period (as long as the user has the original dated proof of purchase), but not when purchased second hand from a retail outlet.
If you purchase a Line 6 product sold as new from an authorized Line 6 retailer with an online storefront, the standard warranty applies as if it were purchased in a physical store. If you purchase a used unit from an individual on eBay, you do so at your own risk with no warranty offered by Line 6, unless the seller includes a copy of the original receipt to transfer the warranty to you.
The only way to redeem warranty on a used item is to have the original purchase receipt, dated within the product warranty period. So if you fail to get such a receipt, the manufacturers warranty will not be honored.
The Warranty does not cover:
Damage from physical abuse such as dropping the unit, impact from hard objects or damage to external components as a result of negligence.
Damage due to liquid contamination.
Damage resulting from any use other than that it was intended for.
Any unit that has been repaired or had an attempted repair made to it by unauthorized personnel.
Damage due to incorrect connection, connection to faulty equipment or connection to faulty or incorrect power supplies.
Damage in transit as a result of inadequate packaging or protection.
Ground shipping is FREE for all orders $99 and up.