Skip product carousel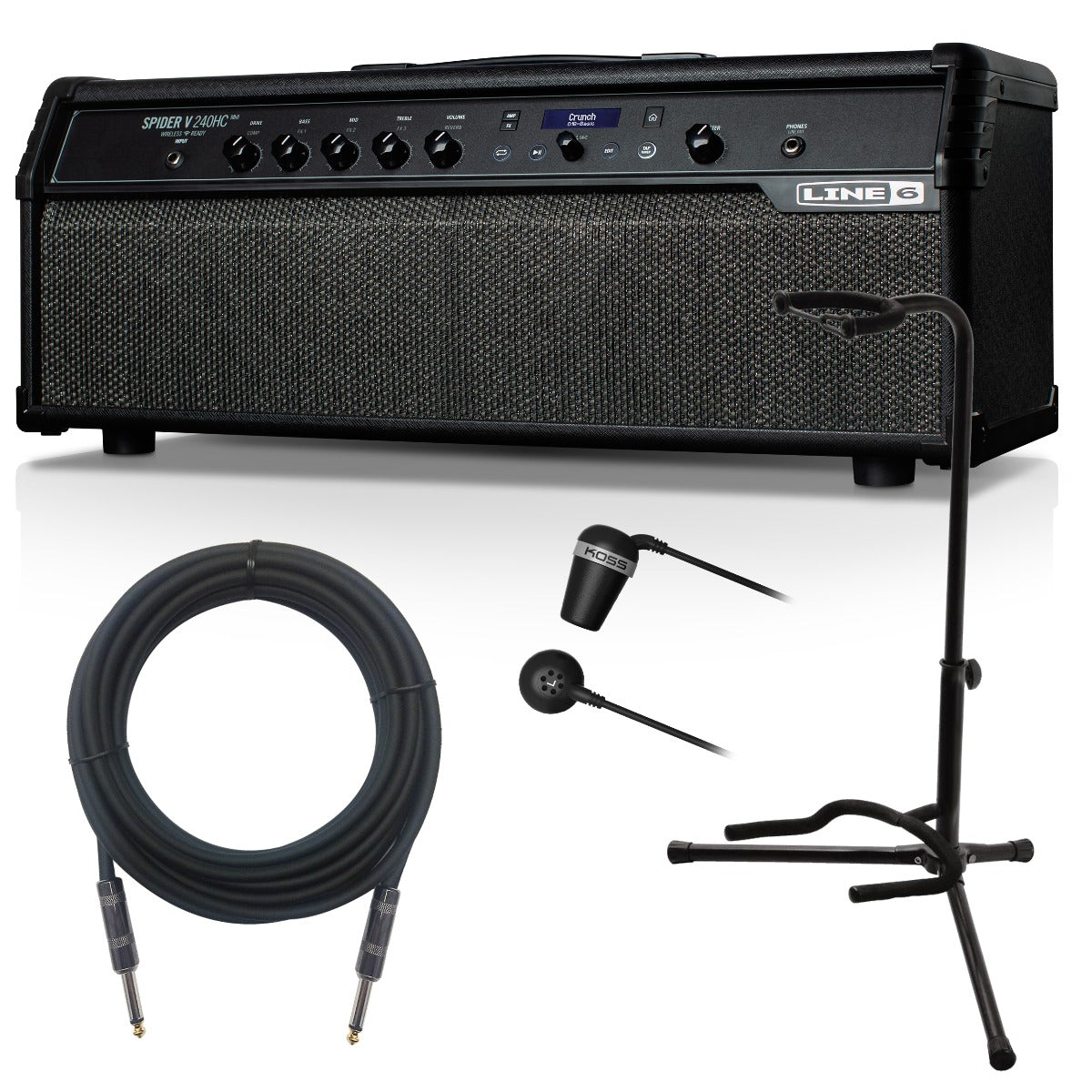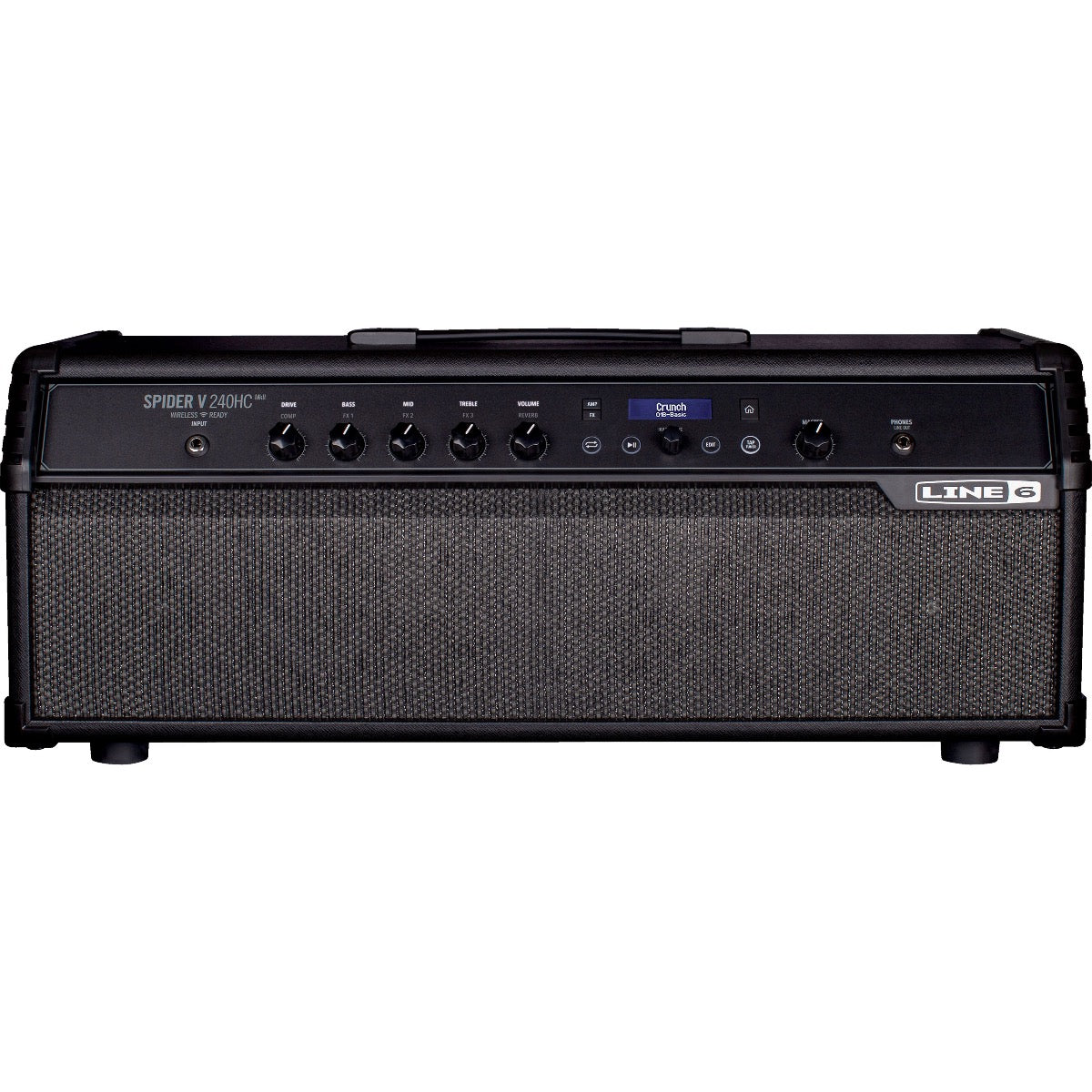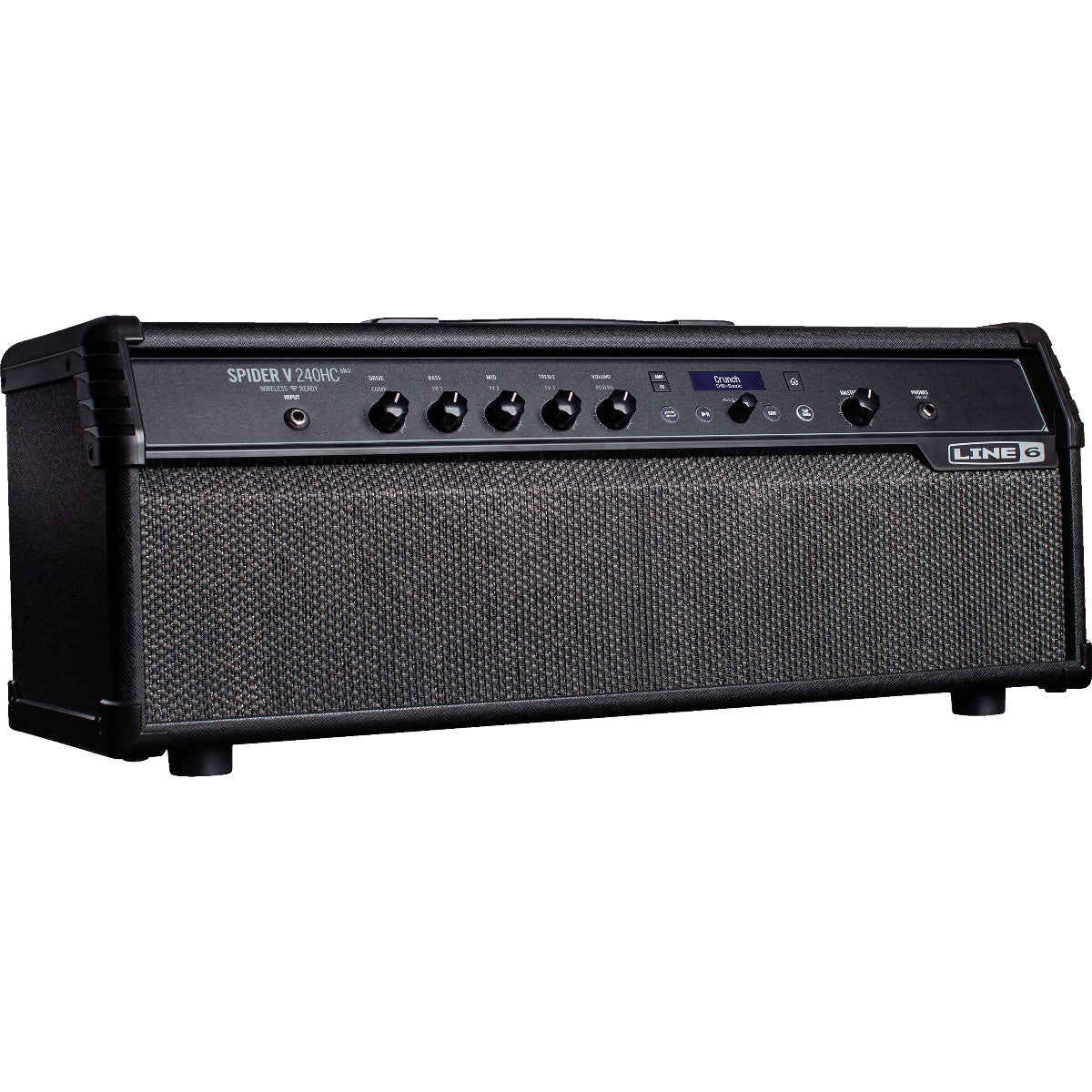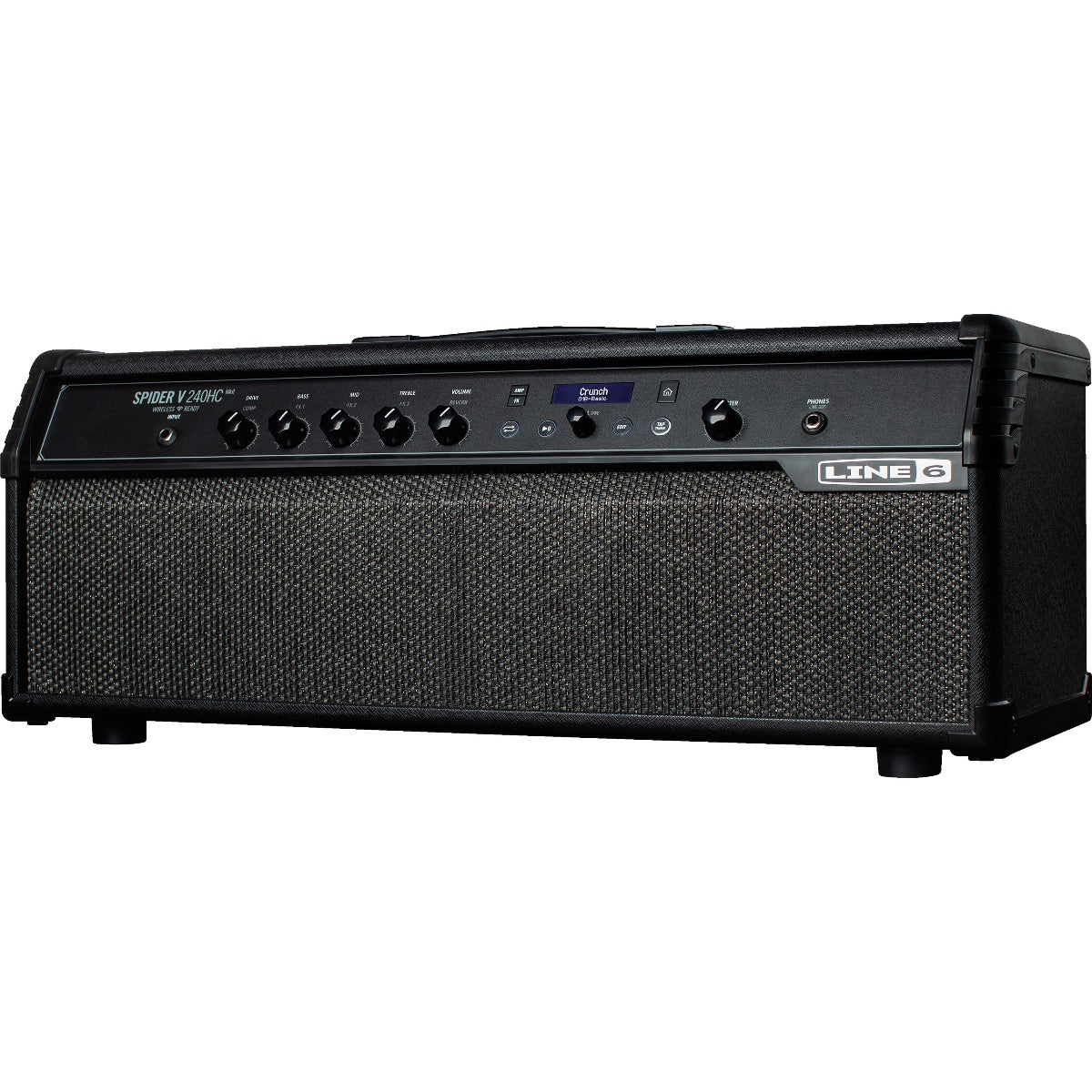 Line 6 Spider V 240HC MkII Guitar Amplifier BONUS PAK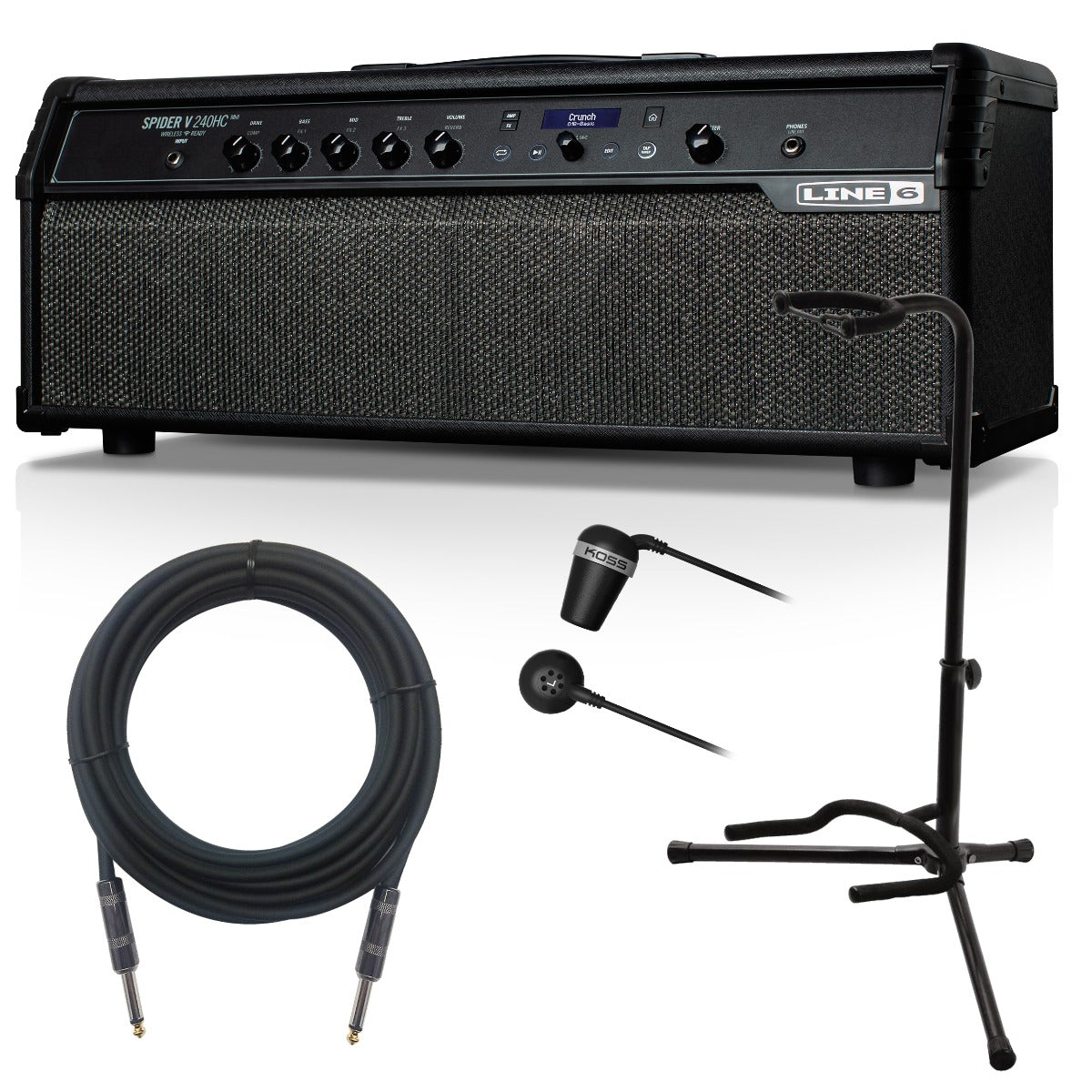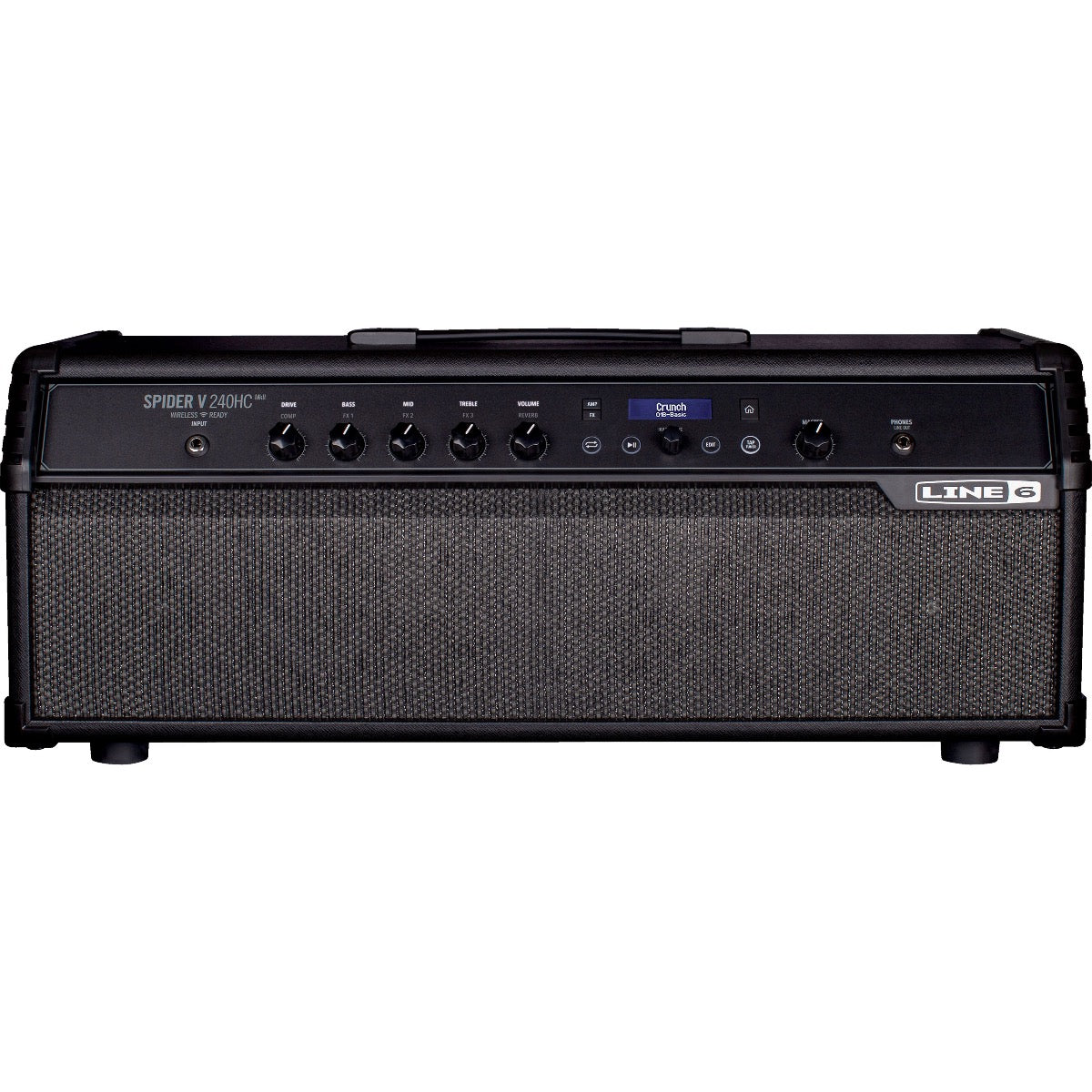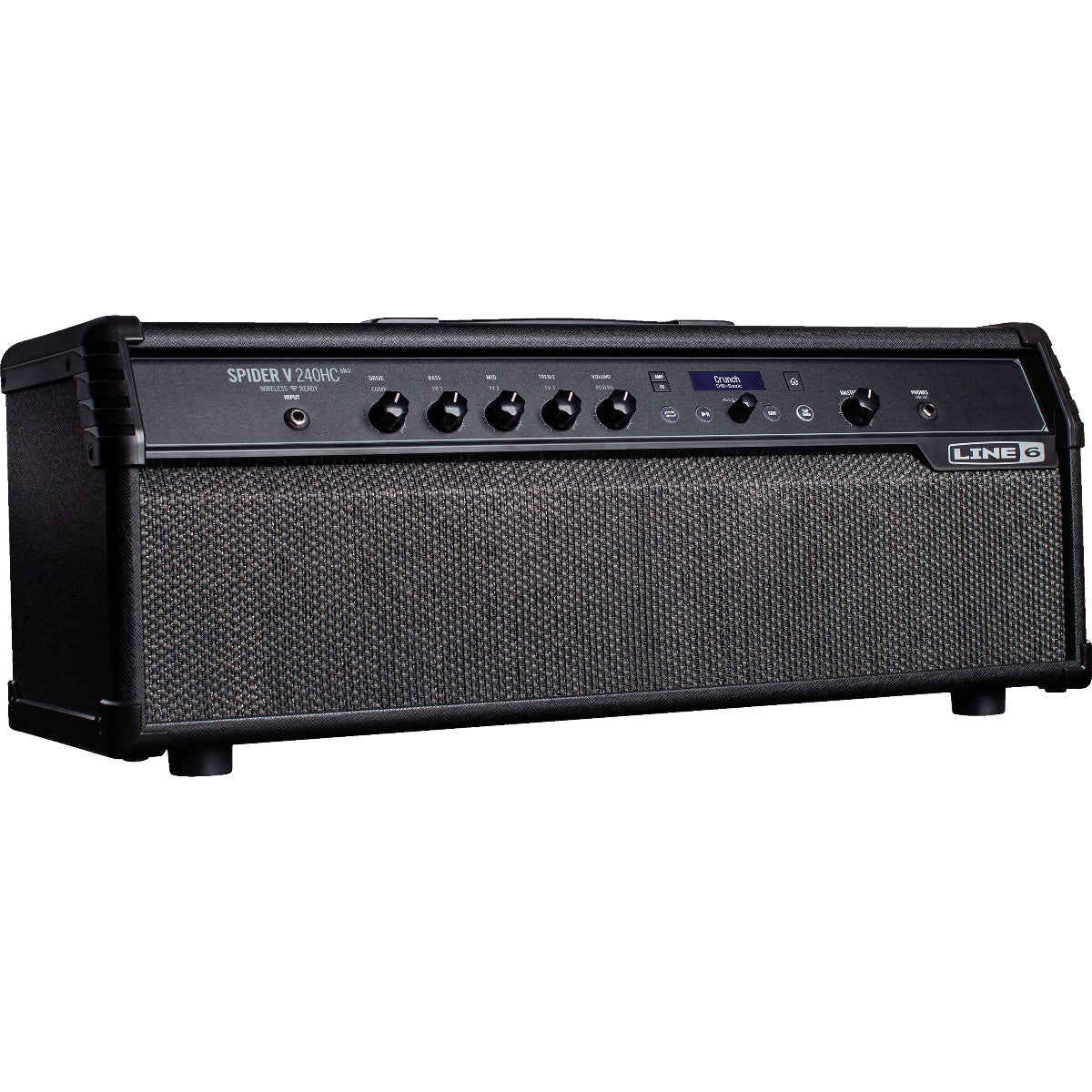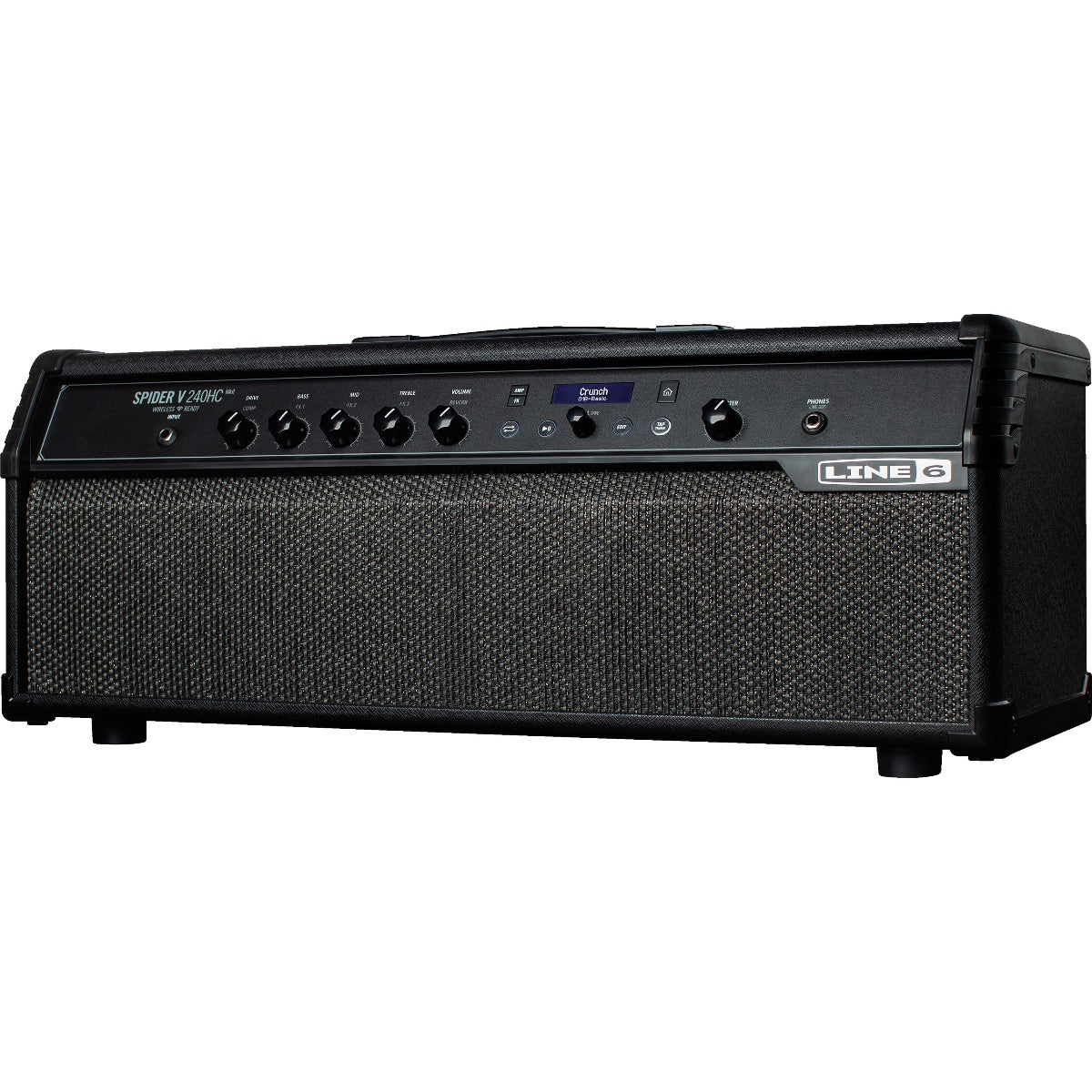 Line 6 Spider V 240HC MkII Guitar Amplifier BONUS PAK
4 items included
This Kraft Music Bundle Includes
$529.99
Regular price
$588.92
You Save $58.93
Click on a product to view more details.
The 240-watt Line 6 Spider V 240HC MkII amp head enables you to rage onstage when paired with the speaker cabinet of your choice (sold separately). Even hipper, built-in 4" speakers and tweeters enable it to be used as a standalone 50-watt stereo combo amp for practice or even mid-volume band rehearsals. Whether you like to plug in and rock a traditional amp tone or enjoy tweaking parameters until you've devised an absolutely unique and awe-inspiring sound, Spider V 240HC MkII gives you the tools to create exactly what you want. Classic Speaker mode provides an organic sound and feel, while all-new presets – including vintage amp presets voiced by a renowned tube-amp maker as well as Artist and Iconic Song collections – provide you with authentic building blocks from which to craft your sound into raging metal, ambient landscapes, chiming pop or virtually anything you can conjure up. Whatever drives your creativity, Spider V 240HC MkII gets you there with all the ease or complexity that defines your personal musical mantra. Never settle, own your tone!
Classic Speaker mode for organic and authentic amp-to-speaker tones
Full-Range Speaker mode for acoustic guitars and jam track playback
Artist, Iconic Song and classic amp presets
200+ amps, cabs and effects
Tuner, metronome, jam-along drum loops and 60-second looper
Built-in wireless receiver works with Line 6 Relay transmitters (sold separately)
XLR direct stereo outputs for connecting to a sound system or mixer
USB interface and free Spider V Remote app for Mac, PC, iOS and Android
Be more you
With 128 presets and more than 200 amps, cabinets and effects, your perfect tone awaits, whether you're a conventional player or a blazing iconoclast. If you want to push the envelope even further, the free Spider V Remote app is always by your side to unlock more sounds, more possibilities and more inspiration. And it's almost impossible to fall victim to creative shutdowns, because the Line 6 CustomTone community is a click away to provide inspiration and share presets.
Layer your lines
An onboard 60-second looper lets you explore all the textural adventures of looping. These days, many artists incorporate looping into their creative processes and live shows, so see what stacking textures can do for your own expression.
Cut the cable
Go wireless with no fuss. Spider V 240HC MkII includes an onboard wireless receiver, which means all you need to do is get an optional Line 6 Relay G10TII transmitter (sold separately) for your guitar, and you'll be unfettered and free. Get those dance moves and stage dives ready.
SKU
LN6-SPV240HCMKIIBP
MPN
Spider V 240HC MKII
Vendor
Line 6
Amp Format
Head
Amp Type
Digital Modeling
Included From Manufacturer
Power cable
Mpn
99-010-0245
Product Unique Features
Built-in wireless receiver works with Line 6 Relay transmitters (sold separately)
60-second onboard looper
USB interface and free Spider V Remote app for Mac, PC, iOS and Android
Speaker Config
2x4
Wattage
240 Watts
Amplifier Application
Acoustic Guitar;Electric Guitar
Amplifier Models
200+ amps, cabs and effects
Number of Channels
1
Effects
200+ amps, cabs and effects
Effects Loop
No
Equalization (EQ)
3-band
Footswitch
Sold separately
Audio Inputs
1/4" mono main input
1/8" stereo aux input
Audio Outputs
1/4" headphone output
Dual 1/4" stereo speaker output
Dual XLR stereo direct output
Power
240 watts
Product Weight
28.66 lb
Speakers
2 × 4" speakers
2 × tweeters
50 watts
Width
26.93"
Depth
10.67"
Height
10.87"
Line 6 Limited Warranty
Please be aware that your warranty is only valid in the region where you purchased your unit. For instance, if you buy your unit in Germany, then you must have the unit serviced in Germany, or within that region. If you live in South America, you will be interacting with the distributor for the country that you live in. It is for this reason that Line 6 recommends that you always buy your unit locally.
You will need to present your original, dated proof of purchase to have any warranty work performed at any Line 6 Authorized Service Center for repair.
General Warranty Periods
36 month parts and labor warranty:
StageSource speakers
12 month parts and labor warranty:
All amplifiers, including speakers
Helix family of products (extended warranty details below)
AMPLIFi family of products
Firehawk family of products
StageScape mixer
BackTrack/BackTrack + Mic
FBV Controller pedals
POD units (except Pocket Pod and Pocket Pod Express)
Line 6 Branded Wireless Products
Sonic Port
Speaker cabinets
Stompbox modeler pedals
ToneCore Pedals (Module AND Dock purchased together as one unit)
TonePort UX8
Variax instruments (one-year parts and labor for electronics and a limited lifetime warranty on wood)
90 days parts and labor warranty:
MIDI Mobilizer I/II
Mobile Keys 25/49
Mobile In
GuitarPort/RiffTracker
Pocket POD and Pocket POD Express
ToneCore Docks (purchased individually)
ToneCore Modules (purchased individually)
POD Studio GX, UX1, UX2 and KB37
Variax Workbench Interface
All Power Amp and Preamp Tubes
Any refurbished (B-Stock) Line 6 product
90 day warranty:
EX-1 Expression Pedal
All Line 6-Branded Accessories that are purchased separately, including power supplies, amp covers, custom carry bags
30 day return period:
Add-on software licenses (except iLok)
Helix Extended Warranty
Customers who purchased a Helix Floor, Helix Rack, or Helix LT processor, or a Helix Control pedal in the United States and have a copy of the original purchase receipt qualify for the extended warranty. Customers who qualify will have a second year added to their current one-year Helix Warranty at no cost upon registration.

Registration is required within one year of the purchase date. You already qualify if you've registered your Helix and have a copy of the original purchase receipt. Otherwise, register your product at the Line 6 website and make sure you have a copy of the original purchase receipt.
Line 6 warranties transfer from one end user to another within the original warranty period (as long as the user has the original dated proof of purchase), but not when purchased second hand from a retail outlet.
If you purchase a Line 6 product sold as new from an authorized Line 6 retailer with an online storefront, the standard warranty applies as if it were purchased in a physical store. If you purchase a used unit from an individual on eBay, you do so at your own risk with no warranty offered by Line 6, unless the seller includes a copy of the original receipt to transfer the warranty to you.
The only way to redeem warranty on a used item is to have the original purchase receipt, dated within the product warranty period. So if you fail to get such a receipt, the manufacturers warranty will not be honored.
The Warranty does not cover:
Damage from physical abuse such as dropping the unit, impact from hard objects or damage to external components as a result of negligence.
Damage due to liquid contamination.
Damage resulting from any use other than that it was intended for.
Any unit that has been repaired or had an attempted repair made to it by unauthorized personnel.
Damage due to incorrect connection, connection to faulty equipment or connection to faulty or incorrect power supplies.
Damage in transit as a result of inadequate packaging or protection.
Ground shipping is FREE for all orders $99 and up.