Skip product carousel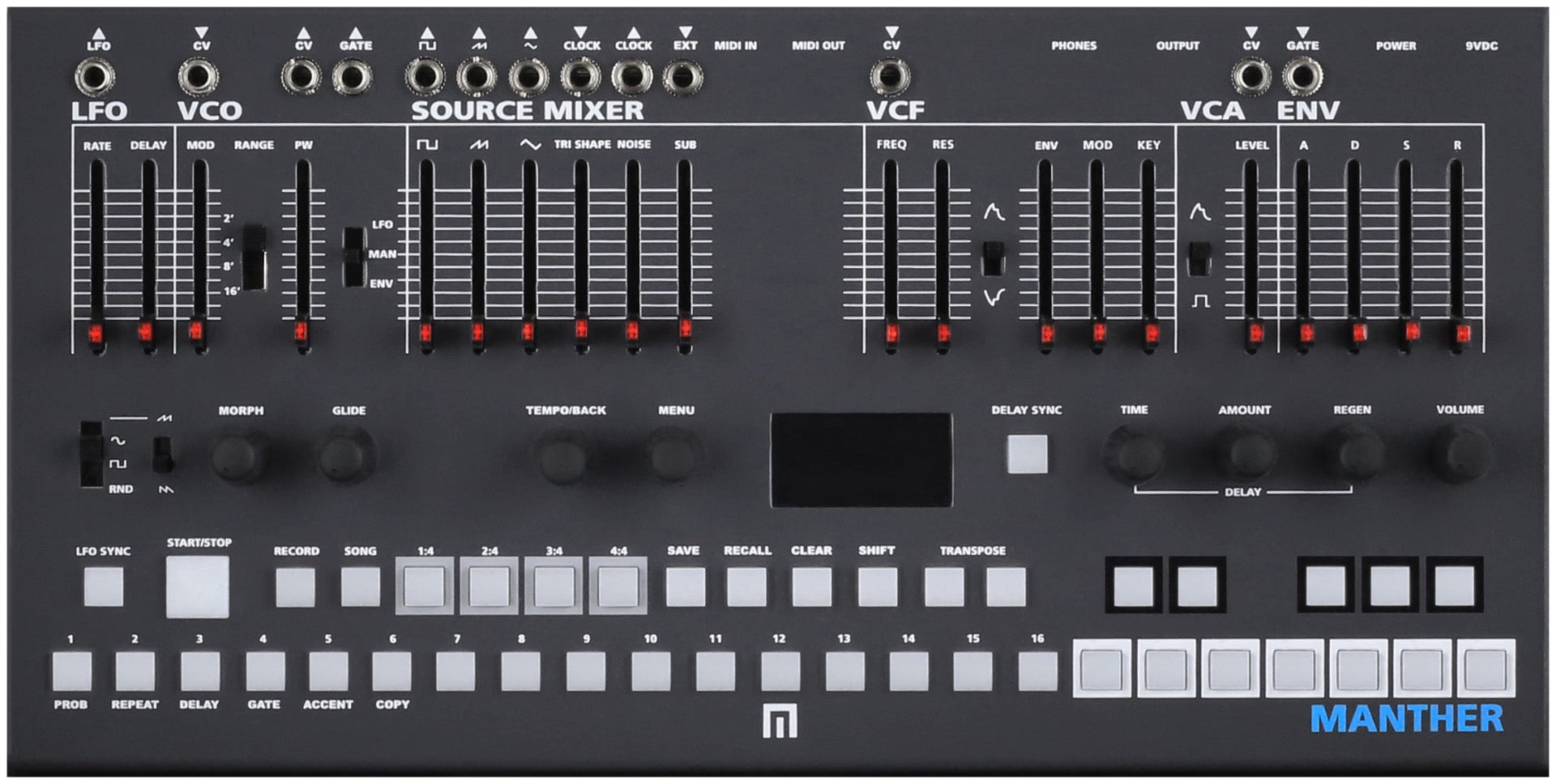 Malekko Heavy Industry Manther Tabletop Analog Monosynth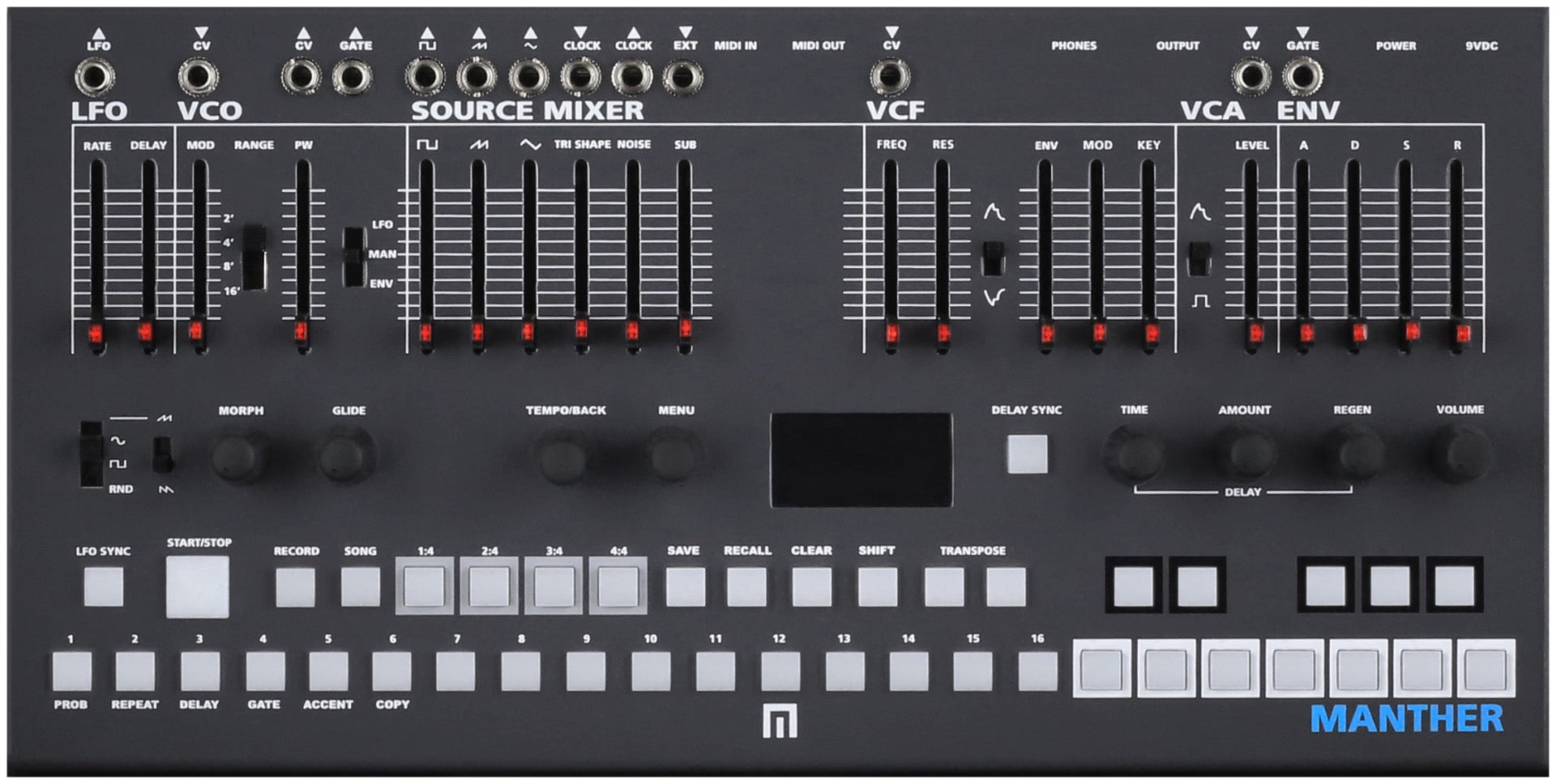 Malekko Heavy Industry Manther Tabletop Analog Monosynth
Malekko Heavy Industry Manther is a full-featured tabletop monosynth with an analog signal path, an advanced 64-step digital sequencer and onboard delay.
The heart of Manther is a coveted CEM 3340-based VCO IC chip, while its analog filter is based on a SSM2044 chip. The source mixer allows for total control over the square, triangle, saw, tri shape, noise and sub levels; the waveforms also have individual outputs.
Dial in everything from heavy basslines to screaming leads to stomping kicks. Manther growls like no other!
Each step of the sequencer can be automated across all main features and all automation is saved within a total of 64 presets, allowing for recall of intricate sound sculpting and numerous animated creations. Easily build songs by simply selecting presets to play in any order. Program notes quickly using the keyboard. Utilize the repeat and probability functions per step for a unique and inspiring approach to gate pattern formation. You can even route the LFO to modulate the delay time.
The intuitive menu offers additional control and setup of the more complex features: sub semitones, ADSR envelope (linear or exponential), sequence direction (forward, reverse, pendulum or random), sequence division and multiplication, LFO phase, additional delay features, clock settings and more.
The inputs and outputs include CV, MIDI, clock, gate and LFO. Manther pairs brilliantly with Eurorack!
64-step sequencer
Keyboard with transpose controls
Onboard delay with time, mix, regenerate and sync controls
Individual outputs for square, saw and triangle waveforms
Mixer for square, triangle, saw, sub and noise
External audio input
4 banks of 16 presets each
Song mode
Record automation of features per step for LFO, VCO, delay, VCF, ADSR envelope, morph and glide
Gate probability, gate repeat, gate delay and accent per step
Morph control over automation
Route LFO to modulate delay time
LFO sync
Assign modulation of pulse width to LFO, manual or envelope
Forward, reverse, pendulum and randomize sequence directions
Tempo control
Switches for LFO shape and ramp
Switches for envelope direction and VCA control
Range switch
Gate inputs and outputs
LFO output
CV inputs for VCO, VCF and VCA
MIDI in and out
Headphone output
Rugged metal enclosure
SKU
MHI-MANTHER
Vendor
Malekko Heavy Industry
Aftertouch
No
Analog Digital
Analog
Built In Speakers
No
Included From Manufacturer
Power supply
Keys Weighted
No
Key Num
None
Midi
In and Out
Mono Poly
Monophonic
Mpn
MMANTHER
Arpeggiator
No
Audio File Playback
No
Control Connections
1/8" CV inputs for VCO tuning, VCF cutoff frequency, VCA level
1/8" gate inputs for VCO, VCA and clock
1/8" CV outputs for VCO, square waveform, sawtooth waveform, triangle waveform, LFO
1/8" gate outputs for VCO gate and clock
Effects
Onboard delay with time, mix, regenerate and sync controls
Audio Inputs
1/8" mono external audio input
Audio Outputs
1/4" mono main output
1/4" headphone output
Oscillators per Voice
1 plus Sub
Product Weight
4 lbs.
Programs/Presets
(4) banks of (16) presets each
Sequencer
Onboard step sequencer with sequence length up to 64 steps and automation per step for LFO, VCO, delay, VCF, ADSR envelope, morph and glide
Voices of Polyphony
Monophonic
Width
14"
Depth
9.5"
Height
5"
Malekko Heavy Industry 1 Year Warranty
Please register your purchase now at Malekko's website.
Malekko Heavy Industry Corporation (hereinafter 'Malekko') warrants that your new Malekko product, when purchased at an authorized Malekko dealer, shall be free of defects in materials and workmanship for a period of one (1) year from the original date of purchase. Please contact Malekko for information on warranty and service outside of the USA.
During the warranty period, Malekko shall, at its sole option, either repair or replace any product that proves to be defective upon inspection by Malekko. Malekko reserves the right to update any unit returned for repair and to change or improve the design of the product at any time without notice.
This warranty is extended to the original retail purchaser. This warranty can be transferred to anyone who may subsequently purchase the product provided that such transfer is made within the applicable warranty period and Malekko is provided with all of the following items:
(i) all warranty registration information for the new owner,
(ii) proof of the transfer within thirty (30) days of the transfer purchase, and
(iii) a photocopy of the original sales receipt.
Warranty coverage shall be determined by Malekko in its sole discretion. This is your sole warranty.
Service and repairs of Malekko products are to be performed only by Malekko. Unauthorized service, repair or modification will void this warranty.
Disclaimer and limitation of warranty the foregoing warranty is the only warranty given by Malekko and is in lieu of all other warranties. All implied warranties, including warranties of merchantability and fitness for any particular purpose, exceeding the specific provisions of this warranty are hereby disclaimed and excluded from this warranty. Upon expiration of the applicable express warranty period (1 year), Malekko shall have no further warranty obligation of any kind, express or implied. Malekko shall in no event be liable for any special, incidental or consequential damages suffered by the purchaser or any third party, including without limitation, damages for loss of profits or business, or damages resulting from use or performance of the product, whether in contract or in tort. Malekko shall not be liable for any expenses, claims, or suits arising out of the foregoing.
The Malekko Warranty does not Cover:
Damage from physical abuse such as dropping the unit, impact from hard objects or damage to external components as a result of negligence.
Damage due to liquid contamination.
Damage resulting from any use other than that it was intended for.
Any unit that has been repaired or had an attempted repair made to it by unauthorized personnel.
Damage due to incorrect connection, connection to faulty equipment or connection to faulty or incorrect power supplies.
Damage in transit as a result of inadequate packaging or protection.
Standard Shipping