Skip product carousel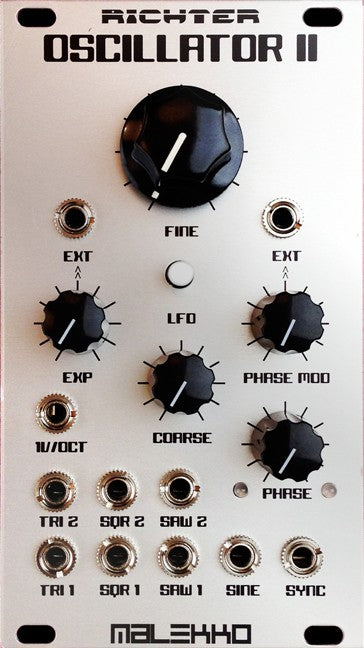 Malekko Heavy Industry Richter Oscillator II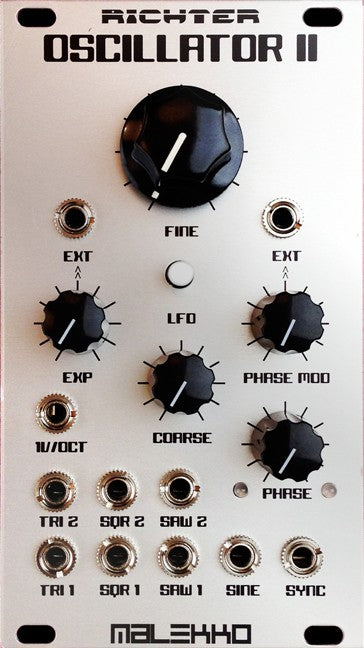 Malekko Heavy Industry Richter Oscillator II
The Malekko Heavy Industry Richter series of modules offer the same great sound, ergonomics, musicality and quality that made the Wiard 300 series legendary, at a fraction of the cost and size in eurorack modular format.
The Malekko/Richter Oscillator II is a great-sounding, solid analog oscillator/LFO with some serious tricks up its sleeve.
Fine and coarse frequency controls are provided. Volt-per-octave and exponential (with attenuator) CV frequency inputs are provided. An output for each waveform is provided (sine, triangle, square, saw). A second series of outputs are provided for phase-modulated versions of the triangle, square and saw waveforms. The phase of the second series of waveforms is determined by the phase control, along with the phase CV input (with attenuator). Many great modulation effects can be produced by using the various outputs of this oscillator in a patch.
Push the LFO control switch to enter low range and your oscillator becomes a phase-modulated LFO! Set the second series of outputs to a 90˚ offset and use external inverters to achieve full quadrature output.
One of our favorite patches with this module is modulating another oscillator's frequency and sending the modulated oscillator's output back to Oscillator II's Phase Mod input — phase-mod-synced FM!
The sine wave provided by Oscillator II is one of the purest of any analog oscillator, and the TRI2 out is as pure as the driven snow!
Module controls

FINE knob: initial frequency fine control (1 octave range)
LFO button: LFO mode switch
EXP knob: exponential FM input attenuator
PHASE MOD knob: phase mod input attenuator
COARSE knob: initial frequency coarse control (10-octave range)
PHASE knob: variable phase control

Patch points

EXT inputs: exponential FM and phase mod inputs
1V/OCT input: pitch input (1V/octave)
TRI 2 output: triangle wave variable phase output
SQR 2 output: square wave variable phase output
SAW 2 output: sawtooth wave variable phase output
TRI 1 output: triangle wave primary output
SQR 1 output: square wave primary output
SAW 1 output: sawtooth wave primary output
SINE output: sine wave output
SYNC input: hard sync input (±5V, required hard-edged waveforms, e.g., square, saw)

Physical specifications

Size: 14hp
Module depth: 35mm
Power usage: 90mA @ +12V
SKU
MHI-ROSCILLATOR
Vendor
Malekko Heavy Industry
Module Type
Oscillator
Module Width
14hp
Mpn
ROSC2
Product Unique Features
Oscillator and LFO Functionality
Phase modulated waveform outputs
Phase Mod input
Module Power Usage
90mA @ +12V
1U Module
No
+5V Required
No
Depth
35mm
Malekko Heavy Industry 1 Year Warranty
Please register your purchase now at Malekko's website.
Malekko Heavy Industry Corporation (hereinafter 'Malekko') warrants that your new Malekko product, when purchased at an authorized Malekko dealer, shall be free of defects in materials and workmanship for a period of one (1) year from the original date of purchase. Please contact Malekko for information on warranty and service outside of the USA.
During the warranty period, Malekko shall, at its sole option, either repair or replace any product that proves to be defective upon inspection by Malekko. Malekko reserves the right to update any unit returned for repair and to change or improve the design of the product at any time without notice.
This warranty is extended to the original retail purchaser. This warranty can be transferred to anyone who may subsequently purchase the product provided that such transfer is made within the applicable warranty period and Malekko is provided with all of the following items:
(i) all warranty registration information for the new owner,
(ii) proof of the transfer within thirty (30) days of the transfer purchase, and
(iii) a photocopy of the original sales receipt.
Warranty coverage shall be determined by Malekko in its sole discretion. This is your sole warranty.
Service and repairs of Malekko products are to be performed only by Malekko. Unauthorized service, repair or modification will void this warranty.
Disclaimer and limitation of warranty the foregoing warranty is the only warranty given by Malekko and is in lieu of all other warranties. All implied warranties, including warranties of merchantability and fitness for any particular purpose, exceeding the specific provisions of this warranty are hereby disclaimed and excluded from this warranty. Upon expiration of the applicable express warranty period (1 year), Malekko shall have no further warranty obligation of any kind, express or implied. Malekko shall in no event be liable for any special, incidental or consequential damages suffered by the purchaser or any third party, including without limitation, damages for loss of profits or business, or damages resulting from use or performance of the product, whether in contract or in tort. Malekko shall not be liable for any expenses, claims, or suits arising out of the foregoing.
The Malekko Warranty does not Cover:
Damage from physical abuse such as dropping the unit, impact from hard objects or damage to external components as a result of negligence.
Damage due to liquid contamination.
Damage resulting from any use other than that it was intended for.
Any unit that has been repaired or had an attempted repair made to it by unauthorized personnel.
Damage due to incorrect connection, connection to faulty equipment or connection to faulty or incorrect power supplies.
Damage in transit as a result of inadequate packaging or protection.
Ground shipping is FREE for all orders $99 and up.