Skip product carousel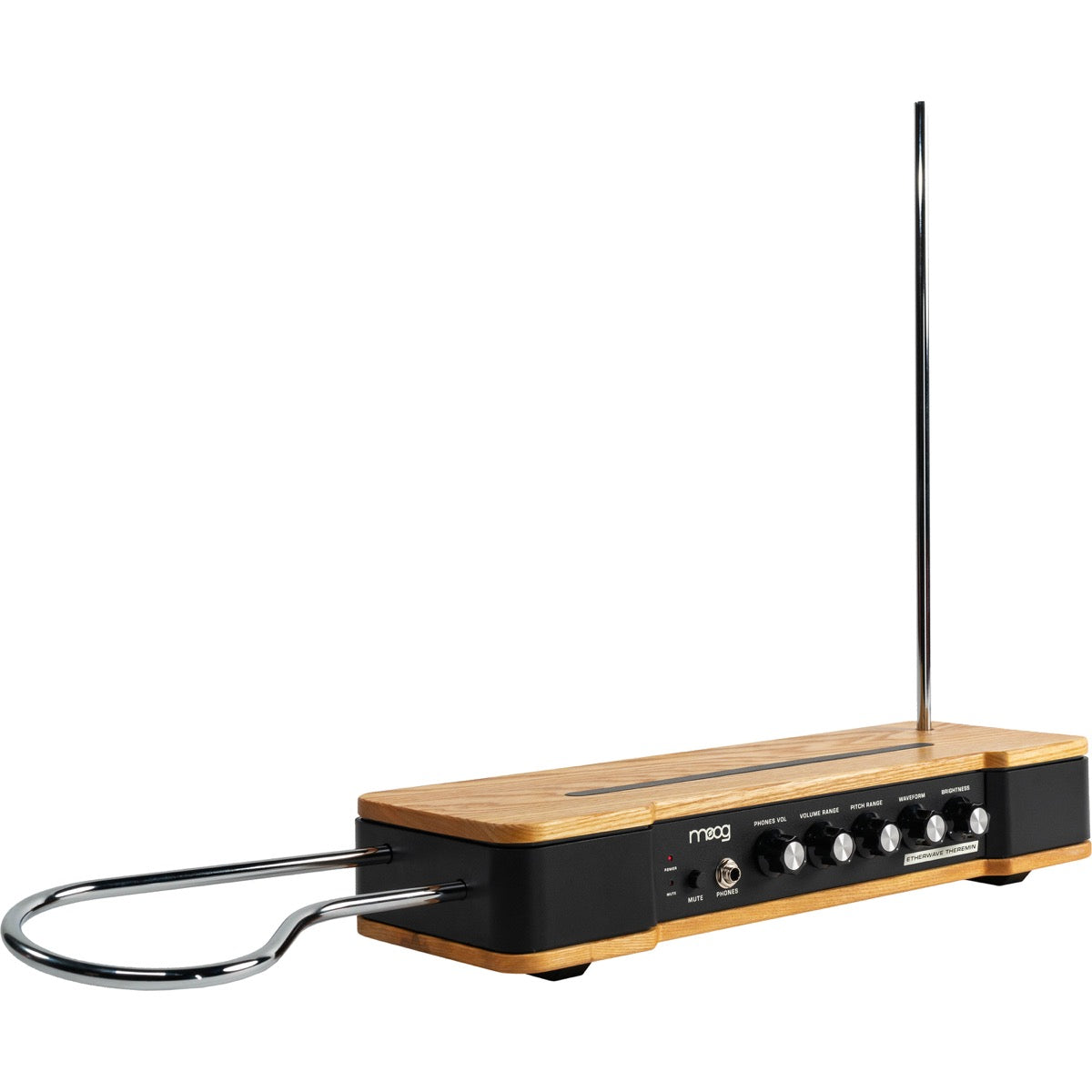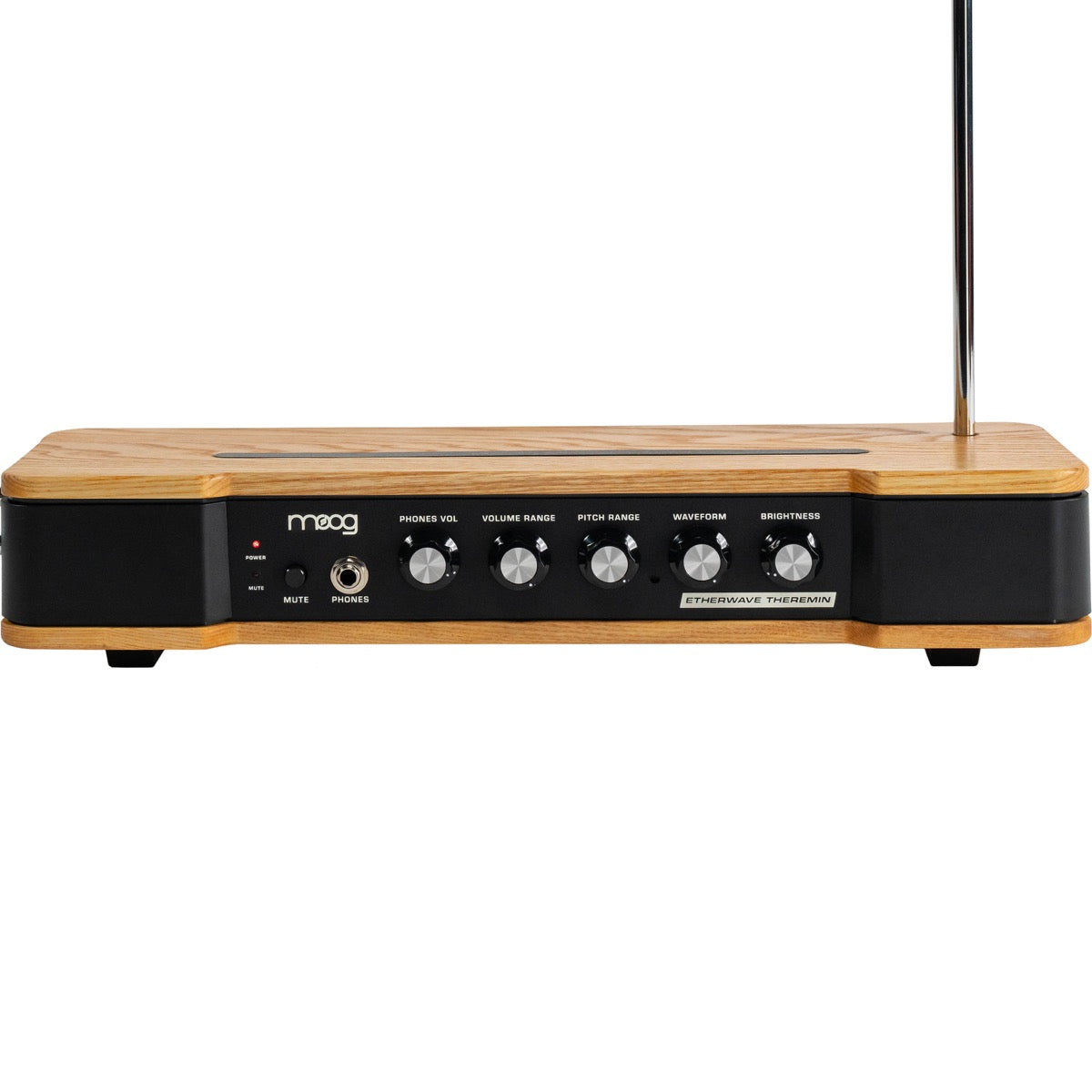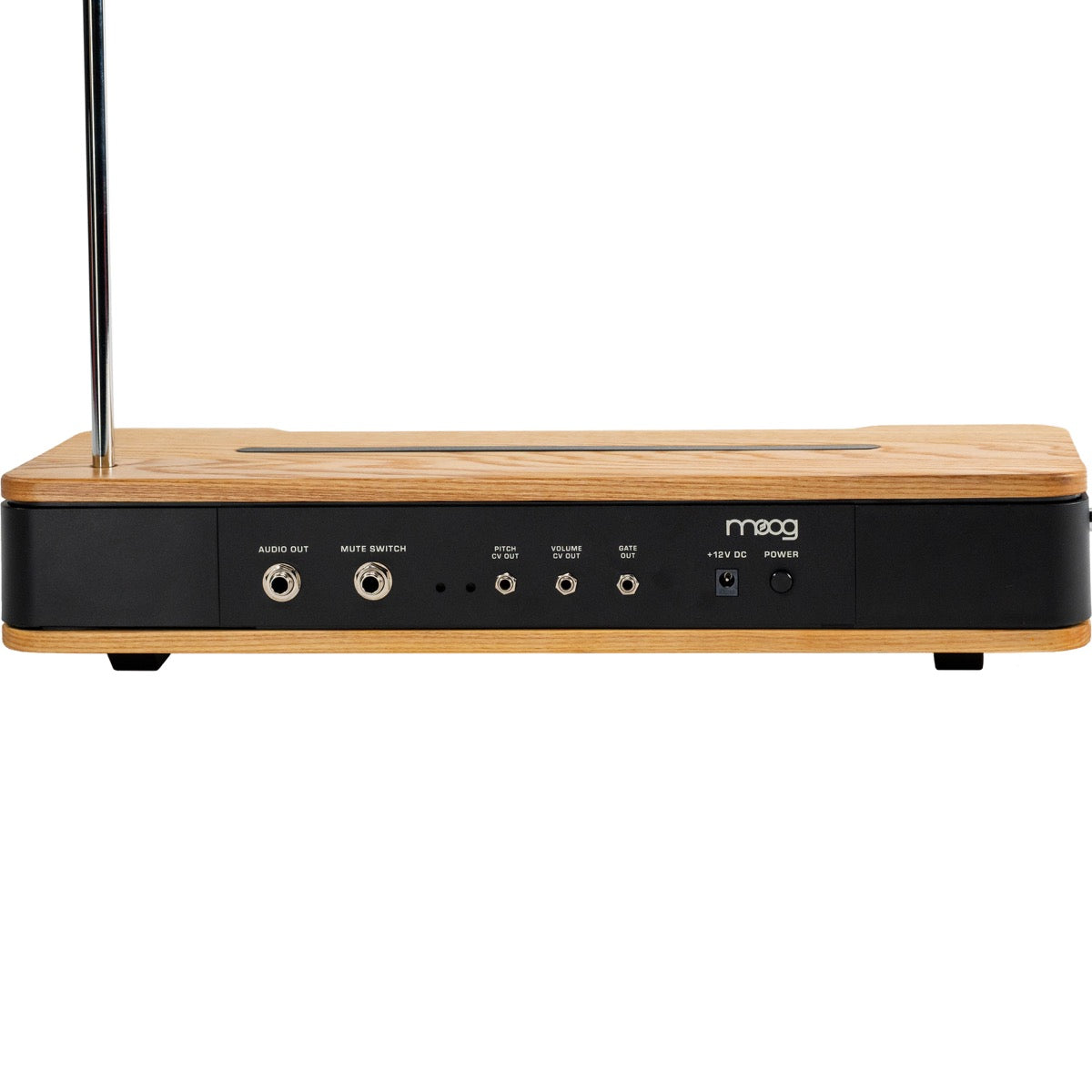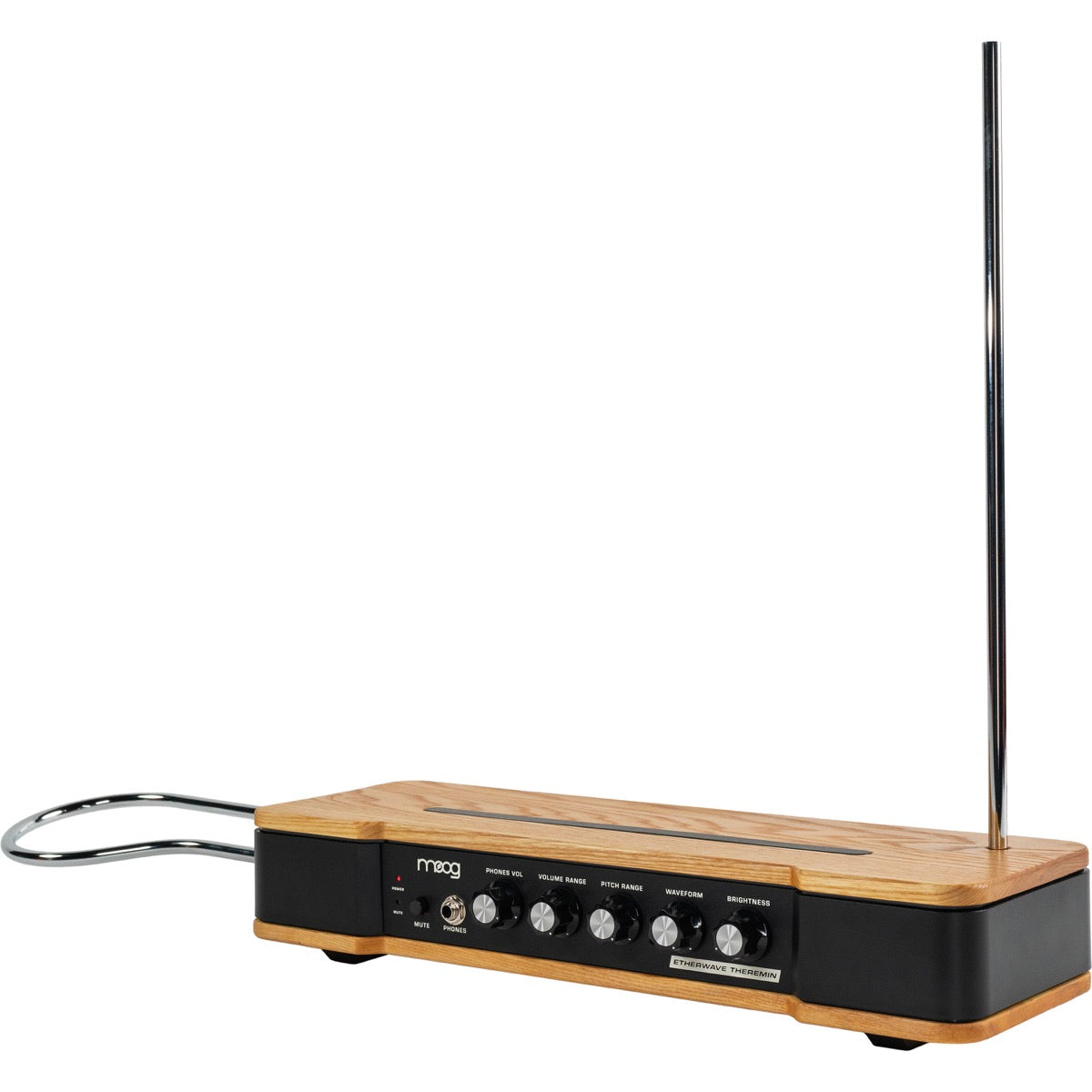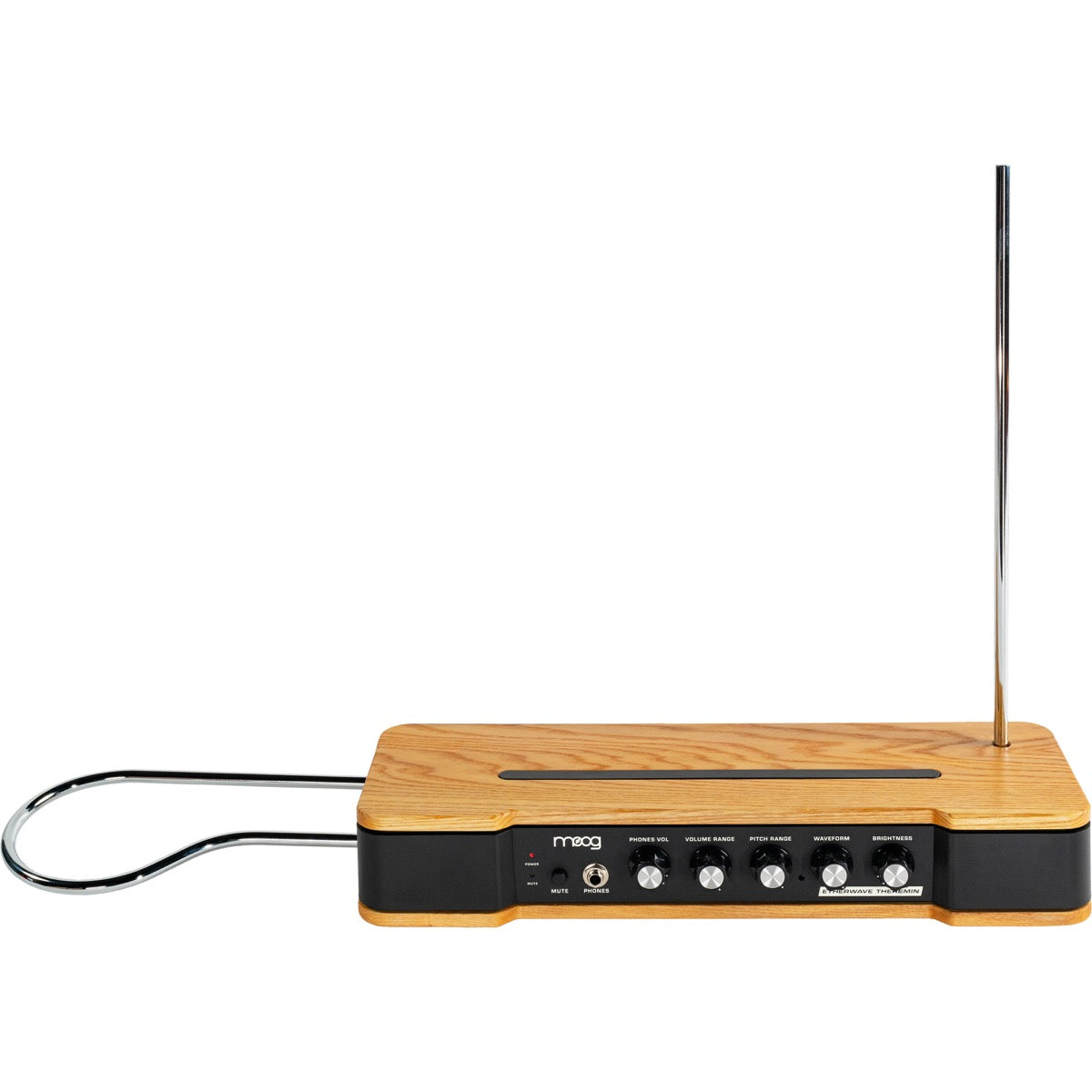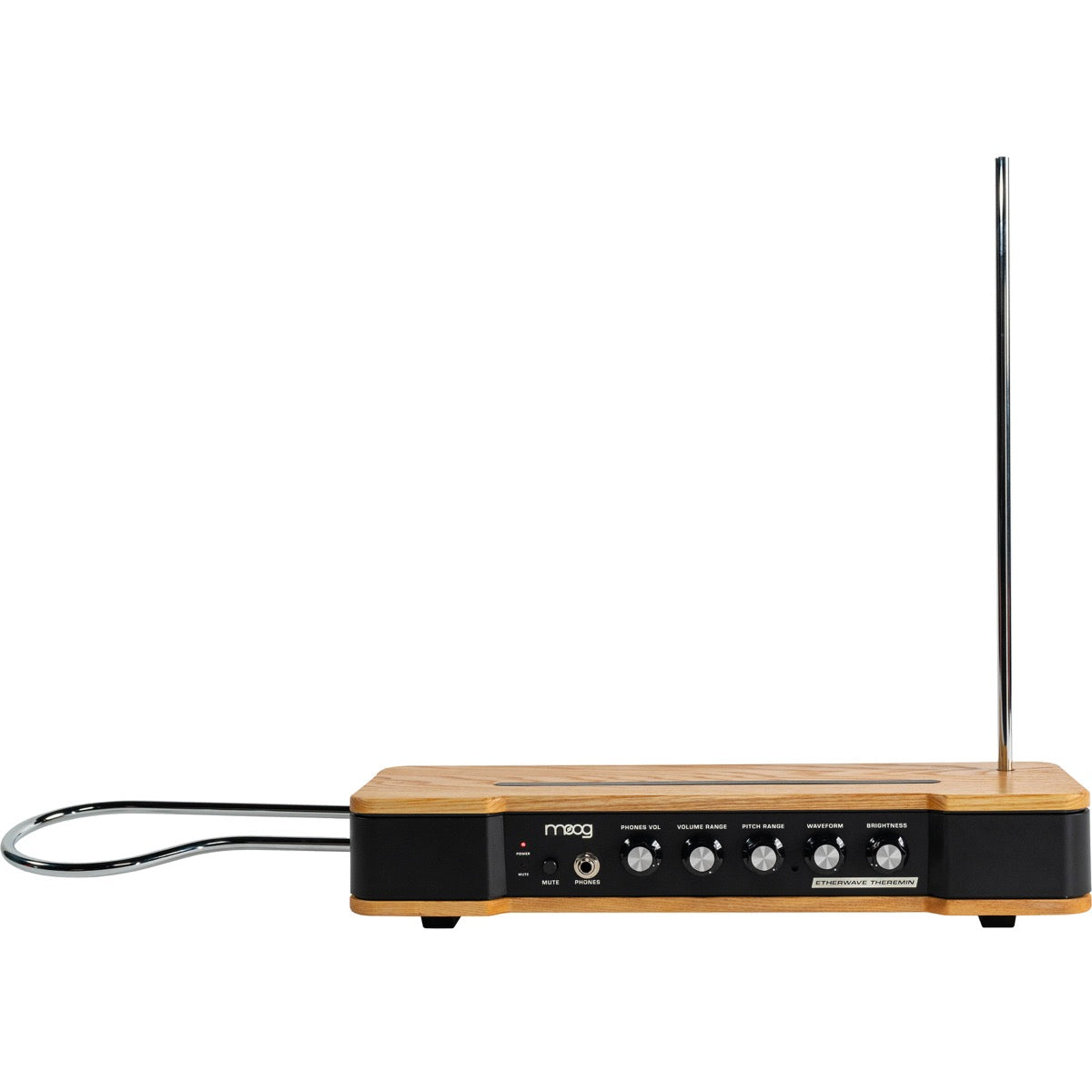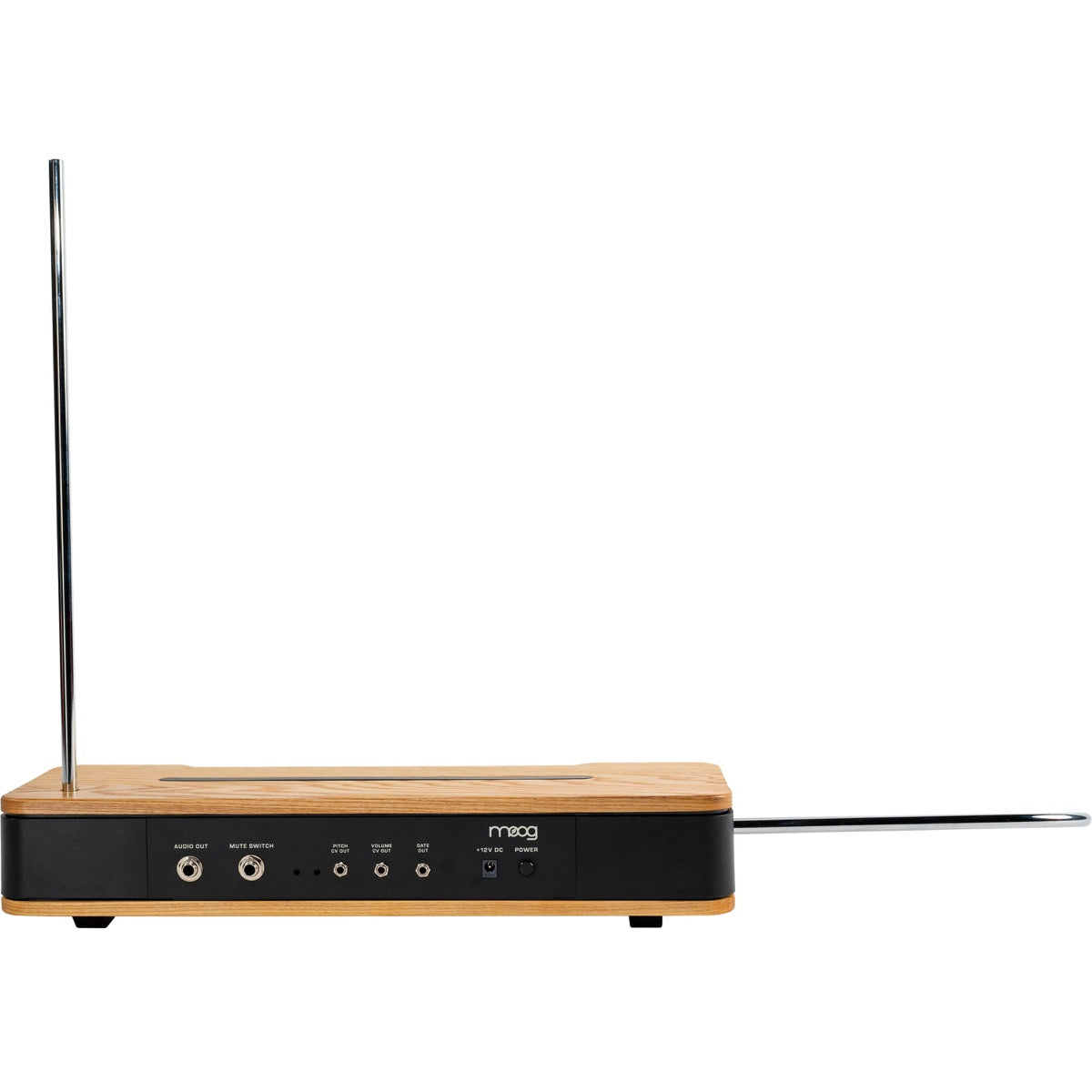 Moog Etherwave Theremin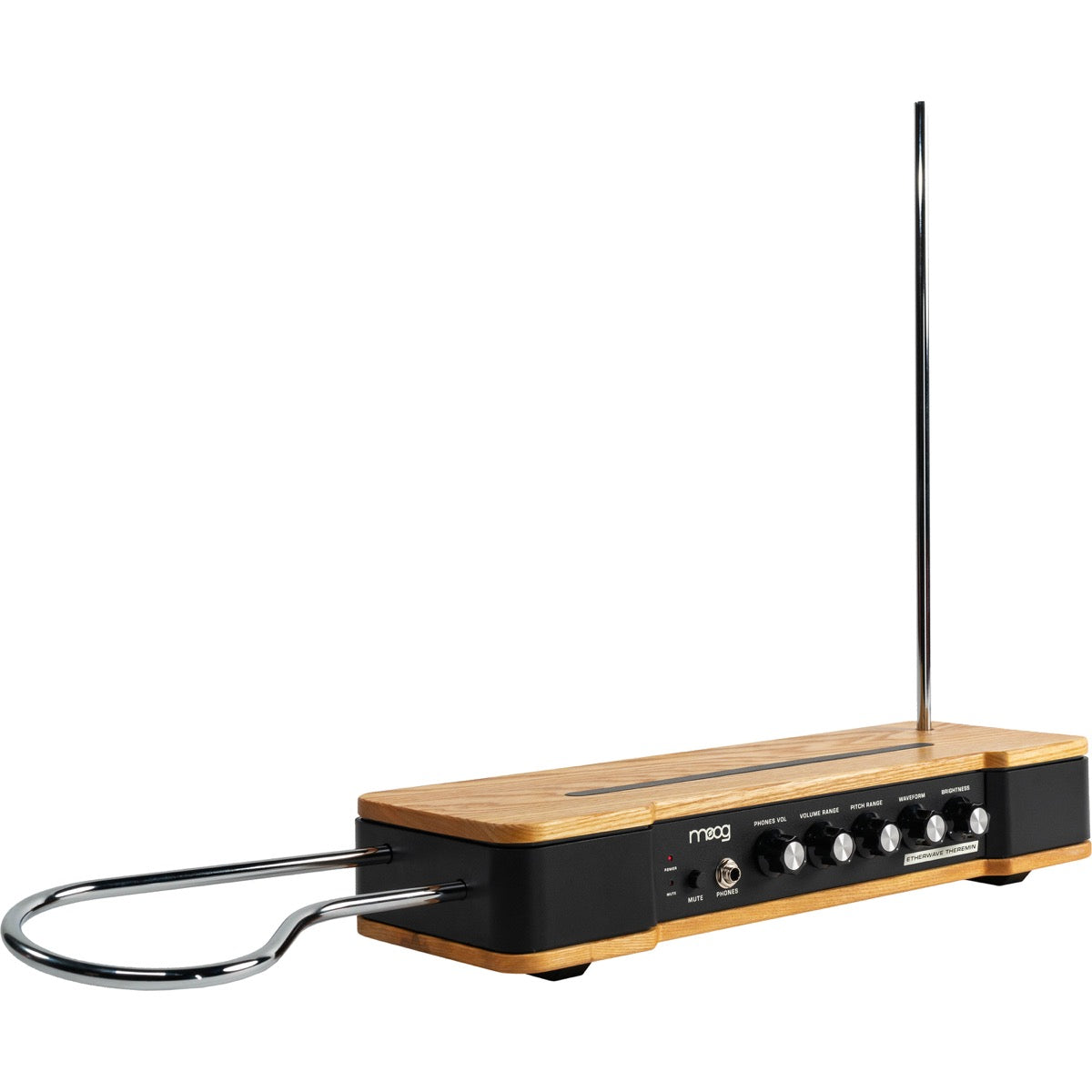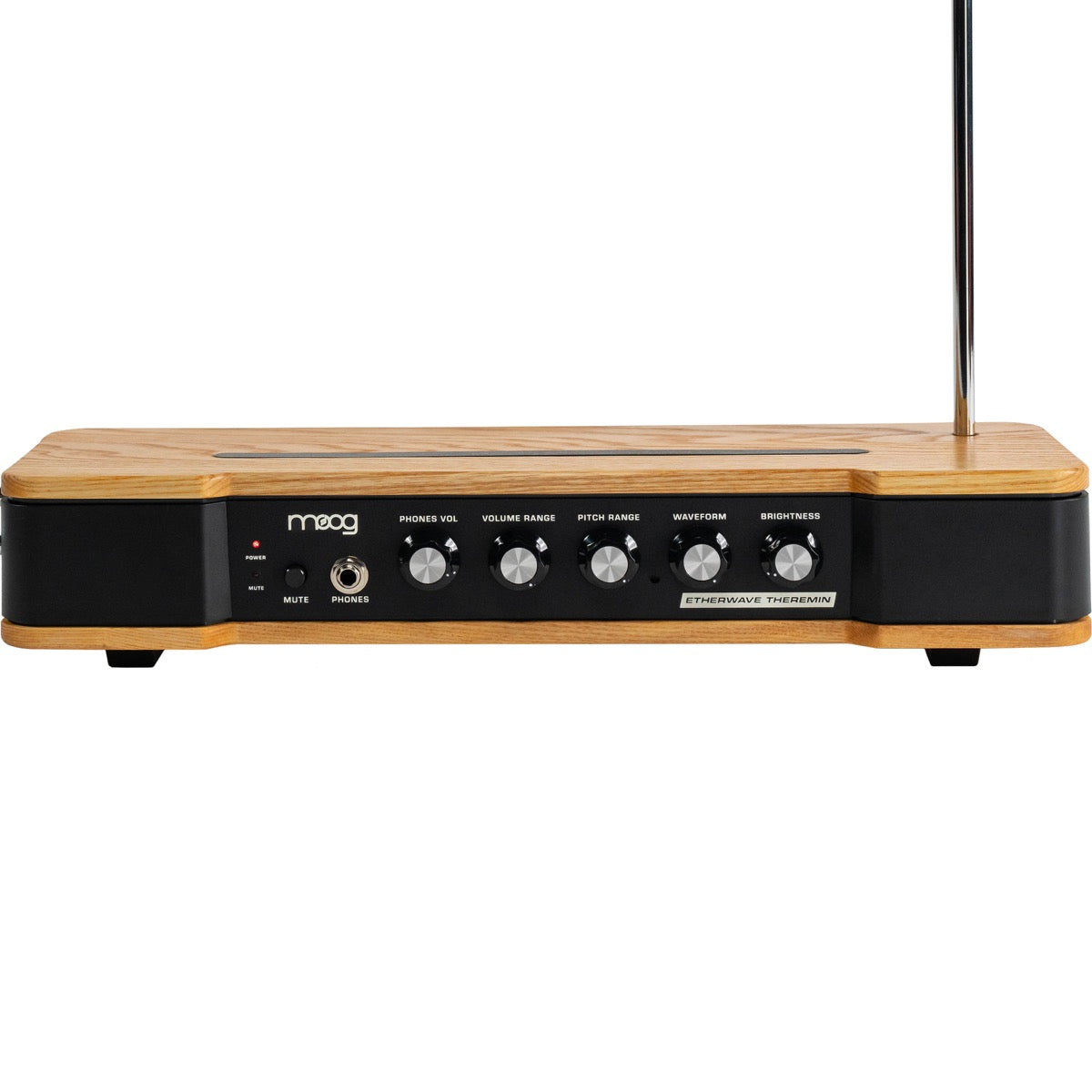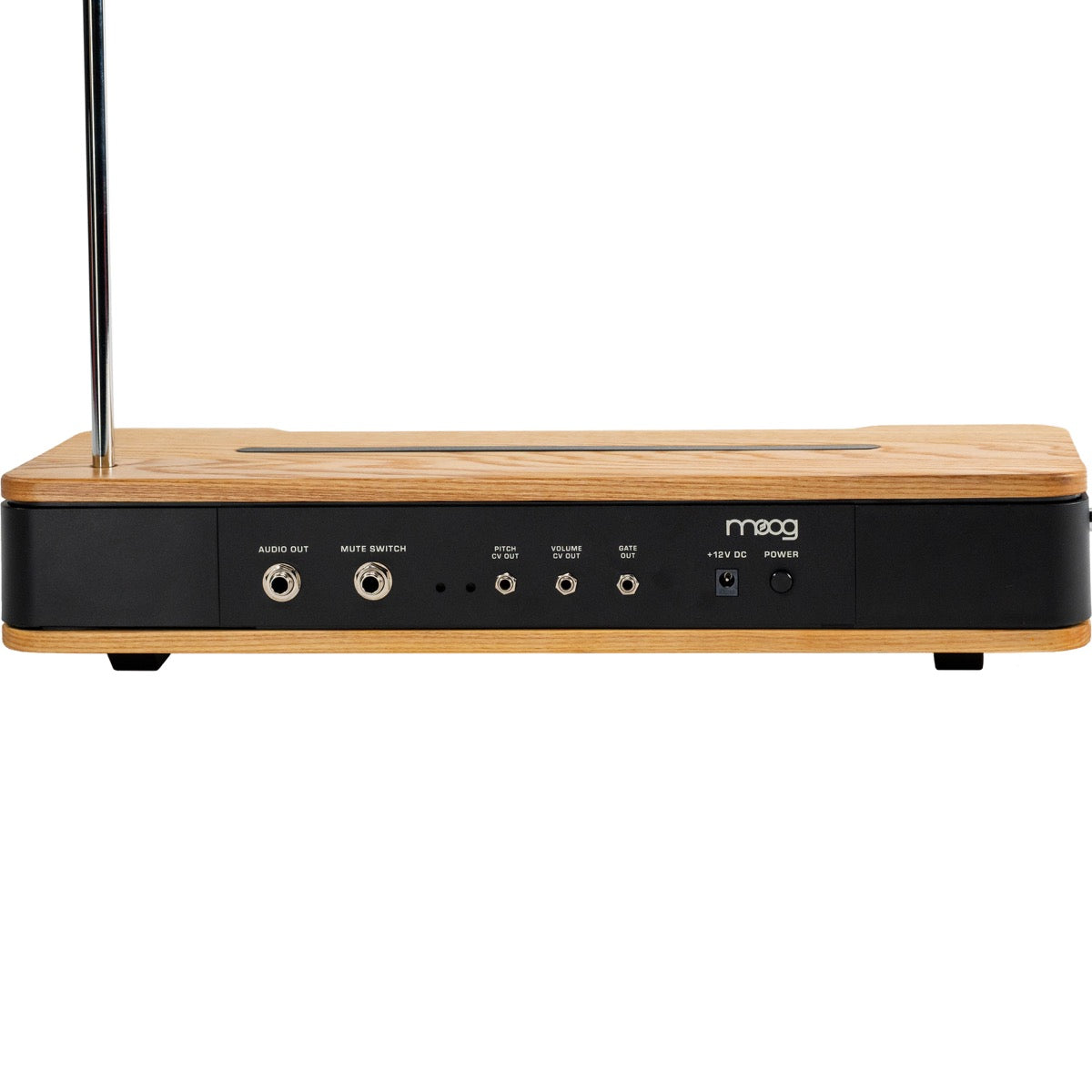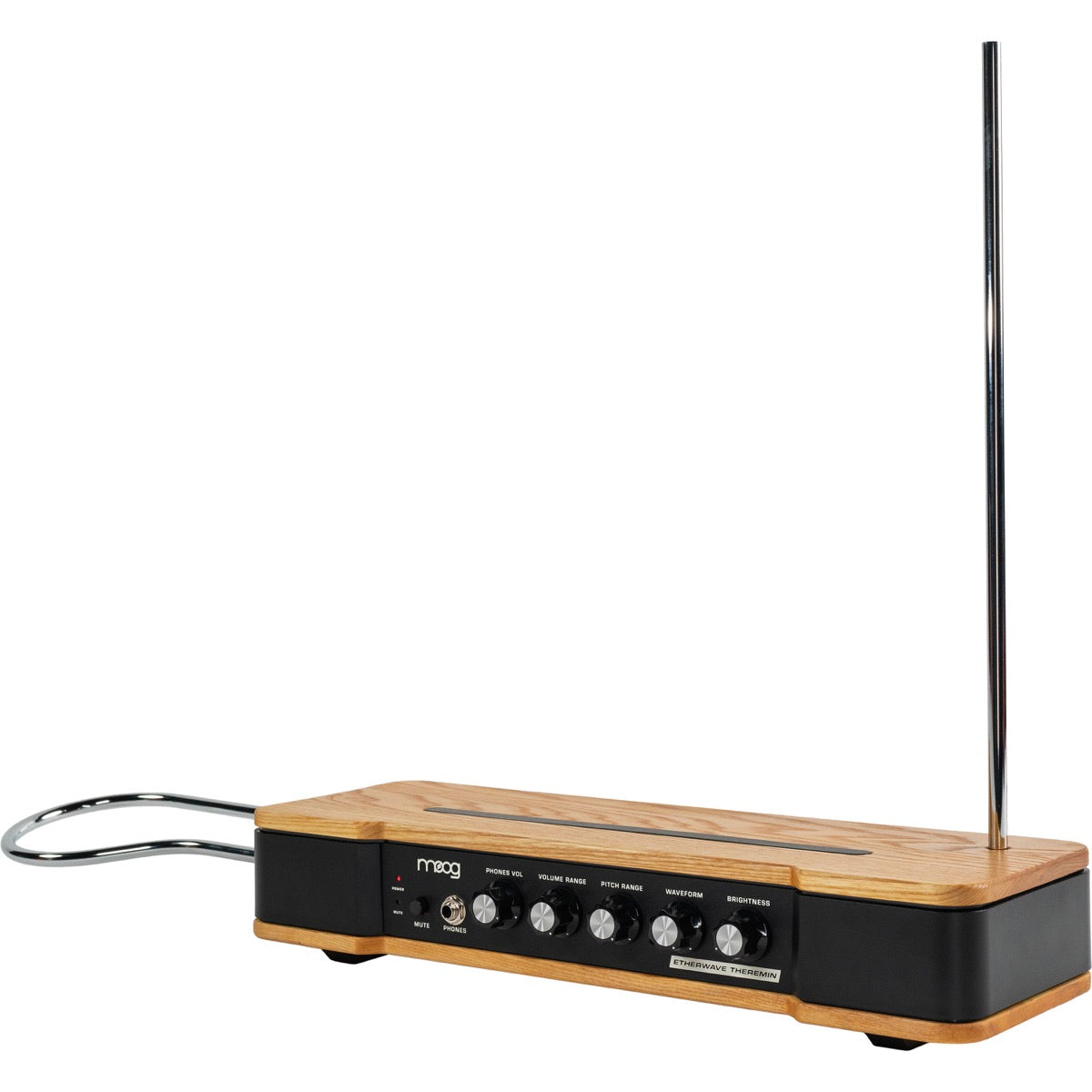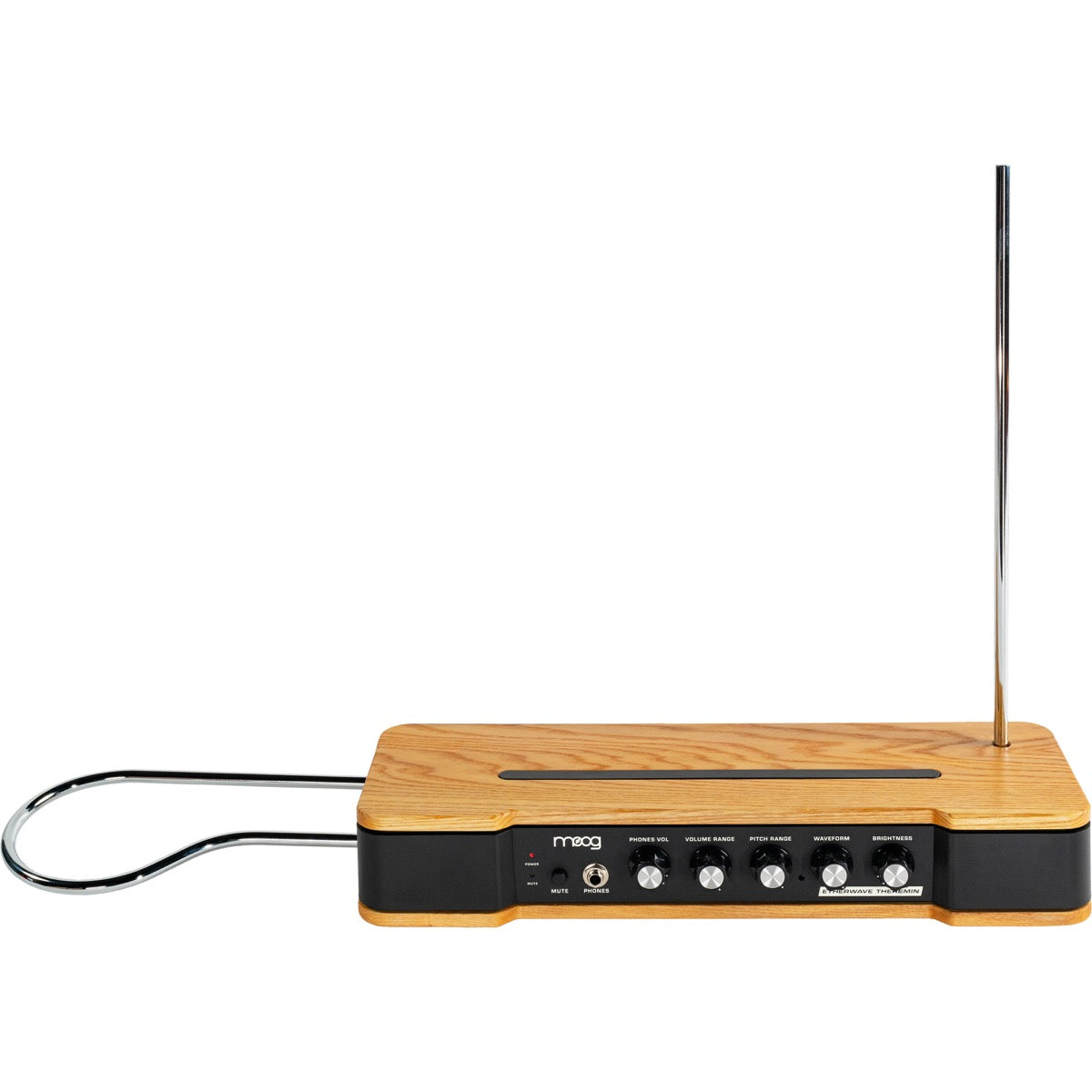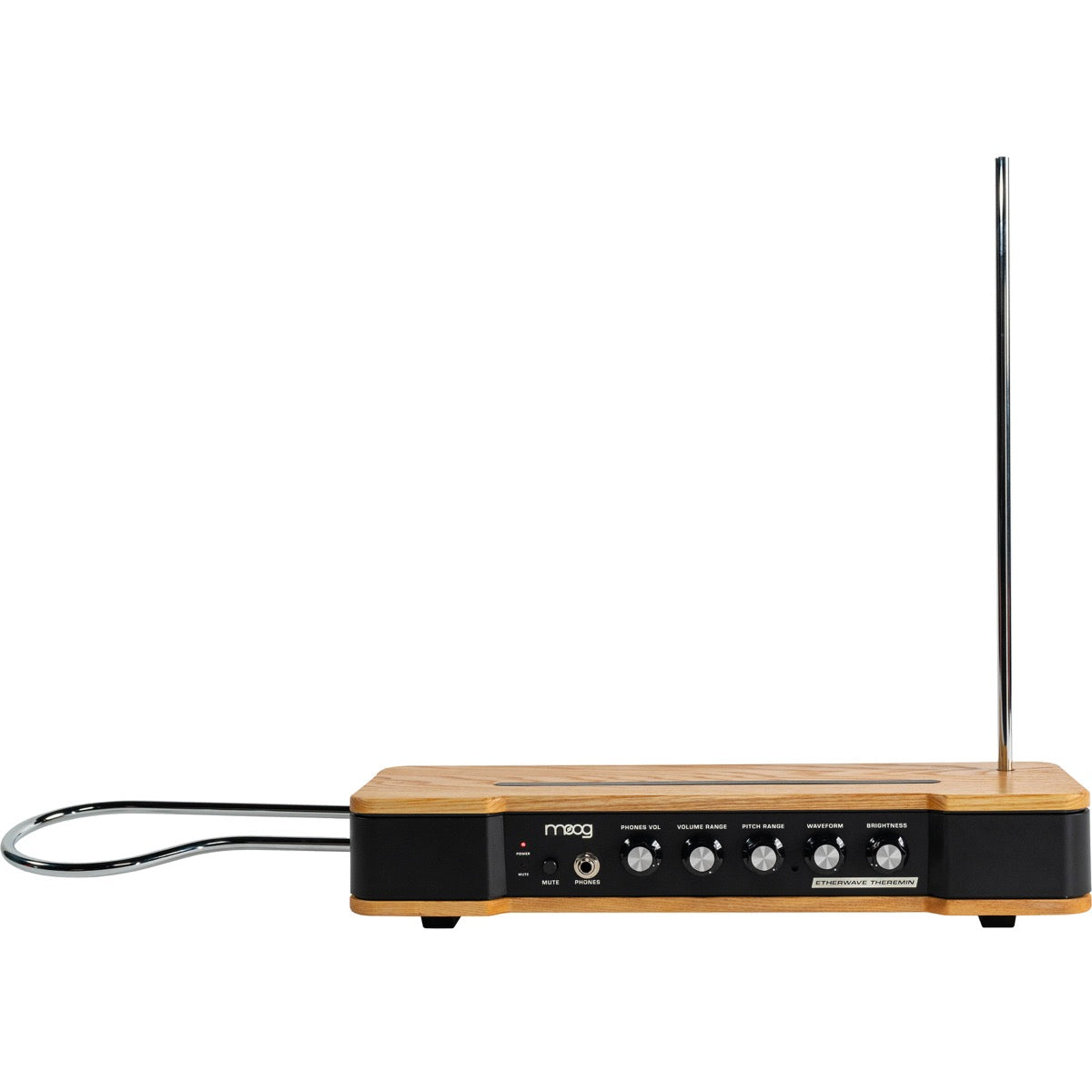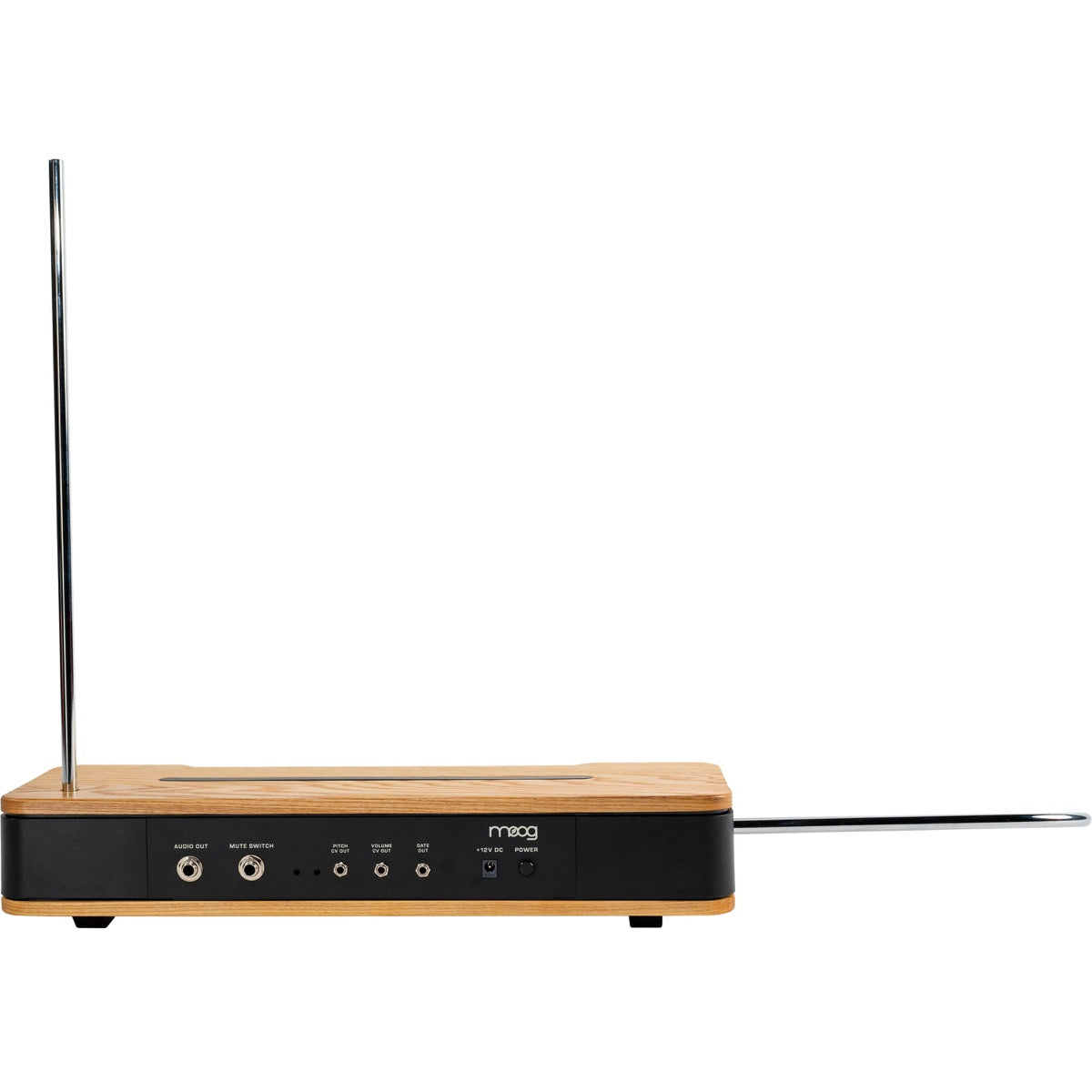 For over 60 years, Moog theremins have captured the imagination of players and audiences alike. Most recently over the last two decades, Moog's Etherwave Standard and Etherwave Plus have set the bar of performance theremin design. Now, the all-time highest selling theremin models get an update to become simply Etherwave Theremin.
Improved bass response and stability in the lowest registers
Updated antenna connections to enable quick assembly and easy removal for travel
Quick-release mic stand adapter for attaching and detaching the instrument from mic stands
Mute control for setting the instrument into a standby mode or for 'pitch preview' via headphones
Control voltage integration (pitch CV out, volume CV out and gate out) for connecting with modular, semi-modular and eurorack synthesizers
With no reeds to blow, no keys to press and no strings to pluck, Etherwave Theremin defies all expectations of a musical instrument. It is instead played in a manner that seemingly conjures music from the ether, simply through the motion of the body when close to the instrument. Throughout history, performers have achieved unprecedented expression by mastering this unique connection between the hands, the body, the environment and the instrument.
The theremin's elegant simplicity and unparalleled expressivity fueled Bob Moog's lifelong love affair with the instrument, from building his first theremin at age 14 to completing his final design at age 70. Today, Etherwave Theremin carries on this legacy with a refined design for the modern theremin performer.
Combining analog playability with unprecedented performance potential, Moog Etherwave Theremin provides an accurate five-octave pitch range and balanced spacing between notes for a highly sophisticated degree of playability. Updated analog electronics have been used to create Bob Moog's classic theremin circuit design while improving bass response in the lower registers.
The refined cabinet features hand-finished hardwood and two quick-release plated-brass antennas. Additionally, rear-panel I/O connections and a detachable mic stand adapter ensure quick setup on the go.
Easily accessible front-panel controls allow for spontaneous changes in timbre, and the antennas' response can be adjusted to suit any player and their environment (advanced users can go a step further via the calibration access panel on top of the instrument).
A front panel headphone output with dedicated volume control pairs with the addition of a mute button that silences the main audio output while leaving the headphone output active for privately adjusting timbre and tuning.
In addition, Etherwave Theremin can connect directly to and control your other modular, semi-modular or eurorack synthesizer systems via control voltage. Control your synthesizers or effects while playing the theremin by patching into Etherwave Theremin's 1/8" pitch CV, volume CV and gate CV jacks for a completely new performance experience.
For the novice enthusiast or the seasoned professional player, Etherwave Theremin offers exceptional sonics, playability and control to take your sound into new dimensions.
SKU
MOO-EWTHEREMIN
MPN
Etherwave Theremin
Vendor
Moog
Analog Digital
Analog
Built In Speakers
No
Included From Manufacturer
Detachable pitch antenna
Detachable volume antenna
Calibration tool
Power supply
Number of Keys
None
Mono Poly
Monophonic
Mpn
THE-ETHER-01
Control Connections
1/4" mute footswitch input
1/8" pitch CV output
1/8" volume CV output
1/8" gate output
Onboard Controllers
Pitch antenna
Volume antenna
Mute button
Audio Outputs
1/4" mono output
1/4" headphone output
Oscillators per Voice
1
Product Weight
6.3 lb
Voices of Polyphony
1
Width
17.72" cabinet only
26.81" with antenna
Depth
6.26" cabinet only
6.59" with antenna
Height
3.31" cabinet only
18.73" with antenna
Moog Music Inc. Limited Warranty
Moog warrants its products to be free of defects in materials or workmanship and conforming to specifications at the time of shipment. The Warranty Period is one year from the date of purchase.
If, in Moog's determination, it has been more than one year since the product shipped from its factory, Moog will determine whether or not to honor the warranty without regard to the date of the purchase.
Your new product warranty is transferrable to a new user with a proof of purchase dated less than one year prior to the current date. To initiate a warranty transfer, email Moog with a copy of the original proof of purchase, the serial number, and your personal information and Moog will update the warranty status.
During the Warranty Period, any defective products will be repaired or replaced, at Moog's option, on a return-to-factory basis. This warranty covers defects that Moog determines are no fault of the user.
The Moog Limited Warranty applies to USA purchasers only. Outside the USA the warranty policy and associated service is determined by the laws of the country of purchase and supported by the local authorized distributor. If you purchase outside of your country, you can expect to be charged for warranty as well as non-warranty service by the service center in your country.
You must obtain prior approval in the form of an RMA (Return Material Authorization) number from Moog before returning any product. Click 'Customer Service' at the Moog website to request the RMA # via email or call Moog.
All products must be packed carefully and shipped with the Moog supplied power adapter. The Voyager and Little Phatty must be returned in the original inner packing including the foam inserts. The warranty will not be honored if the product is not properly packed. Once you have received the RMA# and carefully packed your Moog, ship the product to Moog Music Inc. with transportation and insurance charges paid, and include your return shipping address.
Once received, Moog will examine the product for any obvious signs of user abuse or damage as a result of transport. If the product is abused, damaged in transit, or is out of warranty, Moog will contact you with an estimate of the repair cost. Warranty work will be performed and Moog will ship and insure your product to your United States address free of charge.
Please initiate your warranty online at the Moog Music Website by clicking 'Product Registration.' If you do not have web access, fill out all the information on the card included with your shipment and mail it to Moog.
Ground shipping is FREE for all orders $99 and up.