Skip product carousel
Price Drop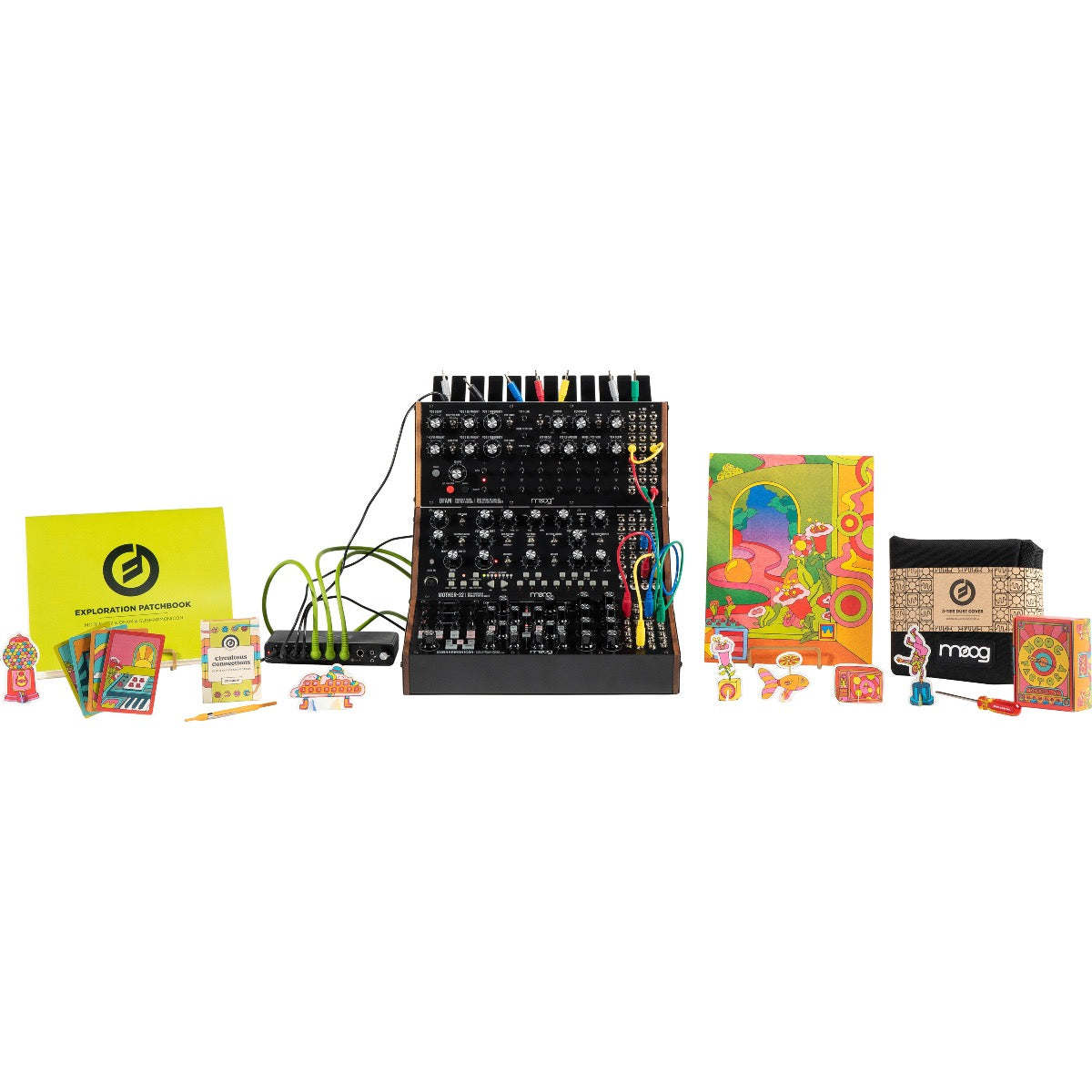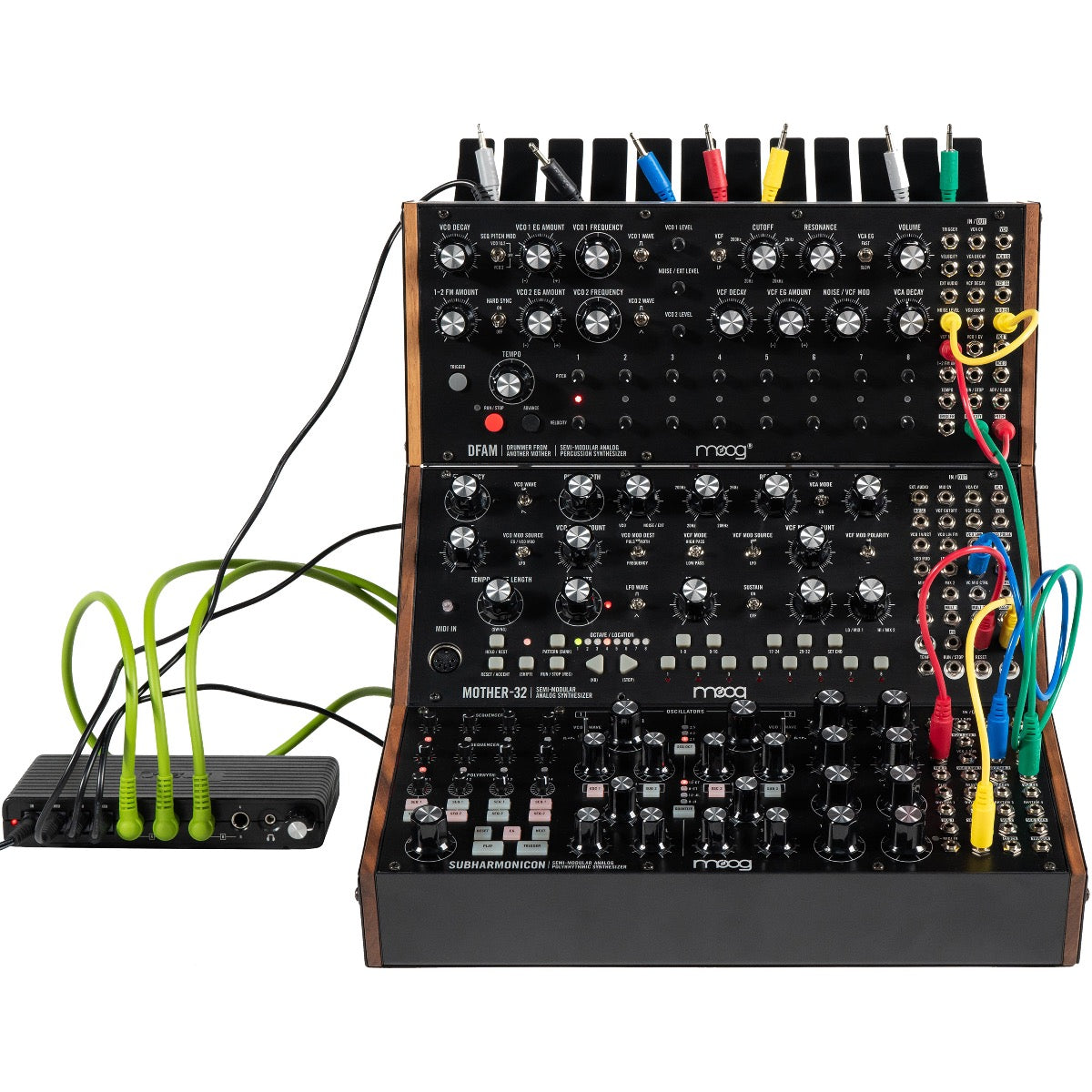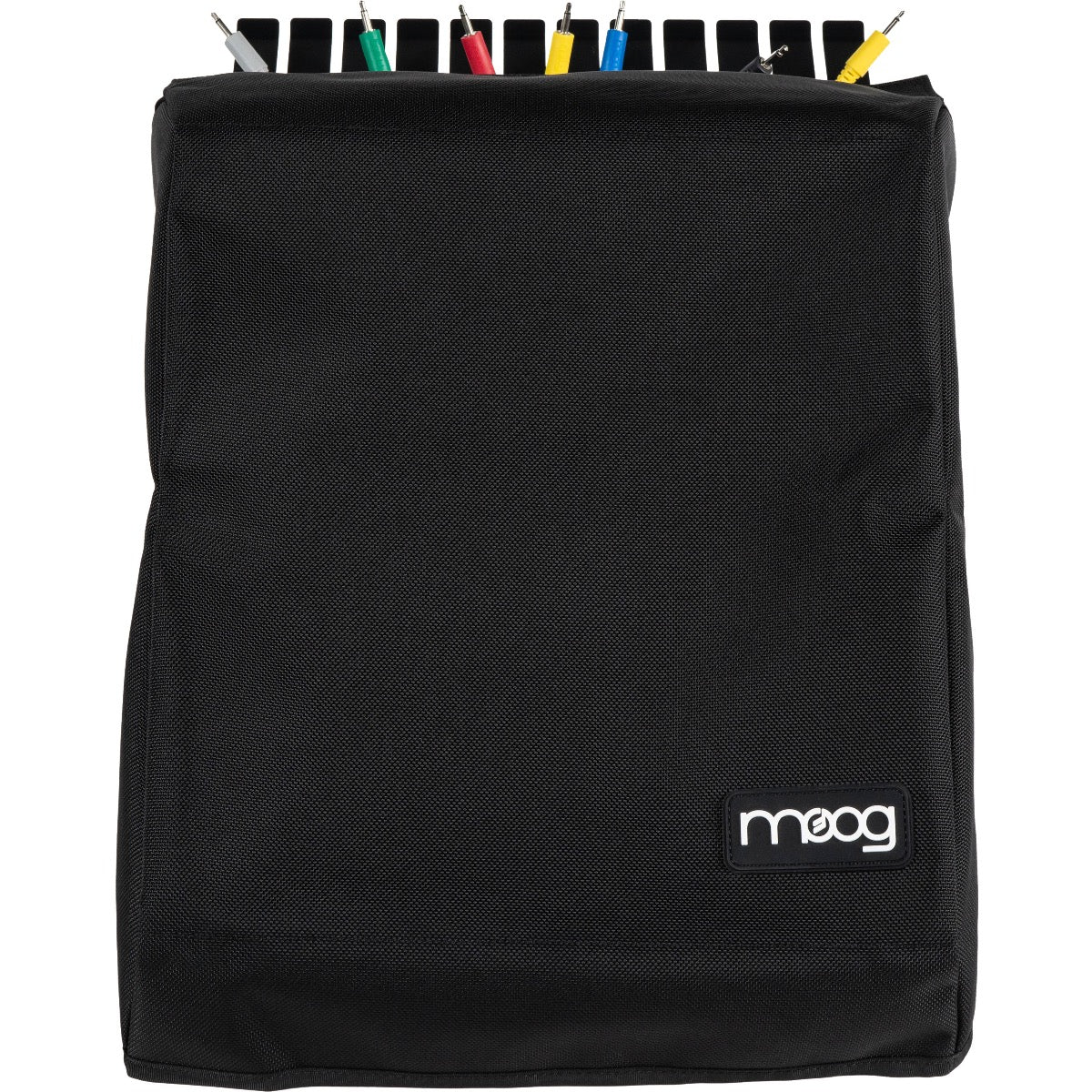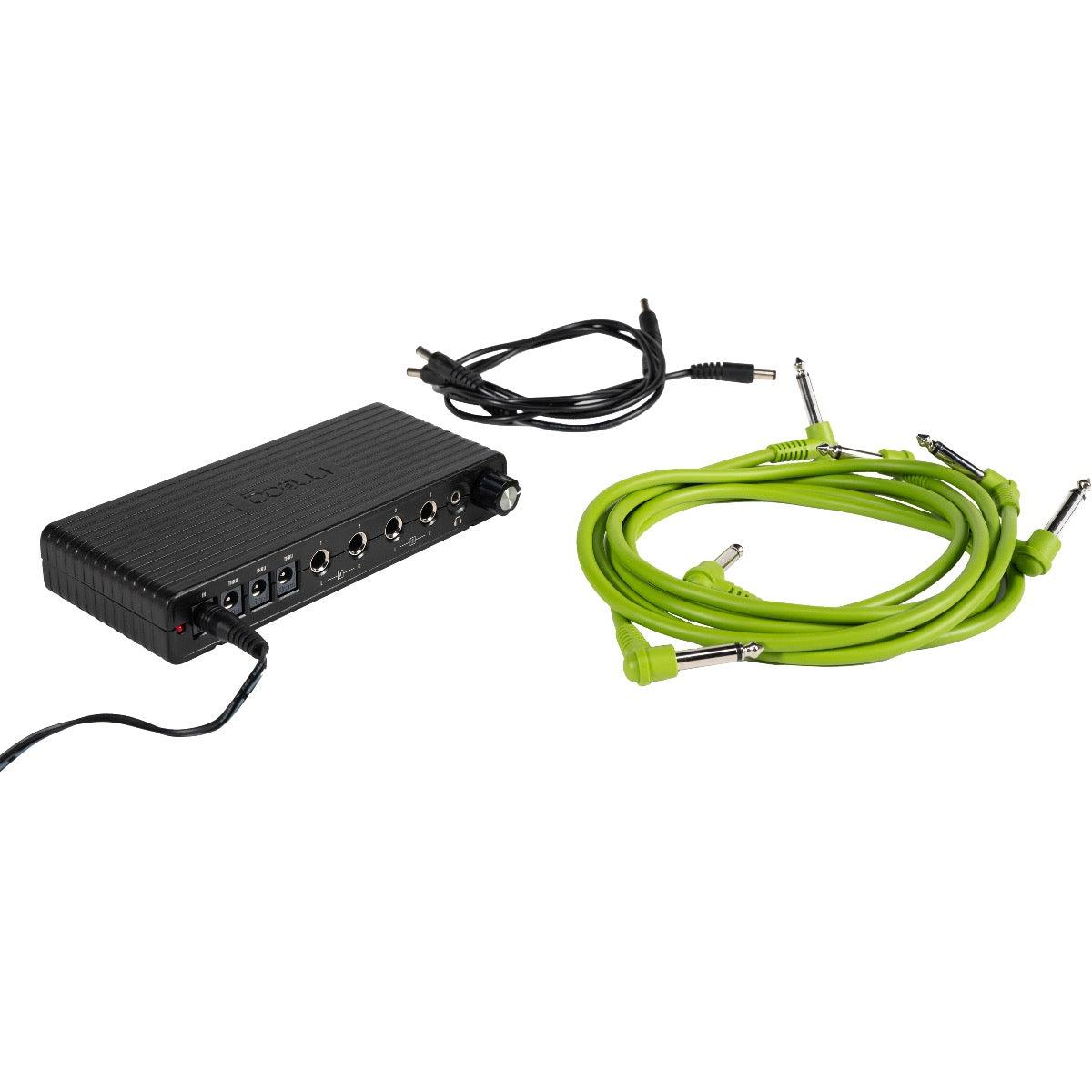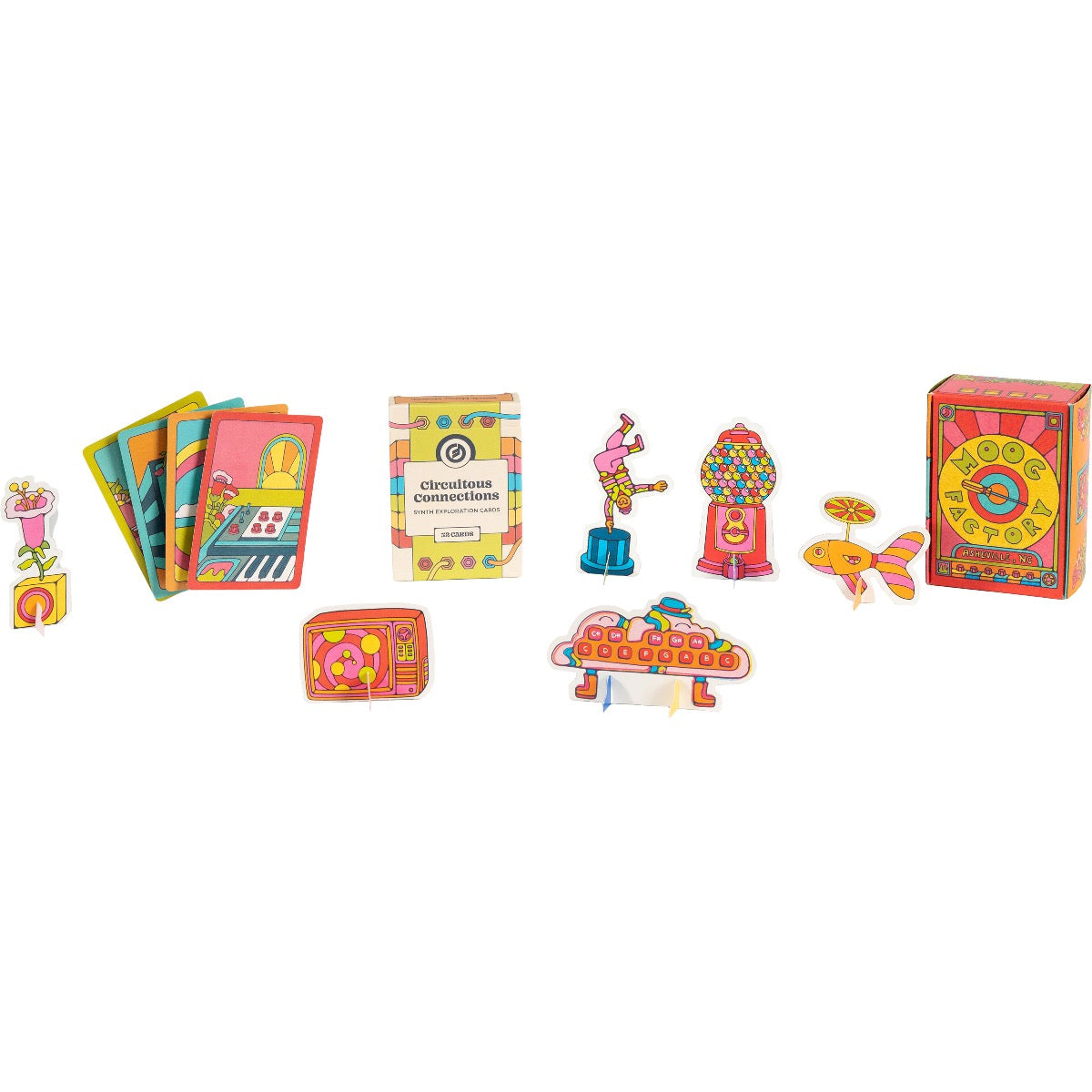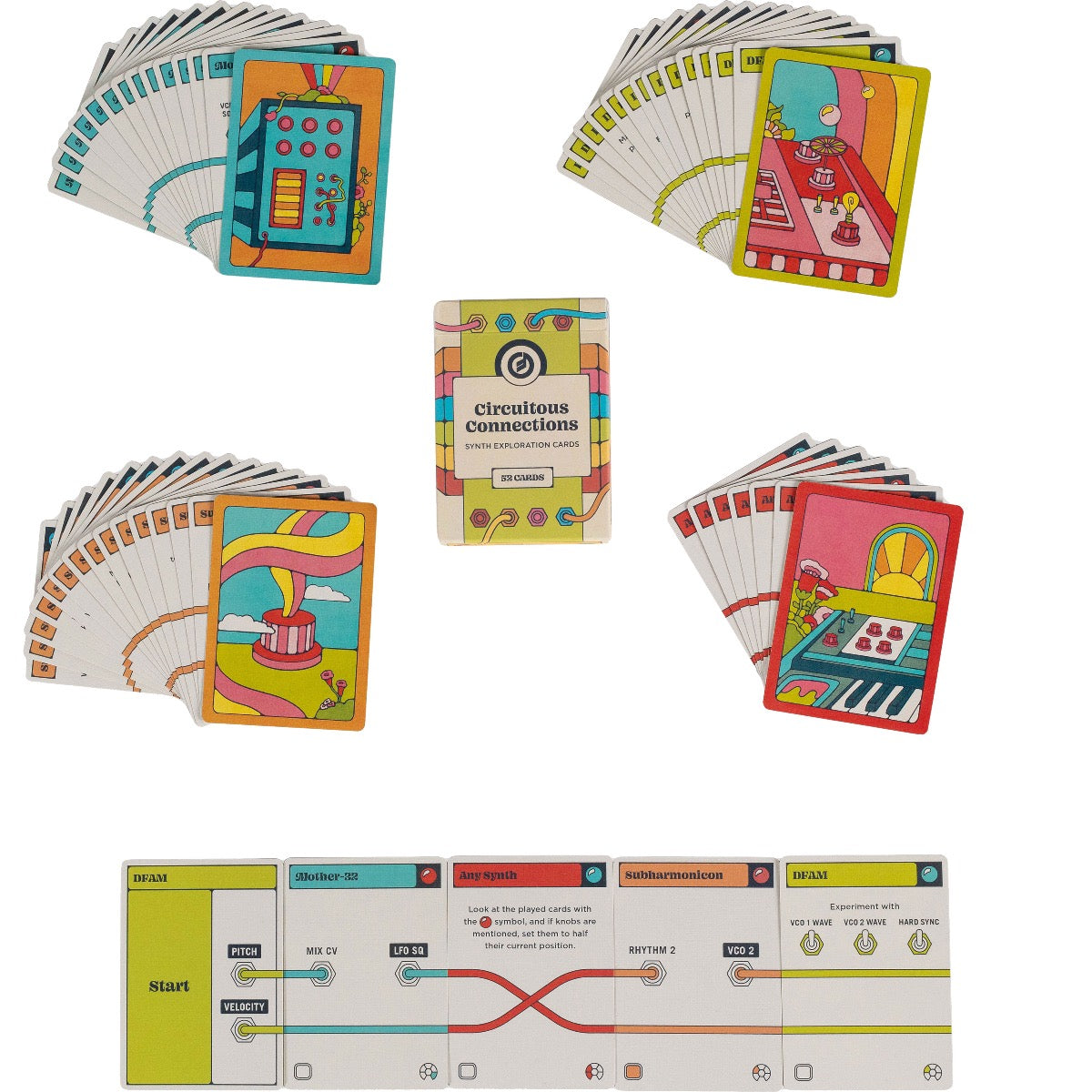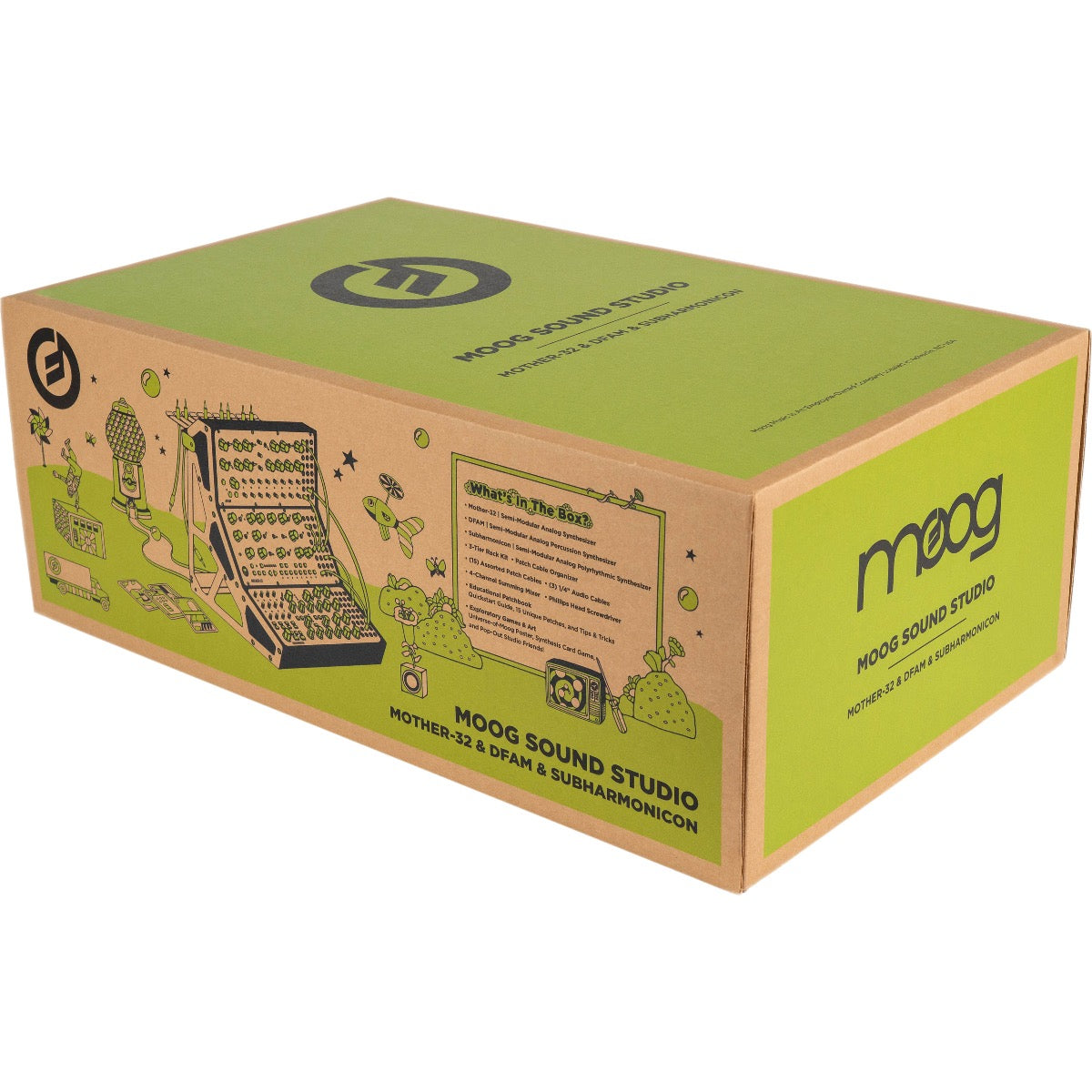 Moog Sound Studio - Mother-32, Subharmonicon & DFAM Analog Synthesizer Bundle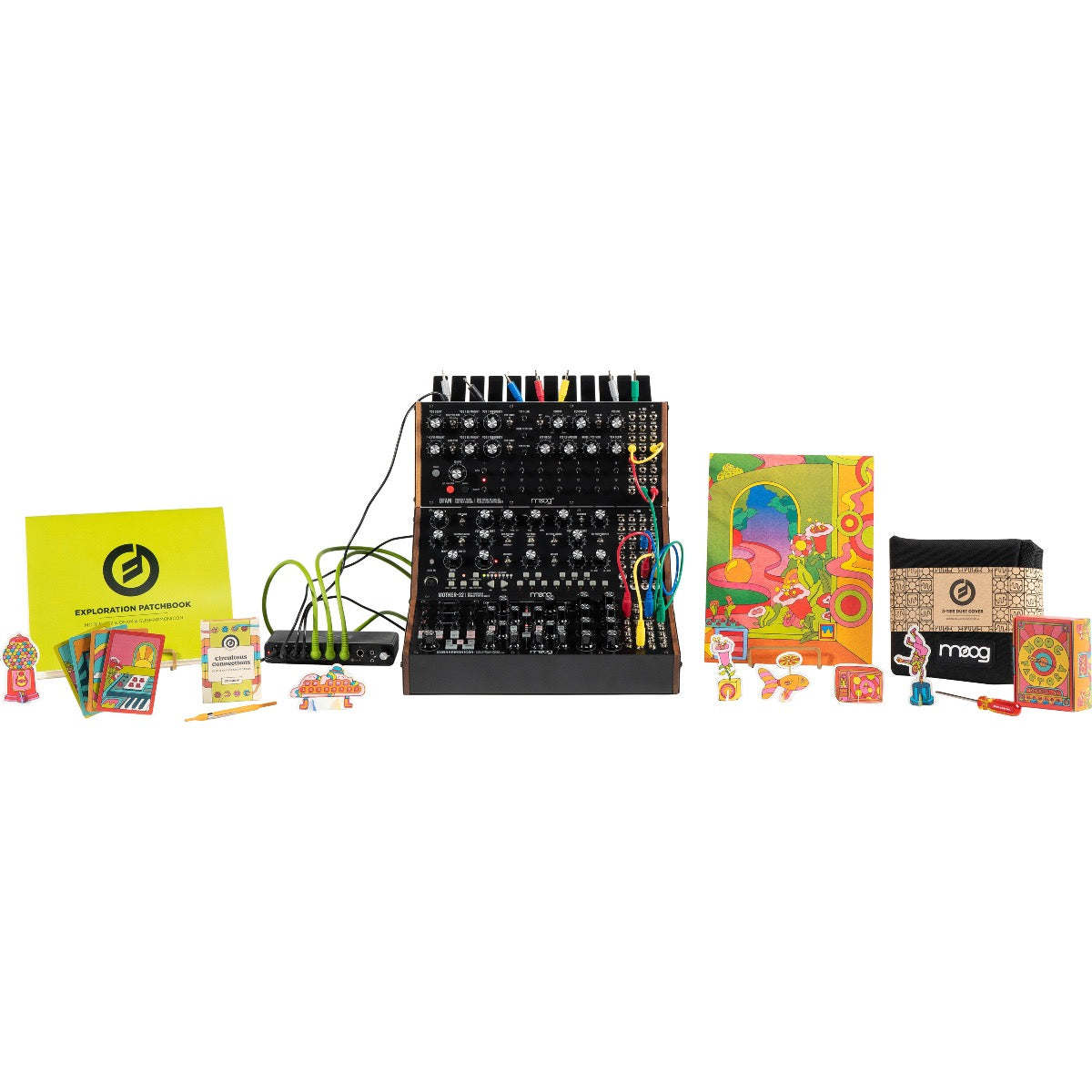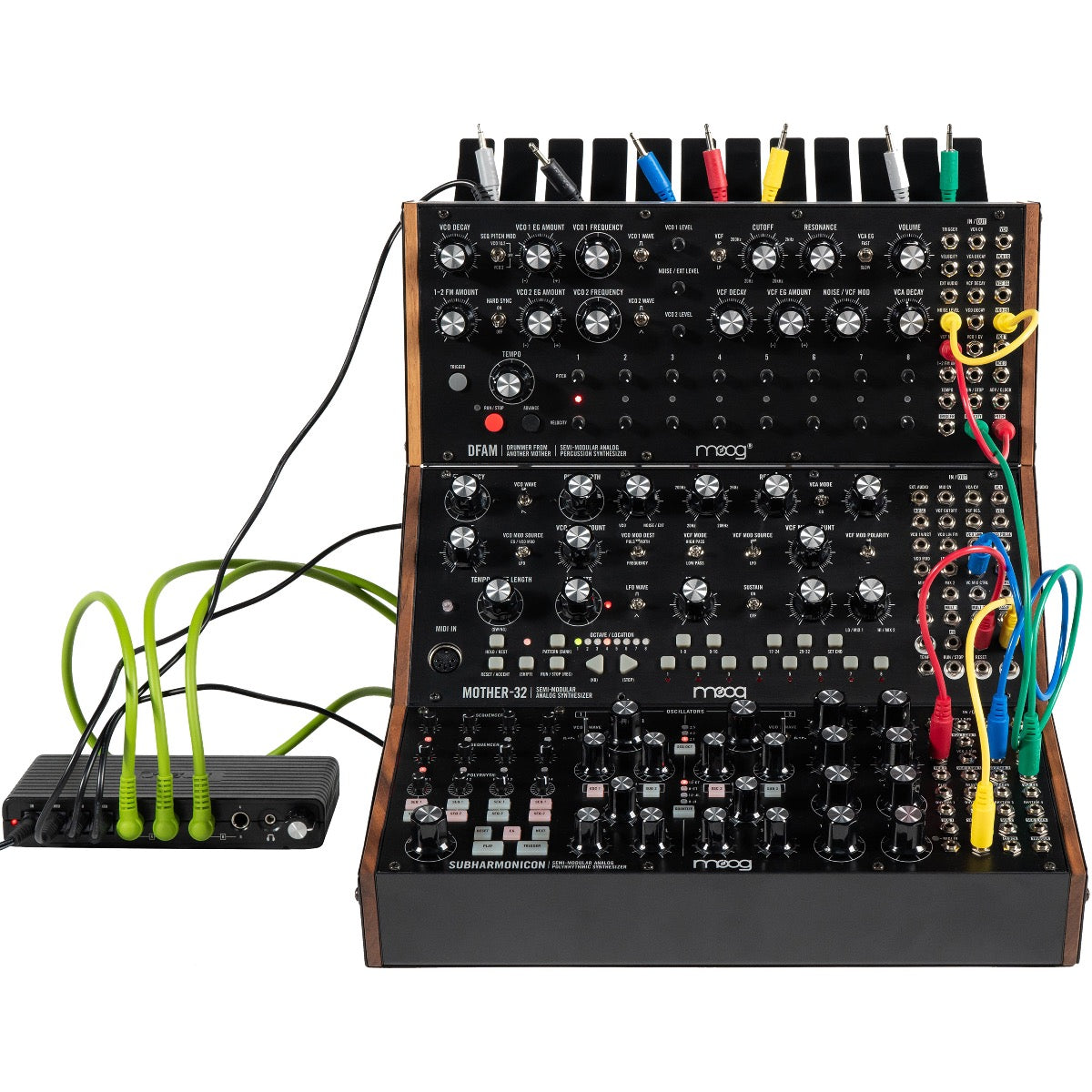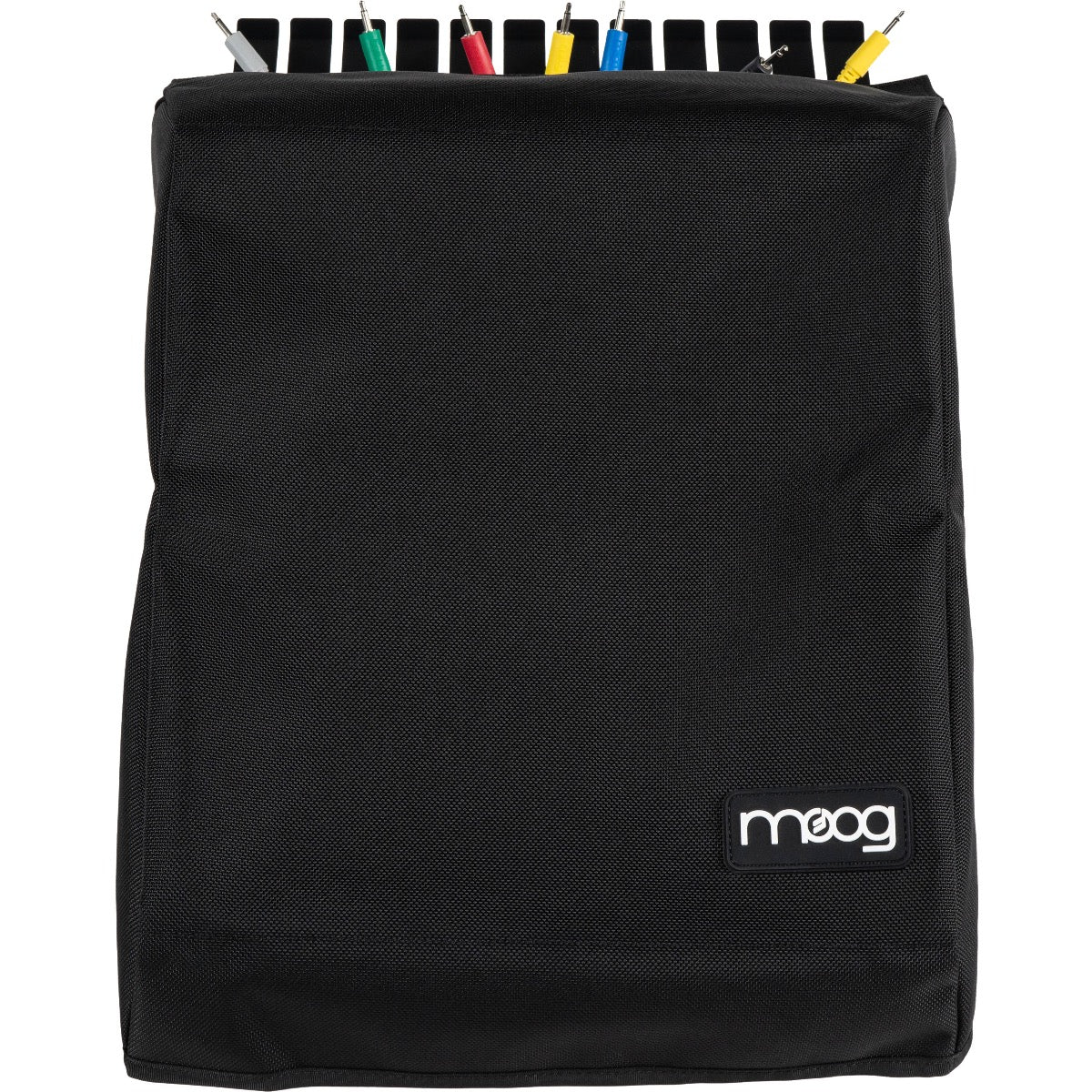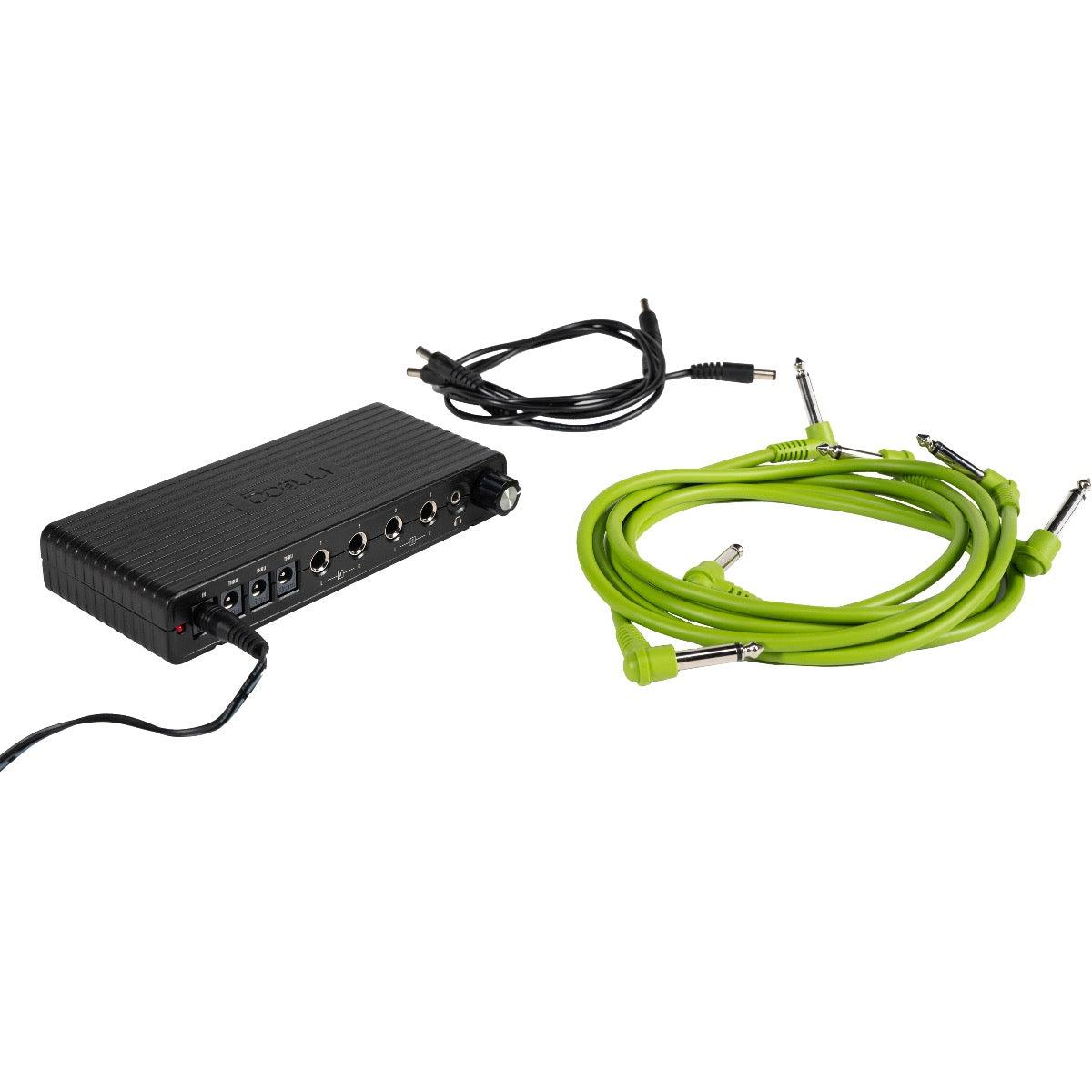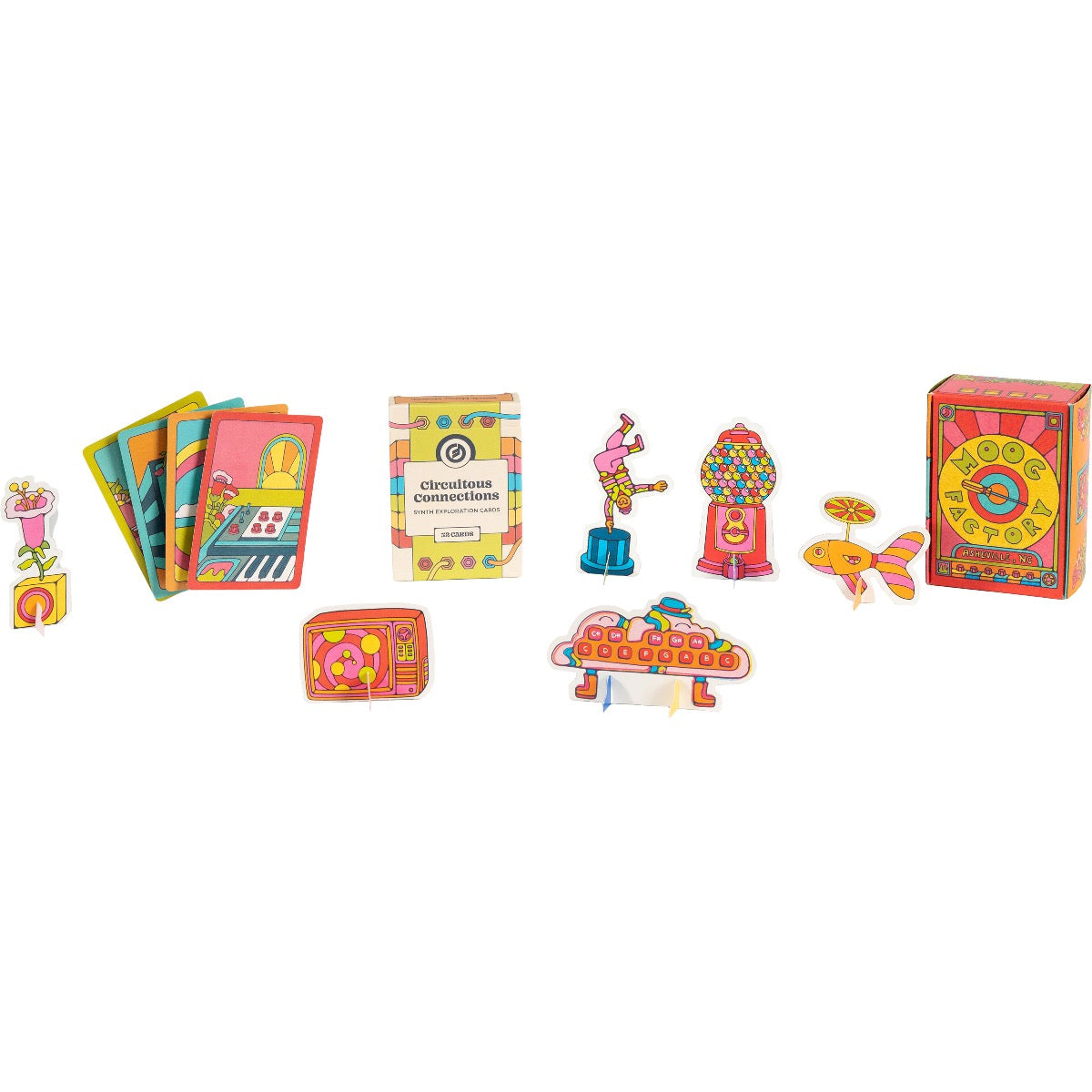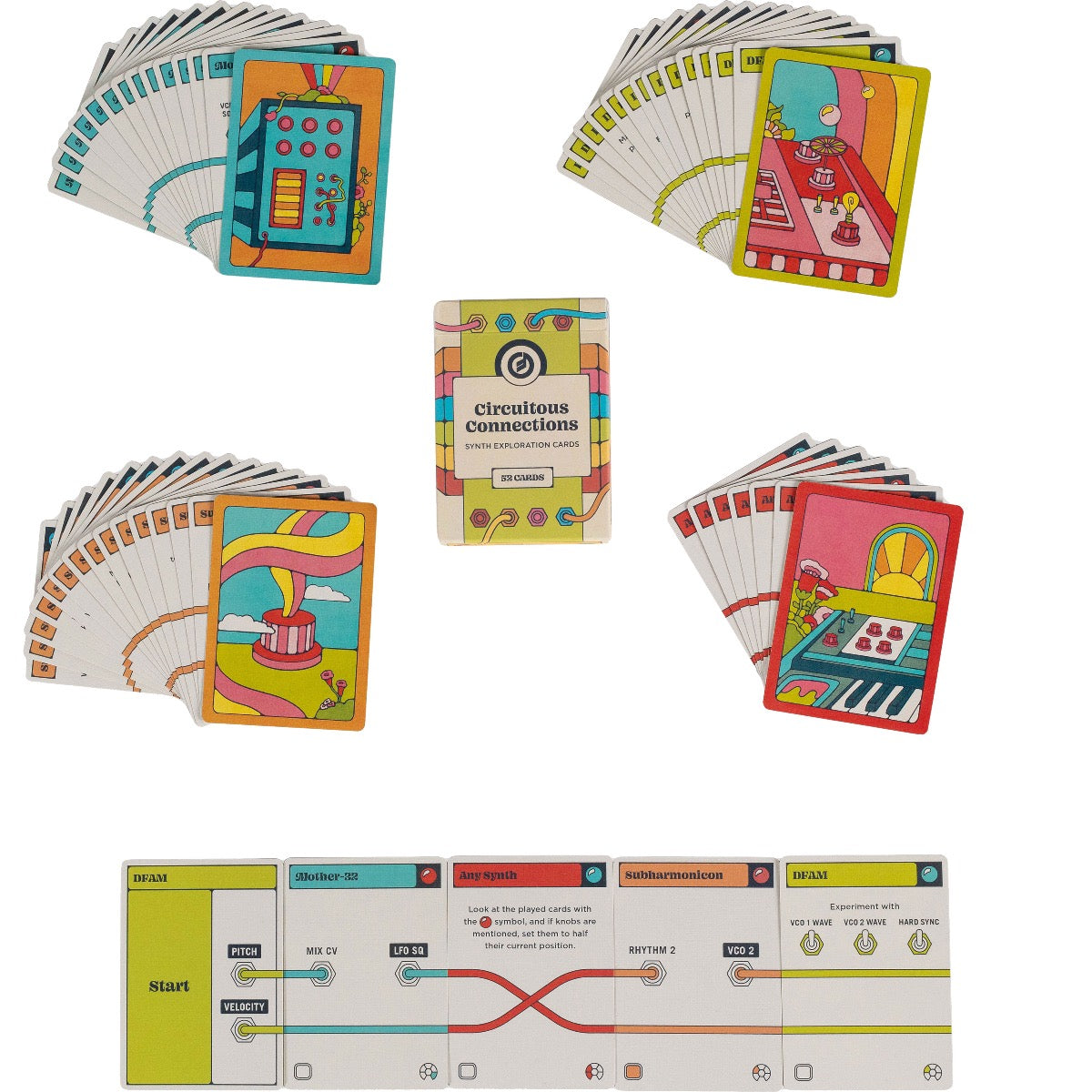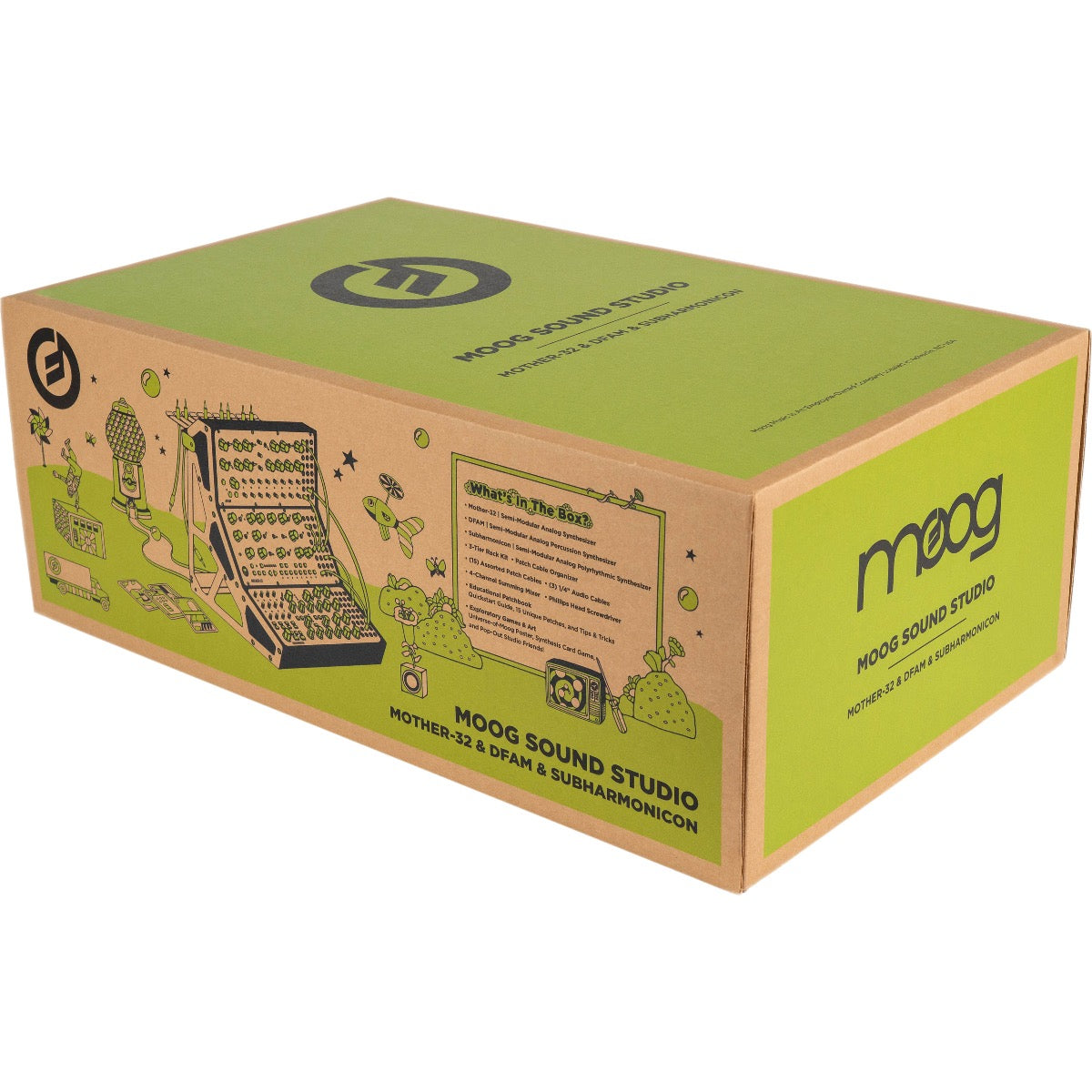 Moog Sound Studio - Mother-32, Subharmonicon & DFAM Analog Synthesizer Bundle
Moog Sound Studio is an all-inclusive bundle of semi-modular synthesizers and extras created to provide users with all the equipment, cables, accessories and educational tools needed to enter the world of analog synthesis for the first time or to continue to explore sound in an immersive new way. All you need is some headphones or a speaker and you're ready to get started!
The 3-tier Moog Sound Studio offers the ultimate experience of sonic power and versatility via a trio of Moog's popular eurorack compatible semi-modular analog synthesizers: Mother-32, DFAM and Subharmonicon.
Along with this trio of semi-modular analog synthesizers, Moog Sound Studio includes includes a personal stereo summing mixer with 3-way power distribution to provide flexible signal routing and power your entire system conveniently from a single power supply. Also included are a series of guided exercises, exploration games, experimental patch sheets, imaginative studio art and more to outfit your studio and take your synthesis skills to the next level. All of the cables and accessories needed to connect everything are included as well.
Moog Sound Studio takes the magical environment and hands-on learning experience of Moog installations found at events around the world and presents it in a way that empowers the user to explore synthesis with joy and confidence from the comfort of their own home or studio. This is an exciting time to be a part of the growing synth community! Moog Sound Studio is here to provide a meaningful electronic experience that informs, inspires and nurtures synthesists at any point in the creative journey.
Mother-32
Moog Mother-32 is an intuitive and expandable semi-modular synthesizer that adds raw analog sound, powerful sequencing and extensive interconnectivity to any creative, electronic or modular ecosystem. Mother-32 excels at classic analog bass and lead sounds and powerful step-sequencing with pattern memory.
Subharmonicon
Moog Subharmonicon is a semi-modular polyrhythmic analog synthesizer that employs a 6-tone sound engine and multi-layered clock generator to explore the world of subharmonics, polyrhythms and the unique relationships they create. Subharmonicon excels at unique subharmonic chord shapes and intricate polyrhythmic sequencing.
DFAM
Moog DFAM aka Drummer from Another Mother is a semi-modular analog percussion synthesizer that empowers an expressive, hands-on approach to percussive pattern creation. DFAM excels at rich electronic drum patches and organic analog sequencing that breathes.
Personal stereo summing mixer and instrument cables
This 4-input analog summing mixer features selectable mono or stereo configurations for versatile routing options. The built-in 3-way power distribution hub supplies power throughout your Moog Sound Studio conveniently from a single power supply. The included instrument cables come in lengths and colors to complement the system and reduce clutter.
3-tier rack kit
Conveniently stack all three synthesizers and summing mixer together as one connected system to maximize studio space and orient instruments vertically for optimal interconnectivity.
Protective cover
Protect your Moog Sound Studio when not in use. This water repellant cover is made from rugged ballistic cordura to safeguard your gear from dust, spills and other studio/stage mishaps, while the ultra soft interior remains gentle against your synth. The cover provides a custom fit with room to accommodate patch cabling and rear I/O panel access. Adjustable velcro straps ensure your cover fits snug and stays in place.
Cable organizer and custom patch cable set
The included patch cable organizer connects to the three-tier rack or mounts directly to any wall, keeping patch cables neat and orderly for a hassle-free workflow. A custom set of patch cables has been selected in lengths, colors and quantities to maximize system patchability.
Guided exercises, exploration games and experimental patch sheets
Learning synthesis doesn't have to be intimidating! Included games and educational materials allow the player to explore at their own pace while enjoying the journey. Developed with artists who know these instruments best, these detailed and fun exercises are designed to accelerate your synthesis experience by exploring new skills to support your ongoing synthesis practice – a perfect jumping-off-point for beginners or source of inspiration for the seasoned pro.
Studio art
All original artwork, created by Jim Stoten and Philip Lindeman, has been thoughtfully designed to aid users in the exploration of new imaginative worlds. The characters, poster and objects that accompany each Moog Sound Studio come together to transform any space into an immersive creative environment.
SKU
MOO-MSSM32SUBHDFA
MPN
Sound Studio Mother-32, Subharmonicon & DFAM
Vendor
Moog
Analog Digital
Analog
Built In Speakers
No
Included From Manufacturer
Moog Mother-32 semi-modular analog synthesizer
Moog Subharmonicon Semi-Modular Analog Polyrhythmic Synthesizer
Moog DFAM Drummer from Another Mother percussion synthesizer
4-channel summing mixer
3-tier rack kit
Patch cable organizer
4 × 6" patch cables
6 × 12" patch cables
5 × 18" patch cables
3 × 1/4" audio cables
1/8" to 5-pin MIDI dongle for Subharmonicon
Philips head screwdriver
Educational patchbook
Exploratory games and studio art
Power supply
3 × barrel-to-barrel power distribution cables
Dust cover with custom pattern
Midi
In
Mono Poly
Duophonic/Paraphonic
Mpn
MSS-M32SUBHDFAM-U
Control Connections
Mother-32
Audio Inputs
4 × 1/4" mono inputs on summing mixer
1/8" mono external audio input on each synthesizer's patch panel
Audio Outputs
1/8" stereo output on summing mixer
1/8" mono output on each synthesizer's patch panel
1/4" audio/headphones output on rear of each synthesizer
Oscillators per Voice
Varies by Sound Engine
Product Weight
14.6 lb
Sequencer
Mother-32
Voices of Polyphony
Mother 32
Width
13"
Depth
13"
Height
13.5"
Moog Music Inc. Limited Warranty
Moog warrants its products to be free of defects in materials or workmanship and conforming to specifications at the time of shipment. The Warranty Period is one year from the date of purchase.
If, in Moog's determination, it has been more than one year since the product shipped from its factory, Moog will determine whether or not to honor the warranty without regard to the date of the purchase.
Your new product warranty is transferrable to a new user with a proof of purchase dated less than one year prior to the current date. To initiate a warranty transfer, email Moog with a copy of the original proof of purchase, the serial number, and your personal information and Moog will update the warranty status.
During the Warranty Period, any defective products will be repaired or replaced, at Moog's option, on a return-to-factory basis. This warranty covers defects that Moog determines are no fault of the user.
The Moog Limited Warranty applies to USA purchasers only. Outside the USA the warranty policy and associated service is determined by the laws of the country of purchase and supported by the local authorized distributor. If you purchase outside of your country, you can expect to be charged for warranty as well as non-warranty service by the service center in your country.
You must obtain prior approval in the form of an RMA (Return Material Authorization) number from Moog before returning any product. Click 'Customer Service' at the Moog website to request the RMA # via email or call Moog.
All products must be packed carefully and shipped with the Moog supplied power adapter. The Voyager and Little Phatty must be returned in the original inner packing including the foam inserts. The warranty will not be honored if the product is not properly packed. Once you have received the RMA# and carefully packed your Moog, ship the product to Moog Music Inc. with transportation and insurance charges paid, and include your return shipping address.
Once received, Moog will examine the product for any obvious signs of user abuse or damage as a result of transport. If the product is abused, damaged in transit, or is out of warranty, Moog will contact you with an estimate of the repair cost. Warranty work will be performed and Moog will ship and insure your product to your United States address free of charge.
Please initiate your warranty online at the Moog Music Website by clicking 'Product Registration.' If you do not have web access, fill out all the information on the card included with your shipment and mail it to Moog.
Standard Shipping