Skip product carousel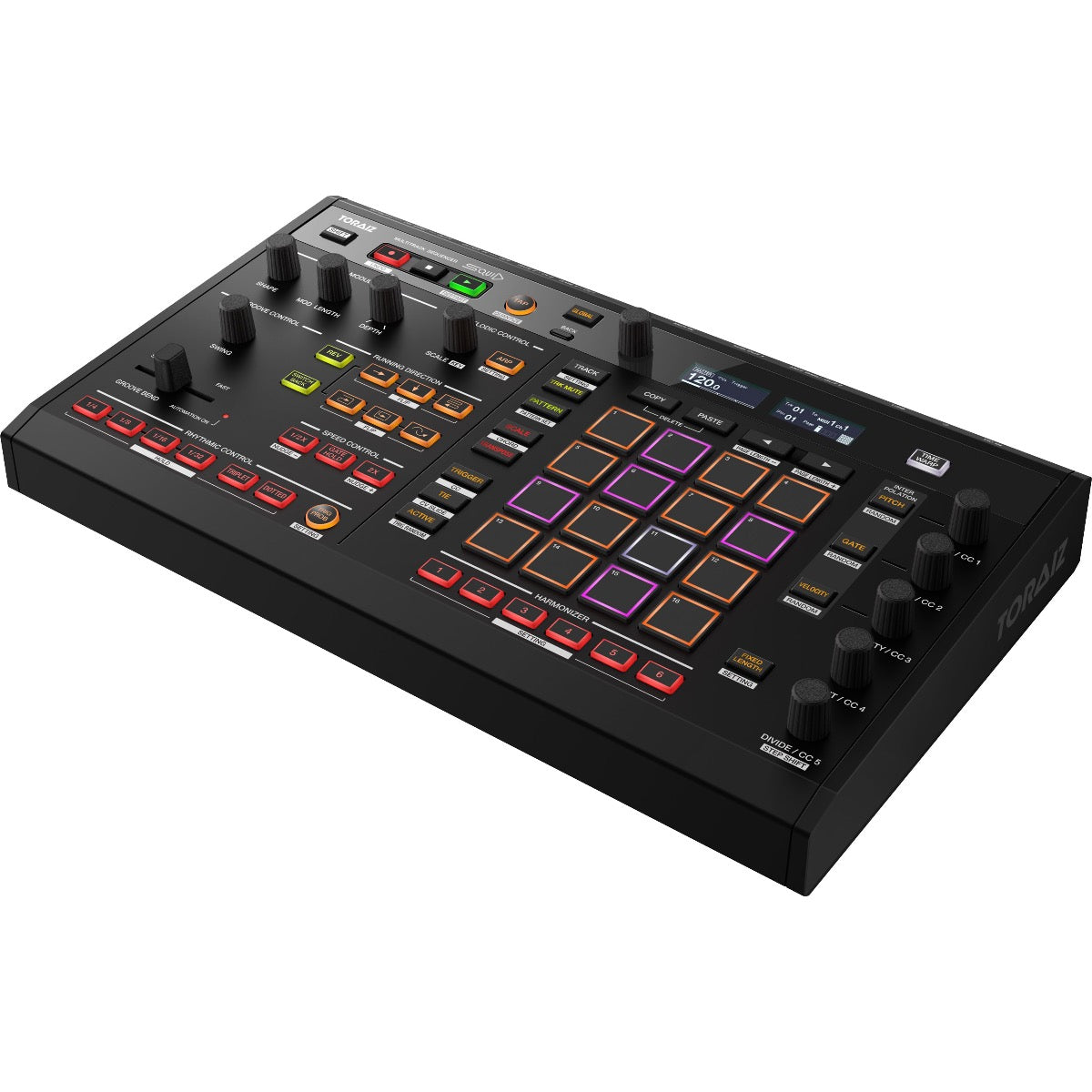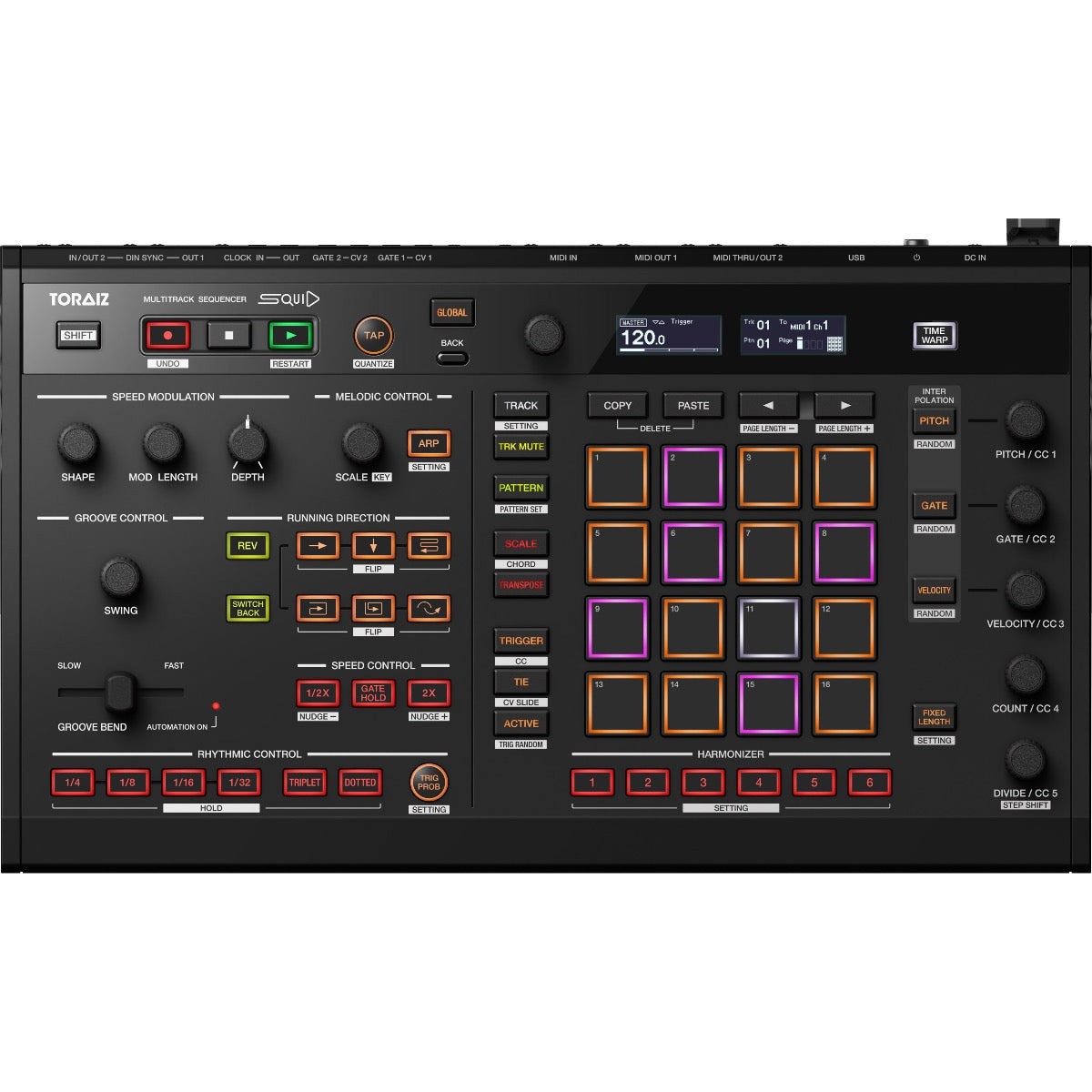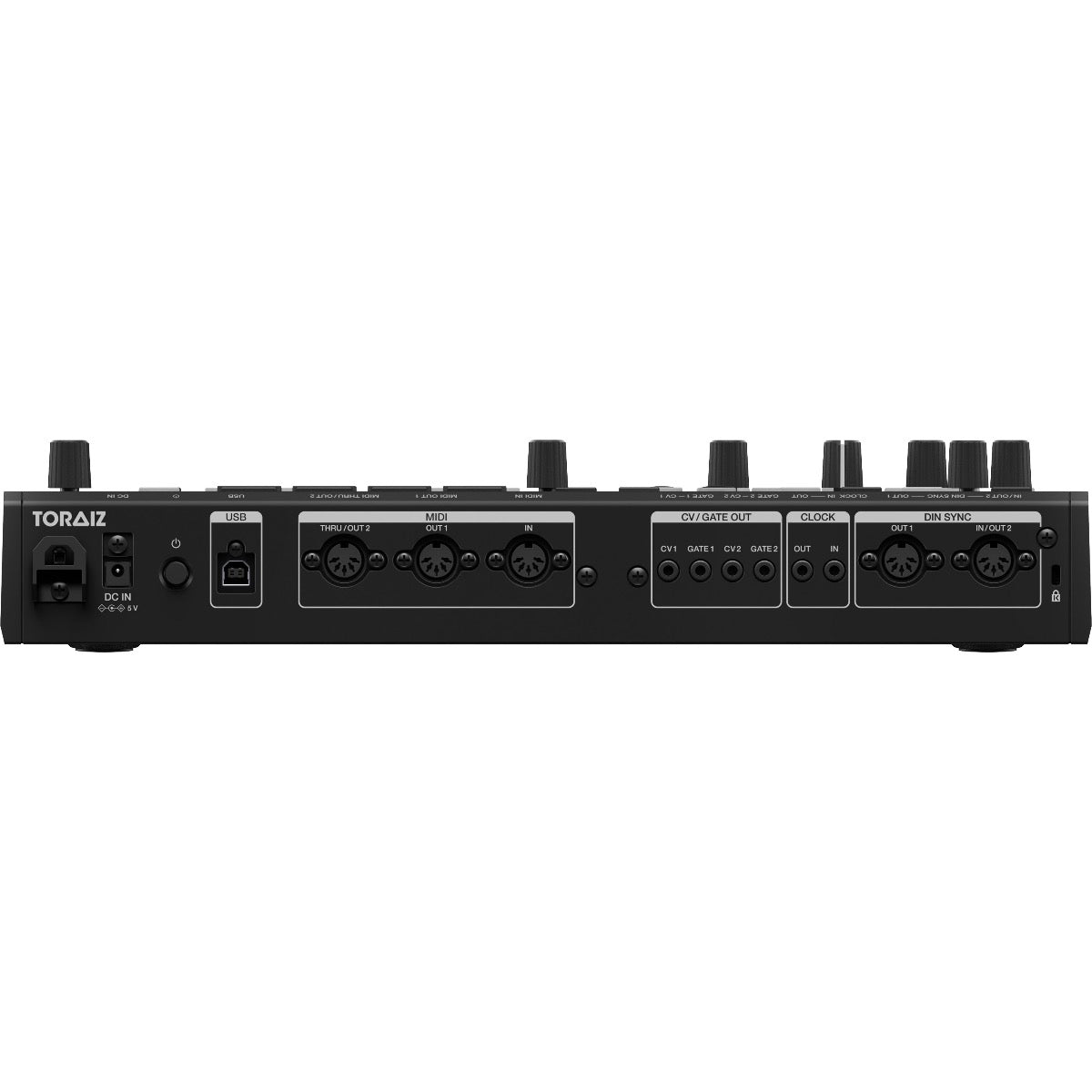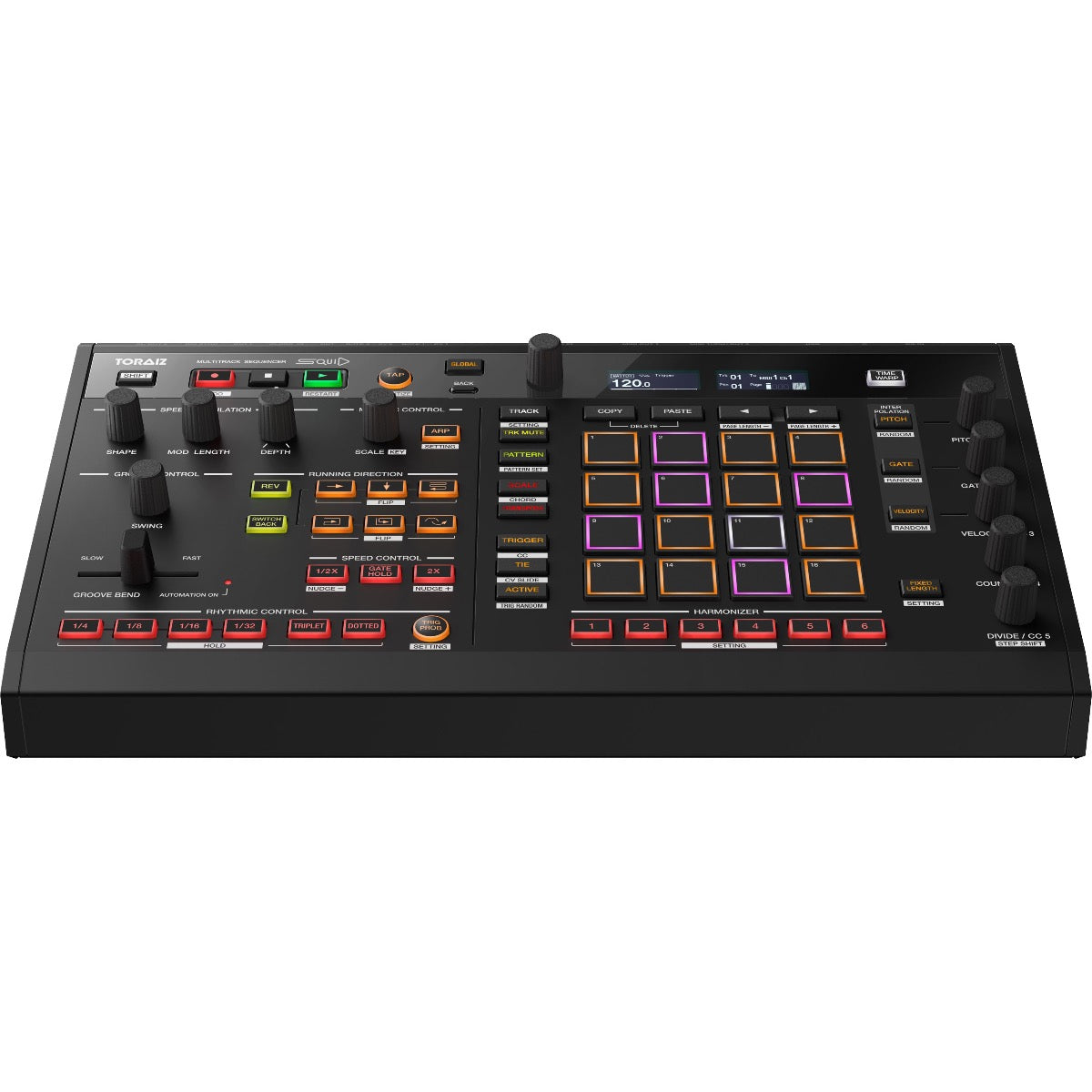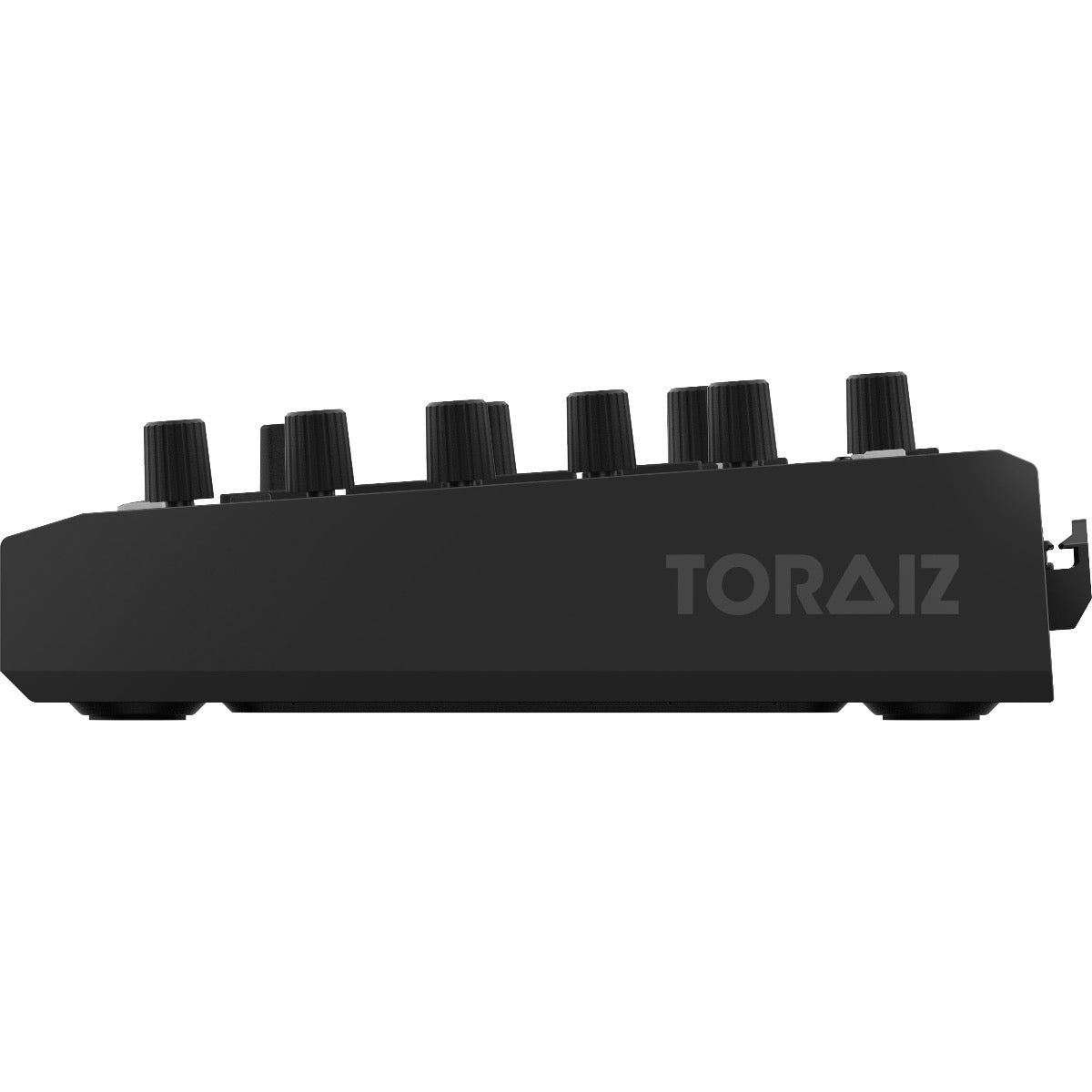 Pioneer DJ Toraiz Squid Multitrack Sequencer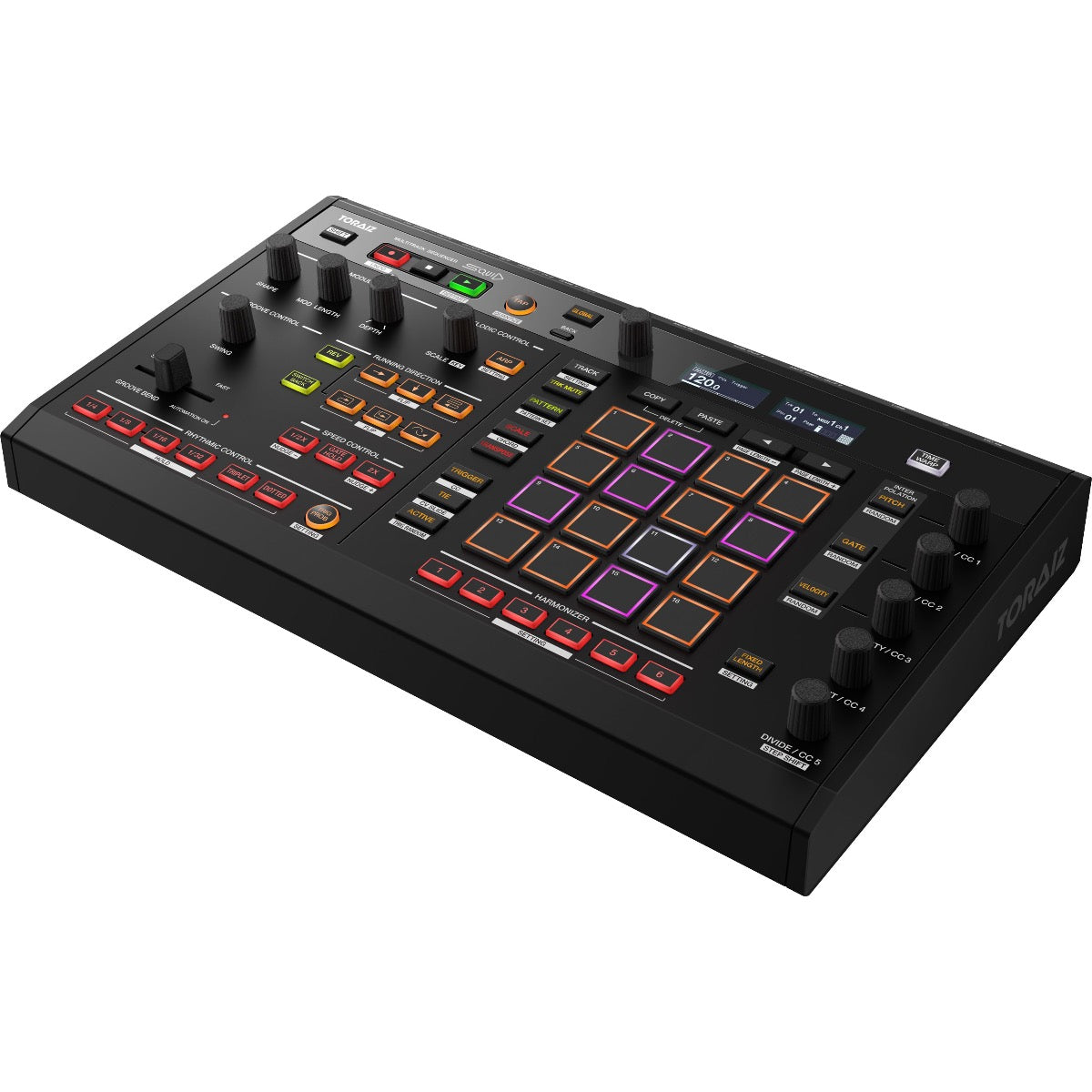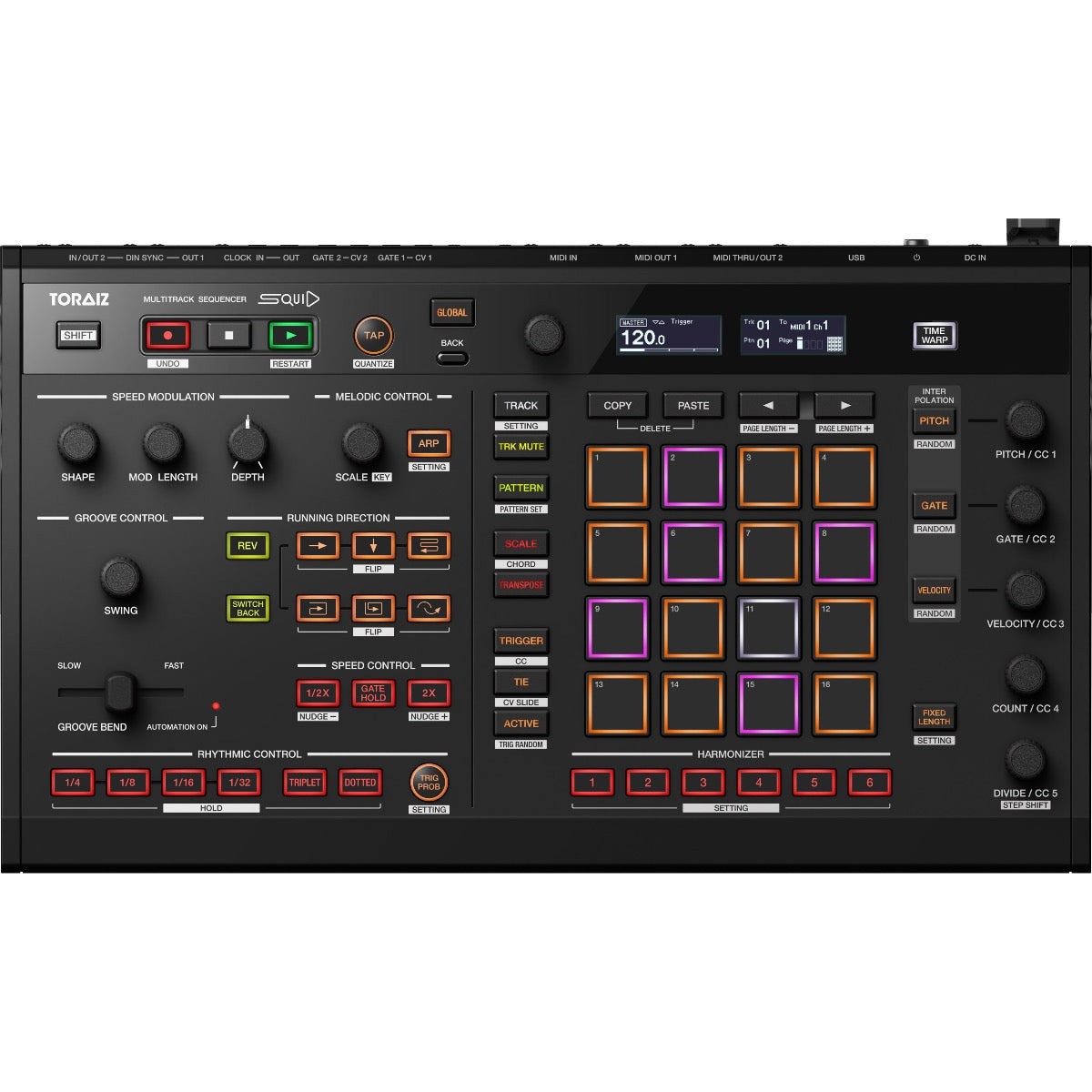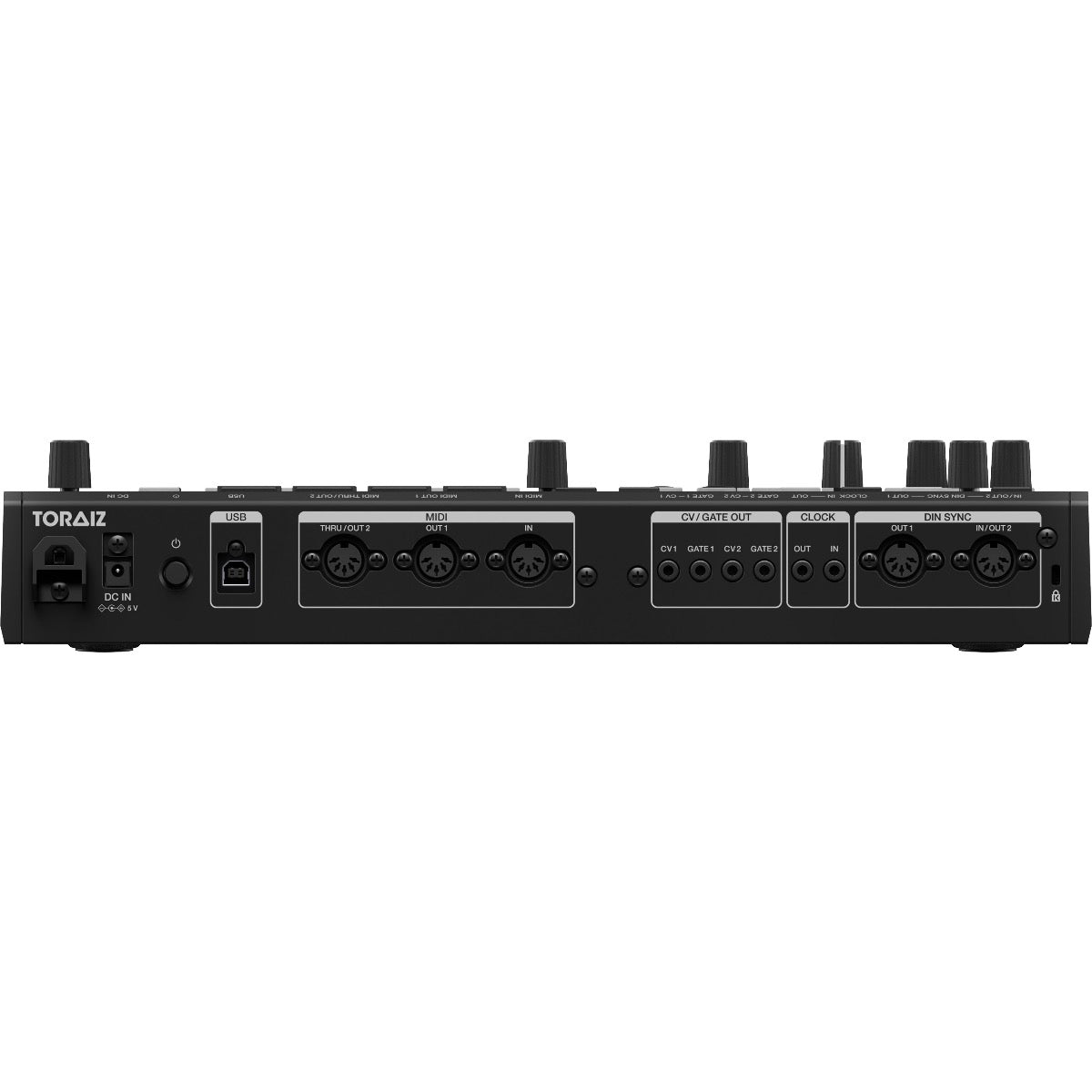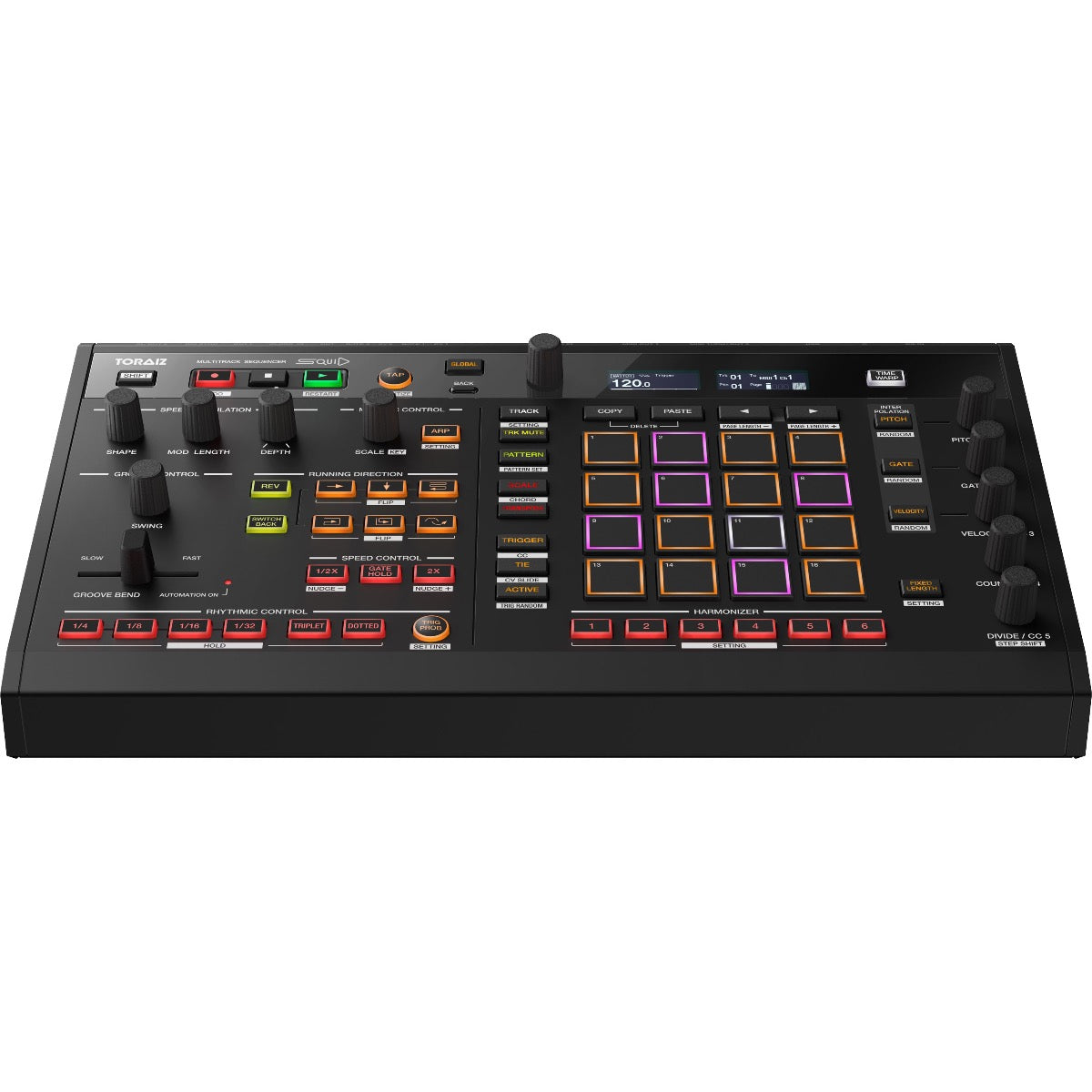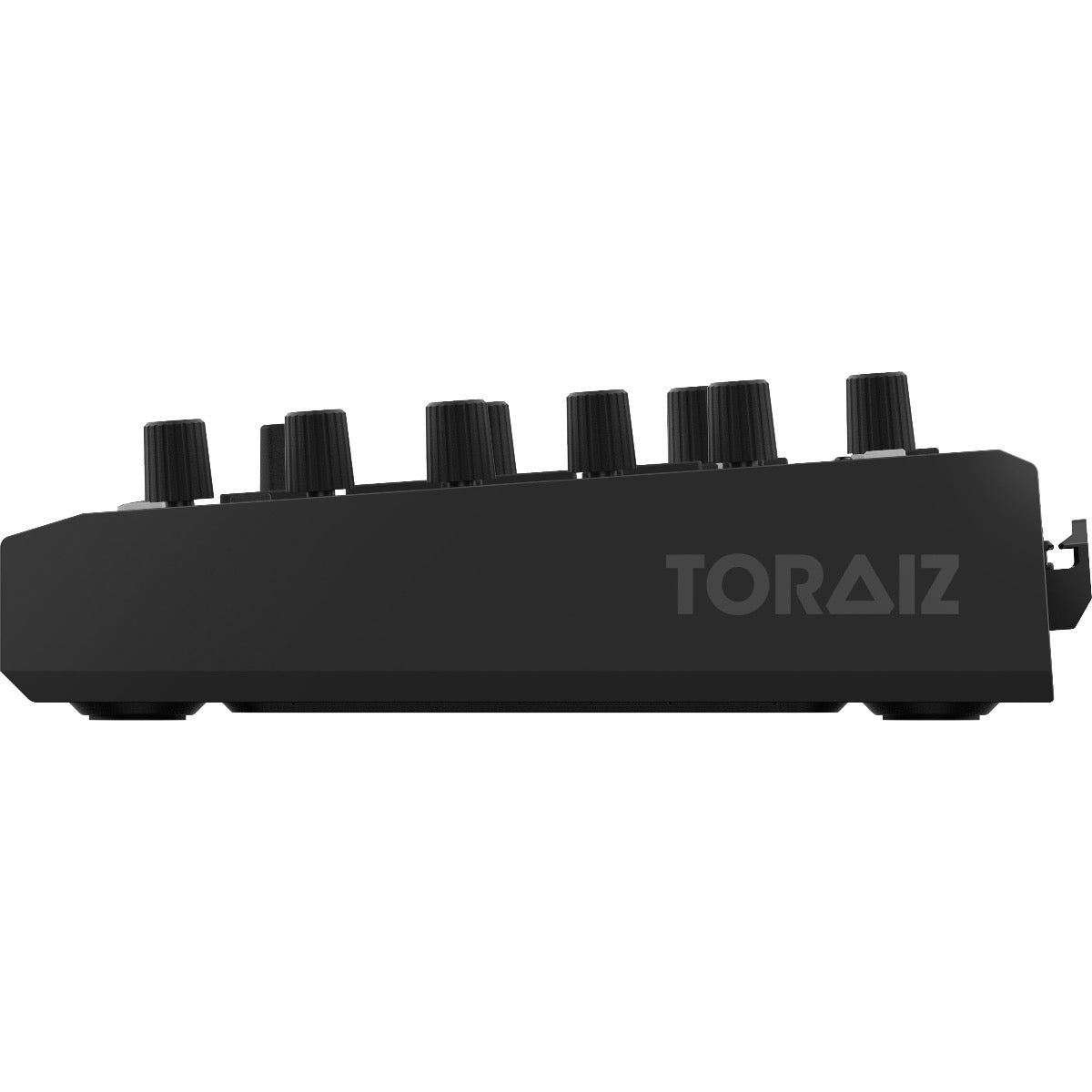 Pioneer DJ Toraiz Squid Multitrack Sequencer
Unlock limitless creativity with the Squid multitrack sequencer. Part of the Pioneer Toraiz series of musical instruments and production equipment, this inspirational tool will be the heartbeat of your studio and live setups. Squid will control your workflow and give you the chance to develop new styles of music as you create unique sequence patterns and phrases at the touch of a button. Connect, sync and simultaneously control up to 16 instruments via its multiple inputs and outputs, which are compatible with various equipment including your DAW, hardware instruments, modular synthesizers, vintage synthesizers and drum machines.
Perfect for on-the-fly music production, the layout and controls are effortless to navigate so your ideas will come to life the moment inspiration strikes. This production tool enables you to randomize sounds, sequences, and drums – all in key. Access endless polyrhythmic looping options and instantly change the playback direction and/or speed. With the innovative Groove Bend feature, you'll really feel the groove as you generate original rhythms in real time. And by controlling everything in one place, you can focus on developing phrases.
16 multicolored LED pads for enabling various features
Interpolation: instantly make a phrase
Harmonizer: intuitively create evolving phrases
Speed Modulation: create unique grooves by fluctuating playback speed of sequence patterns
Running Direction: easily create new phrases
Groove Bend: change trigger timing in real time
Intuitive workflow
Have fun creating phrases by tapping the 16 multicolored LED rubber pads in the Step Edit section. Set step parameters and play live as if the pads were keys on a keyboard. Combine various sequence functions such as Interpolation and Harmonizer to help build your sounds.
Arrange phrases in real time
Rearrange phrases you've created in the Step Edit section to craft your ideas the instant they spring to mind. Enhance your sounds with performance features, such as Running Direction, Speed Modulation and Groove Bend.
Save your happy accidents
Squid records performance information in the background so you'll never lose phrases you create accidentally. When you're experimenting and hear something you love, use the Time Warp feature to recall and save it as a sequence pattern for your next track.
Connect various instruments
Squid has a USB B terminal, MIDI terminals, 2 sets of CV/gate outputs, and clock and DIN sync input/output terminals. This means you can combine the power of your DAW with modern, modular and vintage synths, as well as drum machines. Signals are converted automatically.
Import and export fast
Quickly transfer sequence patterns, projects and MIDI clips between Squid and your Mac or PC with the Squid Manager function. Easily import a sequence pattern created on your DAW to Squid, instinctively arrange it using the sequencer's features and return it to your DAW.
SKU
PDJ-SQUID
MPN
Toraiz Squid
Vendor
Pioneer DJ
Included From Manufacturer
Power supply
Midi
In, Out, Thru, and USB
Mpn
SQUID
Arpeggiator
Yes
Control Connections
(2) 1/8" CV outputs
(2) 1/8" gate outputs
1/8" clock input
1/8" clock output
(2) DIN sync outputs (1 can be used as input)
Product Weight
4.2 lb
Sequencer
16 tracks with up to 64 patterns per track
Up to 8 notes per step
Storage for 128 projects
USB Port (to Host)
MIDI;System Updates;Editor/Librarian/Patch Manager
Width
14.77"
Depth
8.81"
Height
2.84"
Pioneer DJ Americas, Inc. Limited Warranty
Pioneer DJ Americas, Inc. (PDJA) warrants that products distributed by PDJA in the USA and Canada that fail to function properly under normal use due to a manufacturing defect when installed and operated according to the owner's manual enclosed with the unit will be repaired or replaced with a unit of comparable value, at the option of PDJA, without charge to you for parts or actual repair work. Parts supplied under this warranty may be new or rebuilt at the option of PDJA.
This Limited Warranty applies to the original or any subsequent owner of this Pioneer DJ product during the warranty period provided the product was purchased from an authorized Pioneer DJ distributor/dealer in the USA or Canada. You will be required provide a sales receipt or other valid proof of purchase showing the date of original purchase or, if rented, your rental contract showing the place and date of first rental. In the event service is required, the product must be delivered within the warranty period, transportation prepaid, only from within the USA as explained in this document. You will be responsible for removal and installation of the product. PDJA will pay to return the repaired or replacement product to you within the USA.
The product warranty period for DJ Audio and Video products is one (1) year for parts and one (1) year for labor. The warranty period for retail customers who rent the product commences upon the date product is first put into use (a) during the rental period or (b) retail sale, whichever occurs first.
If this product was purchased from an unauthorized distributor, there are no warranties, express or implied, including the implied warranty of merchantability and the implied warranty of fitness for a particular purpose and this product is sold strictly 'as is' and 'with all faults.'
Pioneer DJ shall not be liable for any consequential and/or incidental damages.
This warranty does not apply if the product has been subjected to power in excess of its published power rating.
This warranty does not cover the cabinet or any appearance item, user attached antenna, any damage to records or recording tapes or discs, any damage to the product resulting from alterations, modifications not authorized in writing by Pioneer DJ, accident, misuse or abuse, damage due to lightning or power surges, subsequent damage from leaking, damage from inoperative batteries, or the use of batteries not conforming to those specified in the owner's manual.
This warranty does not cover the cost of parts or labor which would be otherwise provided without charge under this warranty obtained from any source other than a Pioneer DJ authorized service company or other designated location. This warranty does not cover defects or damage caused by the use of unauthorized parts or labor from improper maintenance.
Altered, defaced or removed serial numbers void this entire warranty.
Pioneer DJ limits its obligations under any implied warranties including, but not limited to, the implied warranties of merchantability and fitness for a particular purpose, to a period not to exceed the warranty period. No warranties shall apply after the warranty period. Some states do not allow limitations on how long an implied warranty lasts and some states do not allow the exclusions or limitations of incidental or consequential damages, so the above limitation or exclusions may not apply to you. This warranty gives you specific legal rights and you may have other rights which may vary from state to state.
PDJA has appointed a number of Authorized Service Companies throughout the USA and Canada should your product require service. To receive warranty service you need to present your sales receipt or, if rented, your rental contract showing the place and date of original owner's transaction. If shipping the unit you will need to package it carefully and send it, transportation prepaid by a traceable, insured method, to an Authorized Service Company. Package the product using adequate padding material to prevent damage in transit. The original container is ideal for this purpose. Include your name, address and telephone number where you can be reached during business hours.
Standard Shipping