Skip product carousel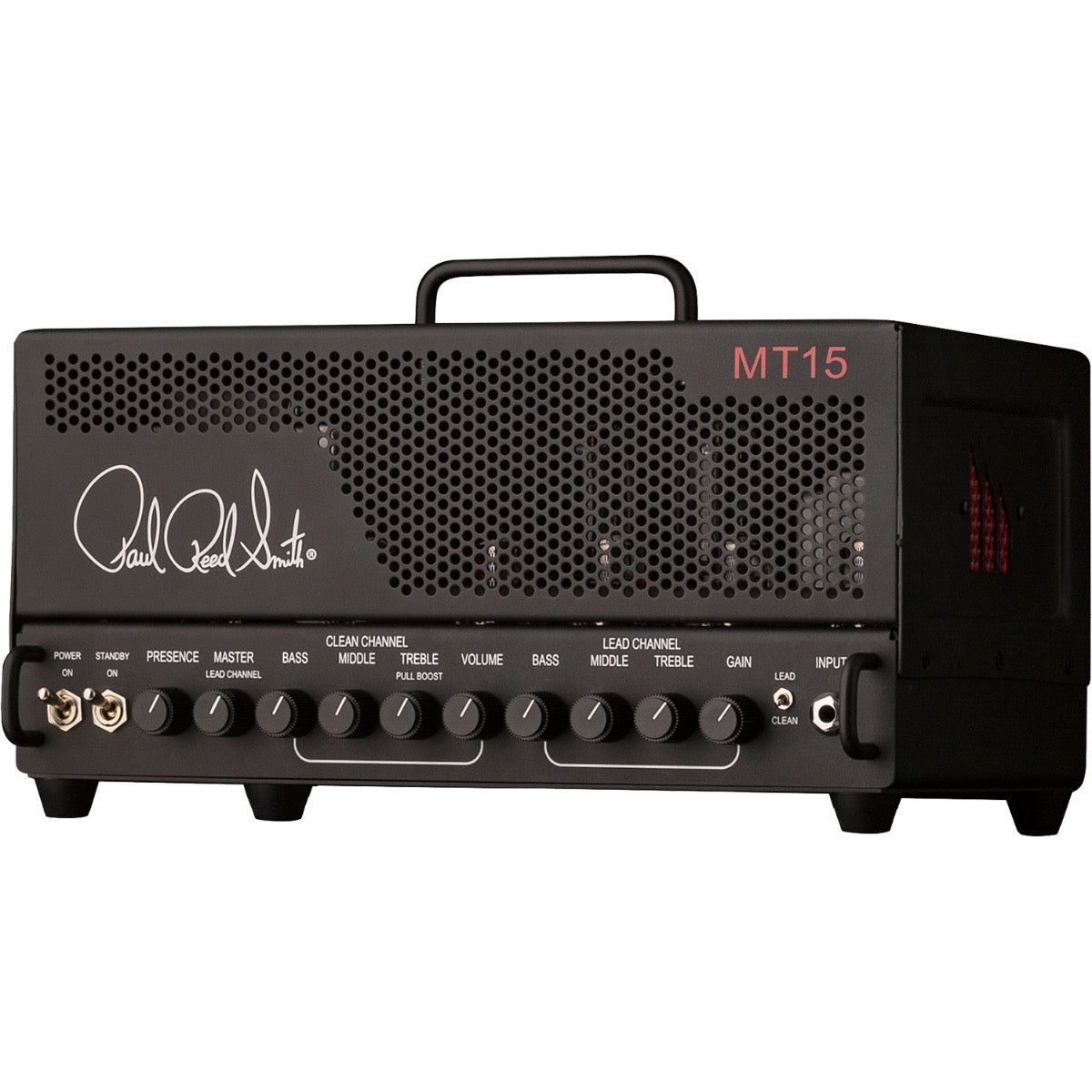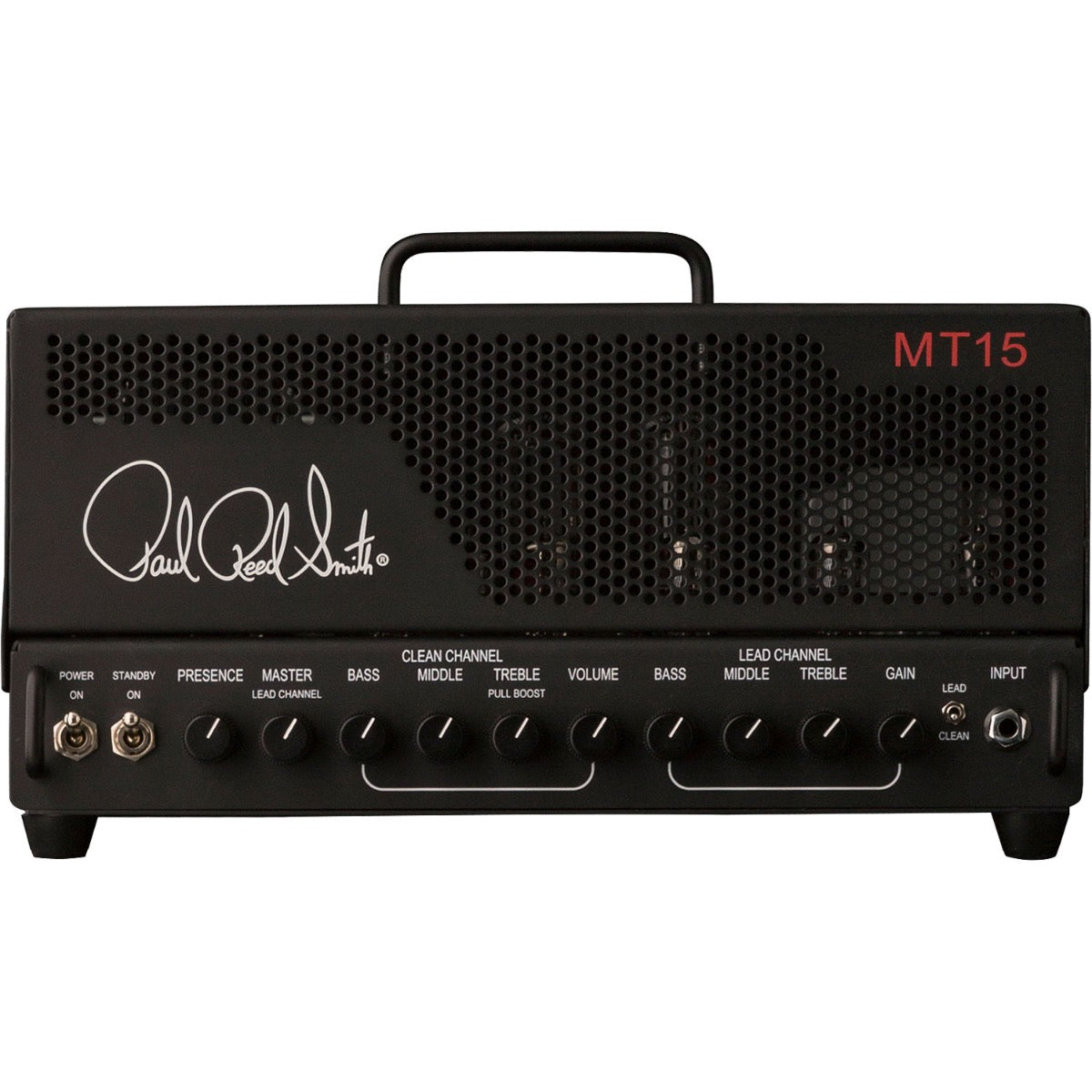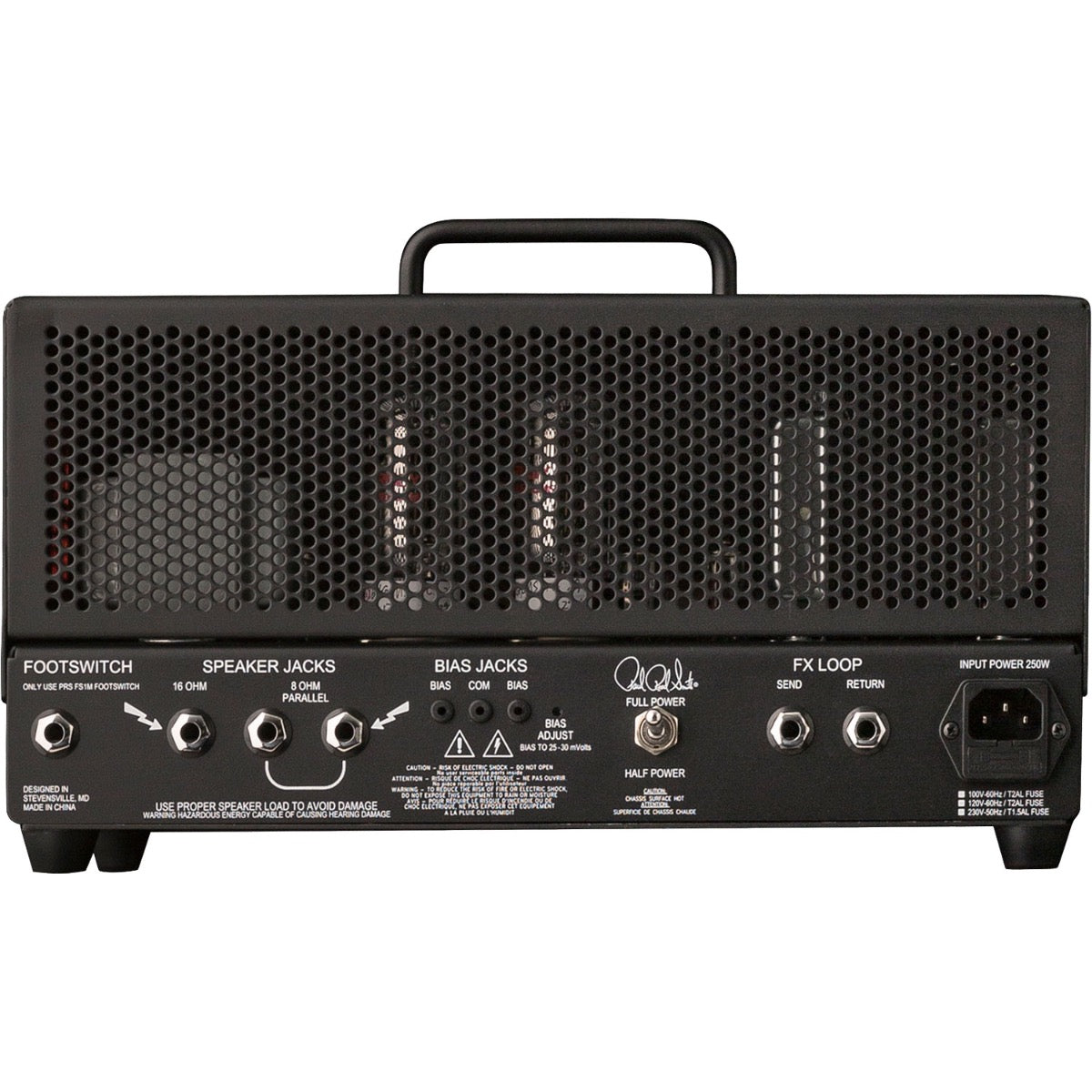 PRS MT15 Mark Tremonti Signature 15W Tube Guitar Amplifier Head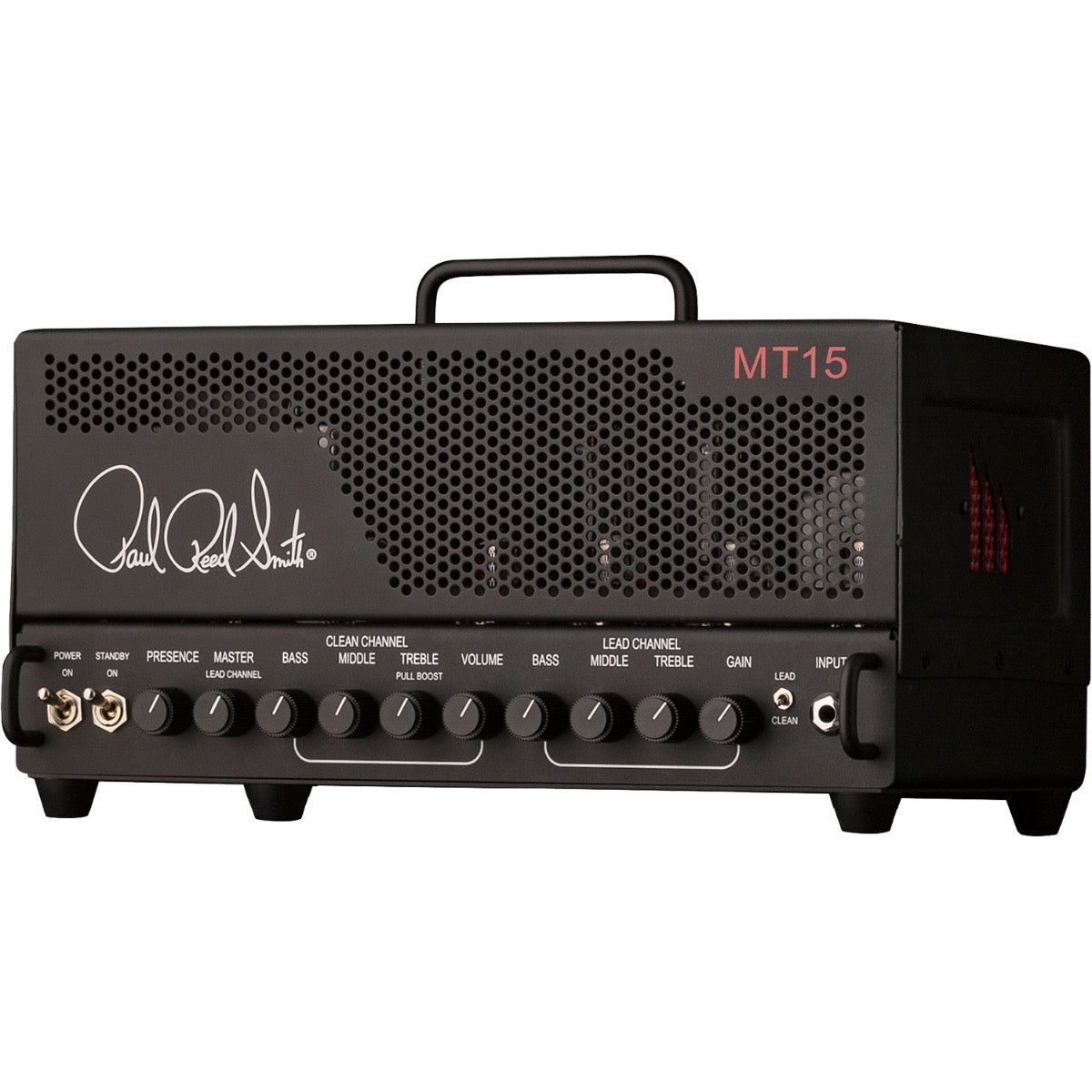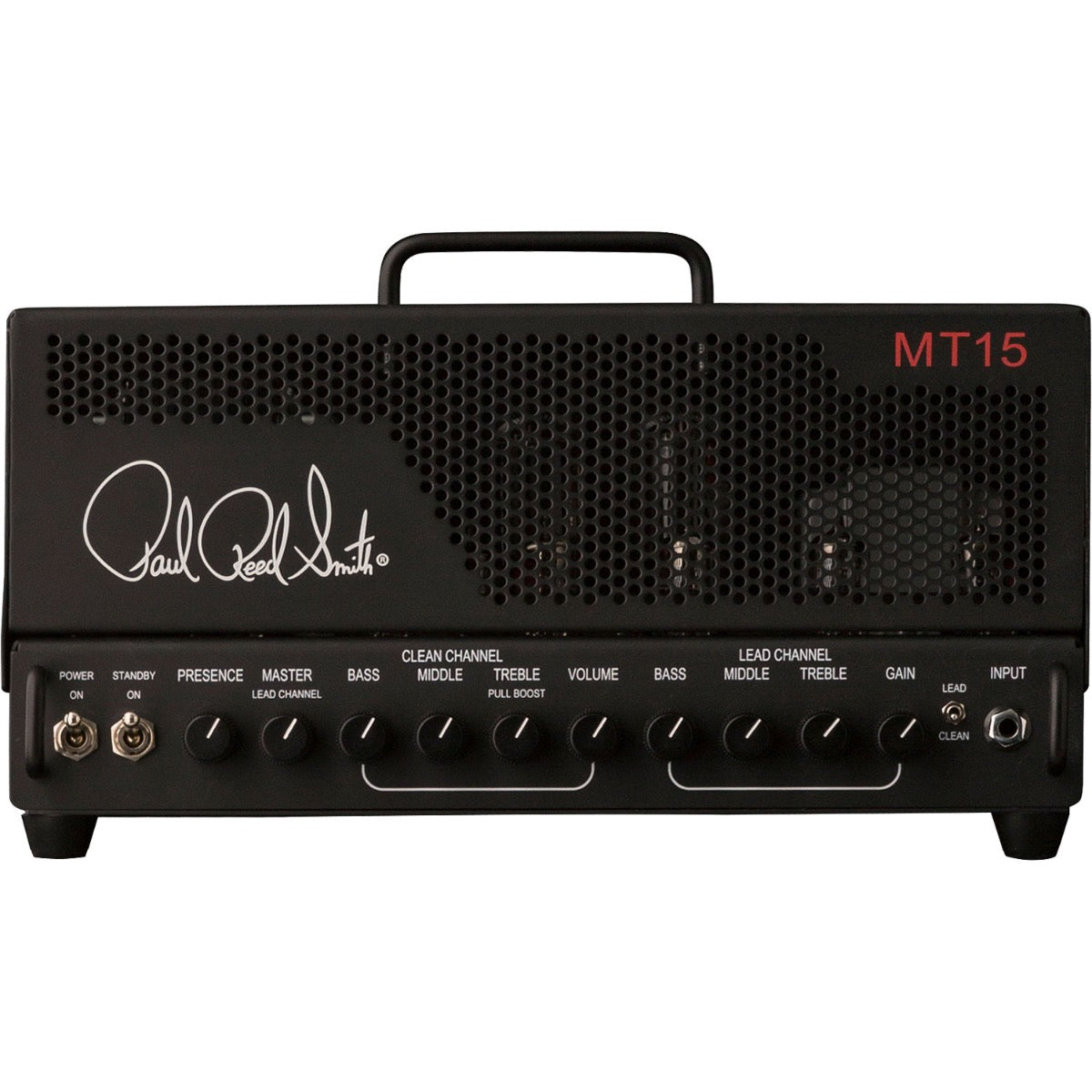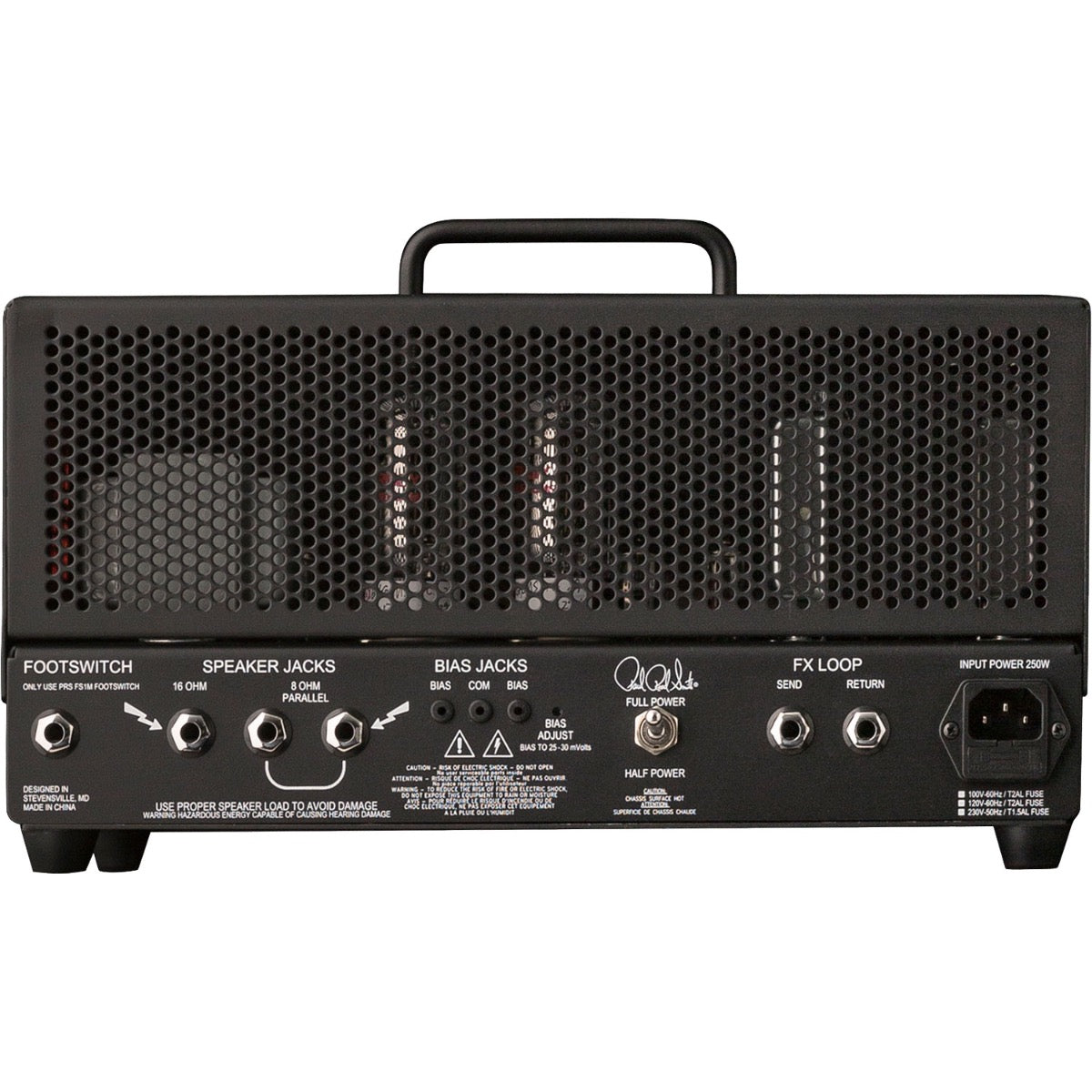 PRS MT15 Mark Tremonti Signature 15W Tube Guitar Amplifier Head
"We knew we wanted a low-wattage amp. The challenge was getting a lot of tone and features in a little box. We're all blown away with how it turned out. It's going to be great for someone to take it out of the box, set everything to noon and have it sound great." —Mark Tremonti
PRS MT15 is a commanding two-channel lunchbox amp head with balanced aggression and articulation. Now packing JJ 5881 power tubes, MT15 punches above its weight class with a large, bold sound so you can dig in heavy with rhythms but also get singing lead tones out of one amp. Whether recording, practicing, writing or playing a small room, this amp has everything you need.
MT15's design started with heavier players in mind, but in the end it has a lot to offer players of all genres. Like PRS Archon, MT15 features five gain stages before the master for full, lush distortion. The gain channel gets big, chunky tone with massive, tight low end, but it never loses its articulate note definition or great lead tone.
The clean channel is bright and chimey, good with chords and fingerstyle playing, with or without a pick. The clean channel also features a push/pull boost control that adds a little overdrive for old school crunch. No matter what tone you dial in, MT15 stays balanced across the spectrum with a sweet, smooth tone that won't bite your head off.
Additional features include an effects loop and bias adjusters that are accessible from the back panel for ease of servicing. Despite its 15 watts, MT15 sounds more like 50, so a half power switch that takes it to 7 watts is a welcome addition.
Bottom line: the amount of features, the hugeness of the sound and the raw horsepower of the circuit make MT15 an impressive lunchbox hero. MT15 is Mark Tremonti's first signature amplifier.
SKU
PRS-AMMTHDU7OL
MPN
MT15
Vendor
PRS
Amp Format
Head
Amp Type
Tube
Included From Manufacturer
Power cord
Mpn
103730::ST--:
Product Unique Features
Half power switch for optional 7W operation
Clean channel push/pull boost switch for optional overdrive
Wattage
15 Watts
Amplifier Application
Electric Guitar
Number of Channels
2
Effects
Overdrive on clean channel activated by treble knob push/pull switch
Effects Loop
Yes
Equalization (EQ)
Separate bass, middle and treble knobs for clean and lead channels
Clean channel treble knob has push/pull switch to engage overdrive
Footswitch
Optional FS1M footswitch (sold separately)
Audio Inputs
1/4" mono main input
1/4" mono effects loop return input
Audio Outputs
1/4" mono 16Ω speaker output
2 × parallel 1/4" mono 8Ω speaker outputs
1/4" mono effects loop output
Power
15W with half power switch for optional 7W operation
Product Weight
17.8 lb
Width
14"
Depth
8"
Height
7.25" with feet
PRS Guitars 5-Year Amplifier Warranty
For a period of five years from the original date of purchase, PRS warrants its amplifiers to be free from defects in materials and workmanship, subject to the limitations contained herein.
Amplifier tubes are warranted for 90 days.
Amplifier speakers are warranted for one year.
This warranty is extended to the original retail purchaser only and may not be transferred or assigned to subsequent owners. In order to validate your warranty and as a condition precedent to warranty coverage hereunder, you must return your warranty registration within thirty (30) days following the original date of purchase. Your proof of purchase or sales receipt must accompany all requests for warranty coverage.
This warranty does not cover:
Any amplifier on which the serial number has been removed or altered.
Any amplifier not purchased from an authorized dealer, or upon which unauthorized repair or service work has been carried out.
Any amplifier which has not been registered at the factory within one month of purchase, or whose warranty card has been altered or includes false or incomplete information.
Any amplifier that has been damaged due to an accident, negligence or misuse, including exposure to extreme humidity and temperature.
Shipping damage of any kind.
Normal 'wear and tear,' including but not limited to any discoloration, fading or damage to the covering or finish, or worn hardware, or any issues not related to the failure of the amplifier or any component part.
Component damage, including but not limited to transformers and output tubes, caused by misuse of speakers, improper speaker load, or absence of speaker load.
PRS makes no other express warranty of any kind whatsoever. All implied warranties, including warranties of merchantability and fitness for a particular purpose, exceeding the specific provisions of this warranty are hereby disclaimed and excluded from this warranty. Some states and/or countries do not allow the exclusion of implied warranties so that the above may not apply to you.
PRS shall not be liable for any special, indirect consequential, incidental or other similar damage suffered by the purchaser or any third party, including without limitation, damages for loss or profits or business or damages resulting from use or performance of the instrument, whether in contract or in tort, even if PRS or its authorized representative has been advised of such damages, and PRS shall not be liable for any expenses, claims or suits arising out of or relating to any of the foregoing.
If at any time during the warranty this amplifier malfunctions due to faulty materials and workmanship, PRS Guitars will, at its sole discretion, repair the defect without charge or replace it with a model of similar specification and value that does not exceed the original purchase price of the amplifier.
To obtain warranty assistance, this guitar must be taken to an authorized PRS Guitars dealer with a copy of the sales receipt to obtain a Return Authorization prior to return to the factory.
All shipping and insurance, including any perceived 'collector' value, are the sole responsibility of the original purchaser.
On arrival at the PRS factory, a determination will be made whether the defect is covered under the terms of the warranty. If the repair is covered under the terms of the warranty, it will be repaired at no cost to the original purchaser including return shipping. If the repair is not covered under warranty, an estimate of the cost of the repair to the original purchaser will be given.
This warranty applies to the United States and Canada. The terms of warranty in other countries are defined by the PRS Distributor in that country and may differ from the above terms, conditions and length.
Standard Shipping