Skip product carousel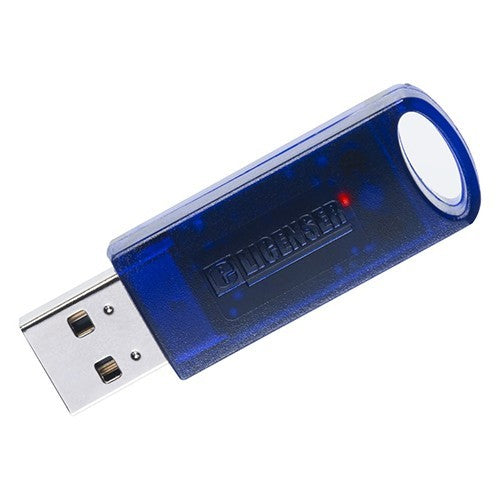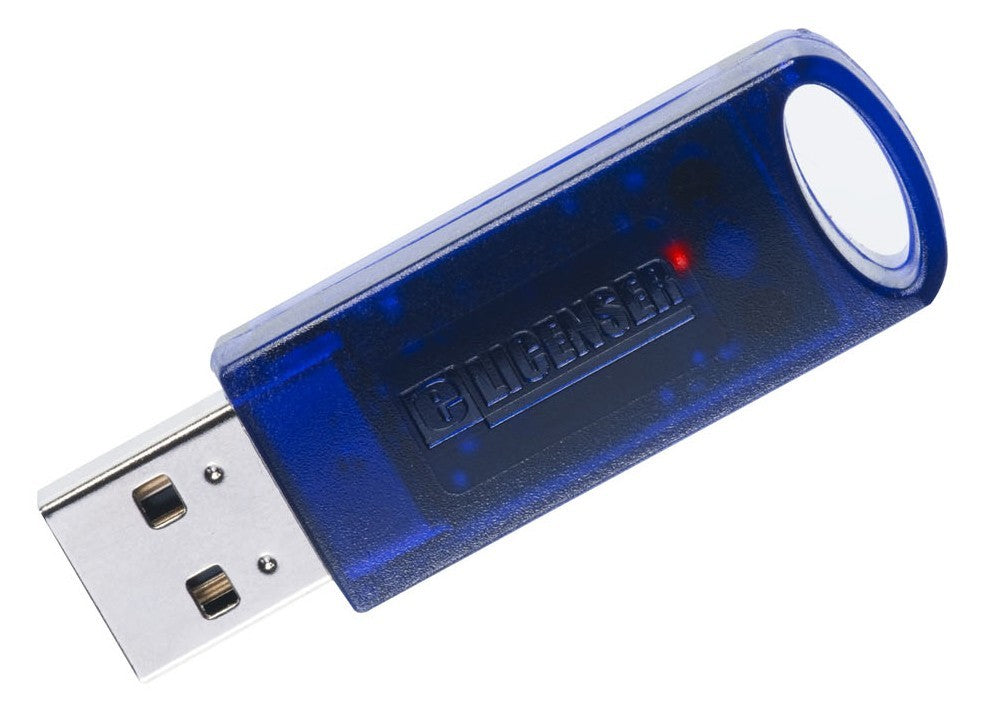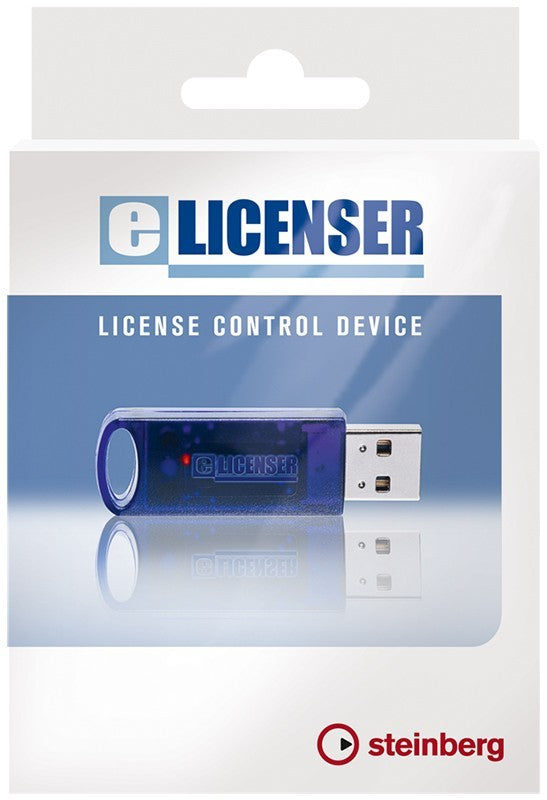 Steinberg USB-eLicenser (formerly 'Steinberg Key')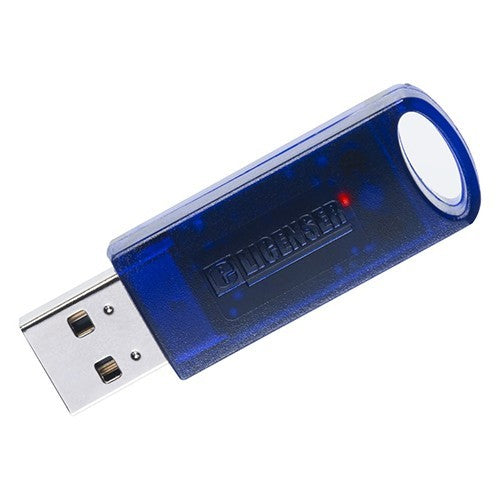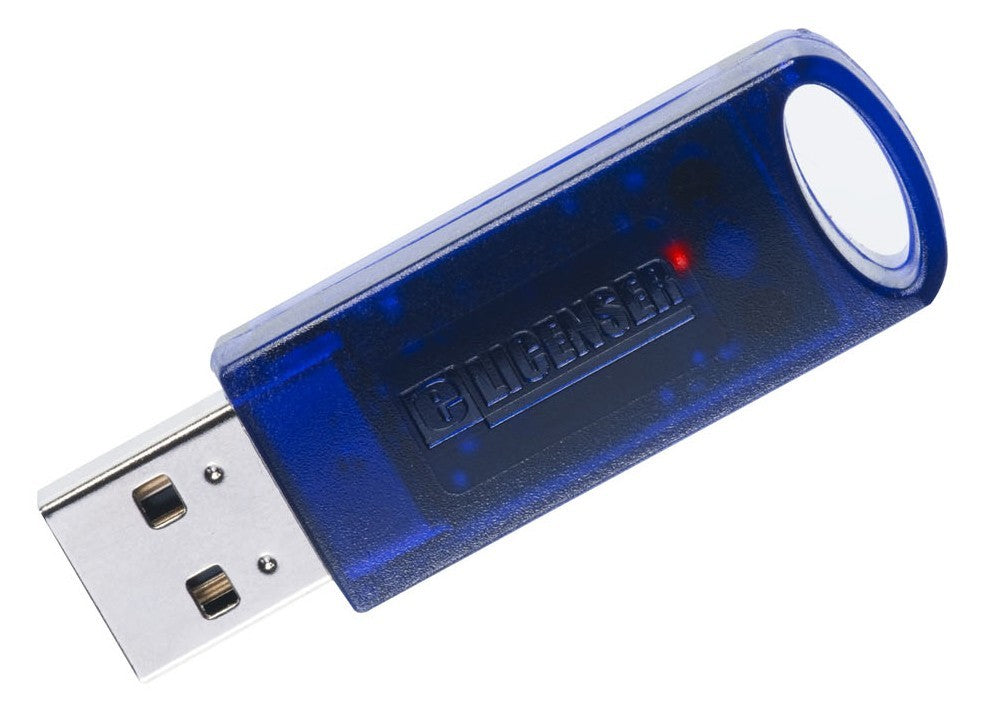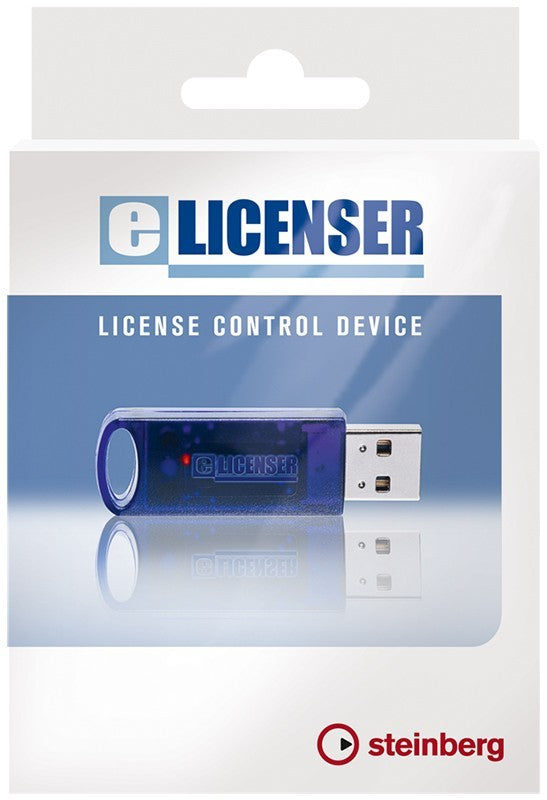 Steinberg USB-eLicenser (formerly 'Steinberg Key')
Steinberg USB-eLicenser (formerly 'Steinberg Key') is a copy protection unit (sometimes called 'dongle') which is needed to use Steinberg's software range. With the host applications Cubase, Nuendo and WaveLab, the USB-eLicenser is already included in the product package. The USB-eLicenser is also required to run Steinberg VST instruments, but is not included in the product boxes and must be purchased separately if no USB-eLicenser/Steinberg Key is already present on the system.
The USB-eLicenser is actually a tiny computer which stores licenses for Steinberg products, and is connected to a USB port on your computer. All current Steinberg products that use a copy protection device use exactly the same system. The Steinberg copy protection system allows the storage of several licenses on the same USB-eLicenser. Licenses can also be transferred between USB-eLicensers with certain limitations. This can be very useful, for example in the unlikely event of a Steinberg customer wishing to sell a product.
USB-eLicenser is included with the following products (up to and including the stated version)*:
Cubase 11

Cubase Artist 11

Nuendo 11

WaveLab 11

USB-eLicenser is not included with the following products:
HALion 6

HALion Sonic 3

The Grand 3

Nuendo Live 2

Yamaha Vintage Plug-in Collection

Rupert Neve Portico Plug-ins

*This applies only for the full version of the product, as updates do not contain a Steinberg Key (USB-eLicenser).
| | |
| --- | --- |
| SKU | SB-KEY |
| Vendor | Steinberg |
| Mpn | 502009050 |
| Manufacturer Part Number (MPN) | 502009050 |
Steinberg Limited Hardware Warranty
Steinberg North America ('SNA') a department of Yamaha Corporation of America ('Yamaha') is the exclusive authorized U.S. importer and distributor of Steinberg products. Only Steinberg hardware products designed and manufactured for the United States meet applicable product safety standards. Only SNA Authorized Dealers can provide new Steinberg hardware products with warranty coverage valid in the United States. Only SNA Authorized Dealers are trained to provide you with service and support before, during and after your purchase. Many retailers attempt to trade on the valuable reputation of the Steinberg name – before you buy from them, SNA would like you to know the potential risks of doing so.
Steinberg's electronic hardware products operate on normal alternating current. The importation, distribution and use of such products not designed for the United States can result in (a) damage to the product; (b) damage to household wiring; (c) fire; (d) loss of insurance coverage and, in some jurisdictions (e) violation of municipal ordinances. Further, any attempt to modify such products to enable them to operate on normal U.S. voltage and current may increase the above risks, and is also likely to void any non-U.S. warranty coverage as may have existed for the product.
SNA provides warranty coverage for new Steinberg products originally sold by Authorized Dealers located in the United States. Steinberg products purchased from retailers other than SNA Authorized Dealers (whether via the Internet, or otherwise) will NOT be covered by Steinberg's warranties, and U.S. service centers will not repair such products under warranty.
All Steinberg hardware product qualifies for a 1 year warranty, including parts and labor.
Please read the Owner's Manual completely. The information provided in this manual covers installation, operation, safety precaution and, where applicable, routine maintenance.
Should warranty service be required, you will need to be able to provide reasonable proof of purchase. Please save your sales receipt or other similar document. In the case of contractor–installed equipment, a photocopy of the site acceptance document would be considered acceptable.
Notify your SNA Dealer of any alleged defect promptly upon discovery or contact SNA Support directly.
Products not specifically marketed for installation in areas exposed to the elements (sun, wind, rain, etc.) are not covered for defects that are attributable to this type of installation.
Products sold by retailers or sound contractors NOT authorized by SNA to sell Steinberg hardware products and those products whose trademark, name or identification numbers have been altered or removed are not covered by this warranty.
Product failures that are the result of abnormal strain, negligence, misuse, improper installation or operation, or failure to follow instructions contained in the owner's manual. Abuse, modification, or accidental damage are not covered by this warranty.
RFI/EMI (interference/noise) caused by improper grounding or the improper use of either certified or uncertified equipment is not covered by this warranty.
Products that have been, or have attempted to have been, repaired by anyone other than SNA or a party authorized by Steinberg.
This warranty is applicable for product purchased and used in the fifty (50) states of the USA and the District of Columbia only. It is not applicable in the possessions or territories of the USA or in any other country. This is the only express warranty which Yamaha makes in connection with the above listed products. Any implied warranty applicable to these products, including the warranty of merchantability, is limited to the duration of the express warranty. Yamaha excludes and shall not be liable in any event for incidental or consequential damages. Some states do not allow limitations on how long an implied warranty may last. Therefore, these limitations and exclusions may not apply to you. This warranty gives you specific legal rights. You may also have other rights which vary from state to state.
Standard Shipping