Skip product carousel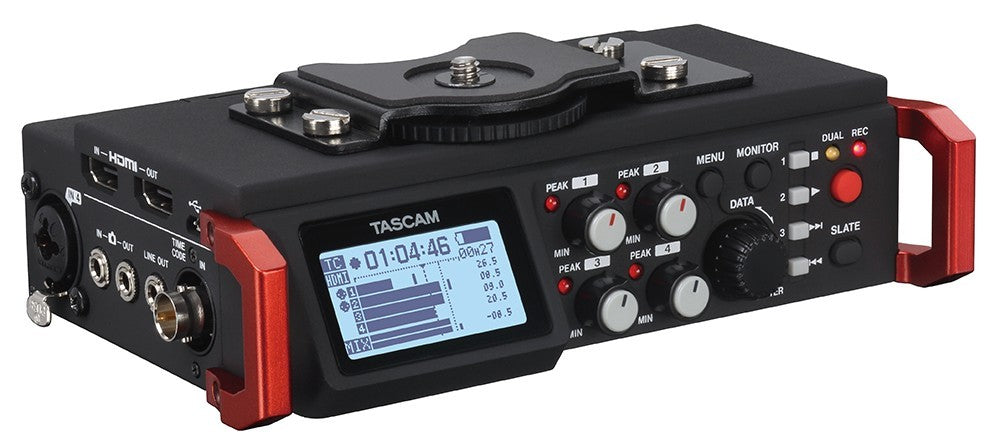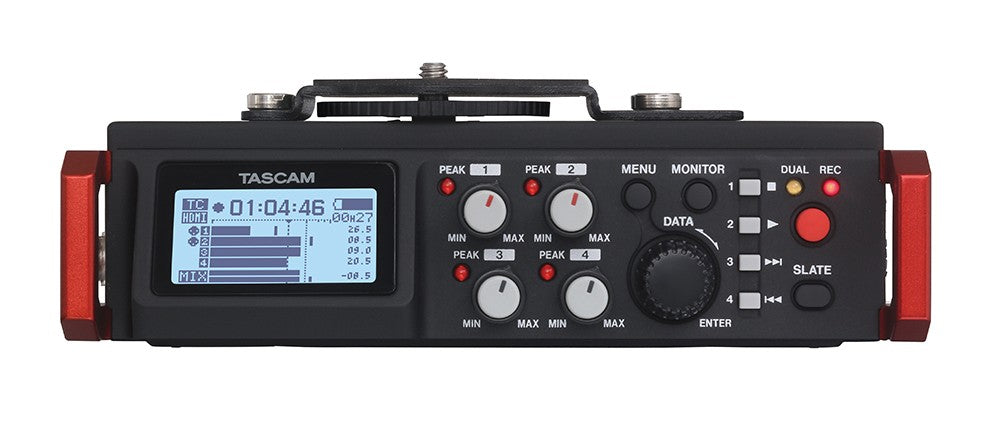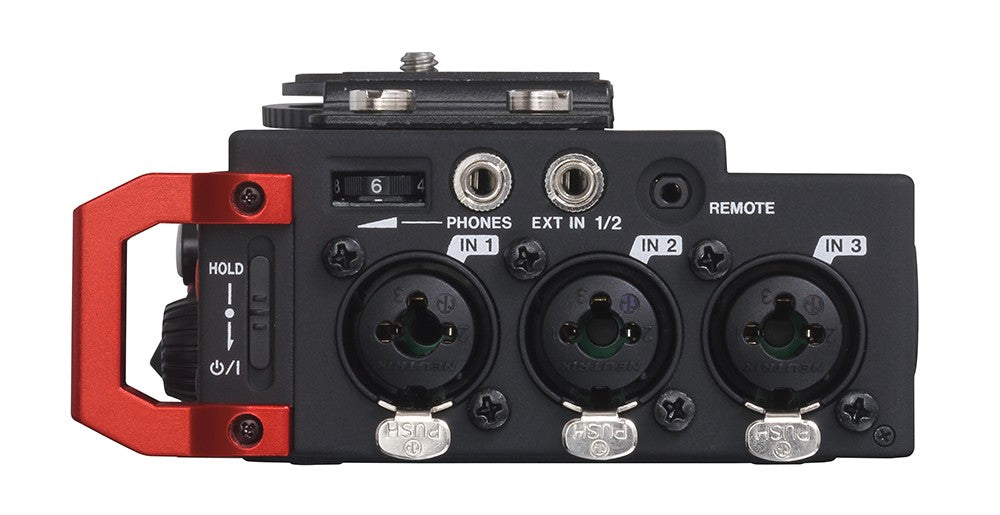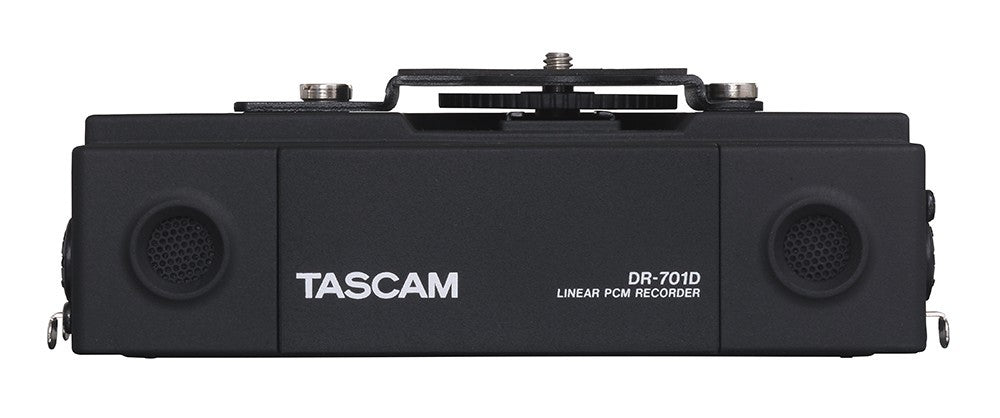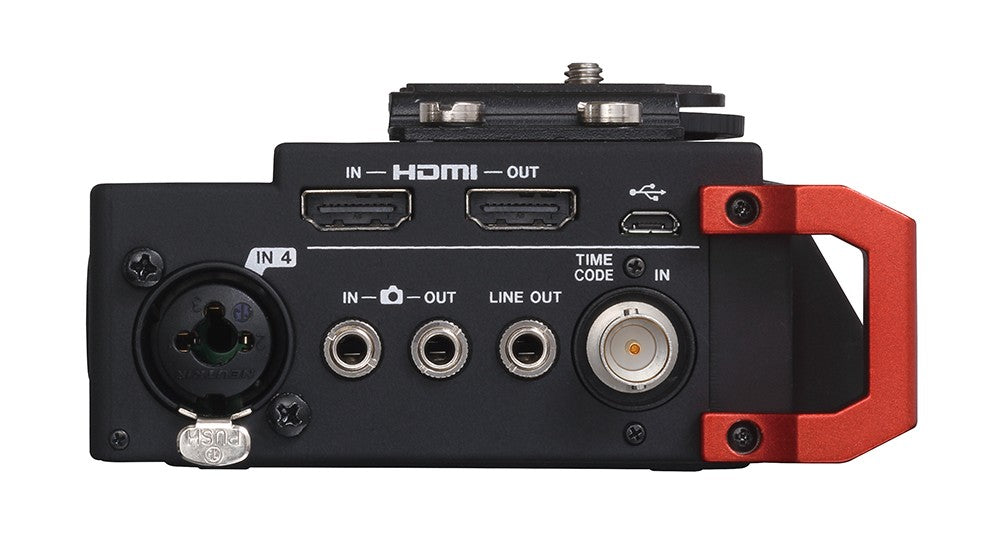 TASCAM DR-701D Professional 6 Track Audio Recorder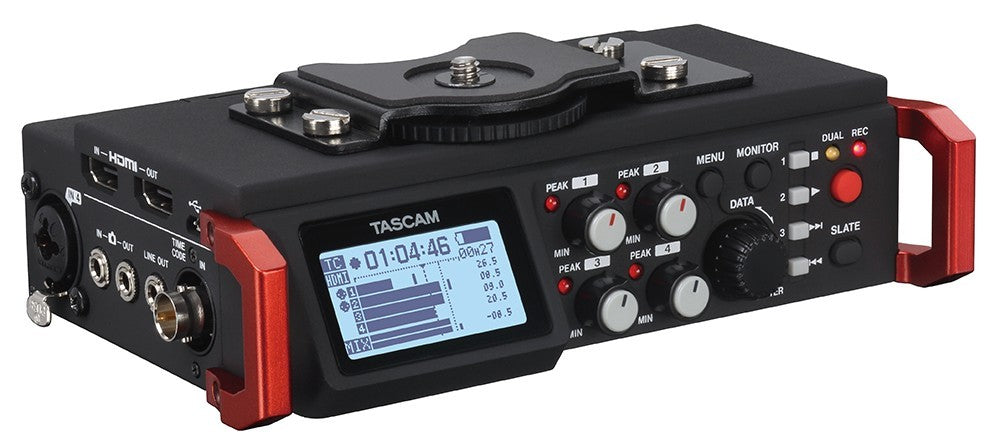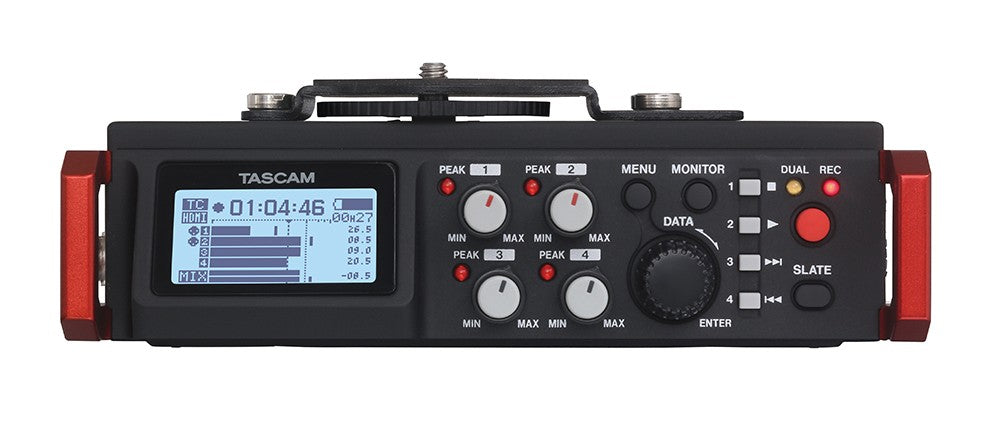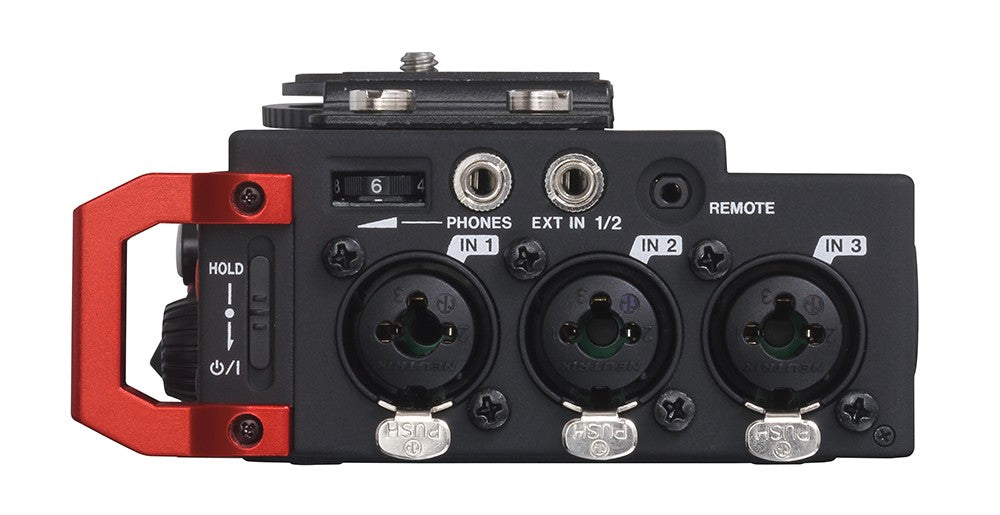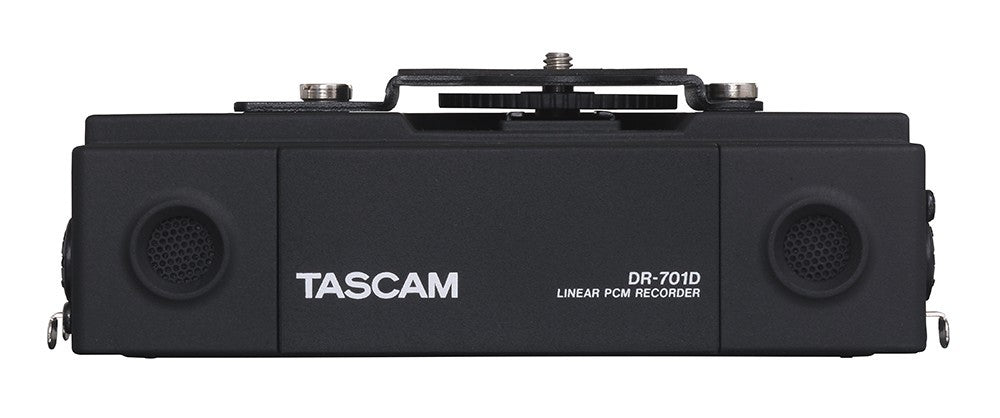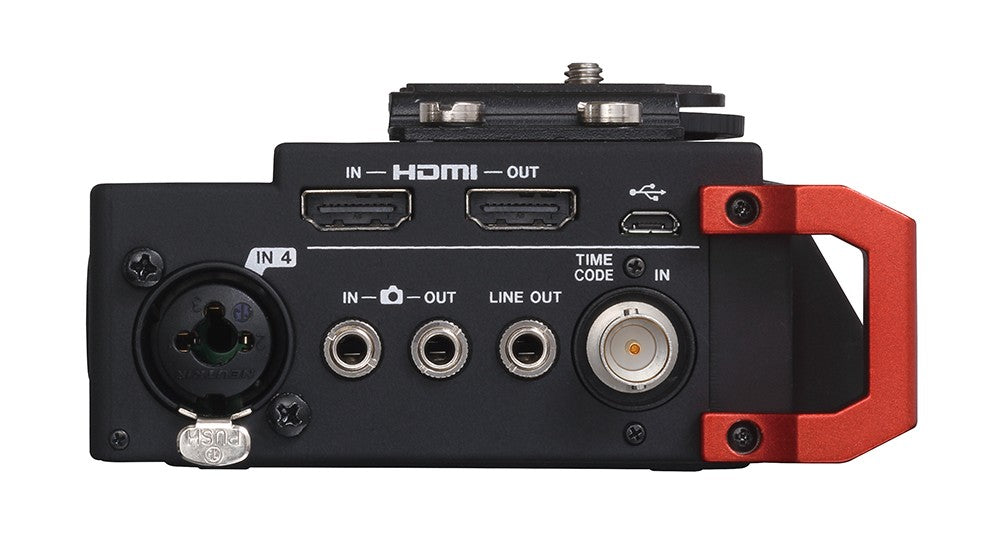 TASCAM DR-701D Professional 6 Track Audio Recorder
The DR-701D is TASCAM's flagship recorder for single-shooter video production. A timecode generator is included for location reference, which can be jam synced from a SMPTE generator, camera, or smart slate. The HDMI in and out allows a DSLR camera to start recording on both devices, and video clock prevents drift between sound and picture.
Four mic inputs can be individually recorded and mixed to a stereo track, for a total of six-track recording. For additional tracks, multiple units can be cascaded together. The lightweight yet rigid chassis is forged from a magnesium alloy. Tripod mounts on the top and bottom of the unit allow the unit to mount under a camera, attach to a follow-focus cage, or used stand-alone.
Designed for the needs of professional filmmakers, television producers, advertisers, and documentarians, the DR-701D packs high quality multitrack recording into a package compact enough for use with any camera.
SD/SDHC/SDXC cards used for recording media.
6 maximum simultaneous recording tracks
MONO, STEREO, 2MIX, DUAL MONO, DUAL ST and DUAL2MIX recording modes
Recording formats: 16/24-bit, 44.1/48/96/192kHz (WAV/BWF) (192kHz only for two-track recording)
Built-in original TASCAM HDDA mic preamps provide high audio quality
Input levels can be adjusted separately for each track
XLR/TRS inputs support +4dBu line level and 24/48V phantom power
Clock and record start/stop can be synchronized with a camera using the HDMI port
DR-701D audio signal can be output to an external camera or recorder from the HDMI OUT or line output
Cascade function using HDMI connections allows multiple DR-701D transport and monitoring operations
SMPTE Timecode can be input through the TC IN connector to add recording start times to files
Timecode generator (RTC) allows recording start times to be added to files even when there is no timecode input
Plug-in power mics and high output mics (EXT IN 1/2) supported
OUT (CAMERA OUT) connector can output audio mixed by the DR-701D to a DSLR camera
IN (CAMERA IN) connector enables monitoring the sound from a DSLR camera through the DR-701D
High quality audio output through a line output jack separate from the headphones jack
Headphones jack with 50mW+50mW maximum output
Tripod attachment threads (bottom), camera screw attachment that can be installed or removed with a coin (top) and shoe mount (top) included
Handles on the left and right sides of the front protect the control surface and also enable attachment of a shoulder strap
Transport and SLATE buttons made of rubber suppress noise during operation
HOLD switch prevents misoperation
128×64-dot graphic LCD with backlight
LED lights have high visibility even in direct sunlight
High-speed transfer of files to computers possible using USB 2.0
Micro-B type USB cable included
Powered by 4 AA batteries, USB bus power or a PS-P515U AC adapter (sold separately)
BP-6AA external battery pack (sold separately) enables operation for even longer times
Optional RC-3F foot switch and RC-10 wireless remote control can be connected (both sold separately)
Built-in mixer enables pan and level adjustments as well as solo monitoring and can output a mix of 4 channels
GANG function allows the levels of multiple channels to be controlled simultaneously
Individual channel trim settings shown
5-position low-cut filter (50/80/120/180/220 Hz) cuts unwanted low frequencies
Multiband limiter automatically adjusts input overloads (stereo-linking possible with 1/L and 2/R)
Delay function can compensate for distances between mics (+/-150 ms)
Mid-side decoder function enables use with mid-side stereo mics
Slate tone insertion functions (AUTO/MANUAL)
Slate tone insertion points can be selected (recording start or recording start and stop when slate AUTO function used)
SKU
TAS-DR701D
Vendor
TASCAM
Max Sample Bit
192 kHz / 24-bit
Mpn
DR-701D
Batteries
4 x AA
File Formats Supported
WAV;BWF
Audio Inputs
4 x XLR/TRS
1 x 1/8" EXT IN
Audio Outputs
2 x 1/8" Stereo
1/8" Stereo Headphone
Maximum Storage Capacity
128 GB
Microphones
2 x Omni Condenser
Power Adaptor
TASCAM PS-P515U (sold separately)
Product Weight
1.25 lbs (without batteries)
Recording Format Details
WAV
Reference Speaker
No
Stand Mountable
Yes
Storage Format Details
SD card(64MB to 2GB), SDHC card(4GB to 32GB), SDXC card(48GB to 128GB)
Storage Format
SD Card
Number of Tracks
6
USB Functionality
Power;File Transfer/Storage
Width
6.65"
Depth
2.26"
Height
4.47
TASCAM/TEAC Limited Warranty
This warranty gives you specific legal rights, and you may also have other rights which vary from state to state. This warranty is only valid within the country the unit was originally purchased.
Except as specified below, this warranty covers all defects in material and workmanship in this product. The following are not covered by the warranty:
Damage to or deterioration of the external cabinet.
Damage resulting from accident, misuse, abuse, or neglect.
Damage resulting from failure to perform basic daily maintenance and/or calibration, or otherwise resulting from failure to follow instructions contained in your owner's manual.
Damage occurring during shipment of the product (claims must be presented by the carrier).
Damage resulting from repair or attempted repair by anyone other than TEAC or an authorized TASCAM service station.
Damage resulting from causes other than product defects, including lack of technical skill, competence, or experience of the user.
Damage to any unit which has been altered or on which the serial number has been defaced, modified, or removed.
This warranty may be enforced only by the original purchaser.
All parts except heads and disk drives are warranted for one (1) year from the date of original purchase for products not used for commercial purposes. For products used commercially, the warranty is ninety (90) days for magnetic heads & optical pickups, one (1) year for other parts, & ninety (90) days for labor.
TASCAM will pay all labor and material expenses for items covered by the warranty. Payment of shipping charges is discussed in the next section of this warranty.
Your unit must be serviced by an authorized TASCAM service station in the United States. (This warranty is not enforceable outside the U.S.) If you are unable to locate an authorized TASCAM service station in your area, please contact TASCAM. TASCAM either will refer you to an authorized service station or instruct you to return the unit to the factory.
Whenever warranty service is required, you must present both the original dated sales receipt and this warranty statement as proof of warranty coverage.
You must pay any shipping charges if it is necessary top ship the product for service. However, if the necessary repairs are covered by the warranty, we will pay return surface shipping charges to any destination within the United States.
Any implied warranties, including warranties of merchantability and fitness for a particular purpose, are limited in duration to the length of this warranty.
TEAC's liability for any defective product is limited to repair or replacement of the product, at TEAC's option. TEAC shall not be liable for:
Damages bases upon inconvenience, loss of use of the product, loss of time, interrupted operation or commercial loss
Any other damages, whether incidental, consequential or otherwise
Some states do not allow limitations on how long an implied warranty lasts and/or do not allow the exclusion or limitations of incidental or consequential damages, so the above limitations and exclusions may not apply to you.
Standard Shipping