Skip product carousel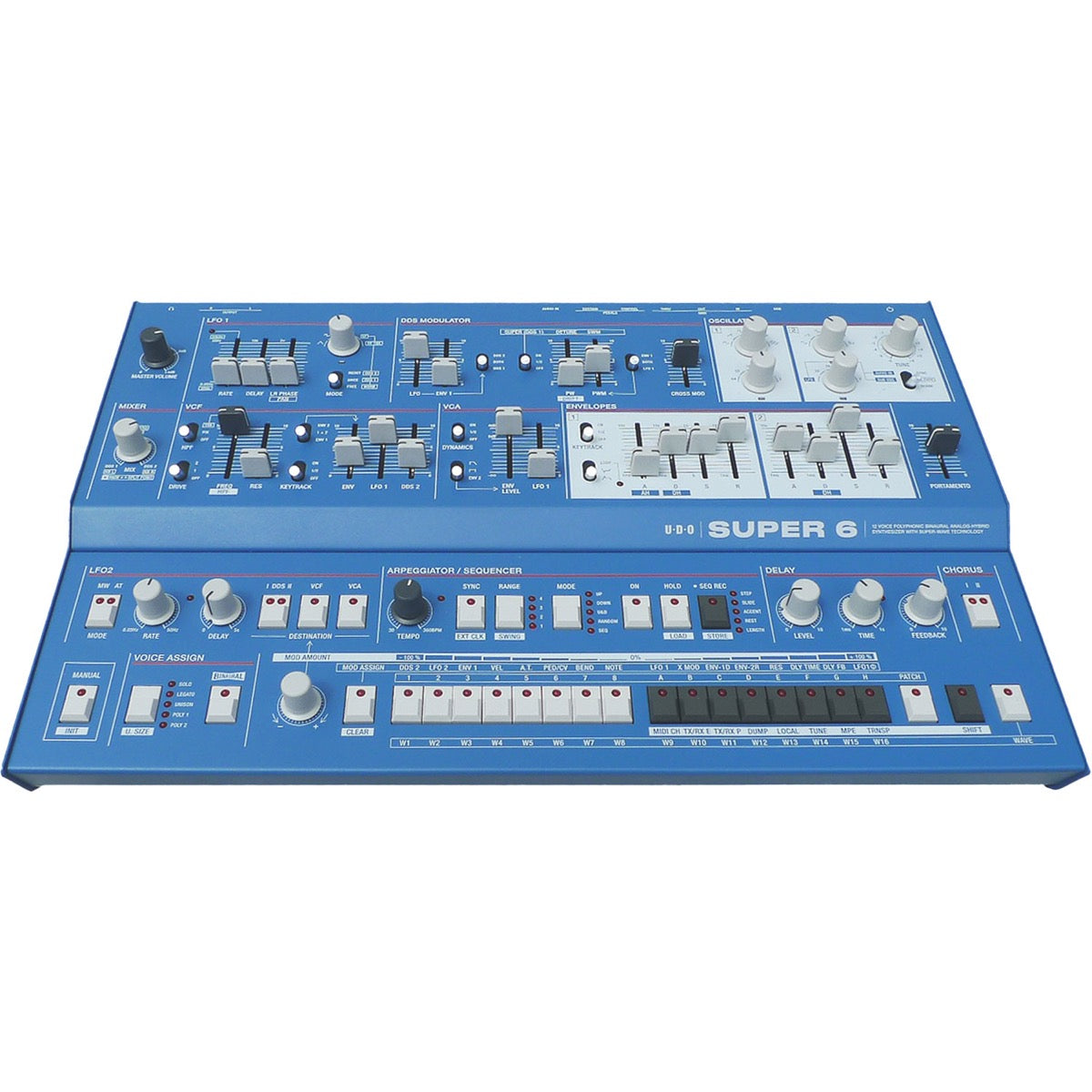 UDO Audio Super 6 Desktop 12-Voice Polyphonic Synthesizer - Blue CABLE KIT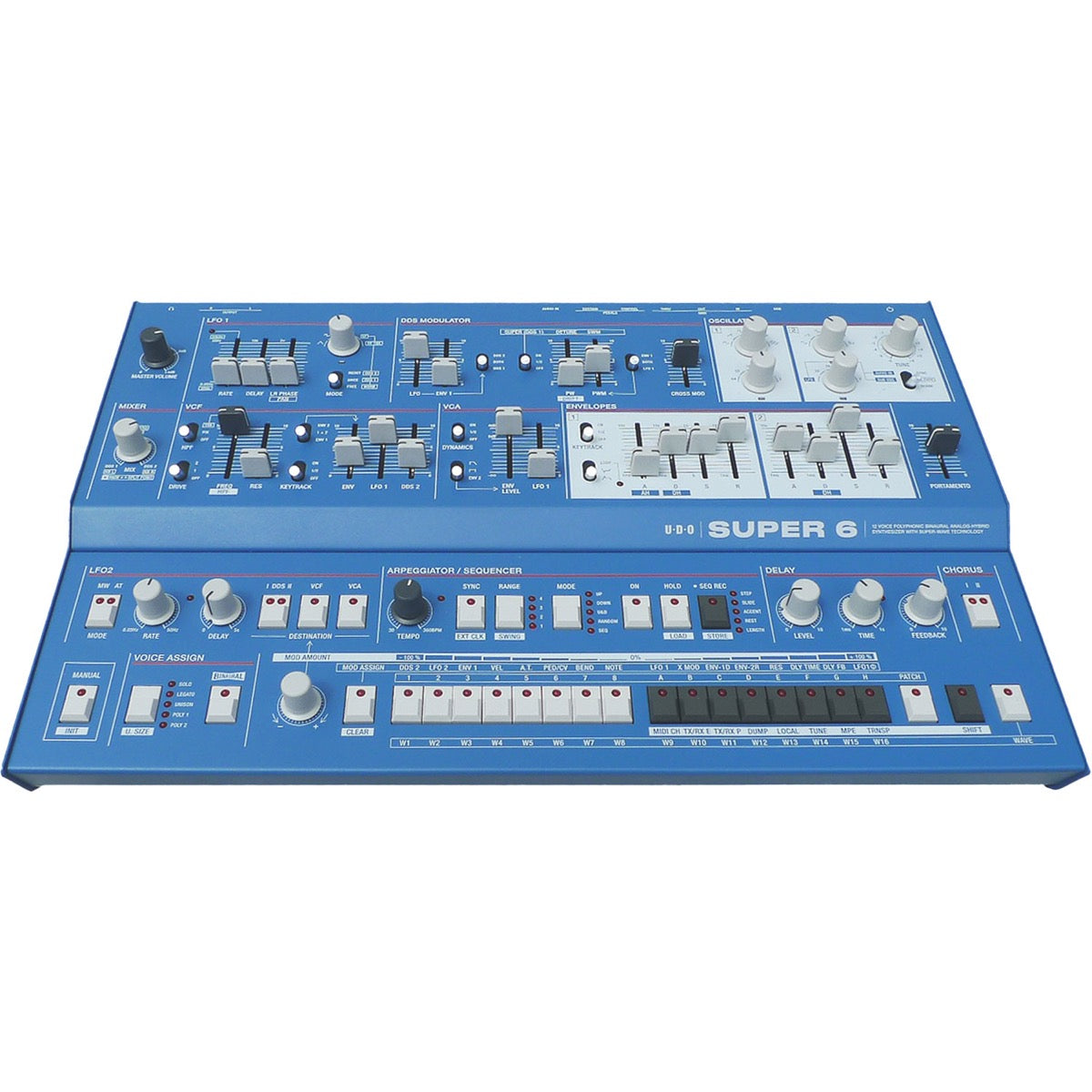 UDO Audio Super 6 Desktop 12-Voice Polyphonic Synthesizer - Blue CABLE KIT
7 items included
This Kraft Music Bundle Includes
Click on a product to view more details.
UDO Super 6 is a 12-voice polyphonic analog-hybrid synthesizer. A harmonious marriage of state-of-the-art FPGA digital hardware oscillators and voltage-controlled analog technology, Super 6 is flexible, immediate, powerful and refined with a gorgeous analog tone. Rich and evolving textures are easily teased from the unique Super-wave core and can be shaped and manipulated with the binaural analog signal path and flexible modulation capabilities. Robust, compact and versatile: Super 6 is a truly vibrant and inviting instrument that cries out to be played.
12-voice polyphonic, analog-hybrid synthesizer in a compact, all-metal desktop chassis
Binaural analog signal path for stereo movement and spatial effects
SSI2144 resonant low pass analog filter based on Solid State Micro SSM2044
7-core Super-wave main oscillator with waveform download
Second oscillator with FM, sync, sub oscillator and crossfade modes
Flexible, hybrid FPGA and analog voice architecture
Multipurpose, flexible LFOs, envelopes and intuitive modulation matrix
Multi-mode arpeggiator and 64-step sequencer
Dual stereo 24-bit digital chorus and delay effects
128 rewritable patch storage locations with 64 factory presets
External audio input with threshold-based envelope and LFO triggering
Superior build quality, easy access buttons, sliders, knobs and a menu-free interface
Optional 7U rack ears (sold separately)
VESA mount compatible
Robust flip-up feet
MPE controllable
Firmware update v0.52
The latest firmware brings some exciting features to Super 6, including a pedal-powered freeze effect for the built-in delay, binaural pulse width modulation and support for both MPE and polyphonic aftertouch from capable controllers. Run the update and you'll also get some extra LFO modulation options, additional transport control for the sequencer and improved responsiveness for all onboard controls.
Super 6 Desktop
Offering the flexible and immediate control, gorgeous analog sound and unrivaled build quality of Super 6 but in a more compact package, Super 6 Desktop is a fully-featured Super 6 analog-hybrid 12 voice synthesizer housed in an all-metal chassis. Super 6 Desktop also boasts ergonomic features such as VESA mount compliance, optional rack ears (7U, sold separately) and robust flip-out tilt-up feet. This limited edition model comes in a blue finish.
Super voices: what is binaural?
Binaural refers to the twin synthesizer signal paths. In Binaural mode, each channel 'ear' has a complete synthesizer voice. You can detune and de-phase the left and right oscillators, amplitude and filter (and other parameters) relative to each other. Ranging from subtle to extreme, this unique feature allows for experimenting with the 'width' of the sound and creates an improved sense of 3D positioning relative to conventional mono signal chains panned at the output. It has in this sense six 'super voices' that each use two 'conventional' voices, hence Super 6!
Analog voice architecture
Super 6's main filter is an analog 4-pole, 24 dB per octave, resonant low pass filter using a classic polysynth filter design from Sound Semiconductor. It is preceded in the signal chain by a voltage-controlled high pass filter that can optionally track the low pass filter cutoff frequency for band pass operation. Super 6 also contains an analog amplifier section to further shape your sound.
Massive modulation without menus
Super 6 puts enormous flexibility at the player's fingertips through simple controls and a carefully designed front panel. Going deeper, there is an intuitive and immediate modulation system based around the performance area switches. For those who want to go further, every panel control can be targeted for modulation, all simultaneously and all with unique amounts.
Inspired by the classics, built for today
Super 6 is an instrument borne of a long-held passion for synthesizers. In designing Super 6, UDO Audio sought to create an instrument that feels familiar at first glance but offers new and inspiring opportunities when delving deeper. The layout and aesthetic is an homage to some of the classic synthesizers that have inspired the designers for many years; Super 6's features and capabilities bring these ideas firmly into the 21st century.
Designing Super 6
An instrument is cherished not just for the way it sounds but for the way it feels to play and the connection it creates with the player. With this in mind, UDO Audio worked tirelessly on the physical design of the instrument to create an immediate connection with the player. There has also been no expense spared on the build quality, with a rugged metal housing and solid control elements throughout.
SKU
UDO-SUPER6DESKBLCK
Vendor
UDO Audio
Aftertouch
Yes
Analog Digital
Hybrid
Built In Speakers
No
Included From Manufacturer
Power cord
Key Num
None
Midi
In, Out, Thru, and USB
Mono Poly
Polyphonic
Mpn
SUPER6DESKBL
Product Unique Features
Binaural analog signal path for stereo movement and spatial effects
Flexible, hybrid FPGA and analog voice architecture
SSI2144 resonant low pass analog filter based on Solid State Micro SSM2044
MPE controllable
Optional 7U rack ears (sold separately)
VESA mount compatible
Arpeggiator
Yes
Control Connections
1/4" expression pedal input
1/4" sustain pedal input
Effects
Dual-mode stereo chorus using 24-bit / 192 kHz processing
Syncable and modulatable stereo delay with 24-bit / 192 kHz processing
Audio Inputs
1/4" stereo external audio input with threshold-based envelope and LFO triggering
Audio Outputs
Dual 1/4" stereo output
1/4" headphone output
Oscillators per Voice
2
Product Weight
12.12 lb
Programs/Presets
128 rewriteable patch memories
64 factory patches
64 empty slots for user patches
Sequencer
MIDI-syncable 64-step sequencer with programmable note, rest, slide, accent and length tracks
16 rewritable memory locations for storing sequences
USB Port (to Host)
MIDI;System Updates
Voices of Polyphony
12
Width
17.79"
Depth
11.55"
Height
4.05"
UDO Limited Warranty
UDO warrants that its products will be free from defects in materials and workmanship for a period of one year from the date of purchase.
Please register your UDO product at the manufacturer's website to provide them with all the relevant purchase information. Registering your product is not a prerequisite for our warranty service, but it will help in speeding up the process.
If you're experiencing a problem with your UDO product that may require a repair, please email the technical support team through the manufacturer's website and one of its representatives will determine the best course of action for getting your issue resolved. For your own protection, please do not return any product to UDO or an authorized service centre without prior consultation with the UDO support team.
If it is deemed necessary for your instrument to be repaired under warranty, the dealer from whom you purchased the unit will organize the collection from your appropriate address. We highly recommend that you pack your instrument in its original packaging. Please note that the warranty does not cover return shipping damage resulting from insufficient packaging.
Standard Shipping