Skip product carousel
Price Drop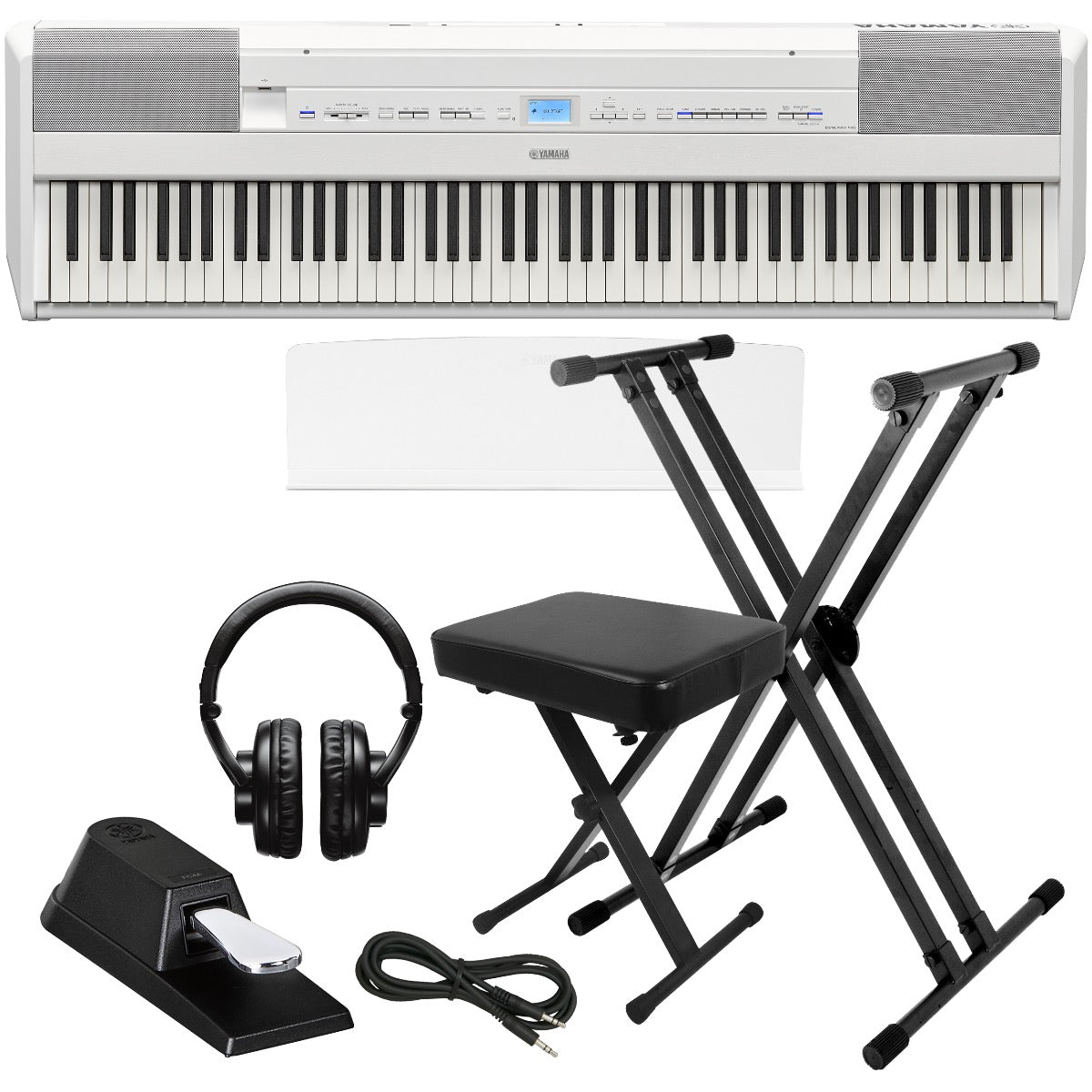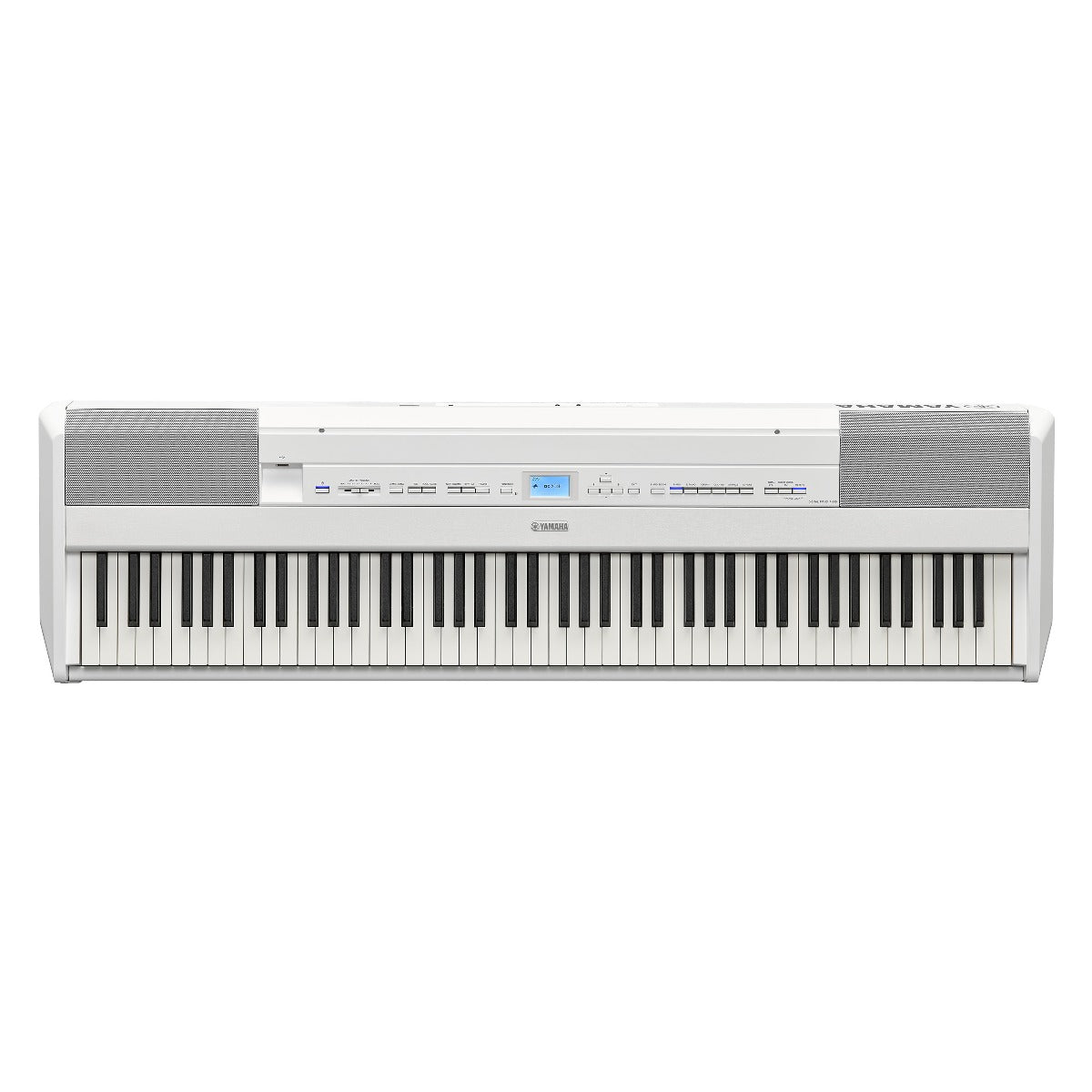 Yamaha P-515 Digital Piano - White KEY ESSENTIALS BUNDLE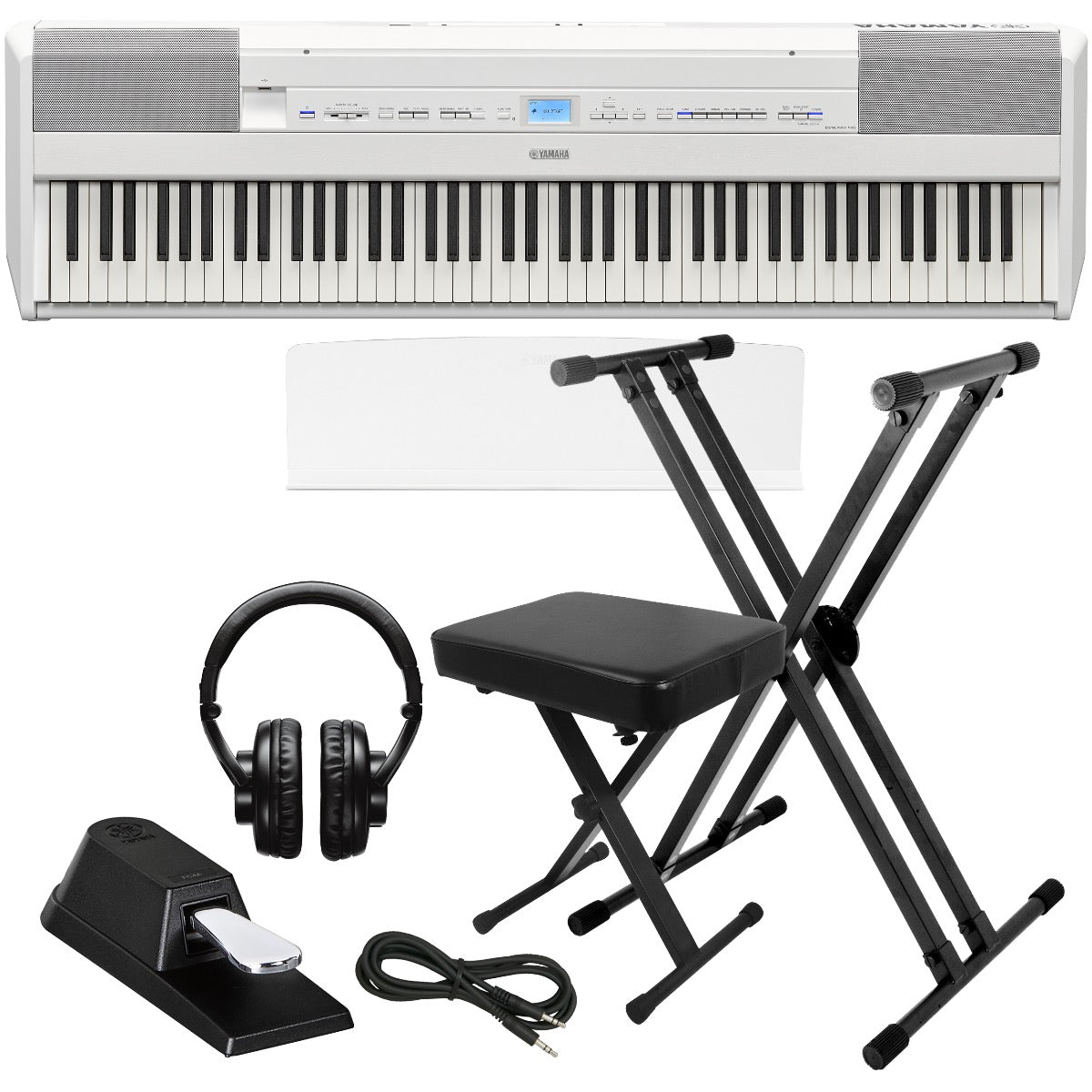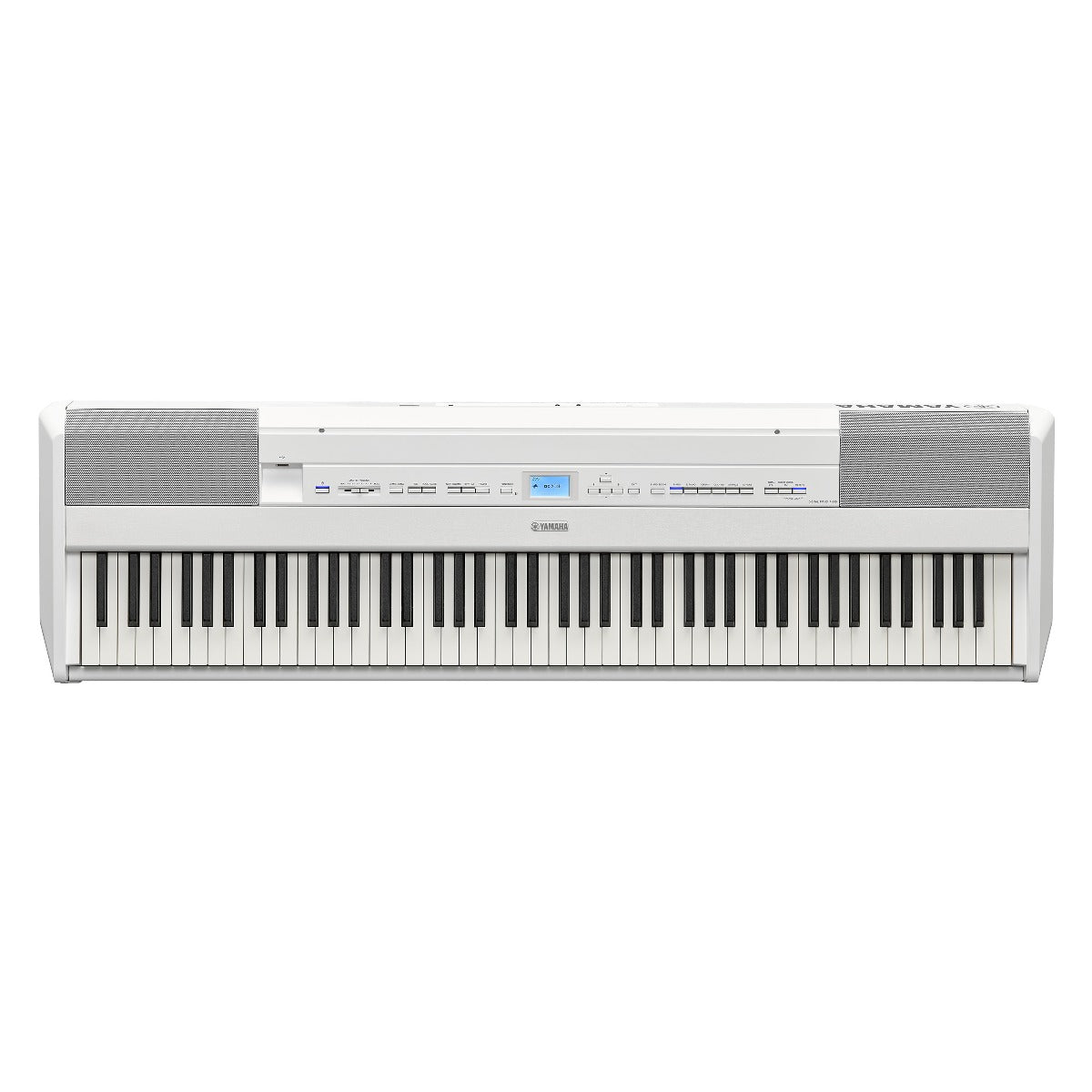 Yamaha P-515 Digital Piano - White KEY ESSENTIALS BUNDLE
5 items included
This Kraft Music Bundle Includes
$1,574.99
Regular price
$1,814.92
Total Savings of $239.93
Click on a product to view more details.
The P-515 is the flagship in the P-series. Its advanced sound quality, features and design make this an ideal digital piano for players of all levels. For those who wish to take their piano with them to play outside of the home, the portable and slim design makes this a great choice. For those who want a piano for home, the optional matching furniture stand (L515) and piano-style triple-pedal (LP1) turn it into a attractive furniture-style instrument you'll be proud to display in your home.
Yamaha CFX and Bösendorfer Imperial piano samples offers the sounds of two of the world's finest and most prominent concert grand pianos.
The Piano Room lets you choose from a variety of pianos and acoustic settings to create your own personal piano environment.
Virtual Resonance Modeling (VRM) allows for vivid and richly-varied expression to reflect the limitless number of factors that create the sound of a concert grand piano.
NWX (Natural Wood X) keyboard action with escapement and synthetic ebony & ivory keytops utilize specially dried wood that was specifically chosen to give you the same response and feel as that of a grand piano keyboard.
Key-off samples deliver the delicate change in sound the instant the damper falls back to the string.
Smooth Release provides a quick, crisp release on fast note-offs and a gently decaying release for slow note-offs.
Half-damper pedal control allows for continuously increasing amounts of sustain as the pedal is depressed.
Full Dot LCD Display allows for smooth navigation of the instrument's features and functions.
XG compatibility lets you play and interact with thousands of songs from yamahamusicsoft.com
The Master EQ allows you to tailor the overall output for optimal sound in different listening situations.
Compatible with the Smart Pianist app for iOS and Android.
Yamaha CFX and Bösendorfer Imperial piano samples
The P-515 features piano sounds created with samples of the Yamaha CFX flagship concert grand piano and famed Vienna-made Bösendorfer Imperial grand piano. These piano samples bring two of the world's finest and most prominent concert grand pianos to your fingertips.
Reproducing the Natural Sensation of Sound Distance
P-515 features two advanced technologies that allow you to enjoy exceptionally realistic, natural sound, even when listening through headphones - Binaural Sampling and Stereophonic Optimizer. Binaural sampling technology delivers a three-dimensional sound, which recreates the perspective of the player position through headphones. The Stereophonic Optimizer adjusts the spatial distribution of sound in the listener's headphones, creating the sensation that sound is coming directly from the piano, rather than from the headphones.
Natural Wood X (NWX) keyboard - the feel of an acoustic grand piano
Yamaha Natural Wood X (NWX) keyboards are created using our unrivaled woodworking expertise, acquired through more than a century of crafting fine acoustic pianos. The material used for NWX keyboards is cut from wood that has been carefully dried, and chosen specifically for use in making musical instruments. Only the best wood from the finest part of the tree is selected, resulting in a keyboard that is more resistant to buckling and warping than common laminated wood keyboards.
Sympathetic String Resonance
Aliquot is a stringing method for pianos that uses extra, un-struck strings in the upper octaves to enhance the tone. These strings sympathetically vibrate with other strings in an acoustic piano, resonating with overtones and adding richness, brilliance and complex color to the sound. Since they do not have a damper, they will continue sounding even after you release your hands from the keyboard.
Enhanced Virtual Resonance Modeling (VRM)
The distinctive reverberation generated by the concert grand piano; VRM calculates the various states of the strings for each of the 88 notes of the keyboard, from one instant to the next, and timing and depth of damper pedals pressed to recreate the sound of an acoustic piano. Enhanced VRM also calculates aliquot resonance in the upper octaves, and the full resonance of the soundboard, rim and frame. This technology allows for vivid, bright, richly varied expression that reflects the limitless number of factors inherent in piano performance.
Powerful onboard speaker system
P-515 features 15w + 5w amplifiers along with a 2-way speaker system that provides an immersive, authentic piano experience with astonishing clarity. P-515 also features the Twisted Flare Port: Yamaha technology that offers a clear and precise bass sound. The flared and gently twisted shape evenly diffuses the air flow through the port. Compared to a conventional port, the Twisted Flare Port reduces air turbulence noise, resulting in clear and accurate low frequency reproduction.
Piano Room - Customizing the Sound and the Touch Response of Piano Voices
The Piano Room function is for those who want to simply, conveniently and fully enjoy playing the instrument as a piano. No matter what settings for Voices you've made, you can instantly call up the optimum settings for piano performance with a single button press. Try creating a custom piano sound by adjusting the various parameters such as lid position, string resonance, damper resonance, touch response and so on.
Playing the piano along with Rhythm Playback
The P-515 comes complete with 40 different rhythm patterns (drums and bass accompaniments) that are perfectly suited to many types of music, allowing you to spice up your performance with some backing musicians, make practice more interesting or open up your creative flow with inspiring new ideas.
Simple operation using the Smart Pianist app!
The Smart Pianist app allows you to control the many functions included in your P-515 with your iOS device. Voices, rhythms and other settings can be selected right from your smart device's touch screen, making it even easier to get what you want from your P-515. You can also save your favorite settings for quick recall at any time. Smart Pianist can even access the songs in your iOS device's music library to create a chord chart for you, so you can play along with recordings of your personal favorite songs.
Bluetooth audio for wireless listening
Connect your music player via Bluetooth and instantly turn your P-515 into a high-quality speaker system to listen to your favorite songs through.

SKU
YAM-P515WHKE
MPN
P-515
Vendor
Yamaha
Bluetooth
Audio Receiving
Built In Speakers
Yes
Connectivity
USB and MIDI
Included From Manufacturer
Music Rest
Power Adapter
FC4A Sustain Pedal
Keys Weighted
Hammer Weighted
Key Cover
No
Number of Keys
88
Mpn
P515WH
Piano Cabinet Style
Portable
Accompaniments
No
Duet Mode
Yes
Finish
White
Half-Damper Support
Yes
Audio Inputs
1/8" Aux in
Audio Outputs
1/4" L + R
2 x 1/4" Headphones
Key Action
NWX (Natural Wood X) with Synthetic Ebony and Ivory Keytops and Escapement
Layer Feature
Yes
Metronome
Yes
Pedals
1 Included, 3 with optional LP1 triple pedal unit
Product Weight
48 lb, 8 oz
Rhythm Patterns
40
Song Recorder
Audio & MIDI
Number of Sounds
40 Voices + 18 Drum/SFX Kits + 480 XG Voices
Speaker Power
(15 W + 5 W) x 2
Speaker Size
(Oval (12 cm x 6 cm) + 2.5 cm (dome)) x 2
Split Feature
Yes
Storage Type
USB Flash Drive;Internal
Number of Tracks
16 Track MIDI Sequencer
Transpose Feature
Yes
Voices of Polyphony
256 (Max)
Width
52 5/8"
Depth
14 13/16"
Height
5 11/16"
Yamaha Digital Piano Limited Warranty
Thank you for selecting a Yamaha product. Yamaha products are designed and manufactured to provide a high level of defect-free performance. Yamaha Corporation of America ('Yamaha') is proud of the experience and craftsmanship that goes into each and every Yamaha product. Yamaha sells its products through a network of reputable, specially authorized dealers and is pleased to offer you, the Original Owner, the following Limited Warranty, which applies only to products that have been (1) directly purchased from Yamaha's authorized dealers in the fifty states of the USA and District of Columbia (the 'Warranted Area') and (2) used exclusively in the Warranted Area. Yamaha suggests that you read the Limited Warranty thoroughly, and invites you to contact your authorized Yamaha dealer or Yamaha Customer Service if you have any questions.
This warranty covers Yamaha Digital Pianos against defects in materials or workmanship for three (3) years.
Yamaha will, at its option, repair or replace the product covered by this warranty if it becomes defective, malfunctions or otherwise fails to conform with this warranty under normal use and service during the term of this warranty, without charge for labor or materials. Repairs may be performed using new or refurbished parts that meet or exceed Yamaha specifications for new parts. If Yamaha elects to replace the product, the replacement may be a reconditioned unit.
You will be responsible for any installation or removal charges and for any initial shipping charges if the product(s) must be shipped for warranty service. However, Yamaha will pay the return shipping charges to any destination within the USA if the repairs are covered by the warranty.
This warranty does not cover (a) damage, deterioration or malfunction resulting from accident, negligence, misuse, abuse, improper installation or operation or failure to follow instructions according to the Owner's Manual for this product; any shipment of the product (claims must be presented to the carrier); repair or attempted repair by anyone other than Yamaha or an authorized Yamaha Service Center; (b) any unit which has been altered or on which the serial number has been defaced, modified or removed; (c) normal wear and any periodic maintenance; (d) deterioration due to perspiration, corrosive atmosphere or other external causes such as extremes in temperature or humidity; (e) damages attributable to power line surge or related electrical abnormalities, lightning damage or acts of God; or (f) RFI/EMI (Interference/noise) caused by improper grounding or the improper use of either certified or uncertified equipment, if applicable.
Any evidence of alteration, erasing or forgery of proof-of-purchase documents will cause this warranty to be void. This warranty covers only the Original Owner and is not transferable.
Warranty service will only be provided for defective products within the Warranted Area. Contact your local authorized Yamaha dealer who will advise you of the procedures to be followed. If this is not successful, contact Yamaha directly. Yamaha may request that you send the defective product to a local authorized Yamaha Servicer or authorize return of the defective product to Yamaha for repair. If you are uncertain as to whether a dealer has been authorized by Yamaha, please contact Yamaha's Service Department or check Yamaha's website.
Product(s) shipped for service should be packed securely and must be accompanied by a detailed explanation of the problem(s) requiring service, together with the original or a machine reproduction of the bill of sale or other dated, proof-of-purchase document describing the product, as evidence of warranty coverage. Should any product submitted for warranty service be found ineligible therefore, an estimate of repair cost will be furnished and the repair will be accomplished only if requested by you and upon receipt of payment or acceptable arrangement for payment.
Any implied warranties, including warranties of merchantability and fitness for a particular purpose shall be limited in duration to the applicable period of time set forth above. Yamaha shall not be responsible for incidental or consequential damages or for damages based upon inconvenience, loss of use, damage to any other equipment or other items at the site of use or interruption of performances or any consequences thereof. Yamaha's liability for any defective product is limited to repair or replacement of the product, at Yamaha's option. Some states do not allow limitations on how long an implied warranty lasts or the exclusion or limitation of incidental or consequential damages, so the above limitation or exclusion may not apply to you. This Warranty gives you specific legal rights, and you may also have other rights which vary from state to state. This is the only express warranty applicable to the Product specified herein; Yamaha neither assumes nor authorizes anyone to assume for it any other express warranty.
Ground shipping is FREE for all orders $99 and up.