Skip product carousel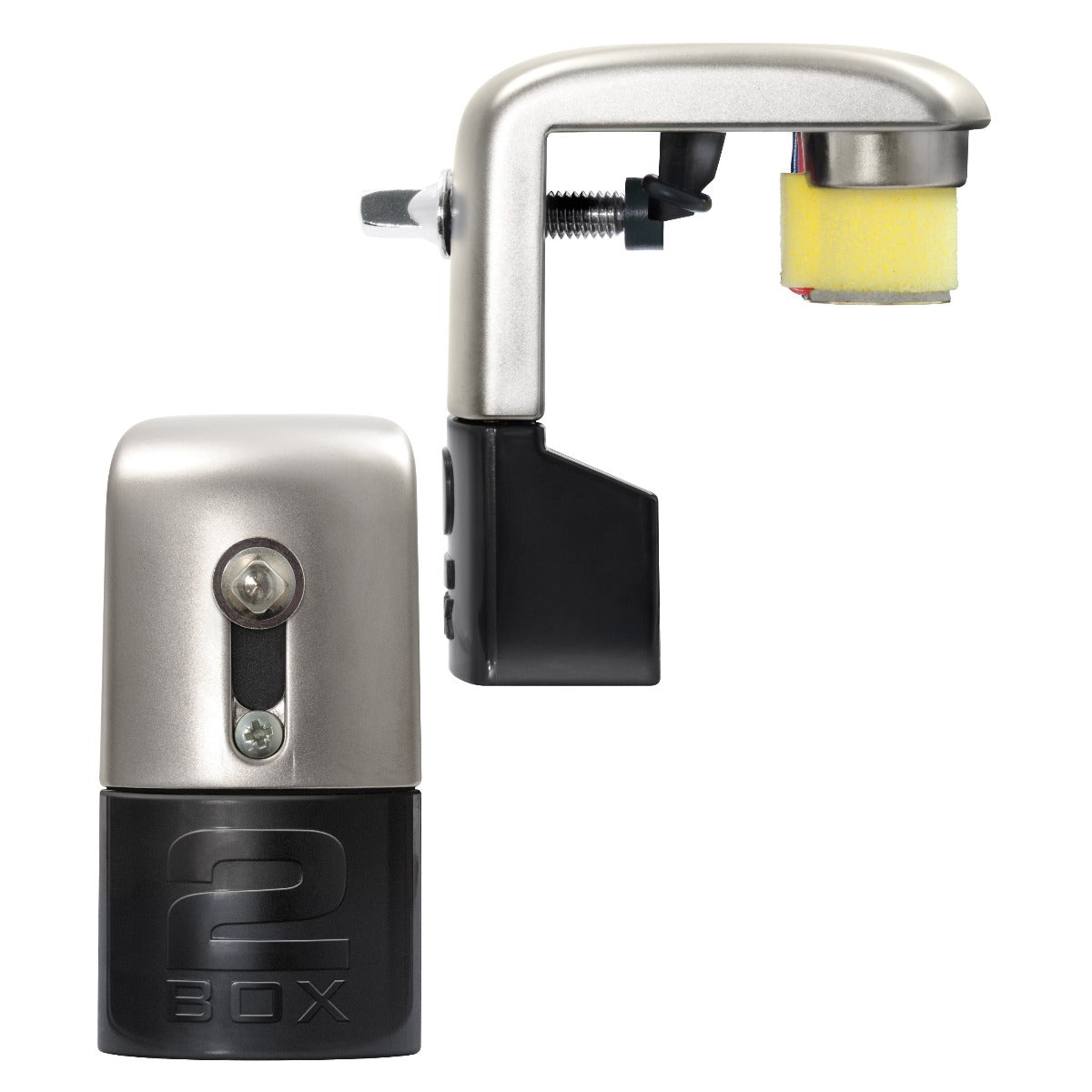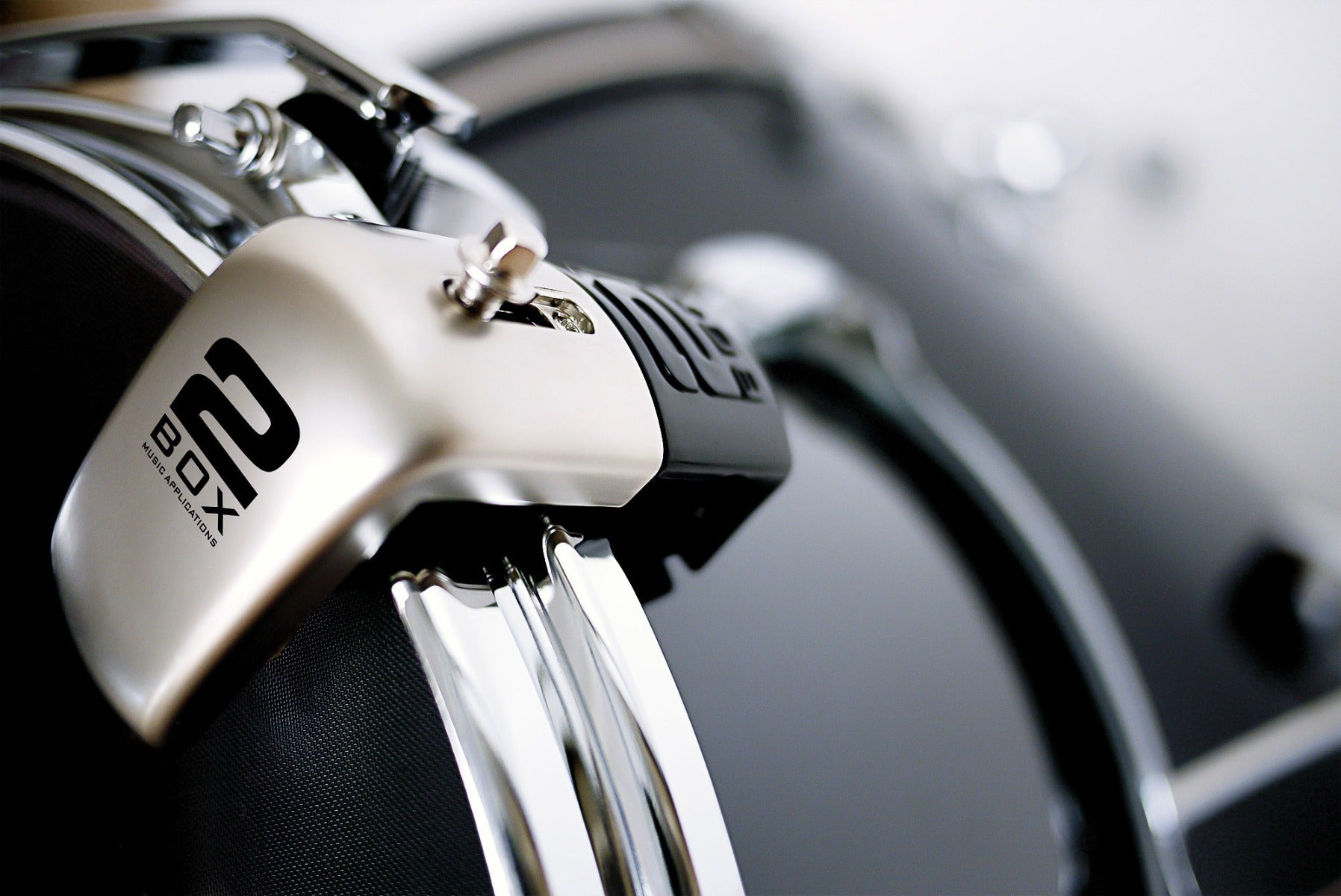 2BOX 2-channel Trigger for Snare Drums & Toms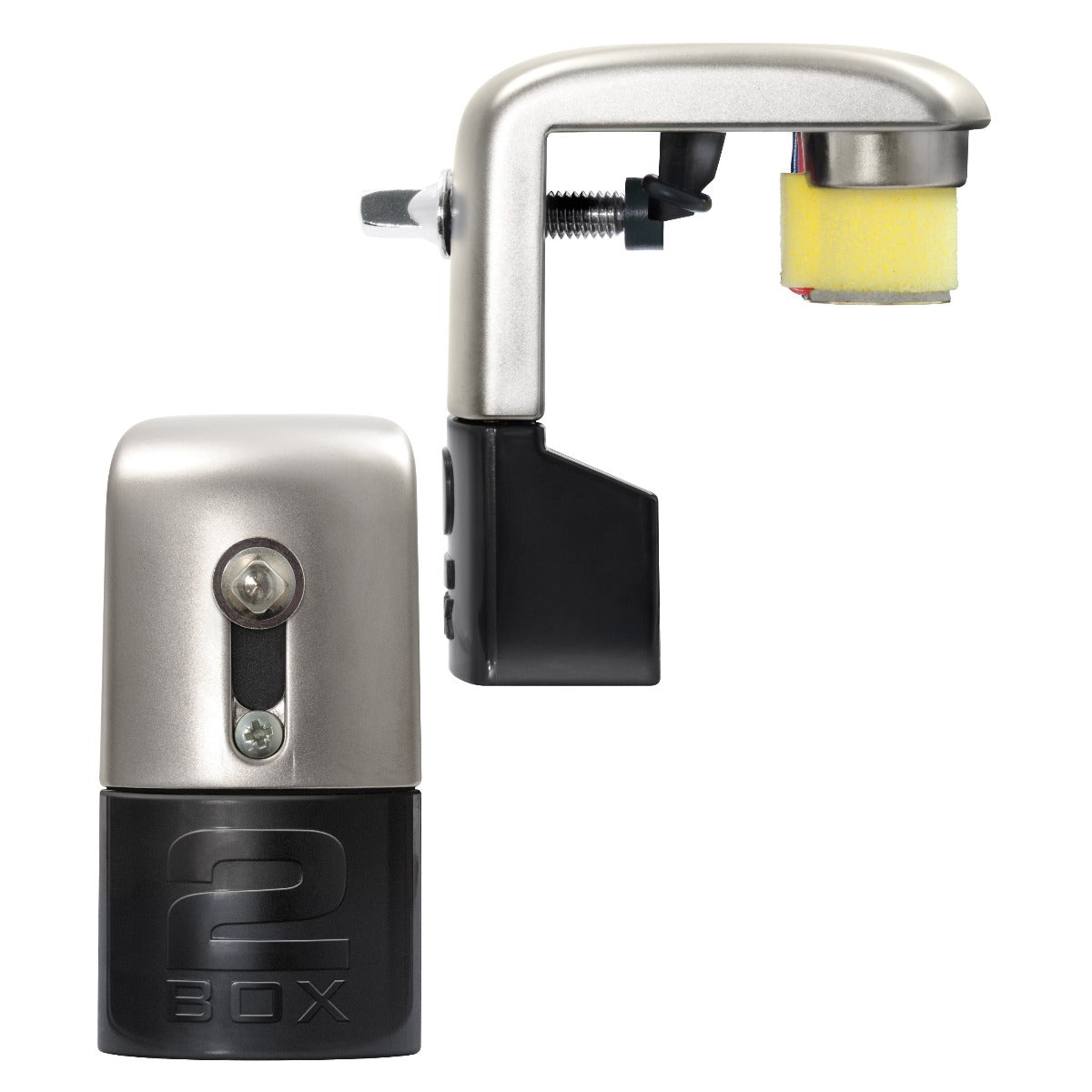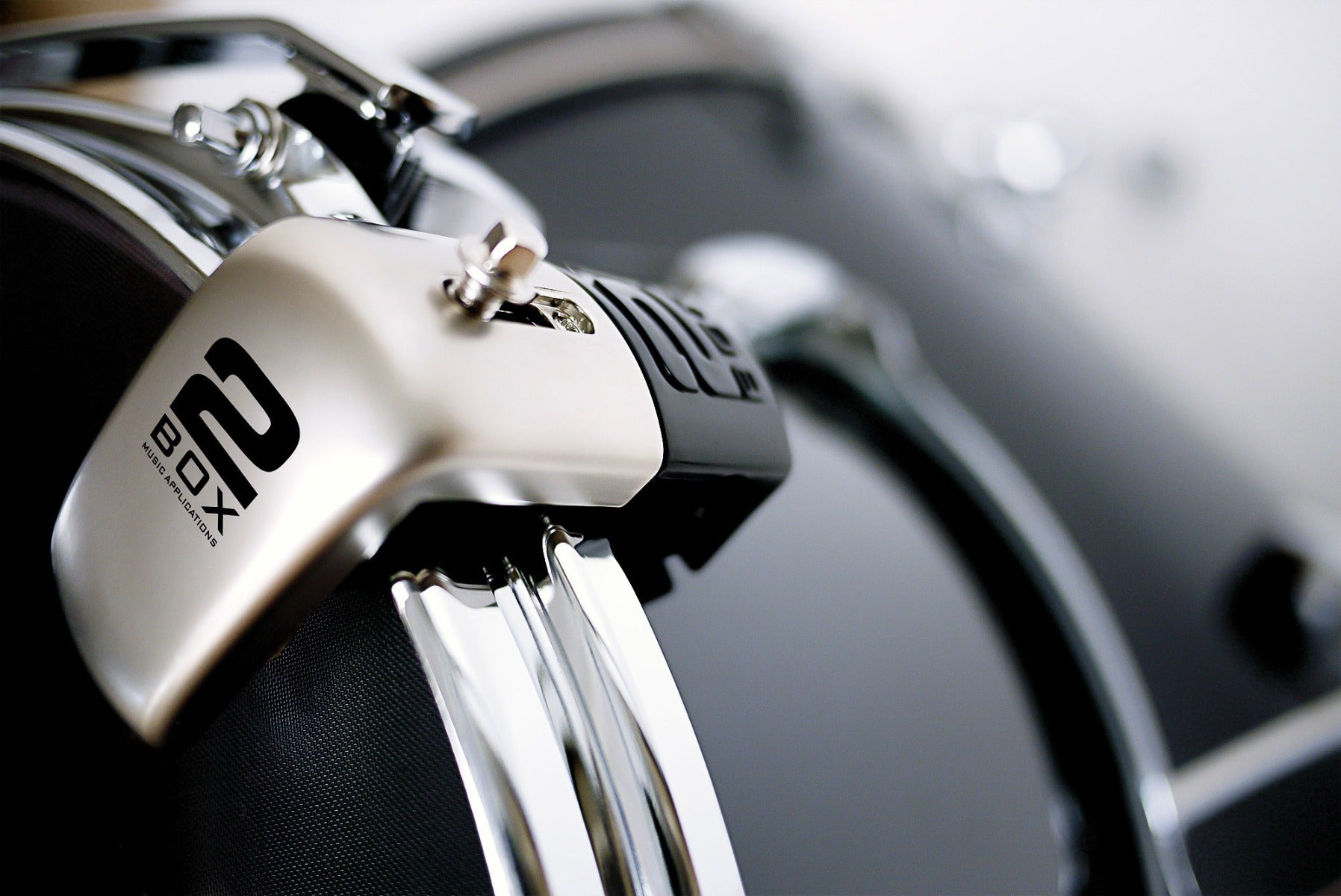 Turn your acoustic drum kit into a cutting-edge "Drum Sound Station" with our new TrigIt triggers. They're designed to work with all sound modules on the market, giving you the power and flexibility of an electronic drum set, without sacrificing the feel of playing acoustic drums. Just hook them up to the rims and get ready for bold new possibilities in snare and tom sounds. The sturdy metal casing is finished in beautiful satin chrome which reduces glare effects on stage, and protects the transducers from stray stick hits. Silicon-covered hooks reduce movement and eliminate the potential for scratches on drum hoops. The special foam controller with unique "memory" features is guaranteed for long-life use and maintains steady pressure on the head for perfect detection. Dual stereo Piezo transducers offer consistent, fast, and unbeatable trigger accuracy with a natural dynamic range. The standard 1/4" stereo jack eliminates the need for specialty XLR cables.
Sturdy metal casings
Silicon-covered hooks
Special foam controller
Long-life transducer
Standard 1/4"" stereo jack
| | |
| --- | --- |
| SKU | TAM-2BOXT5ST |
| MPN | T5ST |
| Vendor | 2Box |
| Drum Trigger Type | Acoustic Trigger |
| Mpn | T5ST |
| Drum Rack Mount | N/A |
| Stand Mount | N/A |
2BOX Original Purchaser Limited Warranty: 2BOX is warranted to be free from defects in materials and workmanship to the original owner, subject to all of the following terms and conditions:
Warranty Time Period: The Warranty provided herein is for the following periods, measured in each case from the date of the original retail purchase: one (1) year for the 2BOX kit including Drum and Cymbal pads, Module and Accessory Hardware.
Warranty Coverage: This Warranty is given by Hoshino (U.S.A.), Inc. 1726 Winchester Road, Bensalem, Pennsylvania 19020, by their 2BOX Service Divisions ("2BOX") only to the original purchaser of the 2BOX product. 2BOX will repair or replace the 2BOX kit and Module itself if it proves defective under normal use and service during the one (1) year warranty Time Period stated above which 2BOX's examination shall disclose to its satisfaction to be thus defective. 2BOX will repair or replace any part or parts of the 2BOX product which may prove defective under normal use and service during the one (1) year Warranty Time Period stated above which 2BOX's examination shall disclose to its satisfaction to be thus defective.
This Warranty Does Not Cover: (A) damage or defects due to alteration, misuse, abuse, normal wear and tear, or extremes of temperature or humidity: (B) accidental or intentional damage; (C) damage in shipping; (D) the repair or replacement of expendable maintenance items including but not limited to, rubber heads, cables; (E) plating on metal parts; (F) any damage from accessories (such as tension bolts, T-bolt etc); or (J) any 2BOX product purchased from other than an authorized 2BOX dealer.
To Obtain Warranty Services: the 2BOX product must be returned to Hoshino (USA), Inc at 1726 Winchester Road, Bensalem, Pennsylvania 19020 or through an authorized 2BOX Dealer. When returning a Product to Hoshino (USA), Inc. or an authorized 2BOX dealer, a return authorization number, to be obtained from the 2BOX Customer Service Department, must be written in a conspicuous place on the outside of the return shipping carton or the return will be refused. When returning the 2BOX product for service under this Warranty, a copy of the sales receipt establishing proof and time of purchase must be sent along with the 2BOX product. All freight and insurance must be prepaid by the original owner. Your Responsibility: You must maintain the 2BOX product, without alteration, negligent use, misuse or abuse. All service of this 2BOX product must be performed by Hoshino. If any service is performed by any company or person other than Hoshino, it will terminate this Warranty.
Warranty Limitations and Disclaimers: 2BOX's sole and exclusive responsibility shall be as provided under this Warranty and UNDER NO CIRCUMSTANCES, SHALL HOSHINO BE LIABLE FOR ANY INCIDENTAL OR CONSEQUENTIAL DAMAGES. THIS LIMITED WARRANTY IS YOUR EXCLUSIVE REMEDY AND IS MADE IN LIEU OF ALL OTHER WARRANTIES, EXPRESS OR IMPLIED; ALL IMPLIED WARRANTIES, INCLUDING, WITHOUT LIMITATION, ANY IMPLIED WARRANTY OF MERCHANTABILITY OR FITNESS FOR A PARTICULAR PURPOSE, ARE HEREBY EXPRESSLY LIMITED IN DURATION TO THE DURATION OF THIS WRITTEN WARRANTY.
Some states do not allow limitations on how long an implied warranty lasts or the exclusion or limitation of incidental or consequential damages, so the above limitations or exclusions may not apply to you. This Warranty gives you specific legal rights, and you may also have other rights which vary from state to state. No person, whether or not an agent of Hoshino is authorized to make or assume any obligations other than those stated in this Warranty.
SAVE YOUR RECEIPT! 2BOX cannot perform any Warranty Service without a copy of your original sales receipt.
Ground shipping is FREE for all orders $99 and up.