Skip product carousel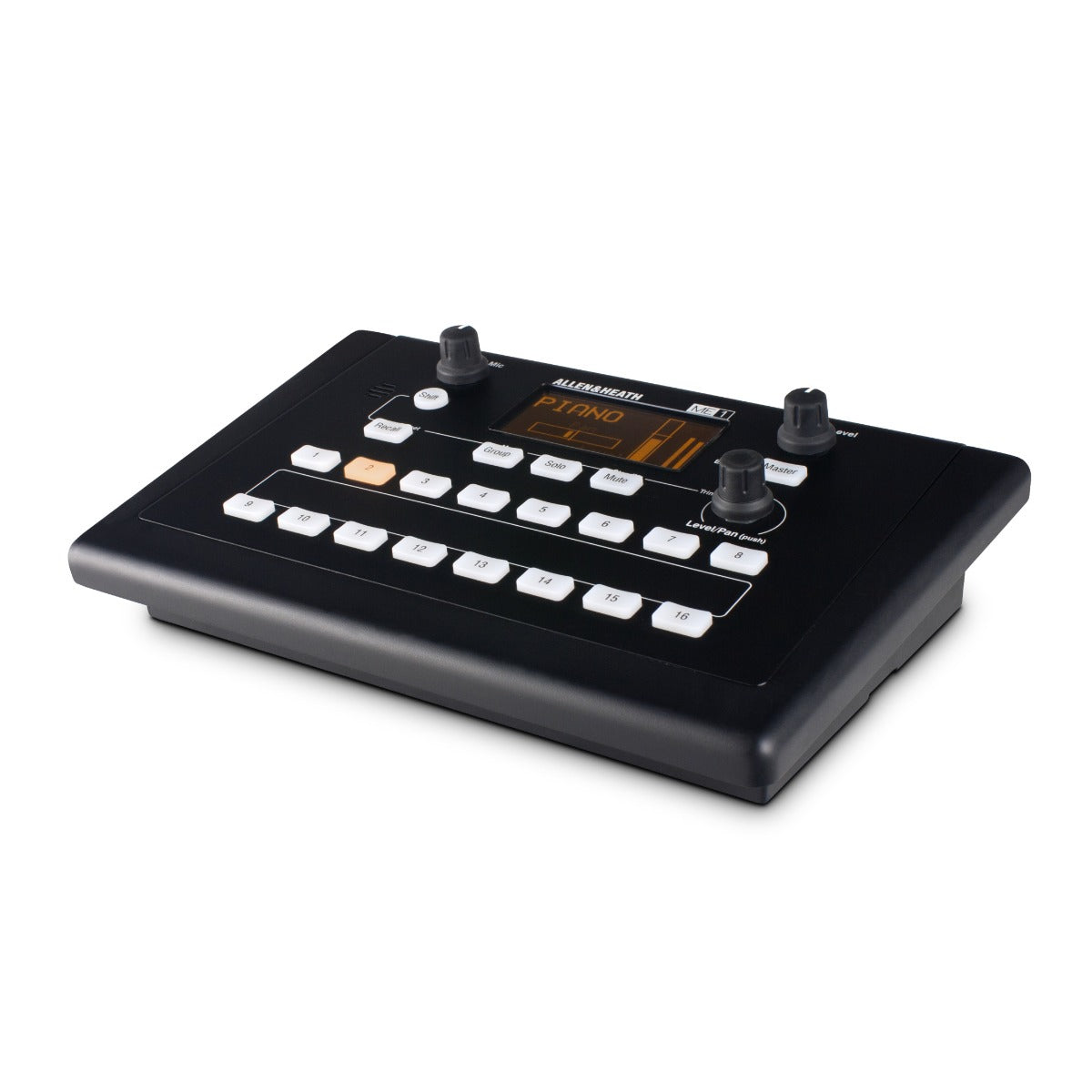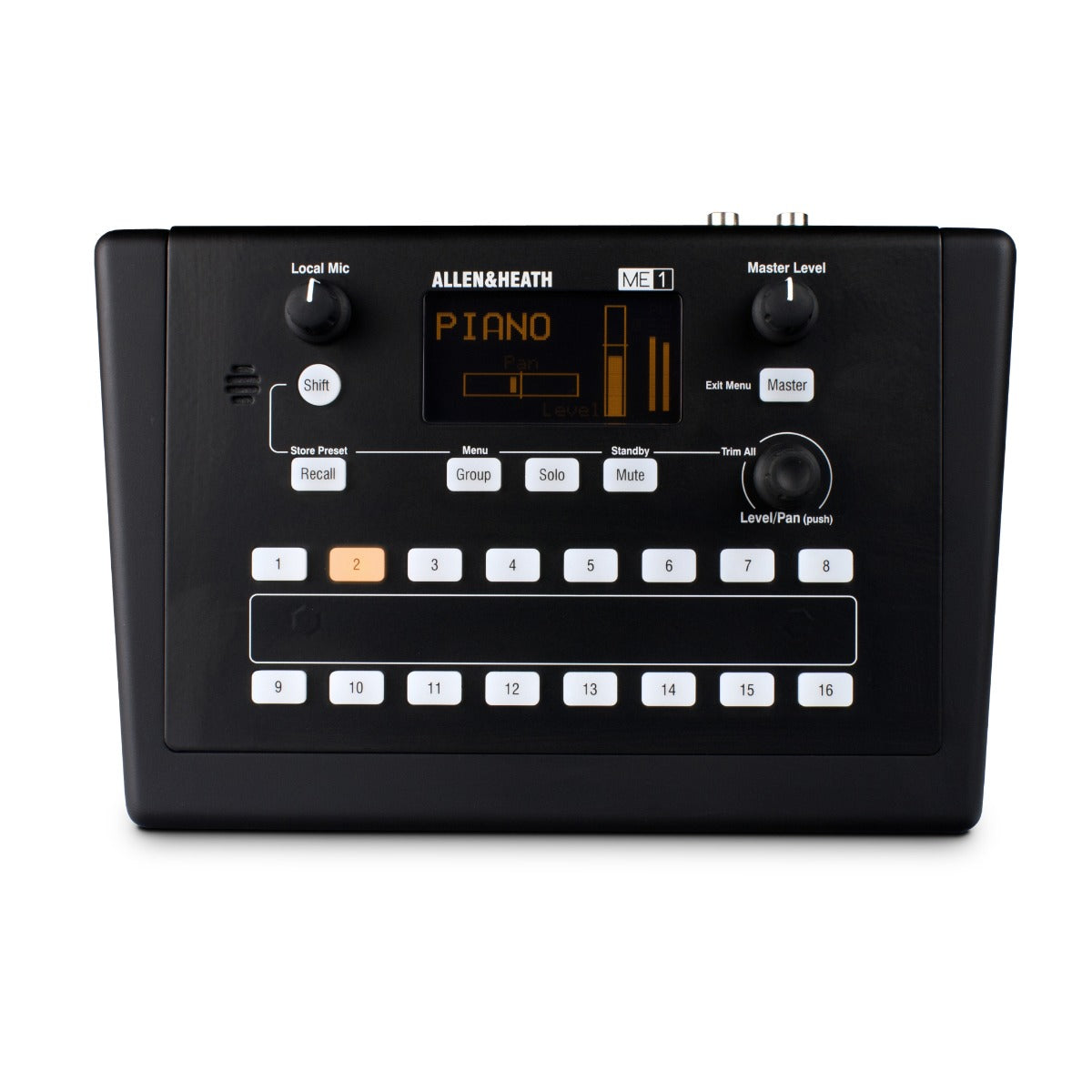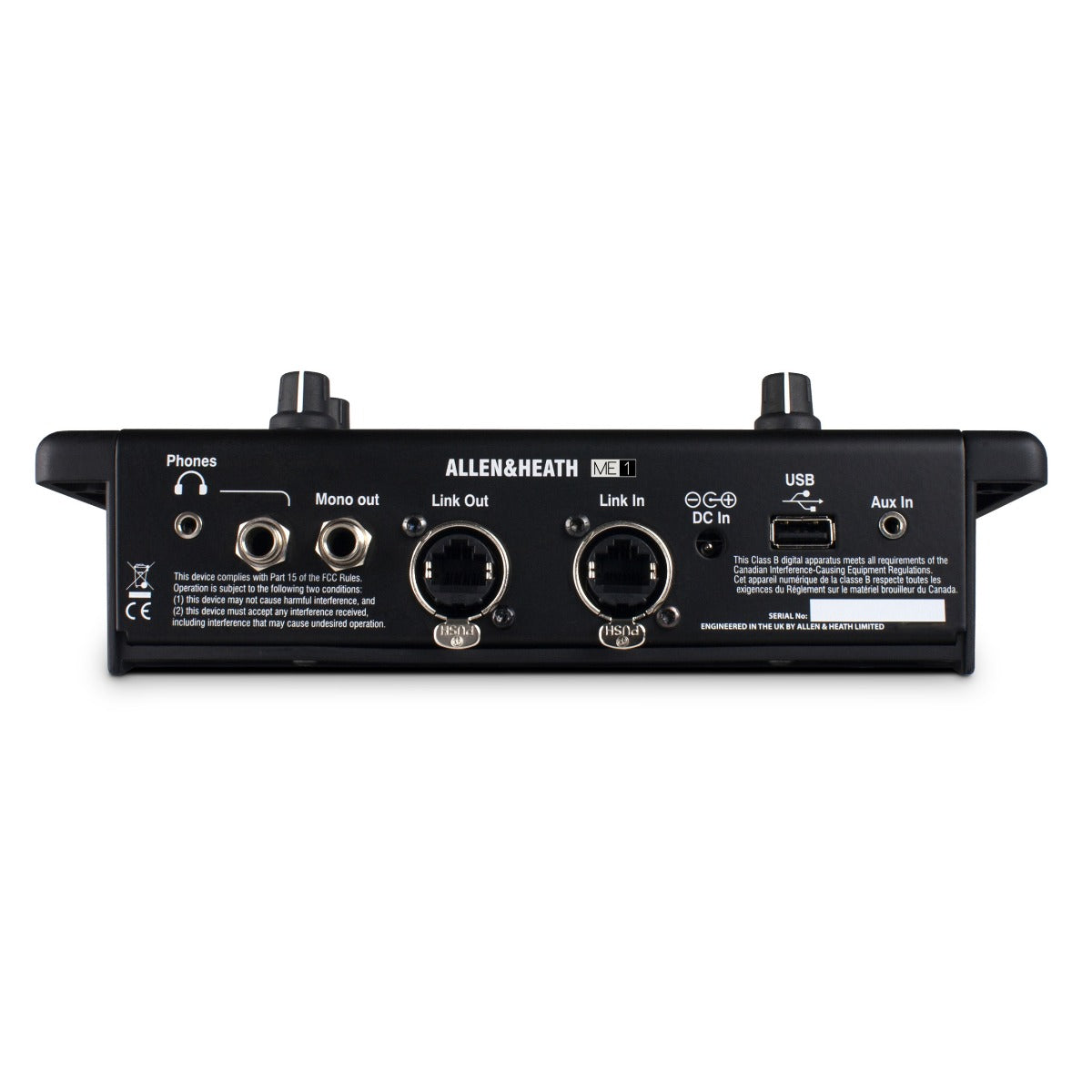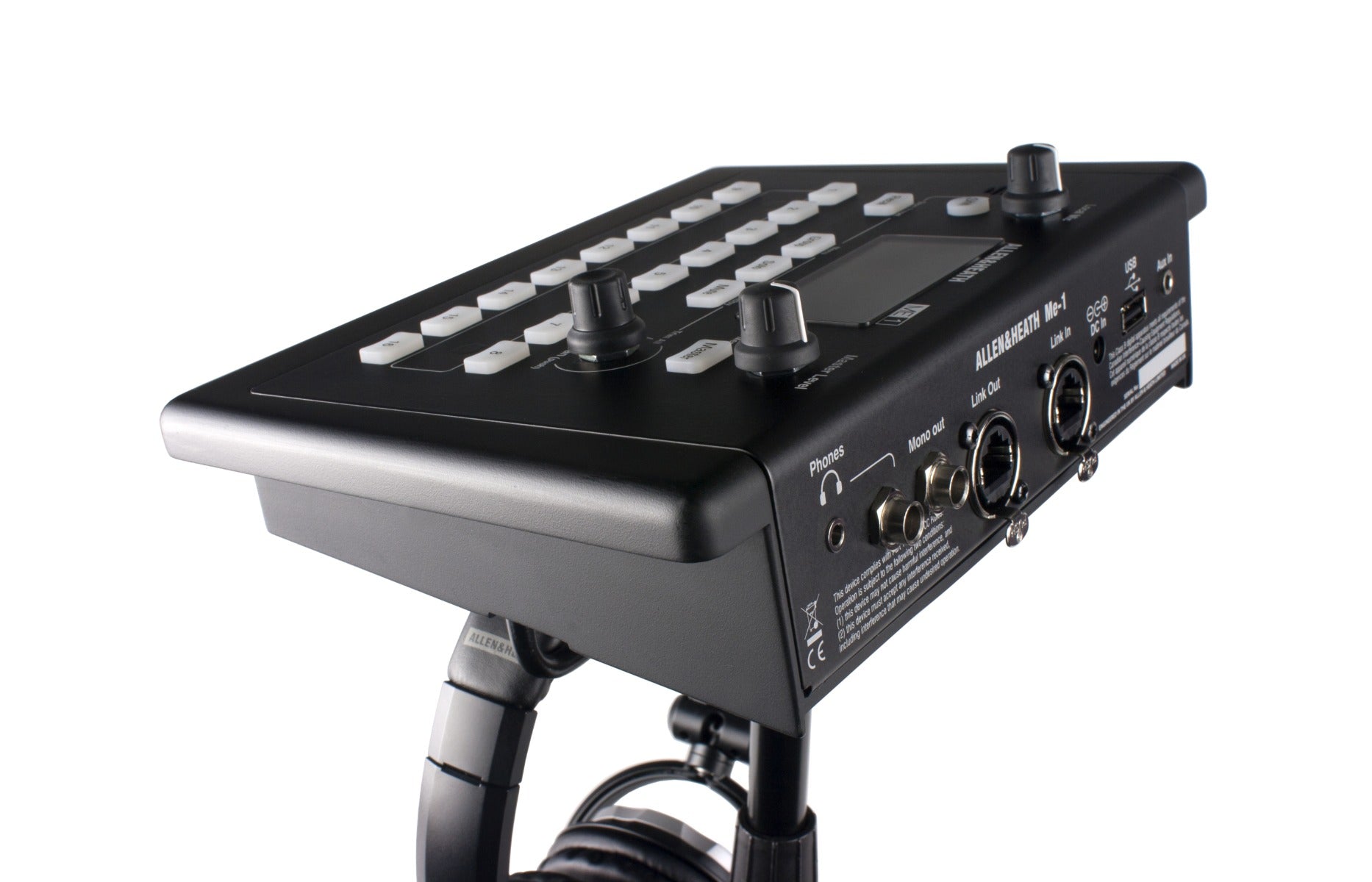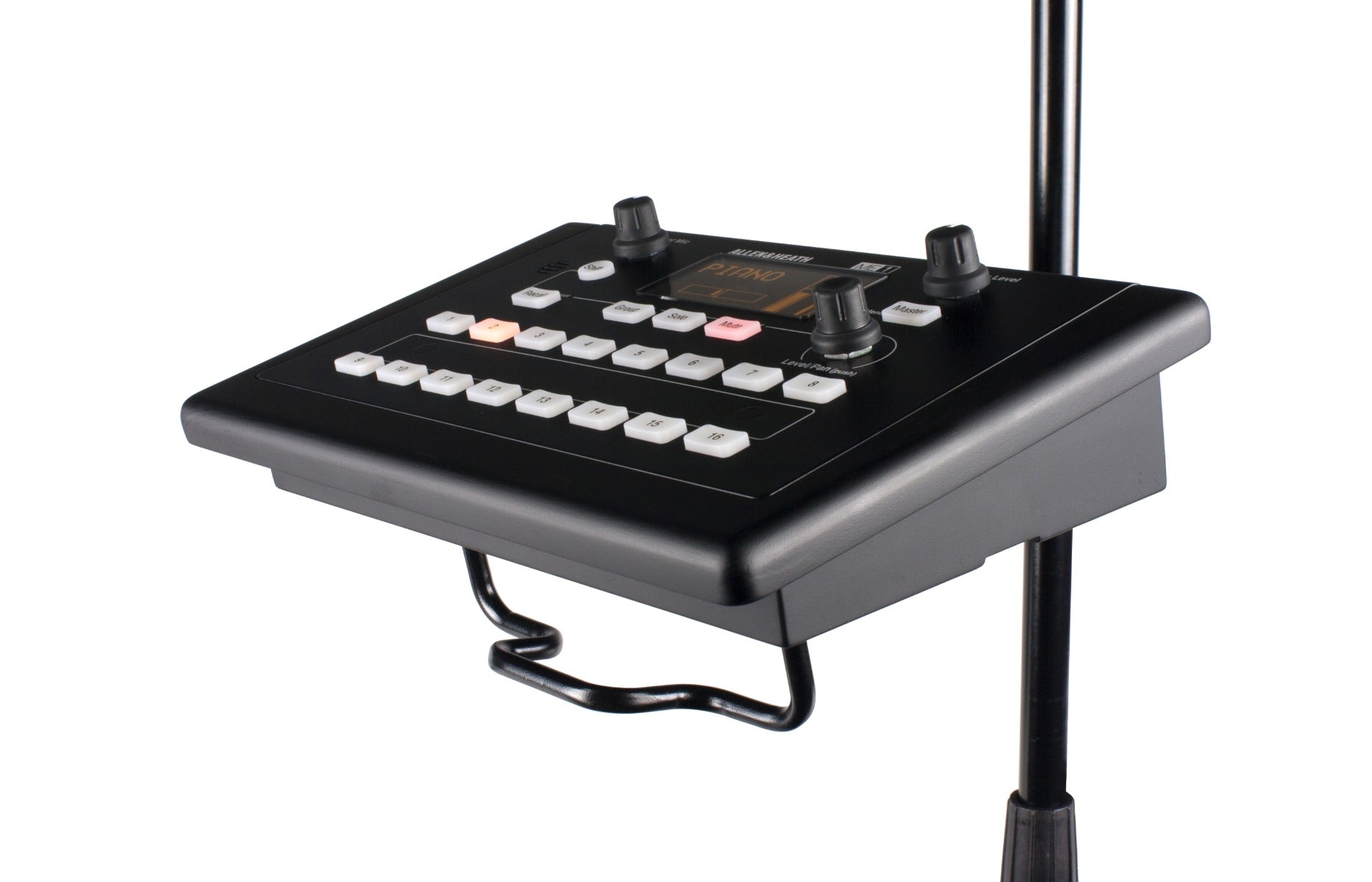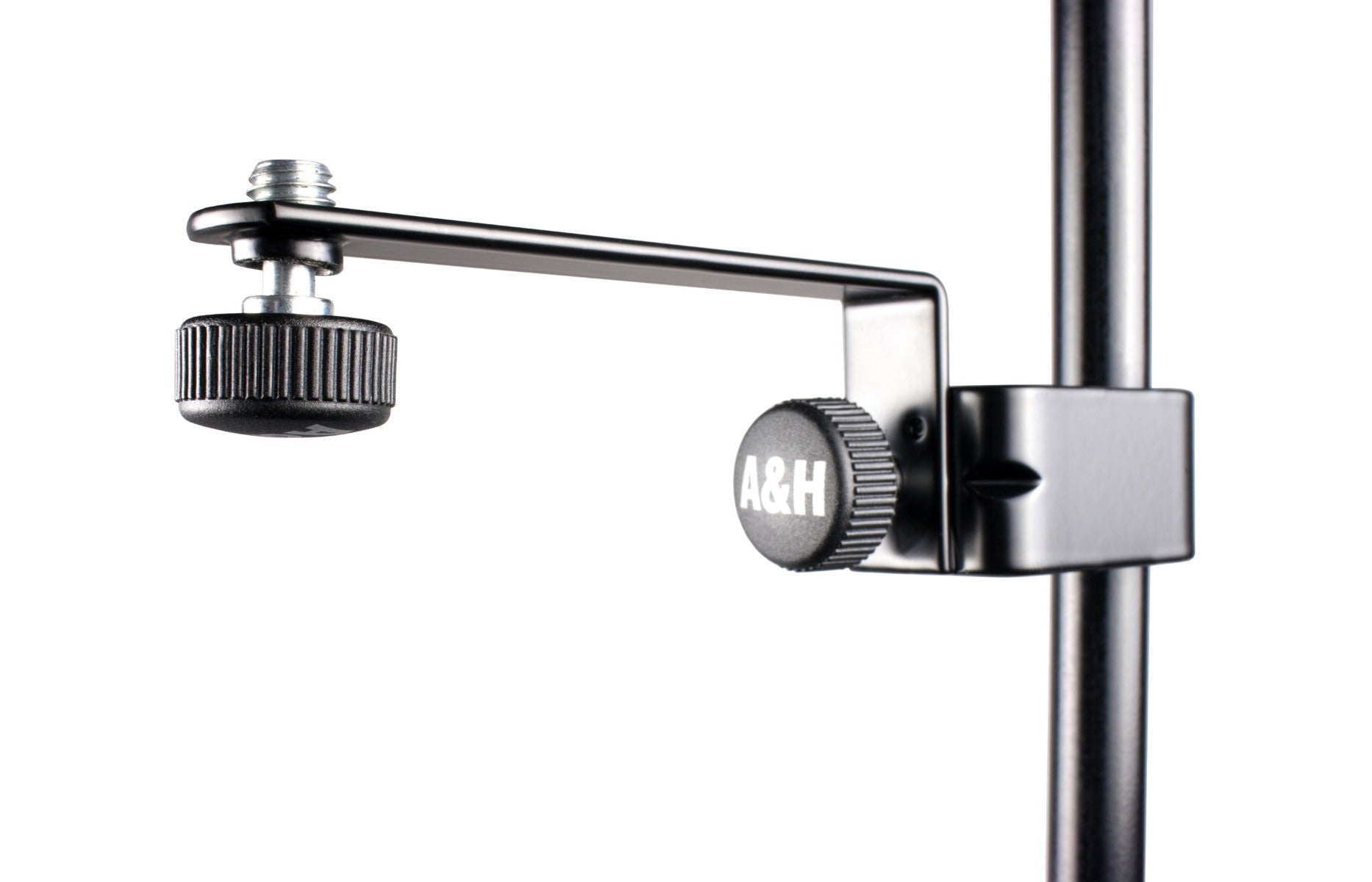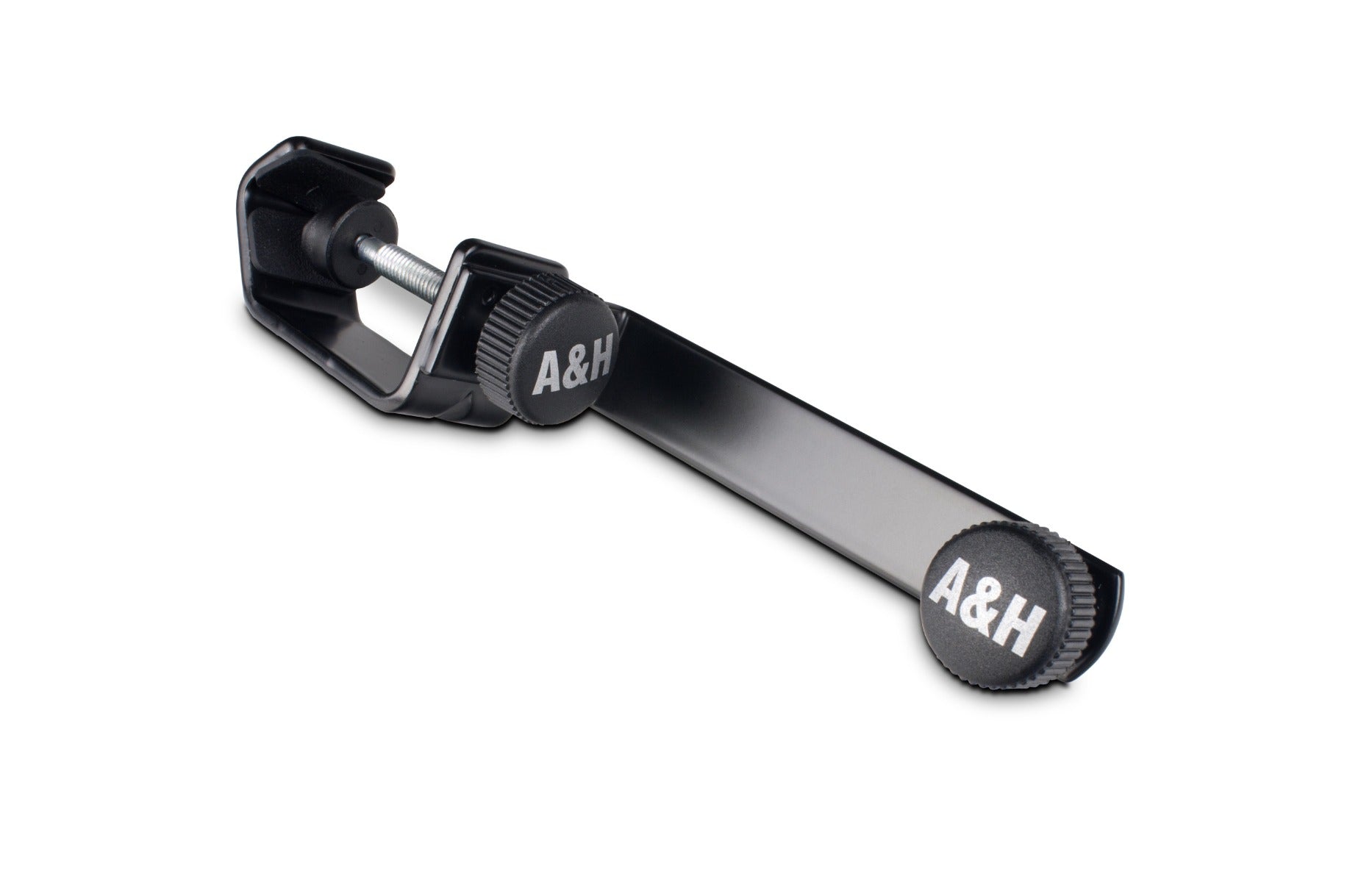 Allen & Heath ME-1 Personal Mixer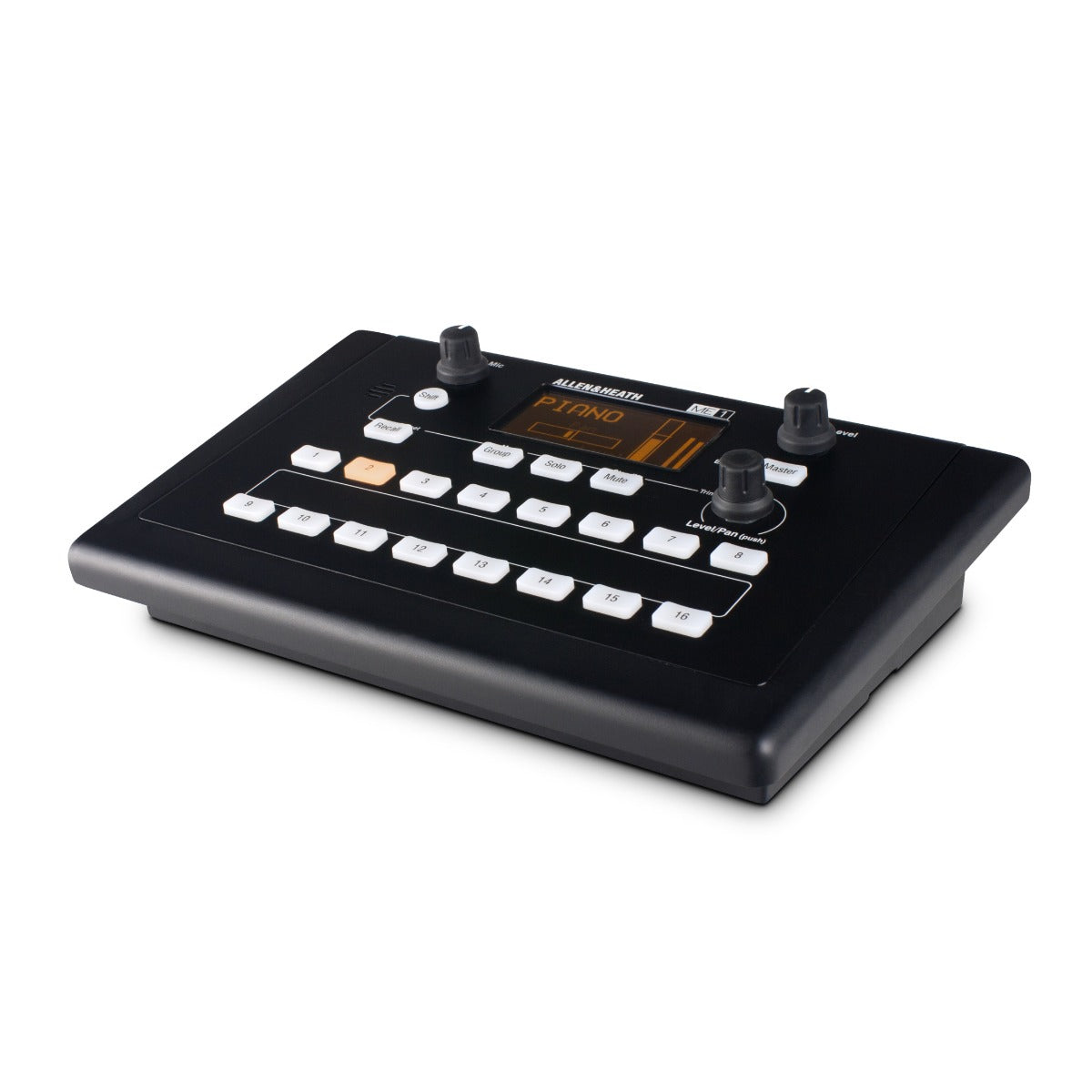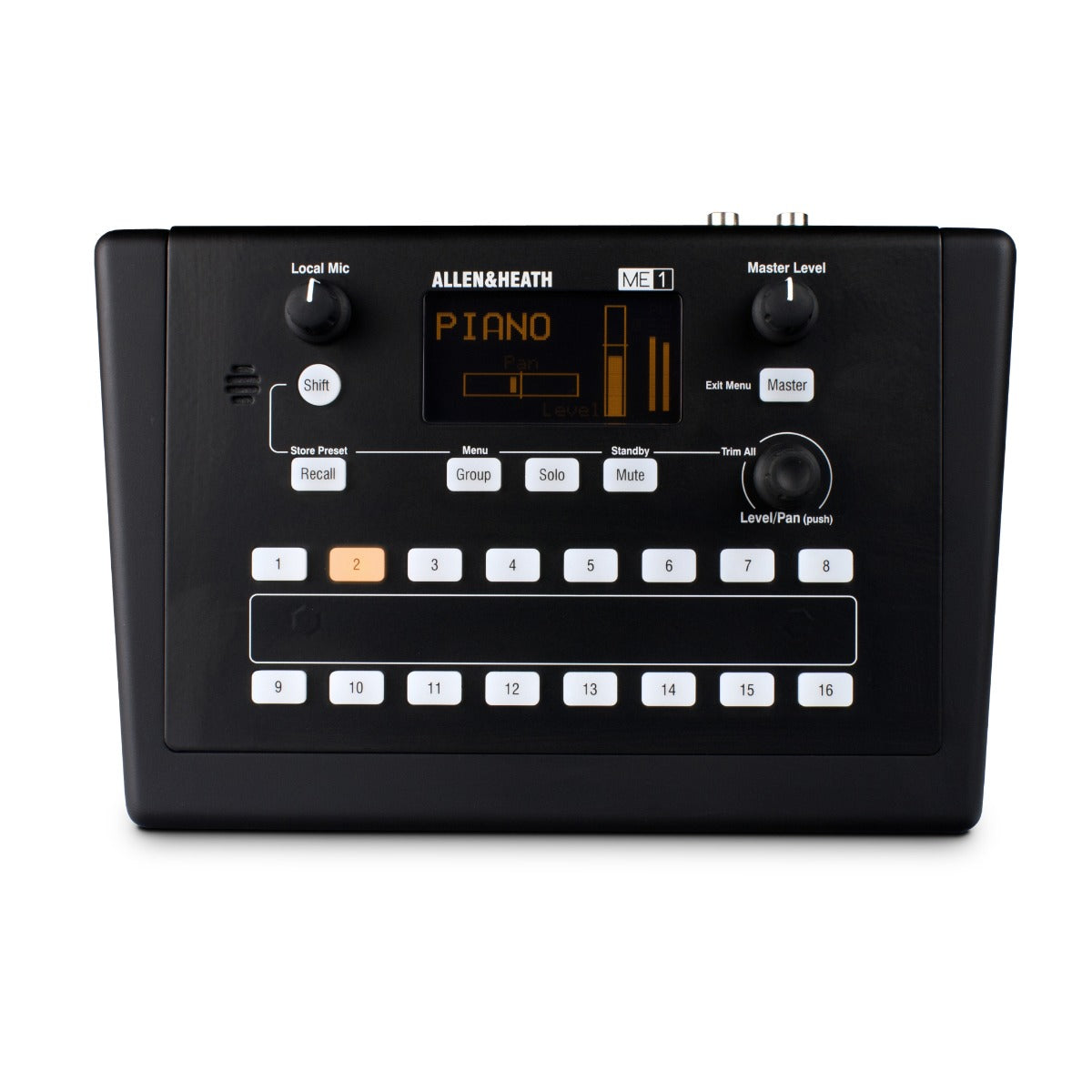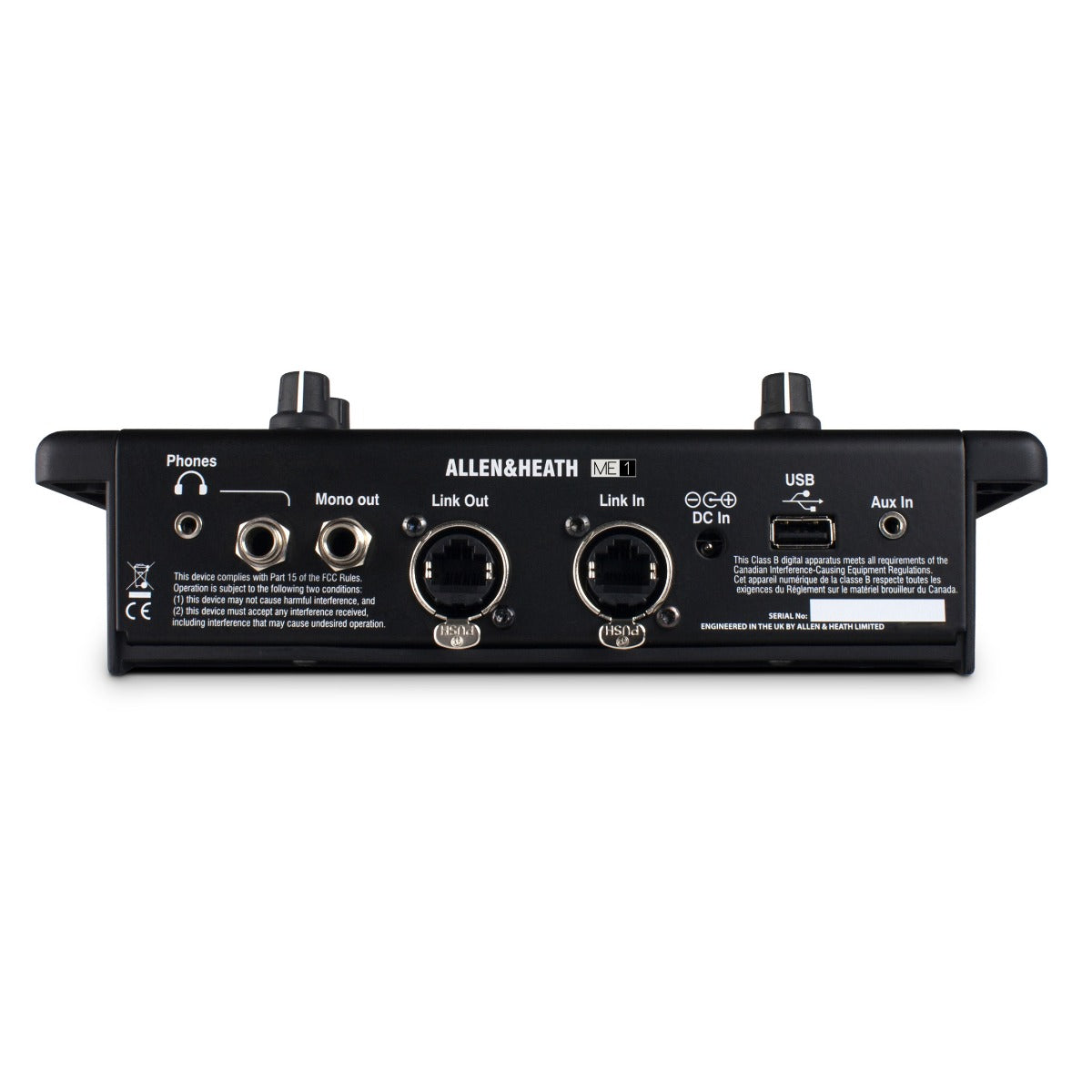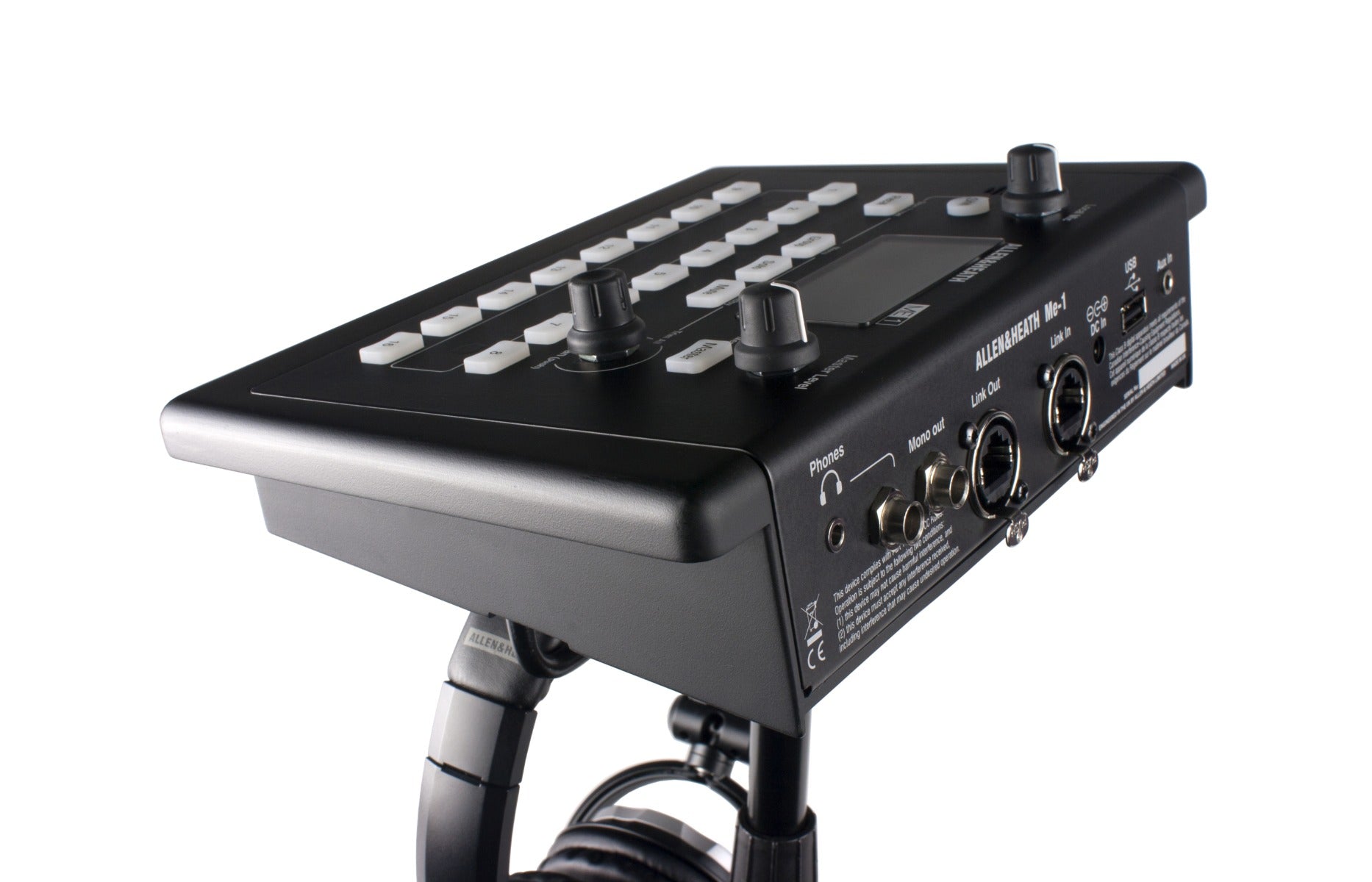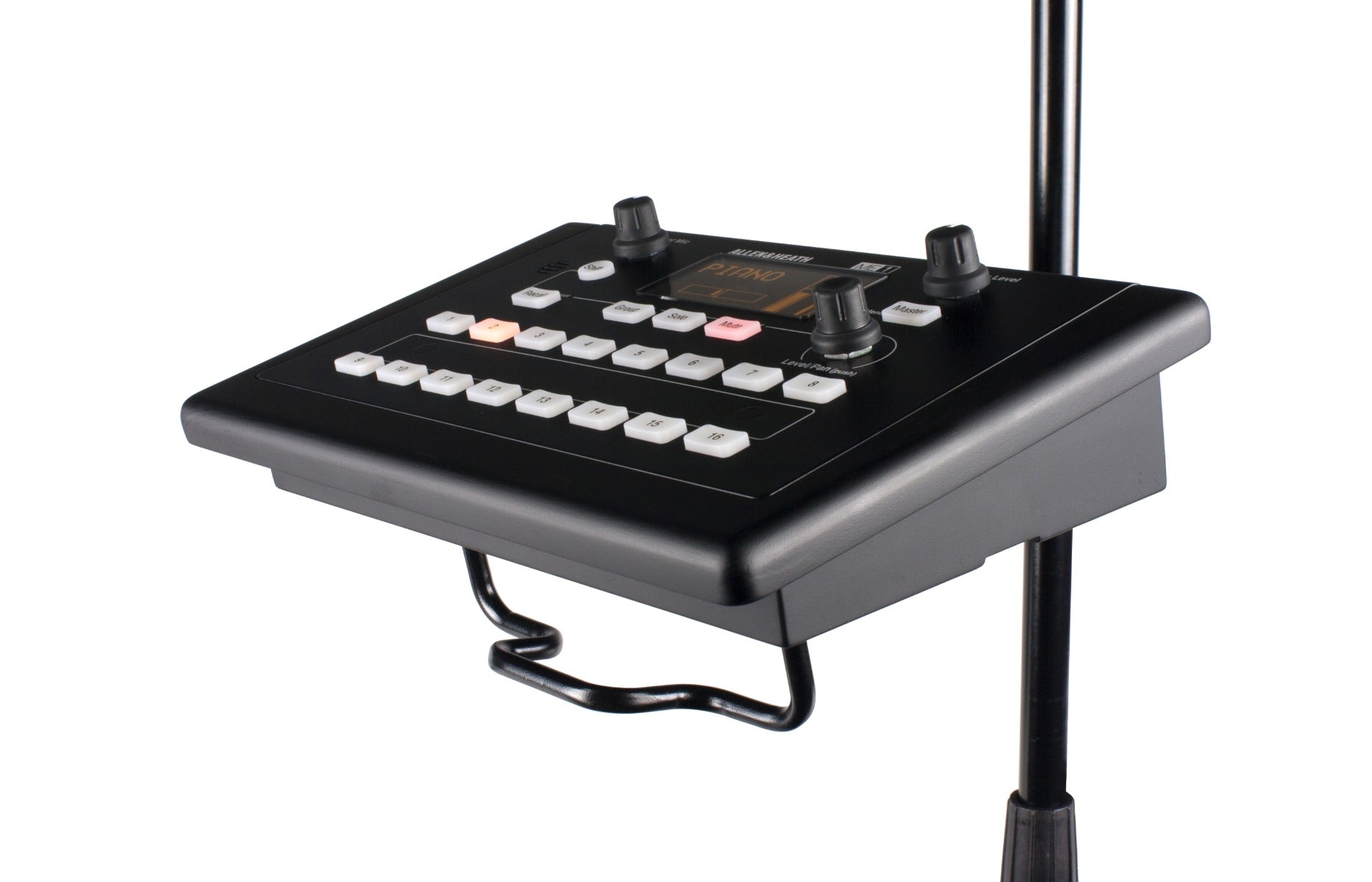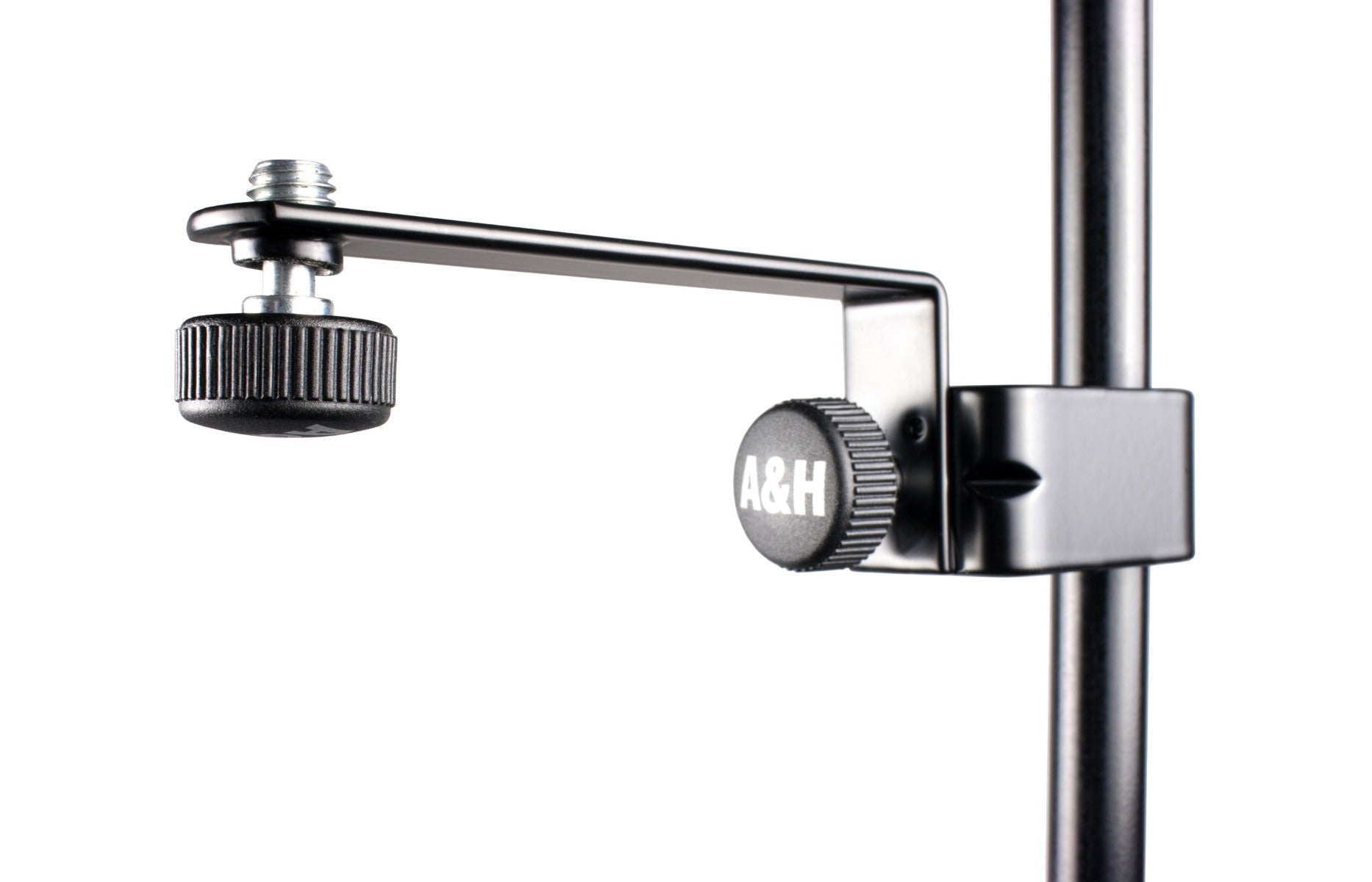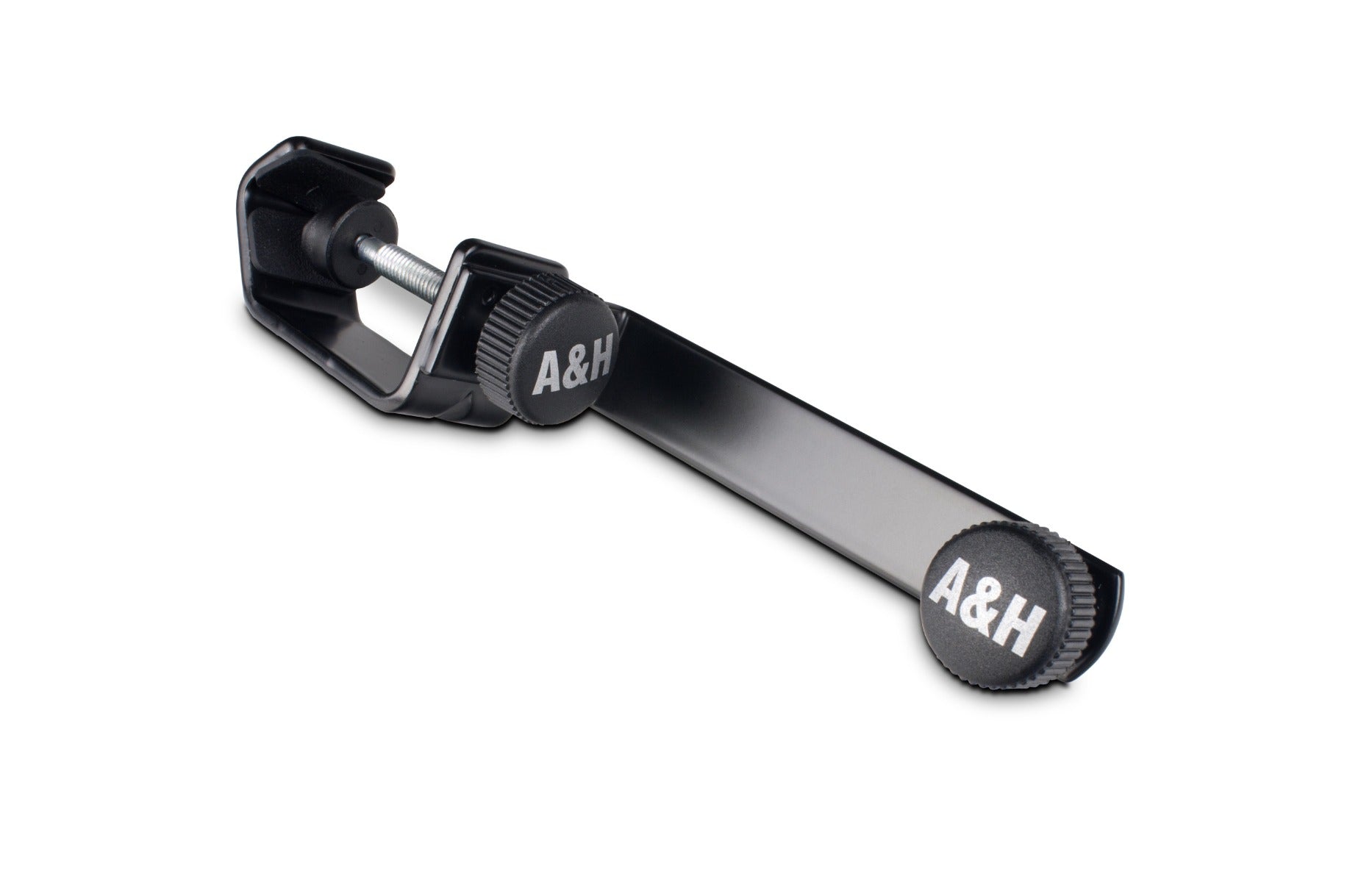 Allen & Heath ME-1 Personal Mixer
The ME-1 Personal Mixer puts the musician in control of their own monitor mix. Each performer can be given a tailored setup that works perfectly for them, whether they crave maximum control over the fine details of their mix or just want the minimum of keys to press. Operation is intuitive and elegant, with simple controls, clear visual feedback and custom naming for instant familiarity.
Fully customisable
Intuitive operation
Compact, smart design
40 sources from dLive, SQ, GLD, Qu or iLive
Compatible with MADI, Dante, Waves SG or EtherSound via ME-U hub
Daisy chain or use standard PoE Ethernet hubs
16 assignable keys to suit application
ME-1 is the cornerstone of the ME Personal Mixing System and is ready to use with the Allen & Heath dLive, SQ, GLD and Qu series digital mixers. ME-1 is complemented by the ME-U hub, which opens up the benefits of ME to users of other professional digital mixers via Dante or MADI. ME-1 also has an Aviom compatibility mode for use with Aviom Pro16 systems.
Equally at home on stage, in rehearsal rooms, houses of worship or recording studios, with ME everyone benefits from slicker soundchecks, lower sound levels on stage and quicker setups, while the engineer will be saving precious buses on the mixer and cutting the time spent tweaking monitor mixes. Whether you are monitoring on headphones, wired or wireless in-ears, using drum thrones or local speakers, the ME Personal Mixing System offers access to an unprecedented number of channels, rugged Allen & Heath construction and unrivaled sound quality.
16 assignable user keys
Backlit rubber keys make ME-1 controls perfectly visible in the dark. The 16 user keys can be assigned to a single source (mono or stereo) or to a Group, with all the convenience of pressing a single button no matter what you want to control – the vocalist mic, a stereo pair or the whole drumkit. Preset store/recall can be enabled or disabled per key to present only the control that is needed.
16 user presets
Levels, pan, mutes and key assignments can all be stored and recalled at the touch of a button. Presets for different bands and application scenarios can be conveniently copied to USB key or the whole configuration saved. Ideal for archiving or quick transferring to other units.
Groups
Groups make it possible to mix up to 40 sources with only 16 keys. They also save a lot of buses at the main console: whereas other personal monitor systems rely on subgroups and pre-mixes sent from the console, ME-1 has the sophistication to do it all on-board whilst remaining easy to use.
OLED screen
Provides a clear display of level and pan for the selected source, system setup and information menus, and a highly responsive stereo signal meter. Can be dimmed for low-light operation.
Custom Naming
It helps to know which source you are tweaking! ME-1 can display custom names for all channels and groups. When coupled with an Allen & Heath dLive, SQ or GLD, the ME-1 does the work for you by picking up source names automatically from the stream.
One knob controls everything
A single, large rotary control beneath the display is used to access and navigate all of ME-1's most commonly used functions and menus, including:
Input control of level & pan
Group control of master level
Level/pan for each member of the group
Control of master EQ and limiter
Global Trim (simultaneously adjusts all channel levels to prevent running the mix too hot)
Master level and key
Dedicated control and key to access the Master 3-band EQ and limiter settings.
Built-in ambient mic
With ME-1, musicians are not isolated from the rest of the stage. The ambient mic keeps them in touch with the stage sound and lets them hear the audience and communicate with each other without the need to pull out their ear pieces. The local mic level is independent of the master level control
Solo and Mute keys
Individual sources, groups or masters can be muted. Use the Solo key to meter and listen to just their contribution to the mix.
Shifted functions
System setup, standby mode and preset store are protected from accidental operation by holding Shift while pressing other keys. All input levels can be simultaneously trimmed by holding Shift while turning the rotary.
Headphones
Minijack and 1/4" headphone outputs with powerful, discrete amplifier design.
Mono Out
1/4" TRS balanced line out (mix only, no ambient mic).
Aux Input
Stereo input for local sources such as MP3 players or click tracks. Sensitivity is well matched to portable consumer devices.
Link In / Out
Secure and reliable EtherCon connectors for daisy chaining or star topology using ME-U or off-the-shelf Ethernet switches for any number of ME-1 mixers.
DC In
ME-1 can be powered via Cat5 using a PoE switch or the ME-U hub, or mains powered using the included power supply.
USB port
For firmware updates and archiving / transferring individual presets or the full configuration.
Free standing or surface mounted
Mount on top of a mic stand with the built-in 3/8" insert, or mount on the side of the stand with the supplied bracket.
| | |
| --- | --- |
| SKU | AH-ME1 |
| MPN | ME-1 |
| Vendor | Allen & Heath |
| Mpn | AH-ME-1 |
| Manufacturer Part Number (MPN) | AH-ME-1 |
Limited One Year Manufacturer's Warranty
Allen & Heath warrants the Allen &Heath -branded hardware product and accessories contained in the original packaging ("Allen & Heath Product") against defects in materials and workmanship when used in accordance with Allen & Heath's user manuals, technical specifications and other Allen & Heath product published guidelines for a period of ONE (1) YEAR from the date of original purchase by the end-user purchaser ("Warranty Period"). This warranty does not apply to any non-Allen & Heath branded hardware products or any software, even if packaged or sold with Allen & Heath hardware. Please refer to the licensing agreement accompanying the software for details of your rights with respect to the use of software ("EULA").
Repair or replacement under the terms of the warranty does not provide right to extension or renewal of the warranty period. Repair or direct replacement of the product under the terms of this warranty may be fulfilled with functionally equivalent service exchange units. This warranty is not transferable. This warranty will be the purchaser's sole and exclusive remedy and neither Allen & Heath nor its approved service centres shall be liable for any incidental or consequential damages or breach of any express or implied warranty of this product.
Conditions of Warranty
The equipment has not been subject to misuse either intended or accidental, neglect, or alteration other than as described in the User Guide or Service Manual, or approved by Allen & Heath. The warranty does not cover fader wear and tear. Any necessary adjustment, alteration or repair has been carried out by an authorised Allen & Heath distributor or agent. The defective unit is to be returned carriage prepaid to the place of purchase, an authorised Allen & Heath distributor or agent with proof of purchase. Please discuss this with the distributor or the agent before shipping. Units returned should be packed in the original carton to avoid transit damage.
DISCLAIMER: Allen & Heath shall not be liable for the loss of any saved/stored data in products that are either repaired or replaced. Check with your Allen & Heath distributor or agent for any additional warranty information which may apply. If further assistance is required please contact Allen & Heath Ltd. Any changes or modifications to the equipment not approved by Allen & Heath could void the compliance of the product and therefore the user's authority to operate it.
Ground shipping is FREE for all orders $99 and up.