Skip product carousel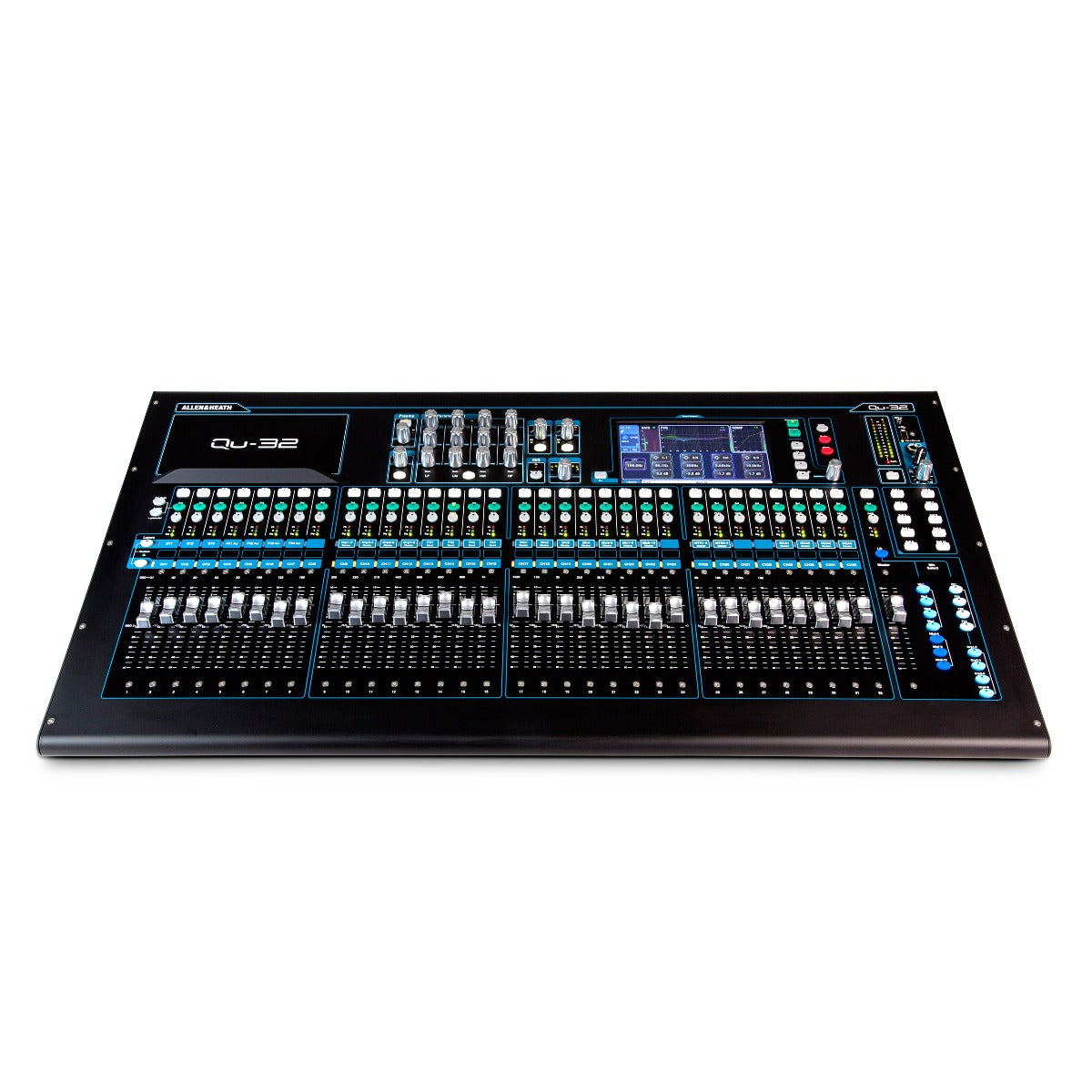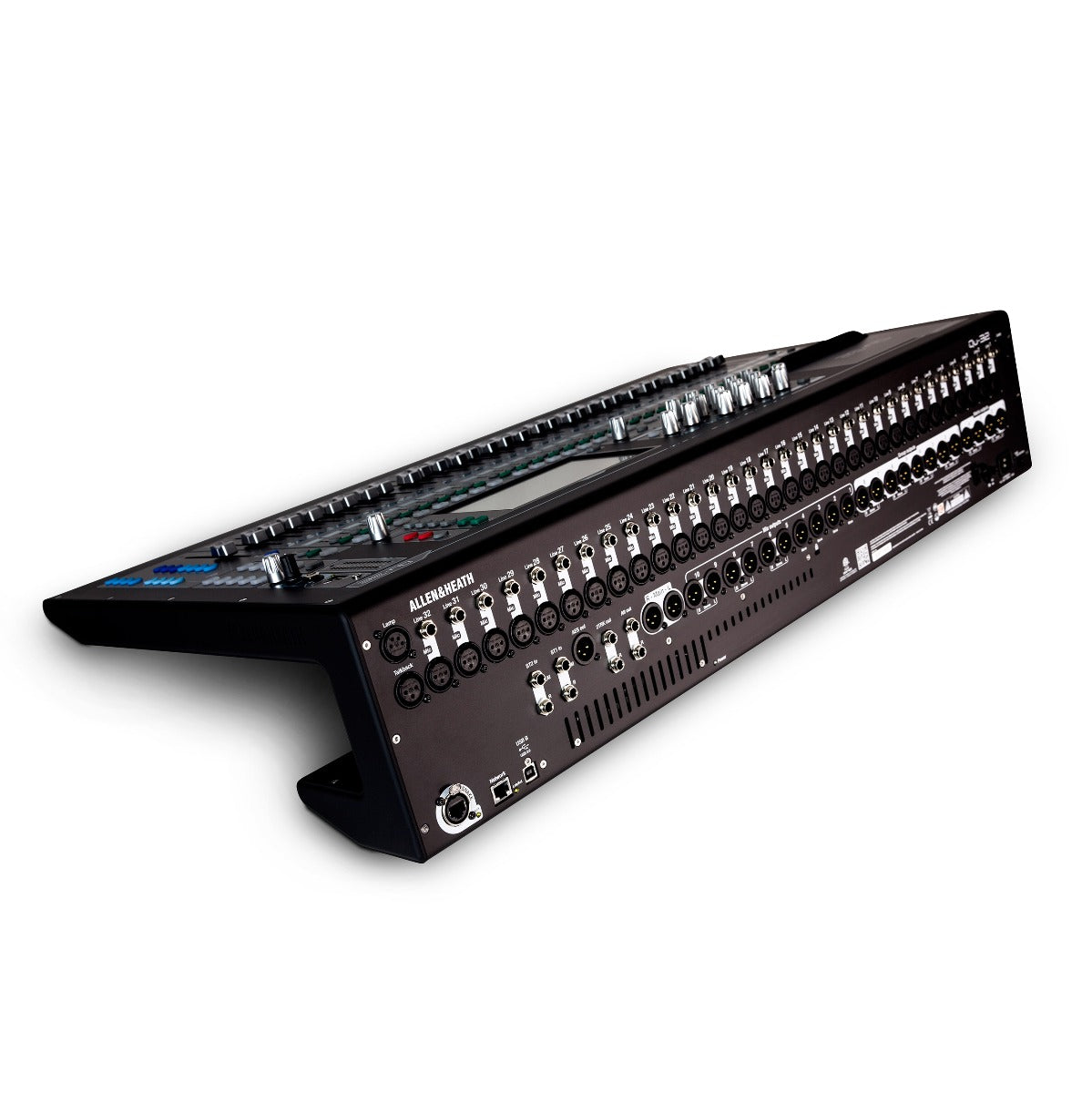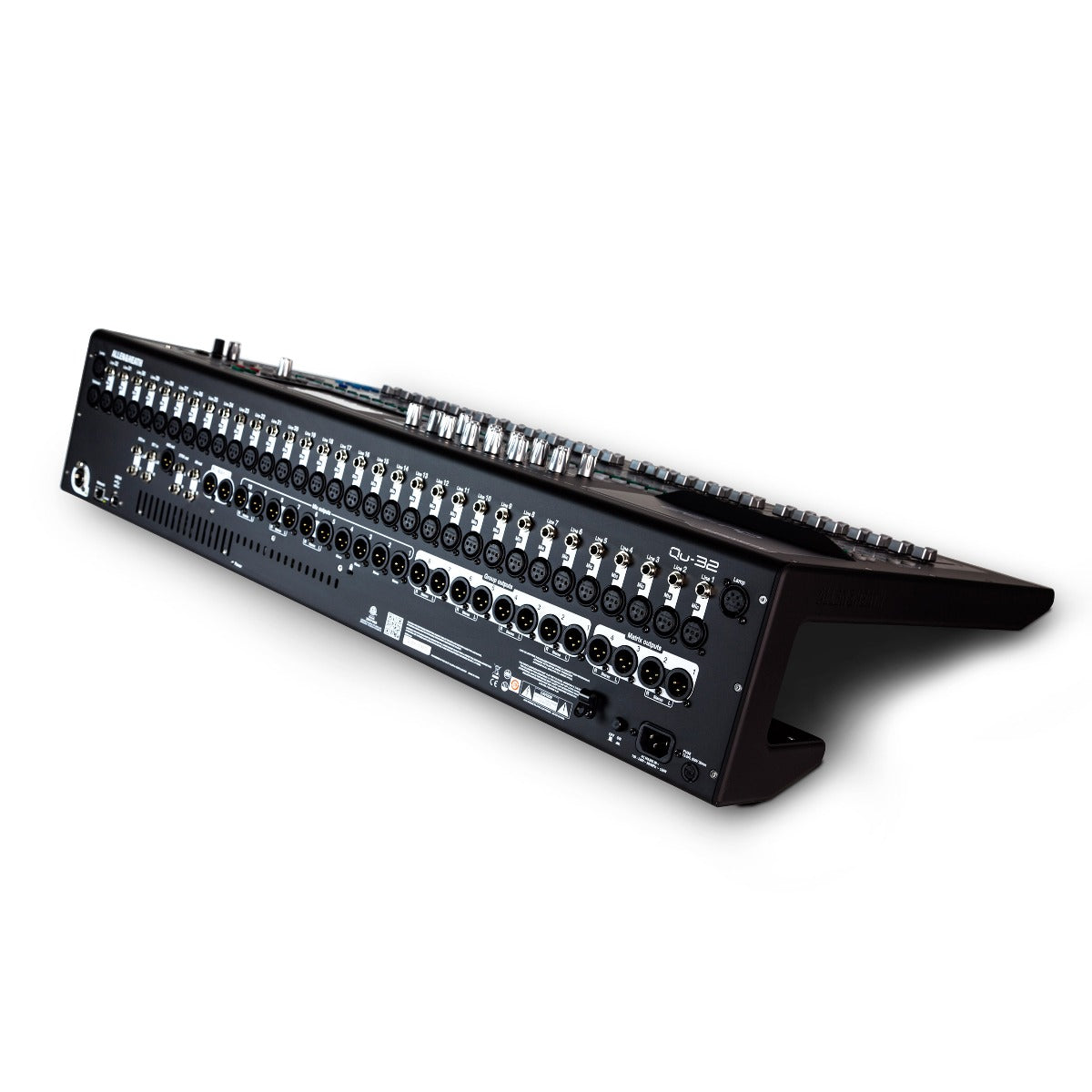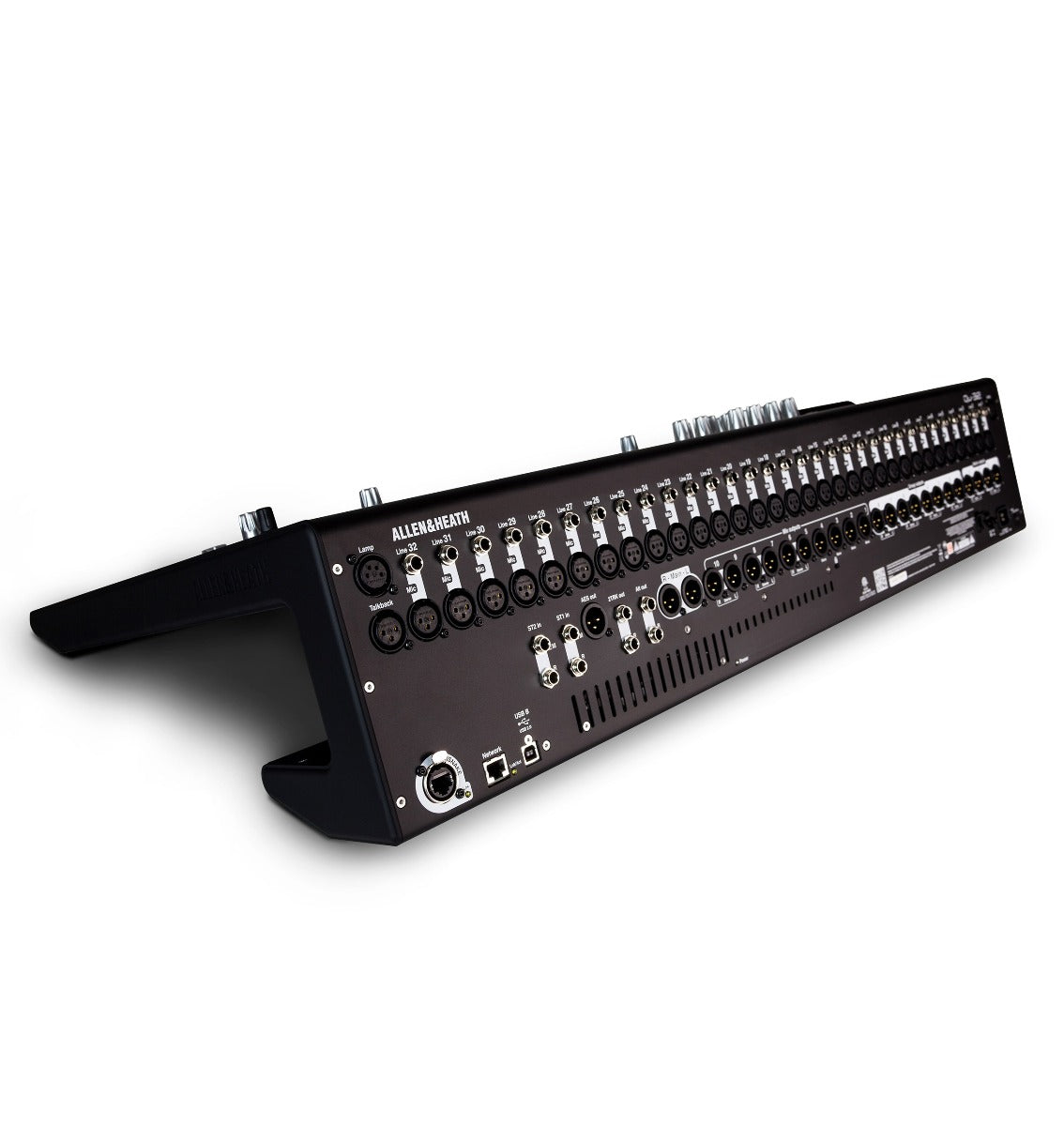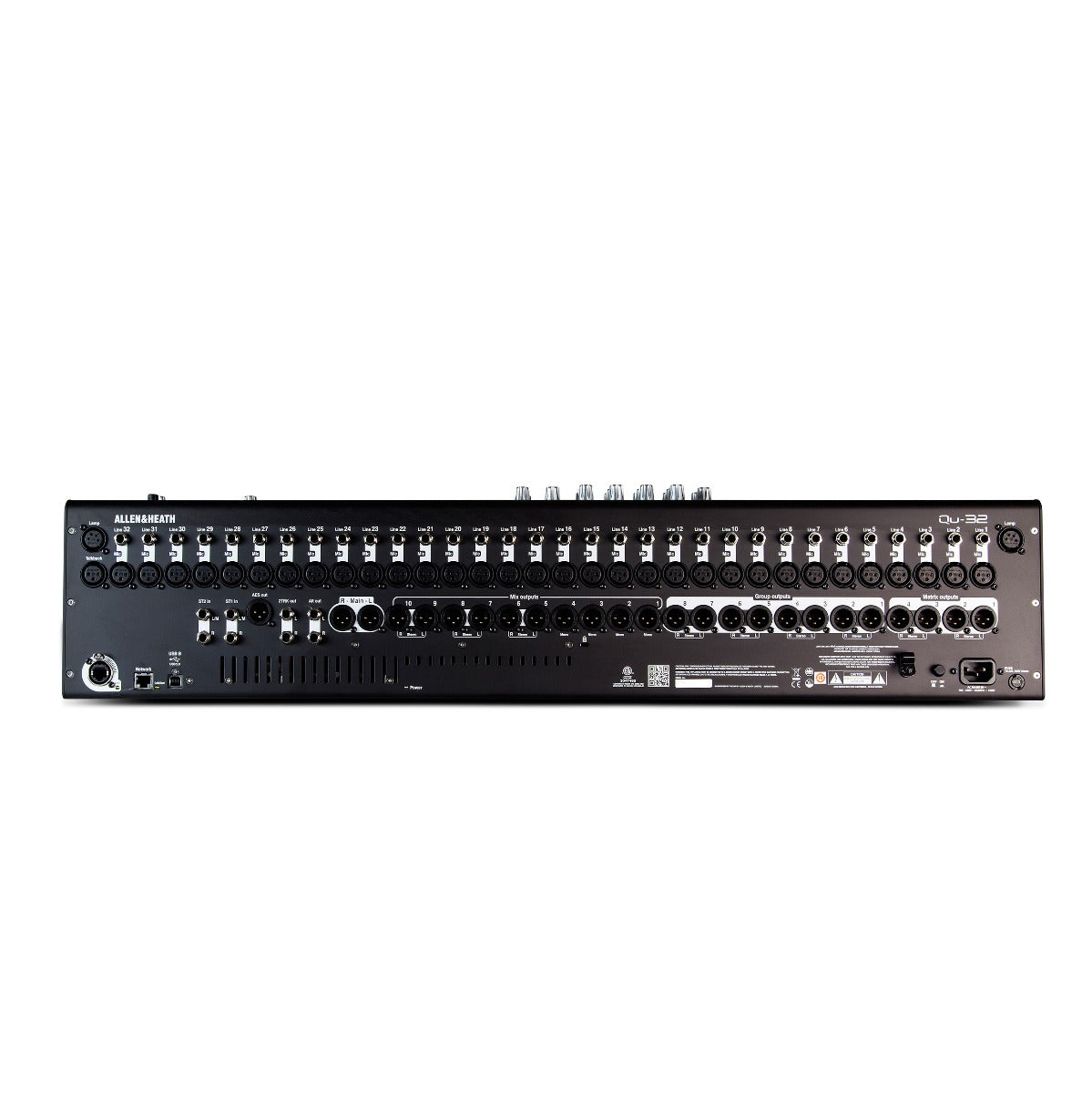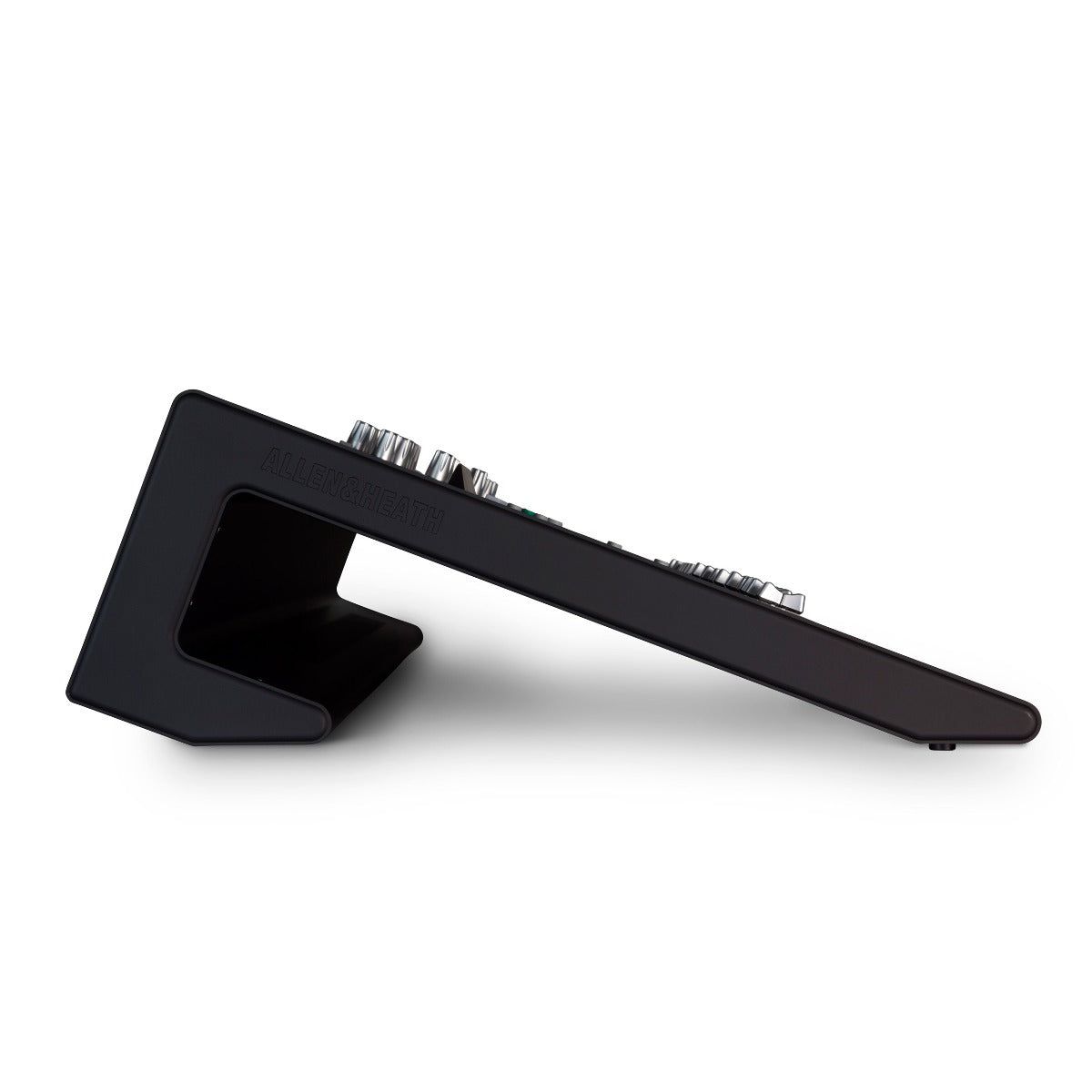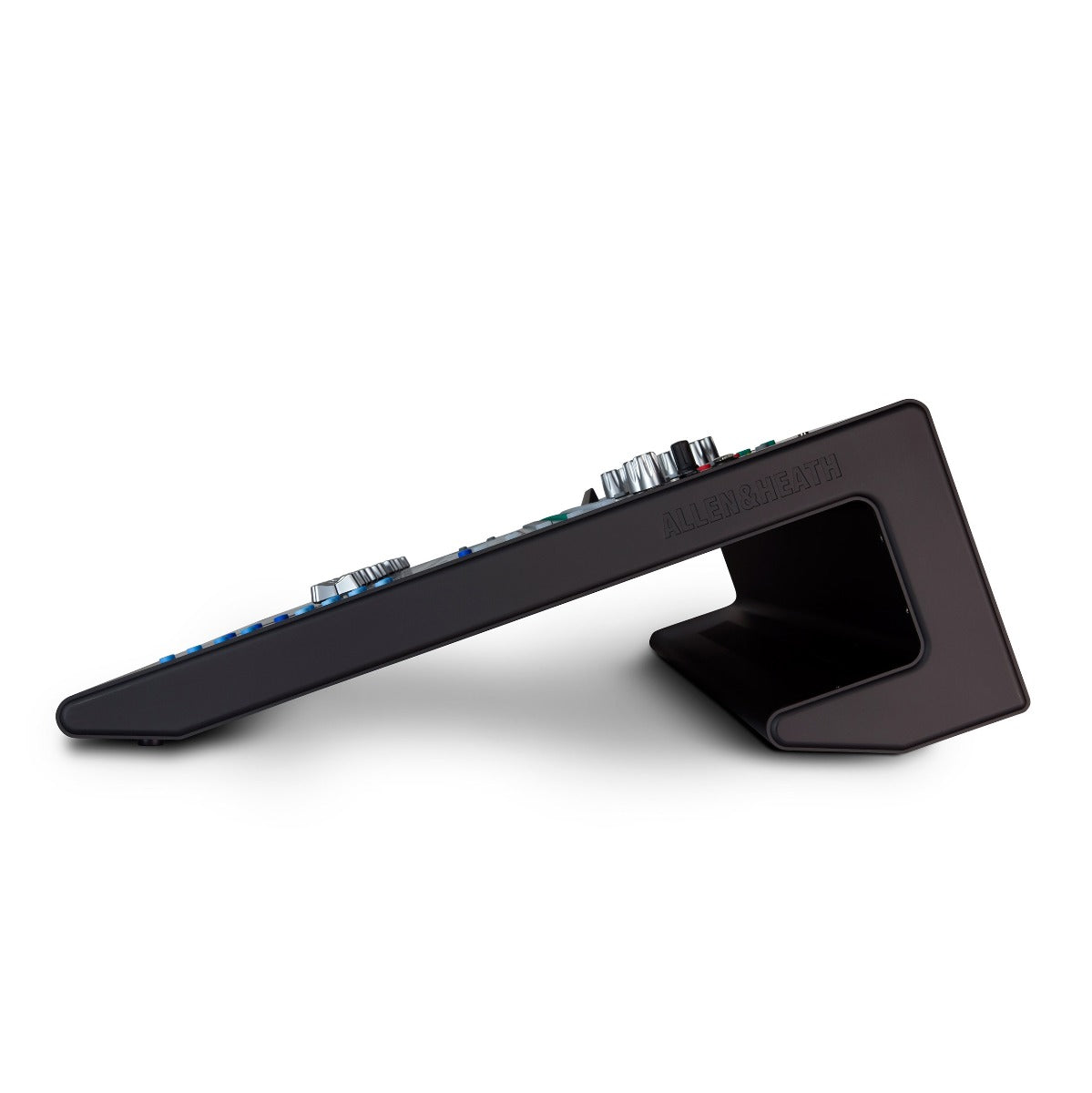 Allen & Heath Qu-32C Digital Mixer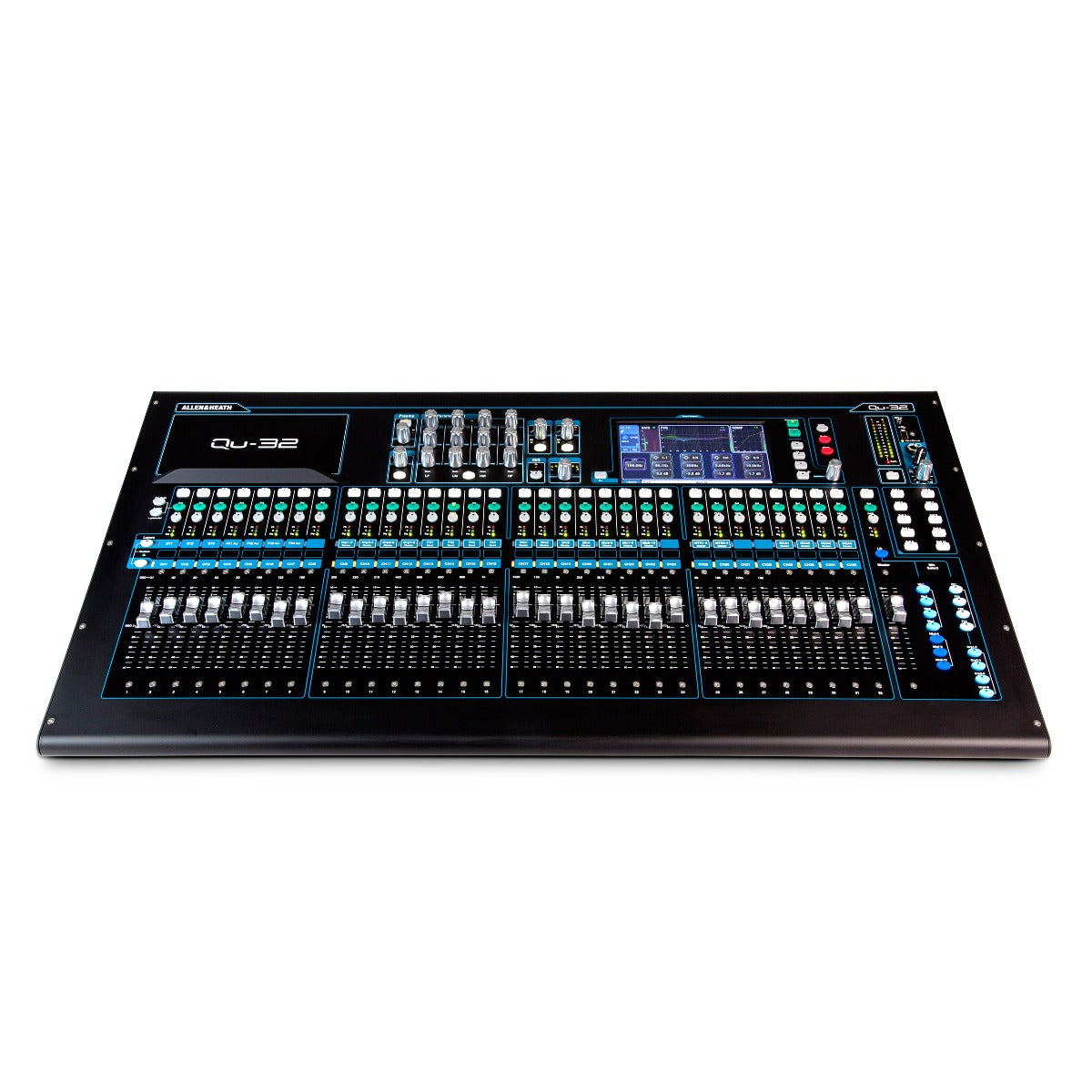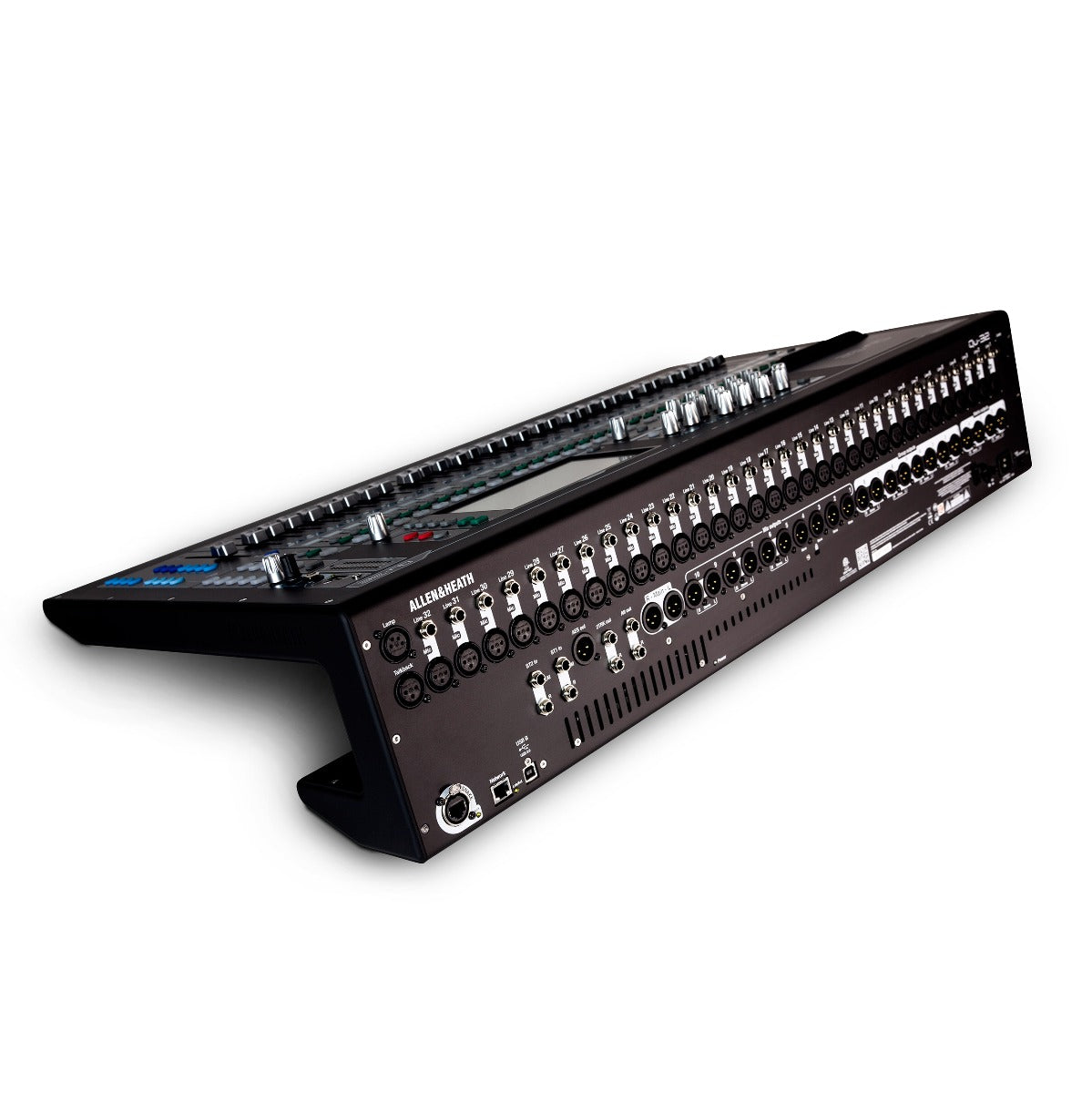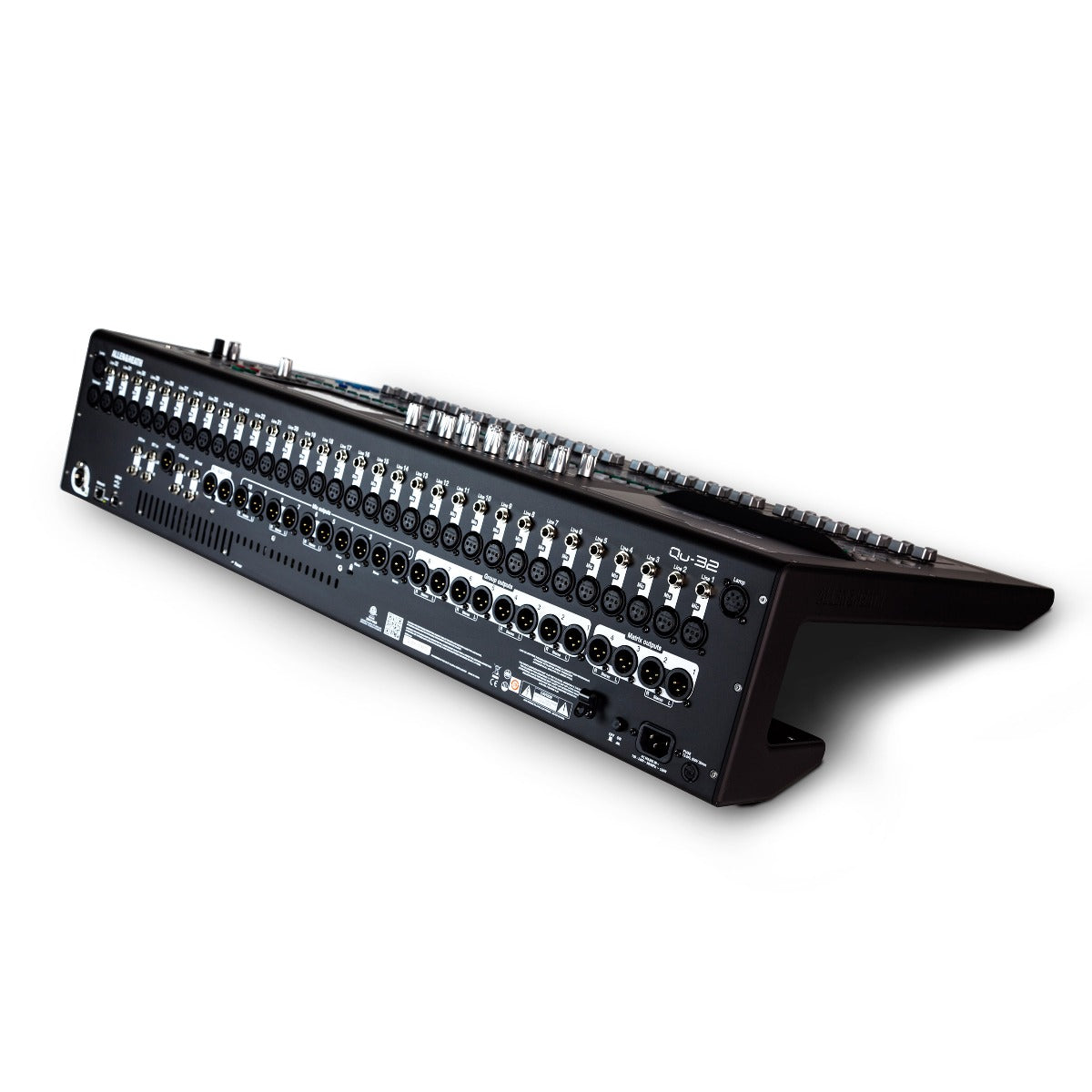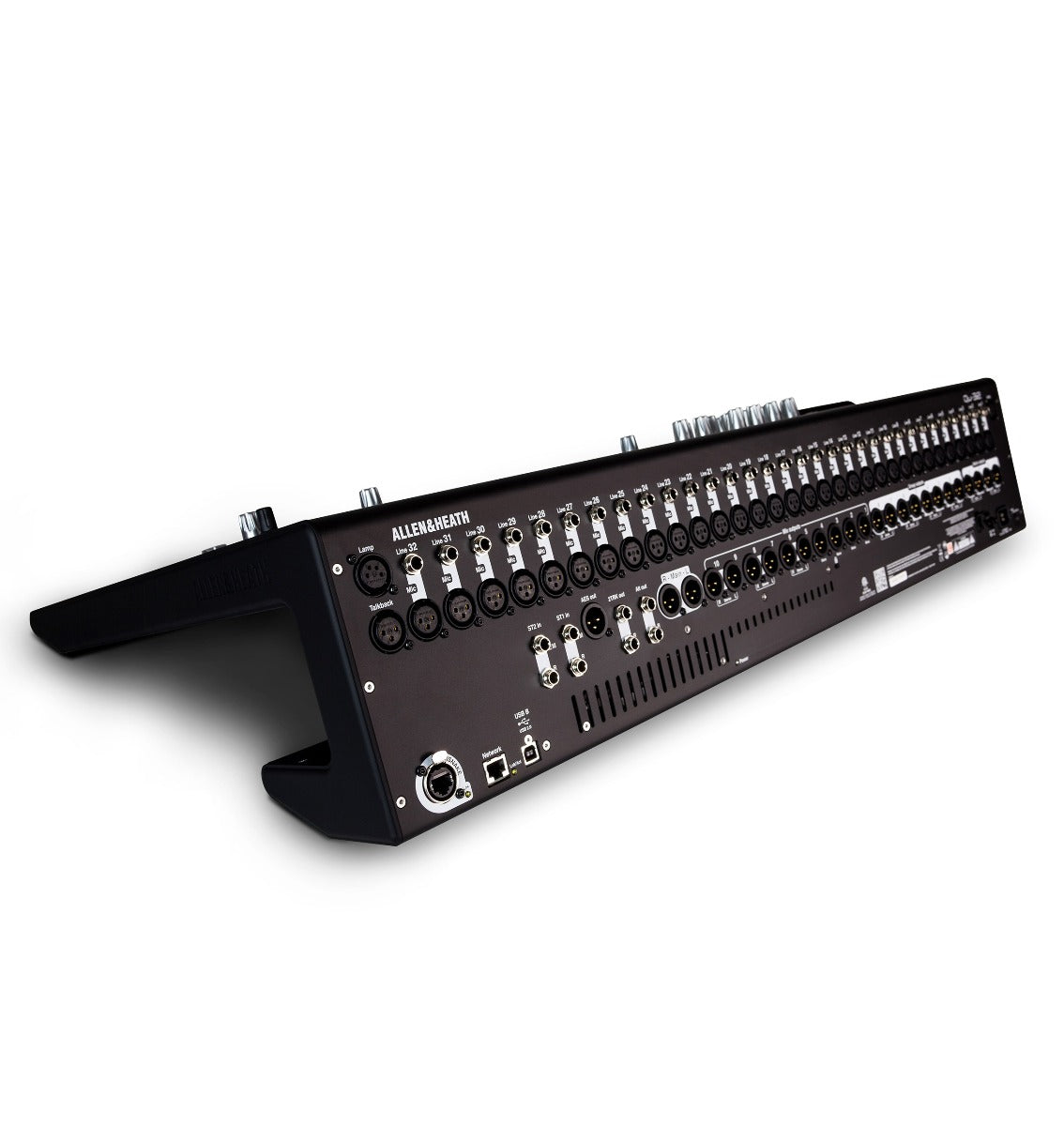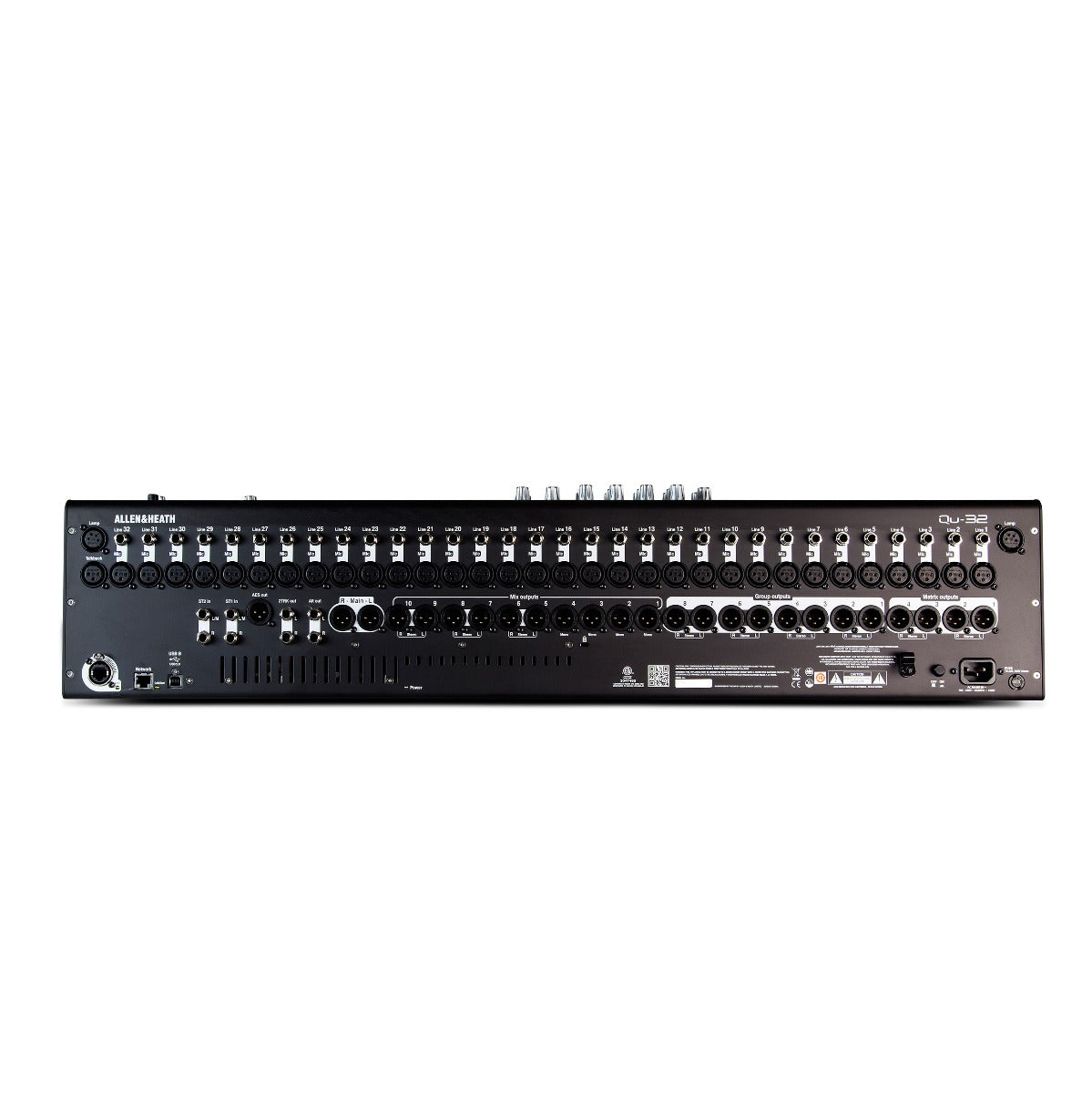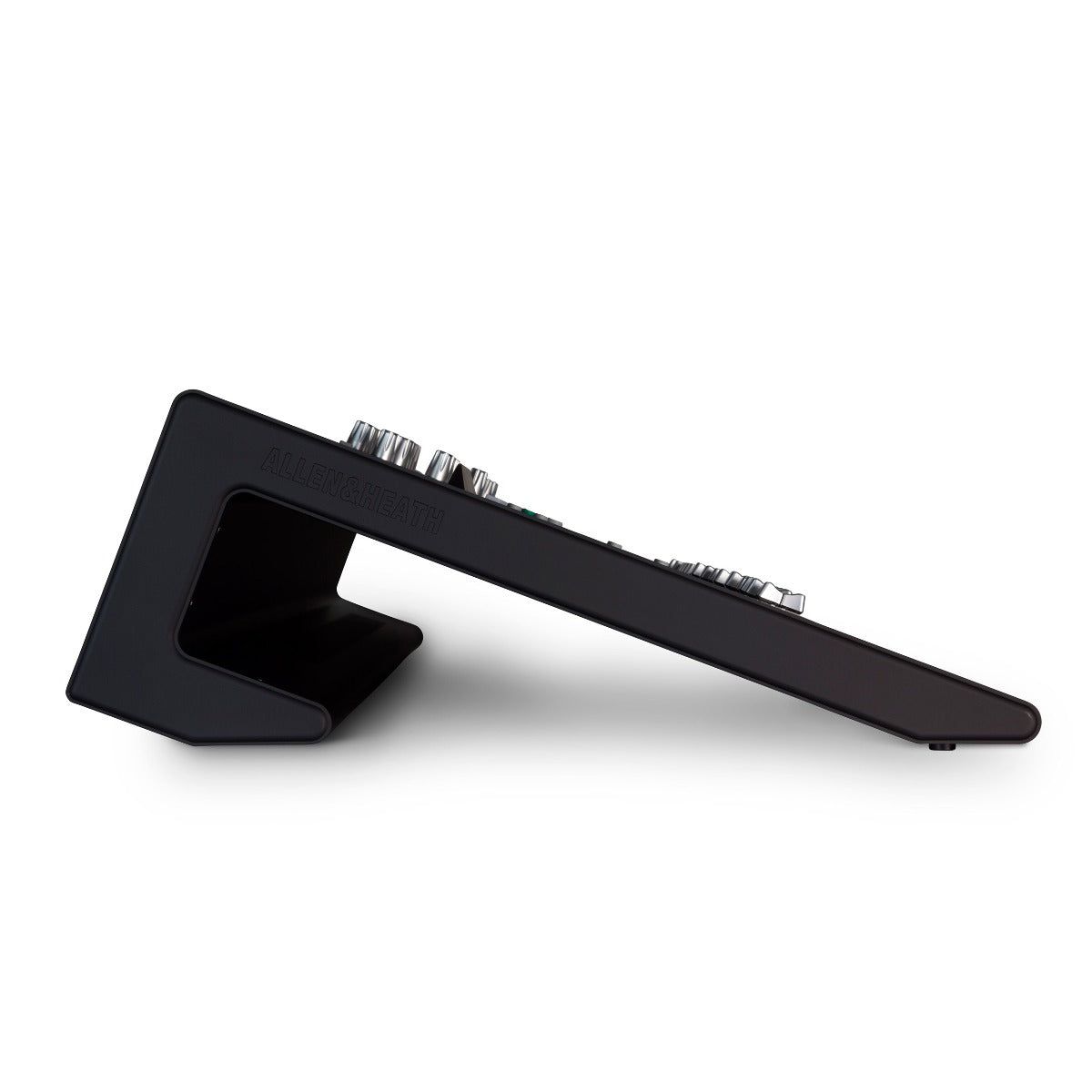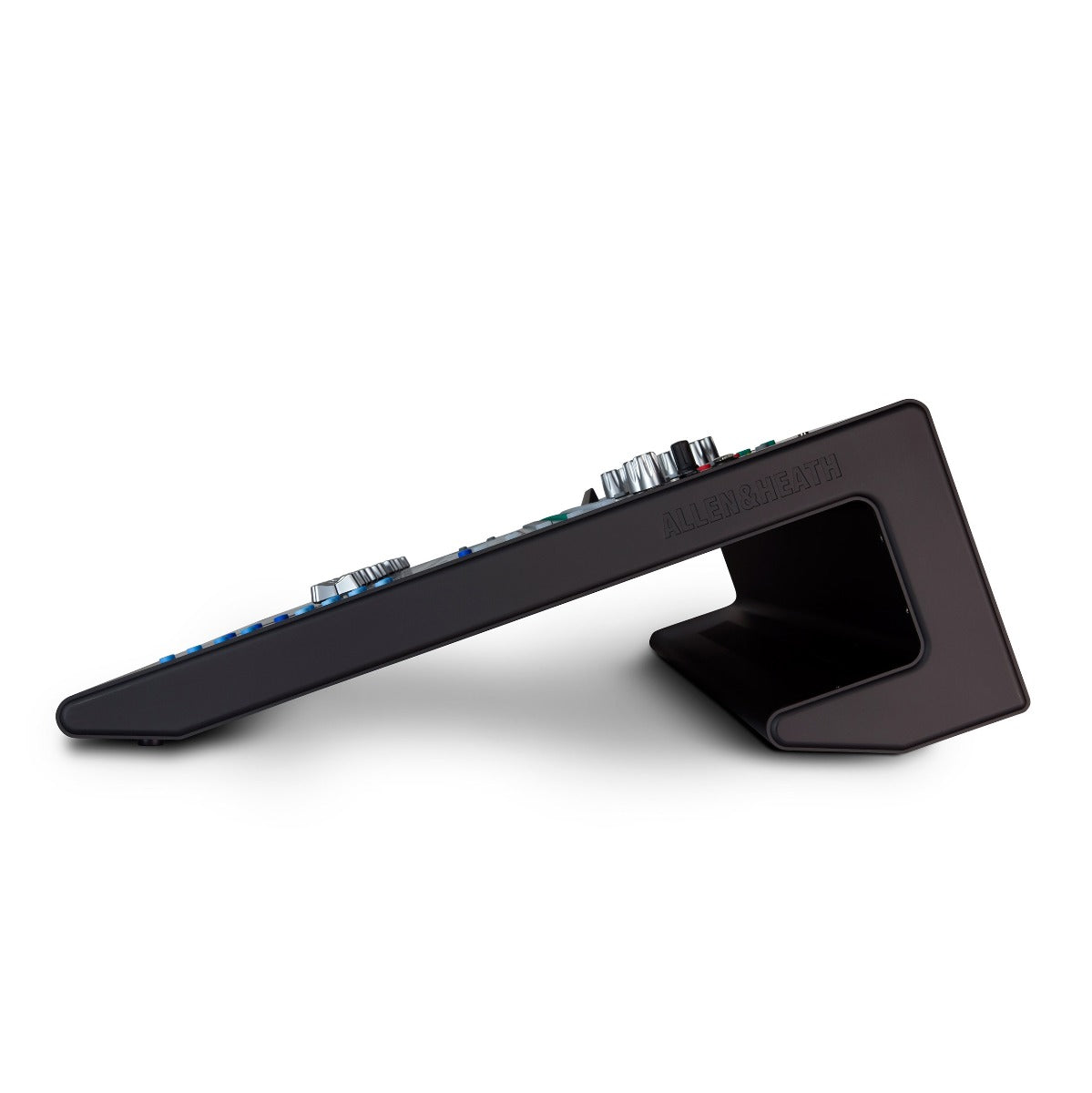 Allen & Heath Qu-32C Digital Mixer
Digital Mixing Reshaped
Now in a feature-packed new Chrome Edition, Qu-32 reshapes digital mixing, combining innovative design and exceptional functionality to create a superb professional mixing experience. Bristling with all the features you'd expect from a top of the range digital console and incorporating technologies pioneered on the GLD and iLive digital mixing systems, Qu-32 has the power and pedigree to deliver class-leading audio performance.
Qu series features include multitrack recording direct to USB, Automatic Mic Mixing, ProFactory mic presets, plus an ever growing ecosystem of apps, accessories and remote I/O. Whether you're switching from analogue or updating your digital desk, it's time to experience the new digital with Qu-32
32 Mono Mic/Line Inputs (TRS + XLR)
Recallable AnaLOGIQ Preamps
3 Stereo Inputs (TRS)
24 Mix Outputs (XLR)
4 Stereo Groups (switchable to Mix mode)
Up to 11 Monitor Mixes (4 mono + 7 stereo)
2 Stereo Matrix Outs
4 FX Engines
4 dedicated FX Sends / Returns
4 Mute Groups
4 DCA Groups
AES Digital Out
32×32 USB Audio Interface
dSNAKE Remote Audio Port
33 Motor Faders
7" Touchscreen
10 Soft Keys
Trim, polarity, HPF, gate, insert, 4-band PEQ, compressor, delay on all Inputs
Insert, 4-band PEQ, 1/3 octave GEQ, compressor, delay on all Outputs
Automatic Mic Mixer
Channel Ducker on all inputs
ProFactory Mic Presets
RackFX Library
Built-in Signal Generator
RTA with Peak Band indication
Spectrogram to aid feedback elimination and room acoustics
Automatic Mic Mixer
Qu-Drive Direct Multitrack Recording / Playback on USB drives
DAW MIDI Control
Qu-Pad iPad App
Qu-You iPhone / Android personal monitoring app
Qu-Control customisable iOS app for simple wireless control
Compatible with ME Personal Mixing System
High contrast metallic finish controls, matching premium GLD Chrome series
Qu Ecosystem
Qu provides much more than just a mixer. Qu is an entire ecosystem with Remote AudioRacks allowing I/O to be placed where it's needed, ME Personal Mixers expanding monitor mixes and enabling simple, time-saving local control, Qu Apps for complete remote setup and wireless mixing on stage or anywhere else in the venue, ProFactory Mic presets to speed up preparation time and ensure the best sound, plus USB recording and DAW integration for powerful workflow optimisation from one centrepiece device.
AnalogiQ Preamps
Qu-32 features thirty-two AnalogiQ digitally controlled preamps with advanced zero-crossing detection and a padless 1dB-step gain stage, which have been closely allied to the DSP for optimal gain accuracy and audio transparency. The analogue signal is captured by high-class, low latency 24bit analogue to digital converters, and are matched to 24bit digital to analogue converters to deliver the required high quality output. The AnalogiQ preamp design has been refined to offer superb transparency, minimal distortion and an ultra-low noise floor, with a warm, musical sound that is missing from some digital consoles.
The Mixing Experience
Having massive processing power and advanced functionality counts for nothing if you can't access the controls you need in a heartbeat. The 800×480, True Colour Touchscreen and its dedicated rotary encoder form the heart of Qu-32's interface, providing super-fast access to all settings and parameters. Dedicated keys and screen tabs quickly guide you to meter and RTA views, FX racks, channel processing, USB audio control, scenes, setup menus and much more. Complementing the touchscreen is the SuperStrip – a set of single function physical controls for instant access to gain, HPF, 4 band PEQ, gate, compressor, GEQ and pan. The screen overview also follows the control being turned.
One Channel / One Fader
Qu-32 has a fader per mono input channel and fewer fader layers for simpler, quicker workflow. Some digital mixers don't offer a fader per physical input, meaning you have to access an additional fader layer to control these channels. This can be confusing and time consuming. Because every mic input is presented on its own fader for fast, easy control, this makes Qu-32 the perfect mixer for first-time converts from analogue to digital and those not comfortable working with several layers of faders.
Total Recall
True digital mixing is about being able to save and recall Scenes (snapshots) at the press of a button. Qu can store up to 100 full Scenes for recall and Channels or Mixes can be made Safe from being overwritten. Qu-32 features 33 motorized ALPS faders, 32 allow instant access to all input channels and masters over 2 layers, and a dedicated master fader dynamically follows the Mix selection. A third user-defined Custom layer is available for ad-hoc strip layout, where any combination of Inputs, FX Sends, FX Returns, DCA's and Mix masters can be assigned.
ProFactory Mic Presets
Allen & Heath has teamed up with leading microphone manufacturers and top engineers at Audio-Technica, Sennheiser, and Shure to provide EQ Library presets for a large number of popular and industry standard microphones. Presets for vocals, electric guitar, acoustic guitar, drums, brass and woodwind have been painstakingly crafted to offer you the best possible starting point for the source and your microphone of choice. Whether you're a keen amateur or a seasoned professional, you can get to work quickly and easily, saving valuable time so you can concentrate on EQ'ing the source and room acoustics.
Rack FX
Qu-32's dynamics and FX algorithms are derived from those used in Allen & Heath's pro touring consoles. Some of the world's most respected audio engineers have chosen to use RackFX on tour in preference to top-end plug-ins and external FX units. Qu-32 boasts 4 stereo RackFX engines, featuring lovingly crafted emulations of legendary classic reverbs, gated reverbs, delays, modulators, flangers and more. FX are returned to the mix on dedicated return channels, so you're not tying up your mono and stereo input channels. Each Stereo FX Return has a dedicated 4 band PEQ.
More Mixes, More Flexibility
Qu-32 provides 4 stereo Groups which can be used as subgroups to the main LR mix for group level and processing, for example to buss-compress an entire drum kit, or to tame multiple lavalier mics with a single graphic EQ. Groups can also be switched to Mix mode to provide additional outputs for monitor mixes.
THE MATRIX
Qu-32 adds 2 further stereo Matrix outputs equipped with full processing to the console's extensive I/O. A Matrix is a 'mixer within a mixer', fed from any combination of Group 1-4, Mix 1-10, and main LR. It can be used to provide a broadcast feed, a recording mix, or duplicate the main outputs for delay stacks, fill or zone speakers where independent GEQ and delay is applied.
Qu-Drive
Qu-32 has an integrated multitrack USB recorder, providing 18 channels of 48kHz, 24bit recording and playback straight to / from your USB key or hard drive. Capturing multitrack recordings of your shows has never been so easy. A selectable stereo pair can be recorded alongside the 16 Mono channels, and multitrack audio can be played back to the 16 Mono inputs plus ST1. On top of this, Qu-Drive also provides stereo recording patchable from any pair of Mix outputs, the Main LR (pre, post, or summed to mono) or even the PAFL bus, with 2- track stereo playback to ST3.
Automatic Mic Mixer (AMM)
AMM is vital in applications such as conferences, meetings and panel discussions where a number of microphones are open at the same time. Reducing background noise and minimising the risk of feedback, the Automatic Microphone Mixer helps the engineer to manage the levels of multiple mic inputs, ensuring that each speaker's contribution is heard clearly. The D-Classic dynamic gain sharing algorithm is inspired by industry standard automixers. Up to 16 microphone sources can be mixed at once, with each channel having a priority setting which determines its 'weight' in the total system gain.
Mac OS and Windows DAW Integration
Qu-32's built-in audio interface streams up to 32 selectable tracks to your Mac or PC and returns from the computer can be easily assigned to the Input channels. The interface is class-compliant on Mac OS X making it truly plug 'n play and will be recognized straight away by any DAW supporting Core Audio, including Logic, Cubase, Reaper, and Pro Tools. An ASIO and WDM compatible driver is available for Windows computers. Standard MIDI control is tunnelled over the USB connection so you can map the faders to the tracks of your favourite DAW. A DAW Control driver is available for easy setup and emulation of HUI or Mackie Control protocols on Mac OS X and Windows systems.
Qu apps for greater wireless control
Add the fully-featured Qu-Pad app for iPad to your Qu-32 and you're free to EQ and mix monitors on stage, roam around the venue whilst adjusting the PA, and mix the show from the heart of the audience. Qu-Pad connects to the mixer over Wi-Fi and gives instant access to all live mixing parameters and settings.
Qu-You allows up to seven performers to control their own monitor mixes using any iOS or Android device, and frees up the engineer to focus on mixing for the audience.
Qu-Control is a customisable iOS app providing a simple interface for non-technical users to control the essential parameters of Qu mixers when technical operators are not around.
Apps require the connection of a Wi-Fi router or access point to the mixer's Network port.
dSNAKE Remote Audio Racks
Qu-32 is a self-contained mixer, so if you've already got the analogue cables you're good to go. If you're thinking of trading in the copper multicore for a Cat5 digital snake, Qu-32's built-in dSNAKE port has you future-proofed, allowing connection to a remote AB168, AR2412 or AR84 Stagebox. dSNAKE is our proprietary networking solution, boasting a transport latency of only 105us over cable runs of up to 120m / 390'. So if you're mixing FoH you can place your I/O on the stage and run a single Cat5 cable back to the Qu-32 in the mix position.
ME Personal Mixing System
Qu-32 is fully compatible with our ME Personal Mixing System. ME-1 expands available monitor mixes and gives each performer tailored control over their own mix, leaving the engineer free to focus on the audience experience. Any number of ME-1 personal mixers can be chained from the dSNAKE™ port (or from an AR2412 or AB168 Stagebox connected to the dSNAKE™ port).
ARMED to the Hilt
Qu-32 is equipped with 5 high efficiency ARM core processors. Between them, the ARM cores provide state-of-the-art processing, working in parallel to deliver extensive control, instant-on operation, and lightning-fast response, with dedicated cores running the touchscreen and surface, USB streaming, Qu-Drive multi-channel recording / playback, Ethernet control and fader automation. The mixer's DSP farm exploits next generation dual-core DSPs, giving 10 DSP cores, 8 of which are dedicated to channel and mix processing alone. Qu-32's DSP architecture employs varied bit depths, tailored to specific algorithms, with 48 bits on critical EQ functions and a 56-bit accumulator on the mix bus where it really counts, allowing every nuance of the audio to be captured in the final mix.
SKU
AH-QU32C
MPN
Qu-32C
Vendor
Allen & Heath
Audio Recording
Multitrack to Flash Drive and Multitrack over USB
Connectivity
USB and dSNAKE
Mic Preamps
32
Mixer Channel Filterable
38
Mixer Type
Digital
Mpn
AH-QU-32C
Simultaneous Inputs
35
Aux/Effect Sends
4 dedicated FX Sends / Returns
Busses/Groups
4 Stereo Groups (switchable to Mix mode)
4 Mute Groups
4 DCA Groups
Channel EQ
4-band PEQ
Effects
4 FX Engines
Number of Faders
33 Motor Faders
Audio Inputs
32 x Mono Mic/Line Inputs (TRS + XLR Combo)
3 x Stereo TRS
Audio Outputs
24 x XLR Mix Outputs
Product Weight
44 lbs
Rackmountable
No
Storage Type
USB
Width
33.42"
Depth
18.54"
Height
7.32"
Limited One Year Manufacturer's Warranty
Allen & Heath warrants the Allen &Heath -branded hardware product and accessories contained in the original packaging ("Allen & Heath Product") against defects in materials and workmanship when used in accordance with Allen & Heath's user manuals, technical specifications and other Allen & Heath product published guidelines for a period of ONE (1) YEAR from the date of original purchase by the end-user purchaser ("Warranty Period"). This warranty does not apply to any non-Allen & Heath branded hardware products or any software, even if packaged or sold with Allen & Heath hardware. Please refer to the licensing agreement accompanying the software for details of your rights with respect to the use of software ("EULA").
Repair or replacement under the terms of the warranty does not provide right to extension or renewal of the warranty period. Repair or direct replacement of the product under the terms of this warranty may be fulfilled with functionally equivalent service exchange units. This warranty is not transferable. This warranty will be the purchaser's sole and exclusive remedy and neither Allen & Heath nor its approved service centres shall be liable for any incidental or consequential damages or breach of any express or implied warranty of this product.
Conditions of Warranty
The equipment has not been subject to misuse either intended or accidental, neglect, or alteration other than as described in the User Guide or Service Manual, or approved by Allen & Heath. The warranty does not cover fader wear and tear. Any necessary adjustment, alteration or repair has been carried out by an authorised Allen & Heath distributor or agent. The defective unit is to be returned carriage prepaid to the place of purchase, an authorised Allen & Heath distributor or agent with proof of purchase. Please discuss this with the distributor or the agent before shipping. Units returned should be packed in the original carton to avoid transit damage.
DISCLAIMER: Allen & Heath shall not be liable for the loss of any saved/stored data in products that are either repaired or replaced. Check with your Allen & Heath distributor or agent for any additional warranty information which may apply. If further assistance is required please contact Allen & Heath Ltd. Any changes or modifications to the equipment not approved by Allen & Heath could void the compliance of the product and therefore the user's authority to operate it.
Ground shipping is FREE for all orders $99 and up.