Skip product carousel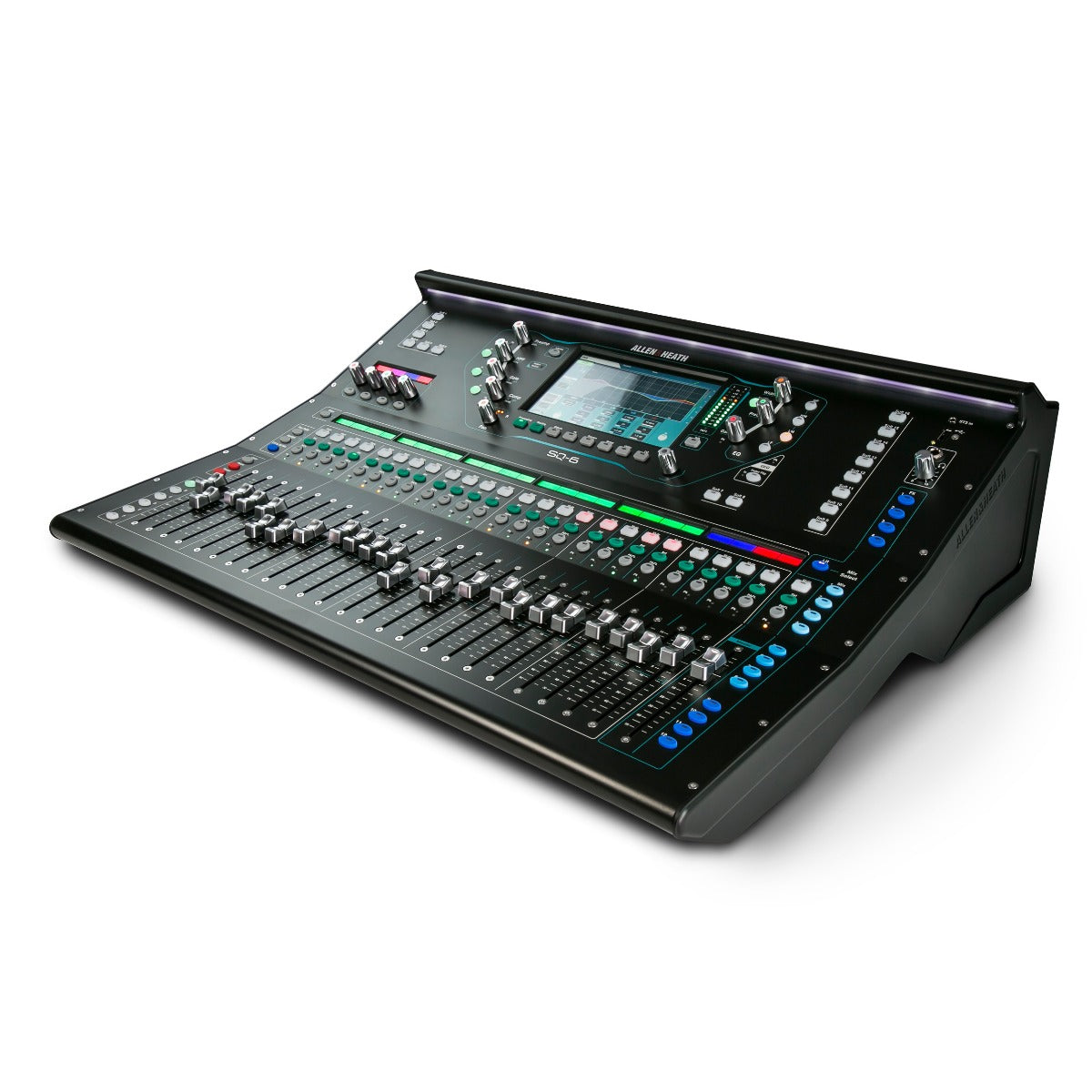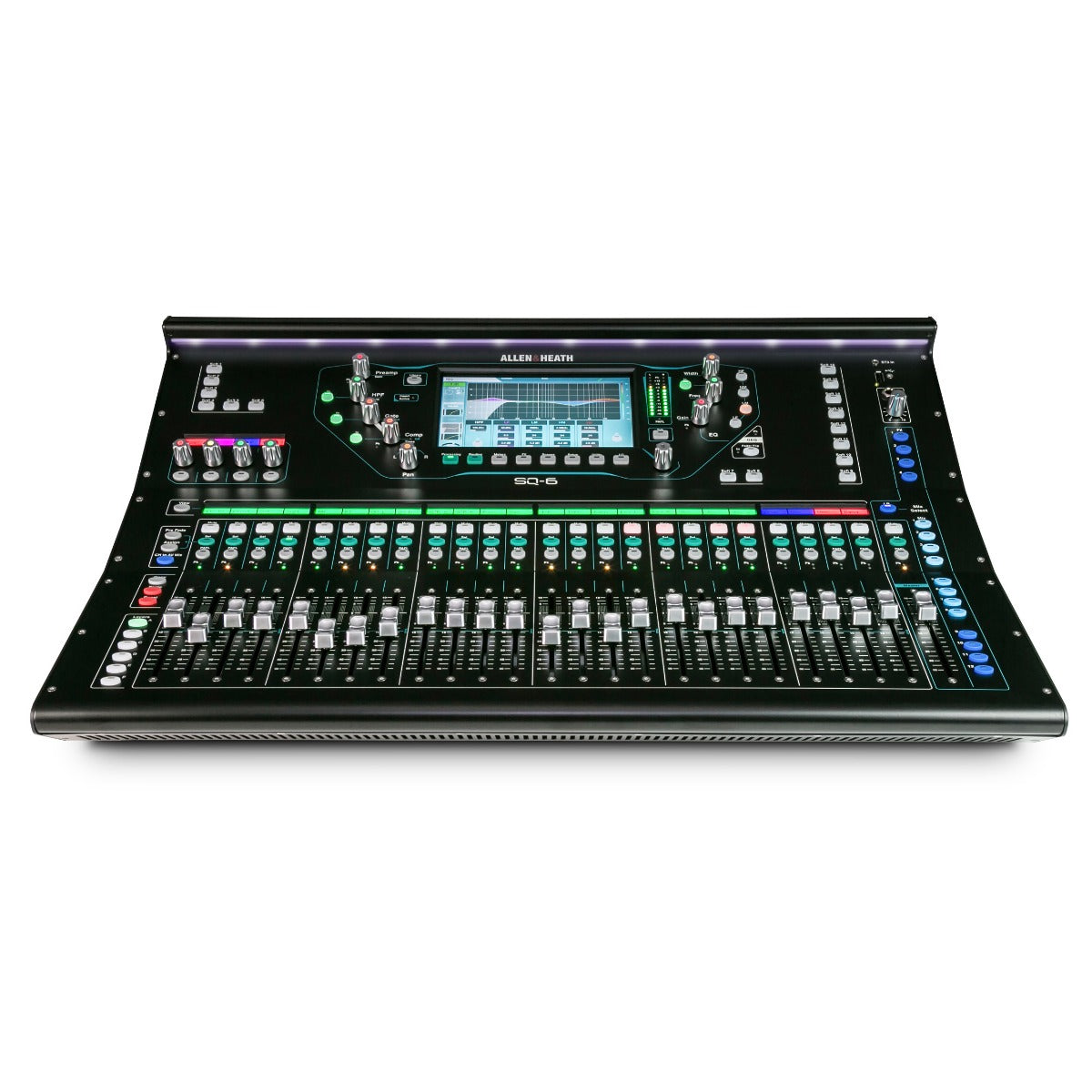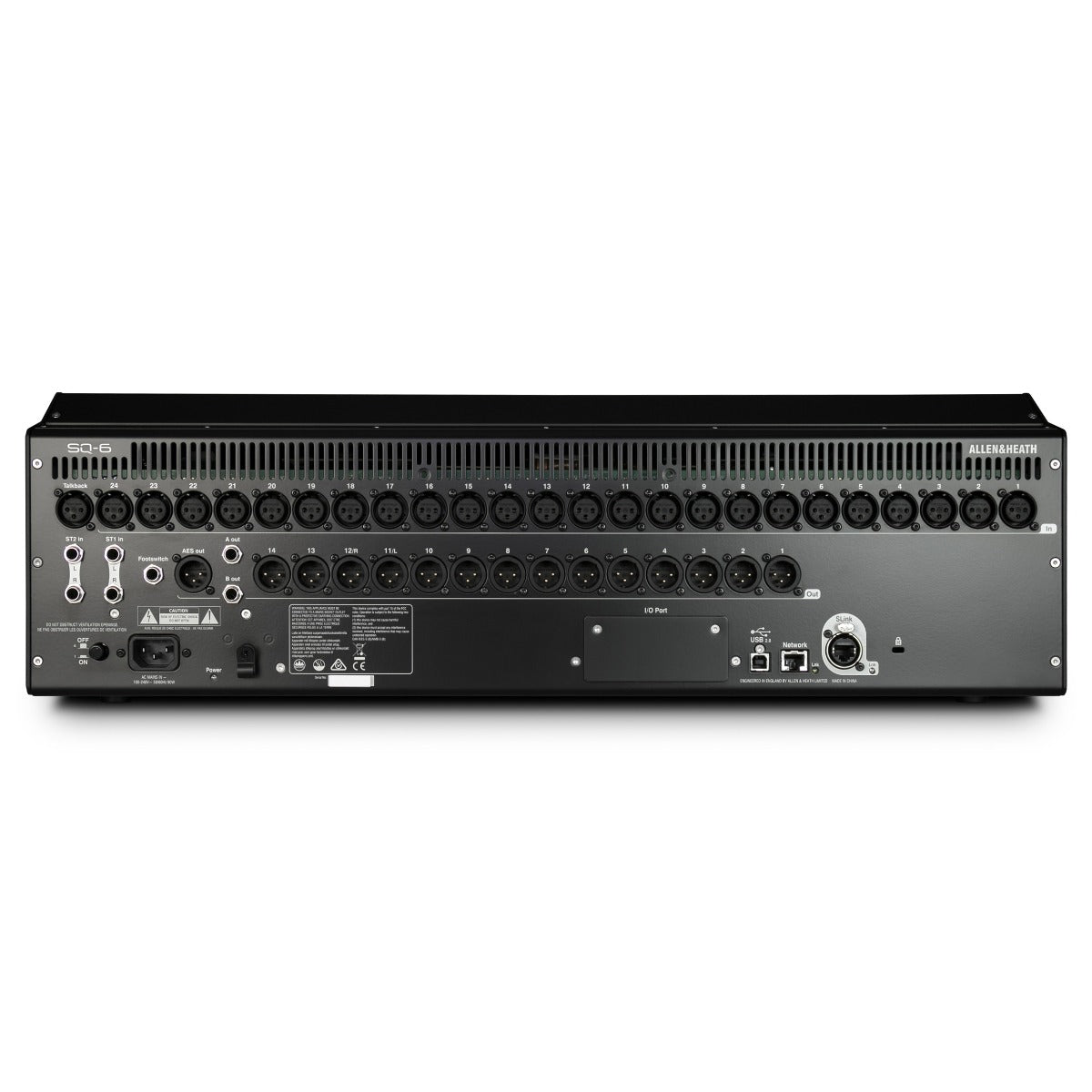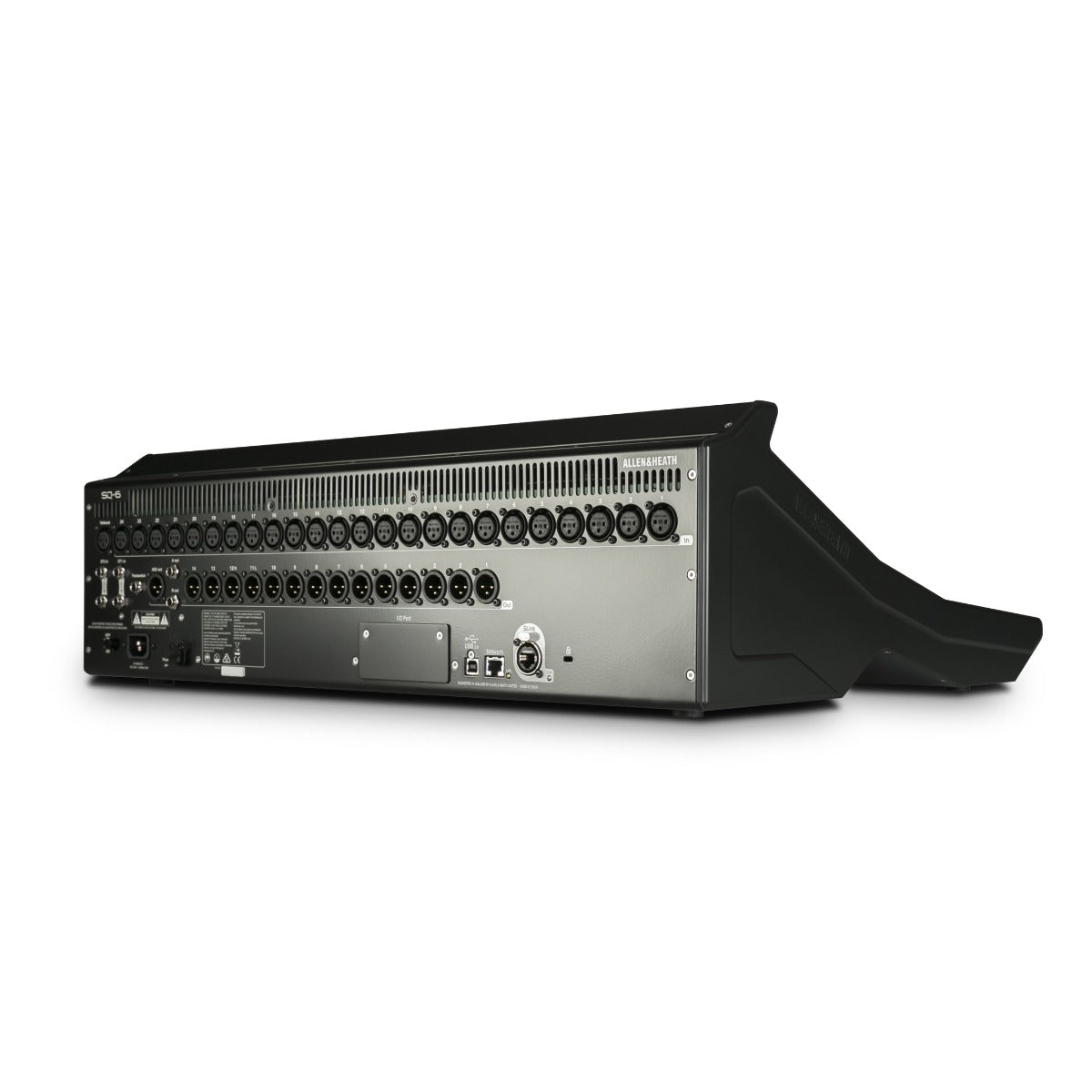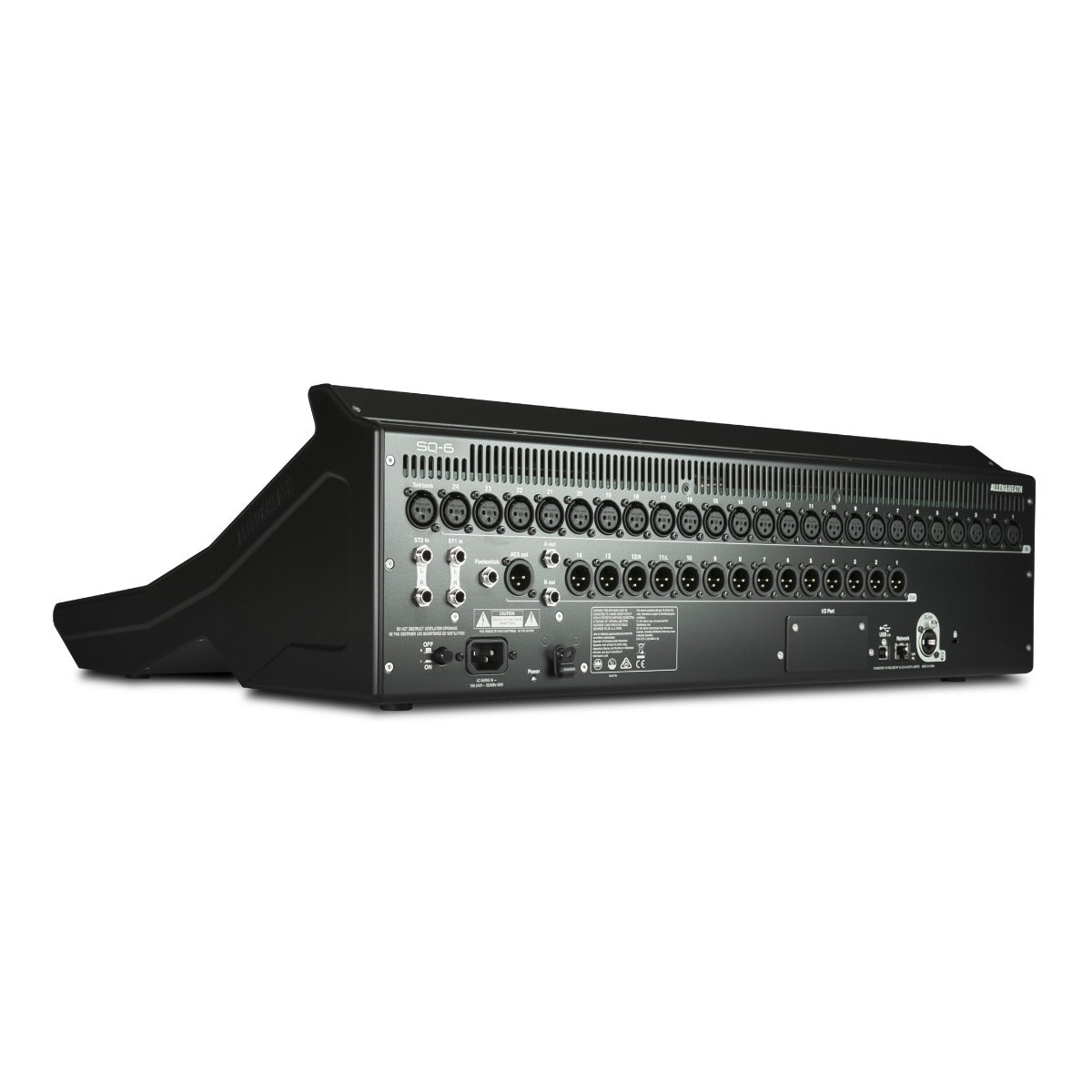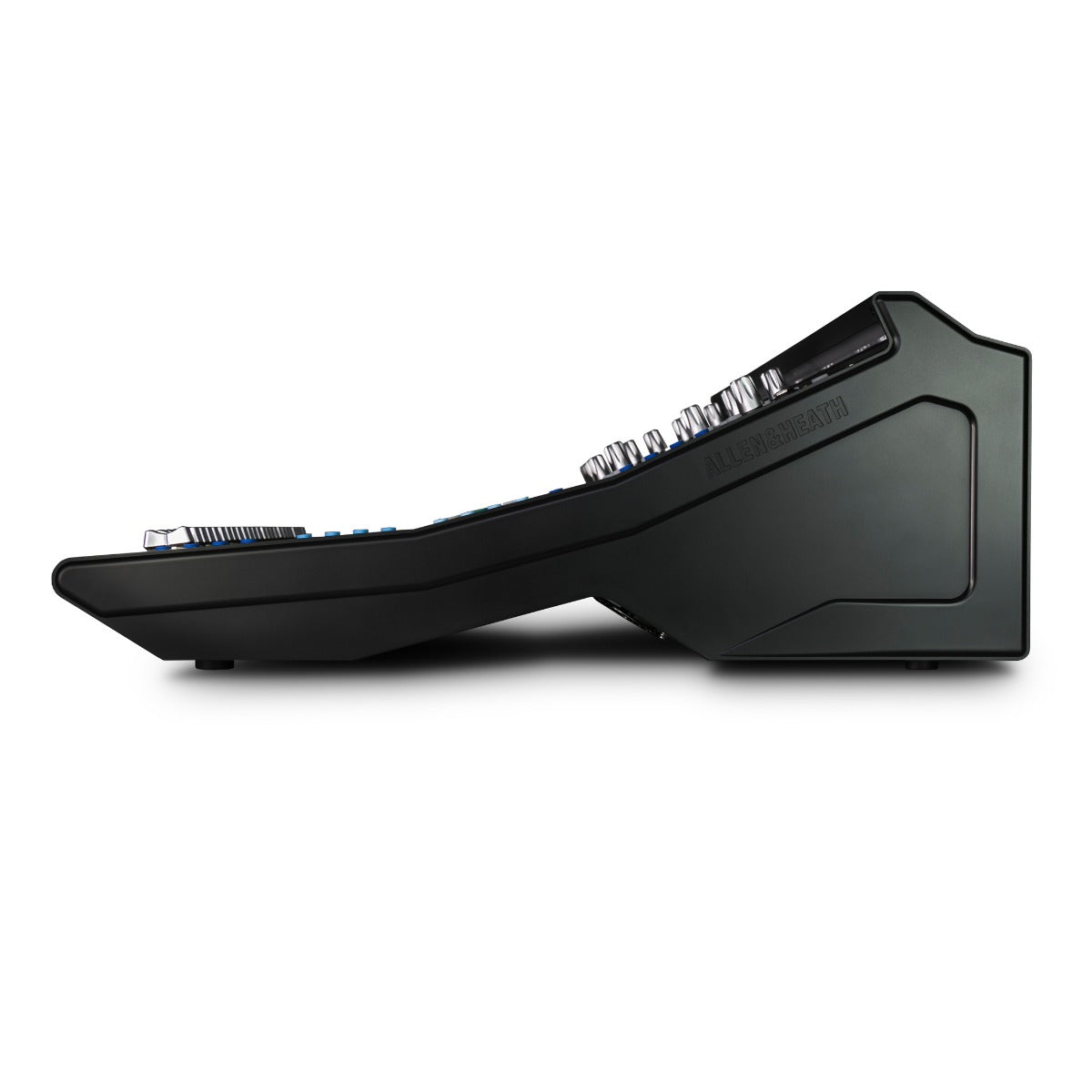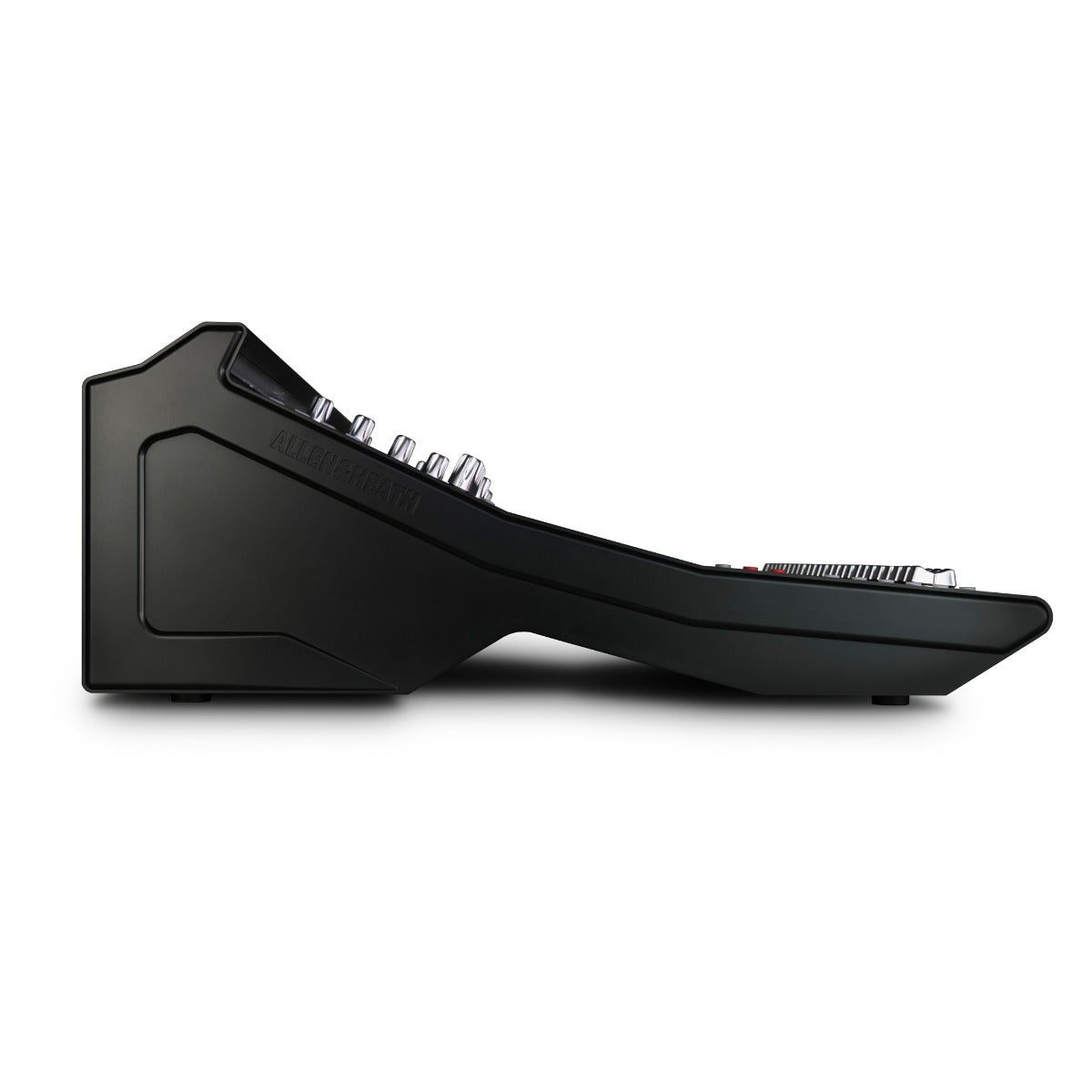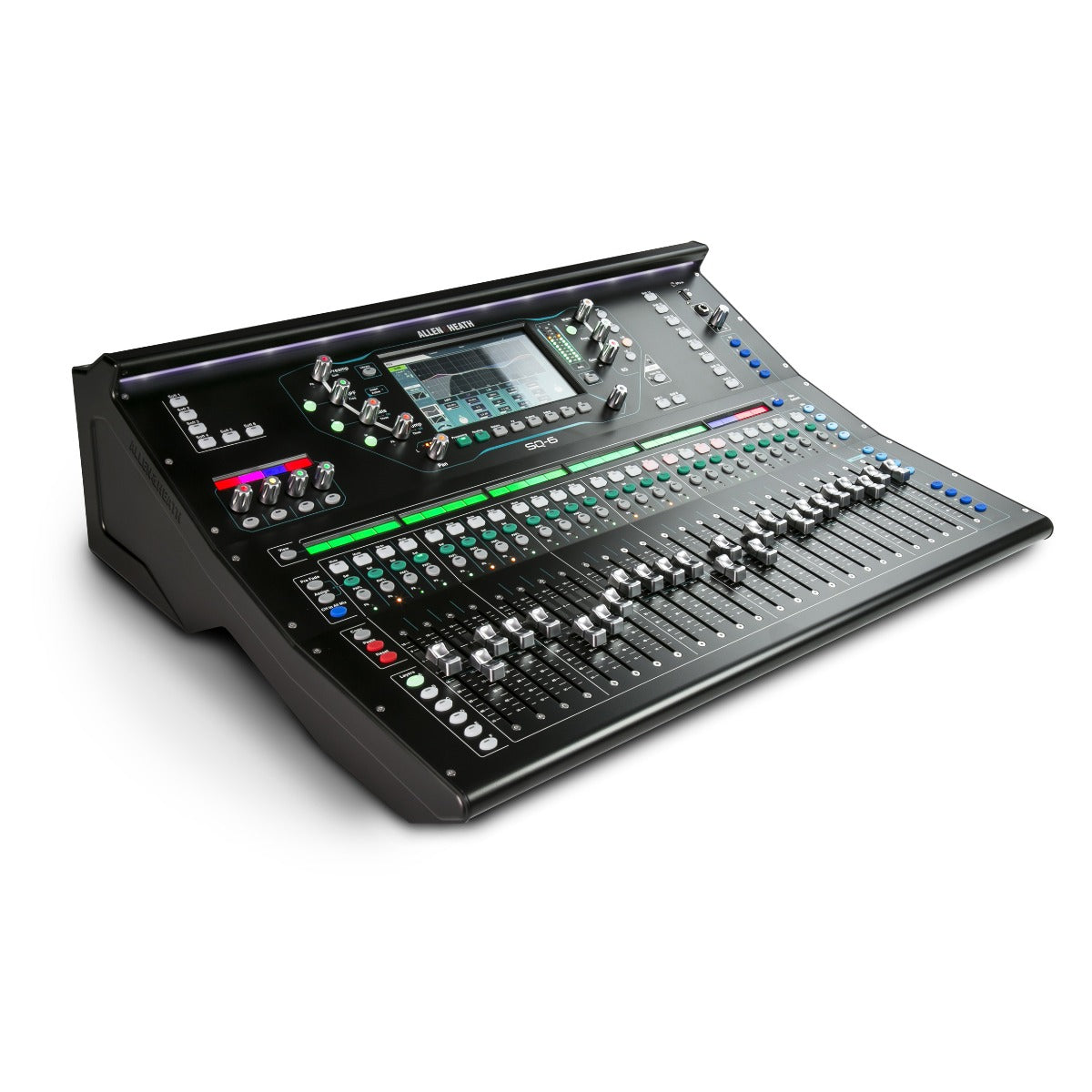 Allen & Heath SQ-6 Digital Mixer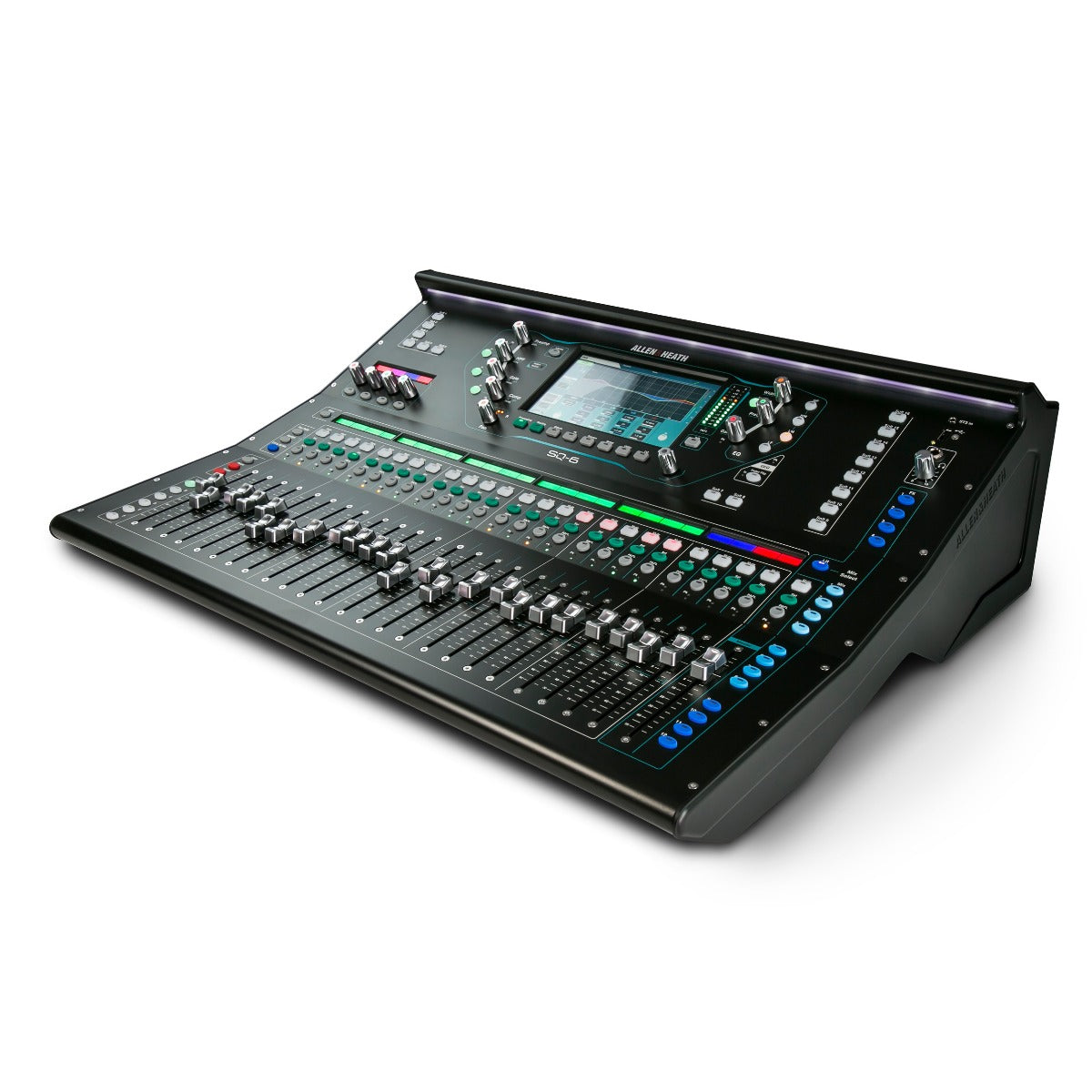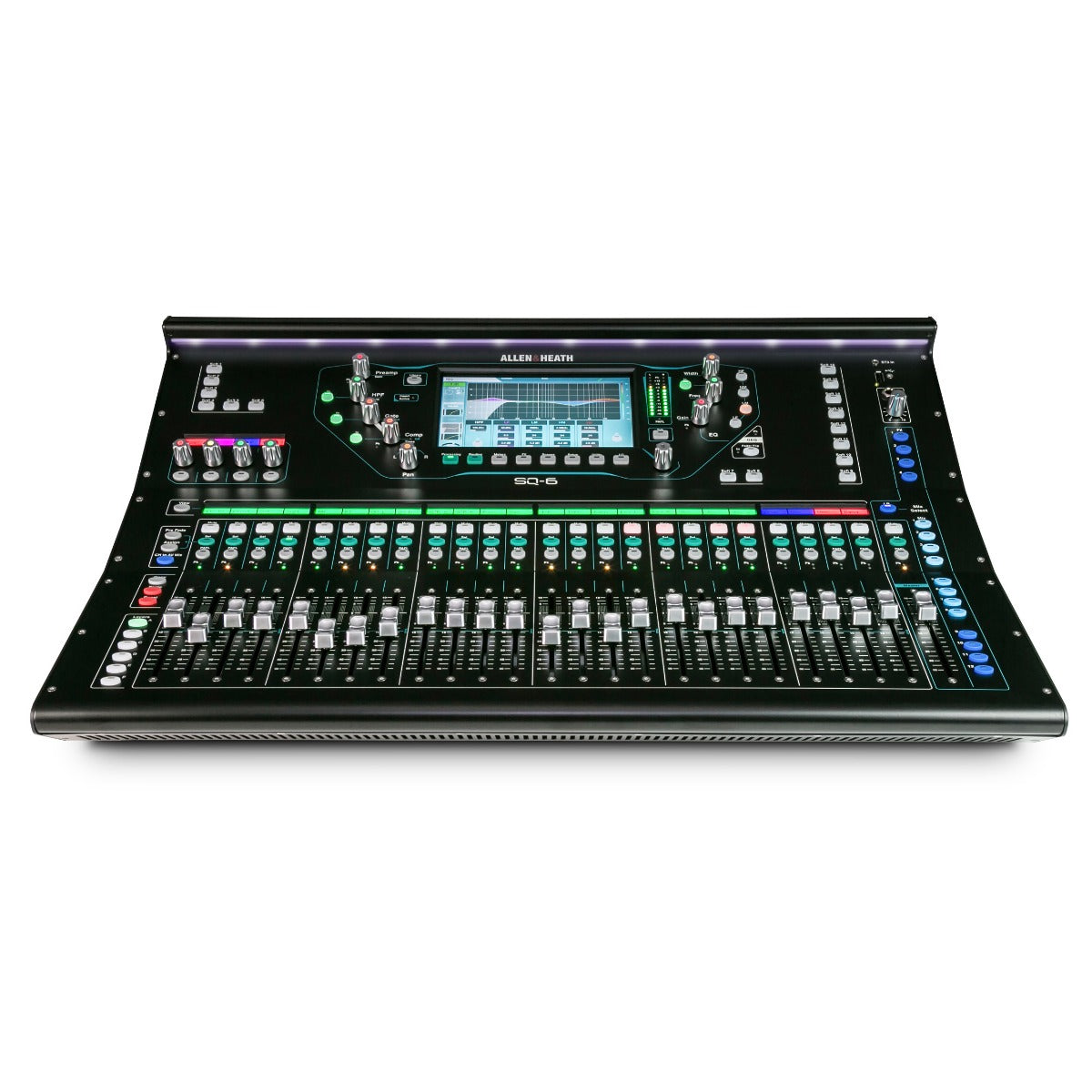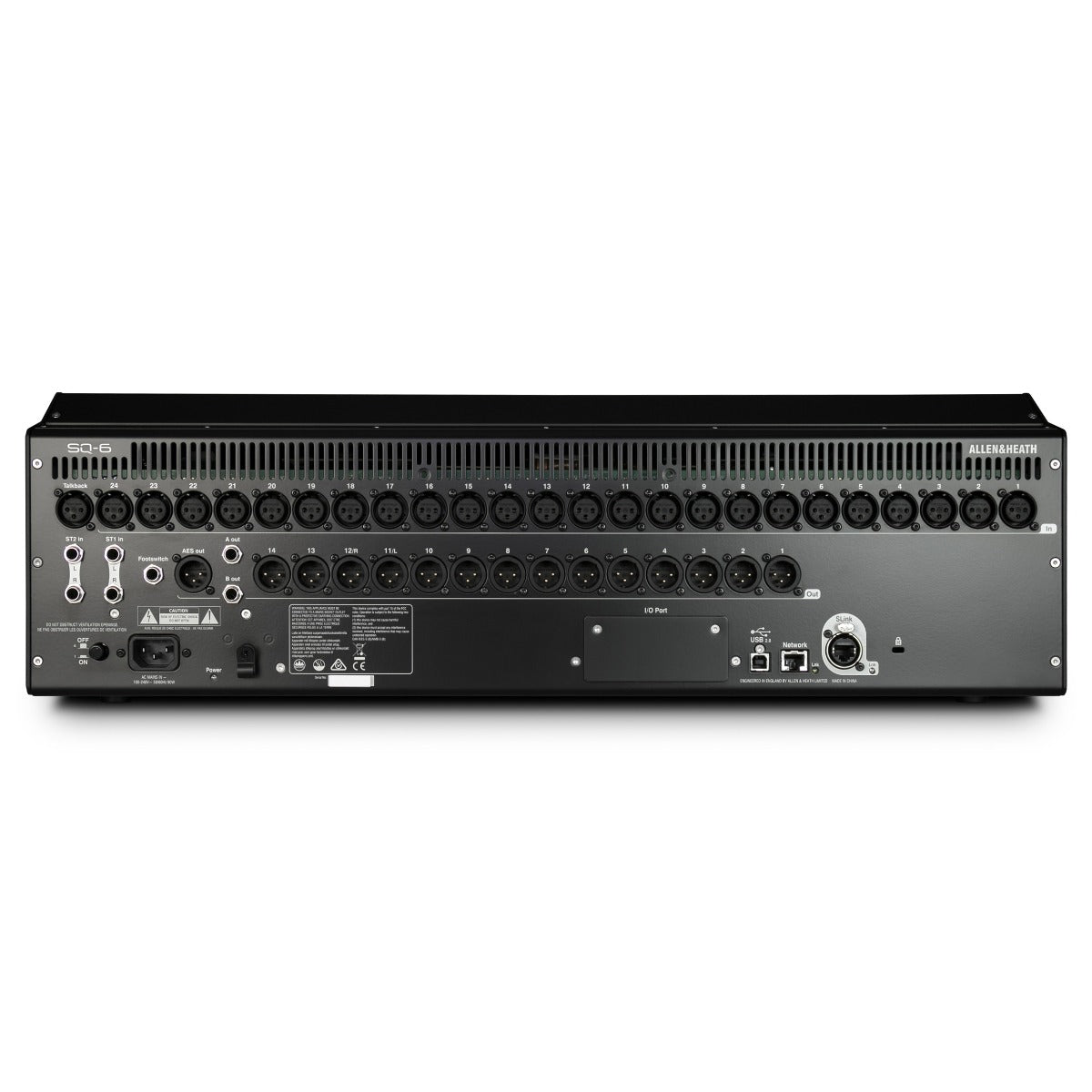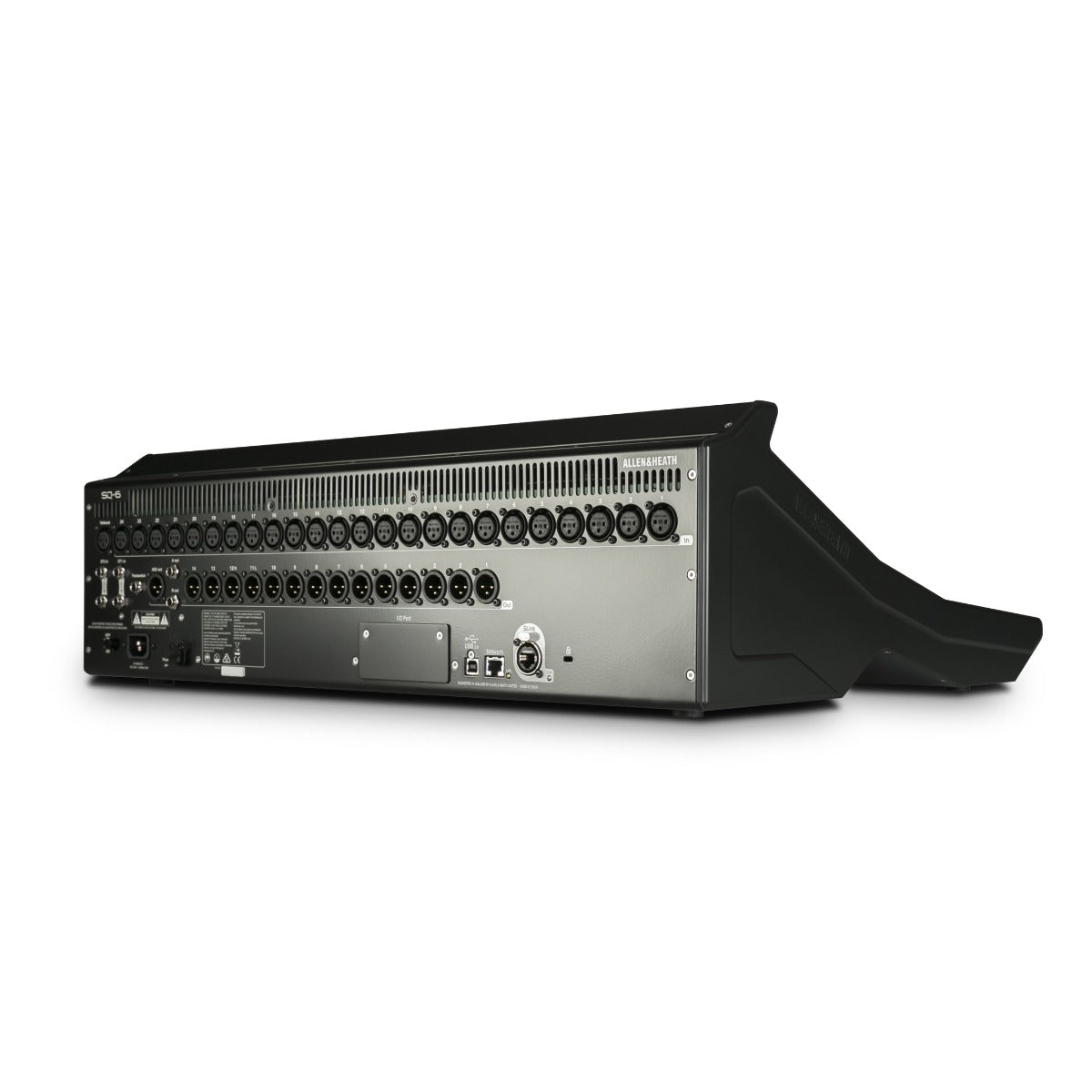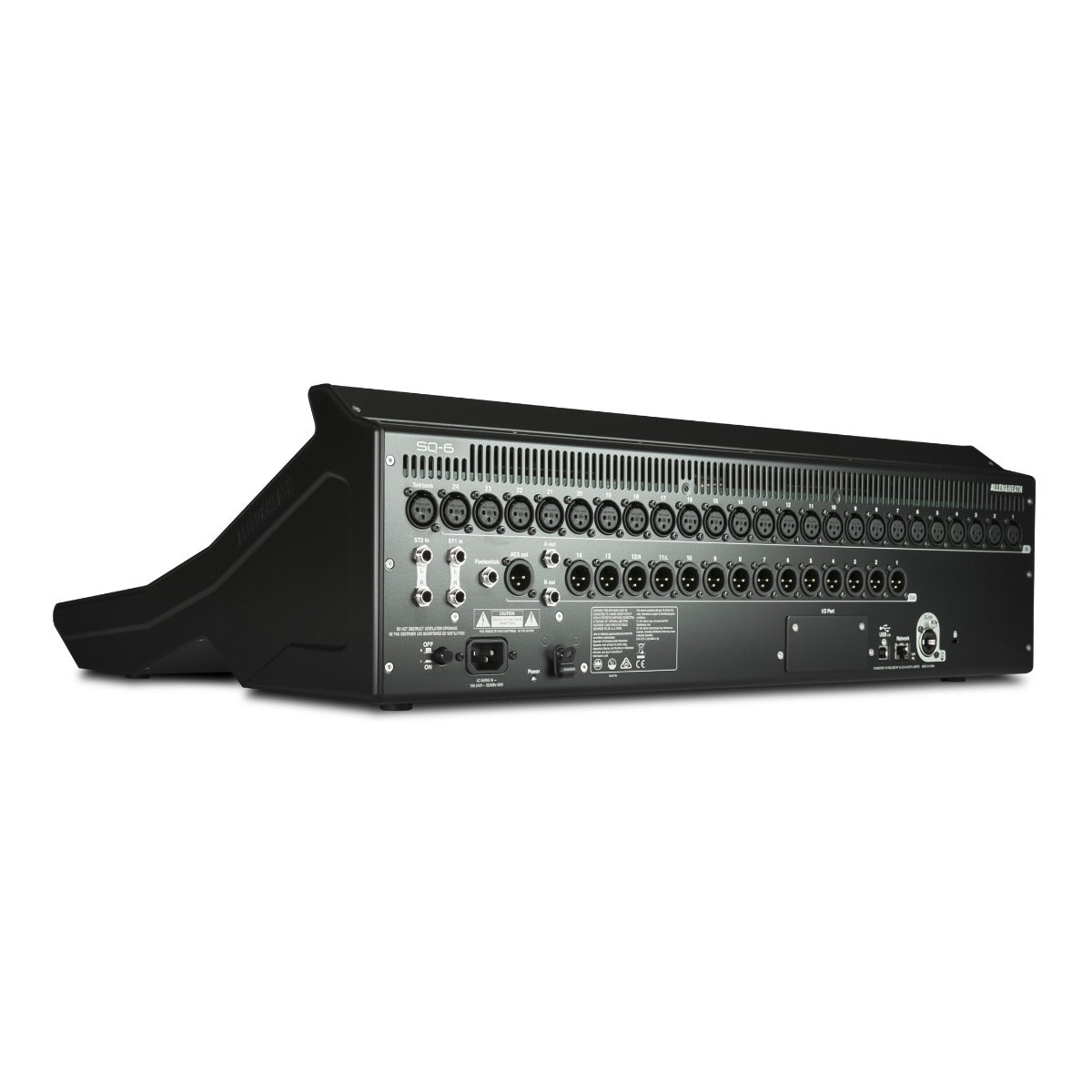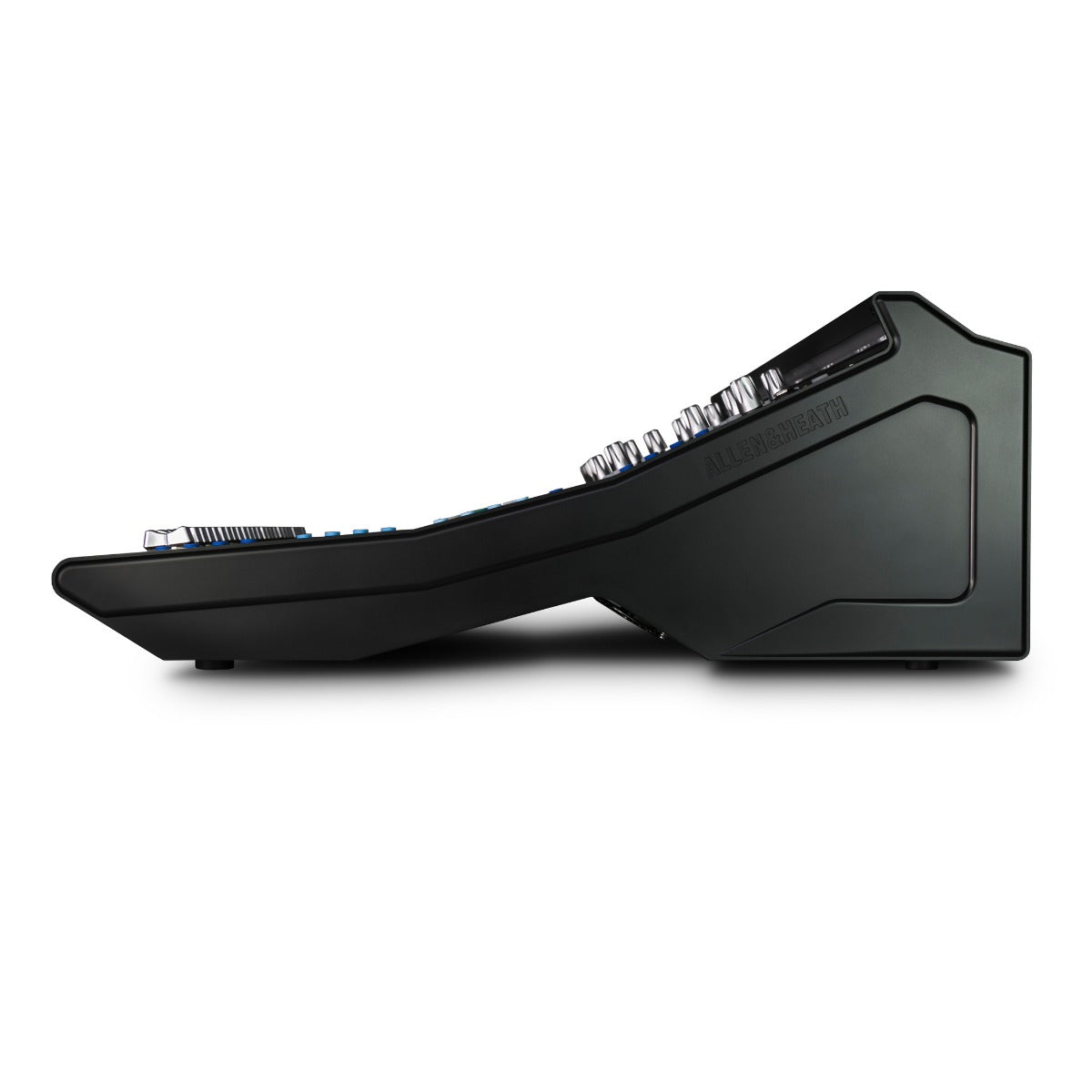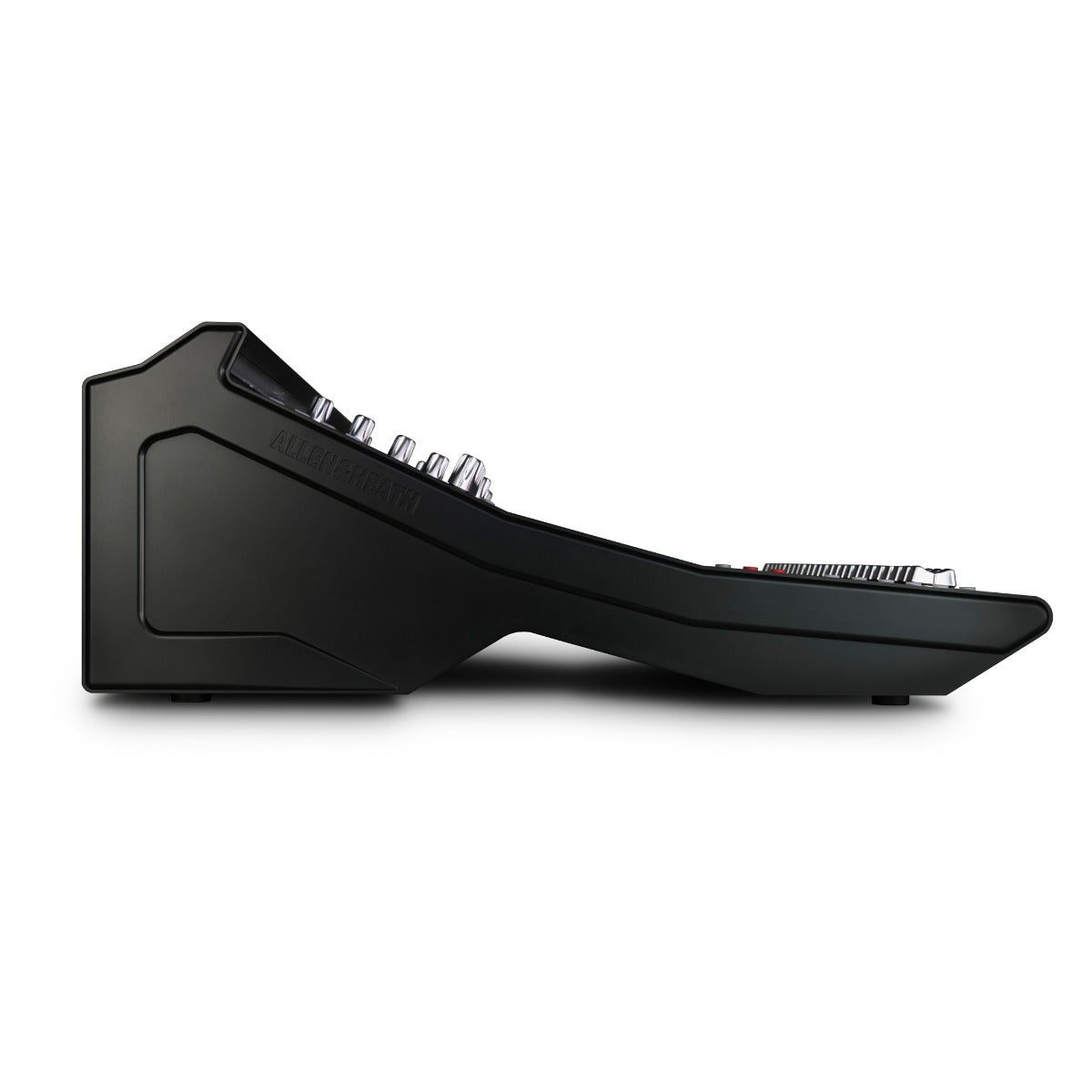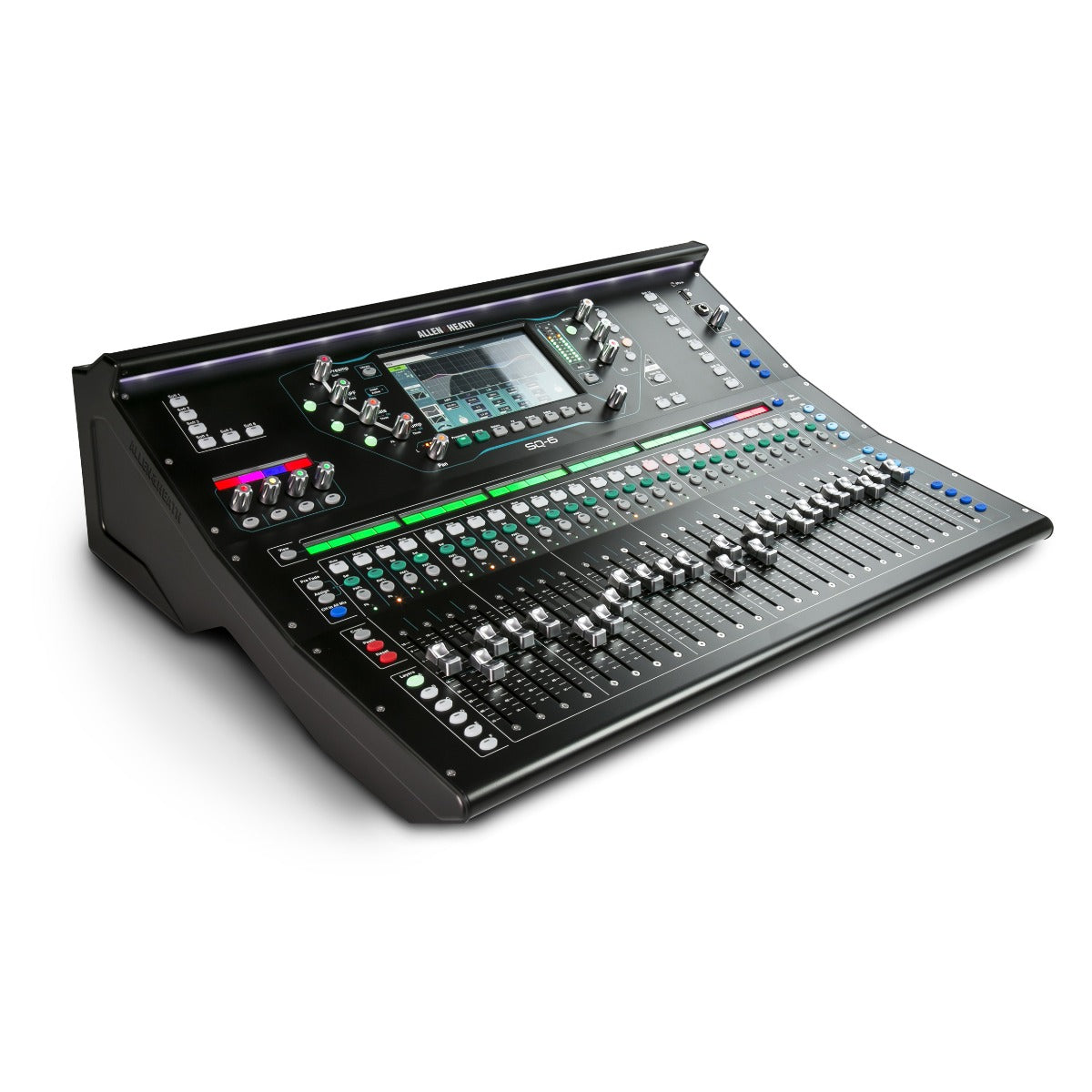 Allen & Heath SQ-6 Digital Mixer
SQ-6 is a next generation digital mixer, powered by Allen & Heath's revolutionary XCVI 96kHz FPGA engine. Created to excel in demanding scenarios such as AV, corporate events, live productions and houses of worship, SQ-6 offers class-leading high-resolution audio fidelity and an ultra-low latency of less than 0.7ms. The console features 24 exceptional onboard mic preamps, plus 8 stereo FX engines with dedicated return channels and access to the renowned RackExtra FX library. SQ is a natural choice for in-ear monitor setups, providing 12 stereo mixes (configurable as groups or auxes), whilst Automatic Mic Mixing* makes it an excellent choice for conferences, panel talks and more.
96kHz FPGA processing
48 Input Channels
DEEP Processing ready
25 Faders / 6 Layers
12 Stereo mixes + LR
3 Stereo Matrix
8 Stereo FX Engines + dedicated returns
7" capacitive touchscreen
SLink port for remote audio / expansion
64ch I/O Port for audio networking
32×32 USB audio interface
SQ-Drive direct recording to USB
AES output
Chromatic channel metering
Integrated LED illumination
Dedicated physical controls
16 Assignable SoftKeys
4 Assignable Soft Rotaries
Channel LCD displays
96kHz XCVI Core
SQ is a future-proofed, next-generation console, powered by Allen & Heath's 96kHz XCVI FPGA engine. XCVI delivers class-leading high resolution audio quality, ultra-low latency of less than 0.7ms, variable bit depth for ultimate precision and noise performance, mix coherency down to the sample, and the sheer power to handle high channel / mix counts and ample FX / processing.
DEEP processing ready
SQ's DEEP processing architecture allows owners to hand-pick boutique compressor and preamp emulations to suit their style and needs. DEEP plugins can be embedded directly within the mixer's inputs and mix channels, all without adding system latency or setup hassles.
The Ultimate IEM Mixer
With no less than 12 stereo mixes, super-low latency, and both parametric and graphic EQ on every mix, SQ is the perfect companion for in-ear monitoring setups. SQ's airline-friendly compactness and rugged build quality mean there's no reason to gamble on house monitor consoles again.
Expandable up to 48 mics
SQ-5 has all the onboard I/O you need for standalone operation. Thanks to its SLink intelligent port, SQ can also be expanded up to a total of 48 mic inputs via a family of 96kHz and 48kHz rack and stage box expanders (e.g. AB168, AR2412, AR84 and DX168), making it a flexible, mix 'n' match solution for owners of other Allen & Heath digital systems. You can also link your SQ directly to another SQ or even a dLive system.
Dante, Waves and more
SQ is the centrepiece of a growing ecosystem of apps, expanders, audio networking, personal mixers and more, allowing you to connect, adapt and expand to your heart's content. It's compatible with leading audio networking standards too – add an audio networking card such as Dante or Waves to SQ's I/O port and you're ready to integrate with installed systems, provide a digital FoH / Monitor split and more.
Flexible multitrack recording
The integrated SQ-Drive makes it quick and easy to capture a 96kHz multitrack or stereo recording of the show direct to a USB key or drive. No software setup, no soundcard driver issues and no extra laptop to bring to the performance. SQ-Drive is also a smart way to manage walk-in music. Also provided is a built-in 32×32 96kHz audio interface for multitrack recording, backing tracks or virtual soundcheck applications. The interface is Core Audio and ASIOTM compliant and comes complete with MIDI and DAW control capabilities.
Advanced AMM
SQ's advanced automatic mic mixers (AMM's) make it a natural choice for mixing conferences, panel talks and TV shows. They're fully integrated in the mixer too, with no extra latency, so you don't need to route the audio to an internal DSP rack or an external plugin system. Two fully independent 24 channel AMM's can be utilised for two zones or combined into a single 48 channel AMM for larger events.
Designed for the pro
The live environment can be tough on gear – that's why Allen and Heath have devised their most punishing regime of testing and retesting yet for SQ. From its 3-tier, all metal chassis to its extruded aluminium light bar, SQ has tremendous strength and rigidity underlying its good looks.
The Mixing Experience
With each new design, the Allen & Heath team strives to get closer to the ultimate mixing experience. SQ's dashboard is centred around a high-res 7" capacitive touchscreen, framed by an array of high-grip, illuminating encoders to create an intuitive, integrated blend of clear visual feedback and immediate, hands-on control. Channels and mixes can be dragged and dropped to any strip, with custom naming and colour coding on the colour strip displays, allowing you to build a mixing environment that mirrors your own workflow. Each strip features a patented Chromatic channel metering system, giving you at-a-glance level indication thanks to LEDs with variable brightness and colour.
SQ Apps
There are two essential apps for SQ – SQ MixPad for engineers and SQ4You for performers.
SQ MixPad app is available free on iOS and Android platforms, providing wireless control of the main mixing functions. This enables the engineer to mix from different listening positions, set up monitor mixes from the stage, or just add extra local control.
SQ4You is a personal mixing app to accompany SQ series mixers, allowing up to 8 performers to control their own monitor mixes from their Android or iOS devices and freeing the audio engineer to focus on the front-of-house sound.
RackExtra FX
Allen & Heath has a well-earned reputation for crafting FX emulations that rival the very best plug-ins, but with none of the associated hassle. SQ is armed with 8 stereo FX engines and features the acclaimed RackExtra library of emulations of legendary classic reverbs, gated reverbs, delays, modulators and more. All FX have dedicated stereo returns so you don't need to waste input channels.
ME Personal Mixing System
SQ is fully compatible with the ME Personal Mixing System, allowing the performers to take control of their own monitor mixes. Any number of ME-1 and ME-500 personal mixers can be daisy-chained from the mixer's SLink port, or from a connected remote expander.
SKU
AH-SQ6
MPN
SQ-6
Vendor
Allen & Heath
Audio Recording
Multitrack to Flash Drive and Multitrack over USB
Connectivity
USB and dSNAKE
Mic Preamps
24
Mixer Channel Filterable
48
Mixer Type
Digital
Mpn
AH-SQ-6
Simultaneous Inputs
27
Busses/Groups
36 Total Busses
Channel EQ
Parametric EQ
Effects
8 Stereo FX with dedicated FX Returns
RackFX Effects suite
Number of Faders
25 Faders / 6 Layers
Audio Inputs
24 Local Mic Inputs (XLR)
2 x 1/4" Stereo Inputs (TRS)
Dedicated Talkback mic input (XLR)
Audio Outputs
14 Assignable Local Outputs (XLR)
AES Digital Output
Product Weight
29.3 lbs
Rackmountable
No
Storage Type
USB Flash Drive
Width
25.1"
Depth
20.3"
Height
7.8"
Limited One Year Manufacturer's Warranty
Allen & Heath warrants the Allen &Heath -branded hardware product and accessories contained in the original packaging ("Allen & Heath Product") against defects in materials and workmanship when used in accordance with Allen & Heath's user manuals, technical specifications and other Allen & Heath product published guidelines for a period of ONE (1) YEAR from the date of original purchase by the end-user purchaser ("Warranty Period"). This warranty does not apply to any non-Allen & Heath branded hardware products or any software, even if packaged or sold with Allen & Heath hardware. Please refer to the licensing agreement accompanying the software for details of your rights with respect to the use of software ("EULA").
Repair or replacement under the terms of the warranty does not provide right to extension or renewal of the warranty period. Repair or direct replacement of the product under the terms of this warranty may be fulfilled with functionally equivalent service exchange units. This warranty is not transferable. This warranty will be the purchaser's sole and exclusive remedy and neither Allen & Heath nor its approved service centres shall be liable for any incidental or consequential damages or breach of any express or implied warranty of this product.
Conditions of Warranty
The equipment has not been subject to misuse either intended or accidental, neglect, or alteration other than as described in the User Guide or Service Manual, or approved by Allen & Heath. The warranty does not cover fader wear and tear. Any necessary adjustment, alteration or repair has been carried out by an authorised Allen & Heath distributor or agent. The defective unit is to be returned carriage prepaid to the place of purchase, an authorised Allen & Heath distributor or agent with proof of purchase. Please discuss this with the distributor or the agent before shipping. Units returned should be packed in the original carton to avoid transit damage.
DISCLAIMER: Allen & Heath shall not be liable for the loss of any saved/stored data in products that are either repaired or replaced. Check with your Allen & Heath distributor or agent for any additional warranty information which may apply. If further assistance is required please contact Allen & Heath Ltd. Any changes or modifications to the equipment not approved by Allen & Heath could void the compliance of the product and therefore the user's authority to operate it.
Ground shipping is FREE for all orders $99 and up.