Skip product carousel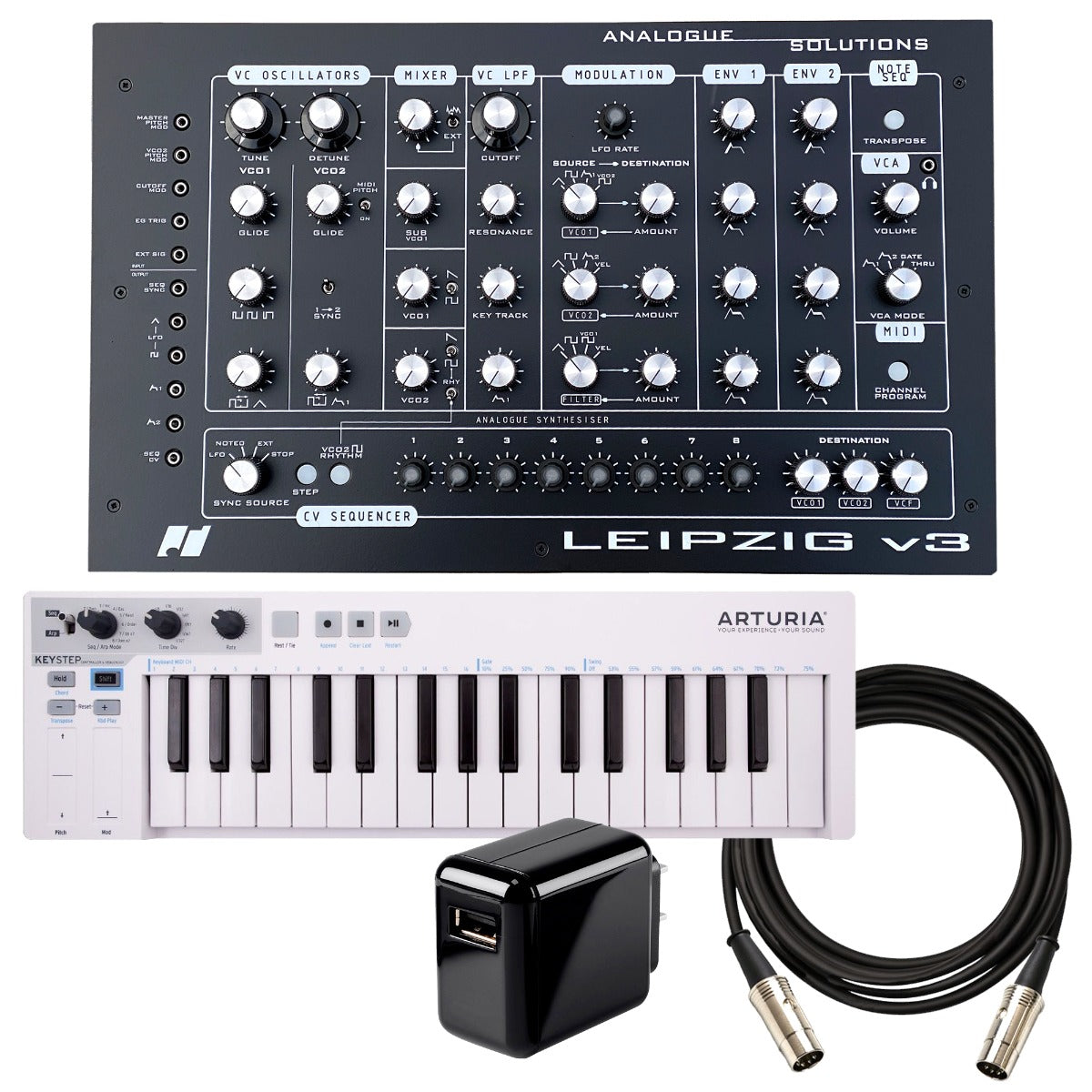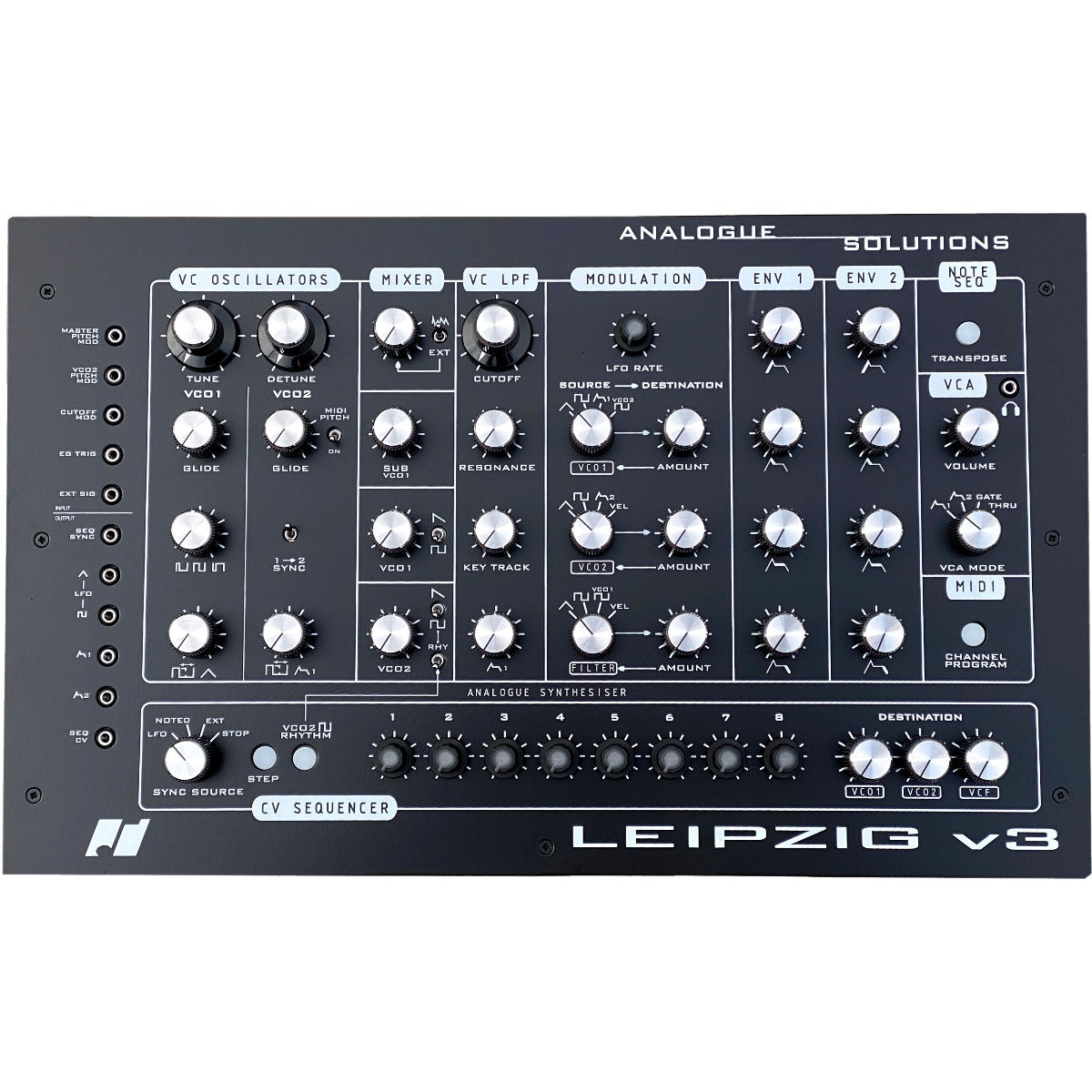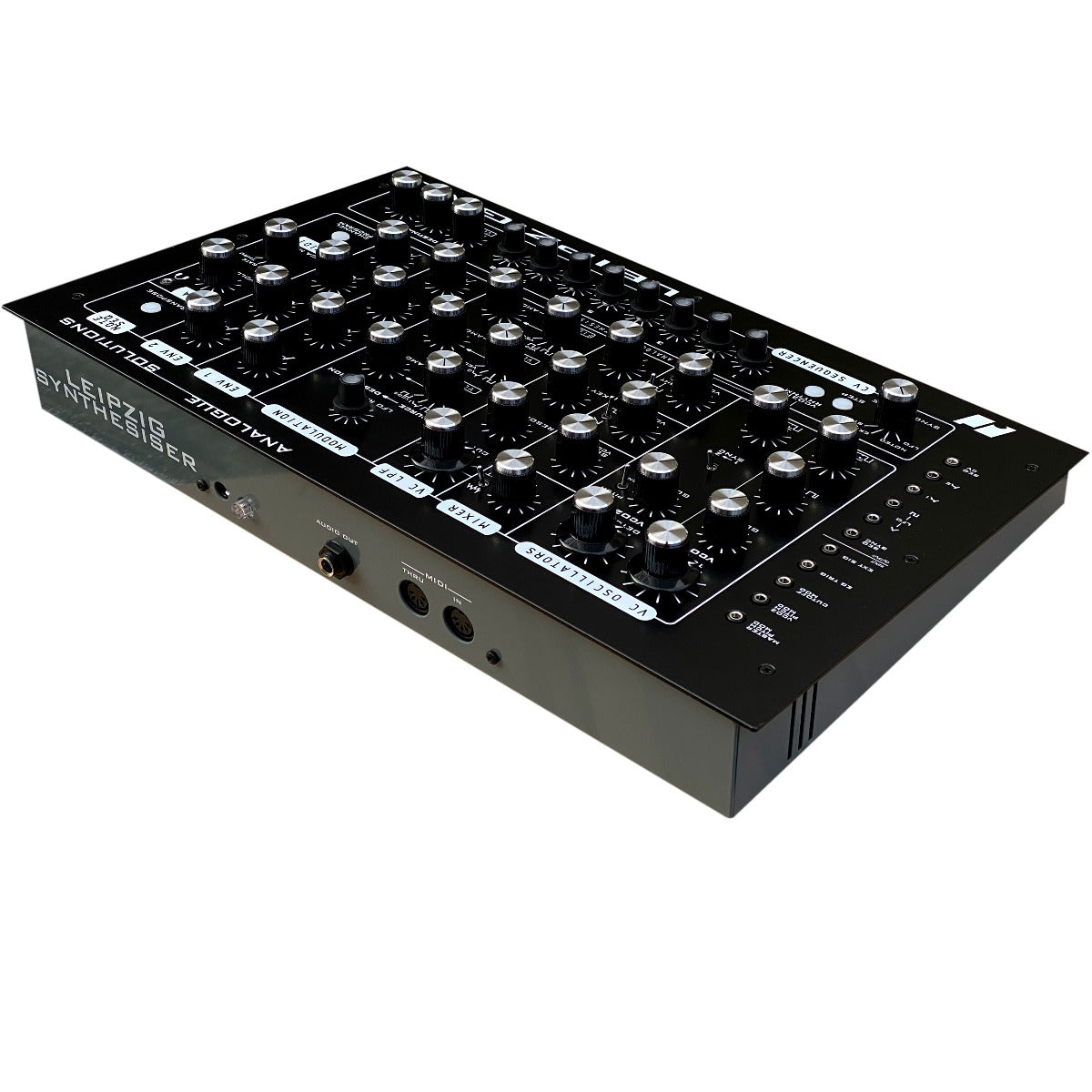 Analogue Solutions Leipzig v3 Monophonic Analog Synthesizer CONTROLLER RIG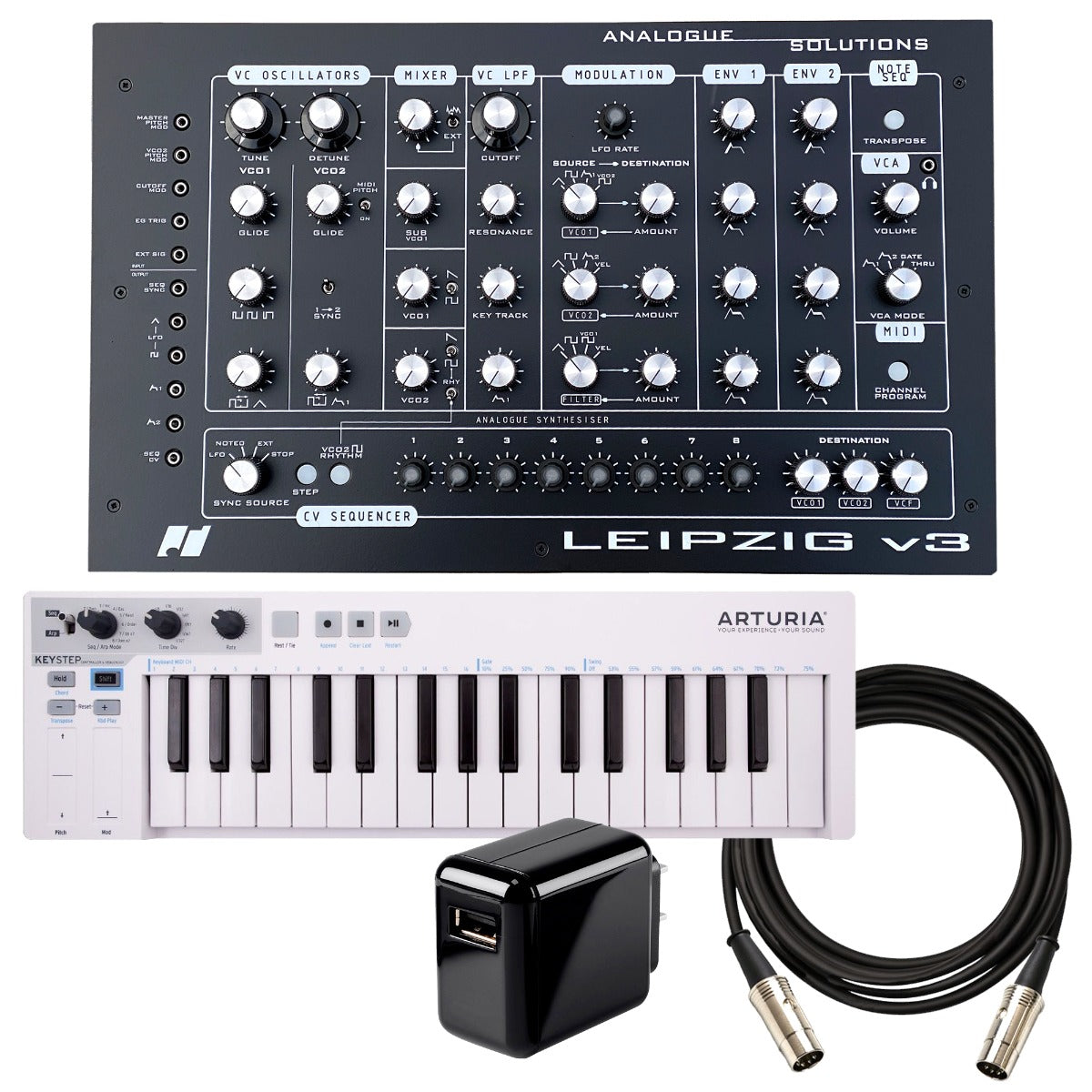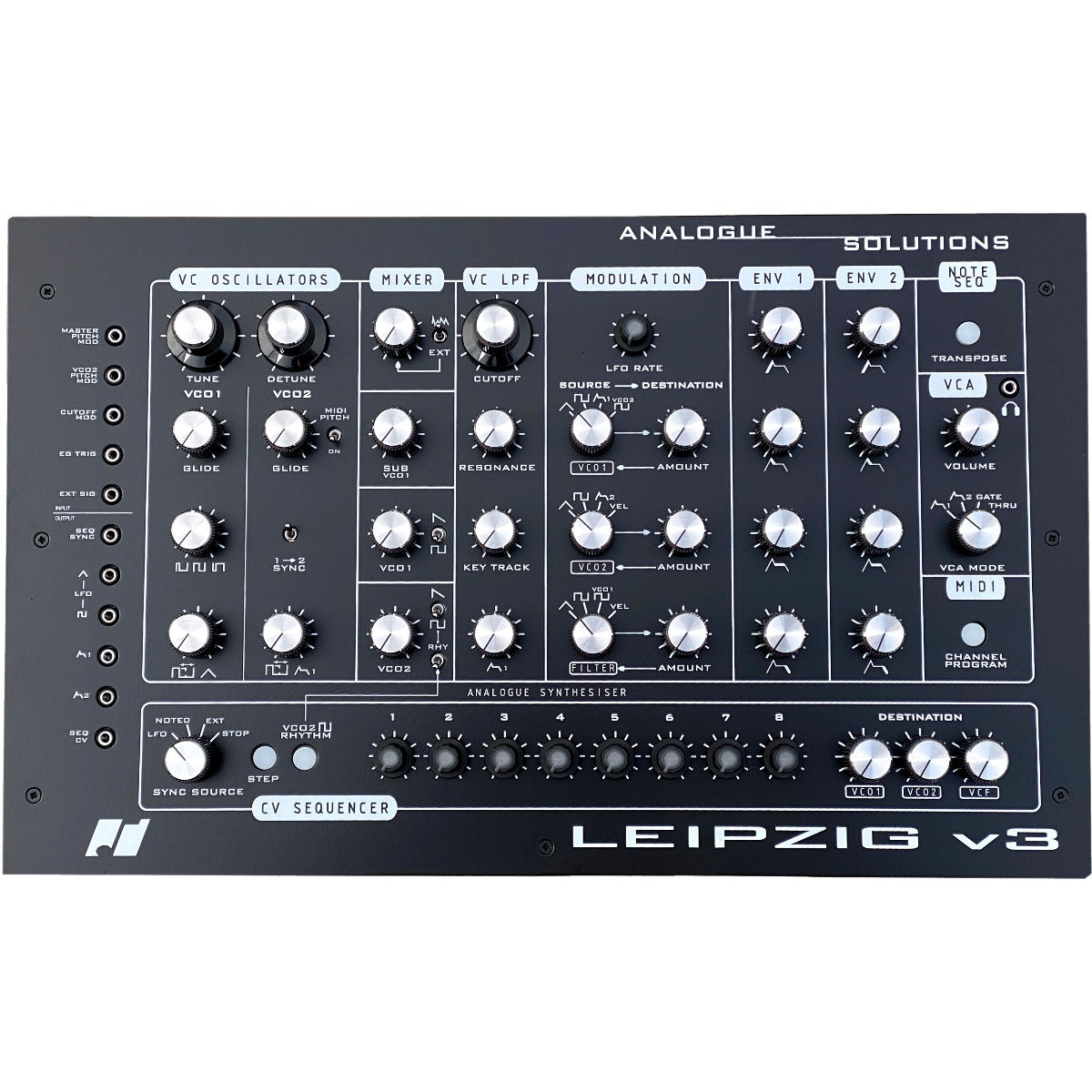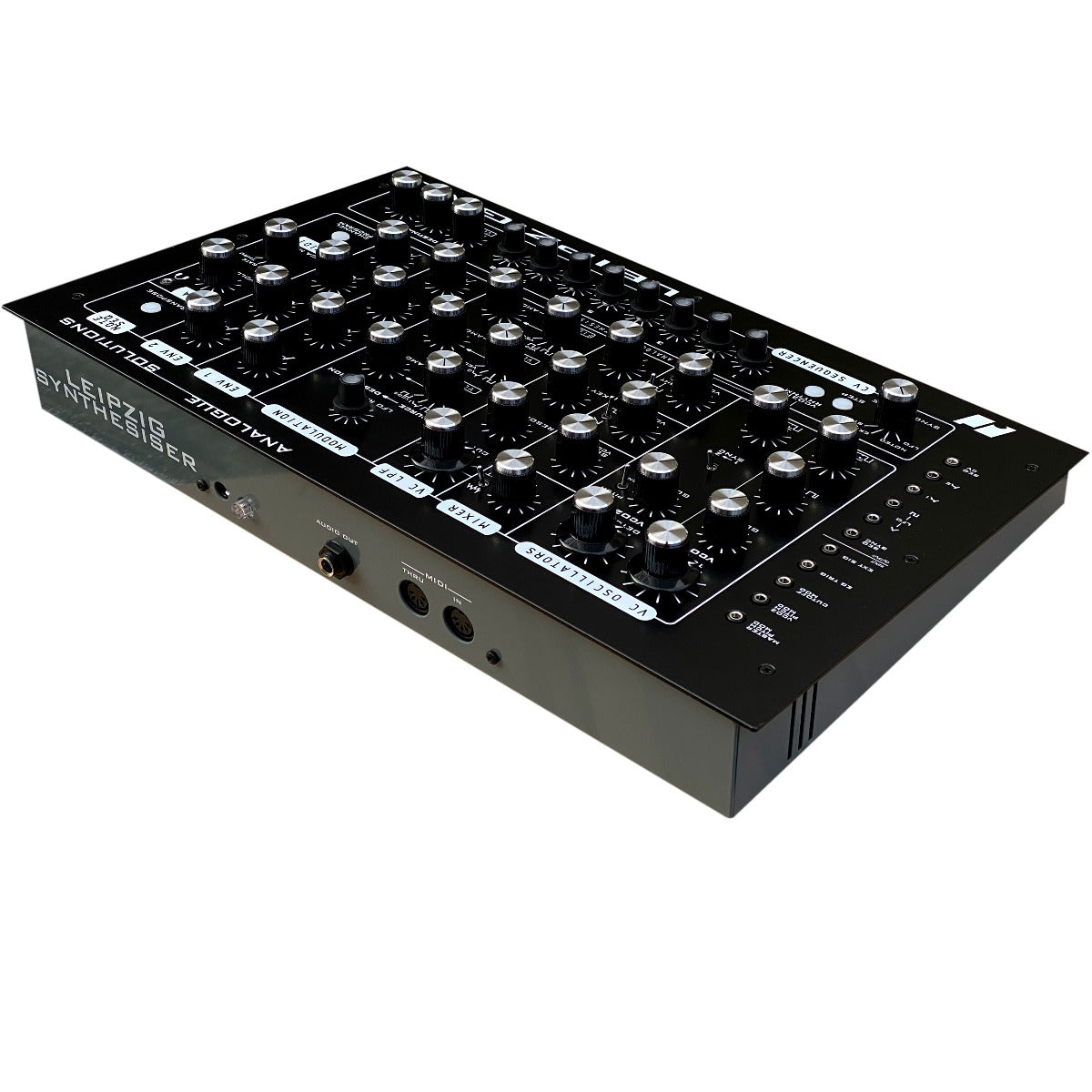 Analogue Solutions Leipzig v3 Monophonic Analog Synthesizer CONTROLLER RIG
4 items included
This Kraft Music Bundle Includes
Click on a product to view more details.
Analogue Solutions Leipzig v3 is a 100% analog synth that uses circuits dating back to the 1970s and 1980s, giving it a distinctly 'old' sound rich and full of character. Two VCOs and a sub-oscillator are fed through a Moog-style ladder filter, playable via MIDI or the extensive CV/gate patch bay. The onboard analog sequencer can be synced using MIDI notes or analog clock signals and is useful not only for playing melodies but also as a modulation source. Leipzig is ideal for both beginners and more advanced synthesists and musicians – use it anywhere you want big, truly vintage analog sounds!
Pure analog voice and modulation circuitry
Fat analog Moog-style 24/dB 4-pole transistor ladder filter
Two analog VCOs with individual glide/portamento
Sub VCO for extra depth and power
Oscillator sync and cross-modulation
Option to overdrive the mixer and filter
Plenty of modulation routing possibilities
Versatile analog CV step sequencer with plenty of clocking options
Use the analog sequencer as a modulation source
16-step note sequencer with transpose feature
Versatile CV/gate patch bay
MIDI in for DAW/software sequencing
Headphone output
Rugged steel/aluminum construction
Leipzig has a huge sound, especially when used for bass. The mixer/filter can be overdriven if desired, giving the synth a really hard sound. This can be toned down, of course, and nice soft synth sounds are possible, too, as well as everything in between. Though a master at big bass sounds, Leipzig is exceptionally good at making electronic percussion – not just sounds, but also percussive loops by using the onboard step sequencer. Patterns can quickly be produced, then either synced to your DAW or sampled in. As well as bass and percussion, Leipzig will produce leads, effects, modular style and other sounds equally well.
The onboard analog sequencer is not just for making simple melodies or percussive loops – think of it also as a modulation source. Each step can be used to drastically change the sounds. This makes it also serve as a simple way of making 'presets' – just step to get the next sound. The sequencer can control the pitch of either VCO and also the filter cutoff. Leipzig also has a 16-note digital sequencer for playing back melodies that can then be manually transposed using your keyboard or DAW.
Syncing the sequencer to a MIDI sequencer or DAW couldn't be easier: the sequencer is advanced one step by sending it MIDI note 000. This way you can clock the sequencer at any tempo, divide the tempo down relative to your DAW's tempo, stop it, start it, mute, etc., all from your DAW – something that you cannot do with MIDI clock sync.
Leipzig is extremely powerful! Don't be worried by the 'complex' front panel: this synth has been designed to be easy to use, ideal for beginners but with the depth and versatility to enable many years of superb sounds.
SKU
ANS-LEIPZIGV3CTR
MPN
Leipzig v3
Vendor
Analogue Solutions
Analog Digital
Analog
Built In Speakers
No
Included From Manufacturer
Power supply
Key Num
None
Mono Poly
Monophonic
Mpn
Leipzig V3
Product Unique Features
Oscillator sync and cross-modulation
Option to overdrive the mixer and filter
Rugged steel/aluminum construction
Control Connections
CV/gate patch bay
Audio Inputs
1/8" mono external audio input on patch panel
Audio Outputs
1/4" mono output
1/8" headphone output
Oscillators per Voice
2 plus Sub
Product Weight
6.61 lb
Sequencer
Analog CV step sequencer, also usable as modulation source
16-step note sequencer with transpose feature
Voices of Polyphony
1
Width
17.01"
Depth
10.32"
Height
2.48"
Analogue Solutions Warranty
This device comes with a 1 year (from purchase date) back to base warranty, i.e., customer must arrange and pay for shipping to and from Analogue Solutions or the dealer from which purchased.
This warranty shall not apply where the product has been subject to alteration, misuse, accident, neglect (such as extremes of temperature and/or moisture) or to wear resulting from normal use.
At the sole discretion of Analogue Solutions, the warranty is deemed to be void should the unit be or considered to have been opened or any other modifications or tampering be carried out by unauthorized parties.
Standard Shipping