Skip product carousel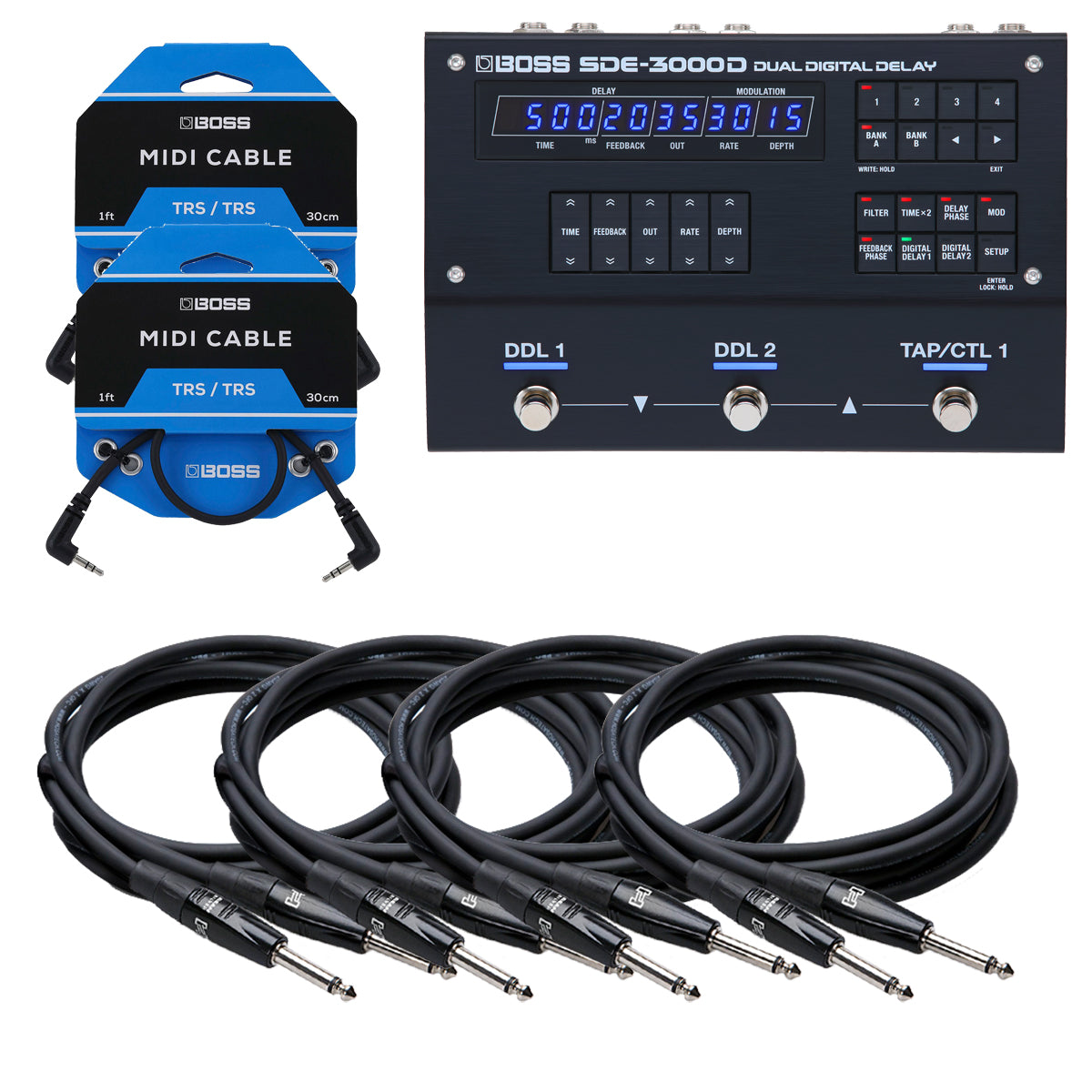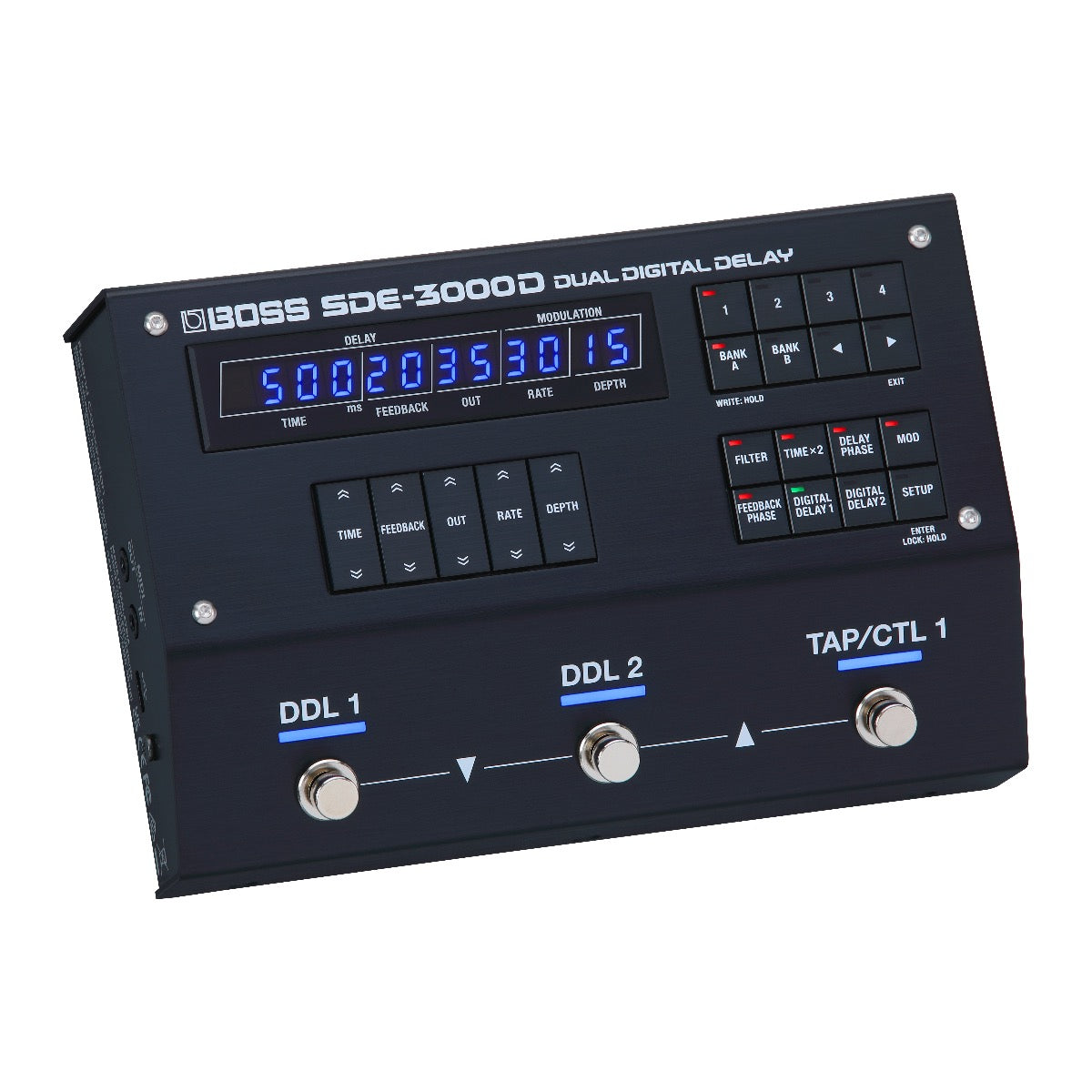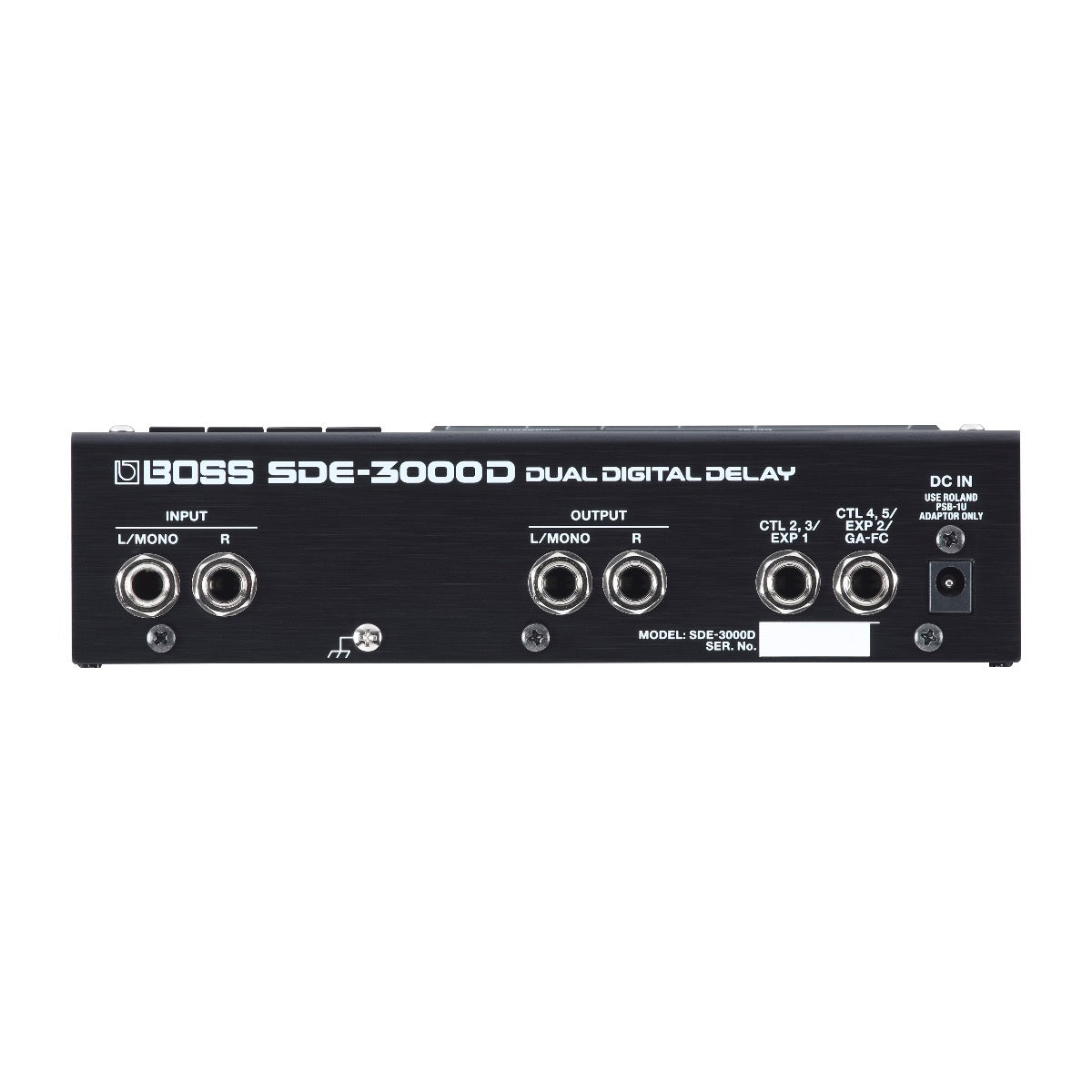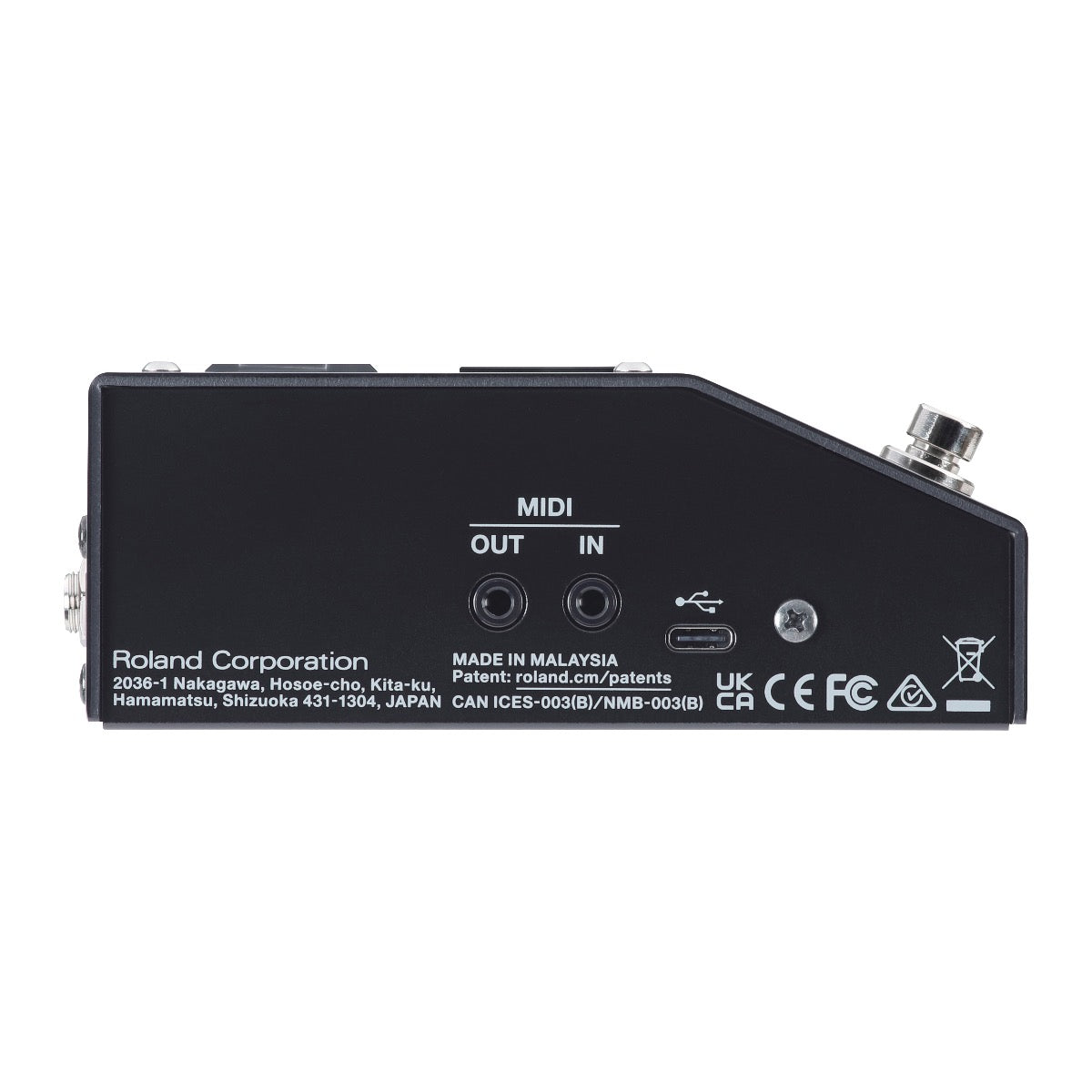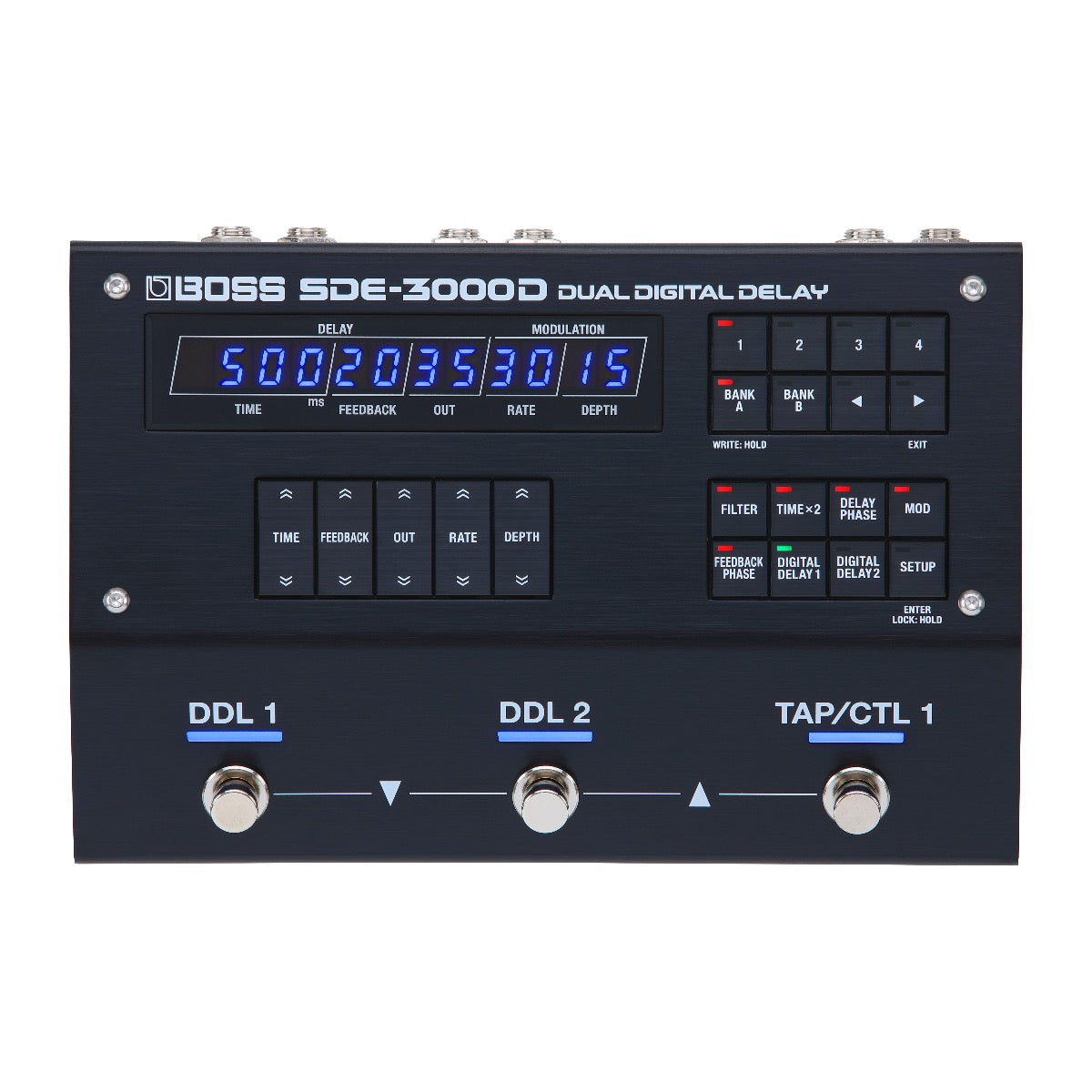 Boss SDE-3000D Dual Digital Delay Pedal CABLE KIT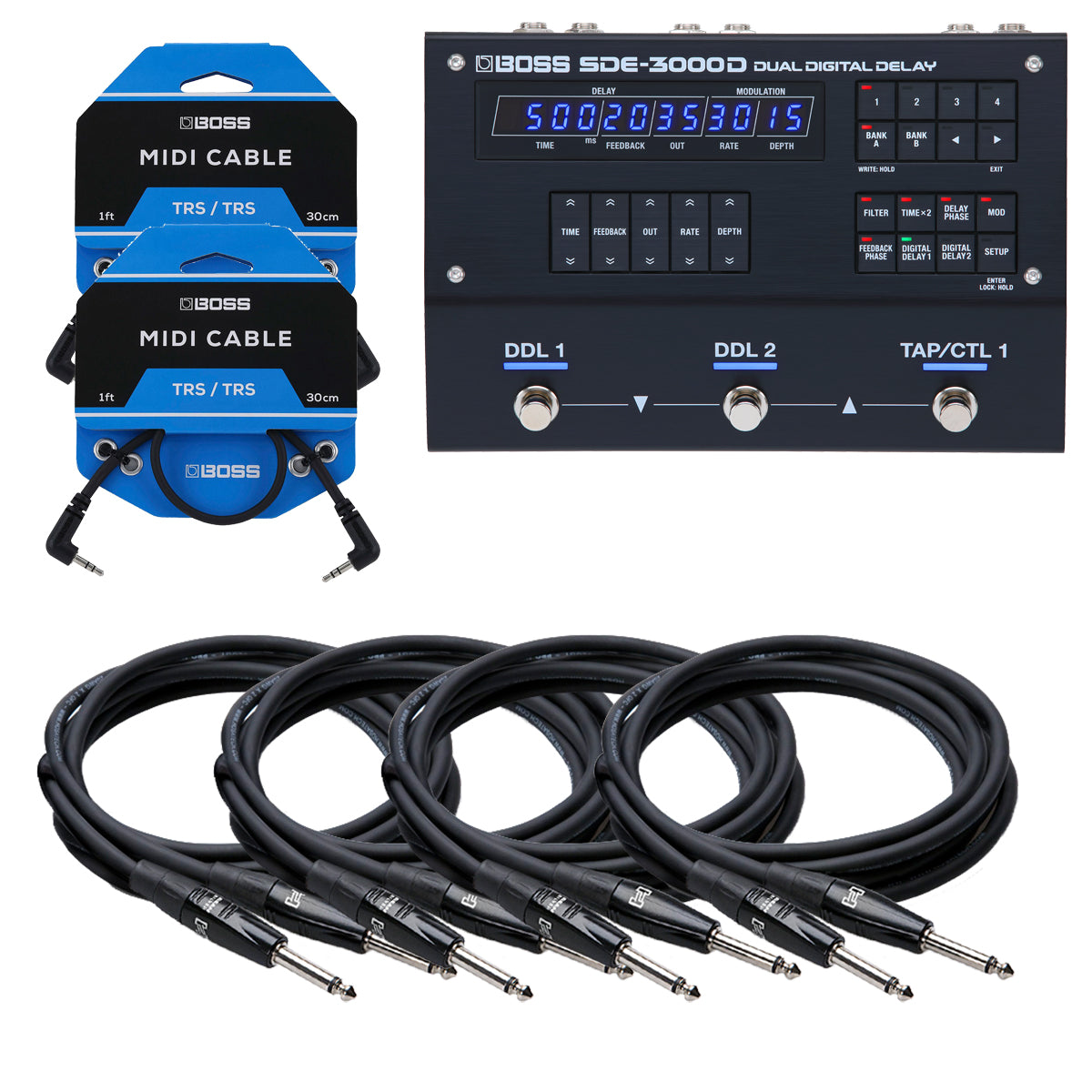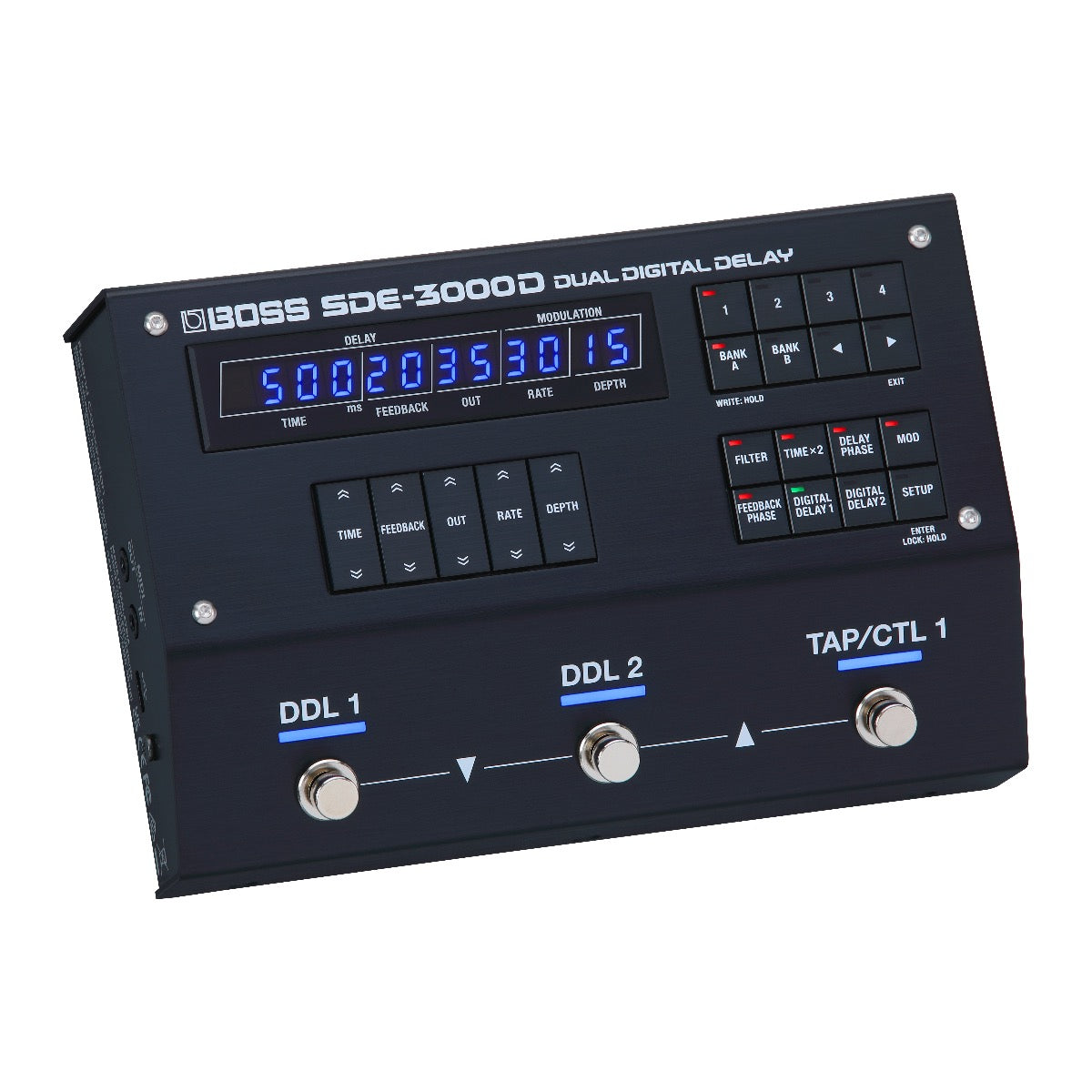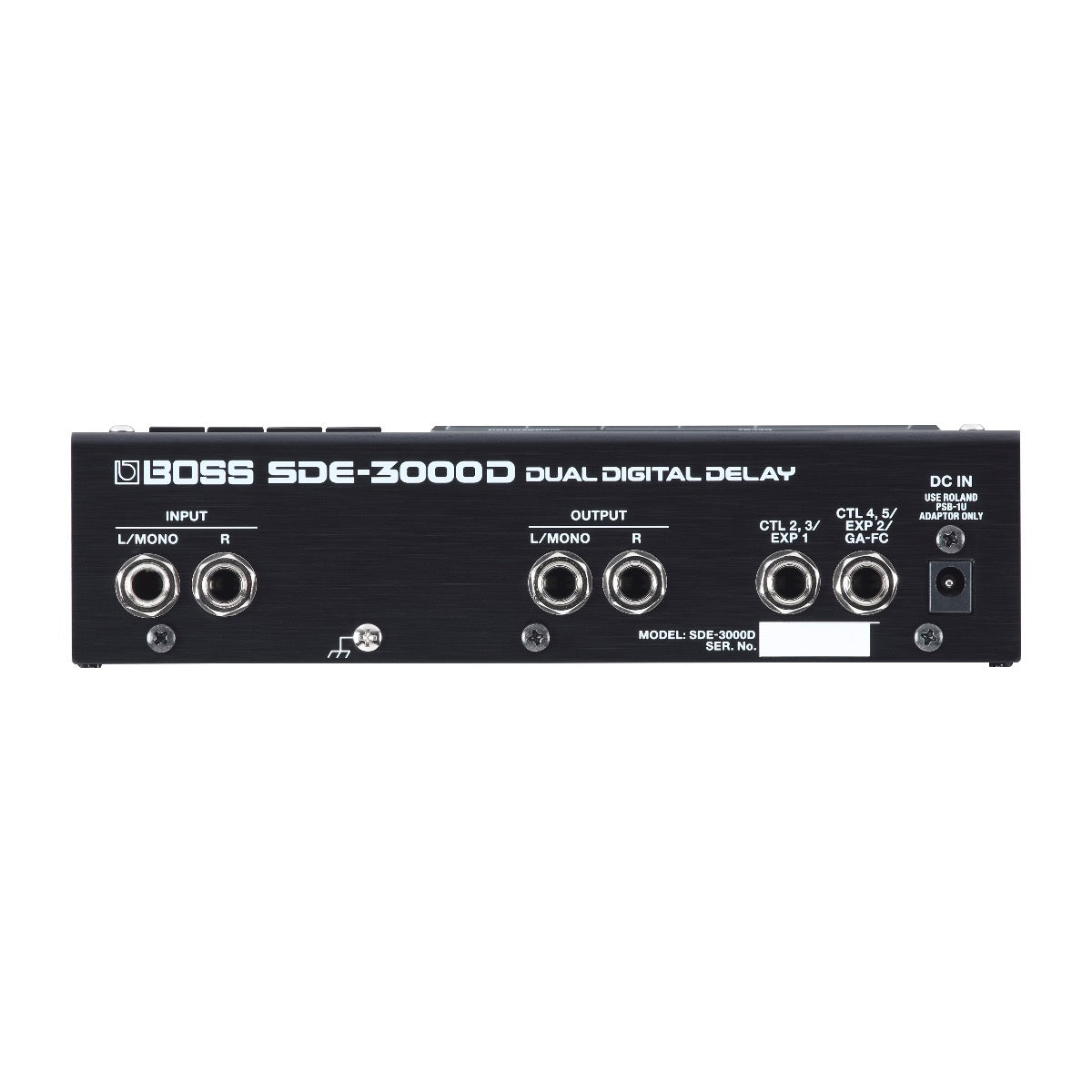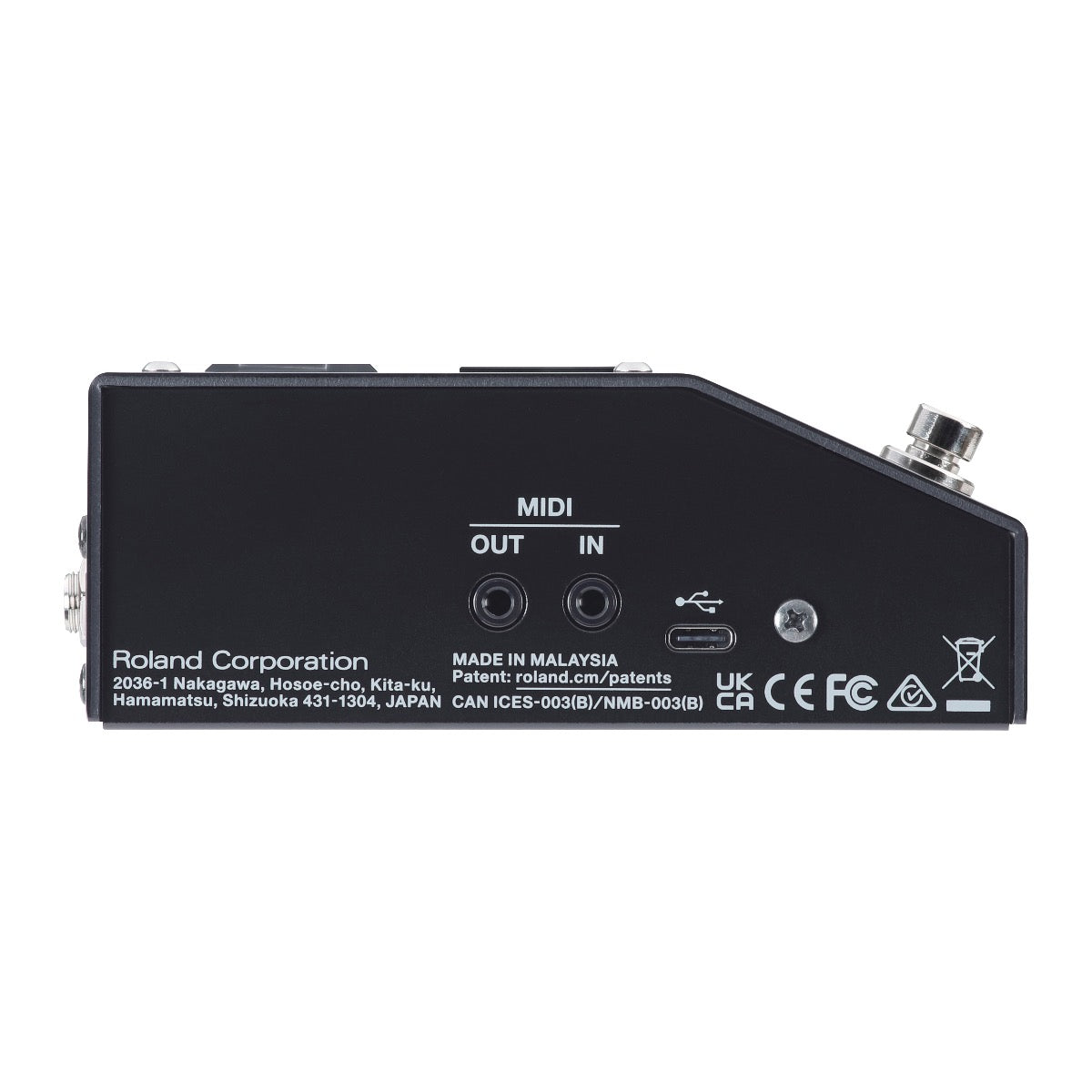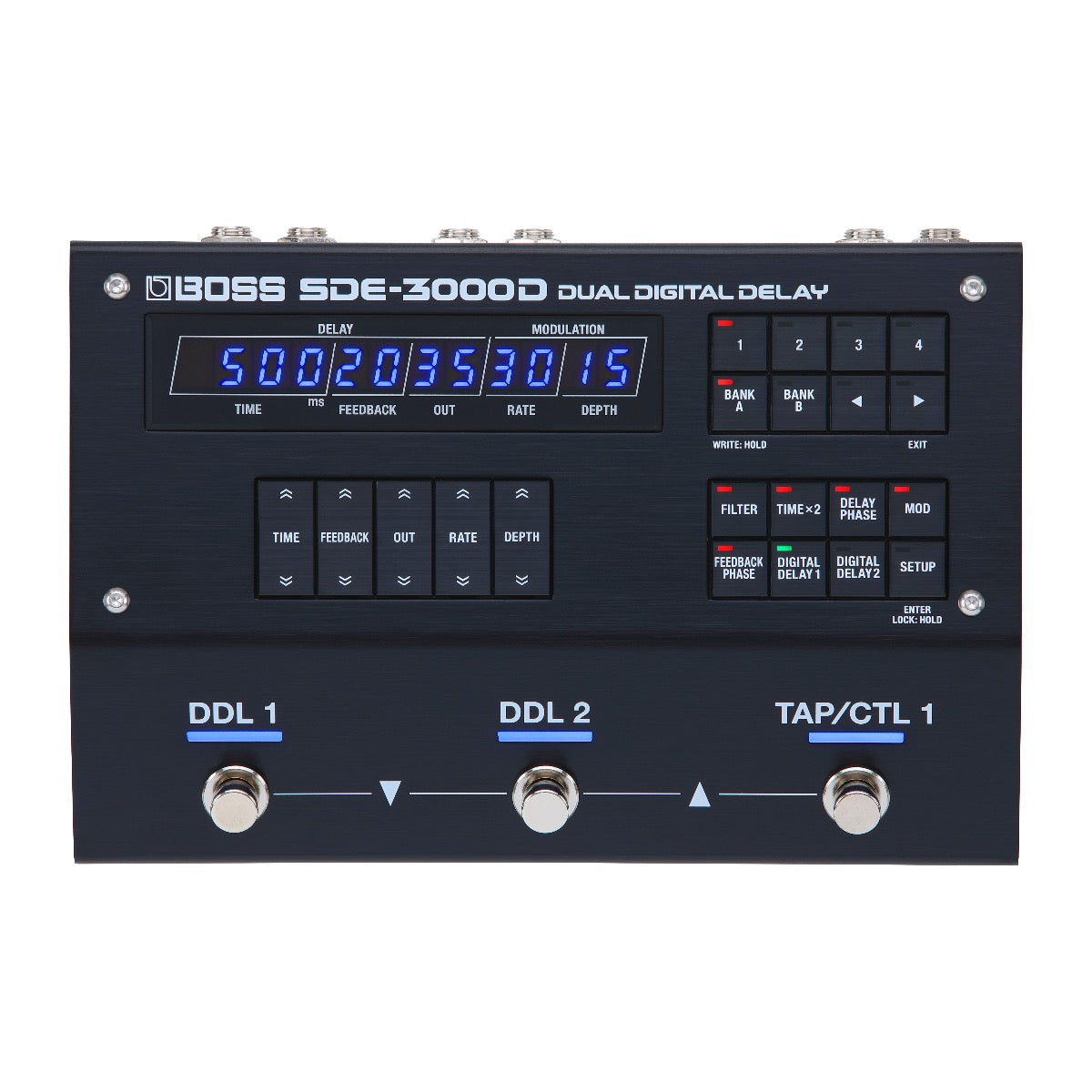 Boss SDE-3000D Dual Digital Delay Pedal CABLE KIT
3 items included
This Kraft Music Bundle Includes
Click on a product to view more details.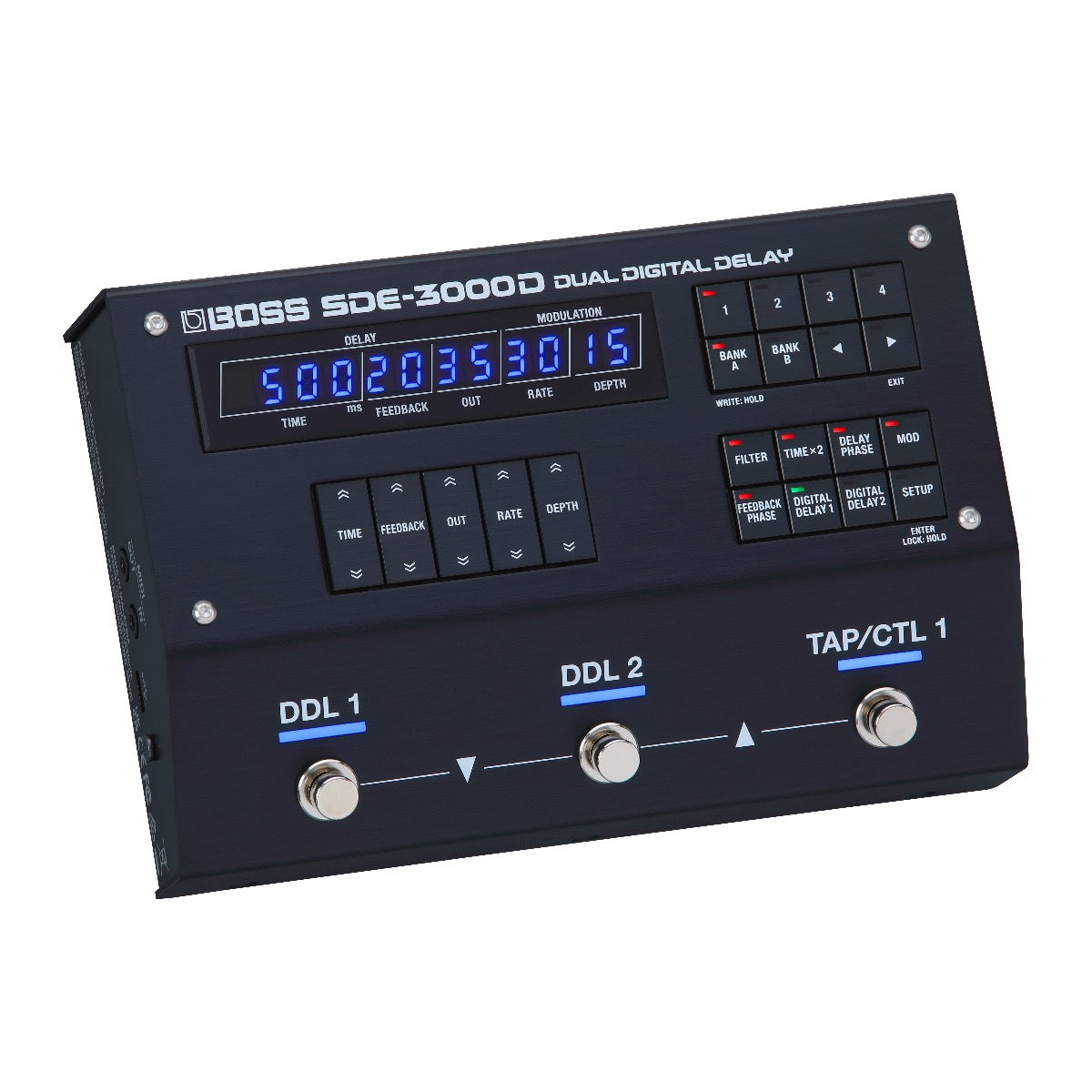 Boss SDE-3000D Dual Digital Delay Pedal
Sells separately for $499.99
Powerful dual delay pedal based on the legendary Roland SDE-3000 rackmount digital delay from the 1980s.
Want to Customize the Contents of Your Bundle?
Want to add, remove or upgrade this item? Our expert sales advisors are happy to help customize a bundle for you.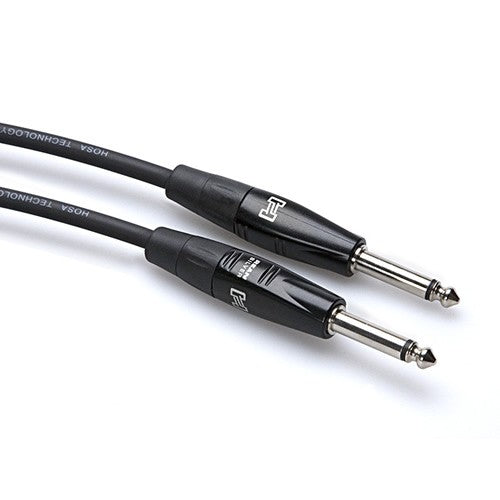 Hosa HGTR-015 Pro Instrument Cable - 15'
Sells separately for $26.95
A professional-grade instrument cable suitable for electric guitars, basses, keyboards, synths, and more.
Want to Customize the Contents of Your Bundle?
Want to add, remove or upgrade this item? Our expert sales advisors are happy to help customize a bundle for you.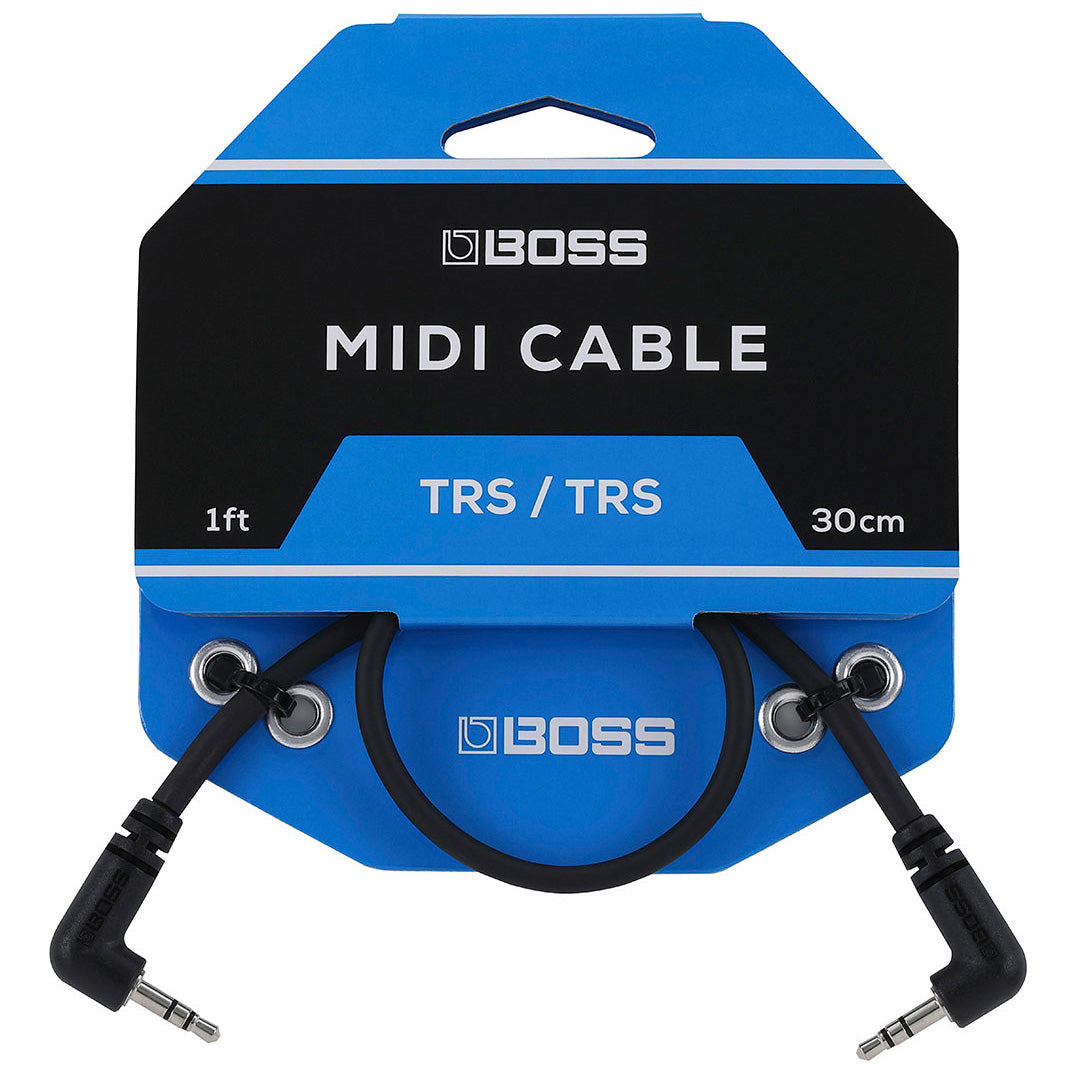 Boss BCC-1-3535 MIDI Cable - 1'
Sells separately for $12.99
This cable provides connectivity for products with 3.5 mm TRS MIDI jacks. The housings on the 3.5 mm TRS plugs feature a slim, low-profile design.
Want to Customize the Contents of Your Bundle?
Want to add, remove or upgrade this item? Our expert sales advisors are happy to help customize a bundle for you.
Released in 1983 at the dawn of the digital effects era, the Roland SDE-3000 is a hallowed icon among fans of classic gear. With its highly musical character, long delay times, and ability to store and recall presets, this rackmount legend went on to become the prime delay machine for the world's finest touring guitarists, session musicians, and engineers of the time, and its special sound is still revered forty years later.
The SDE-3000D brings you not one but two authentic reproductions of the much-loved SDE-3000 in a floor-based pedal. Fully independent delays, flexible internal routing, and expanded I/O offer modern versatility for all types of mono and stereo rigs. Modulation and tone-shaping capabilities have also been enhanced, and there are 100 memories for storing favorite setups. And with a wealth of onboard and external control options—including deep MIDI support—you can integrate this inspiring vintage voice with any stage or studio setup.
Faithful floor-based reproduction of the legendary Roland SDE-3000 rackmount digital delay from the 1980s
Classic warm digital delay sound with extended features for modern rigs
Distinctive retro display and panel controls based on the original SDE-3000
Includes two full-featured delays, each with independent parameters, mono/stereo modulation, and panning
Widely adjustable delay time with two range settings: 0–1500 ms and 0–3000 ms
Characterful modulation inspired by the original circuit design
Phase switches for the primary delay and delay feedback loop
Adjustable low-cut and high-cut filters for shaping delay feedback sounds
Two inputs and two outputs for dual mono, wet/dry, or stereo setups
Selectable series or parallel operation for the two delays
Save and recall sounds with 100 memories
Assignable onboard footswitch control for tap tempo, hold, and more
Jacks for extended operation with up to four footswitches, two expression pedals, or the GA-FC/GA-FC EX foot controller
MIDI I/O on space-saving mini TRS jacks
Retro Digital Magic
Musicians and engineers gravitate toward certain classic effects because they make any sound better, and the SDE-3000 carries that magic touch. Many attributes made it highly expressive with live instruments, including ultra-wide dynamic range, adjustable delay phase, rich modulation, and multiple seconds of clear-yet-warm delay tone. The SDE-3000's voice became an integral part of music in the 1980s and 1990s and remains a source of inspiration for tone seekers and effect builders everywhere. With the SDE-3000D, you can now access the authentic delay sounds used to produce some of the most iconic tracks of all time.
Faithful Sound Reproduction
In contrast with the clear, precise tones of other digital delays, the SDE-3000 stood out from the crowd with its beautiful warm sound and inviting musicality. This was the result of clever and complex internal digital processing coupled with nonlinear behaviors from the supporting analog circuitry. These behaviors included variable frequency response in the preamp based on input gain, magnetic saturation in the anti-alias filter, and evolving modulation produced by the components of the time. We deeply analyzed these many factors in creating the SDE-3000D, bringing the complete character of this time-honored classic alive for the modern era.
Authentic Details, Modern Enhancements
The SDE-3000D includes nearly every parameter from the SDE-3000, accessed via a retro interface derived from the vintage hardware. Two selectable delay ranges offer different frequency characteristics, vital elements in the original's appealing sound. The unique tonal color of the SDE-3000's external feedback loop circuit has been replicated as well, and it's possible to turn this coloration off or internally process the feedback loop with a powerful EQ. You also get 100 memories—up from the original's eight—plus carryover when switching sounds.
Masterful Modulation
The modulation circuit in the SDE-3000 also contributes to the effect's distinctive sound. Along with basic depth and rate controls, it's possible to independently switch the phase of the initial delay and the delay feedback loop, which influences the way the modulation reacts. The original analog LFO behavior has been faithfully reproduced in the SDE-3000D, and there's now a sine wave option in addition to the original triangle wave. We've also provided even more control over the delay phase settings for a broader range of sounds.
Two SDE-3000s in One Pedal
While the original SDE-3000 was mono, the SDE-3000D gives you two discrete delays with independent parameters and mono or stereo modulation on each. Run the delays in parallel and pan them for ever-evolving stereo colors. Or chain them in series to create complex rhythms and reverb-like depth. And with the flexible audio I/O, you can route the effects for wide stereo operation, send each delay to its own output, or split effect and unprocessed sounds for wet/dry setups.
Modern Compact Power
With its pedal-based design and expanded control options, the SDE-3000D offers much greater versatility than its rackmount inspiration. Three onboard footswitches provide instant control of memory selection, tap tempo, delay hold, momentary effect engagement, and more. Two control jacks allow you to connect up to four footswitches, two expression pedals, or a GA-FC/GA-FC EX for external operation, and TRS MIDI I/O is also included. There's a large selection of assignable targets to choose from, delivering deep real-time control that reaches far beyond the capabilities of the original SDE-3000.
| | |
| --- | --- |
| SKU | ROL-SDE3000DCK |
| Vendor | Boss |
| Effect Type | Delay |
| Mpn | SDE-3000D |
| Effects | Delay |
| Audio Inputs | 1/4" L & R |
| Audio Outputs | 1/4" L & R |
| On-board Expression Pedal | No |
| Number of Pedal Switches | 3 |
| Product Weight | 2.43 lbs |
| Width | 7.83" |
| Depth | 5.31" |
| Height | 2.13" |
Roland/Boss Consumer Limited Warranty
This limited warranty applies only to Roland and Boss products purchased in the United States of America.
Roland Corporation U.S. warrants to the first consumer only of a covered product purchased from an authorized Roland dealer in the U.S. that this product will be free from defects in materials for a period of three (3) years or defects in workmanship for a period of two (2) years. Please register this product online to establish the date of purchase (not a requirement for warranty service).
To exercise your rights under this Warranty as a purchaser, you must ship this product in appropriate packaging at your expense (insurance is recommended), together with proof of purchase, to Roland Corporation U.S., or to such other address as may be instructed by Roland Corporation U.S. (This shipping requirement shall not apply to those Roland products covered by in-home warranties). You should submit a new service request to obtain a Return Authorization number for the returned product. Any products shipped to Roland Corporation U.S. without a Return Authorization number shall be refused.
Roland Corporation U.S. will repair or replace this product at its sole option at no charge to you for parts or for labor within the warranty period; provided, however, that Roland Corporation U.S. reserves the right to determine whether the product is 'defective' for purposes of this Limited Warranty. This Warranty does not apply to damage to this product that occurred as a result of abuse or misuse, abnormal service or handling, battery leakage or failure, damage which may have been caused either directly or indirectly by another product, or if the product has been altered or modified in any way, or if the damage was caused by repairs or service provided or attempted by anyone other than Roland Corporation U.S. or a Roland Authorized Service Center.
In no event shall Roland Corporation U.S. be liable for any indirect, incidental, collateral, exemplary, punitive, consequential or special damages or losses arising out of your purchase of products and/or out of this warranty, including without limitation, loss of use, profits, goodwill or savings or loss of data, music, electronic files, or programs that may have been stored by a user of the product even if Roland Corporation U.S. has been advised of the possibility of such damages or claims. Some states do not allow the exclusion or limitation of incidental, punitive, or consequential damages, so the above limitation or exclusion may not apply to you.
Where applicable, if you qualify as a 'consumer' under the Magnuson-Moss Warranty Act, then you shall be entitled to any implied warranties allowed by law for the period of the Limited Warranty as set forth above. Some states do not allow limitations on how long an implied warranty lasts, so the above limitation may not apply to you. Except as stated above, the foregoing warranties are in lieu of all other conditions or warranties, express, implied or statutory, including without limitation, an implied condition or warranty of merchantability or fitness for a particular purpose and of any other warranty obligation on the part of Roland Corporation U.S.
Roland Corporation U.S. does not assume or authorize assumption of liability for it or any other warranty, either express or implied. This Limited Warranty gives U.S. purchasers specific legal rights, and you may also have other rights which vary from State to State.
Standard Shipping