Skip product carousel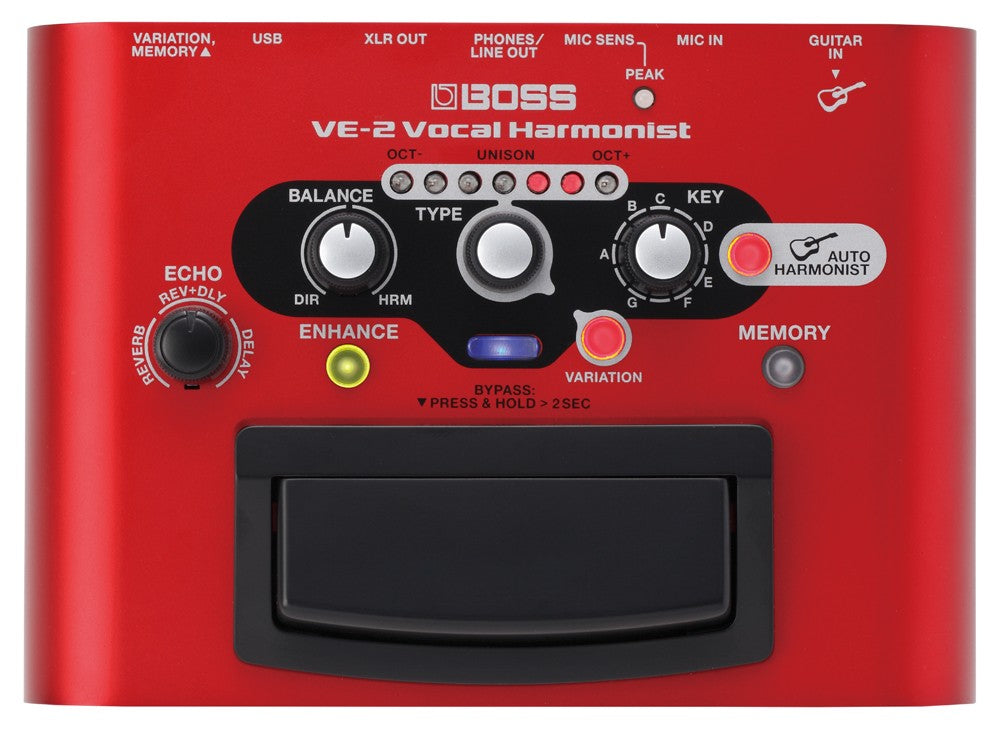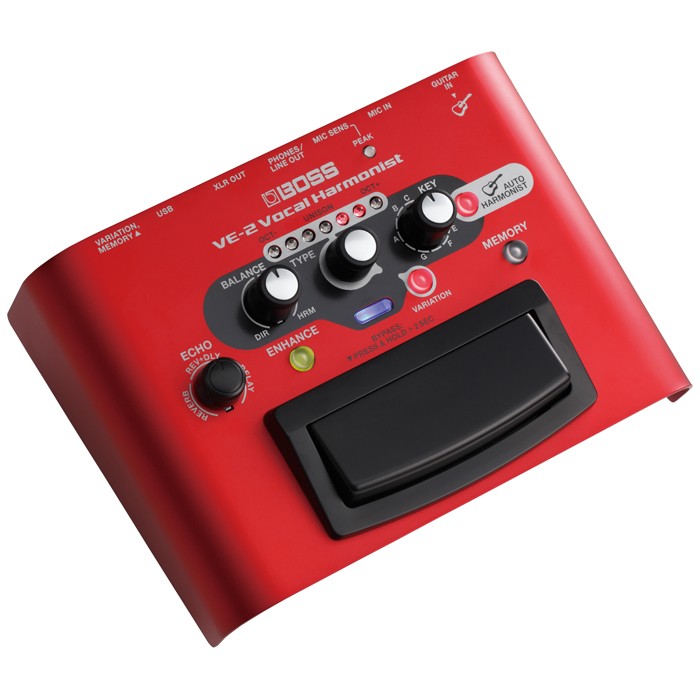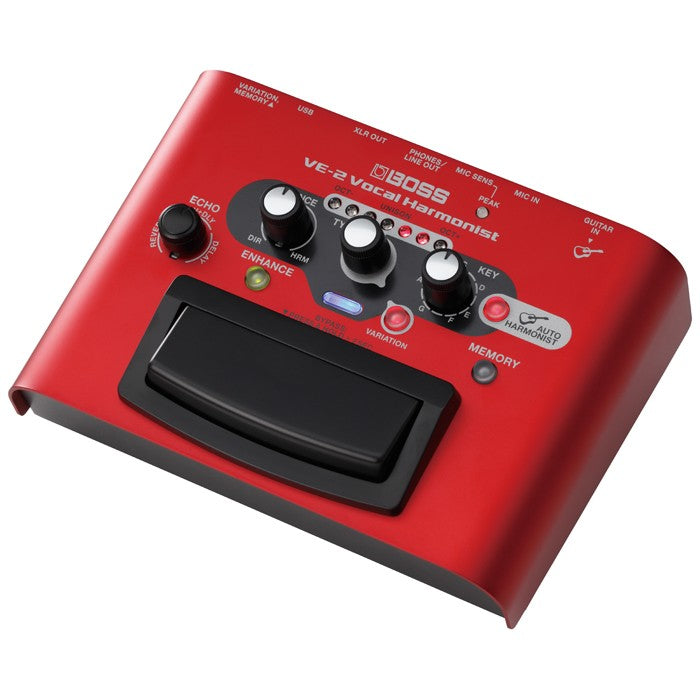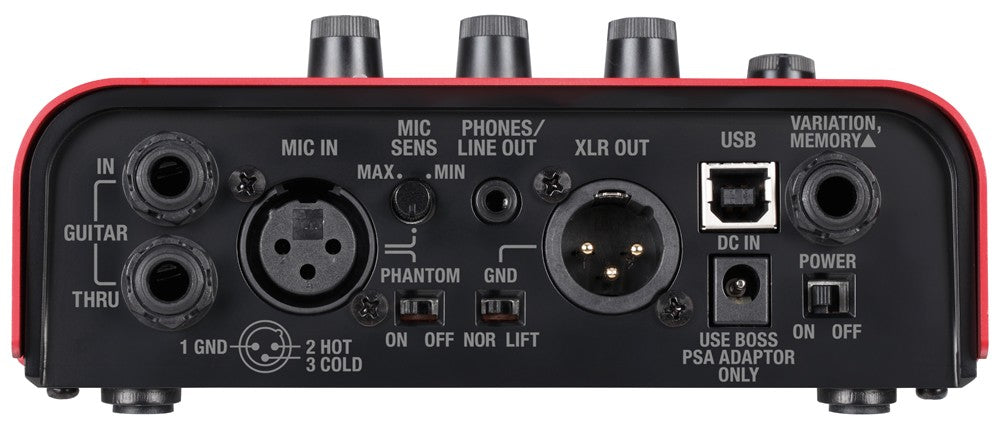 Boss VE-2 Vocal Harmonist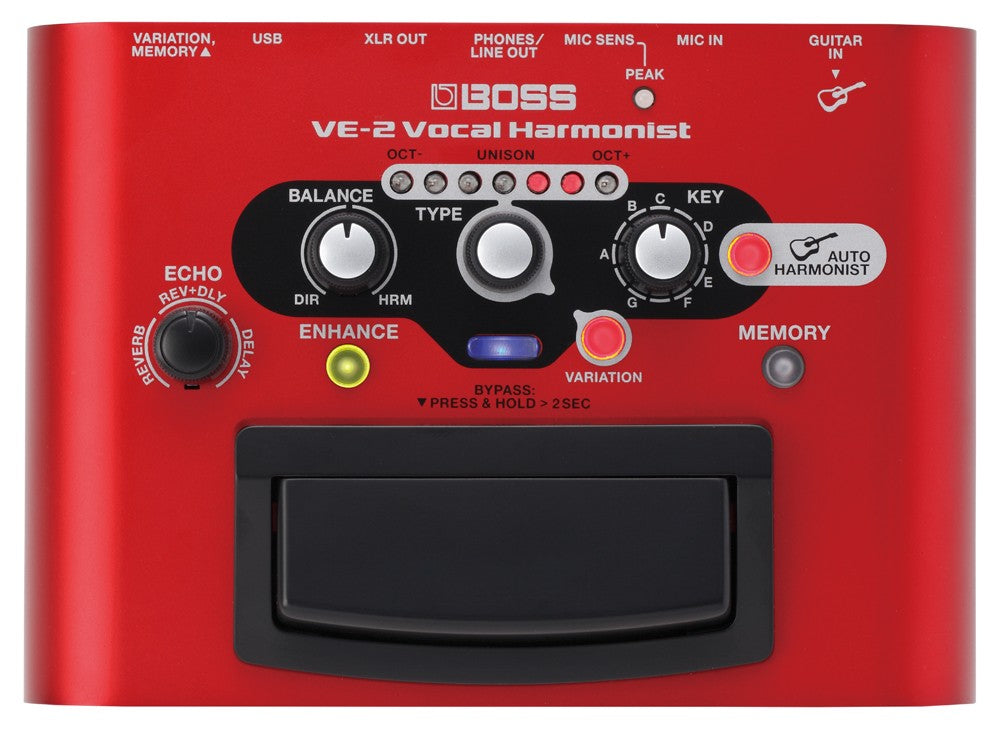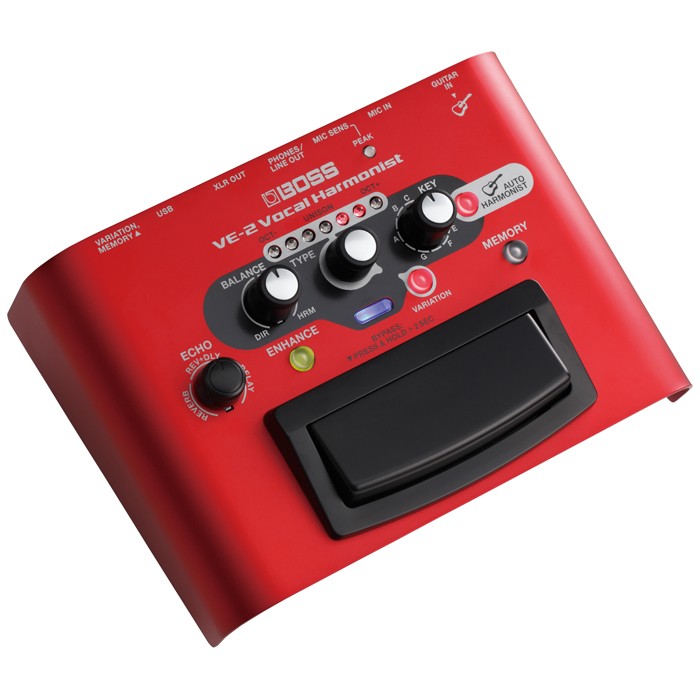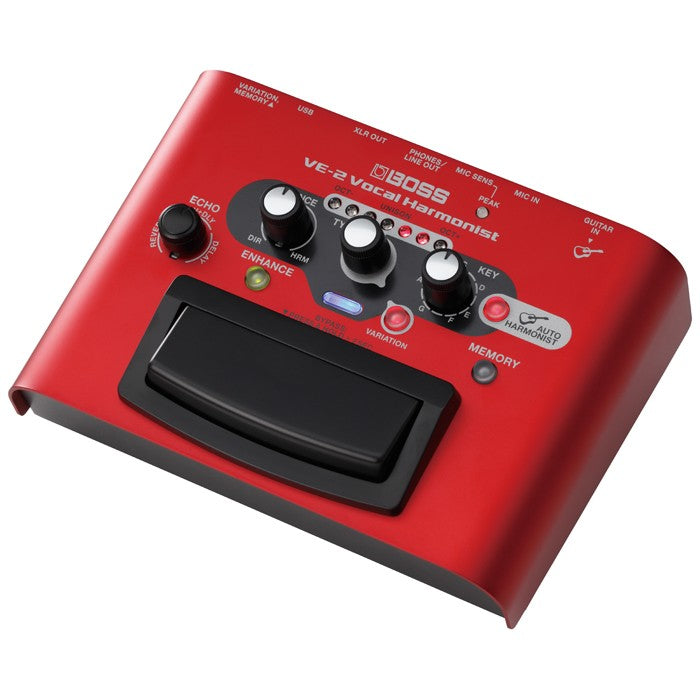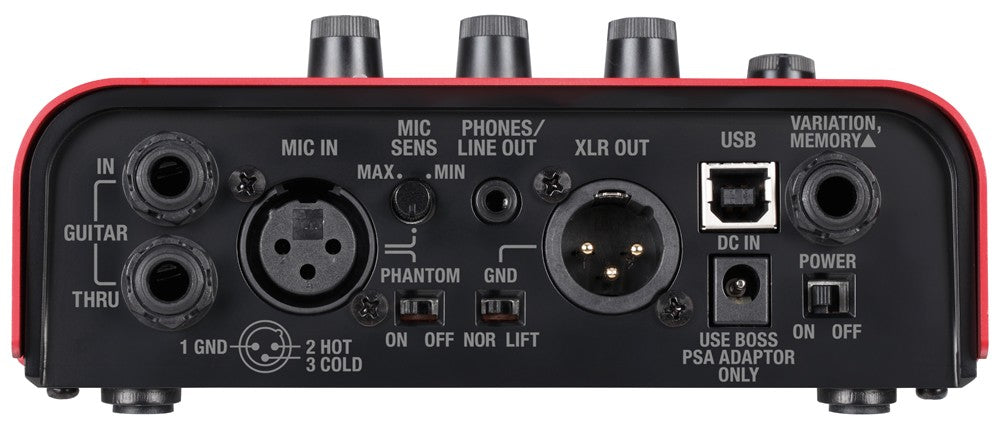 Boss VE-2 Vocal Harmonist
Studio Level Vocals in an Easy-to-Use Stompbox
Combining sophisticated sound with simple operation, the VE-2 Vocal Harmonist delivers a complete effects solution for all singers, particularly those that perform with guitar. This portable, battery-powered stompbox has everything you need to create polished, studio-quality sounds everywhere you sing, from concert stages and street performances to practicing and having fun at home. The VE-2 magically creates beautiful harmonized vocals that follow your singing, with pitch that automatically tracks the chords played on a connected guitar, a preset key, or a combination of the two. Using one of these three operation modes, it's easy to create perfect real-time harmonies in any key, even if you have no experience with gear or music theory. In addition to harmony, the VE-2 provides essential effects to enhance your voice, such as high-quality reverb/delay and an enhancer with real-time pitch correction. Also included is a USB audio function that allows you to connect to your computer and easily capture impressive VE-2 vocal sounds for music recordings, social media videos, and more.
Real-time vocal harmonies and high-quality effects in an affordable, easy-to-operate pedal
Auto Harmony function automatically detects chords played on a connected guitar and generates perfectly matching harmonies, even during mid-song key changes
Solo singers can create harmonies by manually setting the song key with a dedicated panel knob
Hybrid mode creates harmonies based on both guitar chord input and the manual key setting, perfect for songs where the guitar part transitions between rhythm and lead playing
24 harmony types to choose from (12 one- and two-voice harmonies plus variations that provide even fuller sounds)
Friendly user interface that's simple to use, even for vocalists not familiar with using effects
Easily dial up reverb and delay effects with a single knob
Enhance function controls dynamics and applies subtle pitch correction as you sing
Three memories for storing favorite settings
Runs on four AA-size batteries or optional PSA-series AC adapter
XLR mic input with phantom power (phantom power is available even when running on batteries)
USB audio function for capturing processed vocal sounds into your computer
Enrich Your Vocals with Beautiful Harmonies—Just Plug in Your Guitar and Sing!
When you connect your guitar to the VE-2, the Auto Harmony function detects the chords and key you play and automatically generates the correct harmony as you sing—it's that easy! If you don't play guitar, you can have the guitarist in your group plug in instead, or set the song's key manually with a panel knob. Hybrid mode provides the best of both worlds, following both the guitar chord progression and the current manual setting. This is ideal for times when you're riffing on your axe and singing at the same time—when the guitar chords drop out, the VE-2's manual setting instantly takes over. With these three intuitive methods, you're able to achieve natural, stable harmonies without any knowledge of electronic gear or music theory whatsoever.
A Variety of Harmony Types to Fit Any Style
With 12 different harmony types to choose from in the VE-2, you're sure to find a sound that suits any style of music. Easily selectable with a dedicated panel knob, the types include one or two added voices in various scale intervals above and/or below your own voice. In addition, each type has a variation setting that incorporates more voices for even fuller harmonies. From a little added color to a rich ensemble sound, it's easy to create impressive vocals with the VE-2.
Friendly User Interface for Simple Operation
The VE-2 is incredibly intuitive for anyone to use, even for vocalists that have no previous experience with sound equipment. Buttons and knob-based controls make it simple to get great sounds instantly, while the handy LED indicators show the current vocal harmony setting at a glance. The integrated multi-function footswitch allows you to turn harmony on/off or bypass the VE-2's sound entirely as you perform, and you can even connect up to two optional footswitches for more control if desired. In addition, you can save three favorite sounds in onboard memories and recall them at the touch of button.
Essentials for a Polished Vocal Sound in One Compact Pedal
You don't have to rely on a sound engineer anymore to make your vocals sound great—everything you need is included in the VE-2. The Echo section provides high-quality reverb, delay, or a mix of both, all intuitively adjustable with a dedicated knob. Pressing the Enhance button once evens out your vocals for a more refined, studio-type sound, while a second press adds in some subtle pitch correction for stable harmony. The XLR input accepts a variety of professional microphone types, including studio-level condenser mics that require phantom power to operate. Phantom power is even available when the VE-2 is operated on batteries, letting you use these high-quality mic types everywhere you perform.
Connect to Your PC and Record Your Vocals
Normally, recording your singing along with real-time harmonies and sound enhancement requires a complicated setup with multiple devices. Not so with the VE-2! Just connect to your computer with a USB cable and use your favorite recording software to capture your voice with harmonies and effects. In addition to music production and songwriting applications, this also gives singers a simple way to achieve impressive vocal sounds while recording performances for social media videos. With the VE-2's Loopback function, you can mix audio playback from your computer with the mic sound, allowing you to easily record sing-alongs with backing tracks and karaoke tunes.
SKU
ROL-VE2
Vendor
Boss
Effect Type
Vocal
Included From Manufacturer
Alkaline Battery (AA, LR6) x 4
Mpn
VE-2
Product Unique Features
24 harmony types
Control Connections
VARIATION, MEMORY INC jack: 1/4-inch TRS phone type
Effects
Harmony, Echo, Enhance
Audio Inputs
MIC IN jack: XLR type, balanced, phantom power (DC 46 V, 10 mA Max)
GUITAR IN jack: 1/4-inch phone type
Audio Outputs
GUITAR THRU jack: 1/4-inch phone type
XLR OUT jack: XLR type
PHONES/LINE OUT jack: Stereo miniature phone type

On-board Expression Pedal
No
Number of Patches/Programs
3
Number of Pedal Switches
Select/Bypass
Power Adaptor
AC Adaptor (sold separately)
Product Weight
1 lb 6 oz
USB Functionality
Recording Interface
Width
6-3/16"
Depth
4-5/8"
Height
2-9/16"
Roland/Boss Consumer Limited Warranty
This limited warranty applies only to Roland and Boss products purchased in the United States of America.
Roland Corporation U.S. warrants to the first consumer only of a covered product purchased from an authorized Roland dealer in the U.S. that this product will be free from defects in materials for a period of one (1) year or defects in workmanship for a period of ninety (90) days. Please register this product online to establish the date of purchase (not a requirement for warranty service).
To exercise your rights under this Warranty as a purchaser, you must ship this product in appropriate packaging at your expense (insurance is recommended), together with proof of purchase, to Roland Corporation U.S., or to such other address as may be instructed by Roland Corporation U.S. (This shipping requirement shall not apply to those Roland products covered by in-home warranties). You should submit a new service request to obtain a Return Authorization number for the returned product. Any products shipped to Roland Corporation U.S. without a Return Authorization number shall be refused.
Roland Corporation U.S. will repair or replace this product at its sole option at no charge to you for parts or for labor within the warranty period; provided, however, that Roland Corporation U.S. reserves the right to determine whether the product is 'defective' for purposes of this Limited Warranty. This Warranty does not apply to damage to this product that occurred as a result of abuse or misuse, abnormal service or handling, battery leakage or failure, damage which may have been caused either directly or indirectly by another product, or if the product has been altered or modified in any way, or if the damage was caused by repairs or service provided or attempted by anyone other than Roland Corporation U.S. or a Roland Authorized Service Center.
In no event shall Roland Corporation U.S. be liable for any indirect, incidental, collateral, exemplary, punitive, consequential or special damages or losses arising out of your purchase of products and/or out of this warranty, including without limitation, loss of use, profits, goodwill or savings or loss of data, music, electronic files, or programs that may have been stored by a user of the product even if Roland Corporation U.S. has been advised of the possibility of such damages or claims. Some states do not allow the exclusion or limitation of incidental, punitive, or consequential damages, so the above limitation or exclusion may not apply to you.
Where applicable, if you qualify as a 'consumer' under the Magnuson-Moss Warranty Act, then you shall be entitled to any implied warranties allowed by law for the period of the Limited Warranty as set forth above. Some states do not allow limitations on how long an implied warranty lasts, so the above limitation may not apply to you. Except as stated above, the foregoing warranties are in lieu of all other conditions or warranties, express, implied or statutory, including without limitation, an implied condition or warranty of merchantability or fitness for a particular purpose and of any other warranty obligation on the part of Roland Corporation U.S.
Roland Corporation U.S. does not assume or authorize assumption of liability for it or any other warranty, either express or implied. This Limited Warranty gives U.S. purchasers specific legal rights, and you may also have other rights which vary from State to State.
Ground shipping is FREE for all orders $99 and up.