Skip product carousel
Bonus Item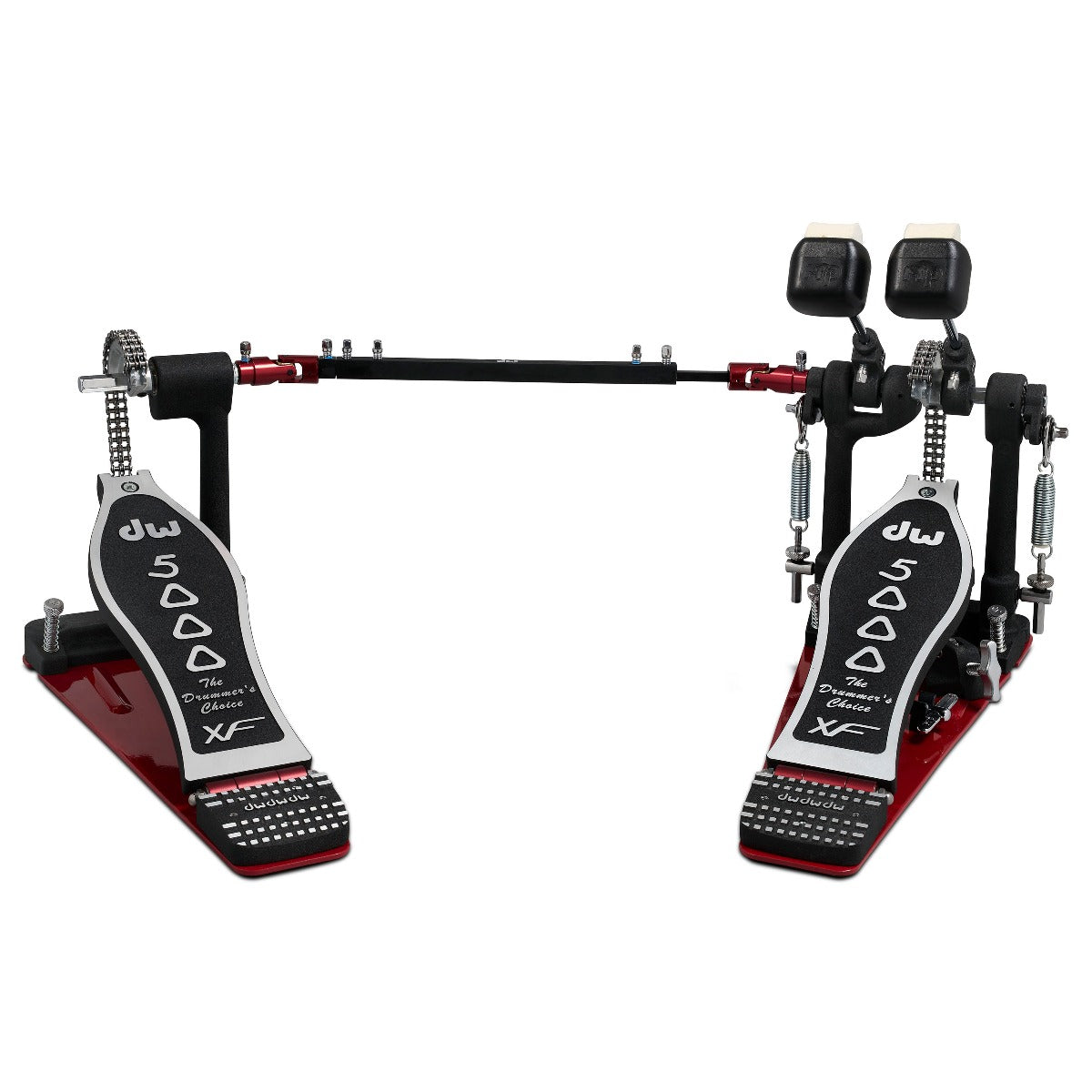 Drum Workshop DWCP5002AD4XF Double Bass Drum Pedal w/ Extended Footboards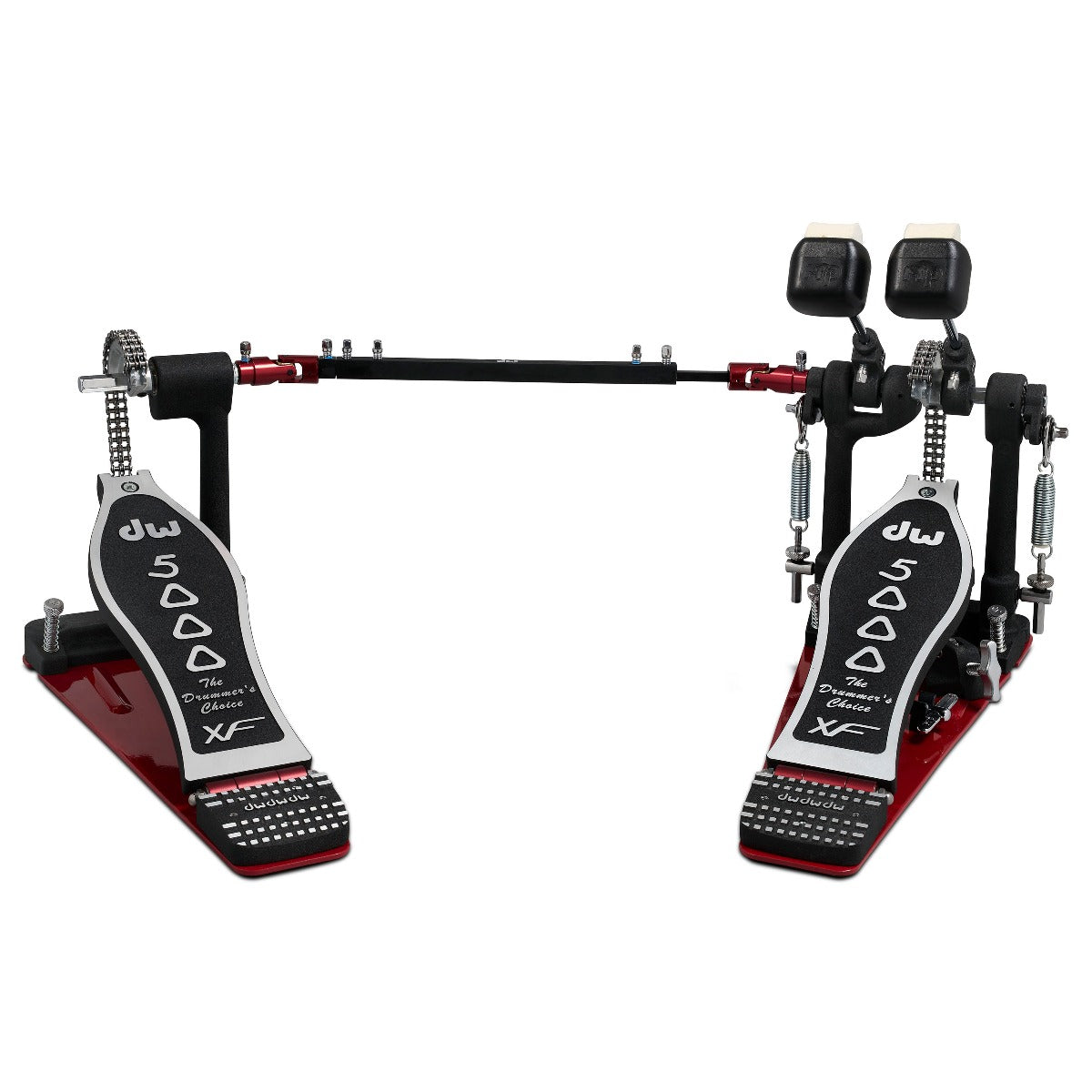 Drum Workshop DWCP5002AD4XF Double Bass Drum Pedal w/ Extended Footboards
An Industry standard gets even better, DW has reengineered the pedal that established their reputation for innovation and quality. Many improvements have been made to the 5000 series. Most notably, the toe clamp. The 5000 needed more gripping strength, providing a stronger connection between the drummer and kick drum. So, DW developed the Tri-Pivot Toe Clamp. Three independent 360 degree, rotating rubber pads firmly pinch almost any diameter and thickness bass drum counter hoop from the top and the bottom, with zero slippage. Add to that a new textured rubber grip pad on the base plate and we think you'll agree that there's never been a better system for attaching a pedal to a bass drum. Last, but certainly not least, improvements were made on the smoothness and feel of the 5000, if that was even possible. To accomplish this, DW added a Dual Bearing Spring Rocker, making the 5000 quicker and more responsive.
Accelerator (AD4) drive system
Extended Footboards
Dual-Bearing Spring Rocker
Delta Ball-Bearing Hinge
Tri-Pivot Toe Clamp
Non-Skid Rubber Grip
Accelerator (AD4) Drive System
This pedal features the Accelerator (AD4) drive system. offering an eccentric motion that creates an indirect relationship between the sprocket and the footboard, increasing the velocity of the pedal by shortening the length of the stroke. It is recommended for situations that require increased speed and sensitivity.
Tri-Pivot Toe Clamp
The New Tri-Pivot Toe Clamp (U.S. Patent No. 8330032) ensures the pedal and drum stay connected no matter what hoop size or angle. Convenient Clip with Drum Key also included.
Non-Skid Rubber Grip
The Non-Skid Rubber Grip on the bottom of this pedal will keep your it planted wile being easily adjustble.
Extended Footboards
For drummers that require a longer footboards, this is the 5000 series pedal for you. Combined with the ultra-smooth Accelerator Drive System, this pedal feels simply amazing.
| | |
| --- | --- |
| SKU | DW-DWCP5002AD4XF |
| MPN | DWCP5002AD4XF |
| Vendor | Drum Workshop |
| Included From Manufacturer | Carry Bag |
| Mpn | DWCP5002AD4XF |
| Included from Manufacturer | Carry Bag |
| Manufacturer Part Number (MPN) | DWCP5002AD4XF |
DW Drums Limited Warranty
All drum hardware is covered for a period of one (1) year. Drum Workshop will repair or replace any defective components free of charge with comparable or functionally equivalent parts to the original purchaser upon delivery of the product to an authorized DW Drums dealer. Said defective component/s will become the property of Drum Workshop. Proof of purchase and status as the original purchaser are required for warranty coverage.
Drum Hardware refers to any and all plated metal components consisting of, but not limited to, lugs, counter hoops, tension rods, throw-offs, butt plates, spurs, tom brackets, tom mounts, and other related mounting hardware.
This warranty does not cover:
Drumheads and normal wear and tear.
Any modifications or alterations made to original equipment or factory parts.
Damage caused by neglect, moisture or temperature extremes (including, but not limited to direct sunlight, freezing temperatures, extreme heat and/or direct exposure to the elements).
Mishandling, shipping incidents, or use under other than what may be considered normal playing conditions.
Drums purchased from a source other than an authorized DW Drums retailer.
Any owner other than the original purchaser.
Normal changes in wood grain, fading of color and/or aging of lacquer finish.
Factory installed products not manufactured by DW such as May Internal Microphone Systems and/or other custom installations.
Incidental or consequential damages that arises as the result of a DW product defect.
Warranty claims should be addressed to an authorized DW Drums dealer, along with the original sales receipt. In the event that a dealer is unable to correct a warranty defect, the dealer will contact Drum Workshop for further instructions as to the return of said product to the factory for inspection and repair or replacement. Upon repair or replacement a new warranty will not apply. Rather, the previous warranty will be in effect. No shipments will be accepted without first obtaining a Return Authorization (RA) number. Any and all shipping charges will be the sole responsibility of the purchaser.
This warranty gives the original owner of Drum Workshop products specific legal rights. He or she may also have other rights which vary by state, country or province. These provisions and limited warranty are covered by the laws where the original purchase took place. Drum Workshop, the warrantor under this limited warranty, recognizes that this agreement is enforceable only to the extent and in a manner permitted under applicable laws.
Terms and conditions of this limited warranty are subject to change without notice. All products warranted under this specific coverage will be honored.
Ground shipping is FREE for all orders $99 and up.