Skip product carousel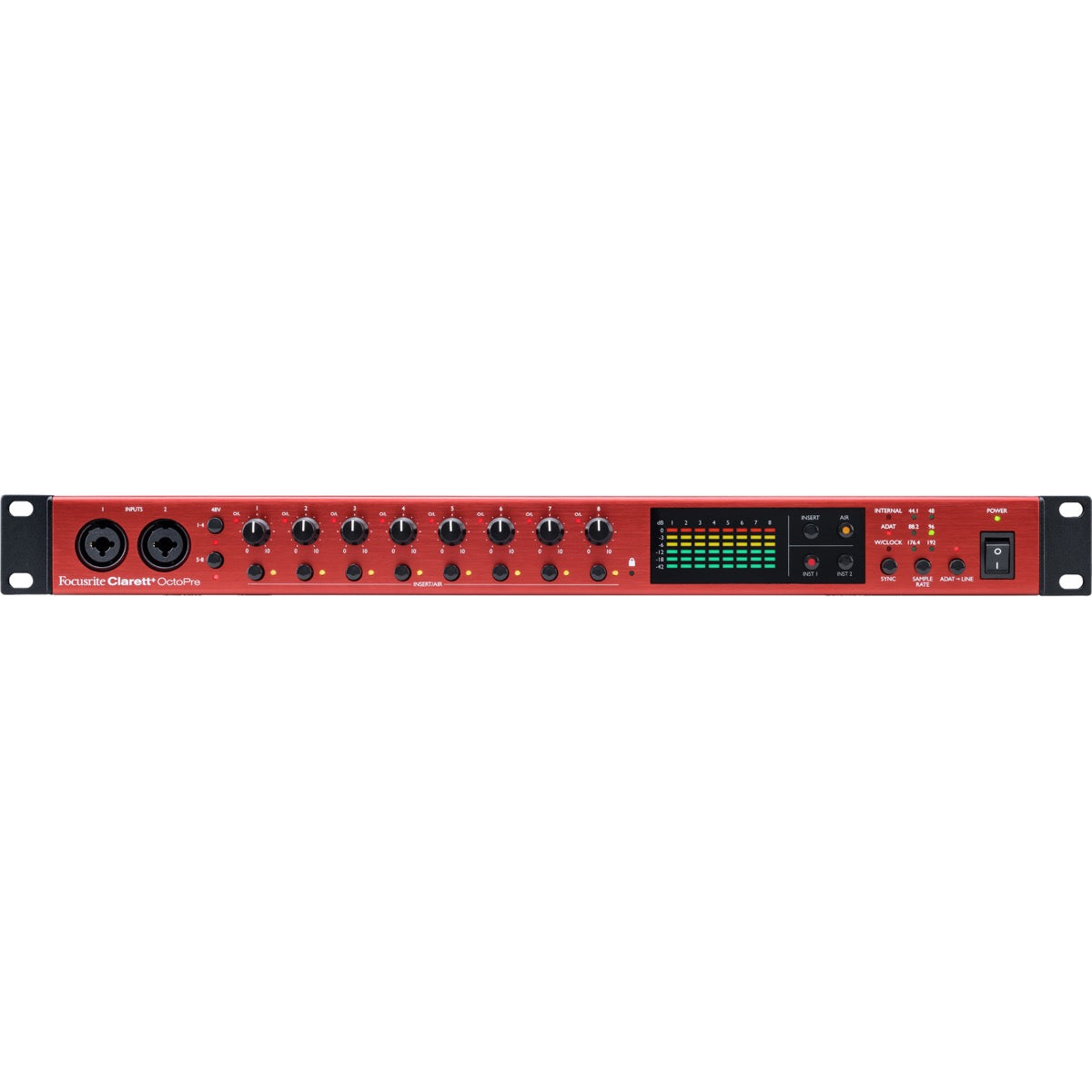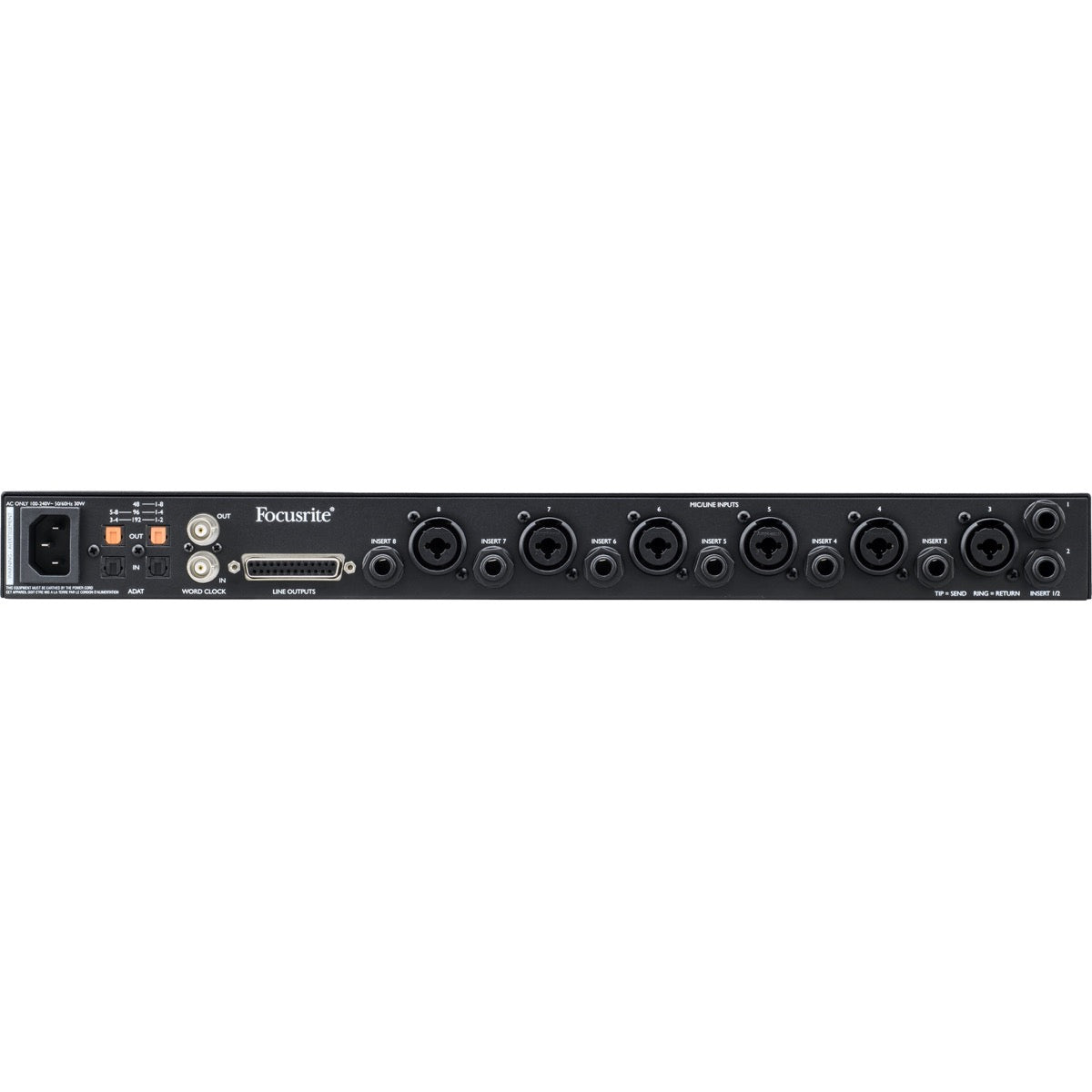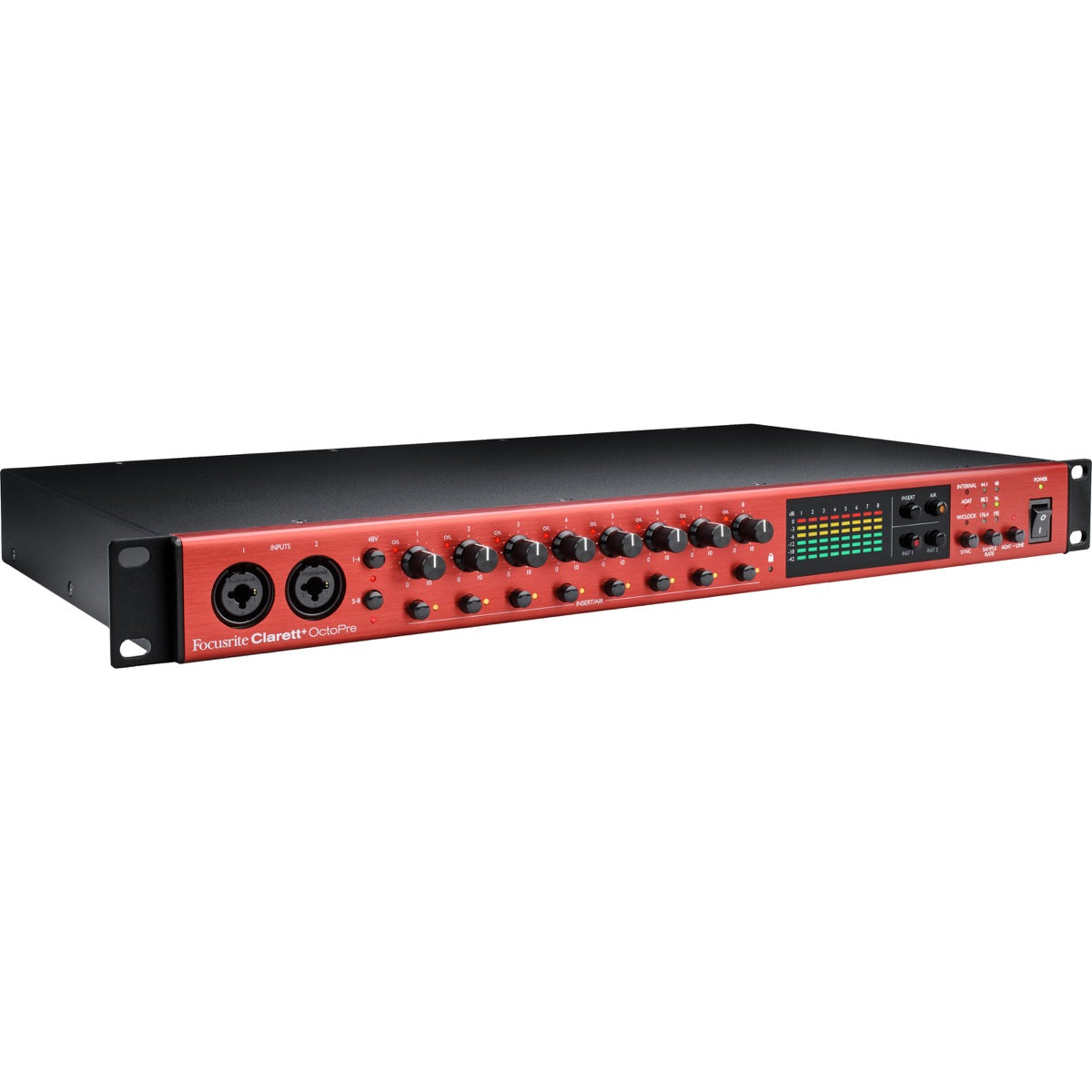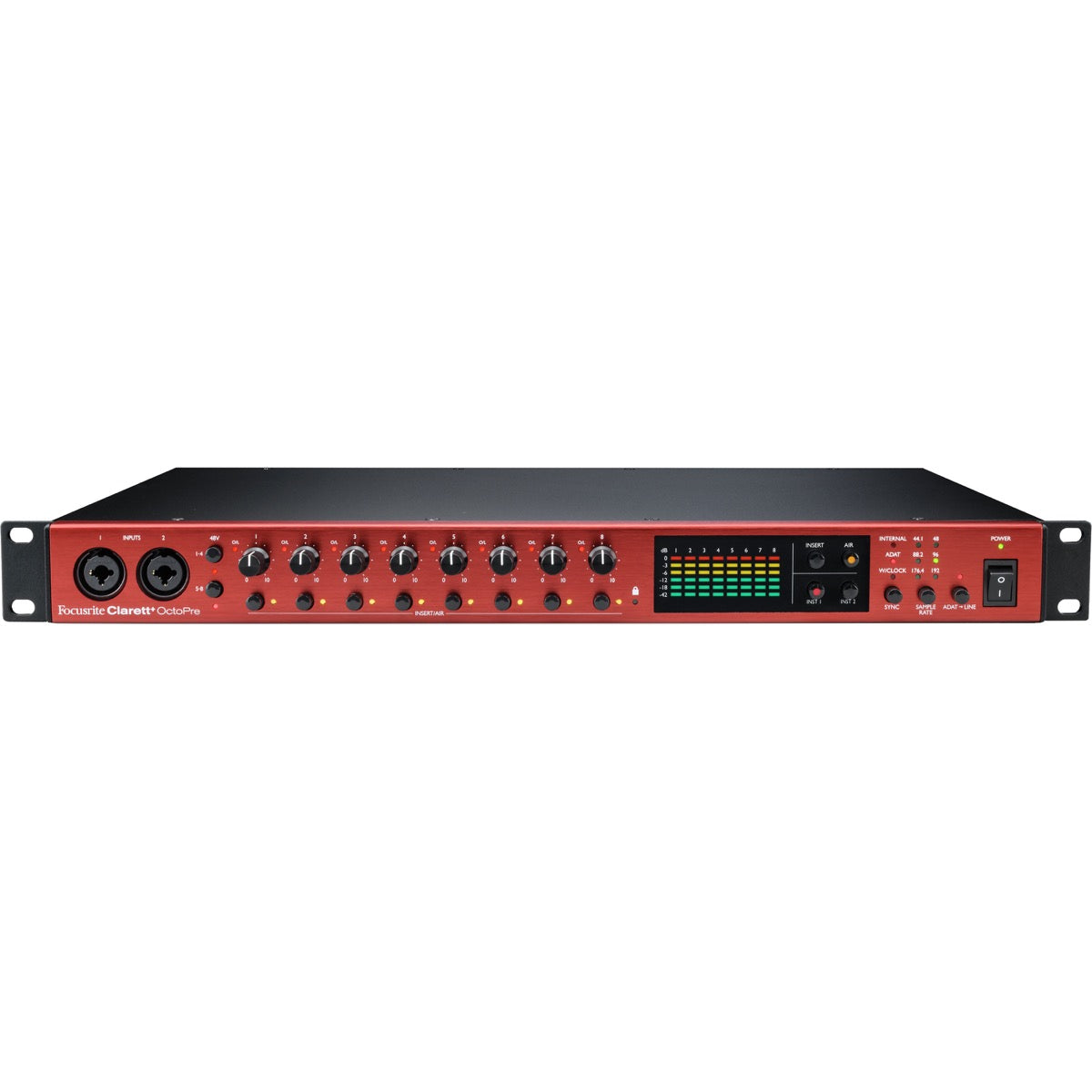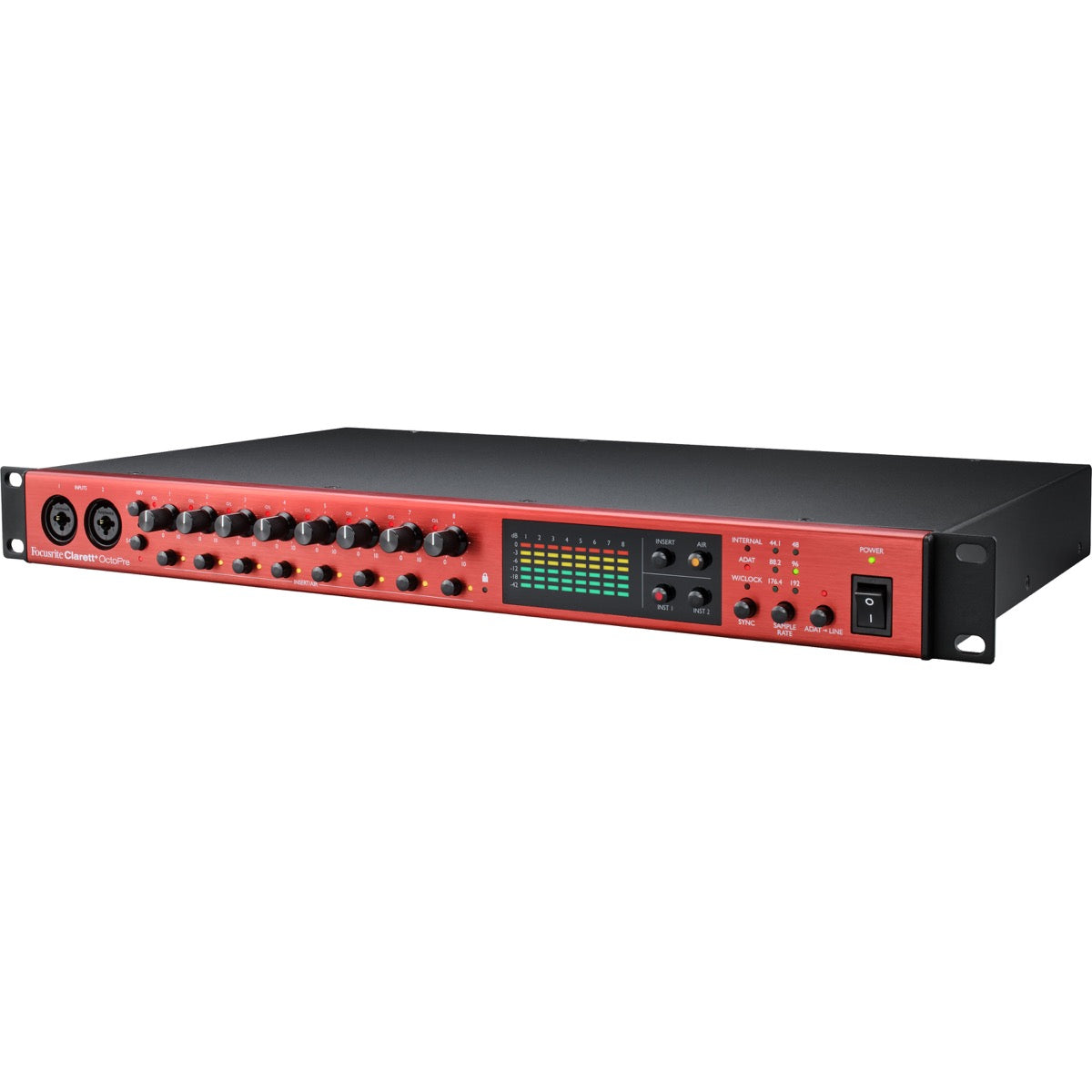 Focusrite Clarett+ OctoPre 8-Channel Mic Preamp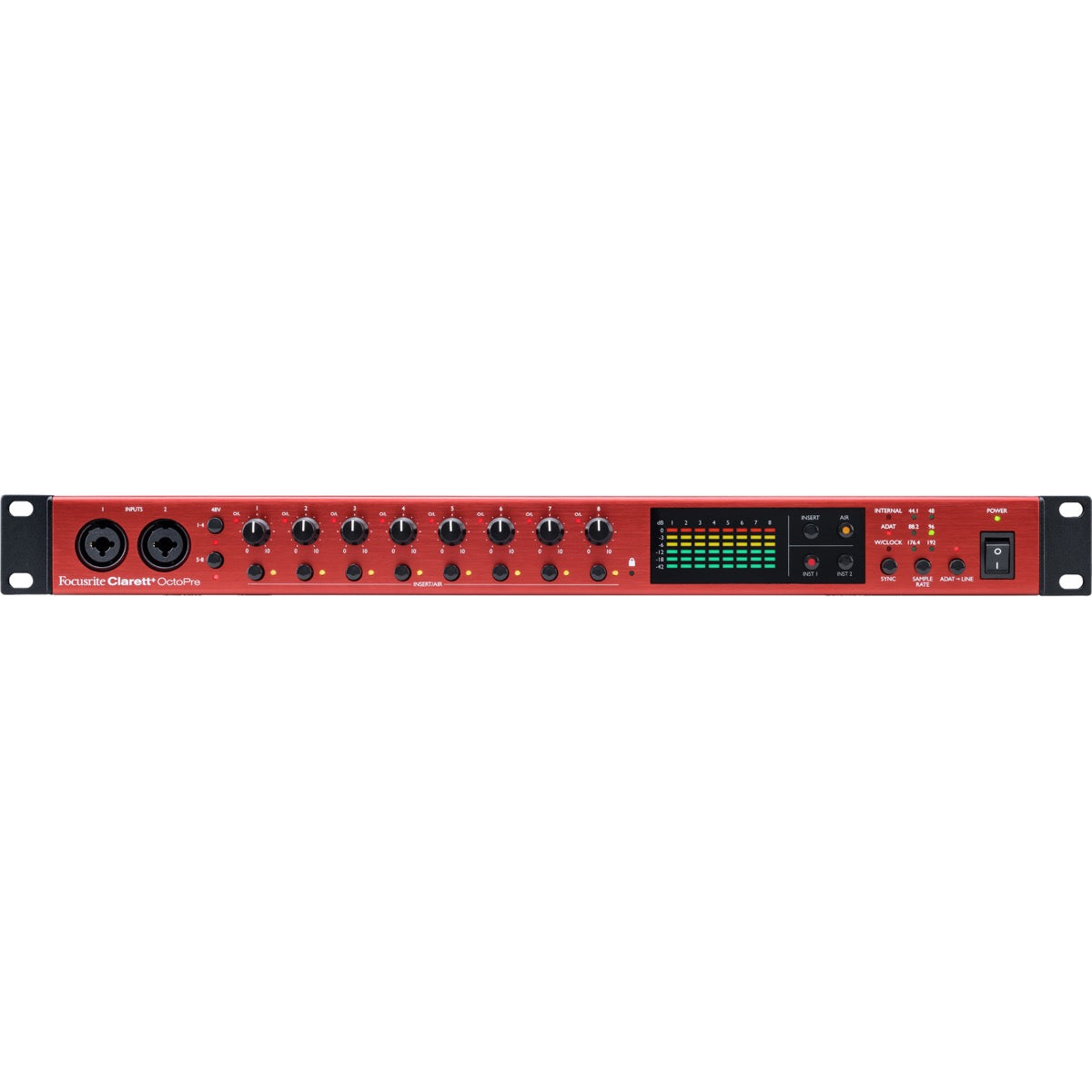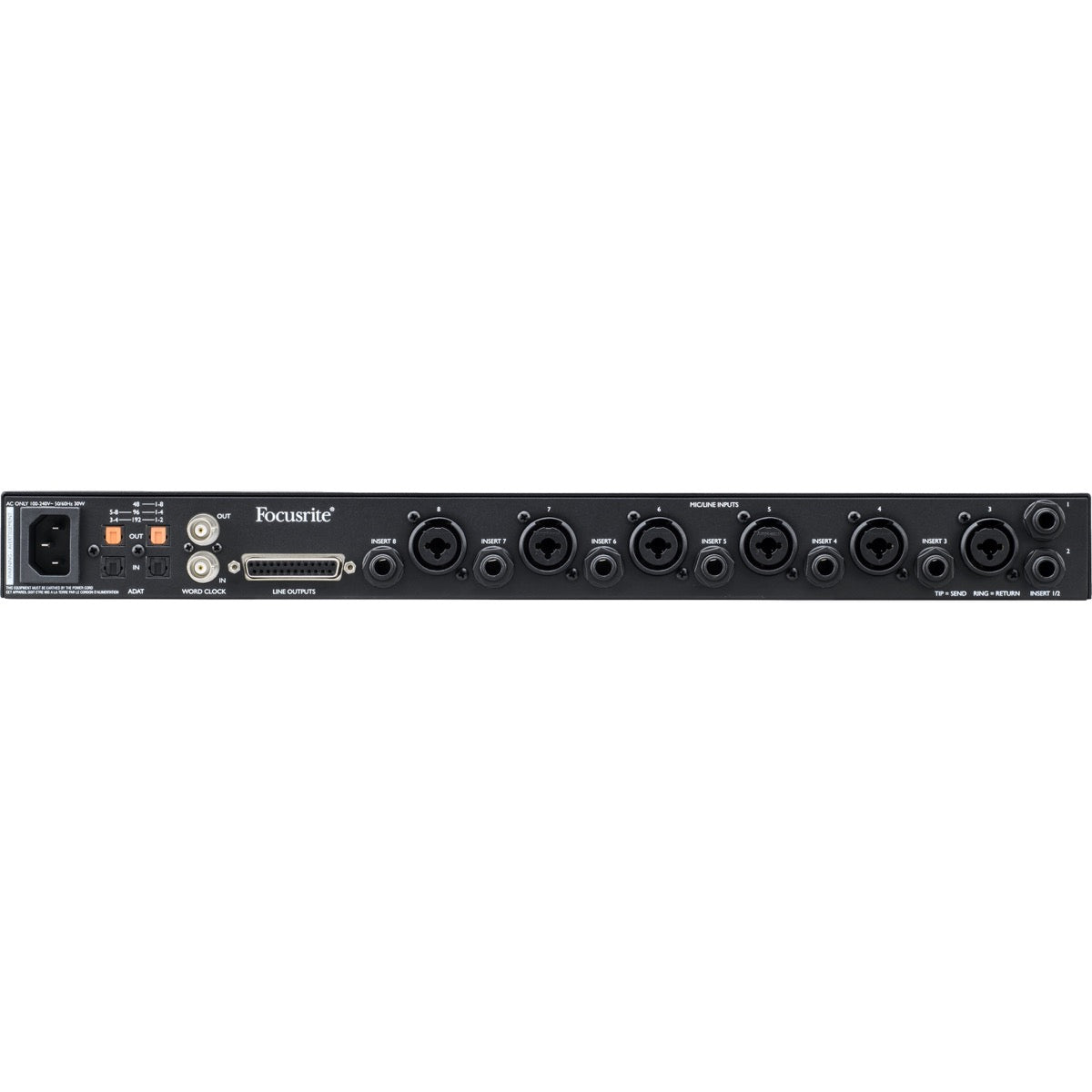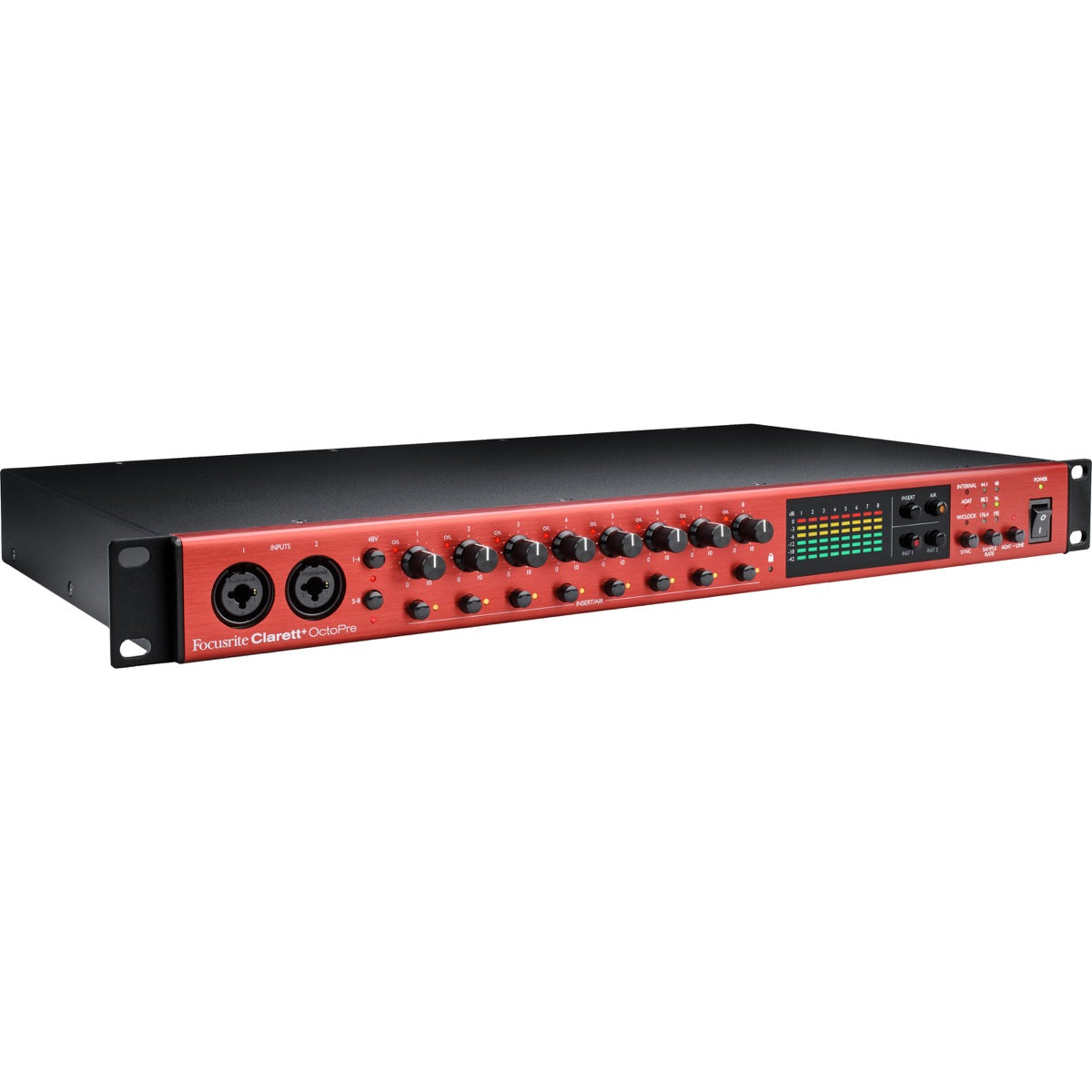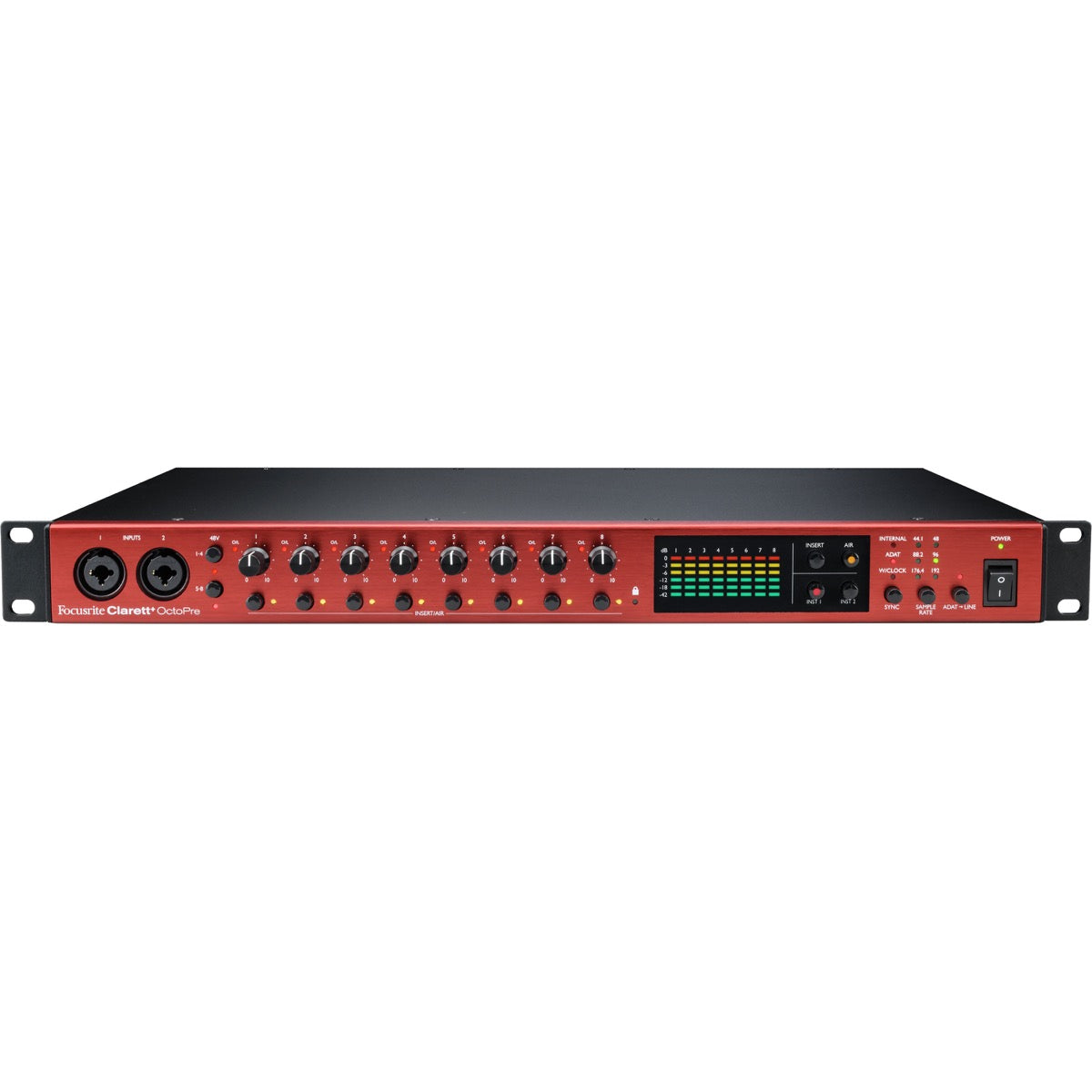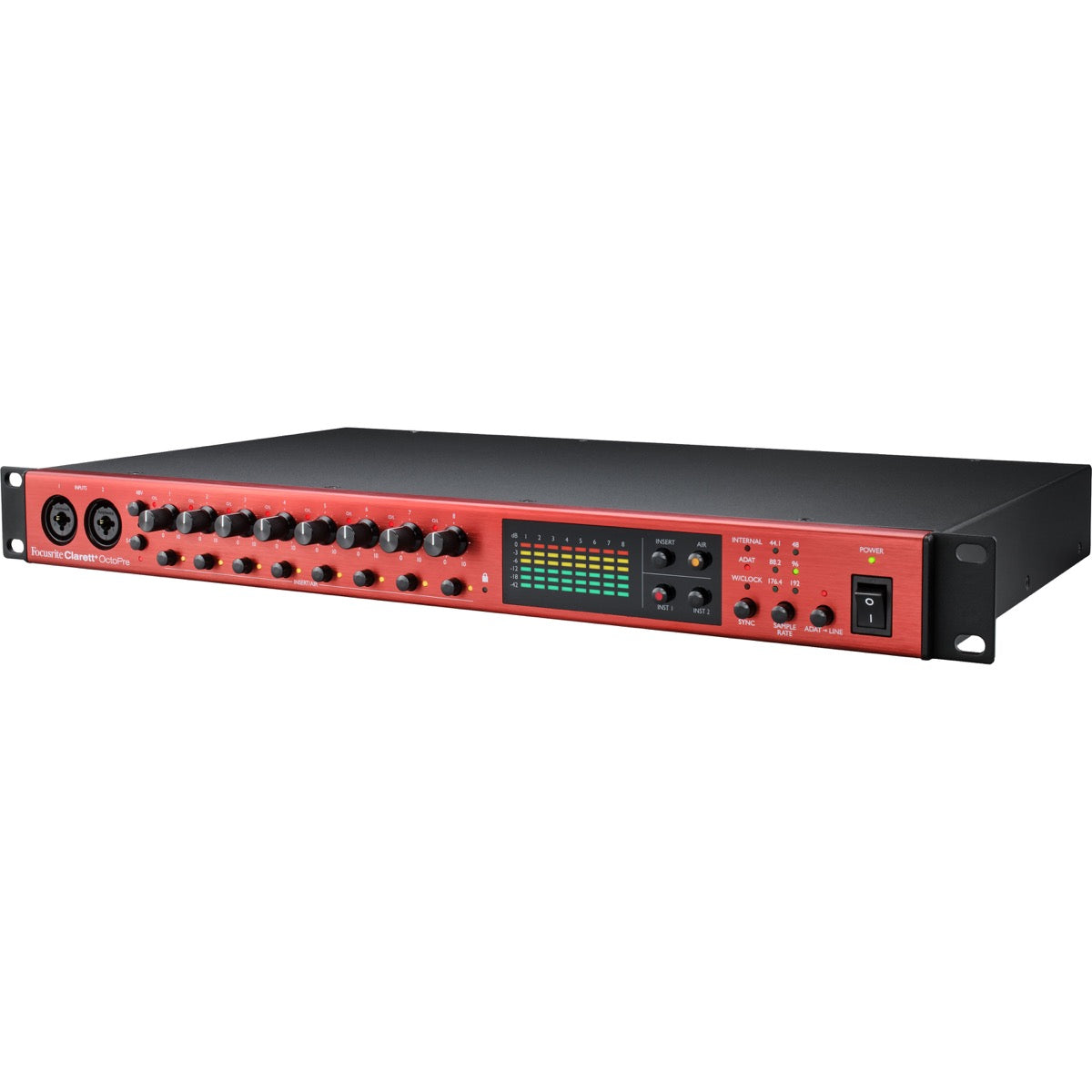 Focusrite Clarett+ OctoPre 8-Channel Mic Preamp
Focusrite Clarett+ OctoPre is the eight-channel ADAT preamp for both the aspiring and established engineer. Eight high headroom, low noise and low distortion Clarett+ preamps featuring all-analog Air with relay-controlled circuitry capture drums, vocals and acoustic instruments with superb clarity. Two JFET instrument inputs capture the true characteristics of guitars, just like plugging into an amp.
Get the classic Focusrite sound with all-analog Air – Get closer to the origins of Focusrite with premium, relay-controlled analog circuitry on every preamp that emulates the classic Focusrite ISA 110, as featured on the original Focusrite Studio Console. When Air is engaged it switches the impedance to 2.2kΩ and adds two cumulative high shelves, totaling a 4dB boost in the high frequencies.
Capture the truest version of your sound with Clarett+ mic pres – Achieve clear recordings in any session. With 118dB of dynamic range and 129dBu EIN, the natural sound of source signals is preserved. The fully balanced signal path ensures inbound signals are clean and with ultra-low noise, giving sessions the professional Focusrite sound.
Stay plugged in with inserts on every channel – Clarett+ OctoPre's eight dedicated channel inserts allow you to track through your favorite outboard gear and capture its true character. Easily add analog equipment to the signal path with Focusrite's flexible insert design.
Clear, accurate multitracking with improved A-D converters – Multitrack with confidence and handle any recording session. Offering ultra-low noise and ultra-low distortion, Clarett+ OctoPre's A-D conversion combined with the powerful preamps provide professional-sounding tracks ready for mixing.
Preserve your signature style with improved D-A converters – Clarett+ OctoPre's exceptional D-A conversion allows engineers to easily process audio in their signature style, confident that audio quality is preserved when sending audio to analog compressors, EQs and effects. Connect Clarett+ OctoPre to a Clarett+ 8Pre via ADAT and send 16 channels to a mixer.
Premium-quality audio over ADAT – Add Clarett+ OctoPre to a Focusrite Clarett+ 2Pre, 4Pre or 8Pre to expand your I/O easily and consistently via ADAT. Non-Clarett+ users can upgrade to a professional standard and bring the classic Focusrite sound to their recordings by connecting to an ADAT-enabled interface, benefitting from the premium quality offered by Clarett+ OctoPre.
Preserve the natural tone of your guitar – Capture the true characteristics of guitars with Clarett+ OctoPre's JFET guitar inputs. Wide input bandwidth retains the purity of high frequencies and feels like you are plugging straight into an amp.
Software bundle – Get studio-grade results with the included bundle of mixing plug-ins and virtual instruments.
High-quality A-D/D-A converters brings audio clarity to studio tracking sessions with high dynamic range, ultra-low noise and ultra-low distortion. Exceptional D-A conversion ensures that audio quality is preserved when sending audio to analog compressors, EQs and effects.
Add Clarett+ OctoPre to a Focusrite Clarett+ 2Pre, 4Pre or 8Pre to expand your I/O easily and consistently via ADAT so that you can record a whole band together while maintaining analog purity and clarity as well as bringing the classic Focusrite Studio Console sound to your recordings.
Hitmaker Expansion
Clarett+ products include the Hitmaker Expansion, an incredibly comprehensive and powerful plug-in bundle. Create studio quality vocals, powerful guitars, luscious keys and huge drums, then mix and master with iconic Focusrite studio hardware – all in the box.
Antares Auto-Tune Access – Allows everything from natural sounding, near-real-time pitch adjustment for getting the best vocal takes to lightning-fast hip-hop-inspired pitching for adding a whole new sound to your tracks.
Softube Marshall Silver Jubilee 2555 – The modern evolution of the iconic JCM800, brought to you by analog modeling experts Softube. Silver Jubilee offers everything from warm cleans through classic crunch and up to modern high-gain tube amp sounds.
Native Instruments Massive – Want to add some real drama to your track? Massive from Native Instruments is all about the big synth sounds, from huge bass to scorching leads. This high-end engine delivers stunning quality and an expansive universe of sounds to power and inspire your music. If deep-diving into synthesis is not on your radar, there's over 1300 production-ready that you can use as-is or fine tune to perfection.
Landr Studio, plus five free masters – Produce and release your best work with two months' access to Landr Studio as well as five free masters you can use even when your two-month subscription is over. Landr Studio provides everything you need to mix and master your tracks, including unlimited MP3 mastering and unlimited distribution on streaming platforms such as Spotify, Apple Music, YouTube Music, TikTok and many more.
Brainworx Bx_console Focusrite SC – The preamps that made Focusrite what it is today to your music. No other plug-in offers the unique character of the iconic large format console with ISA 110 preamps – the origin of the famous 'air' we still hear on Focusrite interfaces today. Bx_console Focusrite SC is a full channel strip, offering EQ, de-esser, compressor, limiter, gate and expander.
Focusrite Red 2 & 3 Plug-in Suite – Featuring a pair of meticulously captured digital models of the truly iconic EQ and compressors which have made the Focusrite name a staple in world-class facilities across the globe. If you've kept up with major releases over the last 30 years, you've heard Red 2 and 3.
XLN Audio Addictive Keys – Add beautifully captured piano to your tracks with the choice of one of four professional-sounding models from Steinway, Yamaha and the classic Rhodes. Plug in your MIDI controller and play; instantly be transported to a professional recording studio set up to capture one of these beautiful pianos – right from your studio.
XLN Audio Addictive Drums 2: Studio Rock – Add the sounds of a pro drummer to your songs easily. Featuring expertly captured samples from high-end Tama and Pearl drums. and Paiste and Sabian cymbals recorded at Decibel Studios in Stockholm.
Relab LX480 Essentials – Get four reverbs modeled on The Hit Factory NYC's reverb unit and used on countless hits. LX480 Essentials gives you the sounds of a studio which has played host to names from Springsteen, the Stones and Kool & the Gang to The Weeknd, Pharell, Katy Perry and everyone in between.
Fast Balancer – When you want the fast track to a solid mix, Fast Balancer accelerates the mix process using powerful AI that listens to your instrument or vocal tracks and serves up three selectable options to enhance the track and help them shine in the mix.
Hitmaker Expansion is available to every newly registered Clarett+ user and is built to get you creating records immediately. These are all the tools you need to write, produce, mix and master your music in studio quality.
Ableton Live Lite included
Quickly organize and arrange your sounds and start making tracks with this staple electronic music-making digital audio workstation software.
Three-month Avid Pro Tools Artist subscription with Complete Plug-in Bundle
A three-month subscription to Avid Pro Tools Artist and Avid Complete Plugin Bundle, with a 25% discount on Avid Pro Tools Artist after the subscription period, or a 33% discount on Avid Pro Tools Studio.
Enjoy three years of warranty
Wherever you happen to be in the world, you can rely on a 3-year warranty if any Focusrite hardware needs repairing or replacing due to a manufacturing fault.

SKU
FOC-CLRTPLUSOCTOP
MPN
Clarett+ OctoPre
Vendor
Focusrite
Included From Manufacturer
Power cable
Max Sample Bit
192 kHz / 24-bit
Mic Preamps
8
Mpn
MOCL0012ULJP
Product Unique Features
Focusrite Air relay-controlled analog circuitry on every preamp emulates Focusrite ISA110
Simultaneous Inputs
8
Number of Channels
8
Audio Inputs
8 × XLR / 1/4" combo mic/line inputs
8 × 1/4" TRS insert send/return connectors
Audio Outputs
8 × 1/4" TRS insert send/return connectors
DSUB analog line outputs
Product Weight
9.15 lb
Rackmountable
Yes
Width
18.98"
Depth
11.26"
Height
1.75"
Focusrite Limited Warranty
All Focusrite products are built to the highest standards and should provide reliable performance for many years, subject to reasonable care, use, transportation and storage.
Many of the products returned under warranty are found not to exhibit any fault at all. To avoid unnecessary inconvenience to you in terms of retuning the product please contact Focusrite support.
In the event of a Manufacturing Defect becoming evident during the warranty period, Focusrite will ensure that the product is repaired or replaced free of charge. The warranty period for any product purchased on or after January 24th, 2020 is a period of 36 months from the date of the original purchase.
A Manufacturing Defect is defined as a defect in the performance of the product as described and published by Focusrite. A Manufacturing Defect does not include damage caused by post-purchase transportation, storage or careless handling, nor damage caused by misuse.
While this warranty is provided by Focusrite, the warranty obligations are fulfilled by the distributor responsible for the country in which you purchased the product.
The distributor will advise you of the appropriate procedure for resolving the warranty issue. In every case it will be necessary to provide a copy of the original invoice or store receipt to the distributor. In the event that you are unable to provide proof of purchase directly then you should contact the reseller from whom you purchased the product and attempt to obtain proof of purchase from them.
Please note that if you purchase a Focusrite product outside your country of residence or business you will not be entitled to ask your local Focusrite distributor to honor this limited warranty, although you may request an out-of-warranty chargeable repair.
This limited warranty is offered solely to products purchased from an Authorized Focusrite Reseller (defined as a reseller which has purchased the product directly from Focusrite Audio Engineering Limited in the UK, or one of its Authorized Distributors outside the UK). This warranty is in addition to your statutory rights in the country of purchase.
Standard Shipping