Skip product carousel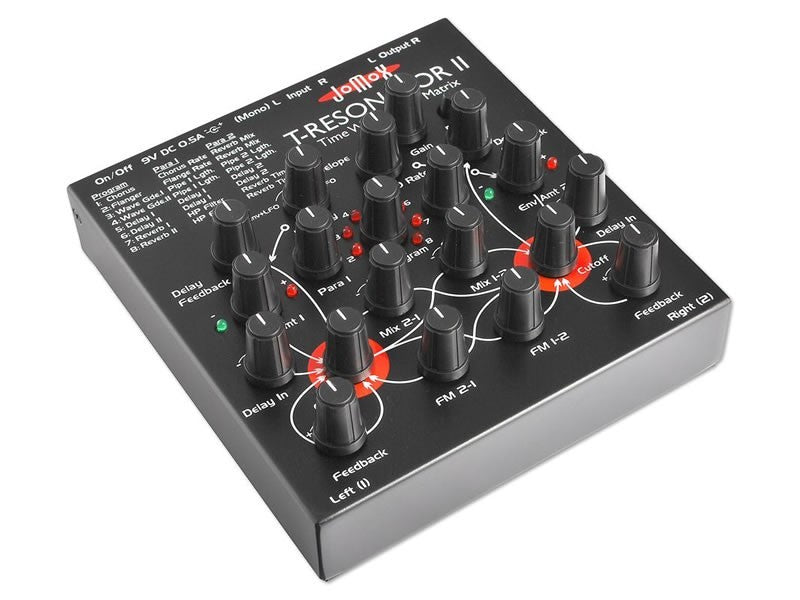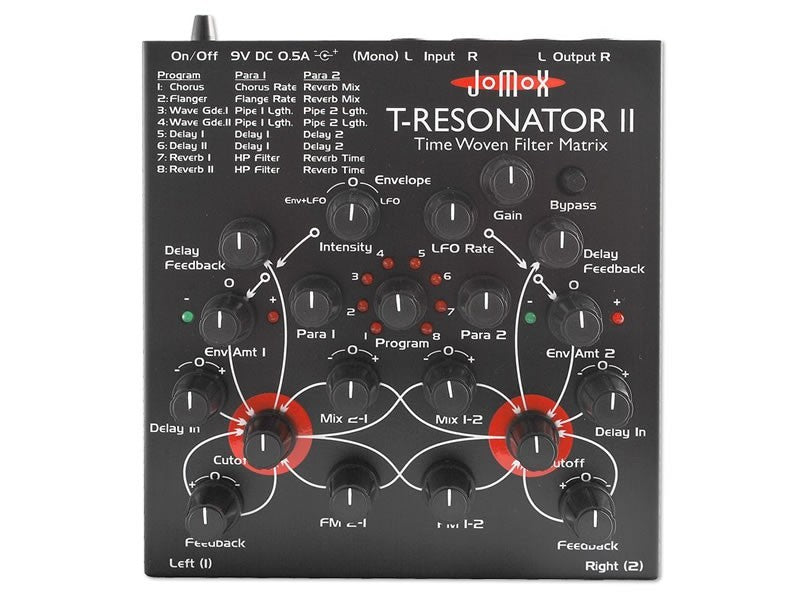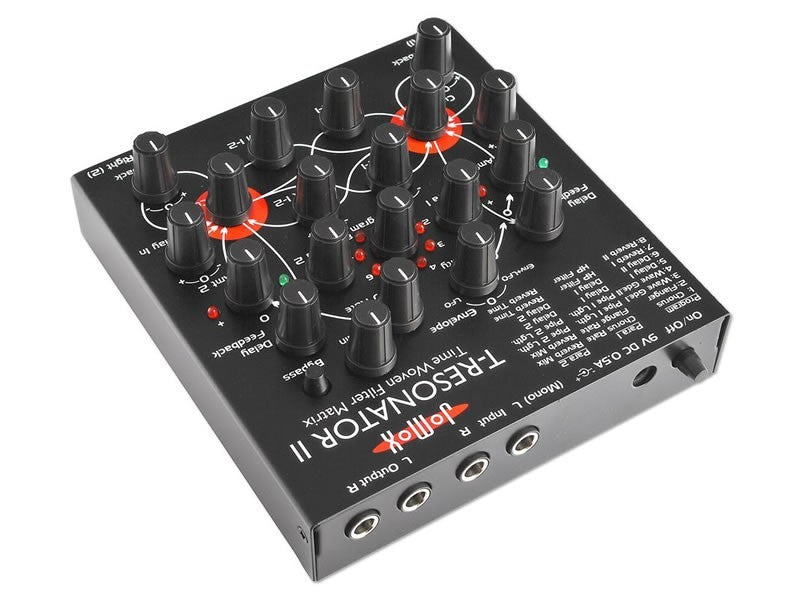 JoMoX T-Resonator II Time Woven Filter Matrix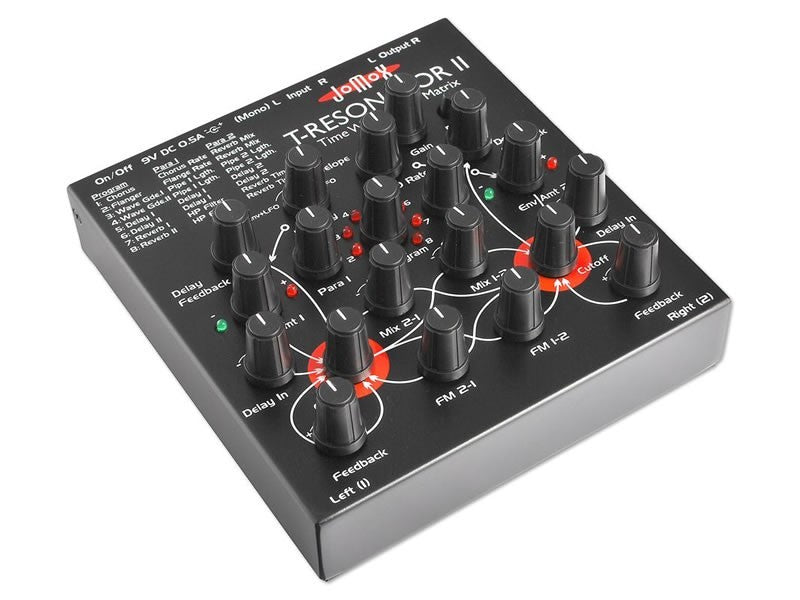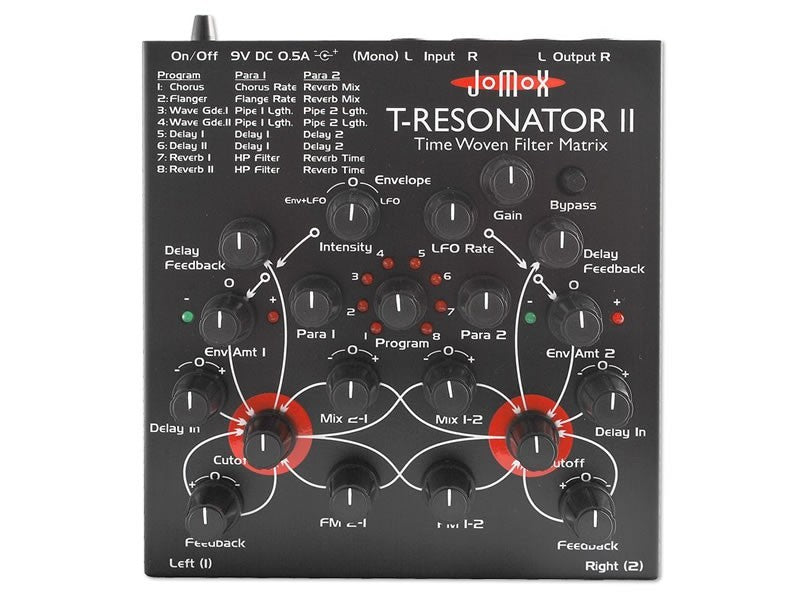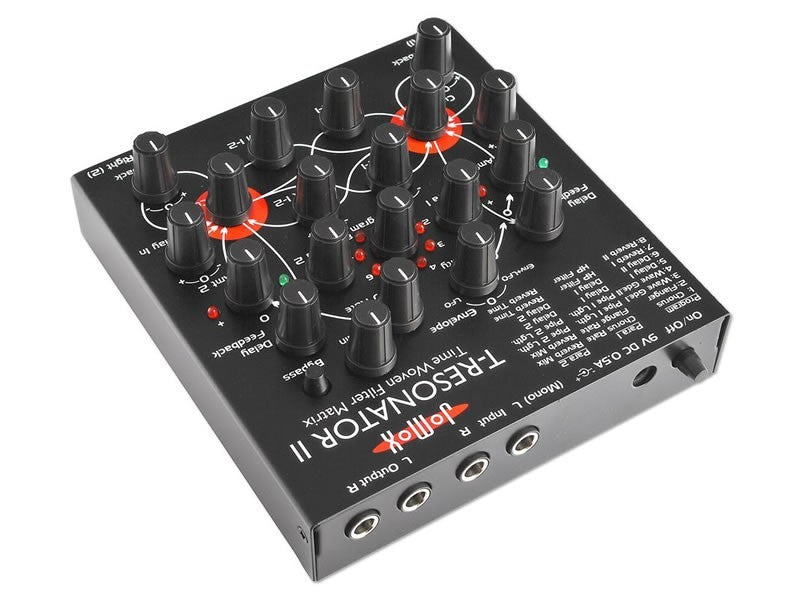 JoMoX T-Resonator II Time Woven Filter Matrix
"T" stands for Time.
The T-Resonator transforms timely events into an analog feedbacked filter network.
What comes out of this you can hear in the audio samples.
The T-Resonator is something like an M-Resonator + Digital Delay. But you can select 8 different delay algorithms, each with different delays and different feedbacks and modulate them even with an LFO. Delays reach from less than a millisecond to 1 second, range and structure is depending on the algorithm.
The delay feedback comes across the analog filters, of course.
You can create gaining analog echoes, "klingon parties" by extremely feedbacked wave guide algorithm and much more. By the analog feedback everything sounds organic. The screaming analog feedbacks can delay themselves and thereby form new sound patterns.
The sine LFO gets retriggered by the audio signal and can be shaped with the audio envelope or just run alone. In center position the amount is 0, to the left it's envelope-shaped LFO, to the right it's only LFO.
The filters are made from discreet parts and form a 24 dB pole lowpass filter transistor cascade.
They can – in any thinkable way – be self feedbacked and be coupled or feedbacked with each other, so that extreme sounds and chaotic states create – all what you need today for creative analog sound design.
Incredible bass gains or screaming scratch sounds are no problem. The mix pots are zeroed in center position; any other angle will couple or feedback negatively or positively. FM in both directions is also available.
The input has an adjustable gain and a Hi-Z input to plug in a guitar directly. Any line level signal can be processed, be it either mono or stereo.
Stereo In
Stereo Out
Envelope follower with LFO
2 filters
2 delay lines /chorus /reverb
8 Algorithms
Positive feedback loops
Cross feedback
FM feedback
Power 9V=DC 0.5A
SKU
JOM-TRESONATORMK2
Vendor
JoMoX
Effect Type
Wah/Filter
Included From Manufacturer
Power Supply
Mpn
T-Resonator II
Product Unique Features
Filters have a digital stereo delay integrated into the feedback loops
Envelope follower is combined with a sine LFO
Effects
2 Filters
2 delay lines /chorus /reverb
Positive/Cross/FM feedback
Envelope follower w/LFO
Audio Inputs
(2) 1/4" - L/Mono, R
Audio Outputs
(2) 1/4" - L, R
On-board Expression Pedal
No
Number of Patches/Programs
8 Programs/Algorithms
Number of Pedal Switches
Power Adaptor
Included
JoMoX Limited Warranty
JoMoX products are covered under warranty for two (2) years.
Standard Shipping