Skip product carousel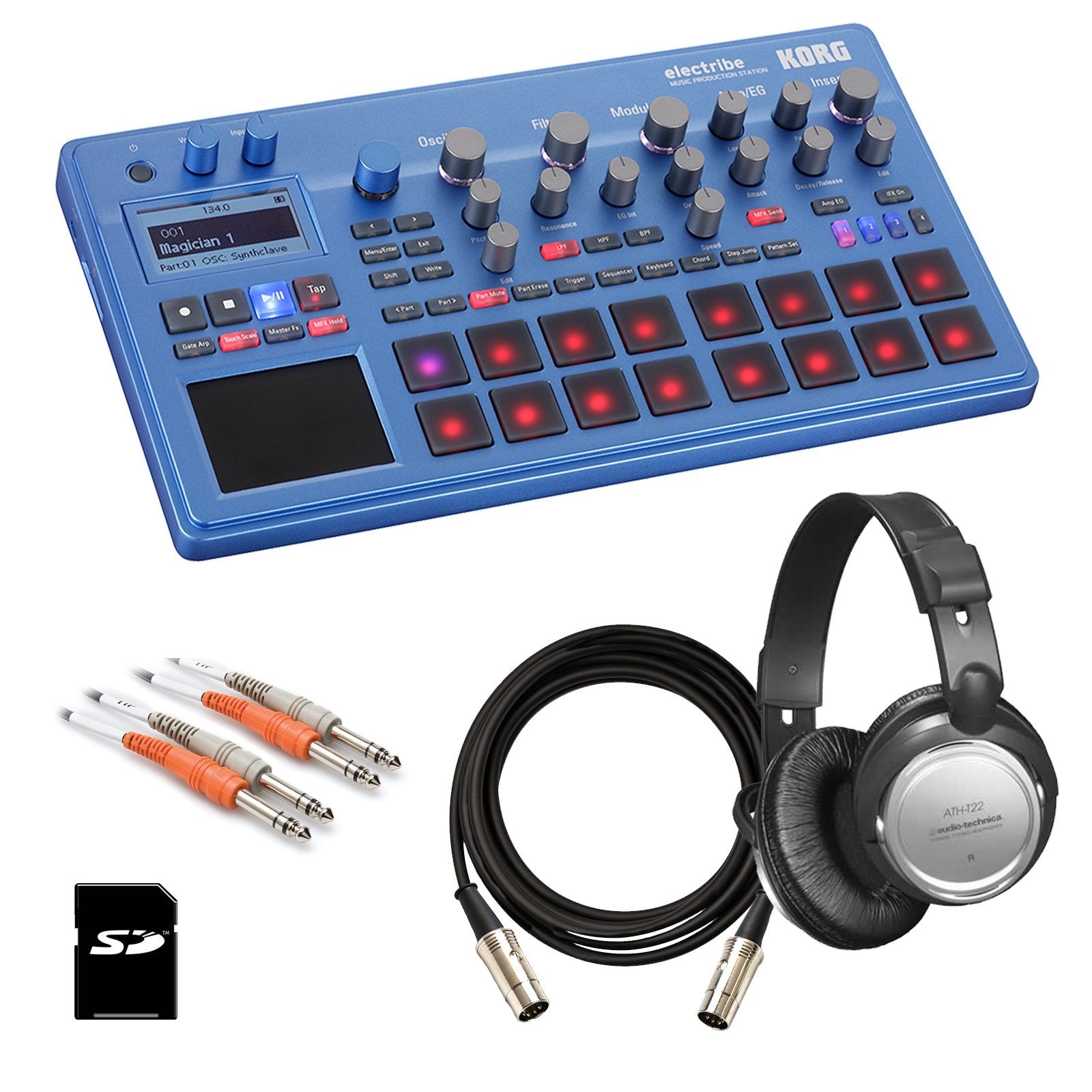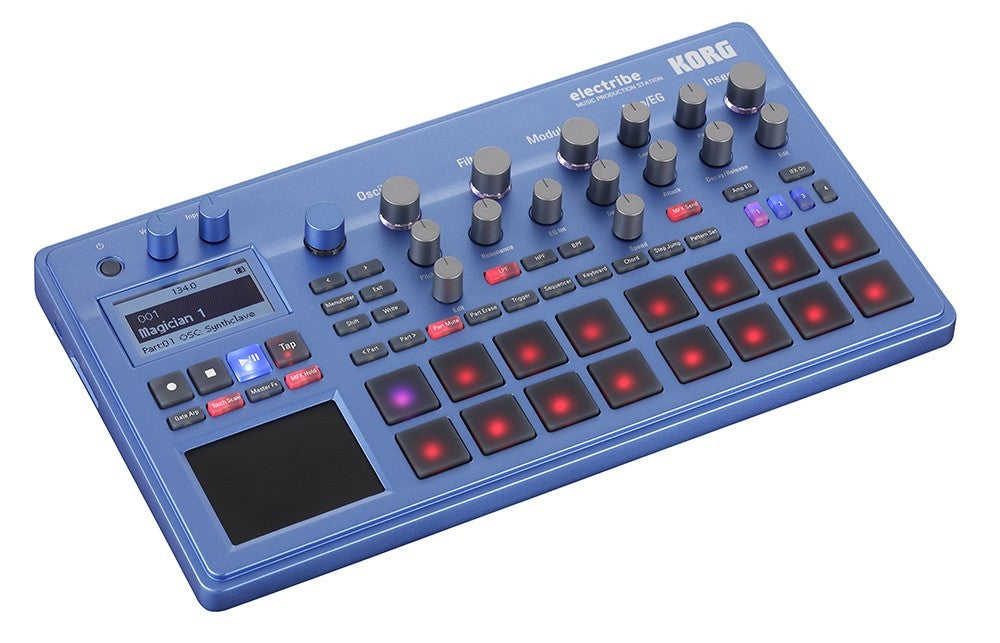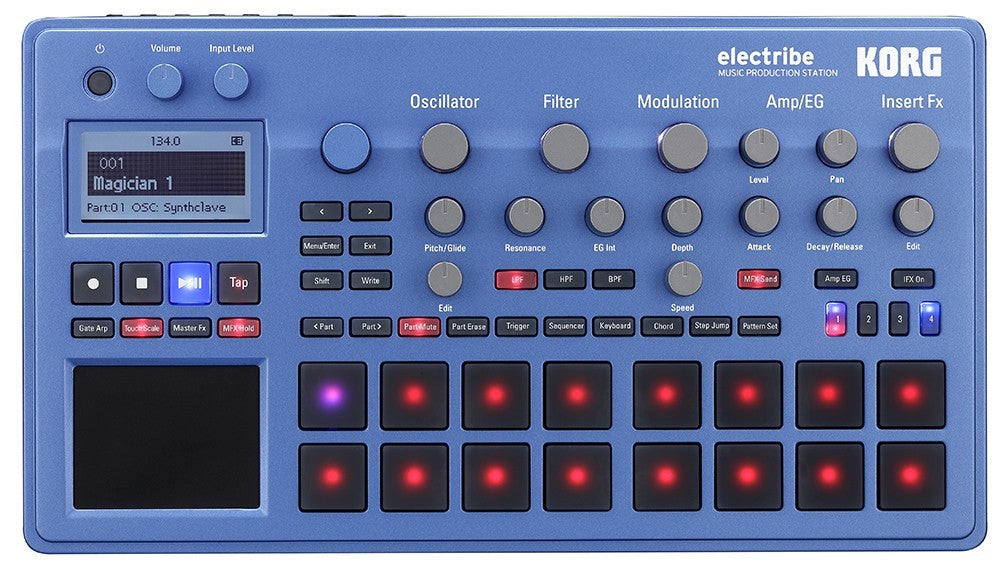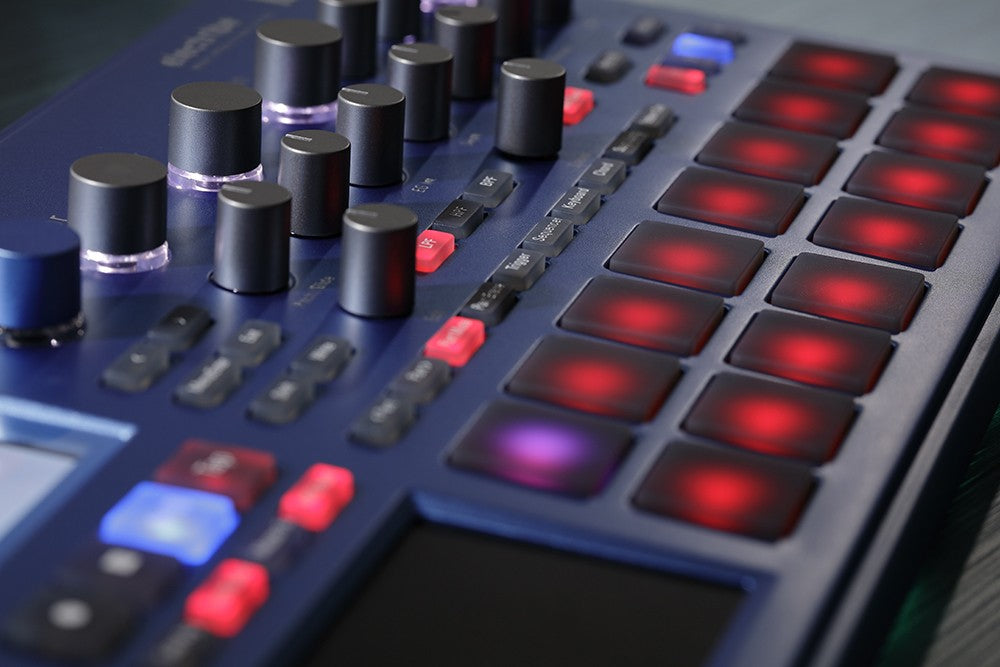 Korg Electribe Production Station - EMX Blue STUDIO KIT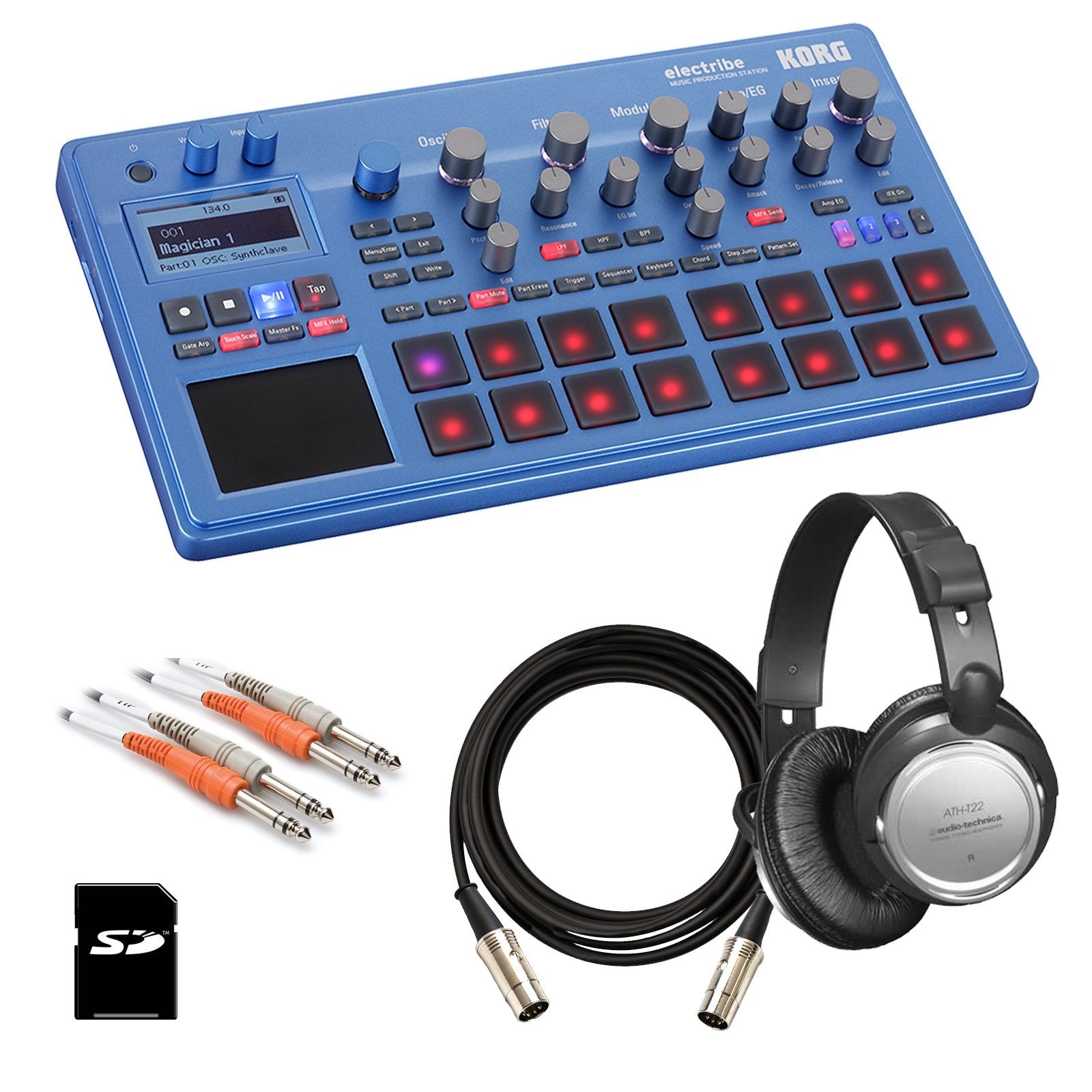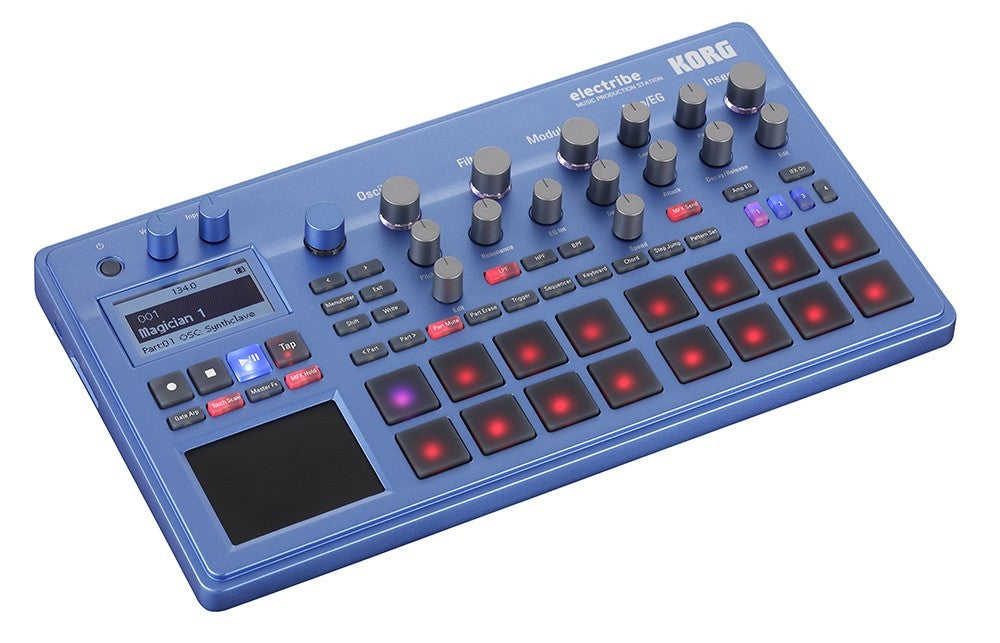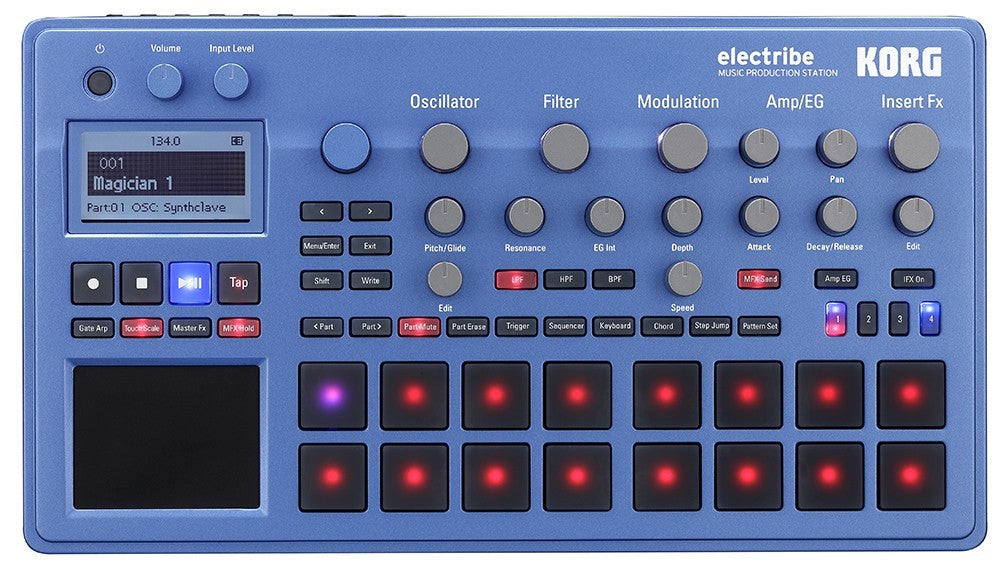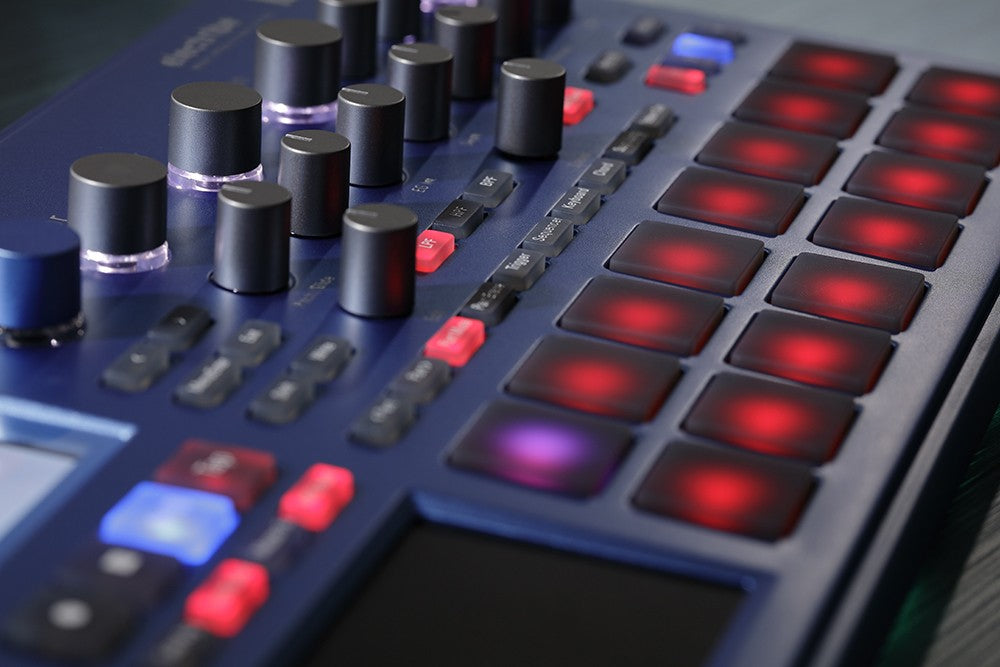 Korg Electribe Production Station - EMX Blue STUDIO KIT
5 items included
This Kraft Music Bundle Includes
$549.99
Regular price
$569.87
You Save $19.88
Click on a product to view more details.
In a nod to legacy Electribe models, the latest Electribe synthesizer is now available in 'EMX Blue!'
Electribe has been reborn including Korg's latest technology distilled from popular products such as KingKORG, Kaossilator, Kaoss Pad and Taktile. The 200 preset patterns cover house and techno as well as cutting-edge dance music genres such as trap and EDM. Another major evolution of Electribe is support for polyphonic playback, which is indispensable for musical styles that involve complex chord progressions such as house music.
An evolved step sequencer
Using the 16 pads on the front of the unit, you can create patterns intuitively while actually hearing and seeing the sounds. You can use the pads as a keyboard to realtime-record phrases, and also perform step recording by entering the pitch and rhythmic value one note at a time. The patterns you create can be used in alternate forms as you perform by taking advantage of the 'step jump' feature inherited from the Volca series, or by changing the 'last step' to vary the length of each part.
There's also a motion sequence function that lets you record knob and button operations and use them in the pattern that you create. Either drums or synths can now be assigned to each of the 16 parts (i.e., the 16 pads). For example, you could create complex rhythms by assigning drums to all of the 16 parts.
Intuitive beat making with the trigger pads and touch pad
Familiar from the Kaossilator is the 'touch scale' function that lets anyone perform without wrong notes, just by moving a finger across the touch pad. The trigger pads that were popular on the Taktile are also provided, making it easy for anyone to create phrases intuitively. The trigger pads can also be used for drum input. Settings allow you to switch velocity sensitivity on and off.
A synth engine that allows the fastest sound production
For Electribe, Korg designed a synth engine that gives you the maximum sound-creating freedom and the fastest sound production. The 409 oscillator waveforms include analog modeling and PCM. The analog modeling synth engine provides a broad variety ranging from simple basic waveforms to complex combinations such as dual, unison, sync, ring modulation and cross modulation. The PCM sound engine provides mainly rhythm sounds but also covers multisamples for keyboard. Collaborations with Sample Magic, Loopmasters, Prime Loops are included.
The filters at the heart of the sound-shaping capabilities are inherited directly from the KingKORG, and they use filter algorithms that simulate standard synthesizers so that you can get 'that sound' from various famous songs just by selecting the appropriate filter type.
You can also apply filters to drums to create rhythm tracks that are rich in tonal variation. Modulation can make sound creation more complicated, but Korg made it easy by condensing it down to three parameters: simply select a template that specifies an effect and its target, and then adjust the speed and depth of the effect to suit your taste.
Even deeper creative potential: effects and groove templates
Electribe provides effects such as compression and overdrive for each part, giving you uncompromising control over the nuances of individual sounds that differ subtly between genres. The groove function can be specified for each part, letting you apply a groove to your phrase simply by selecting a template.
Workflow with Ableton Live
Transform inspiration into a creative production! Korg collaborated with Ableton to offer a music production workflow that combines the best of hardware and software: Electribe can internally save and export patterns in Ableton Live format. Individual patterns and parts are saved as scenes and clips in an Ableton Live set. Use Live's powerful session and arrangement workflows to edit and and refine your ideas, perform or record new parts, arrange your ideas and mix your song. Electribe includes a license for Live Lite.
New functions for live performance: master effects, pattern sets, sync in/out
Master effects can be controlled from the touch pad, just like on Kaoss Pad, and they include not only spatial-type effects that shape the overall acoustics but also effects that apply aggressively musical transformations such as the 'vinyl break' effect inherited from the Kaoss Pad series, and the newly developed 'seq reverse' and 'odd stepper' that change the playback order of the sequencer. These are also extremely effective for live performance. Insert effects can be assigned for individual parts, opening up even more complex sound-design possibilities.
There's also a 'pattern set' function which lets you switch patterns by pressing trigger pads and an 'event recording' function that records that performance. In addition to MIDI in/out, sync in/out is also provided, allowing synchronized performances with the Volca series, Monotribe or MS-20 Mini. The unit can run on six AA batteries, so you can easily take it along with you and perform anywhere, providing on-the-go inspiration your musical ideas.
Version 2.0 features
Korg continues to develop the electribe software, and beyond its feature list at release has added many user-requested features in the Electribe 2.0 software:
Pattern chaining: String patterns together to create full songs. Users can chain with nearly no limitation, which means you can create entire sets of music.
One-level undo: Don't like what you just recorded? You now have an undo available with the press of a couple of buttons.
Original value indicator: Users can now see the original position of any knob on the panel for any part on screen.
400+ bonus patterns: With the release of the Electribe 2.0 software, Korg also made new patterns available for download from their website (optional SD card storage required).

SKU
KOR-ELECTRIBE2BLSTK
Vendor
Korg
Analog Digital
Digital
Built In Speakers
No
Included From Manufacturer
Power Supply
MIDI Adapter Cables
Ableton Live 9 Lite (License card included)
Number of Keys
None
Midi
In and Out
Mono Poly
Polyphonic
Mpn
ELECTRIBE2BL
Product Unique Features
Kaoss-style X/Y pad
Sync In/Out syncs clock between the entire Volca Series, monotribe, and Electribe Sampler
Arpeggiator
Yes
Audio File Playback
No
Control Connections
(1) 1/8" Sync In
(1) 1/8" Sync Out
Effects
38 types of Insert effects
32 types of master effects
16 filter types
Expansion Options
SDHC Card (Up to 32GB)
Audio Inputs
1/8" Stereo
Audio Outputs
1/4" L + R outputs, 1/8" Headphone output
Internal Storage Capacity
250 patterns
Key Action
Pressure Sensitive Pads
Product Weight
3.53 lbs
Programs/Presets
409 oscillator types
72 modulation types
Sampling
48.0 kHz
Sequencer
Up to 64 steps for each part
Pattern Chaining
Up to 24 modulation sequences for each pattern
Last Step can be varied for each part
Speakers
None
USB Flash Drive Port (to Device)
MIDI Recording;Audio Recording;Song File Playback;Program/Preset Storage;Sample Import
USB Port (to Host)
MIDI
Voices of Polyphony
24
Width
13.35"
Depth
7.44"
Height
1.77"
Korg USA Warranty Policy
All Korg products purchased from a Korg USA authorized dealer are warranted to be free from defects in material and workmanship to the original consumer for a period of one (1) year.
Register your new Korg keyboard, keyboard rack module or digital piano online and receive a certificate that extends the product warranty for an extra year from the date of purchase. Product must be registered within 90 days of purchase to receive an extra year of warranty.
Tuner and Metronome products are warranted to be free from defects in material and workmanship to the original consumer for a period of three (3) years.
Tubes, AC Adapters and Foot Switches are warranted to be free from defects in material and workmanship to the original consumer for a period of ninety (90) days.
The customer must provide proof of purchase in order to obtain warranty service. The dated sales slip or copy thereof is the only acceptable proof of purchase.
The product must be purchased from a Korg USA authorized dealer and have a valid serial number.
This warranty is valid only in the USA.
Damage resulting from the following causes are excluded from the warranty set forth above: misuse, including damage occurring during shipment, damage caused by battery leakage, accident, fire, unauthorized repairs, tampering, cosmetic damage or other types of damage which are the result of improper handling or abuse; the cleaning of controls or contacts due to exposure to dirty, dusty, or otherwise contaminated environment; damage resulting from modification; damage to units used for loan or rental.
Ground shipping is FREE for all orders $99 and up.