Skip product carousel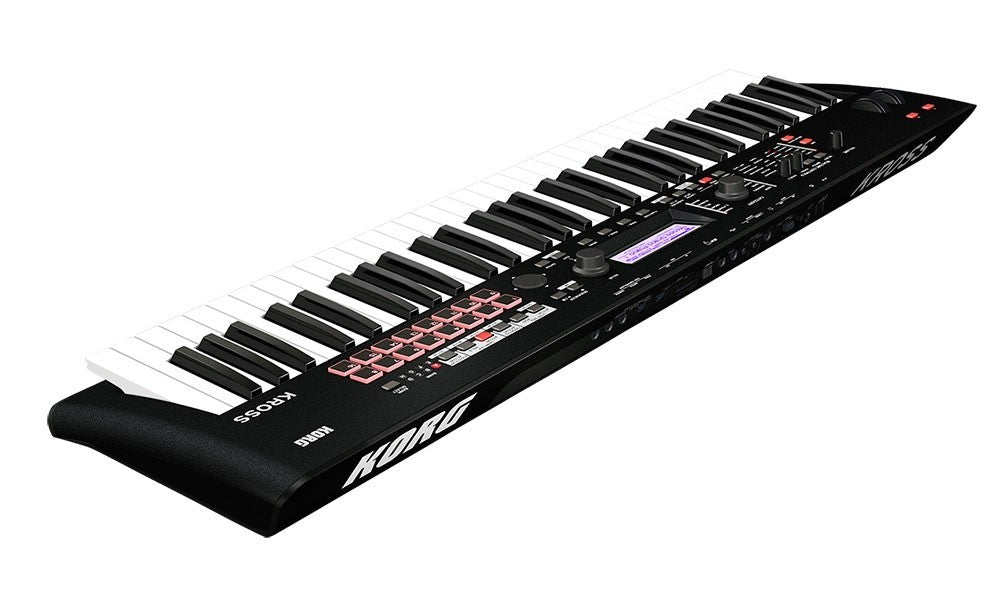 Korg Kross 2 61 Music Workstation - Matte Black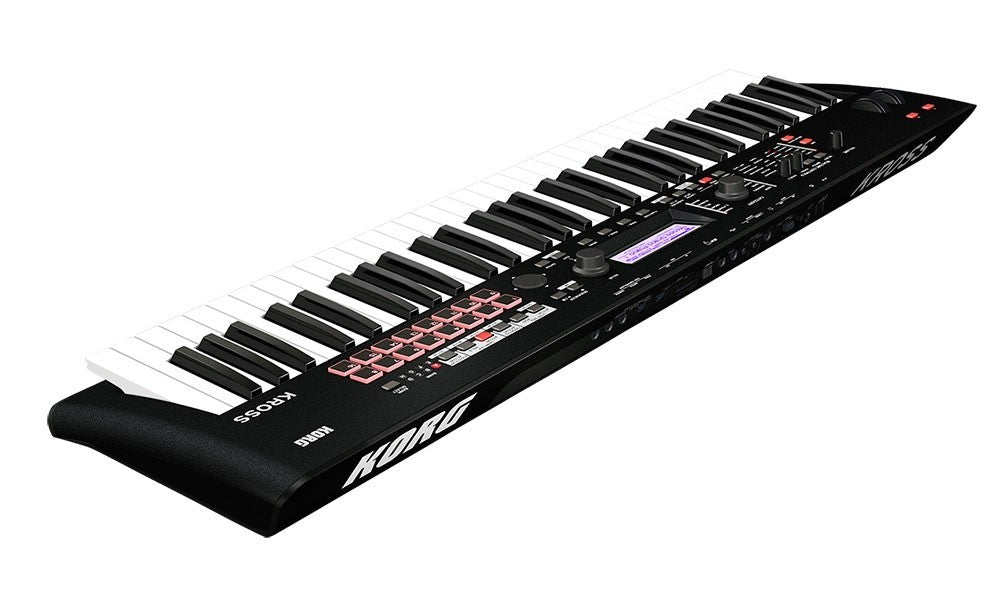 Korg Kross 2 61 Music Workstation - Matte Black
A state-of-the-art platform with ever greater functionality, Korg Kross 2 is the mobile synthesizer workstation that does everything.
A rich selection of more than 1,000 powered-up presets
128MB of expansion PCM memory is built-in, and option libraries are supported
The rich expressive power of the EDS-i sound engine, and a rich selection of effects with 134 types
Superb sampling functionality and 16 sampler pads
A panel layout that lets you access functions without confusion
Realtime control section for quick parameter editing
Favorite function lets you register and instantly recall up to 128 frequently-used sounds
Quick layer/split can be specified by a single button
Ultra-lightweight compact body
Long operating life, with six AA batteries allowing up to seven hours of use
A color lineup with a peerless finish that exceeds its class
Audio player/recorder that can be easily triggered by the pads
Sequencer, drum track and arpeggiator to support your song production
A rich array of input jacks for singer-instrumentalists or vocoder performance without requiring additional equipment
Also functions as a USB audio interface
Korg Kross 2 is a compact, portable workstation with a huge range of sounds. While maintaining its identity as ultra-lightweight, compact and capable of running on batteries, this model dramatically enhances Kross's sounds and functionality. In addition to a total of more than a thousand preset sounds, expansion PCM memory has been added. Also included is a pad sampler that allows full-fledged sampling and USB audio/MIDI interface functionality. The color scheme is even more stylish and the user interface allows intuitive operation even by beginners.
Effortlessly select the sound that you want to play, shape it to match your imagination, sample a sound, create phrases and rhythms, record your vocal or guitar, bring Kross 2 on stage and perform. Whatever your artistic vision, you can make it happen. Kross 2 is a versatile synthesizer platform made with creative freedom in mind.
Powerful preset sounds, with specialized optional expansion sounds
The sound quality of Korg synthesizers is endorsed by top-ranking musicians around the world. Kross 2 boasts 120-voice polyphony and 1,075 internal programs, including multi-layered pianos and electric pianos, thick strings and other new sounds that will work well with any band, as well as the latest drum kits to cover styles such as EDM. The wide selection of programs covers your needs from live performance to studio production.
Built-in expansion PCM memory and support for optional libraries
Kross 2 provides 128 MB of built-in expansion PCM memory. By selecting from optional libraries, you can expand Kross 2's internal sounds to meet the needs of your performing style or situation.
The rich expressive power of the EDS-i sound engine, with a full complement of effects
The high-quality EDS-i Enhanced Definition Synthesis-integrated sound engine is inherited from Korg's professional synthesizers. You can use a total of seven effects units simultaneously: five insert and two master. Rich, expressive power is available from the selection of 134 high-quality effects, including standard effects such as delay and reverb as well as amp modeling, vintage effect units and even a vocoder.
Superb sampling function and a pad sampler
Kross 2 is equipped with a unique sampling function that provides 16 playable pads. You can record the input from the line in jack and assign a stereo sample of up to 14 seconds to each pad. Up to four pads can be triggered simultaneously. You can edit the sample waveform using functions such as start/end loop point settings and normalize, and even resample within Kross 2, allowing you to perform extensive sampling without requiring any additional equipment. Long audio files from an SD card can also be assigned to these pads.
Realtime control section
The realtime control section lets you directly control Kross 2's main parameters without having to navigate through a menu hierarchy. In addition to realtime control of the sounds and effects and simple editing of programs, you can use the knobs to easily control the vocoder settings or adjust the tempo of the arpeggiator and sequencer.
Favorites function
The favorites function lets you register frequently-used programs and combinations and recall them at a single touch and provides 128 favorite locations. This function is ideal for live players that need quick access to a specialized set of sounds on stage.
Quick layer/split
The layer/split function, which lets you layer two sounds or assign separate sounds to the left and right regions of the keyboard, is easy to set up thanks to a dedicated quick layer/split button.
Category dial
A category dial is provided, allowing you to immediately find the sounds you're looking for amid the vast range of choices. Just choose the general type of sound, such as piano or organ, and then make your selection quickly and efficiently.
Ultra-lightweight and compact body with support for battery operation
The amazing mobility of the Kross series is unparalleled. Improvements in power efficiency allow up to seven hours of battery-powered operation from six AA batteries. The rear panel Korg logo is fully illuminated, letting you stand out on stage.
The ultimate body finish that exceeds its class
Kross 2 also features high quality in its body finish. The 61-key model uses a 'super matte black' color with a high-quality rubberized finish that is durable and feels great to the touch. Lavish use of this sophisticated rubberized finish gives the instrument a highly professional appearance.
Audio player/recorder that you can easily trigger from the pads
The built-in stereo audio recorder lets you record your Kross 2 performance or overdub an external input source such as vocals. There's also a pad audio play function that allows recorded sounds or audio files imported from an external source to be assigned to each of the 16 pads for playback. Unlike the sampling function, this allows extended recording and playback that is limited only by the capacity of the SD card; you can strike a pad to play back the backing of an entire song while you perform on the keyboard or use the pads to trigger sound effects or background music.
16-track MIDI sequencer
The 16-track MIDI sequencer records your keyboard performance and controller movements as MIDI data. It can also record your pad sampler performance, providing an easy way for you to create sketches of ideas for songs.
Step sequencer
This lets you use the 16 pads to intuitively and quickly create original rhythm patterns of up to 64 steps.
Drum track
The drum track lets you add rhythm to your performance simply by pressing a button. Choose from 772 preset drum patterns that cover a variety of styles.
Arpeggiator
This function is a great way to generate ideas for songs; simply hold down keys to generate rhythmic chords, bass phrases or guitar strumming.
Mic connection for the singer-instrumentalist or for vocoder performance, with no other equipment needed
The 1/4" MIC IN jack lets you connect a mic directly, so there's no need for a singer-instrumentalist to provide a separate mixer when performing live. A vocoder function is also built in and you can easily perform vocoder sounds with rapid access via the realtime control section. Also provided is a LINE INPUT stereo mini-jack that's convenient for connecting your audio player or for sampling.
Also operates as a USB audio interface
In addition to USB MIDI interface functionality, USB audio interface functionality is provided. You can connect Kross 2 to your Mac or Windows computer and enjoy DAW recording or easily use the instrument for playing in conjunction with your iPad or iPhone. Korg's Module high-quality sound module app (sold separately) can be used as an external sound module that's played from Kross 2, or you can perform with the backing of tracks that you created using the Korg Gadget DAW app (sold separately), all with the ease of connecting a single cable.
A dedicated Kross 2 editor and plug-in editor are also provided. These let you edit while viewing numerous parameters at a glance on your computer, or allow you to use Kross 2 like a software synthesizer from within your DAW.
SKU
KOR-KROSS261MB
Vendor
Korg
Aftertouch
No
Analog Digital
Digital
Built In Speakers
No
Included From Manufacturer
Power Supply
Keys Weighted
No
Key Num
61
Key Size
Full Size Keys
Midi
In, Out, and USB
Mono Poly
Polyphonic
Mpn
KROSS261MB
Product Unique Features
more PCM, more sounds (1075 programs), more polyphony (120), user sampling, sample trigger pads and much more
Arpeggiator
Yes
Audio File Playback
Yes
Control Connections
DAMPER (Half Damper is supported)
ASSIGNABLE SWITCH
ASSIGNABLE PEDAL
Onboard Controllers
Pitch Bend Wheel
Modulation Wheel
SW [1], SW [2]
TEMPO knob
TAP button
Effects
5 Insert Effects
2 Master Effects
Total
Expansion Options
128MB of expansion PCM memory is built-in, and option libraries are supported
Audio Inputs
(1) 1/8" Stereo
(1) 1/4" - Mic In
Audio Outputs
(2) 1/4" Line - L/Mono, R
(1) 1/8" Stereo Headphone
Internal Storage Capacity
SD Card
Key Action
Synth Action Velocity Sensitive
Multitimbral Capability
16 parts
Oscillators per Voice
Varies by Sound Engine
Product Weight
9.48 lbs
Programs/Presets
User
Sampling
16 multi-function trigger pads for sample playback
Sequencer
16-track MIDI Sequencer
Stereo Audio Recorder
Step Sequencer (64 steps)
USB Port (to Host)
MIDI;Audio;Editor/Librarian/Patch Manager
Voices of Polyphony
120
Width
37.09"
Depth
11.06"
Height
3.58"
Korg USA Warranty Policy
All Korg products purchased from a Korg USA authorized dealer are warranted to be free from defects in material and workmanship to the original consumer for a period of one (1) year.
Register your new Korg keyboard, keyboard rack module or digital piano online and receive a certificate that extends the product warranty for an extra year from the date of purchase. Product must be registered within 90 days of purchase to receive an extra year of warranty.
Tuner and Metronome products are warranted to be free from defects in material and workmanship to the original consumer for a period of three (3) years.
Tubes, AC Adapters and Foot Switches are warranted to be free from defects in material and workmanship to the original consumer for a period of ninety (90) days.
The customer must provide proof of purchase in order to obtain warranty service. The dated sales slip or copy thereof is the only acceptable proof of purchase.
The product must be purchased from a Korg USA authorized dealer and have a valid serial number.
This warranty is valid only in the USA.
Damage resulting from the following causes are excluded from the warranty set forth above: misuse, including damage occurring during shipment, damage caused by battery leakage, accident, fire, unauthorized repairs, tampering, cosmetic damage or other types of damage which are the result of improper handling or abuse; the cleaning of controls or contacts due to exposure to dirty, dusty, or otherwise contaminated environment; damage resulting from modification; damage to units used for loan or rental.
Standard Shipping