Skip product carousel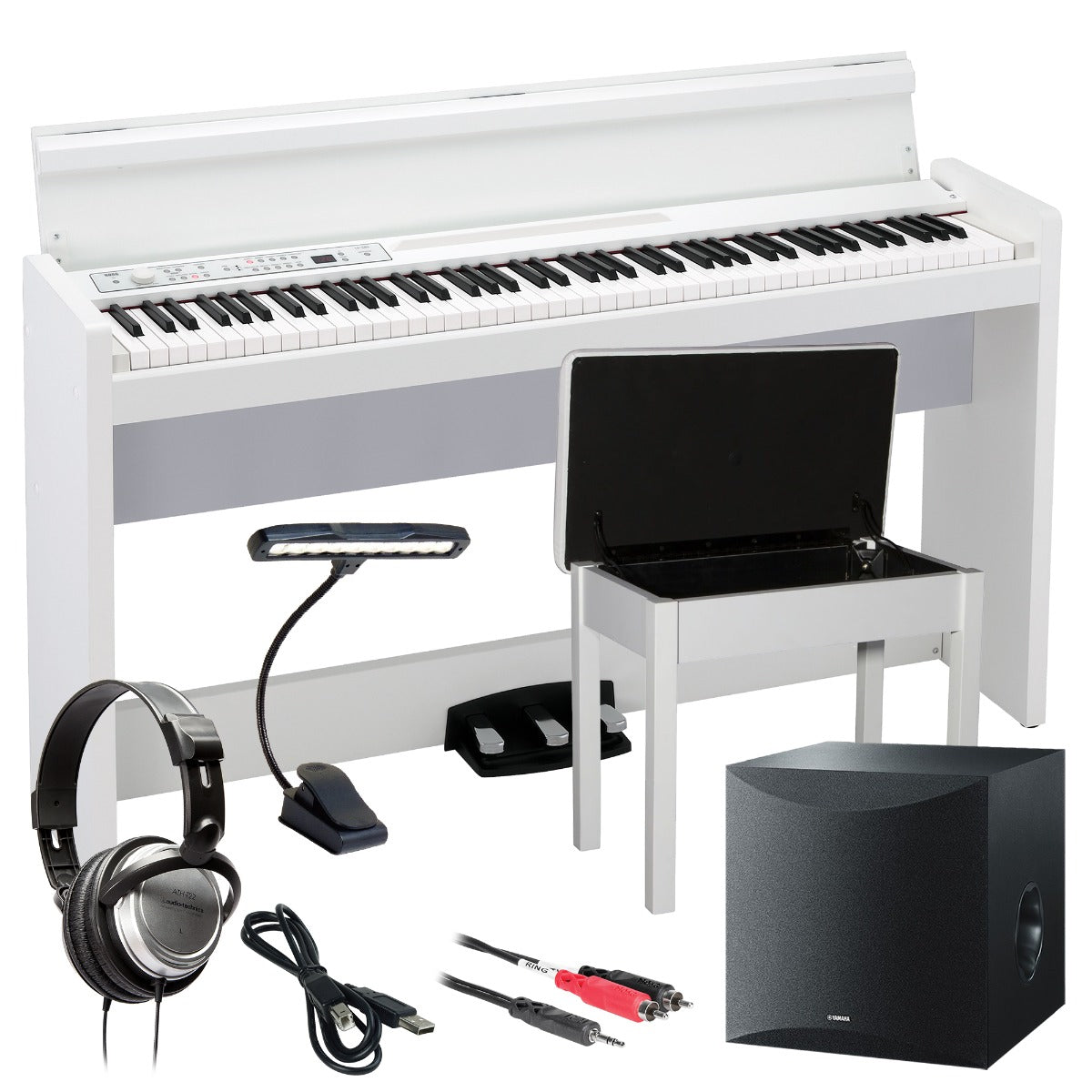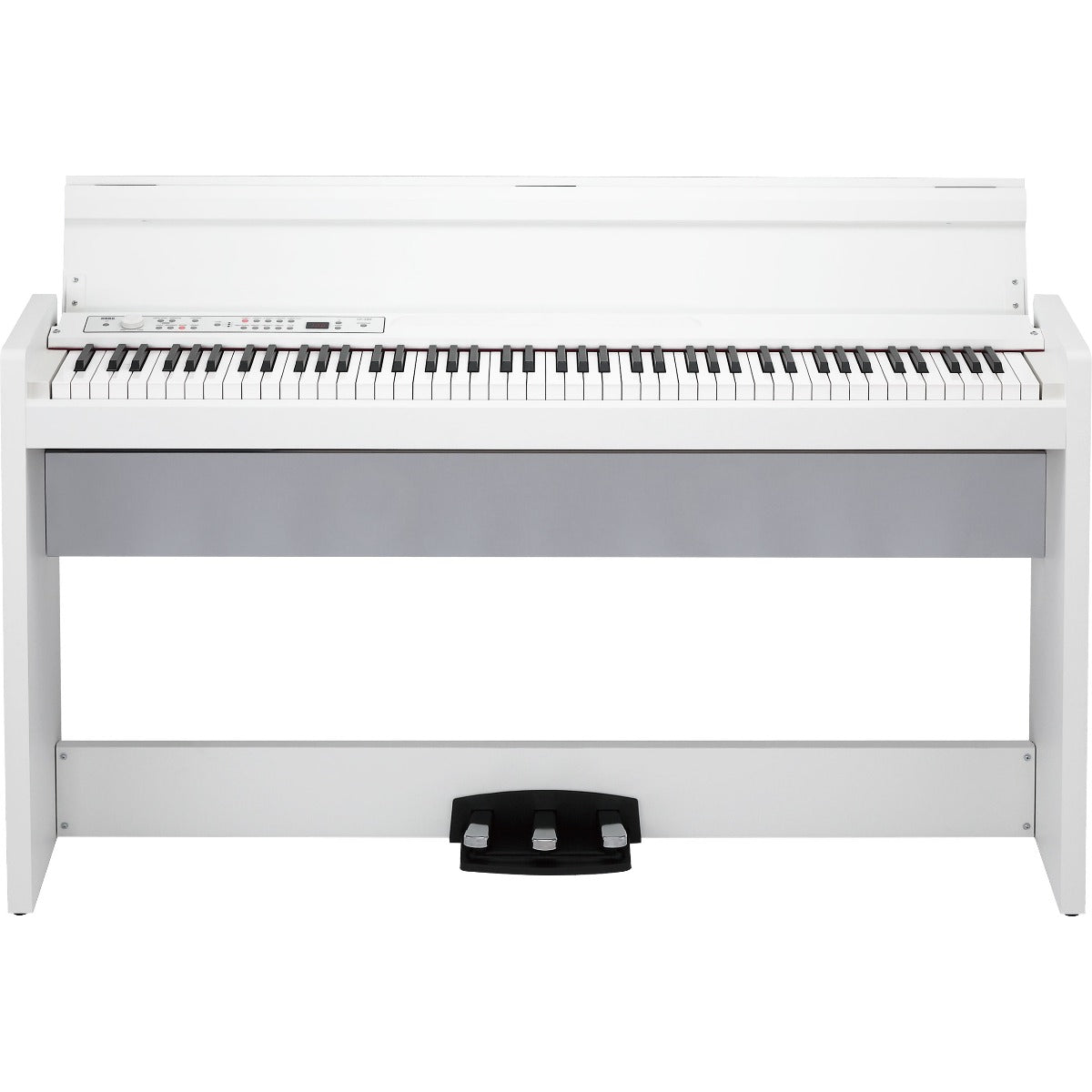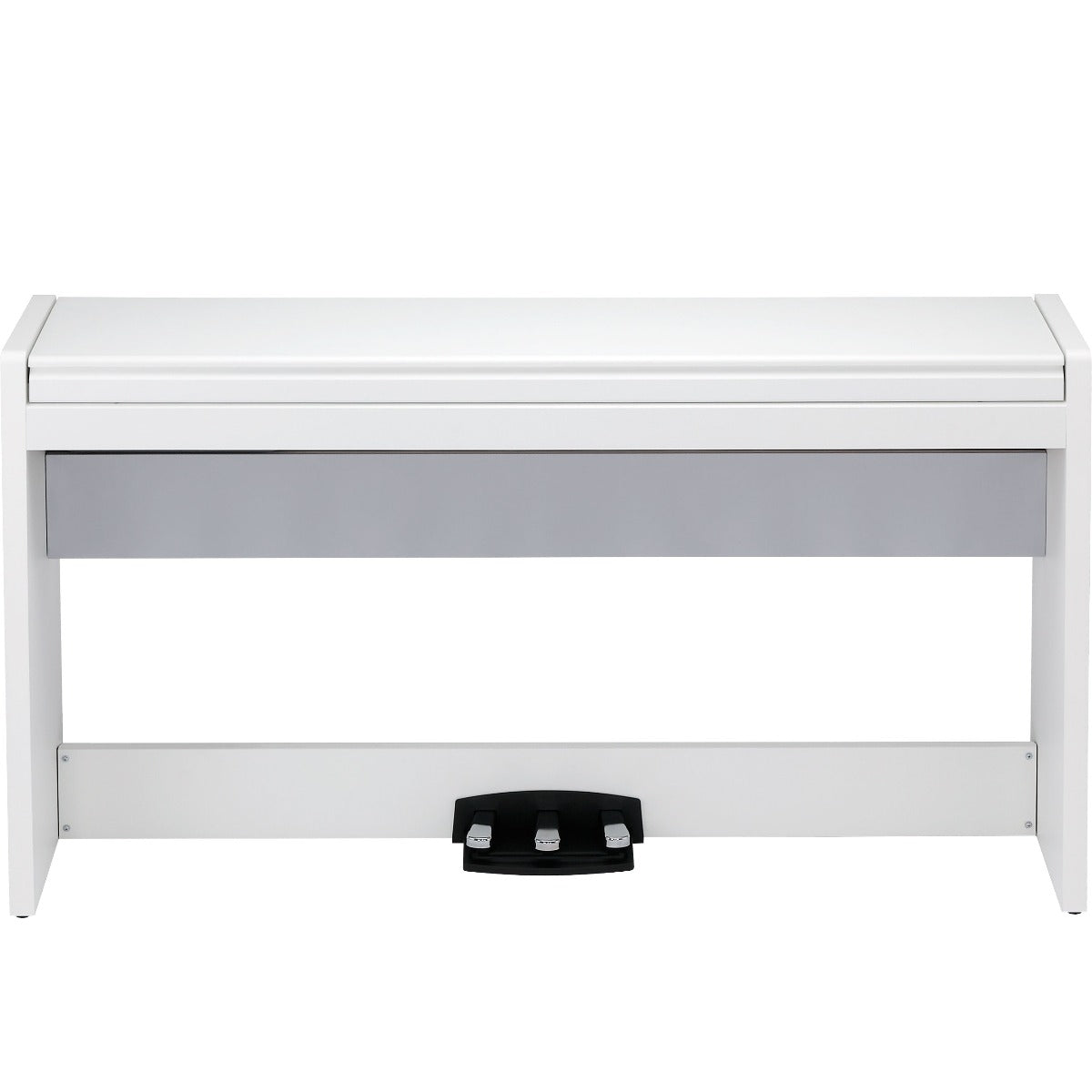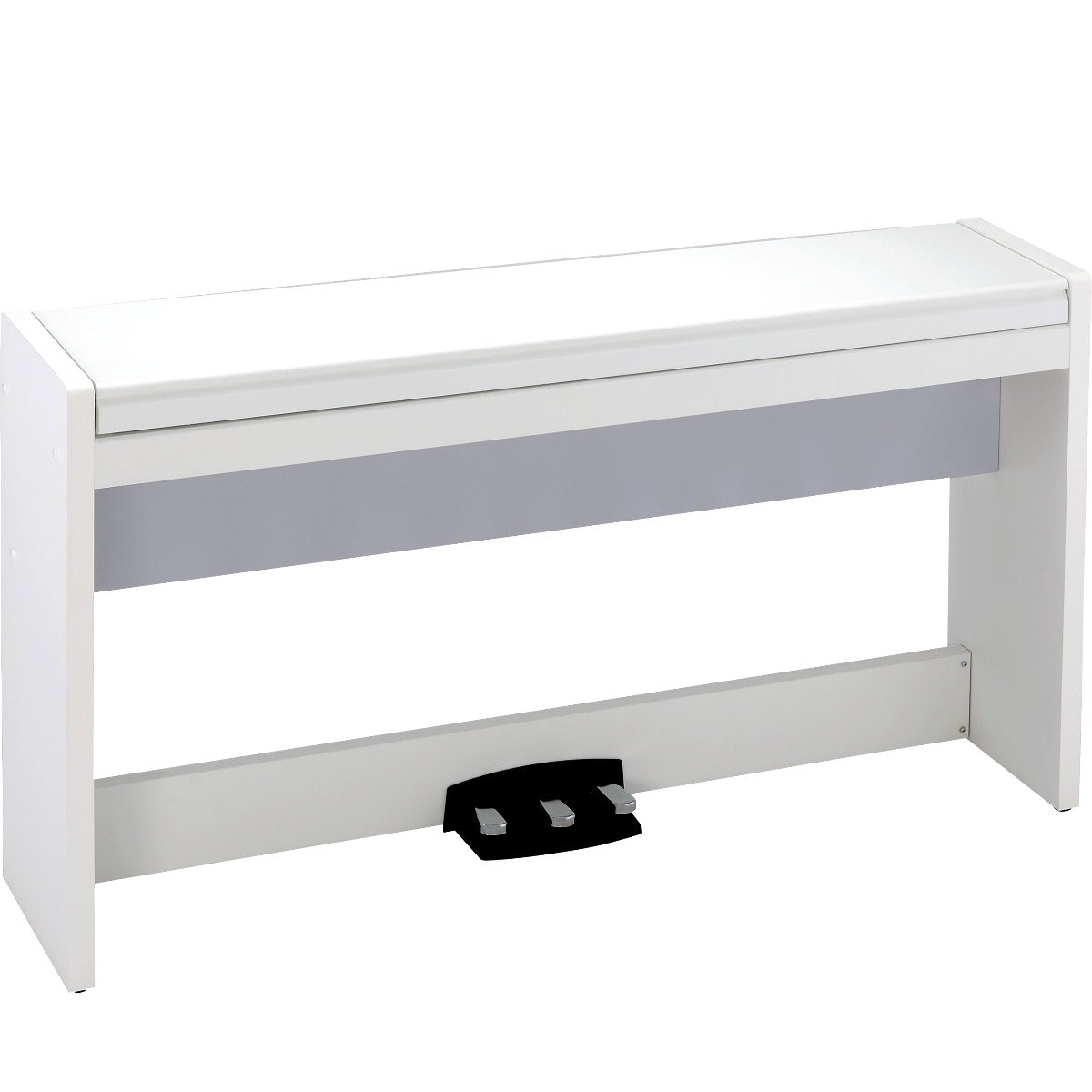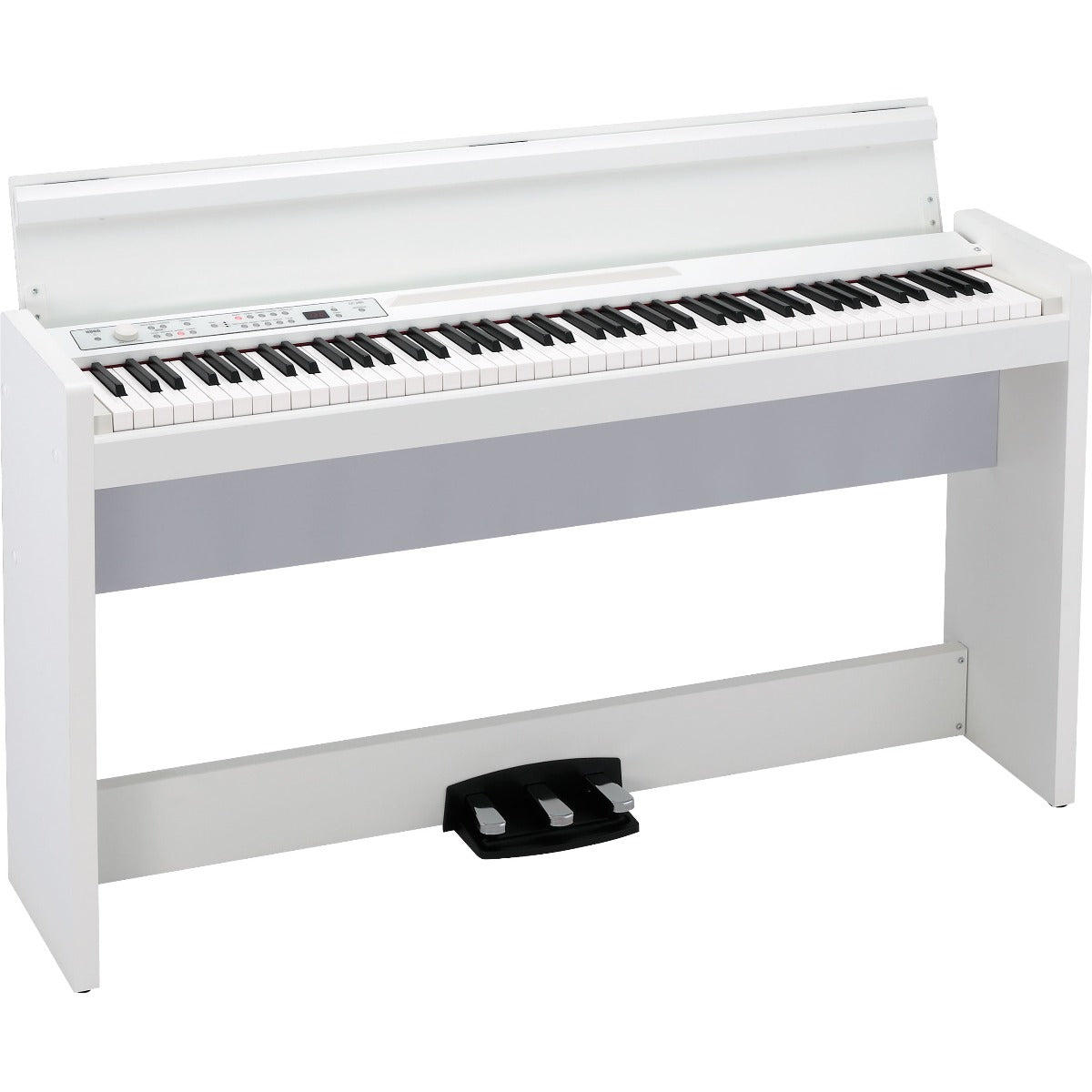 Korg LP-380U Digital Piano - White COMPLETE HOME BUNDLE PLUS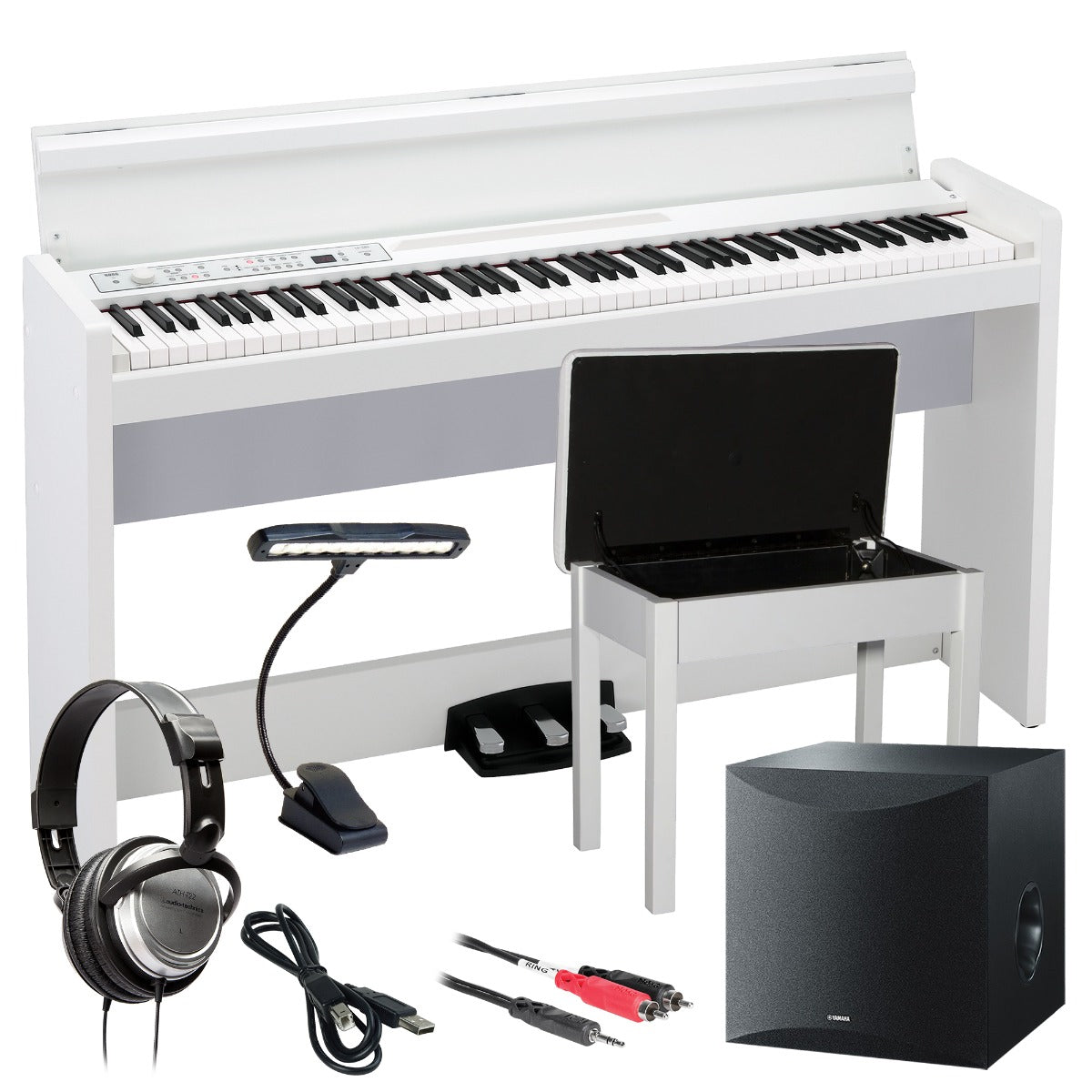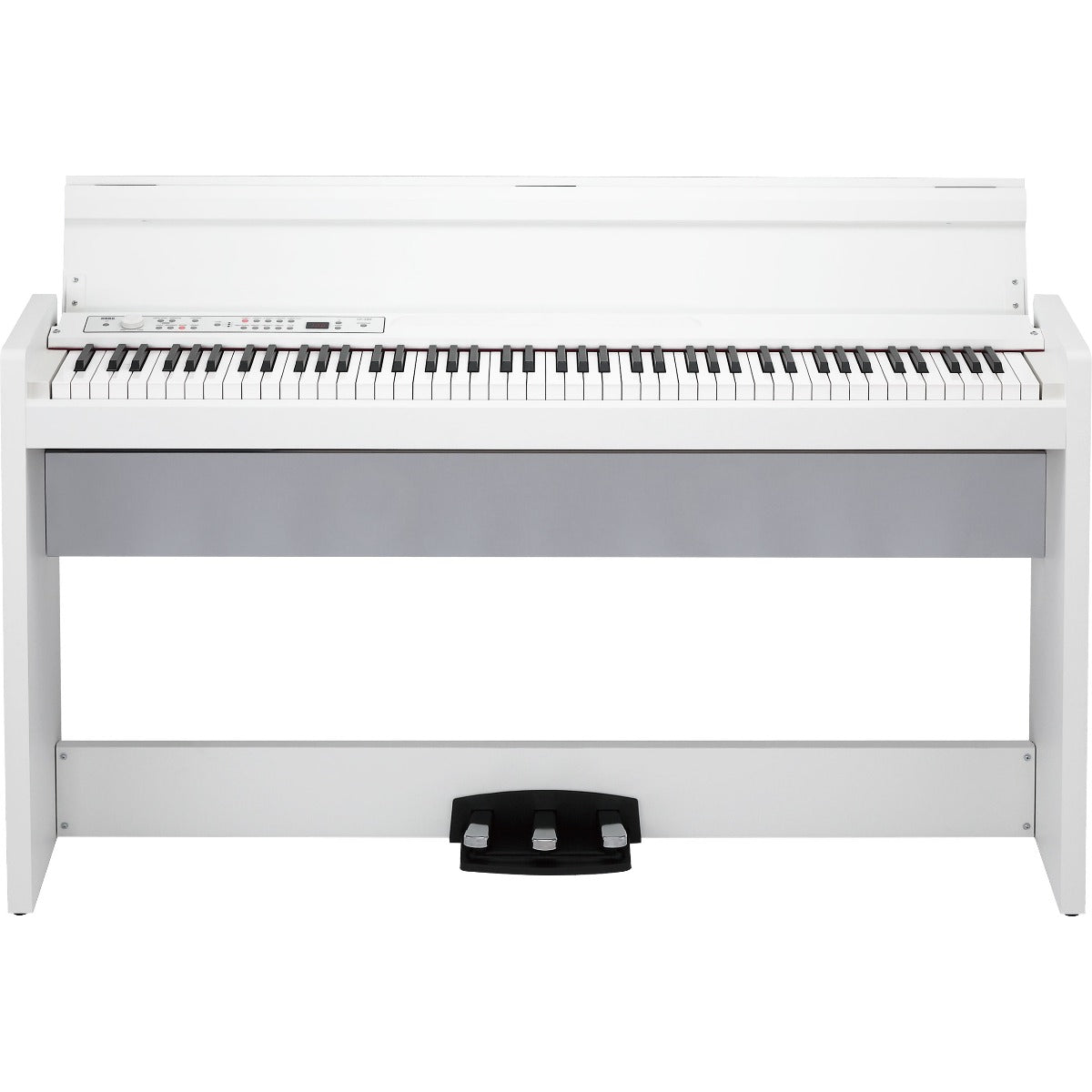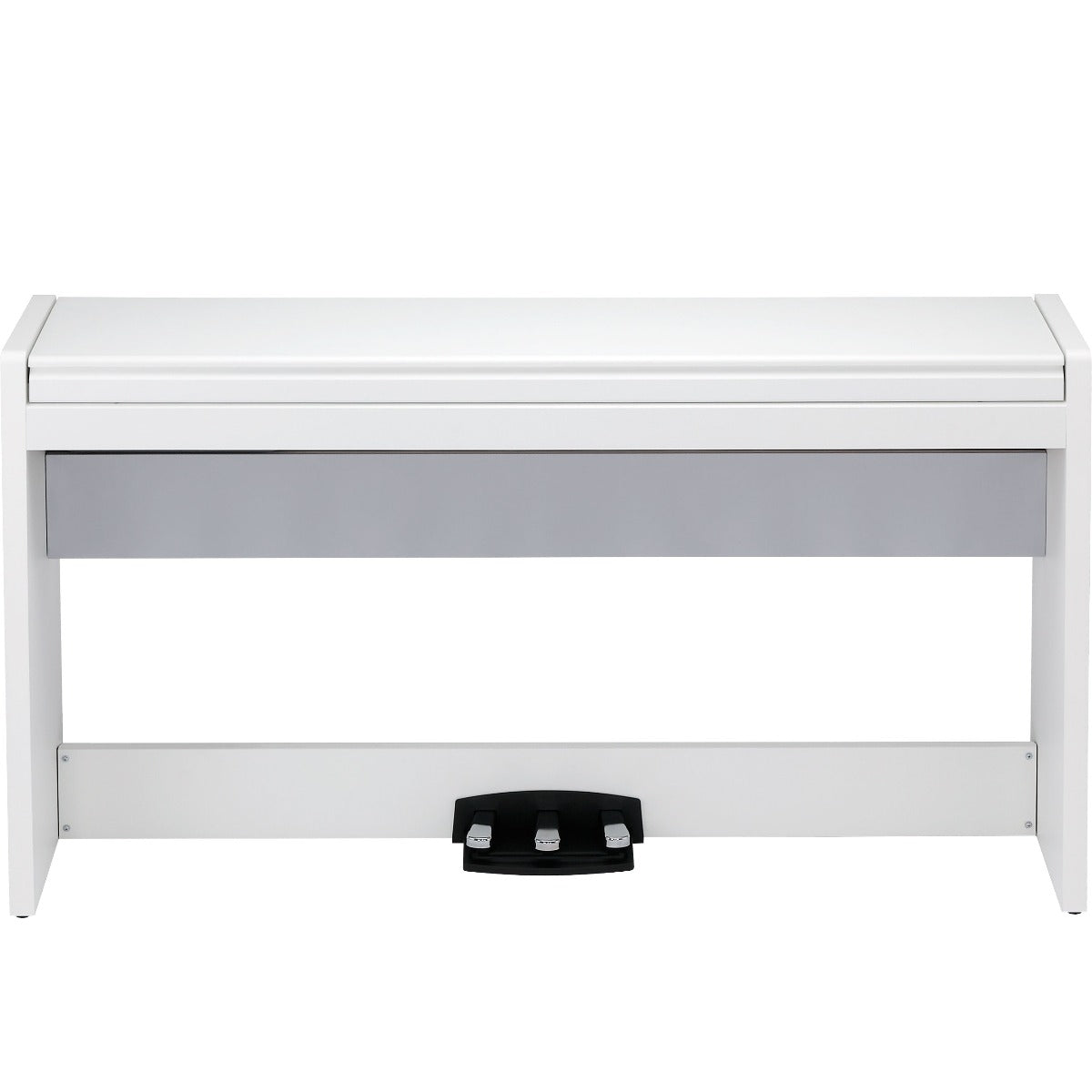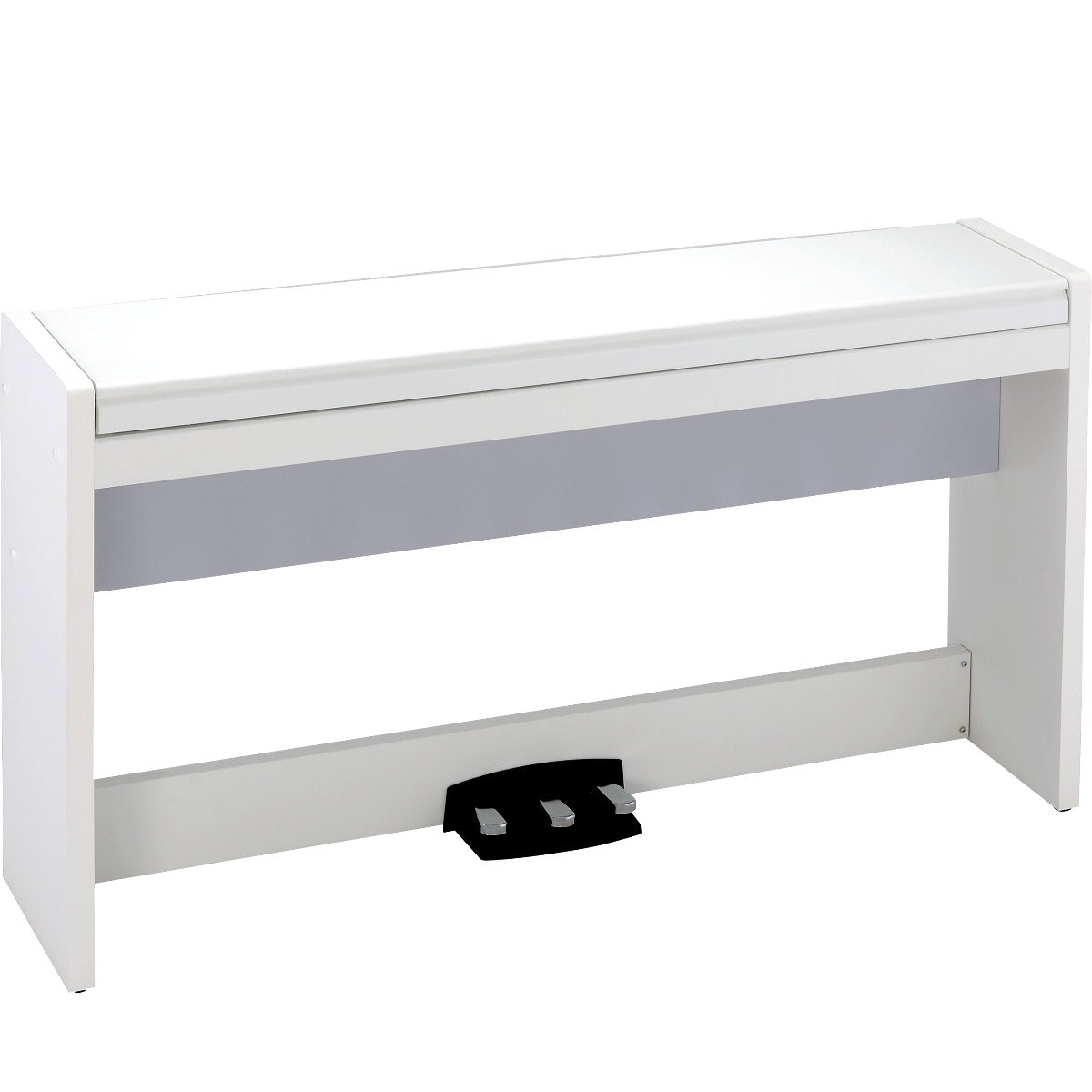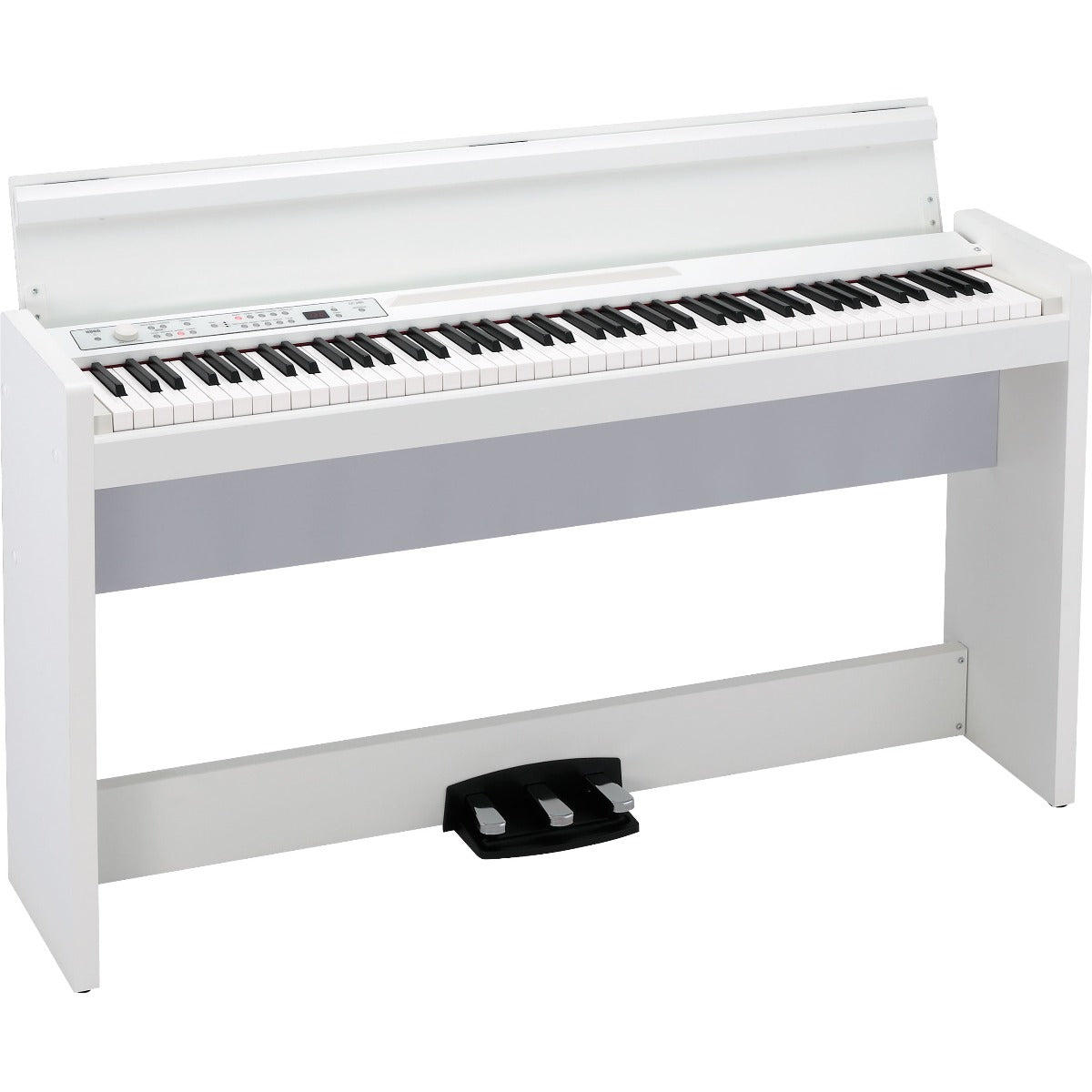 Korg LP-380U Digital Piano - White COMPLETE HOME BUNDLE PLUS
7 items included
This Kraft Music Bundle Includes
Click on a product to view more details.
Korg LP-380U provides a brilliant piano sound in a low-profile, slim design. The flat-top cabinet looks stylish even when the key cover is closed. The high-output amplifier and speakers accurately reproduce a realistic piano sound, while Korg's flagship RH3 keybed enables expressive performances. Use onboard USB to connect with lesson software and record your piano performances to a mobile device.
Slim and stylish design
High-quality musical instrument produced by expert craftspeople in Kyoto, Japan
Rich, dynamic acoustic piano sounds that are enjoyable to play
High-output amp section produces plenty of volume
RH3 Real Weighted Hammer Action 3 keyboard
Reduced chassis, package size and weight
Three-pedal design with half-damper support
USB MIDI and audio
Slim and stylish design
LP-380U is a digital piano with a style to match your interior decor. Under 14" in depth, it's slim enough to fit anywhere. The wooden key cover is flat on top, allowing the instrument to blend elegantly into your room when you're not playing it. Keeping safety in mind, the cover uses a 'soft landing' mechanism to ensure that it closes gently.
Rich piano sounds that you'll enjoy playing
In order to reproduce the playing feel of an acoustic piano as closely as possible, the sound switches between four piano samples according to your playing dynamics. From subtle touches to powerful crescendos, the sound will respond realistically to your playing. In particular, the Classic Piano and Grand Piano sounds realistically reproduce the damper resonances that occur when you hold down the damper pedal of an acoustic piano, making the overall sound of the piano even more pleasant and enjoyable to play.
30 high-quality sounds including authentic vintage electric pianos
As a musical instrument manufacturer, Korg has placed particular emphasis on the electric piano sounds. They not only reproduce the way that the tone responds to your touch, but they also reproduce the subtle noises that occur when you release a key. Six varieties are provided, covering the sounds widely used in pop music of the '60s and '70s, as well as some of the tones that are highly regarded in soul music.
There's also a Layer Mode that lets you play two sounds together, as well as a Partner Mode that divides the keyboard into left and right regions so that two people can play the same range of pitches at the same time. Two headphone jacks make it convenient for two people to enjoy playing LP-380U together. You also have a choice of nine different temperaments, supporting historically authentic performances with period instrument ensembles.
There are three effects: brilliance adjusts the brightness of the tone, reverb simulates the natural ambience (reverberation) of a concert hall and chorus adds spaciousness.
High-output amp and speaker section
The amplifier (22W × 2) boasts the highest output in its class, properly reproducing expressive piano sounds with rich tone, sonorous lows, sparkling highs and gorgeous resonance. Two large-diameter speakers are placed inside the cabinet, allowing the sound to resonate for even richer depth. Placing the speakers below the keyboard creates the sensation that the sound is enveloping the entire piano, providing even greater realism.
Real Weighted Hammer Action 3 keyboard
The Real Weighted Hammer Action 3 (RH3) keyboard reproduces the same playing experience as on a grand piano, with heavier response in the lower register that becomes lighter as you play upward. With improved response to repeated keystrokes, even rapid passages can be reproduced without impairing the expression of the performer.
There's also a Key Touch Control function that lets you choose one of three levels to specify how your playing dynamics will affect the sound, allowing you to personalize the instrument to your own keyboard touch. With a view toward the environment, no lead is used in the hammers of the keyboard.
Premium pedal performance
LP-380U includes all three pedals that are normally found on a concert grand piano, including support for realistic half-pedaling on both the damper and soft pedals. These pedals are affixed to LP-380U in the perfect position for an authentic piano playing experience.
USB MIDI and audio
You can use a USB cable (sold separately) to connect LP-380U to your smartphone, tablet or computer, and use it as a MIDI keyboard to play an external sound module. Your performances on LP-380U can be recorded on your smartphone, and music from your smartphone can be played through the speakers on LP-380U. MIDI support also lets you use LP-380U as a 16-part multi-timbral sound module.
Three-month premium plan trial for Skoove online piano lessons included
Skoove is the fastest and most broad-based platform for learning piano performance. Through the three steps 'hear, learn, perform' you'll acquire performance skills and musical ear training. More than ten courses and more than 300 songs are provided, and others are constantly being added. Skoove provides lessons that are appropriate for the needs and skill levels of those who are just starting piano as well as those who can already play.
Korg Module piano keyboard sound module app included
This is a high-quality mobile sound module app that provides a pro-quality sound library that's ideal for both performance and music production, available only for iOS. It lets you enjoy top-notch grand piano sounds as well as studio-quality sounds of widely used keyboards.
Korg Gadget 2 Le DAW music production app included
This is a mobile music production app for iPad/iPhone that provides miniature synthesizers and drum machines called 'gadgets' and allows you to freely combine these to enjoy producing music with an intuitive interface.

SKU
KOR-LP380UWHCHP
MPN
LP-380U White
Vendor
Korg
Built In Speakers
Yes
Connectivity
USB and MIDI
Included From Manufacturer
Furniture stand
Triple-pedal board
Power supply
Keys Weighted
Hammer Weighted
Key Cover
Yes
Key Num
88
Mpn
LP380UWH
Piano Cabinet Style
Slimline
Product Unique Features
Built-in USB for MIDI and audio
Three-pedal design with half-damper support
Sound switches between four piano samples according to your playing dynamics
3 effects: Brilliance, Reverb, Chorus
Accompaniments
No
Duet Mode
Yes
Finish
White
Half-Damper Support
Yes
Audio Outputs
2 × 1/4" stereo headphone outputs
1/8" stereo line output
Key Action
RH3 Real Weighted Hammer Action 3
Layer Feature
Yes
Metronome
Yes
Pedals
Damper pedal
Soft pedal
Sostenuto pedal
Product Weight
81.57 lb including stand
Number of Sounds
30
Speaker Power
2 × 22W
Speaker Size
2 × 3.94"
Split Feature
No
Transpose Feature
Yes
Voices of Polyphony
120
Width
53.35"
Depth
13.82"
Height
36.85" with key cover opened
30.39" with key cover closed
Korg USA Warranty Policy
Korg digital piano models LP-380, C1 Air, and G1 Air purchased from a Korg USA authorized dealer are warranted to be free from defects in material and workmanship to the original consumer for a period of three (3) years.
Register your new Korg digital piano online and receive a certificate that extends the product warranty for an extra two (2) years from the date of purchase, for a total warranty period of five (5) years. Product must be registered within 90 days of purchase to receive the extra two (2) years of warranty.
Tubes, AC Adapters and Foot Switches are warranted to be free from defects in material and workmanship to the original consumer for a period of ninety (90) days.
The customer must provide proof of purchase in order to obtain warranty service. The dated sales slip or copy thereof is the only acceptable proof of purchase.
The product must be purchased from a Korg USA authorized dealer and have a valid serial number.
This warranty is valid only in the USA.
Damage resulting from the following causes are excluded from the warranty set forth above: misuse, including damage occurring during shipment, damage caused by battery leakage, accident, fire, unauthorized repairs, tampering, cosmetic damage or other types of damage which are the result of improper handling or abuse; the cleaning of controls or contacts due to exposure to dirty, dusty, or otherwise contaminated environment; damage resulting from modification; damage to units used for loan or rental.